When summer rolls around, most of us want to avoid the heat that comes with too much cooking. The outside weather is already too hot and almost unbearable, and keeping that stove lit several hours a couple of times a day makes the situation even more tormenting.
But thanks to summer BLT salads, there's a clever way to elude the too much cooking and all the hassle involved while at the same time getting something refreshing and healthy for our bodies!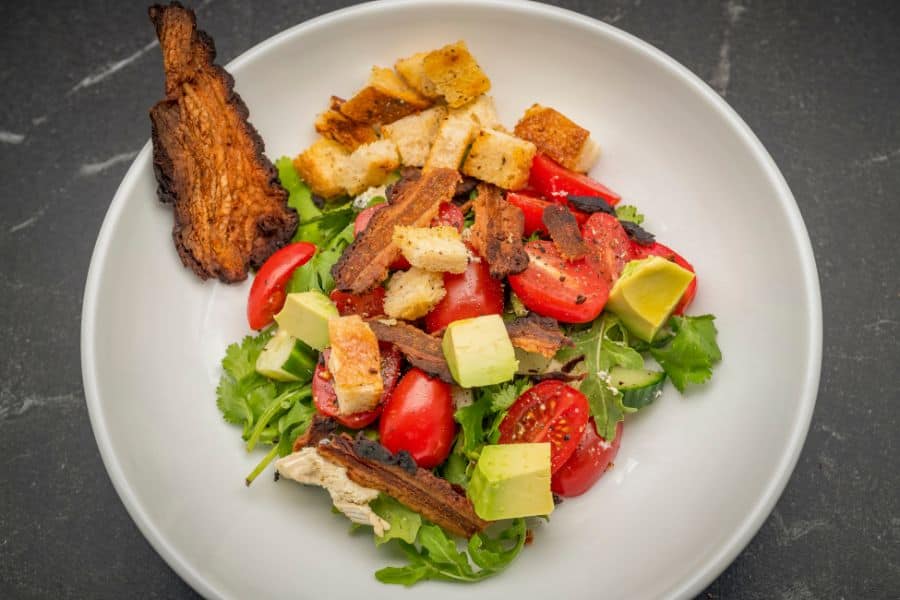 And did I tell you that it's a tasty option? Well, it really is, and in fact, it's one of the summer's most glorious combinations that you'll probably never get enough of. It could be your best weapon to turn folks who hate salad into salad aficionados.
BLT Chopped Salad: Summer's Best Light Food
When temperatures begin to soar, that's not just a moment to ditch your warm clothing for lighter ones. It's time to make a couple of changes in your home, from what appliances to run and for how long to what foods to eat.
Cold-weather foods are great and nutritious, but they just aren't the best when outdoor temperatures spike too high. In such moments, summer foods come in handy, and thankfully, we have a couple of great options.
But standing tall among all the summer's finest foods is the BLT chopped salad, which basically is a refreshing salad that takes inspiration from the classic BLT sandwich.
This summer salad combines primary ingredients comprising bacon, lettuce, and tomato (BLT) with a few secondary ones that, when diced and tossed together, ensure a harmonious blend of flavor and texture in every morsel.
Even more impressive, all the ingredients you need to prepare this salad are usually available in plenty during summer. That's to say, with BLT chopped salad, you aren't just getting a mouthwatering light food that's best for the moment but also one that perfectly captures the beauty and bountifulness of the moment.
How to Make Summer BLT Chopped Salad
Preparing summer BLT chopped salad isn't a complex process. In fact, one of the reasons for its popularity is because of the simplicity of the preparation process.
But before we jump into the steps, let's understand what we need for the process to run smoothly.
Ingredients:
1 pound of bacon: This is the heart of your BLT salad. Check one with long veins of lean pink meat and a small amount of fat. Also, consider the expiry date so you don't buy something that has outlived its shelf life. And as usual, refrigerate it at 40 °F (4.4 °C) or below within 2 hours after buying to keep it fresh unless you intend to use it immediately.
8 cups of romaine lettuce: It's a primary ingredient that's a rich source of vitamin A and folate. Choose light-colored loose-leaf lettuce with no yellow or brown spots. They should also be crispy and non-wilted.
Tomatoes: They close the list of foundational ingredients and are rich in Vitamin A. It's okay to use fresh cherry or grape tomatoes for the salad (2 cups), but we highly recommend the sun-dried variety as it makes the salad truly special and imparts Italian chopped salad flair.
1 cup of corn: Fresh, canned, or frozen and thawed corn will add some flavor and enhance the overall sweetness of the salad. When boiled, grilled, or roasted, this ingredient will also improve the overall crunchiness of the salad and make it look more summery.
1 Avocado (diced): It adds a creamy texture that perfectly contrasts the bacon and lettuce. Of course, it also enhances the nutritional aspect of the salad as it's super-rich in healthy fats, carbs, fiber, and other essential compounds.
Onion: Using green or red onion will boost the crunchiness of the food, improve the overall aesthetic appeal, and add a touch of pungency for a perfect balance of all other flavors.
Croutons: These small pieces of bread make the food even more crunchy. However, you can substitute the component with another crunchy topping if croutons aren't your thing.
Feta cheese: The saltiness of this cheese will perfectly complement the flavors of other salad ingredients. Ensure to crumble it into small pieces and add as much or as little as you'd want for your salad.
Olive oil: You'll need this component for sauteing your corn. But if you use grilled, roasted, or boiled corn, you won't need olive oil unless you also intend to use it in your homemade dressing.
Salad Dressing: It all depends on your preferences here and what other ingredients you've included in your salad. Some common ones include ranch dressing, balsamic vinaigrette, or tangy citrus-based dressing.
Procedure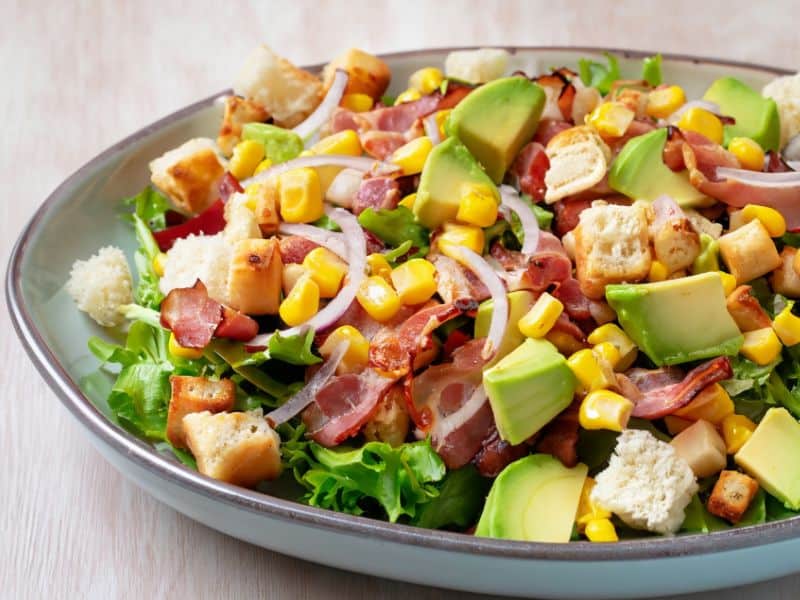 Once you have all the necessary ingredients, follow these steps for a refreshing summer treat that you and the people around you will enjoy.
Step 1: Cook the Bacon
Begin by preheating the oven until it reaches 400 degrees Fahrenheit. Then, bake the bacon on a cookie sheet lined with tin foil until it achieves your ideal crispiness. Usually, this process will take about 15 to 20 minutes.
Step 2: Saute the Corn
Put the corn in a pan and place it on a stove. Add a tablespoon of olive oil and saute it for about 5 minutes. Remove it from the stove and let it cool.
Step 3: Mix all the Ingredients
Once the bacon and the corn have cooled down, it's time to mix the ingredients in one large bowl. Cut the bacon, lettuce, tomatoes, and onions, and put them in a large bowl before adding corn. Toss them to mix and add diced avocado and feta cheese.
Add the crumbles and your chosen dressing before tossing the mixture to disperse the ingredients evenly. You're now good to serve your summer salad – easy peasy!
Essential Tips When Preparing Summer BLT Chopped Salad
Some of the helpful tips to keep in mind when working with summer BLT chopped salad include:
A delicious and healthy salad begins with the quality of the individual ingredients, so work with the finest.
Use a sharp knife and take time to chop your ingredients into small bite-sized pieces. A sharp knife will give you precision in cutting, while the tiny pieces will make the mixing easier for a colorful, nutritious blend in every bite.
You can always customize your salad to your preference. If you love herbs or are growing other greens in your garden, BLT chopped salad is the perfect opportunity to make use of them.
Summer BLT salad is best when served immediately after preparation since the ingredients are at their freshest and flavors most vibrant.
Always toss the dressing just before serving the salad to maintain the crunchiness of your summer chopped salad.