Whether throwing a party or having a cozy gathering with your loved ones, the struggle to find the perfect appetizer for the occasion is real.
Ideally, you want something that won't keep your folks waiting for too long and, at the same time, one that will transport their taste buds into a world of culinary ecstasy and leave them with unforgettable memories.
And what other appetizer better fits the bill than Spinach and artichoke dip cups?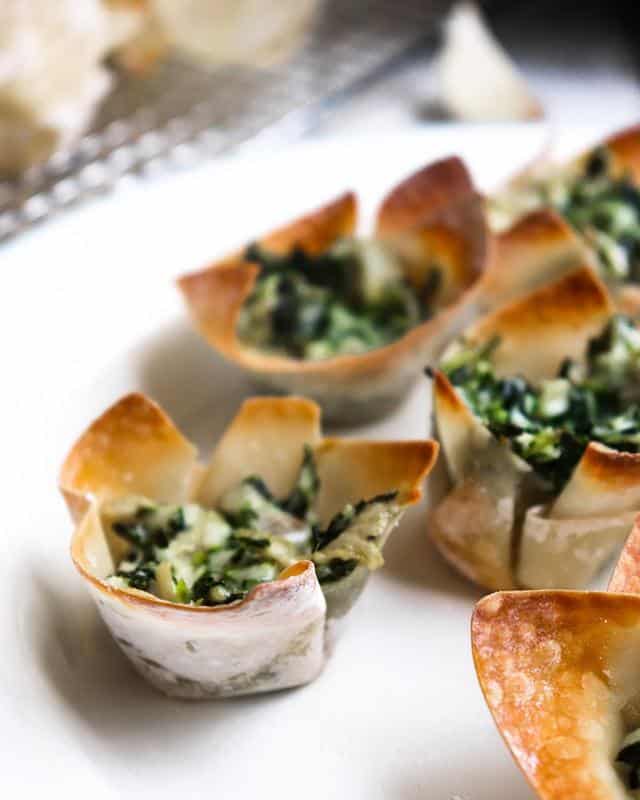 That's right!
These delicious bite-sized delights are everything you ever look up to in an appetizer for any special occasion. They're creamy, cheesy, crispy, and of course, too delicious to leave your folks asking for more.
Plus, as you're about to discover, you don't even need a long list of ingredients or much time to prepare them. With just a handful of common kitchen ingredients and a few minutes to spare, you're all set to deliver the culinary magic.
Preparation Time: 15 minutes
Cooking Time: 12 to 15 minutes
Cooling Time: 5 to 10 minutes
Total Time: 32 to 40 Minutes
Servings: 24
Ingredients
Here's what you need for the process:
24 Wonton wrappers: Wonton wrappers will provide structural support for the dip without getting soggy. They'll also cook into a crunchy snack, improving the overall eating experience.
10 ounces of spinach: You can use fresh or frozen spinach, and ensure that you remove the excess water. A kitchen towel will come in handy for this purpose.
If going with frozen spinach, defrost them before removing the water and weighing them up. Then, finely chop them into smaller pieces that can mix easily with other ingredients.
If using fresh spinach, sauté the leaves until they wilt before transferring them onto a kitchen towel and squeezing out the moisture. Then, finely chop your spinach for easy blending.
14 ounces of artichoke hearts: Like spinach, drain your canned artichoke hearts to remove excess water. Then, roughly chop them to ensure they mix well with the rest of the ingredients.
Cream cheese: For this ingredient, you can work with regular or reduced-fat cream cheese depending on what you want to achieve.
If you want a creamier and smoother texture, consider the regular version. Reduced-fat cream cheese, on the other hand, is better if looking up to a low-fat appetizer or something with a slightly different texture, thanks to the low milk content.
Of course, you have to ensure that whatever option you choose is from a reputable brand for the best outcome.
1/4 cup of sour cream: This ingredient enhances the creamy texture and adds some hint of a tangy taste to the dip.
1/4 cup of Greek yogurt: It's an excellent option to boost the protein content of your appetizer. You can add more depending on how much protein you want in the final product.
1/4 cup of parmesan cheese: It's there to improve the overall taste profile of the dip, balance the creaminess of all other ingredients, and give your appetizer a more pleasant texture.
1/4 cup mozzarella cheese: It performs the aesthetic role of creating the visually appealing crispy golden layer at the top of your dip cups. It also improves the dip's overall flavor and gives it a stringy texture.
Red pepper flakes: This component is responsible for the spiciness of your dip. Add it to get the level of heat that suits your taste preference.
2 Garlic cloves (minced): Garlic provides an aromatic flavor that generally improves the taste of your appetizer. Mincing helps distribute its impact throughout the mixture for a more balanced, even taste.
Cooking spray: While this isn't meant to form part of the final product, it's still an essential component in your cooking process. It will prevent the appetizer from sticking to the surface for easy removal once baked.
Salt: Lastly, you'll need a small amount of salt. It plays a similar role as in other dishes – enhancing the overall taste and ensuring that the taste of other ingredients comes out more clearly.
ProTip: If you don't have sour cream, use an equal amount of Greek yogurt as a substitute. That means you'll need to work with 1/2 cup of yogurt instead of the initial 1/4.
How to Prepare Spinach and Artichoke Dip Cups
Once you have all the ingredients set, you're done with the most challenging part. Proceed with the preparation process by following these steps.
Step 1: Create the Mixture
Begin the preparation by combining all the ingredients in a large bowl. The size of the bowl should be such that it can accommodate all the ingredients while leaving enough room to mix them without spilling.
Begin by adding drained spinach and the roughly chopped artichoke hearts before introducing other ingredients. Then, using a spatula, mix all the components until all the ingredients look evenly dispersed throughout the mixture.
Step 2: Heat a Pan Over Medium Heat
For the best results, preheating your oven to about 375 degrees Fahrenheit (190 degrees Celsius) is good. Use the control knob on your oven to set the appliance to this temperature. The goal is to ensure consistent heat in the oven before you begin the baking process.
Step 3: Grease your Muffin Tray & Line Each Cup with Wonton Wrapper
Pick two 12-cup muffin trays and apply cooking spray over all the cups. The coat should be thin but consistent to cover the entire surface of each muffin cup.
Then, on a stable surface, line each sprayed cup surface with a wonton wrapper, gently pressing each wrapper to the sides and bottom of the cup to form the shape of a cup before re-applying cooking spray.
ProTip: When laying the wonton wrappers, keep the bottom of the cup flattened. That way, you will ensure that your Spinach artichoke dip cups have a stable base and are evenly cooked.
Step 4: Bake the Wonton Cups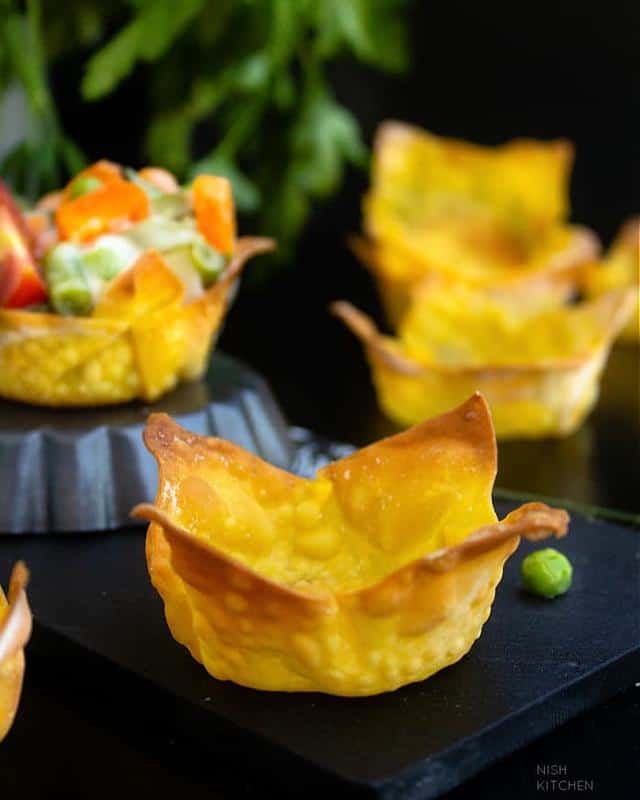 Put your muffin trays in your oven and bake the wonton wrappers alone until they turn crispy and golden brown. Usually, this step should take about 5 to 7 minutes.
You're baking the cups first so that they become crispy and, at the same time, able to hold the mixture without getting soggy.
Step 5: Portion Out the Mixture Into the 24 Cups
Using a spoon, divide the mixture among the wonton cups. Add an equal amount of content to each cup to avoid having the content of some cups overcooked and others undercooked.
Also, avoid overfilling the cups and remain gentle so you don't break or compromise the condition of the delicate wonton cups.
Step 6: Bake in the Preheated Oven
Once you've evenly distributed the mixture across all the cups, insert the muffin trays into the oven. Use the temperature of  375 degrees Fahrenheit to bake the mixture until it turns crispy and golden brown.
Usually, the process will take about 12 to 15 minutes, depending on the amount of mixture you put in each cup. Keep a close eye on this process to avoid overcooking or burning.
Once baked to perfection, remove the trays using oven mitts or pot holders and place them on a stable heat-resistant surface.
Step 7: Wait to Set Before Serving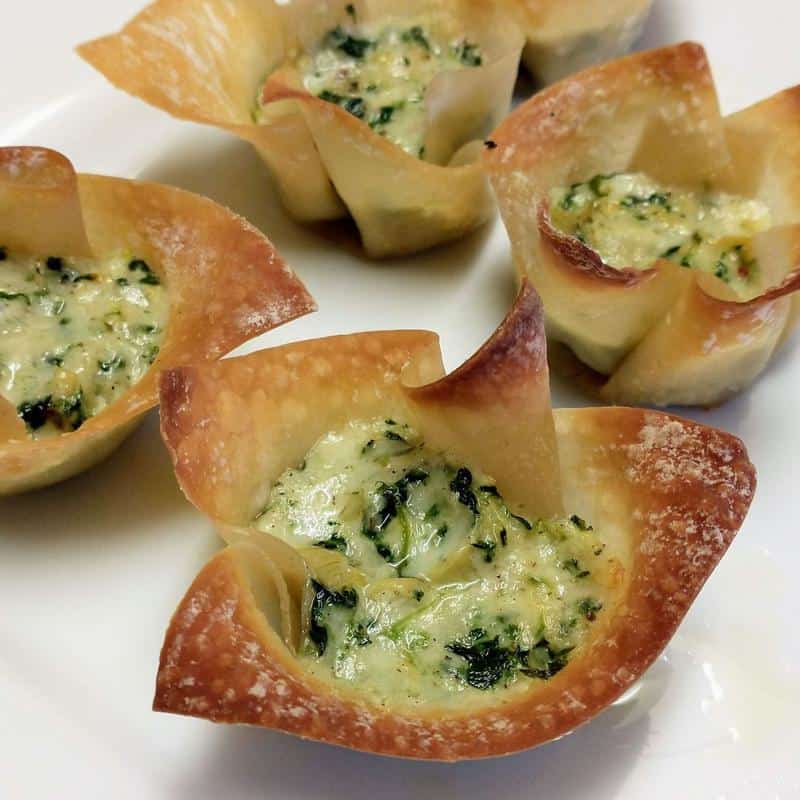 Don't be in a hurry to serve the appetizer straight from the oven. Pack some patience and wait about 5 minutes or so for the dip to set and to minimize the chances of accidental burns when serving.
Once cooled a bit, remove the spinach and artichoke dip cups from the muffin tins. A spatula or a spoon should come in handy at this point.
Lastly, arrange the dip cups on individual plates if you want to serve each person individually or in a serving platter to present the appetizer all in one place.
ProTip: You can use the cooling time to prepare garnishes or any other ingredient you intend to bring on board, whether for enhancing the taste or presentation of the appetizer.
FAQS
What Is the Best Way to Serve Spinach and Artichoke Dip Cups?
Spinach and artichoke dip cups are best served when warm, just a few minutes after you remove them from the oven. You can present them as stand-alone appetizers or together with other finger foods or snacks.
What Is the Best Way to Store My Leftover Spinach Artichoke Dip Cups?
Storing your leftover spinach artichoke dip cups is very simple – just place them in an airtight container and put it in the refrigerator. However, keep in mind that you can only store them in the fridge for up to 3 days.
Does Spinach Artichoke Dip Reheat Well?
Yes, you can always reheat your spinach artichoke dip just well. Use a microwave or an oven set under 375 degrees Fahrenheit until reheated to your liking. But of course, that doesn't apply to any leftovers that have stayed in the fridge for more than 3 days.