Are you looking for creative, fun ways to reignite the spark of your relationship and leave you with memories that will never fade?
Every relationship needs to occasionally be infused with some fresh energy to keep it thriving and growing.
If you need some unique date activities to bring excitement and help you reconnect with your spouse, we've curated these 30 brilliant date adventures. Read on to discover clever and surefire ways to strengthen the bond with your spouse.
30 Fun, Unique Date Ideas To Save Your Relationship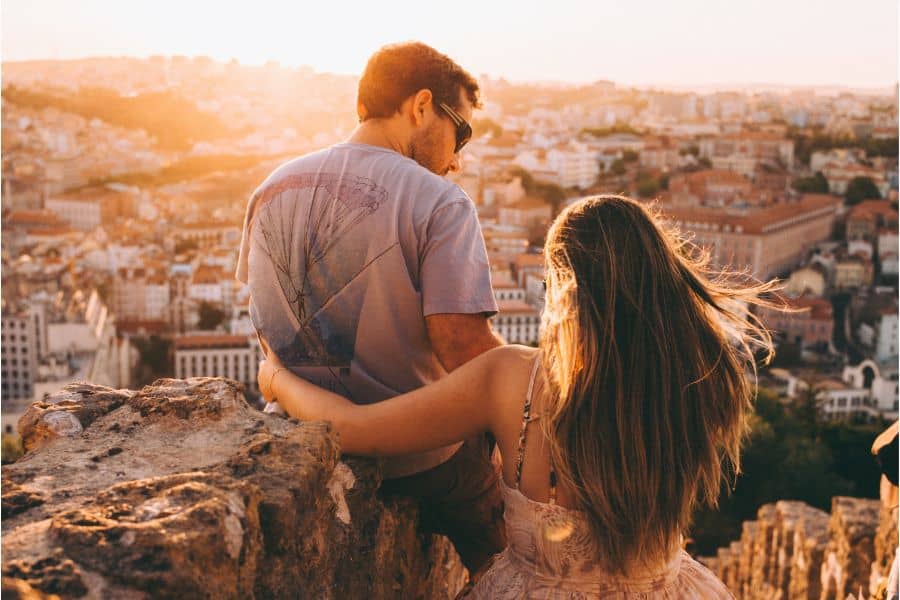 Whether you have a great relationship or one full of woes, expect our ideas to inject new life into your relationship and make the time spent together beyond the ordinary.
They include:
1. A Tandem Bike Bliss
Pedal into a frenzy of fun with your sweetheart on your next date. Rent bikes and delve into the nostalgic adventure as you ride along the beautifully mapped-out routes.
Keep the speed low and share a meaningful conversation when biking. Cycling won't just strengthen your leg and heart muscles but also your emotional bond. Those are two birds killed with one stone!
2. Chef It Up Together
If you're considering an indoor dating idea, why not put on your chef hats for some cooking extravaganza?
A culinary adventure in your own kitchen would be a great way to create a feast of memories that won't go away.
3. Restaurant Hopping Adventure
Don't go to that Friday dinner at that one boring restaurant. How about trying out several restaurants all the same night? Just identify a place with several nice restaurants.
Begin your restaurant adventure with cocktails or appetizers in one restaurant before heading to the second for the main course. You can wrap up the adventure with some tasty desserts at the third restaurant!
It won't just be a feast night for your taste buds but also for your hearts to get closer to each other!
4. Try Out A New Recipe
How about putting your combined creativity to the test with some culinary exploration? Get that mystery ingredient or identify a unique recipe and see how well you can work with new recipes.
Get creative, exercise several flavors, and expect a blast in your kitchen. Who knows, you may even make an exciting discovery of your next favorite recipe.
5. Choose An Indoor Picnic
Who said picnics are more enjoyable when done outdoors? You can relish all the fun of picnics and even more without stepping out of your home.
Get your picnic blanket and some candles, and identify a favorable picnic spot under your roof. There, snuggle up with your better half as you enjoy your favorite snacks, drinks, and finger foods in the serenity and convenience of your home.
6. Swing Into Fun!
Awaken your inner child with some memorable swinging moments with your partner. Walk – or drive – into the nearest playground for a heartwarming adventure.
Take turns as you push each other or swing alongside one another as the smiles on your faces melt and bring your hearts closer to each other with old-fashioned playtime!
7. Game On!
Another brilliant way to refresh your love life is engaging in a mesmerizing game night date.
Begin by cherry-picking your favorite games, gather the respective paraphernalia, and get ready for a moment of fun.
Engage in healthy, friendly rivalry, and be sure to share lots of laughter and playfully tease each other as you game on.
8. Try Out New Dancing Moves
If both of you enjoy dancing, turn on the music and let loose to boogie the night away. Whether you are a seasoned dancer or have two left feet, a night of dancing is a fun way to bond with your sweetheart.
Try new dance moves with your partner and get to the peak of the fun. It doesn't matter how well you grab the concept as long as it's bringing joy to the two of you.
9. Paint Your Hearts Out
Getting crafty is another creative way to bring you and your partner closer to each other. Grab some canvas, paint brushes, and little paint and unleash the inner artist in you with some moments of art.
Again, you don't have to be a pro to try this out. The goal isn't to make a professional portrait for sale. You're doing it for fun. So, let go of the perfection and see this dating idea take your bond to a new level.
10. Say Cheese!
How about you try a DIY photoshoot from the comfort of your home or at that nearby picturesque scene?
Grab your smartphones – or cameras – and get creative with poses as you take turns to capture the moments.
DIY photoshoots stir up magical fun moments you'll love on your next date. But don't forget to pose for a selfie or two to capture the whole love story in one picture!
11. Work-It-Out!
I'm not saying you sit down and solve your relationship woes! I mean to get your heart ready for more pumping and loving with a fun-filled workout class date!
Just lace those sneakers up with your partner and prepare for an exercise challenge. Choose anything that brings you joy, from Zumba and kickboxing to pilates and spin class – it must be fun.
12. Wine-Tasting
Don't mind learning something new on your next date? How about visiting the nearby winery to discover the magic in swirling, sniffing, and tasting different varietals? Wine tasting can be fun and educational at the same time for you and your significant one.
Want to bring all this fun to your home? Get several varieties and host a wine-tasting soirée at home. It's a great way to let your hearts and taste buds dance in delight. And who knows, you could be on your journey to discovering your favorite beverage!
13. Go To The Beach
A trip to the beach is a clever date idea if you look forward to an awesome outdoor adventure outside the normal routine.
Find time to sink your toes in the cold sand, make a romantic stroll around the beach, do a variety of games, or even pack the necessary gear to make it a beach picnic.
14. Catch Sunrise
If you want something to start your day on a romantic note, why not wake up early to enjoy the beautiful sunrise together? Just grab your blanket and identity a perfect spot where you can cuddle up with your partner as you catch the beauty of the sunrise.
15. Spread Kindness, Volunteer Together
Connecting with your partner doesn't always have to involve doing things that exclusively affect your lives. Volunteering is a great way to grow the bond while giving back to the community.
Volunteer at a local shelter, participate in social activities, or any other activity you'd like. An act of kindness will make you feel good and bring you even closer to your loved one.
16. Try Drive-In Movies
Drive-in movies may be considered one of the old-school date ideas, but there's something special about them, probably the reason they're beginning to make a comeback.
Bring your partner with you and catch the latest blockbuster or even your old favorite – under the stars.
Of course, don't forget to carry enough snacks and drinks to make your fun-filled night memorable from every angle.
17. Go On A Tandem Kayaking
What's more fun and likely to bring forth thousands of memories than kayaking? Spending time in the serenity of the ocean and having a romantic conversation with your partner can bring forth thousands of pleasant memories.
Jump into the same boat with your partner or double the number of kayaks and double the fun!
18. Get Fancy With A Candlelit Dinner
You won't need to go to that luxurious, expensive-looking restaurant for a romantic dinner that will help you reconnect with your personal person.
A romantic candlelit dinner packages all the fun you get on an outdoor dinner date and combines it with the convenience of doing it from home.
19. Get Cultured With A Museum
If you've had multiple art gallery visits, break the mold with a visit to the museum. There, spend time browsing history, science exhibits, or even art. This adventure is an incredible way to step up your game and will help you learn something new together.
20. Try A Karaoke Night
You can try a Karaoke night with your partner if you haven't done it before. There's always that inner rockstar in every person, and a karaoke night is the perfect time to unleash that inner star while having fun with your mate.
Ensure to cherry-pick your favorite songs and expect a crazy, fun-filled night with lots of loud laughs and priceless smiles.
21. Visit The Aquarium
There's something satisfying about watching marine life have fun in their natural habitats. So, get your partner and find your way to an aquarium.
Hold your partner's hands as you behold the beauty and fun packaged here, from mesmerizing jellyfish to friendly dolphins and other stunning aquatic.
22. Cozy Up To A Story
While it's an idea most people never think about, finding time to share a story with your boo is an incredible way to spend time together and strengthen the bond.
How you go about it is all up to you – you can get a nice book and read it to each other or listen to audiobooks. And yes, don't forget to bring in blankets to make it even cozier!
23. Make It A Spa Day
A spa night comprising some massaging moments is a great way to boost the feeling of intimacy and love between you and your significant other.
A massage from your partner is much more wonderful than one done by a stranger and you won't even need to hide some bodily functions as you would in the case of a stranger.
24. Send A Surprise Love Parcel
Surprise your spouse with a thoughtful gift of something they love. It could be a customized piece of jewelry, a favorite book, or anything else you think would melt their hearts and leave their faces shining with a smile. It doesn't have to be expensive; it only needs to be the right surprise gift!
25. Nostalgic Movie Marathon
Turn what would have been a lazy afternoon into an incredible spice-up moment for your relationship, and one brilliant way to do that is to have a movie marathon.
Cherry-pick your old favorites or line up the latest arrivals and snuggle up on the couch with popcorn and your favorite snacks as the nostalgia washes over you!
26. Indoor Treasure Hunt
This date idea involves hiding a few things in your home and having your partner find them all.
Get a pack of easter eggs, label each or just a few with a coupon for a service or your partner's favorite gift, and hide them in different corners of your house.
Use the trickiest spot for the item bearing what your partner treasures the most! Have them sweat it out as they search!
27. Book A Floral Arrangement Class
Flowers aren't just meant to ignite smiles when presented as a gift. The mere interaction with this nature's beauty is enough to brighten up the mood and give you an incredible experience with your spouse.
So, book a floral arrangement class, and you'll go home happier and with a new home decoration skill!
28. Build A Blanket Fort
Who didn't enjoy building forts in our parent's houses during childhood? Well, it could be time you consider building one for your date. After all, love is more of two adults showcasing their younger selves to each other.
So, gather all the blankets and pillows you need and build your fortress of love! Add decorative lights and background music for an even more exciting experience.
29. Do A Ghost Tour
If you and your partner enjoy the thrill of being spooked, go for a ghost tour! We've got lots of "haunted houses" that you can visit. You'll learn the myths and history surrounding them. But ensure you hold each other tight when you glimpse a ghostly figure, or things get too spooky.
30. Attend Drawing Classes
Lastly, you may consider booking a drawing class with your significant other. There's plenty of fun packaged in drawing, and you'll even learn a few hacks and tricks about the art. Just remember to carry home whatever you draw as a reminder of your fun date!
Conclusion
In conclusion, there's an endless list of date ideas for couples. With a bit of creativity and effort, you can invent your own date idea and have a blast with your partner.
And yes, strengthening your relationship doesn't mean you have to spend big; we've got simple ways to create your own fun as a couple without spending a fortune.