If you're reading this, you're likely having trouble convincing your little ones to eat their veggies.
But hey, you're not alone!
Although vegetables are healthy and crucial to our diet, most kids are never on board with having them form part of their everyday diet.
But don't worry!
Today, we've got a trick up our sleeves that you can use to sneak veggies into their diet unnoticed: Smoothies with hidden veggies!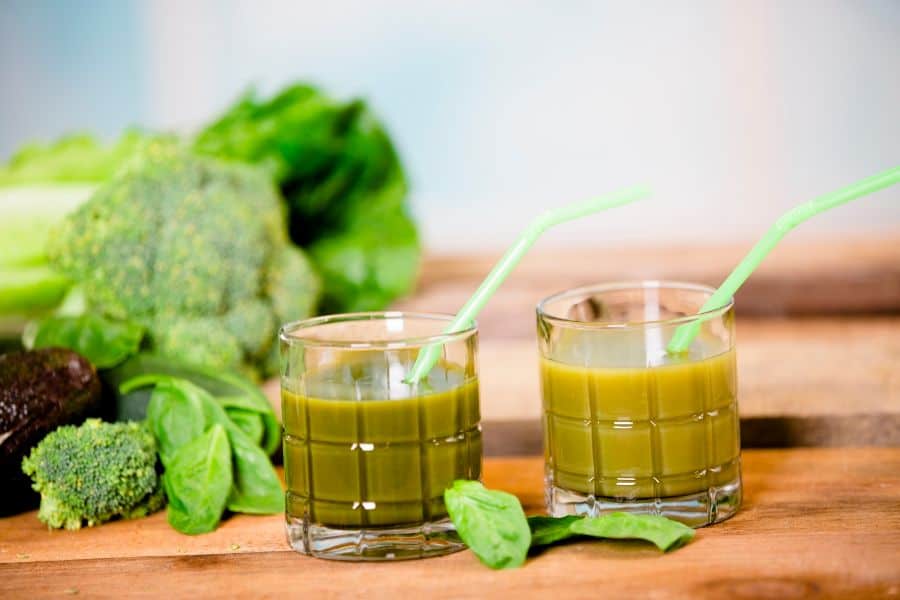 Yes, you read that right!
"But aren't smoothies all sugar without substance?" It could be what you're asking yourself now.
But hear us out!
With the tricks we're about to reveal today, smoothies can be supercarriers of much-needed vegetable nutrients.
Let's dive right in!
5 Smoothies With Hidden Veggies That Every Mom Needs To Try
If you have a blender, you're all set to ensure your kids get all the vegetable nutrients they need. Follow these ideas to make delicious and nutritious smoothies that will leave your little ones begging for more.
1. Avocado and Banana Green Smoothie
If your youngsters won't eat vegetables, how about using this smoothie to ensure they get all the necessary nutrients?
But let me warn you early: this smoothie has a green hue. So, if your child tends to be aversive to anything coming with this color, they may not like it at first.
However, if you can successfully convince them to have the first sip, they'll be sold! In fact, they're more likely to plead for more.
So, what do you need to make this smoothie? Luckily, you don't need a long list of ingredients.
Here are the basic ones:
Baby spinach
Banana
Avocado
Spinach carries heavy doses of vitamins K, magnesium, carotenoids, and other essential nutrients and minerals. Using regular spinach is still okay, but we recommend working with baby spinach. It's milder, so your child won't taste anything like greens in their smoothie.
Banana adds some natural sweetness to the smoothie and is rich in potassium, vitamin B6, and vitamin C. Avocado boosts the creaminess of the smoothie and has lots of healthy fats and fiber.
Of course, you can customize this smoothie to your child's preference by bringing more ingredients on board.
2. Strawberry Banana Recipe
If your child can't drink anything green no matter how hard you try to convince them, this smoothie should come to your rescue. It has a totally different hue that's generally more appealing to the little ones.
Instead of spinach and avocado, you'll need to use an orange bell pepper and a few more ingredients.
Wait…an orange bell pepper?
Yes, that's right!
This bell pepper has a very mild taste and packs lots of vitamin C. In fact, an average size orange bell pepper contains 190% of an adult's daily recommended vitamin C intake.
That's a lot, and its mild taste makes it a thoughtful weapon to get your little one to have all the nutrients they'd otherwise get from greens.
Here's the complete list of ingredients:
2 cups of frozen strawberries and bananas
½ an orange bell pepper
½ cup of ice
3 cups of vanilla almond milk
½ cup of strawberry Greek yogurt.
You shouldn't taste the bell pepper when you stick to these quantities. And, of course, remember to stick to the liquidly setting to keep the pepper pieces super tiny and less noticeable.
3. The Rainbow Smoothie
Are you looking for a colorful way to make the little members of the family drink their veggies? Why not offer your little one a rainbow smoothie?
Like the actual rainbow, this smoothie combines a multitude of colors all in one cup. Just ensure that you are well equipped with a variety of fruits and vegetables because that's what it takes to get the colorful bright hues that give it the "rainbow" name.
Here, you'll need to create a smoothie for each color. So, if targeting seven colors, you'll have to prepare 7 smoothies, each with a distinct color. Use bananas and Greek yogurt in each recipe to enhance its taste and creaminess.
The other ingredients depend on the color you intend to get. Use:
Raspberries or strawberries for red
Pineapple for yellow
Carrots for orange
Blueberries for purple
Baby spinach or avocado for green, and so on and so forth.
Then, pour out each layer into a glass following your preferred order. For instance, if you intend purple at the bottom of the glass, begin with the smoothie containing blueberries.
But then, ensure that your individual smoothies aren't too thin so they don't blend in. You can thicken them up in the freezer to keep everything from mixing up in the glass after pouring out.
4. Tropical Hurricane Smoothie
Kids generally love the taste of tropical fruits. So, if your little ones are picky eaters and won't do vegetables, this smoothie is a clever way to offer them vegetable nutrients.
Use pineapple, bananas, and mango to give the smoothie a tropical taste. As for the vegetable nutrients, spinach, carrots, and zucchini are incredible. But won't all these alter the tropical taste?
Well, not exactly! While these vegetables come teeming with essential nutrients and minerals, they're mild, so the blend tastes like any other ordinary tropical smoothie. Just ensure not to include a lot of them.
Here's what the list of ingredients looks like:
2 cups of frozen pineapples, bananas, and mangoes
½ cup of mango or pineapple Greek yogurt
3 cups of unsweetened vanilla almond milk
1 medium-sized carrot
Handful of spinach
1 small zucchini
Of course, ensure that you use the liquidy setting. It will ensure you get a smoother, creamy smoothie without much texture.
5. Hidden Spinach Banana Berry
Lastly, you can consider this smoothie for a more nutritionally-enriched diet. The blend uses spinach as the hidden veggie, covering its taste with the natural sweetness of banana and mixed berries.
Of course, you'll also need to use Greek yogurt when preparing this smoothie. It will make it creamy and serve as a rich source of protein and probiotics – two essential components for the healthy growth of any child.
That means the complete list includes the following:
1 banana
1 cup frozen berries (cherries, blueberries, raspberries, blackberries)
3 handfuls of baby spinach
½ cup of Greek yogurt
You're using a blender to mix all these ingredients. So, leave alone failing to taste it – your kids won't even see any signs of spinach in their smoothie, although it's actually in there!
Conclusion
Getting kids to eat their vegetables doesn't have to be a struggle. Our smoothie ideas provide a clever way to get your little ones to drink their veggies to the last drop.
Of course, the smoothies don't taste like greens. In fact, they have a pleasant taste that most kids will love. So, go ahead and blend up your favorite option – or even invent your own – and sit back and watch your juniors enjoy a healthy and tasty treat.