While it may not bear the same hype it used to have some years back, New Year's Eve (NYE) is an opportune moment of reflection, celebration, and of course, laughter with your family and friends.
It's a time for you and your beloved ones to come together in moments of merriment as you all anticipate to see what lies ahead. And what better way is there to mark this day than to have an NYE party?
But as you devise the party plans, it's best not to leave the little ones out. Sure, they may not stay awake until late in the night to welcome the new year, but they still deserve to feel the magic of the night before hitting the sack – and that's where non-alcoholic drinks (or mocktails) come in!
With a few mocktail options, you can make the December 31st night pure bliss, not just for the youngsters but also for the adults who don't indulge in alcoholic drinks.
But what are some of the best options out there?
Well, that's why I'm here. In this blog post, I'll share some fantastic mocktail ideas to make the last evening of the year truly memorable for youngsters and adults alike!
1. New Year Sunrise Mocktail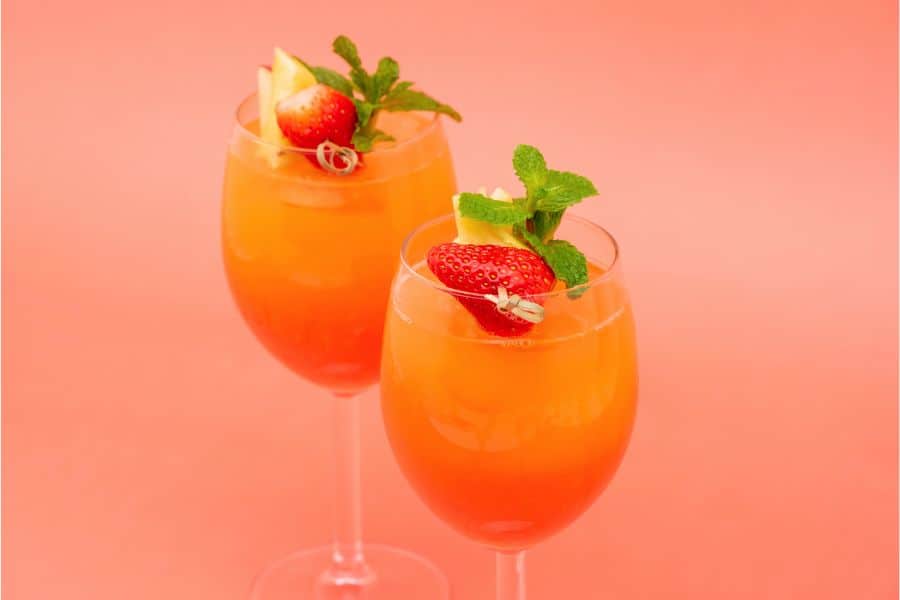 The first non-alcoholic drink that's sure to make your NYE party more exciting is the New Year Sunrise Mocktail. The name comes from its stunning look once fully prepared and is just as appealing to the taste as the eye.
The mocktail is easy to prepare and doesn't need a long list of ingredients. As long as you have orange juice, sugar-free lemonade, orange slices (strawberry or other fruits), and grenadine, you're all set to produce the magic.
Here's the procedure:
Grab as many glasses as the number of people and pour orange juice until the glass is 1/3 full.
Add lemonade to each glass, leaving a small room for grenadine.
Carefully and slowly add grenadine to each glass
Attach a slice of orange or any other fruit of your choice to the side of the glass and add a straw – and that's it!
Grenadine will slowly sink to the bottom of the glass to form a red layer that combines with the upper orange layer to perfectly mimic the resemblance of sunshine.
2. Sparkling Mint Cranberry Mocktail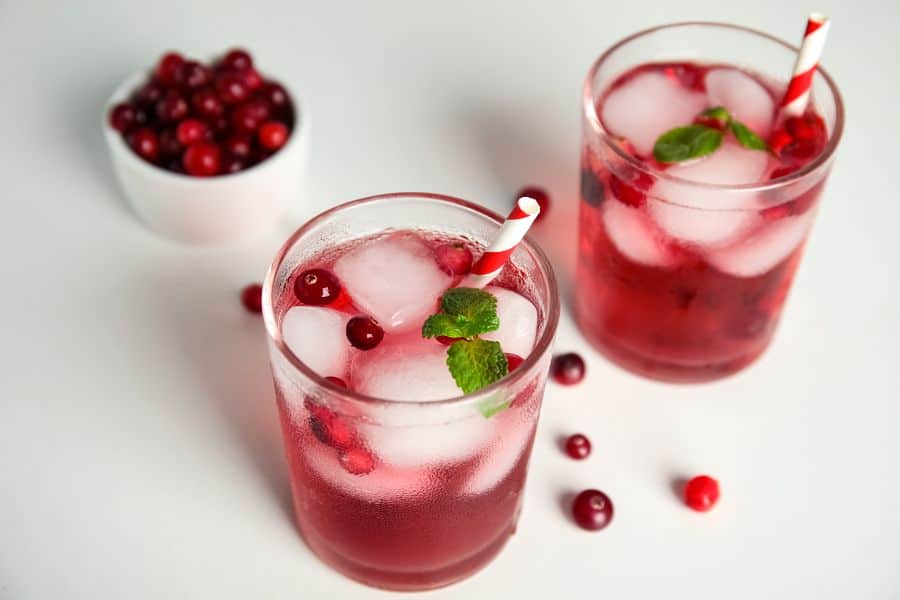 The other candidate for your night of 31st December is a real crowd-pleaser. The drink features a thoughtful combination of ingredients for a tasty and colorful beverage that's sure to leave kids and adults with unforgettable memories.
To prepare the mocktail, get the following:
1/2 cup of water
3-4 chopped mint leaves
1/2 cup of granulated sugar
1/2 cup of chopped cranberries
2 tablespoons of coconut cream
3 canisters of Dasani sparkling water
Mint leaves
Combining these ingredients creates a refreshing, tasty drink with a slightly tangy taste profile. Here's the preparation procedure:
Mix the 1/2 cup of water and sugar in a saucepan and heat until the mixture thickens.
Remove from the heat source and add chopped cranberries, chopped mint leaves, and cream of coconut, perfectly stirring each into the mixture.
Spoon the mixture into an ice cube tray, portioning out the amount equally into all sections.
Divide the fruity ice cubes into individual glasses and pour Dasani sparkling water into each of these glasses.
One thing to note is that this procedure is for 5 servings, with each glass holding a maximum of 9 ounces. That means you'll need to adjust the amount of each ingredient depending on the number of people you're targeting.
3. Green Punch Mocktail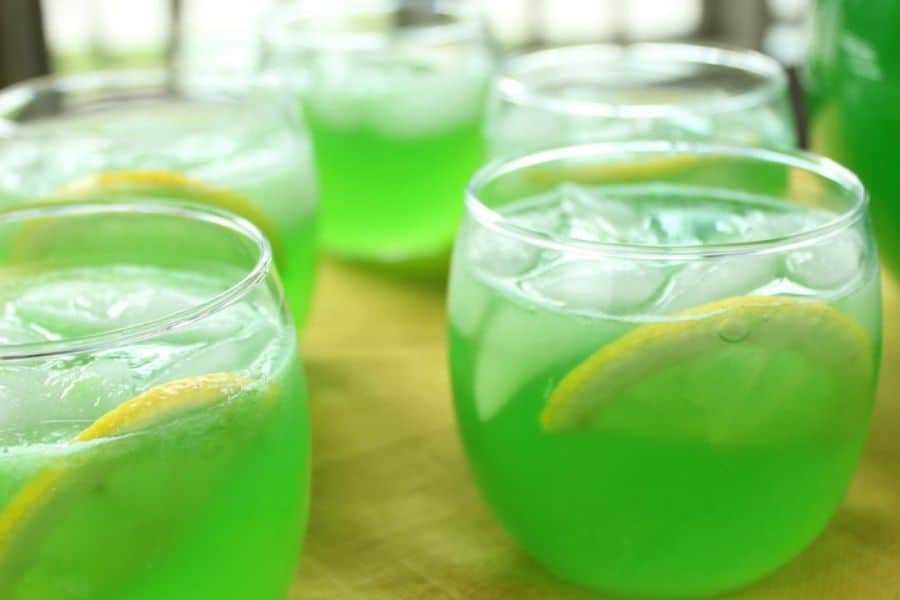 If your kids don't have a problem with green color in their drinks or food, how about giving this recipe a shot?
It's a non-alcoholic drink that's a clever idea for the night and one of the simplest DIY drink recipes around. That's to say, even if you already have much for the evening, the Green Punch mocktail won't add a lot of work to your to-do list.
On the ingredients, here's what you need to make 1-1/2 (one and one-half) gallons of the drink:
1-1/2 cups of sugar
32 ounces of ginger ale
Two 13-ounce packets of unsweetened lime drink mix such as green apple Kool-aid
One 46-ounce can of pineapple juice
12 ounces of frozen lemonade concentrate, thawed
Once you have these components, the rest is easy;
Begin by putting 0.5 gallons (or 2 quartz, if you like) of water in a large container.
Pour in the drink mix and the sugar and stir until the sugar dissolves
Add the pineapple juice and lemonade concentrate
Bring in ginger ale just before serving
You can adjust the amount of sugar depending on how much of it you prefer in your drinks. Plus, you can even adjust the beverage's color by changing the Kool-aid in case your little ones try avoiding anything with green color.
4. The Disappearing Mocktail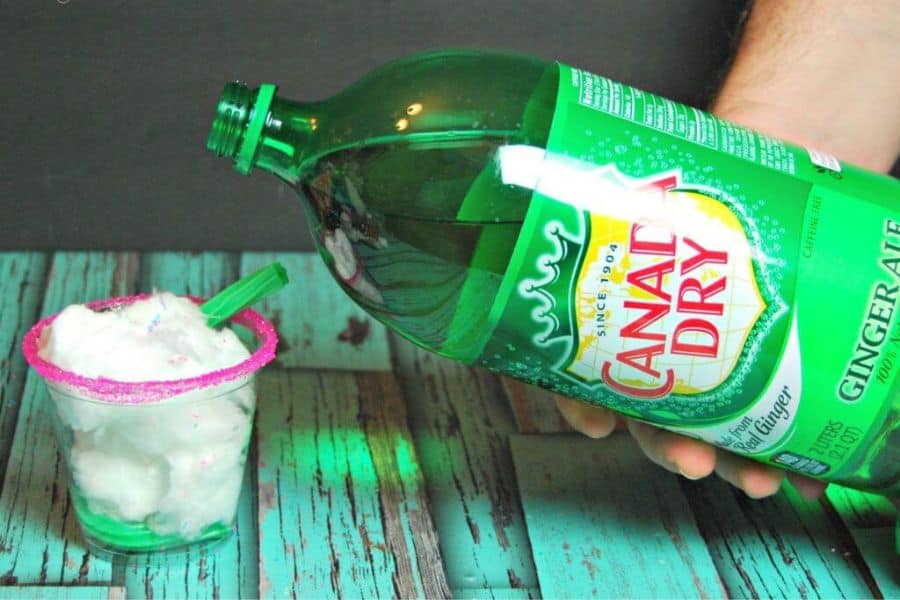 If your kids love treats made with cotton candy, disappearing mocktail is one of the options you don't want to leave out on your list.
This mocktail isn't just delicious and exciting to drink, but also a thrill to watch as the cotton candies slowly disappear as you pour in the drink.
For this option, get equipped with the following:
Color sugar crystals
Corn syrup
Cotton candy in each glass (a handful)
Brightly colored rainbow licorice
Canada dry ginger ale or/and 7-UP
Preparation procedure:
Dip the rim of each glass into the corn syrup. Ensure that you dip just the edge.
Dip the wet edges in a bowl of colored sugar crystals to coat the rims and add some celebratory touch.
Add licorice straw into each glass
Add a handful of cotton candy to each of the glasses
Pour either or a combination of your favorite Canada dry ginger ale and 7-UP to about 2/3 full and serve.
One thing that you should note here is that the color of the cotton candy you choose will affect how your drink looks. If you want your drinks to be clear, go for pink, white, or yellow cotton candy.
However, if you want to add some color to the drink, you can opt for blue or green cotton candies. They'll retain the color once you add regular flavors of Canada dry ginger ale or 7-UP.
5. Fruity Mocktail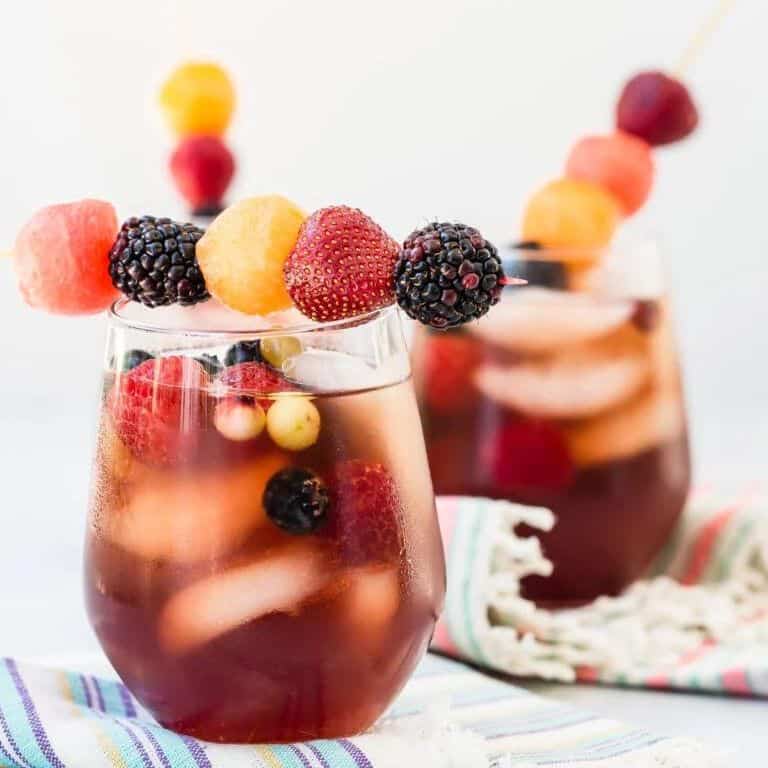 The last mocktail is exactly what the name suggests – it majorly comprises your kids' favorite fruits, and so it's one of the healthiest. You can use strawberries, blueberries, grapes, melon balls, or any other seasonal fruits that your target folks love.
Here's what you need to make the fruity mocktail:
2 cups of sparkling water
2 cups of pomegranate juice
5 cups of your favorite fruits
Bamboo skewers
Once you have all of these, follow the following steps to prepare the mocktail:
In a big pitcher, combine the sparkling water, the pomegranate juice, and half the fruits and freeze.
Once chilled, remove it from the fridge and pour the drink into four glasses containing ice cubes, ensuring that each glass gets some fruits.
Using the remaining fruits, make some skewers to use as garnish
The provided ingredient quantities can make just enough drink for a group of 4. If you have more people on your invite list, you might want to use more of each ingredient, but ensure that you adjust proportionately.