When you're starting out in chicken farming you may not realize that you'll have to live with the decisions you make at the start for a long time. One of these decisions is the breed of chickens you'll be keeping.
Many first-time chicken farmers prefer to start with white chickens because they like the aesthetic. However, not every white chicken is the same, and you can easily find yourself with a breed that is suited for meat production when you want eggs.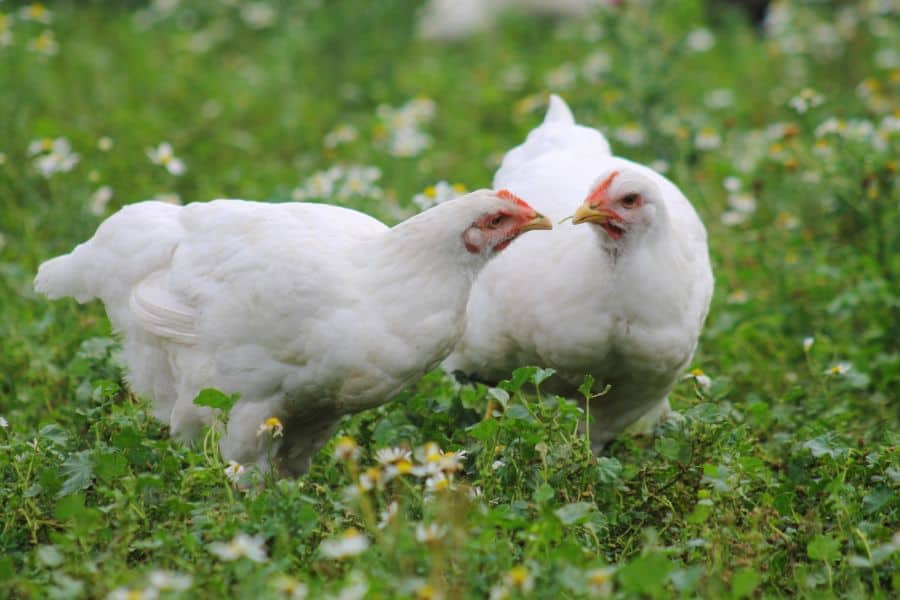 Buying from a reputable source is a good way of ensuring you get a white chicken that meets your needs. Having said that, it won't hurt to know the specifics of the breed of chicken you're getting.
When you know the breed of white chicken, you can plan for the results be it the sale of eggs or meat. This will also make it less likely that someone will successfully convince you a Rhode Island White is a White Plymouth Rock.
Read on to discover the amazing variety of white chickens in the market and what makes each a gem.
Top 12 White Chicken Breeds
White Wyandotte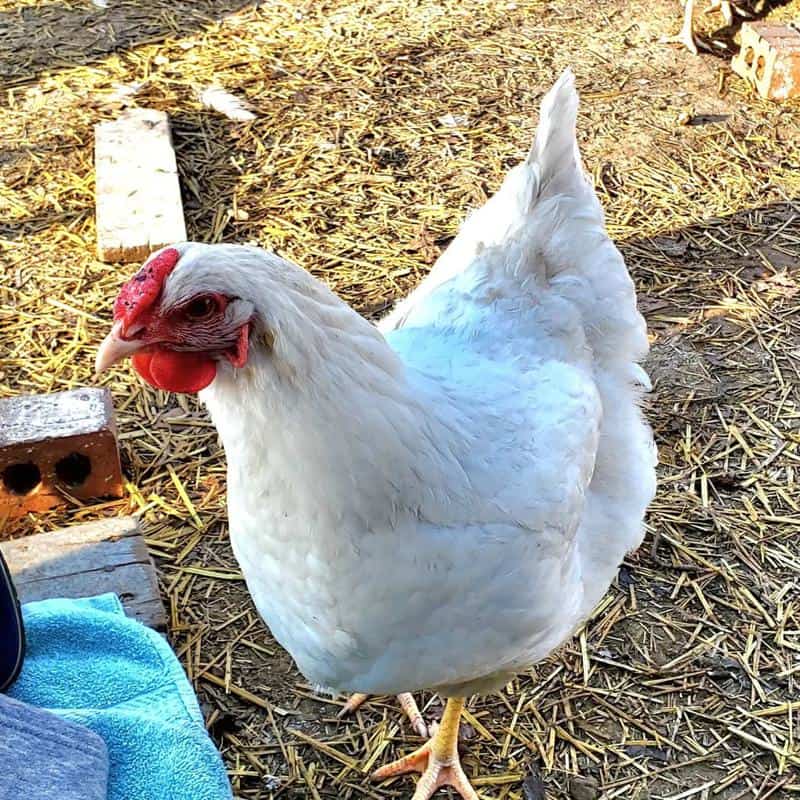 If you are specifically looking for a white chicken breed that lays brown eggs, the White Wyandotte is the bird you're looking for. Wyandotte's have been around since the 1870s when they were developed and named after a Native American tribe.
Wyandotte chickens come in different colors including white. The white variety is the only one that lacks the lacing that is synonymous with the original silver-laced Wyandotte.
The white variant came about as a biological mutation of the original, not because of crossbreeding.
White Wyandotte chickens are relatively large with the males weighing as much as 9 pounds. This made the breed a good source of yellow-skinned meat.
This chicken breed has a rose comb on top of its broad skulls and the feathers are held up tightly against the body.
Wyandotte hens are good layers and can produce more than 200 large brown eggs in a single year. In Germany, some Wyandotte chickens are also popular as show birds.
Origin: USA
Primary Purpose: Meat and Eggs
Egg Production: Mid – High
Climate: Cold hardy
Personality: Mild-Mannered
Max Weight (Rooster): 9 lbs.
Special Fact: Originally called the American Sebright
White Ameraucana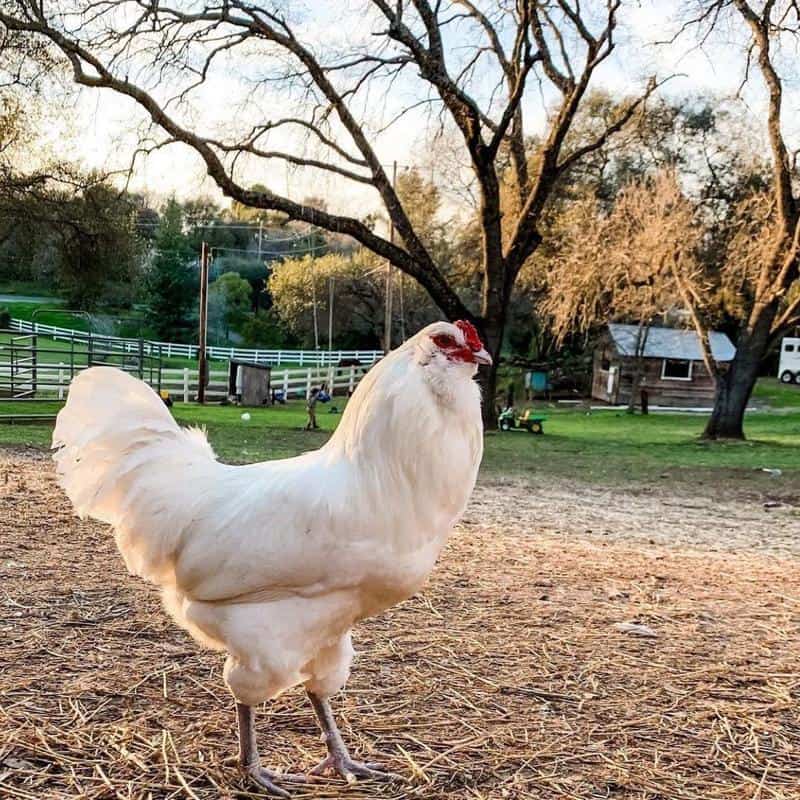 If blue eggs are your thing, then the White Ameraucana is a bird you want in your flock. The Ameraucana borrows part of its name from the Araucana breed but was developed in the USA.
Ameraucanas are relatively new to the chicken family having been developed in the 1970s, but it is now one of the select breeds that can lay the highly sought-after blue eggs. In addition to the blue egg gene, it also gets its pea comb from the Araucana.
Ameraucanas come in a wide range of colors including white and they have a beard which gives them a distinct look among chickens. These chickens are mid-sized with the males topping out at around 6.5 pounds.
Although this breed is recognized as being separate from the Araucana in the USA, in places such as the UK and Australia, they are still considered to be a single breed.
Origin: USA
Primary Purpose: Blue Eggs
Egg Production: Mid
Climate: Cold hardy
Personality: Mild-Mannered
Max Weight (Rooster): 6.5 lbs.
Special Fact: Some have slate-blue legs.
Rhode Island White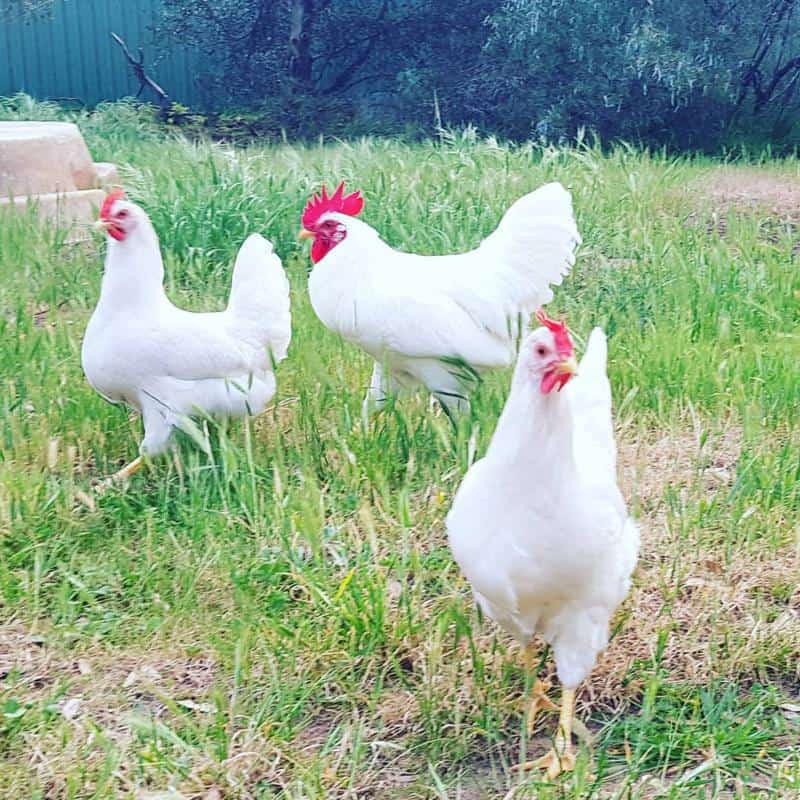 Although not as famous as their red namesake, the Rhode Island White is yet another chicken breed that traces its origins back to the East Coast state. In spite of their similar origins, the Rhode Island White is actually a distinct breed from the Red.
Rhode Island White chickens were developed by crossing White Wyandottes, White Leghorns (with rose combs), and Cochins. This work was done in the period between 1888 and 1903.
This chicken breed was accepted as an official breed by the American Poultry Association in 1922 and its popularity held up until the 60s. You may have to work a little harder to get your hands on a Rhode Island White today as it is already listed as a breed to watch.
The male birds can weigh as much as 8.5 pounds and hens can lay 250+ eggs in just one year and are known to lay well during winter. This makes the Rhode Island White an ideal dual-purpose breed for many farmers.
Unlike most of the other breeds in this list, there is only one color variant and that is the completely white one with a rose comb.
Origin: USA
Primary Purpose: Meat and Eggs
Egg Production: High
Climate: Can be all-weather depending on comb size
Personality: Social and Active
Max Weight (Rooster): 8.5 lbs.
Special Fact: Can produce Jumbo eggs.
White Leghorn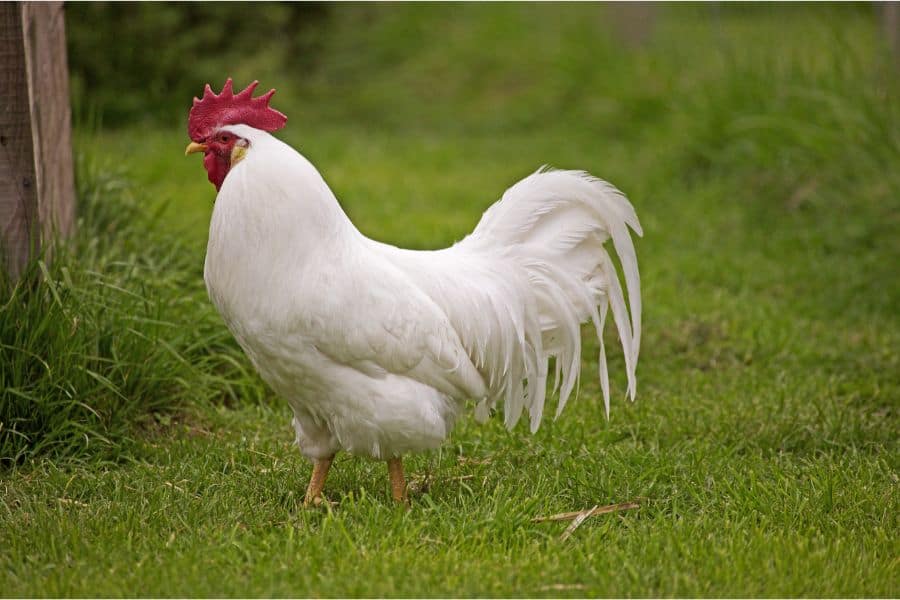 White Leghorns are the most common variety of the Leghorn breed of chickens which originate from the Tuscany region in Italy. White leghorns are popular as layers all over the world and produce as many as 320 eggs in one year.
Leghorns usually have one comb with white ear lobes and bright yellow legs. The roosters can weigh as much as 7.5 pounds.
White Leghorns are not just good layers but have also been used in the development of high-producing layers for commercial operations. However, the origins of Leghorn chickens are not known and are believed to have come from several breeds in Tuscany.
The White Leghorn was one of the first variants of the breed to be recognized in the United States in 1874.
In Italy, there are ten different color varieties of the Leghorn that are recognized while in Britain the number is 18.
Origin: Tuscany, Italy
Primary Purpose: Eggs
Egg Production: Very High
Climate: All-weather
Personality: Excitable
Max Weight (Rooster): 7.5 lbs.
Special Fact: The rose comb is not permitted in Italy.
White Araucana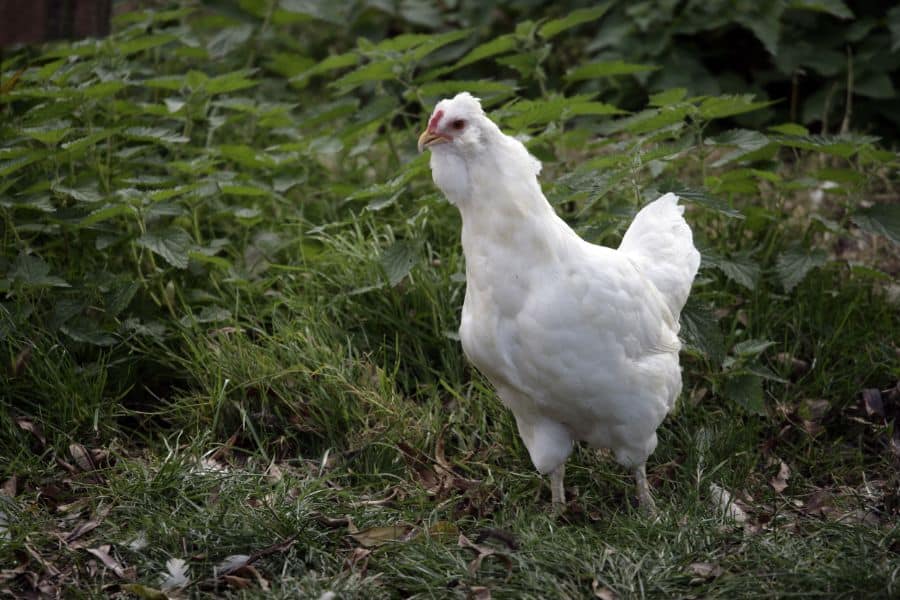 Getting a White Araucana is a decision that you might want to approach with caution. In addition to their plumage and blue eggs, this breed of white chicken can also feature ear tufts and may also have no tail.
While these physical characteristics make these chickens stand out, the genes that cause them are also lethal. They can cause the chicks to die before hatching or an unusually high death rate among those that hatch.
Although it is known that Araucana chickens are from Chile, the exact origins of this breed are not known. Their existence has been documented as far back as 1914 when they were named after the Araucania region.
This was the first breed of chicken that was found to produce blue eggs. Araucanas can produce as many as 250 of these uniquely colored eggs in one year.
Origin: Chile
Primary Purpose: Blue Eggs
Egg Production: High
Climate: All-weather
Personality: Mild-Mannered
Max Weight (Rooster): 7.0 lbs.
Special Fact: Both Ameraucanas and Easter Eggers are derived from Araucanas.
White Jersey Giant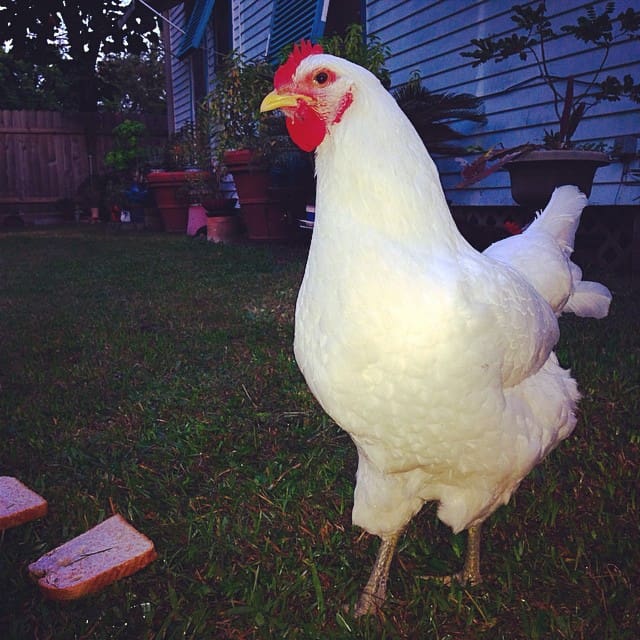 The most important fact you need to know about the White Jersey Giant is in its name. It is a giant that can weigh in at 12 pounds making it one of the largest chicken breeds on the planet.
Jersey Giants were the creation of John and Thomas Black who were looking for a chicken breed that could usurp the turkey as one of the main sources of meat at the time.
This breed of chicken has been around for a while, having been recognized as a breed in 1922. The white variety was officially recognized in 1947.
Jersey giants were initially raised as broilers and capons and were even larger in the past.
Modern industrial chickens that can be grown faster ended the use of this breed of chicken for mass meat production, but it may still be a great addition to your backyard. The roosters are quite approachable, and the hens are decent layers even during winter.
The original Jersey Giants were bred by crossbreeding dark Brahmas, black Javas, and black Langshan chickens. The eggs produced by the hens are brown and quite large.
Origin: New Jersey, USA
Primary Purpose: Meat
Egg Production: Mid – High
Climate: Cold hardy
Personality: Mild-Mannered
Max Weight (Rooster): 12.0 lbs.
Special Fact: The Black Jersey Giant is usually heavier than the White.
Bresse Gauloise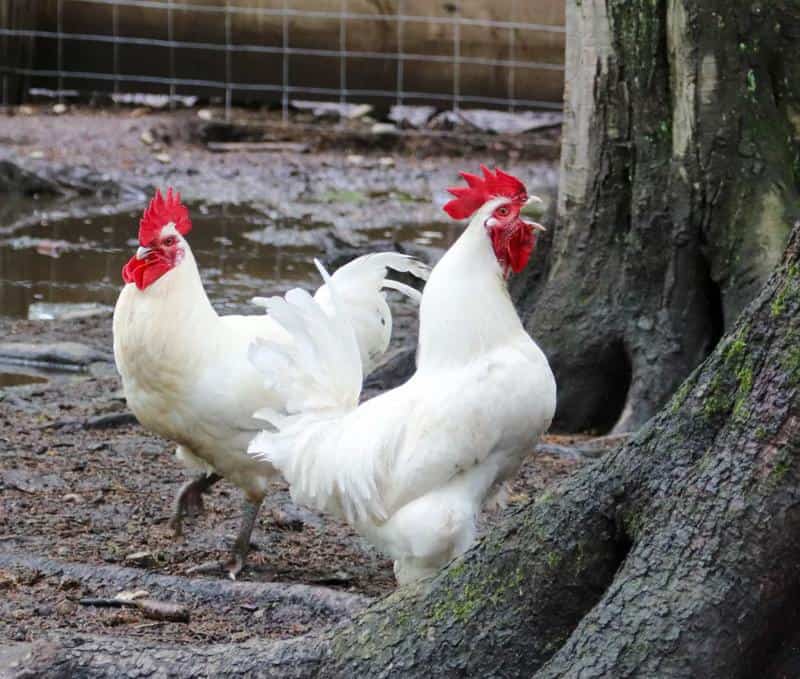 With a name that fancy this chicken breed could only be from France but it gets even better. There are four colours that are recognized under this breed and the white ones are specifically referred to as Bresse de Beny.
Legally, your white chicken can only be a Bresse Gauloise if it is raised within the historic region of Bresse in France. If you live outside the Bresse region, your chicken can only be called a Gauloise but don't let that stop you from getting one.
The White Bresse Gauloise or Bresse de Beny has a Protected Designation of Origin status in the European Union and commands a premium price when sold for its meat.
Compared to many chicken breeds, the Bresse Gauloise is quite old, having been around back in the 1500s. They were described as the queen of poultry in the 19th century by famed gastronome Jean Anthelme Brillat-Savarin.
The quality of the Bresse Gauloise's meat is the main reason why this chicken is reared. This bird's meat features fat marbling that is akin to that of beef steaks making the breast meat juicier than that of other chicken.
Although the Bresse Gauloise's meat captures the headlines, the hens can also produce around 200 large eggs in a year.
Origin: Bresse, France
Primary Purpose: Meat
Egg Production: Mid
Climate: Moderate
Personality: Independent and active
Max Weight (Rooster): 6.6 lbs.
Special Fact: The breed had all but disappeared by 1900 but was revived.
White Plymouth Rock Chicken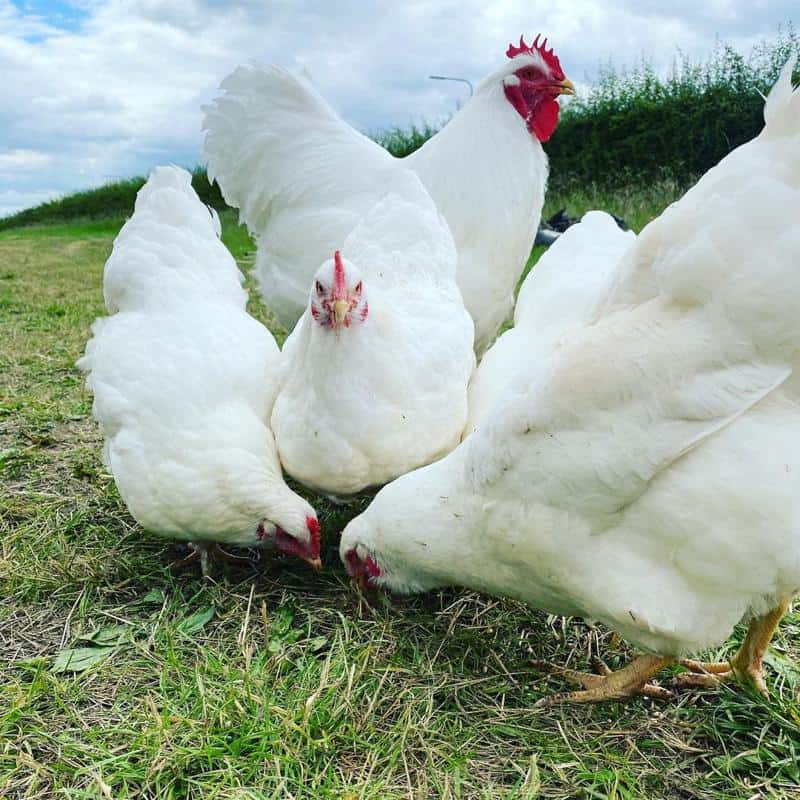 The white variety of the Plymouth Rock chicken is the most common one in the world. This breed of chicken originated from the State of Massachusetts in the USA and was once the most kept chicken in the US.
The Plymouth Rock chicken was first exhibited in 1849 but wasn't seen again for two decades.
The modern Plymouth Rock chicken is believed to be the result of crossing black Java hens with single-combed roosters with barred plumage.
Other breeds thought to have contributed to this breed include Cochin, Brahma, White-faced Black Spanish, and Dominique chickens.
Until around the Second World War, no other chicken breed surpassed the Plymouth Rock in terms of numbers. It was later used to develop broiler breeds for use in large-scale chicken production.
The hens lay around 200 sizeable brown eggs every year and the roosters can be as heavy as 9.5 pounds.
Its cold-hardiness, mild temperament, and suitability for both egg and meat production ensure the White Plymouth Rock remains an appealing breed for farmers to date.
Origin: Massachusetts, USA
Primary Purpose: Eggs and Meat
Egg Production: Mid
Climate: Cold hardy
Personality: Mild-Mannered
Max Weight (Rooster): 9.5 lbs.
Special Fact: Hens can lay eggs into their 10th
Yokohama Chicken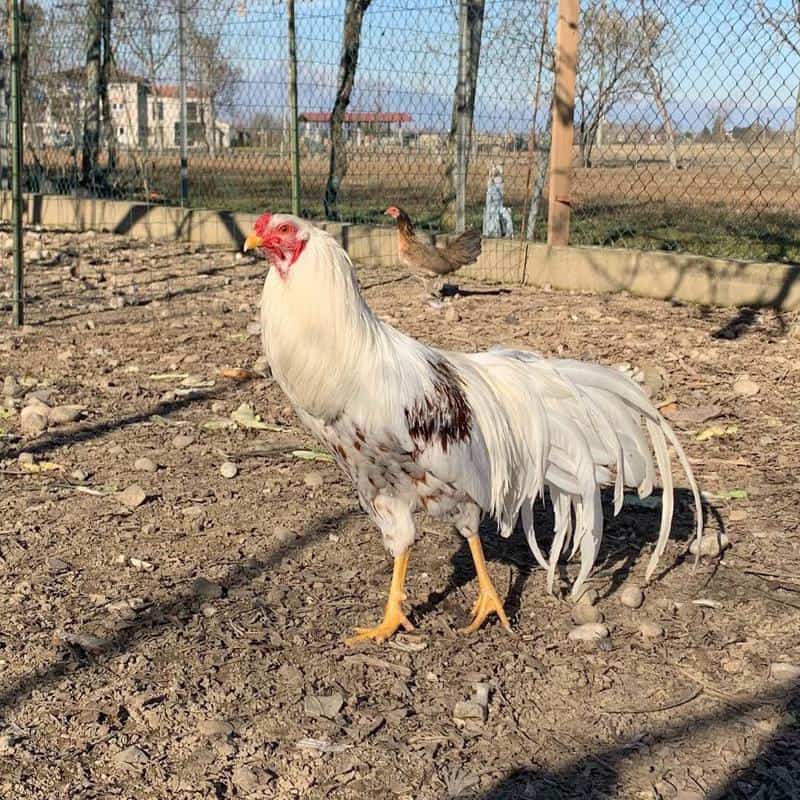 Yokohama chickens are from Germany and if the name of this breed led you to believe it came from Japan, you wouldn't be the first to make that mistake. Some of the chickens from which this breed was derived were exported from the port of Yokohama in Japan.
This breed of chickens is mainly kept for showing and one look at them explains why. Yokohama chickens have uniquely long tail feathers, a feature they get from the ornamental chickens they were derived from.
Check out the eye-catching tails of this flock of Yokohama Chickens.
It's not just the tail feathers of this chicken that are long, even the tail is longer than that of your typical backyard chicken. Their combs are either walnut or pea types.
In their country of origin, the Yokohama chicken name strictly refers to the red-saddled and white variants of this chicken. In the UK, the use of the term extends to chickens known by a different name in Germany thus, a few more colors are recognized.
At their heaviest, these chickens only weigh in at 5.5 pounds and the hens only lay around 80 eggs each year. If you want a bird for meat or eggs, the Yokohama chicken would be a poor choice.
Origin: Germany
Primary Purpose: Ornamental
Egg Production: Very Low
Climate: Cold tolerant
Personality: Mild-Mannered
Max Weight (Rooster): 5.5 lbs.
Special Fact: Is a different breed from the Phoenix chicken.
Sultan Chicken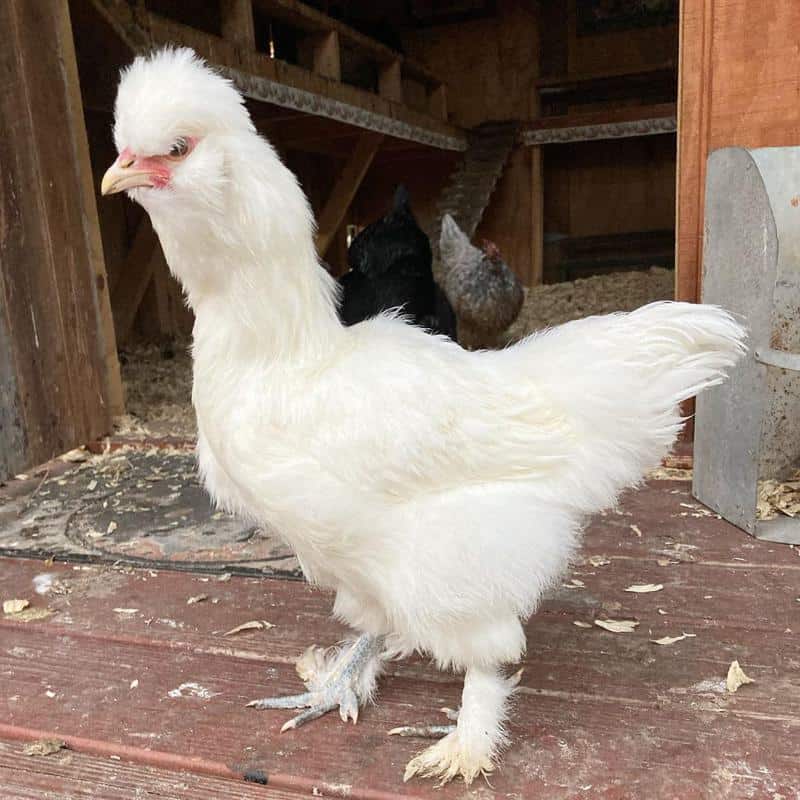 You don't get to be called the Sultan Chicken unless you have something to show for it and these birds fit the bill. This breed of white chicken is from Turkey, and they are crested chickens i.e., they have upward pointing feathers on top of their heads.
In Turkish, these chickens are known as Sarai-Tavuk which means "Fowls of the Sultan". These chickens were kept in the Ottoman sultanate's gardens and their purpose was ornamental as it still is today.
According to records, the first time this chicken breed was exported out of Turkey was in 1854 when a flock was taken to Britain. Despite their ancient origins, these birds continue to be a rare sight throughout the world and almost went extinct at one point.
There are many ways to differentiate the Sultan Chicken from other chicken breeds starting with the V-shaped comb. It also has muffs, a beard, and large nostrils.
Sultan chickens are excellent pets but require a significant degree of care. Only the white variant is recognized as a true Sultan chicken and their females lay about 50 eggs in a year.
Origin: Turkey
Primary Purpose: Ornamental
Egg Production: Very Low
Climate: Warm weather
Personality: Mild-Mannered
Max Weight (Rooster): 6 lbs.
Special Fact: Has five feathered toes on each foot.
California White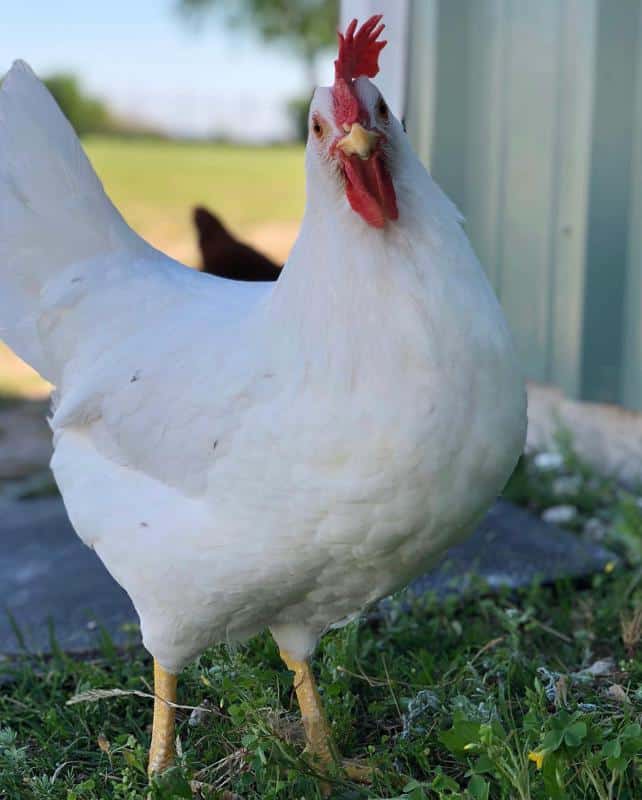 If you're open to getting a hybrid, the California White is a champion layer that can provide 300 or more eggs for you in just one year. This hybrid chicken is the result of crossing California Grey cockerels with White Leghorn females.
The California White was introduced back in the 1930s when there was a high demand for both meat and eggs. This chicken was supposed to be dual purpose although the males can only achieve a weight of around 7.5 pounds at maturity.
Both the hens and the roosters of the California White hybrid are completely white with red combs, earlobes, and wattles. They may have some black spots on the feathers in their tails or lower backs.
California Whites can be easily confused for White Leghorns. They have a posture that is a little more upright compared to their mothers and are typically larger than Leghorns.
Origin: California, USA
Primary Purpose: Eggs
Egg Production: Very High
Climate: Cold hardy
Personality: Excitable
Max Weight (Rooster): 7.5 lbs.
Special Fact: Is not a true breed.
White Cochin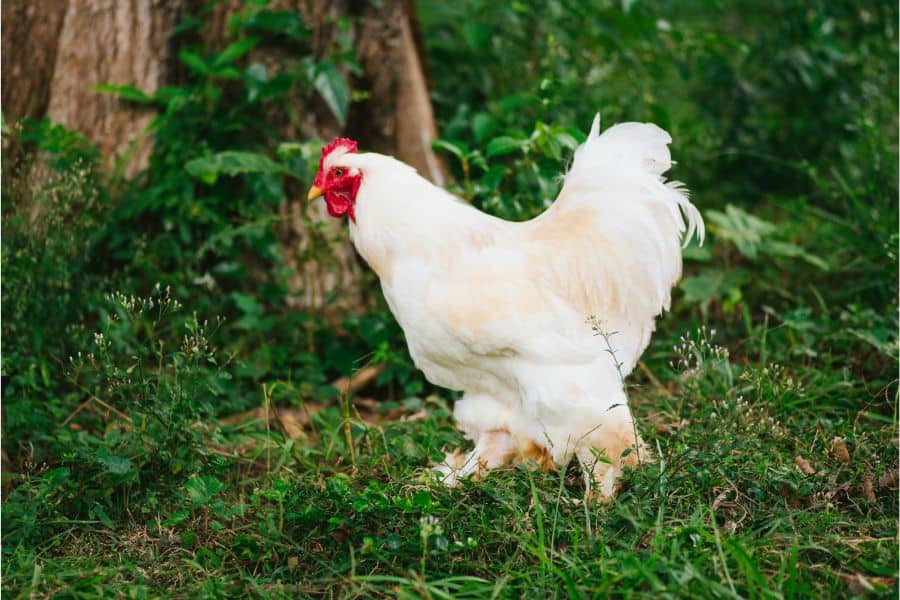 When Cochins were first introduced to the west, they started what was later called "hen fever". If you were to see your first White Cochin today, it may just have the same effect.
White Cochins are some of the largest chickens you'll come across and can weigh as much 13 pounds. What might be more surprising is that despite their heavy weight, these birds are mainly raised for exhibition, not meat.
Apart from their size, the other thing that stands out in Cochins is their feathered legs which they are hatched with. They have feathers that are fluffy giving them the appearance of being larger than they are.
Cochins do quite well in the cold thanks to their plumage but that makes it harder for them to cope with warmer weather.
Despite their size, Cochins are exceptionally mild-mannered and make some of the best mothers in the world of chickens. If you have some other poultry that is not as broody, White Cochins may be the adoptive parents you need because even the roosters can brood chicks.
Origin: China
Primary Purpose: Exhibition
Egg Production: Mid
Climate: Cold hardy
Personality: Mild-Mannered
Max Weight (Rooster): 13 lbs.
Special Fact: At most stages of their lives, the texture of their meat is poor.
Also Read:
Final Thoughts
When starting out as a chicken farmer there will be no shortage of chickens to choose from. Unfortunately, if you don't take some time to assess the breed of chicken you're getting, you may find yourself with a high-maintenance, low-yield flock.
The wide range of recognized white chicken breeds can make selection a challenge. Additionally, some of the white chickens out here are merely hybrids which may result in disappointing chicks.
With white chicken breeds like the ones on this list, you can get a good idea of what you'll end up with. Not every chicken farmer desires the same thing and others will want neither eggs nor meat from their birds.
Regardless of what you want from your white chickens, remember that there is a breed that will meet your needs. You just need to take some time to be sure you're getting the real deal.