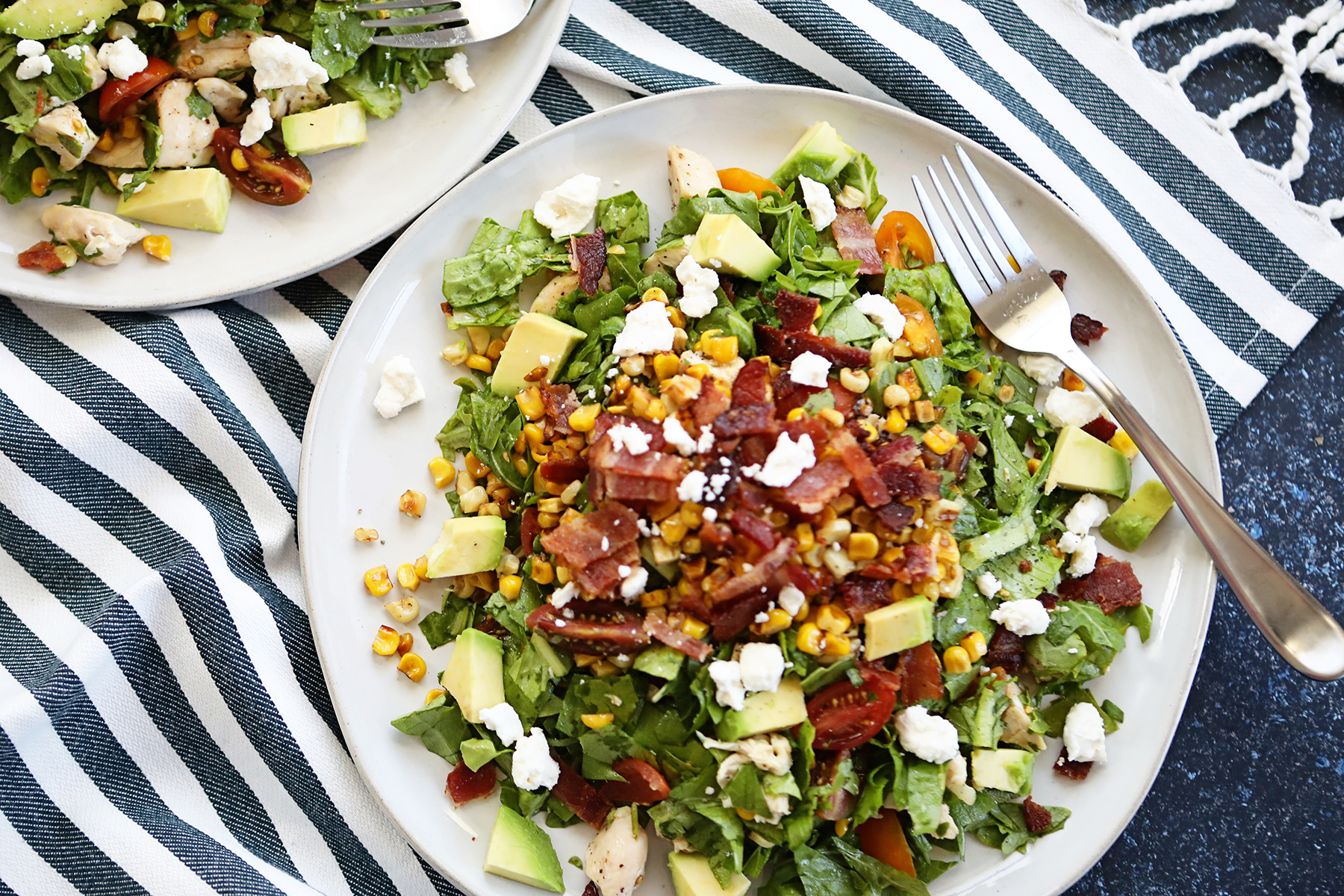 The days are really heating up around here. It's supposed to be in the 90's the next two weeks and we decided not to put the pool up this summer. The good news is that the lake is only about 30 minutes away.
The bad news is, intense heat always makes eating difficult. Does anyone else feel like that? Like you're too hot to eat? Oddly, this Mother Nature induced too-hot-to-eat fasting does nothing for my waistline or the numbers of the scale. That may be the true tragedy of it all.
I suppose it's because too hot to eat also means too hot to cook and we end up eating junk. That lead me to work on a few things that wouldn't involve much cooking at all like this Summer BLT Chopped Salad recipe with bacon crumbles and feta.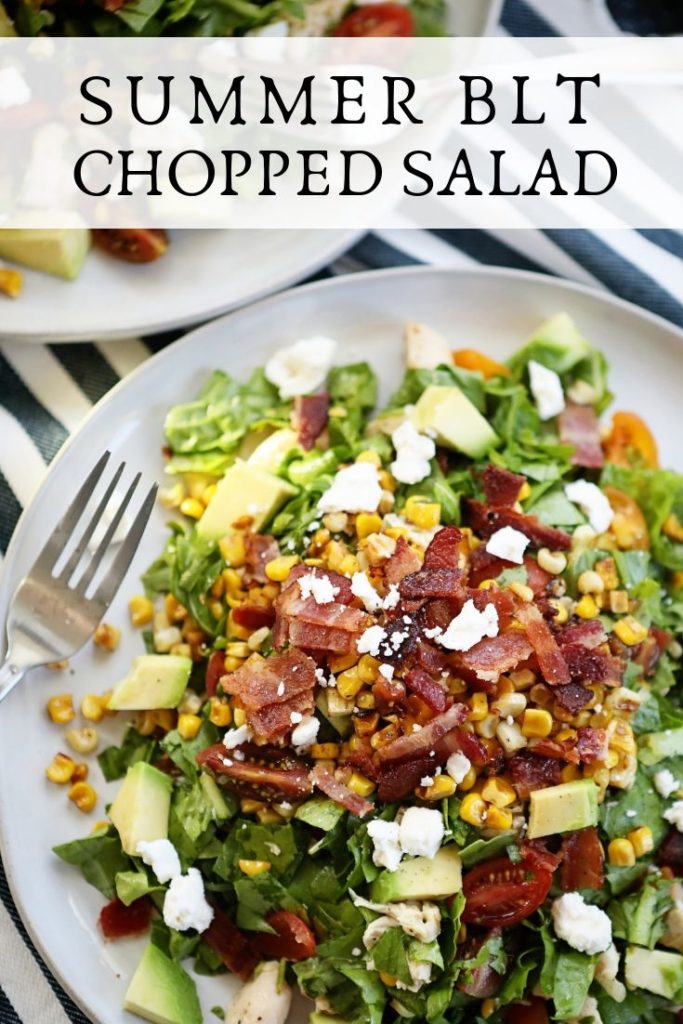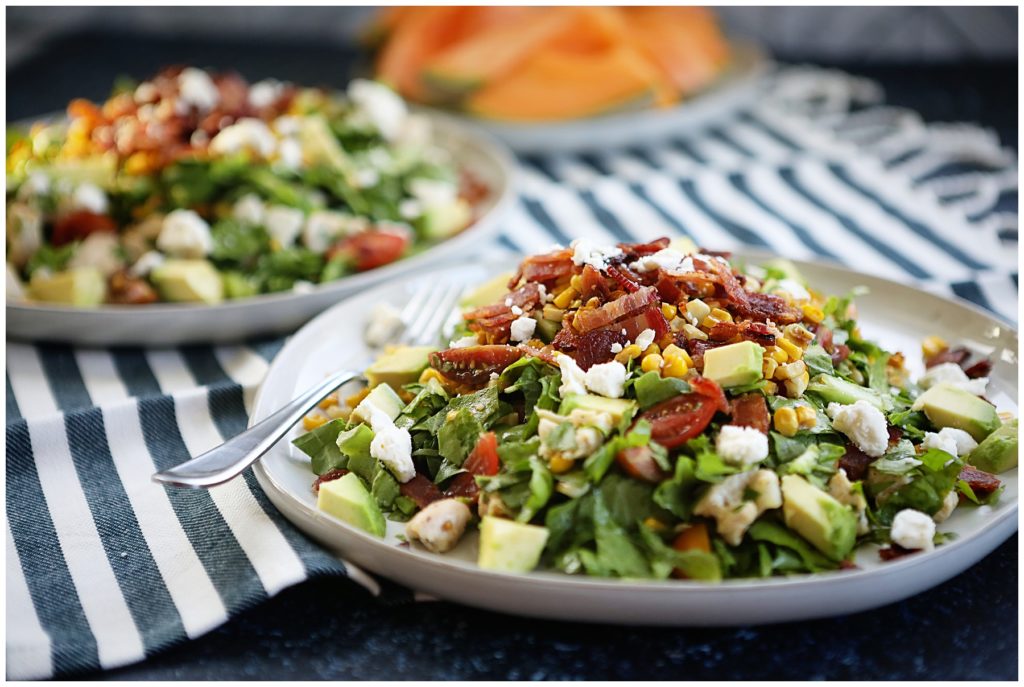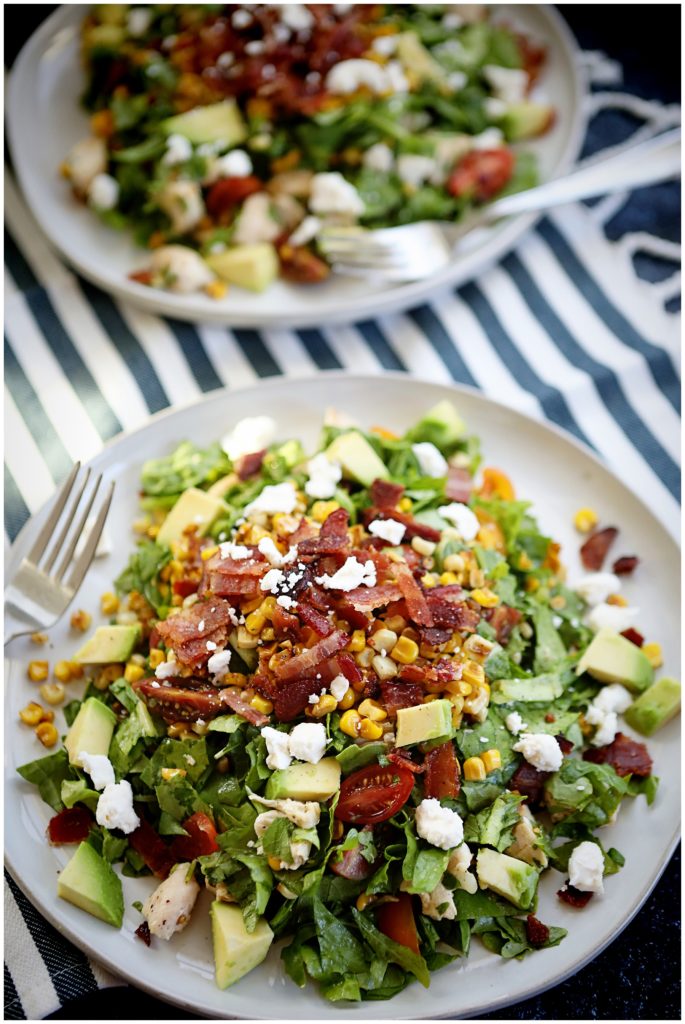 Summer salad obsessed 
I've been a bit obsessed with salads the last few weeks. I've been craving simplicity in cooking and in my meals and looking for ways to incorporate the things I'm growing in the garden into my life. Lots of evenings, we're spreading some lettuce out on a cutting board, topping it with various items and calling it a meal.
This salad combines so many delicious things I love and provide a whole meal without too much effort or a lot of fancy cooking. It's simple and I love it.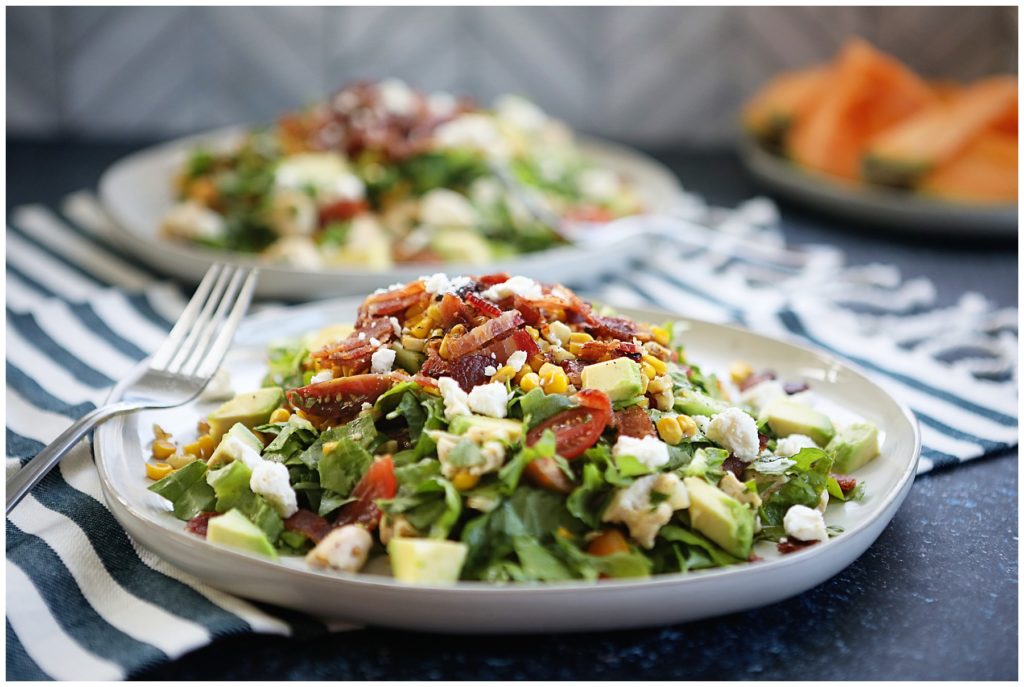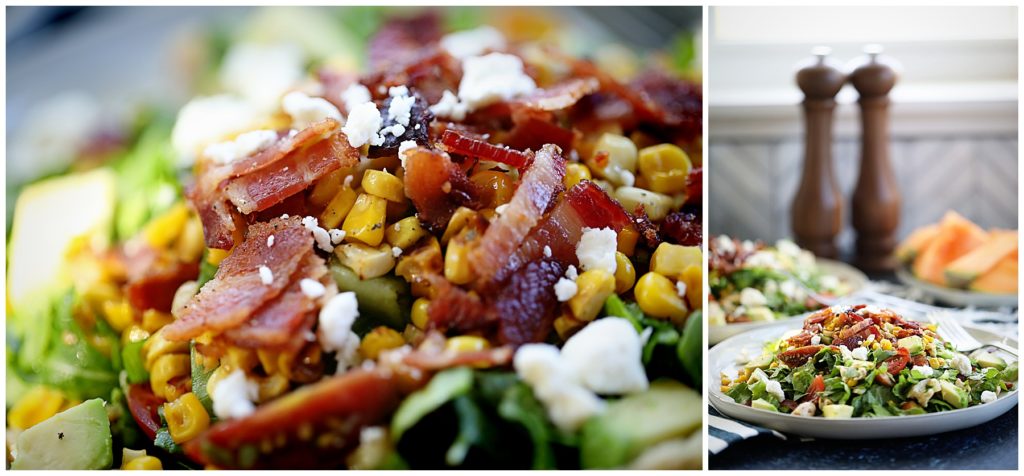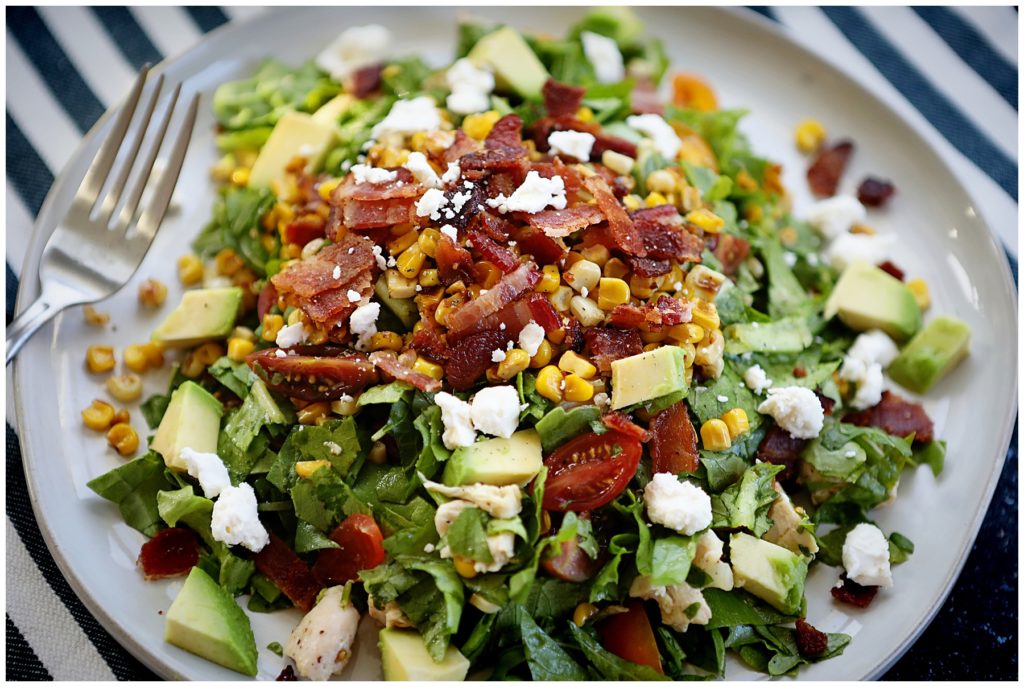 A few of my favorite ingredients
I used a combination of arugula, which I adore for its spicy and interesting flavor, and bibb lettuce that I'm growing in the garden. I topped it with some easy-to-find summer veggies that everyone loves and then added in some bacon and feta to complete it.
The best part about it maybe that it doesn't have a heavy, complicated dressing. With BLT sandwiches you might imagine a lot of mayo. However, this dressing is dairy free.
When eating salad, I often just like vinegar and oil with some fresh spices so and this salad is almost just that simple with the exception of one ingredient.
Get the whole recipe below. I'd love to hear if you decide to make it at home!
For more summer recipes, click here.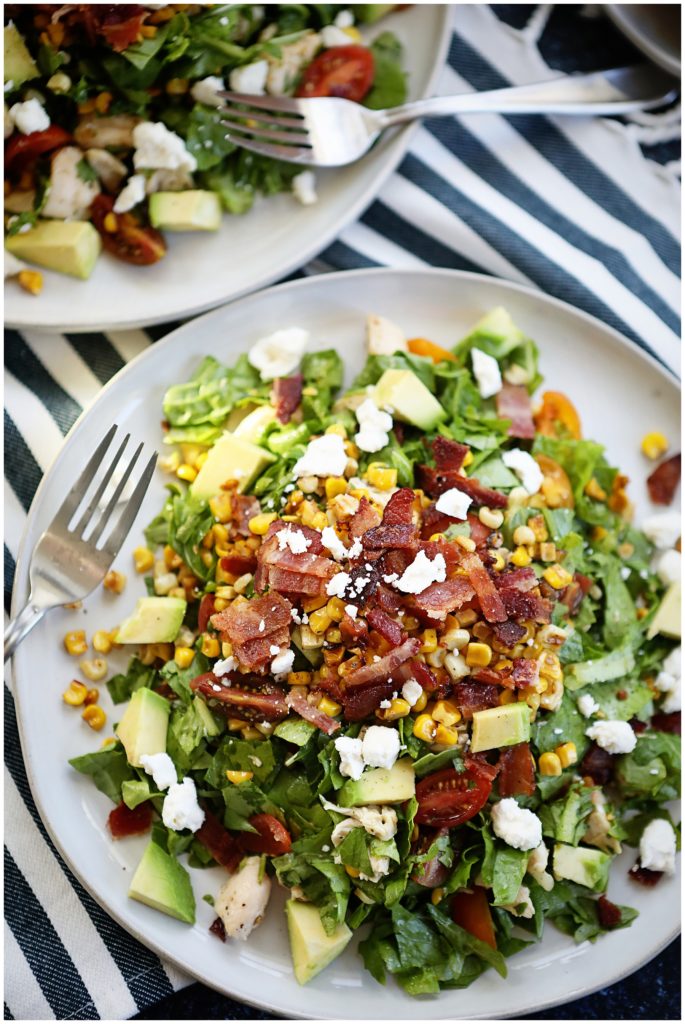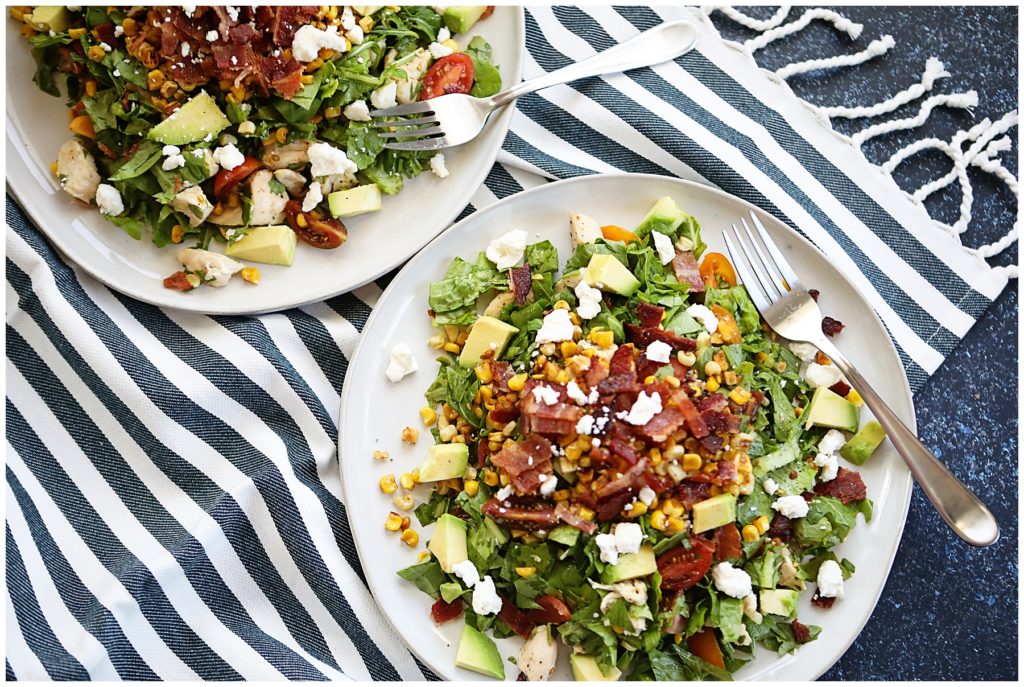 Summer BLT Chopped Salad Notes:
This recipe makes a large amount of salad and since the dressing is put directly on it, it doesn't save well. I ate it the next day but the lettuce was limp and the fresh flavor was somewhat diminished.
This is perfect for a family dinner, lunch or a party. It will serve 4 as a main dish and 6 or more as a side.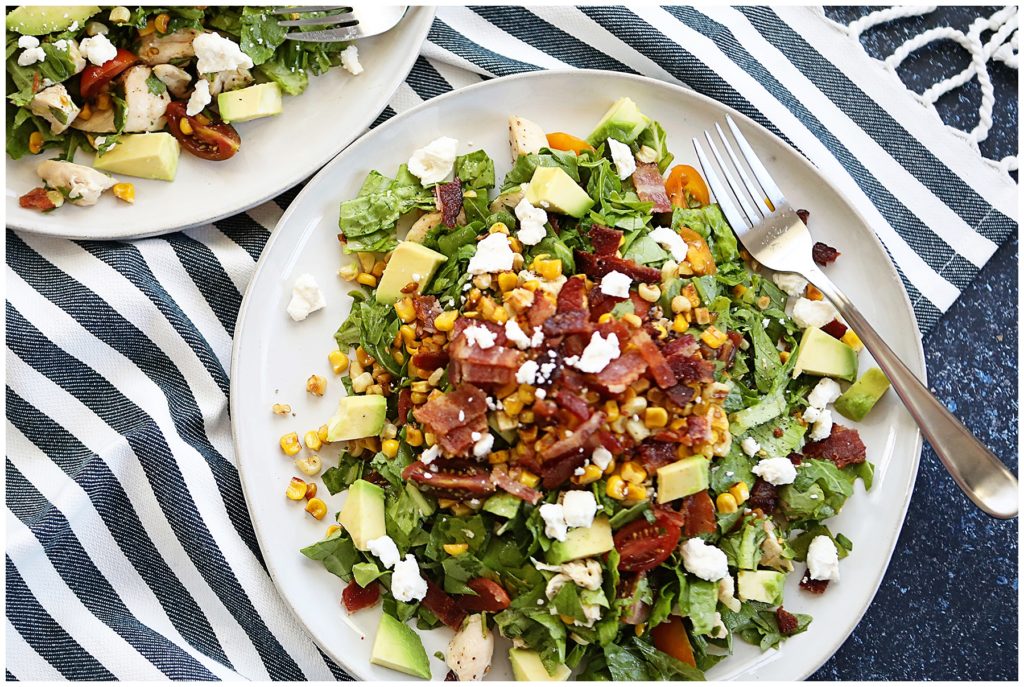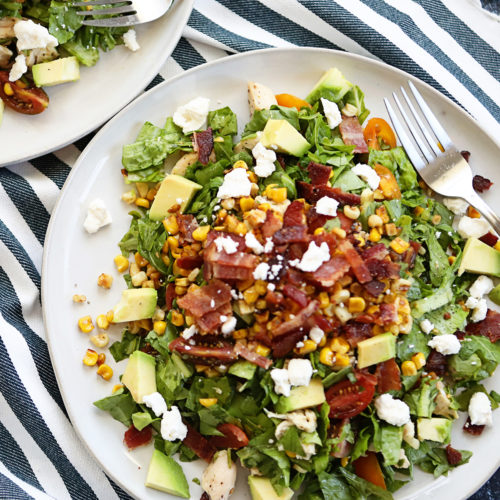 BLT Summer Chopped Salad
This summer chopped salad is perfect for those nights when you don't want to make dinner complicated. It's simple, delicious and easy to make.
Print
Pin
Rate
Ingredients
4

cups

arugula, chopped

4

cups

bibb or butter lettuce, chopped

2-3

pints

of cherry tomatoes, quartered or halved

1

package

of bacon

1

package of

chicken tenders

3

ears

of corn

To save time you can also use canned or frozen corn

2

avocados, cubed

6

oz.

feta cheese.

This is about one container if you purchase it already crumbled. A little less than one cup if you buy a block of it.

4

green onions, sliced

2

limes, juiced

2

Tbsp.

extra virgin olive oil

Make sure you're using a good quality extra virgin olive oil.

4

tsp.

salt

1

Tbsp.

of fresh ground pepper

1

Tbsp.

of olive oil to cook the corn
Instructions
Preheat your oven to 400. Lay out bacon on a cookie sheet lined with tin foil and bake it for 17 minutes. This is my favorite way to cook bacon and it is the easiest if you're serving a crowd or need to be doing other things like chopping.

Cut the corn off your cobs and sauté it with 1 tbsp of olive oil over medium heat for about 5 minutes. When it is done remove it from the heat and let it cool.

While the bacon and corn cooks, chop your arugula and lettuce. Run a large knife over the leafs a couple time in parallel directions. Add it to a large bowl.

Wash your tomatoes and cut them in quarters. Add them to the bowl.

Cut your green onions and add them to the bowl.

Once your bacon is done, remove it from the oven and let it cool. Crumble it once it is cool.

While the bacon is cooling, reduce the heat in your oven to 350. Add some olive oil, salt and pepper to both sides of your chicken tenders. Cook them for about 7-10 minutes in your oven. Make sure they are done when you pull them out.

Once cooled, cube your chicken and add it to your bowl.

Add your corn and half of your bacon to the bowl too.

Cut your avocado and cube it. Add it to the bowl.

Drizzle your lime juice over the top of the salad. Add the salt and pepper. Toss thoroughly to mix the salad and make sure the lime juice and salt and pepper are easily mixed.

Add your cheese to the top of the salad and the second half of the bacon.

Additional salt and pepper as desired.