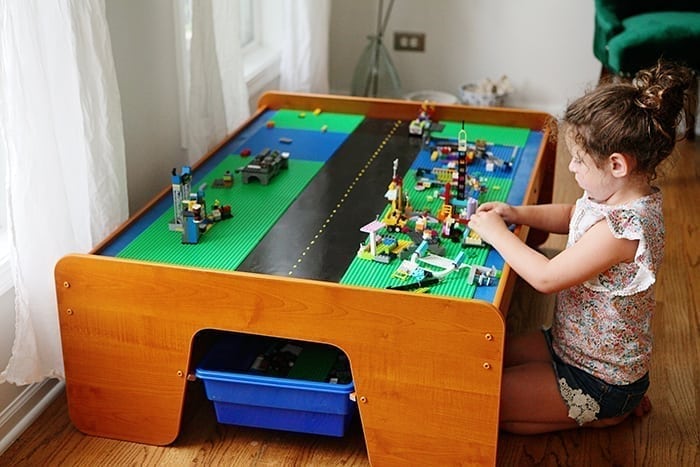 A year and a half ago, Santa made a big mistake. He brought us a big, heavy and bulky train table that was a good idea in theory but ended up being one of those toys that just takes up space and is never used.
It has sat in my playroom and acted as a table for all other toys. Train tracks have been strewn about and all the little trees and the people must be visiting the places that all the socks end up.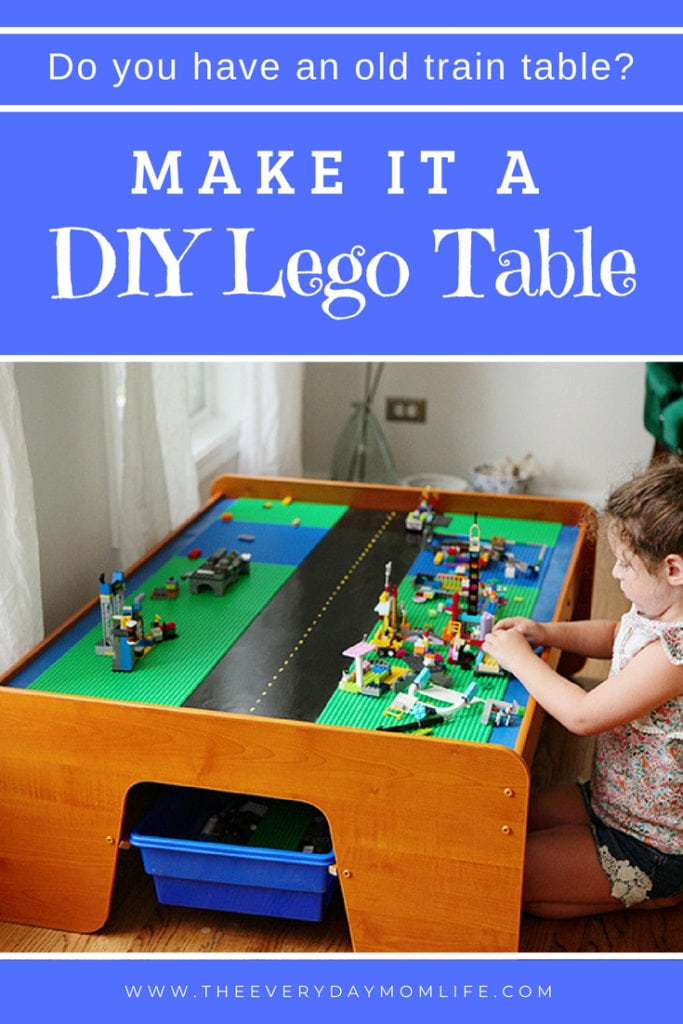 Trash or Treasure?
I decided I either needed to get rid of it or do something useful with it. Around the time I had that thought, I stepped on a Lego. It was like kismet.
My kids were just starting to get into loving Legos and if my nephews were any indications, I knew that love would last for a long, long time.
I also knew that I hated having Legos all over the place. They didn't really have a home or one place to collect.
Turning the train table into a awesome DIY Lego table seemed like the perfect solution to my problems and the best use for this gift that wasn't even 2-years-old.
We've had the table completed for a couple days now and already my daughter and I have spent hours playing on it. I'm finding that it might not just be my kids that love Legos, but myself too.
Here's how I did it.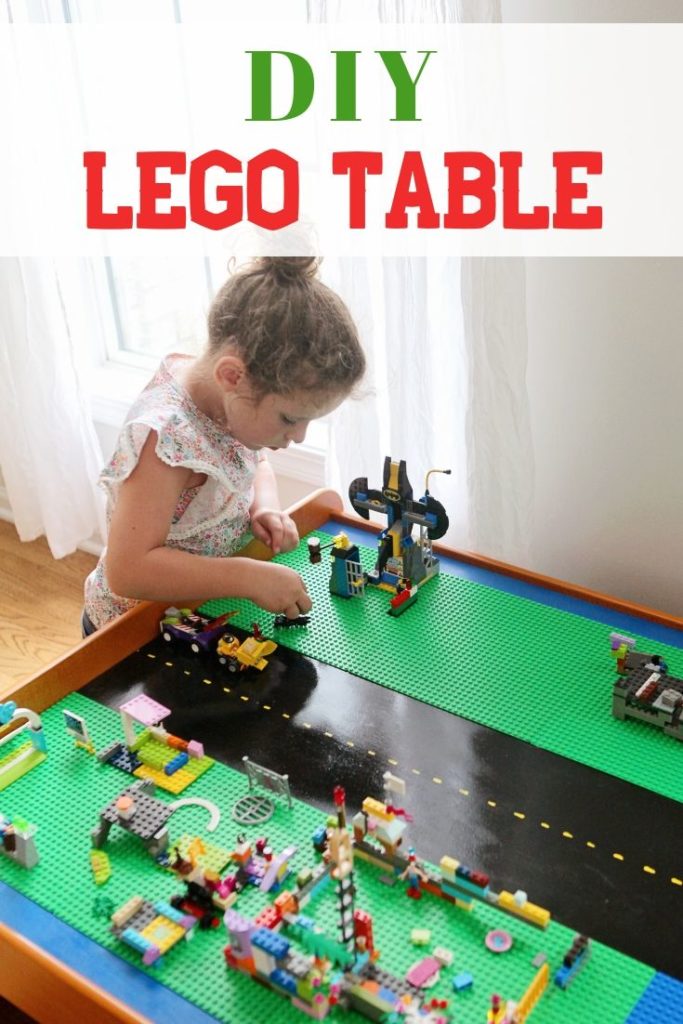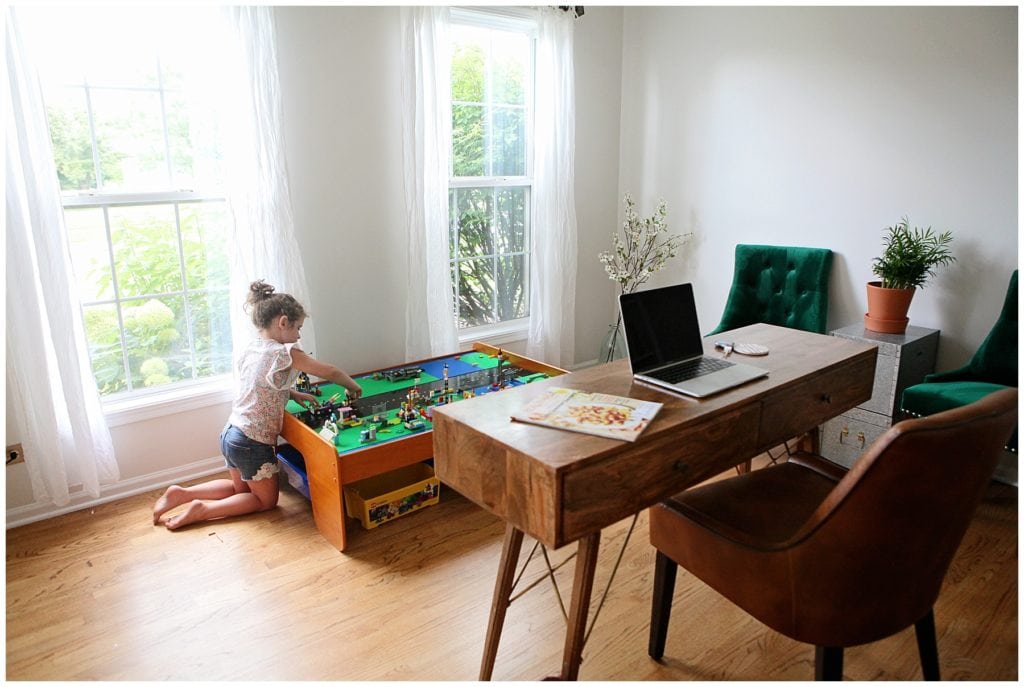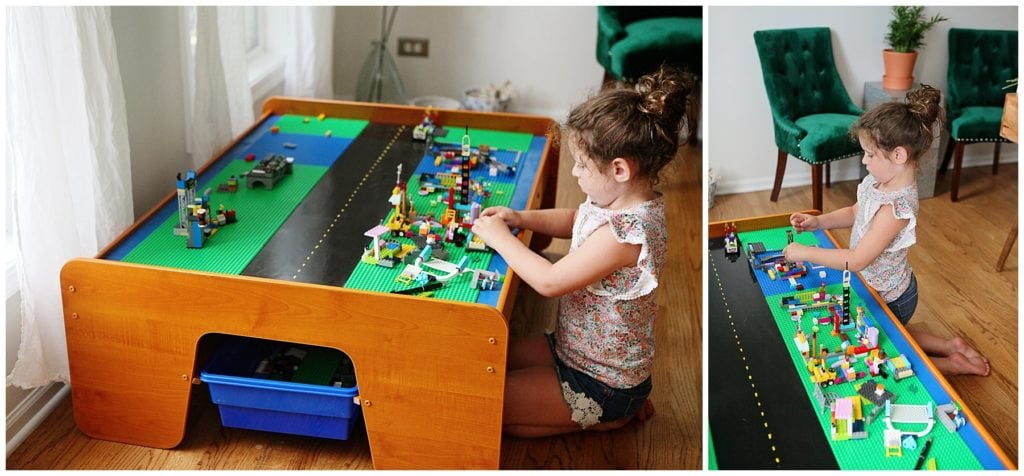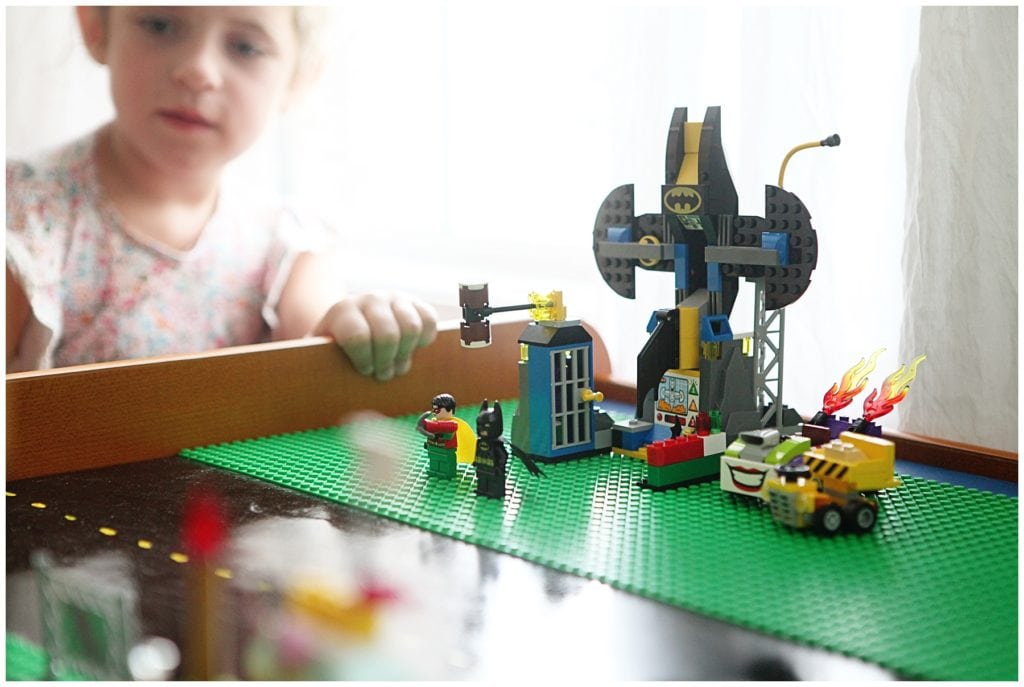 Supplies For Making a DIY Lego Table
Train Table
A piece of wood in the size of your table. Make sure you measure it. Sizes will vary.
9 Lego plates – This number will vary depending on the size of the table.

The number you will need will depend on the length and design of your table. I decided to use green Lego plates for grass and then found the blue plates, which I decided would be perfect for water. Technically, the table would have held another row of plates down the middle, but the Lego plates were the most expensive part of the project. I didn't want to spend any more money on them. I bought them over the course of 6 months so that I didn't feel punched in the gut over spending on this project. You can find the green ones here and the blue ones here.
YOU CANNOT USE OFF-BRAND PLATES AND HAVE THEM FIT BRAND NAME LEGOS. The are like a millimeter off and will annoy your whole family.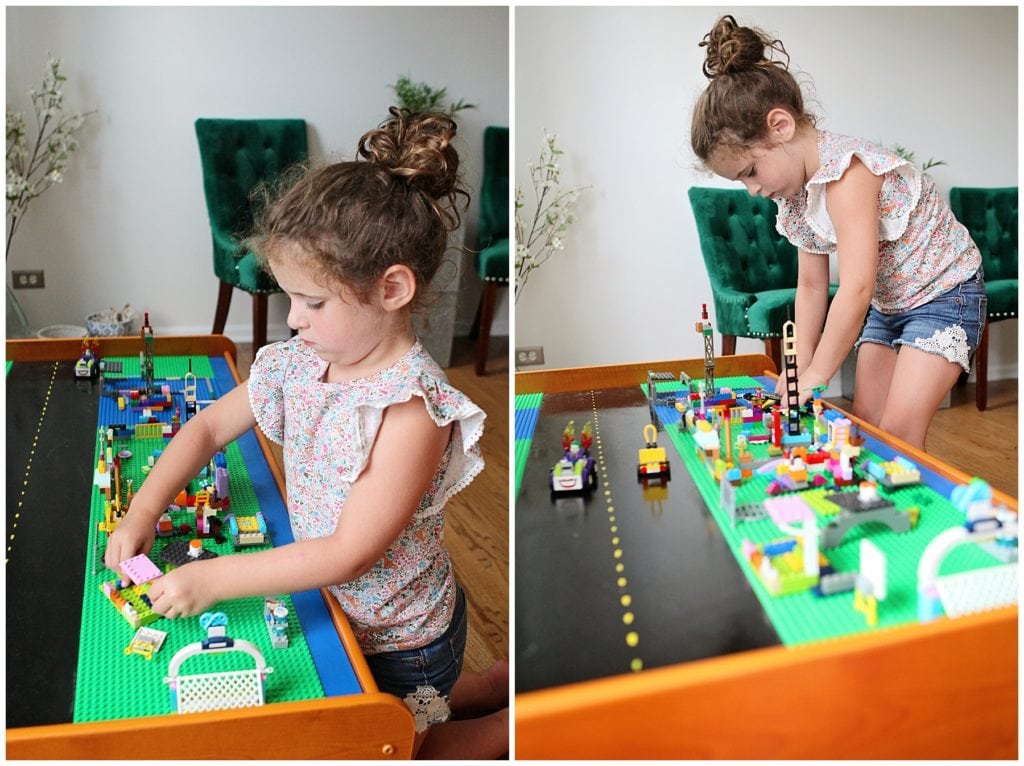 Spray paint in blue and black.

When I initially started this, I knew I wanted water in my Legoland. My second idea was to paint the whole thing blue and use the green Lego plates as islands. But then I wanted a road – because obviously Lego people have cars- and found the blue Lego plates – because Lego people have boats – so my ideas evolved.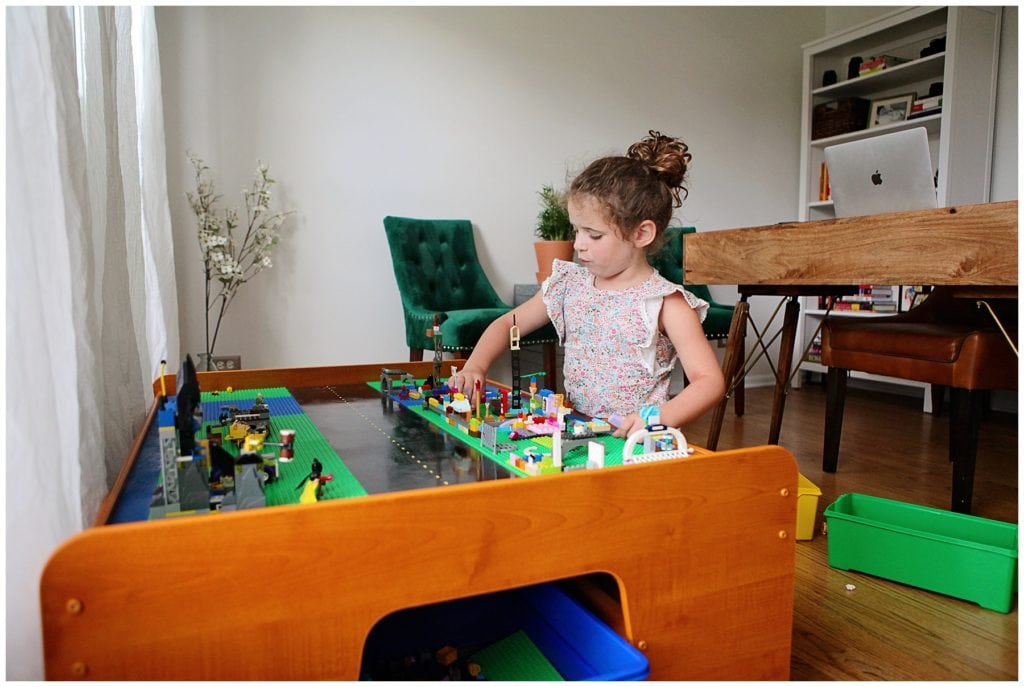 Super glue. I used this kind.
sheets of paper or newspaper
Blue paint tape
A bit of yellow paint
A ruler
A pencil


Steps to create a Lego Table
1. Measure out how many plates you will need to create your table. Determine if you will need to cut any of your plates. We needed to cut one in half and my husband was able to use snips to make this happen. Then we sanded down the edge so it wasn't sharp, which it will be since it is plastic.
2. Sand down the edges of your piece of wood so that they aren't rough. This isn't necessary, but I didn't want to get a splinter while working with it or have a kid get a splinter while playing.
3. Lay down your wood in a clean workspace and on top of newspaper or old cardboard to paint it. Spray it with the blue spray paint. You will need two or three coats. Let dry completely.
4. Tape off the middle of your board to create the road. Cover all the blue edges that you don't want to get paint on with paper or newspaper and tape them down. Originally, I didn't tape them and got a bunch of black "road" drops in my water.
5. Once dry, pull up your paper and see if the road lines leaked at all. Mine did and that was ok because I knew the plates would cover it.
6. Push your board into your train table. The fit should be snug. I didn't glue my board down. Its snug enough to hold on its own (even when we carry it to other locations) but we can also take it out should we ever have a desire for a train table again someday. (Not likely.)
7. Use your super glue and glue the plates down at the edge of the road. Start at one end and end at the other. In the spot where the two panels meet, use a Lego to ensure the space between the boards is correct. Oddly, when you match up two plates, the space on the edge of the plates doesn't allow the Legos to line up perfectly with the plates. Use the Legos themselves to hold them in the right place. (Photo below.) This will allow your kids to build between the plates seamlessly.

8. Once the plates are dry, use your ruler, pencil and yellow paint to create the yellow line in the road. I actually used the pencil dipped in the yellow paint to draw it.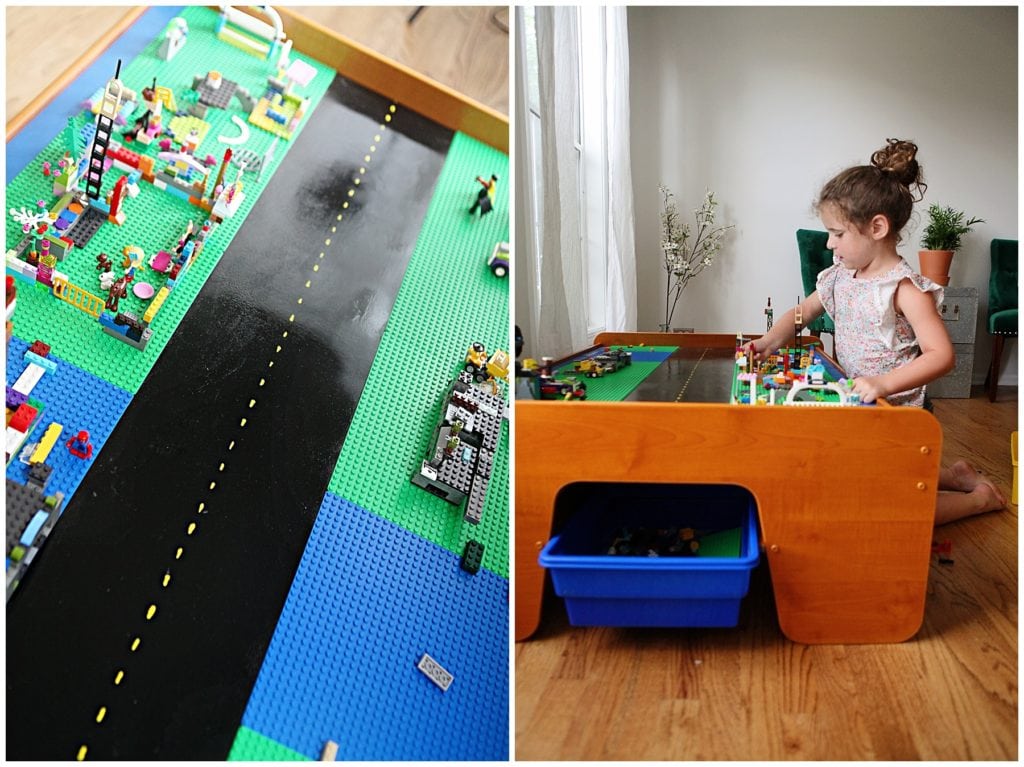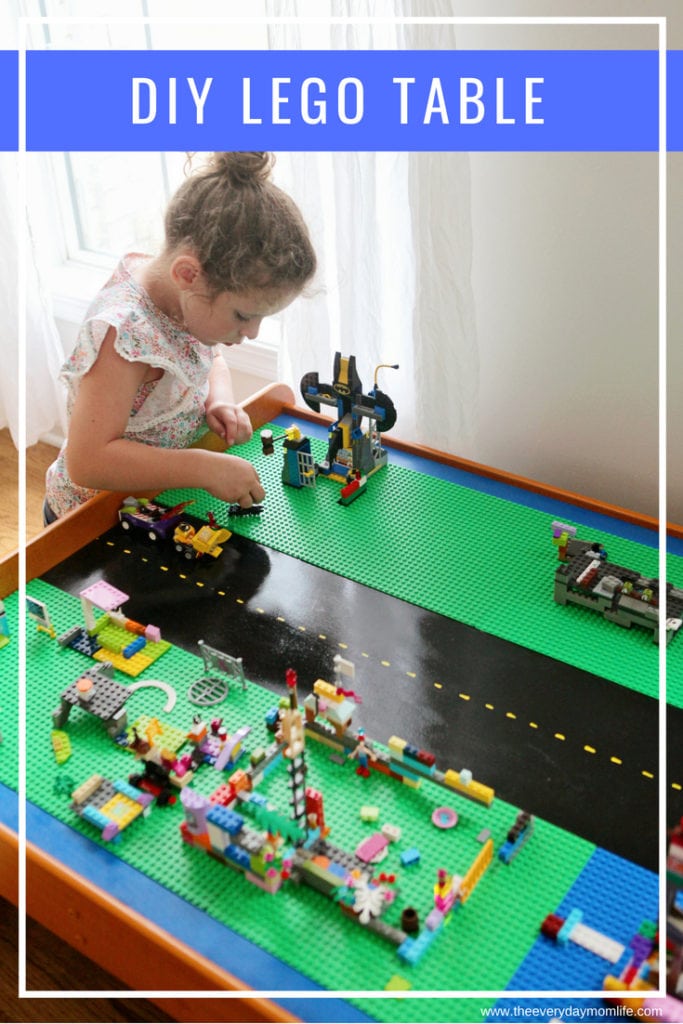 9. While that dries, use the glue and glue together your bins under the train table, which will hold the Legos. My train table came with these bins. However, for some reason the rim of the bins snaps off the base, which is annoying. If you don't have annoying bins like this, forget this step. You can use any bins you like under the table to hold the loose Legos.
Once everything is dry, let your kids play until their little hearts are content and feel free to play with them. After all, Legos are fun! 🙂
Would it be wrong if I ask Santa for a Lego set?
If your kids love LEGOS, check out this LEGO STEM activity you can do!
For more DIY & Craft projects, click here.