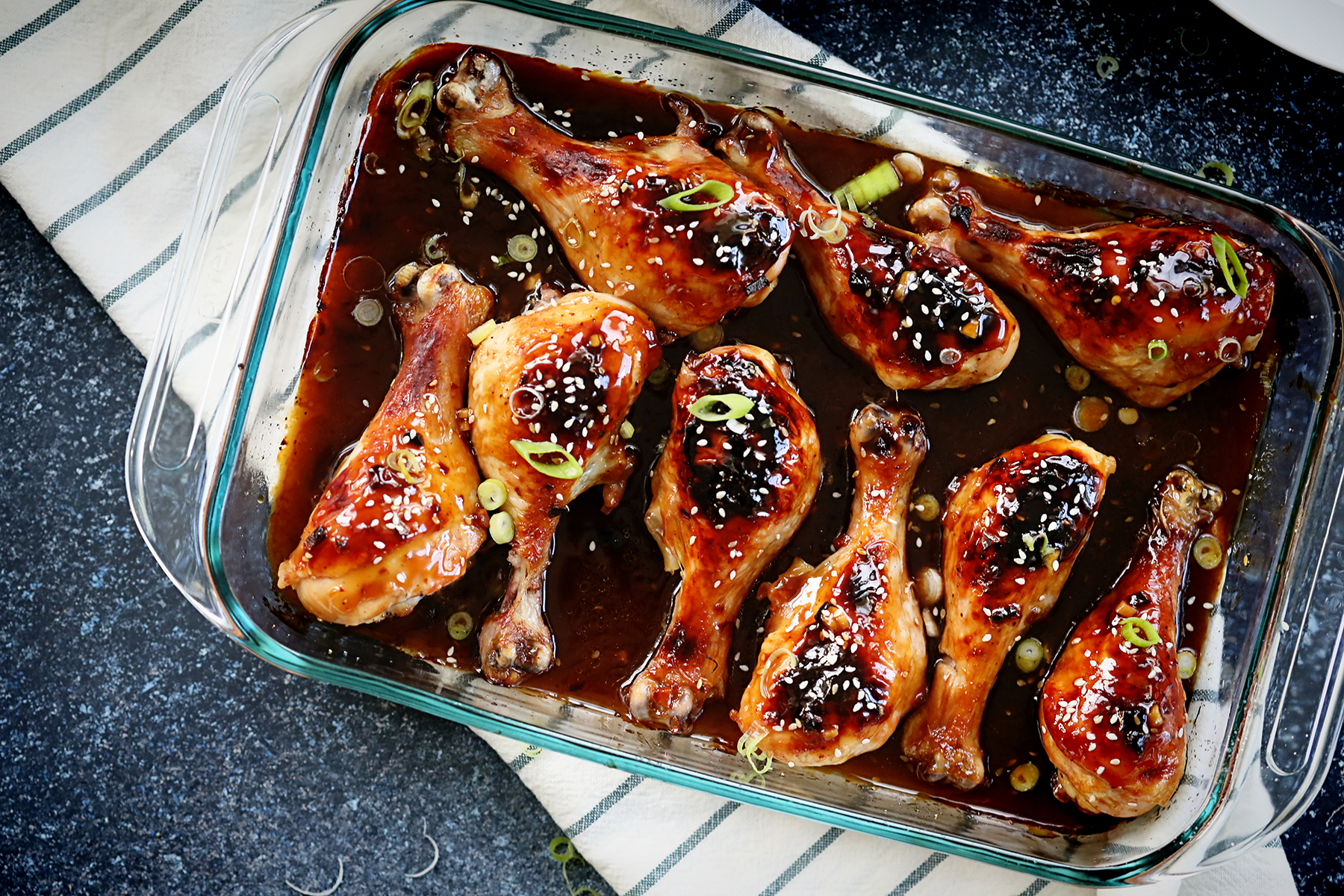 It seems I've been on an Asian food kick lately. I have to admit, the flavors used in Asian cooking really just make my pallet happy.
I honestly could eat Korean food, Thai or some of the other Asian cuisines every single day and never get board. I'd also probably be 300 pounds because noodles and rice make all meals better.
But every now and then I come across a dish that can shine without the rice and noodles like this Thai Salad and these Korean Barbecue Chicken Legs.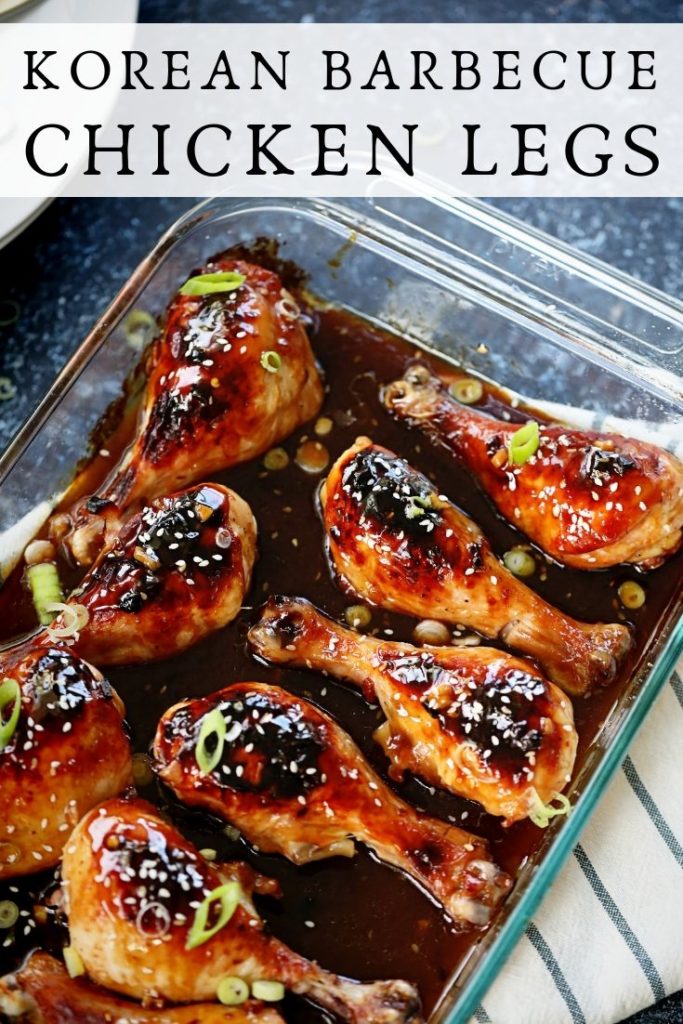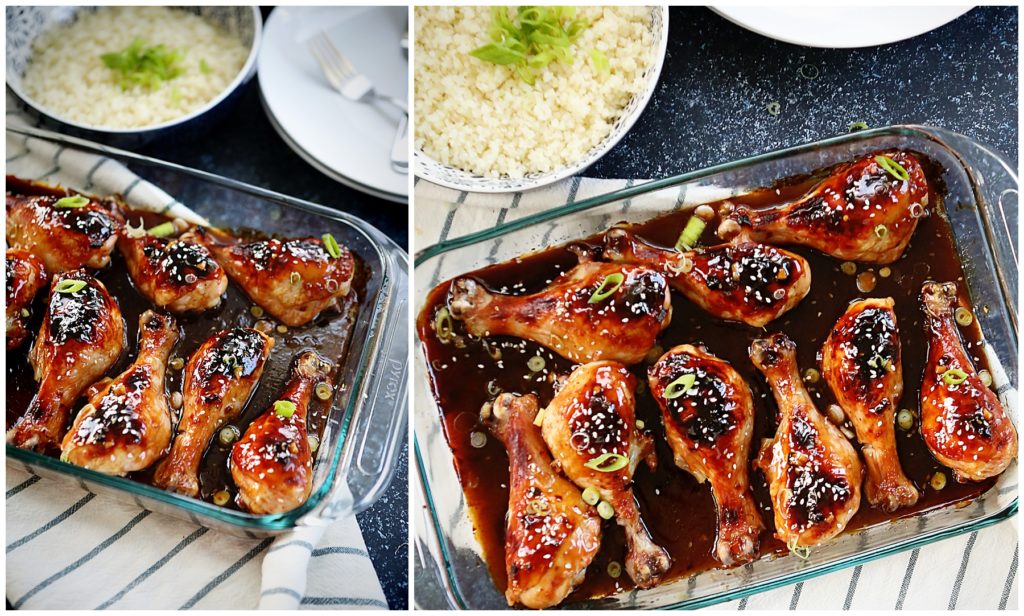 The hunt for Korean BBQ
Korean Barbecue has been a thing for several years in the United States but with our move to the farm, it's been difficult to find. My husband and I both agreed that we need to make more of these dishes at home since the chances of find a restaurant we love in Grand Rapids is slim.
Traditionally, Korean barbecue refers to a popular way of grilling marinated meat, which usually includes charcoal or gas grills that have been built-in to the dining table at a restaurant. However, most people don't have that luxury at home.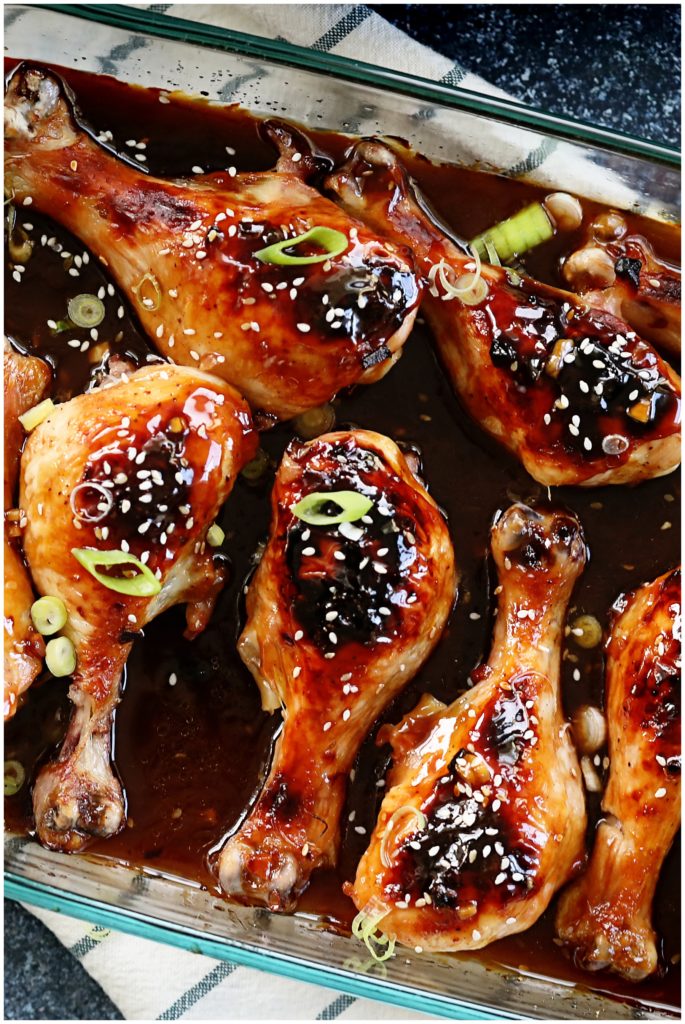 Multiple ways to cook it
One of my favorite things about this recipe is that you can cook it in the oven or on the grill. That makes it perfect for year-round dinners and celebrations. I cooked these in the oven because we were making them on a cool night this week. (We've had so many of those. Someone forgot to tell Mother Nature it's the end of May!)
You can cook them on the grill though for your Memorial Day, Labor Day and other summer celebrations. Or, you can also make them on a stovetop grill inside if you have one.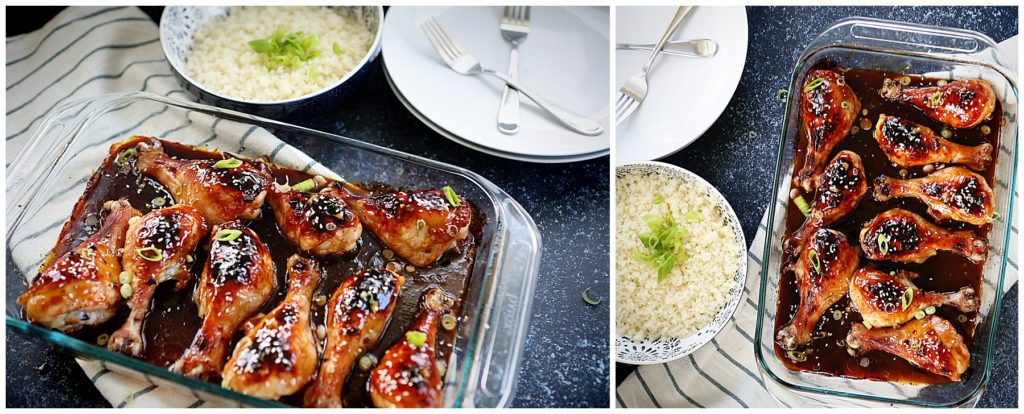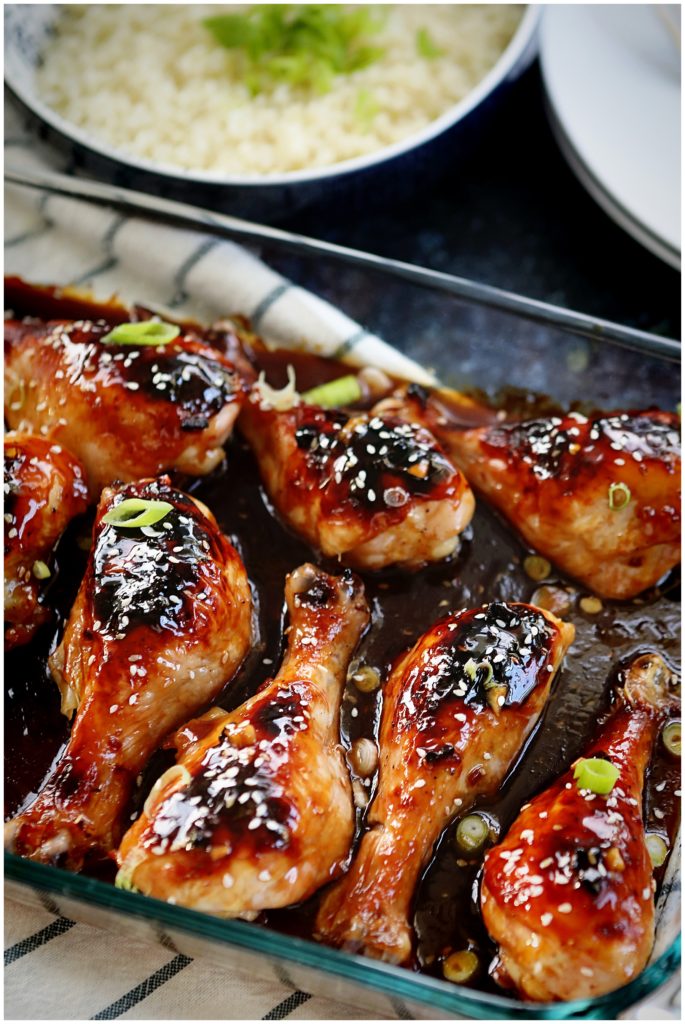 A new family favorite recipe
I think it's safe to say that these Korean Barbecue Chicken Legs are a new family favorite. The combinations of soy sauce, honey, sesame oil, ginger and more give these chicken legs a flavor that will satisfy your Korean cravings. The barbecue sauce is just loaded with flavor.
This will be a dish that's requested over and over again.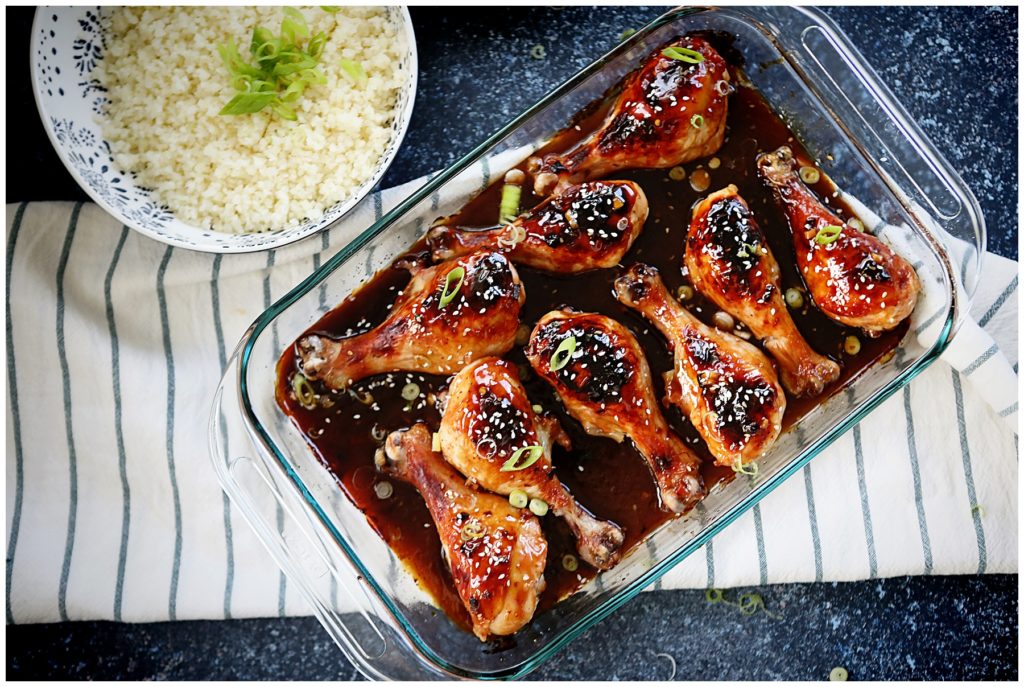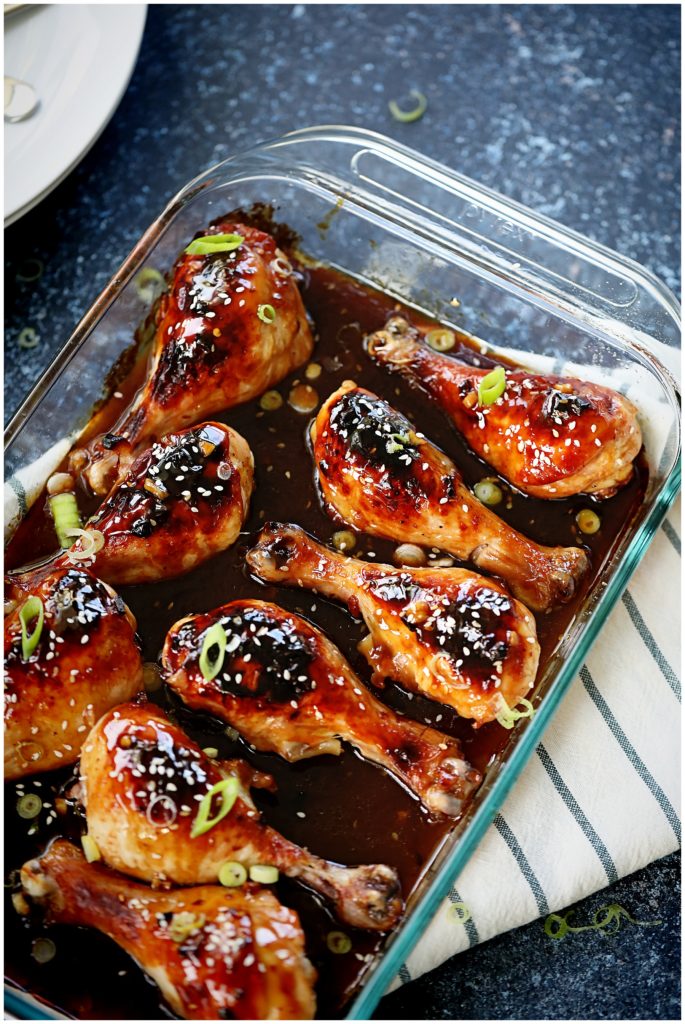 We ate these with some cauliflower rice, but you can also use regular rice or serve them up with some ramen too. In an effort not to be 300 pounds, I often will go for the cauliflower rice. As for a vegetable, you can sauté some orange bell peppers or just eat them raw with the chicken like we did. Bok Choy also makes a really nice compliment to the dish as does kale for some leafy greens.
Also, if you're not into chicken on the bone, you can also use boneless chicken breasts for this recipe. Try it with pork or beef too!
Grab the full recipe below and make it this weekend! For more main dish recipes, click here. For more grill recipes, click here.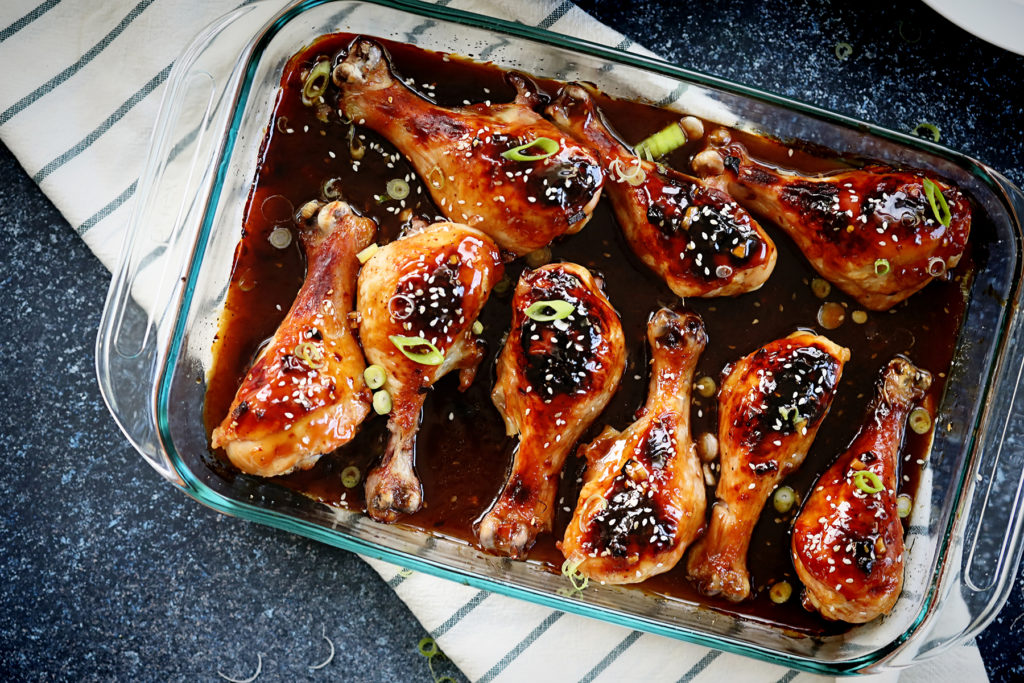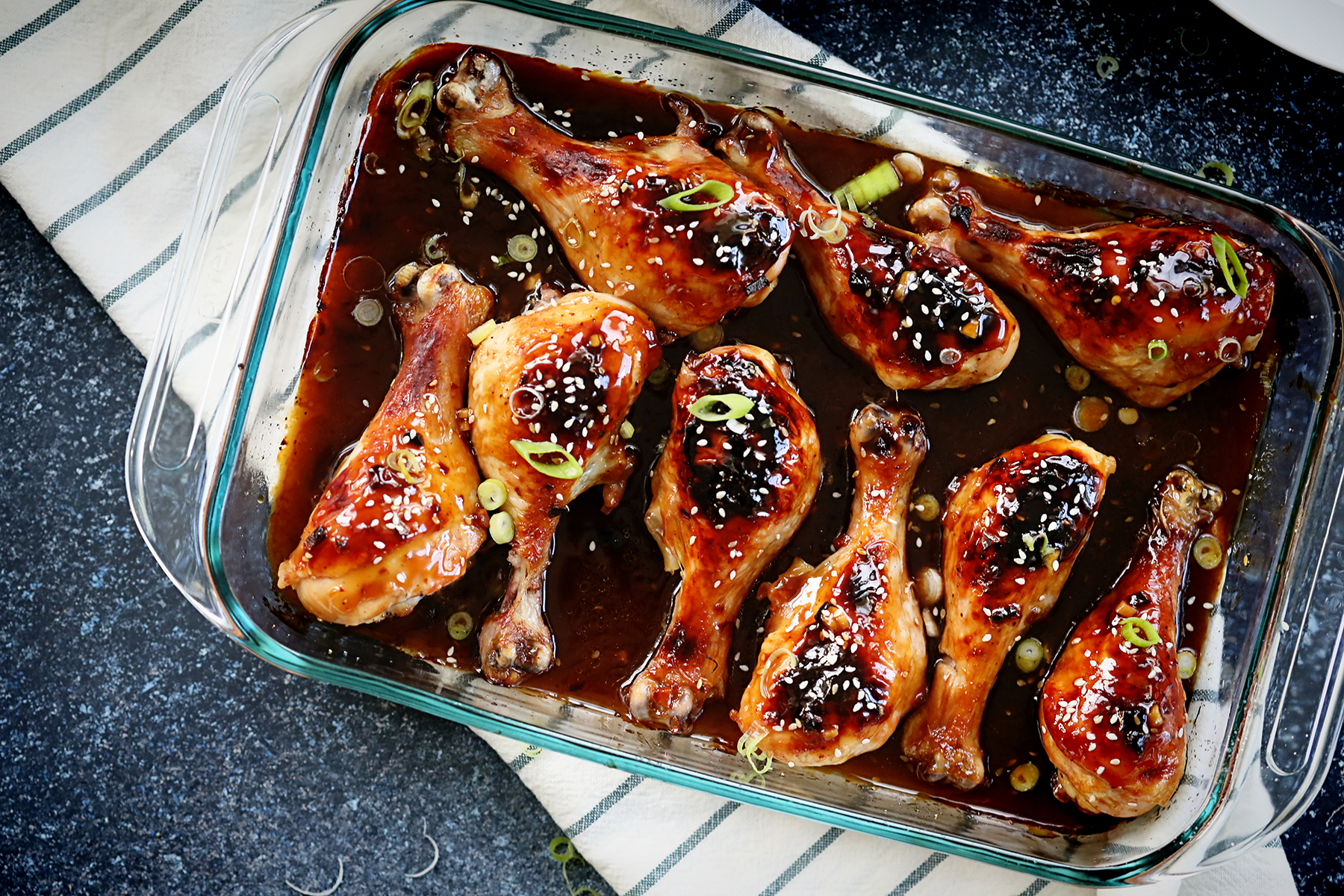 Korean Barbecue Chicken Leg Tips:
If you're going to cook these on the grill, cook on medium heat for about 40 minutes. Make sure your chicken is fully cooked and rotate halfway through.
Add sauce at the beginning and when you flip but make sure to reserve some for serving. If you want extra sauce you can double the recipe.
I like to use a zester to get my pieces of fresh ginger really small and almost pureed.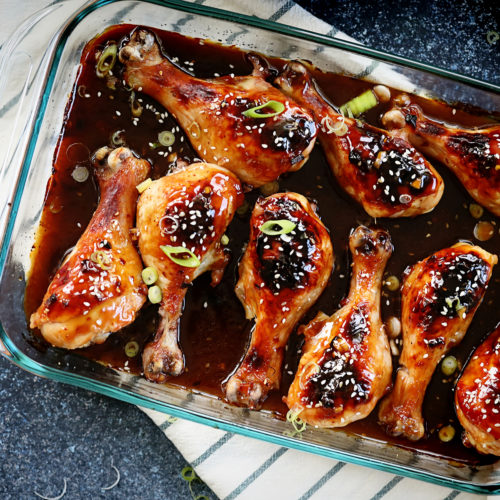 Korean BBQ Chicken Legs
These Korean BBQ Chicken Legs will become a fast favorite. They are packed with flavor that will satisfy cravings.
Print
Pin
Rate
Ingredients
9

chicken drumsticks

1/2

cup

soy sauce

1/2

cup

honey

1/2

cup

rice vinegar

1/4

cup

of brown sugar

7

cloves

of garlic, minced

1.5

Tbsp.

corn starch

1

Tbsp.

of sesame oil

1.5

tsp.

of ginger, ground or fresh

2

tsp.

sesame seeds

1/2

tsp.

of red pepper flakes

3

green onions, white bottoms separated from green tops

Extra sesame seeds for garnish

2

Tbsp.

of olive oil to grease the pan

You can also use sesame oil but I always feel that olive oil has the most neutral taste.

Optional: Sriracha if you like it spicy
Instructions
Preheat your oven to 375 degrees. If you want to cook these on the grill preheat your grill to medium.

On the stove top, whisk together cornstarch and sesame oil. Heat until it starts to bubble.

The turn down the heat and add the honey, soy, brown sugar, garlic, and ginger. Heat on low for about five minutes.

Add the bottoms of the green onions, red pepper flakes and sesame seeds and cook for a few more minutes.

Turn burner off and prep your baking plan. Sauce will thicken as it stands.

Use the olive oil to wipe down the the bottom and sides of the pan, making sure each part is covered. Then add chicken legs.

Divide your barbecue sauce. Use half of the sauce to coat the chicken legs and reserve the other half for serving.

Garnish with the tops of the green onions and sesame seeds. Serve immediately.