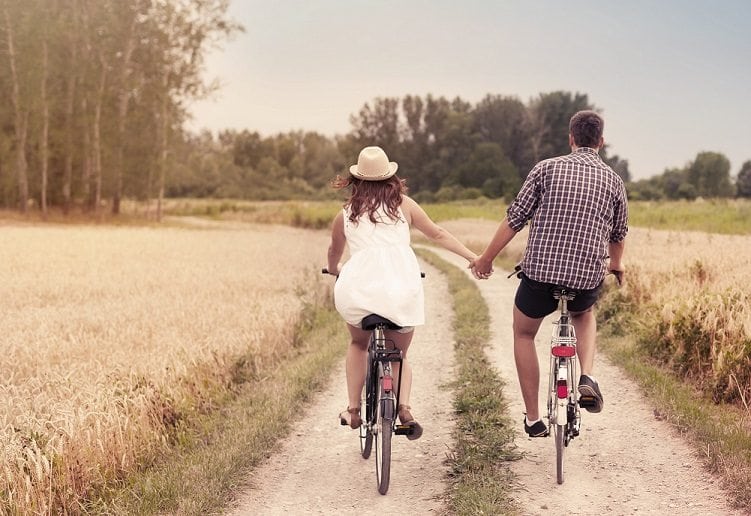 Every mama needs a break, right? Well every daddy/spouse needs a break too. Not only do we all need breaks but we all need opportunities to reconnect with one another. Let's be honest, parenting is hard. Sure there are moments that feel easy, but overall the business of raising tiny humans is pretty draining on me, my husband and our marriage.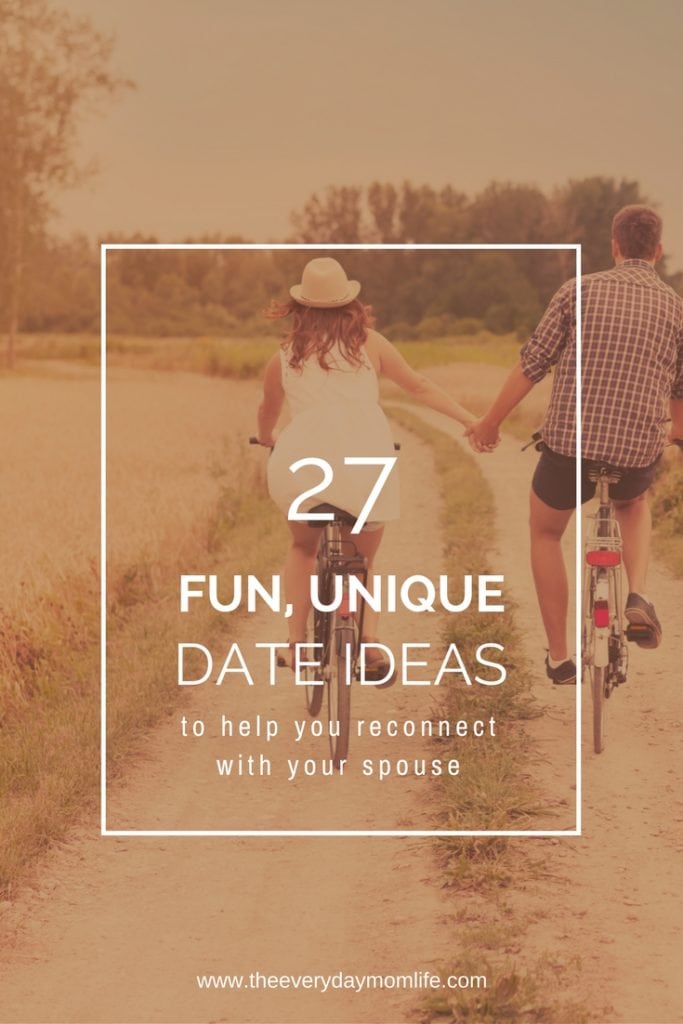 My husband and I have not been good about nurturing our marriage throughout parenthood. Throughout miscarriages; a stillbirth; raising two, living children and one who has been in and out of the hospital this year, we have really struggled to create opportunities for ourselves to reconnect.
For us a good date night can usually re-center us. Not only that but it can also help us to remember why we chose to go through this life together either through great, adult conversation or just plan ol' fun.
I've created a list of 25 fun, unique date ideas that I'm hoping he and I can do throughout the next year. Some of these we have already done and loved them, which is why we want to do them again. Others on this list we have never done but I'm hoping we can make room for them in our busy loves. After all, when our marriage is in good shape, we are better parents.
1. Take a dance class
Ok this first one is sort of for me. I would love to get my husband and I into a dance class. It doesn't have to be ballroom dancing, but I think he might prefer that to something like hip hop. J I also think he would be really good at this! Whether we end up floating across the dance floor or stepping on each other's toes, we would have fun laughing about it.
2. Pub trivia night
I haven't done this since collage but I actually think that we would have a blast. I'm sure we would both be apprehensive at first. However, some of these are about getting out of our comfort zone because when we do it together it becomes a bonding experience.
3. iFly Indoor Skydiving
We just did this the other night! We were given a chance to try iFly Indoor Skydiving for free and it was an amazing experience. We went to the facility in Rosemont, Ill. and were given an explanation of what it would be like in the wind tunnel. Then we suited up. You guys, he didn't want to do it but he was amazing! I wanted to do it, but I was awful!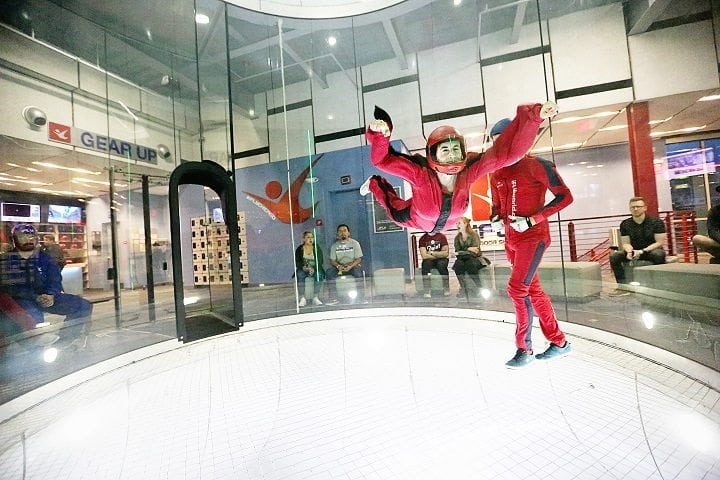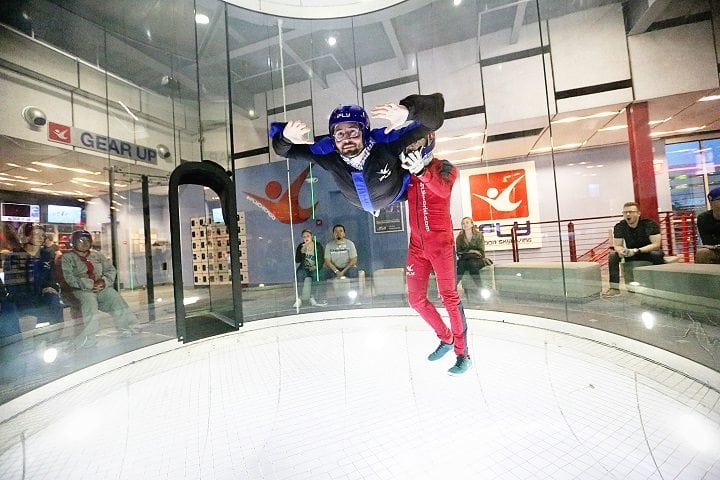 My husband was able to use his second flight "dive" to go with the instructor straight to the top. In fact, everyone did that, except for me. However, he was really supportive about it and it is actually something I want to try again. I have a feeling we will be going back.
4. Go kayaking
We've been wanting to do this for years now and we still haven't had a chance to do so. I'm hoping this is the summer we make it happen. I've heard from friends that we each need our own boat or it might end in divorce. I'm going to take that advice. Hopefully he will come after me if I float down the river.
5. Binge watch and binge out
We have a couple of shows we are working through together on Netflix, but we've actually only sat down and binged a season of something once. Last summer we sat our butts on the couch, in the nice air conditioning and watched Stranger Things together. We made an amazing pizza and then ate Swedish Fish until our hearts and tummies were content. What was great about this was the time we spent in each other's presence, which we don't often do during the week when we are running to work, appointments and trying to run a household. It was a nice change of pace for us.
6. Take a cooking class together
We have yet to do this one too but we have always wanted to. Places like Sur La Table offer these types of classes each weekend and you can learn to make a variety of yummy dishes. You do usually have to book this in advance, which has been out issue.
7. Make beer together
Dance class was for me. This one is for my husband. Before we had children he would make beer in our kitchen and smell it up for days. He really enjoyed it and I think this could be something fun for him to teach me.
8. Karaoke
I generally try to avoid making a fool of myself, but someone brought a karaoke machine to Christmas this year and it was fun! Did we sound good? Nope. Did we look good? Nope. Did we have fun? We were laughing like crazy. That's what counts.
9. Go to a square dance
Google this in your area and I bet you'll find a group of people near you that have banded together for a little dosido. It took me two seconds to find a place near us to swing my partner round-n-round. We are doing it. I'm not going to tell him though. This one will just be a surprise.  🙂
10. Write out your before (insert age) bucket list.
We are in our upper 30's and there are so many things I want to experience with my husband and with my family before we hit the big 4-0. We also never really talk about our future in this was now that we are sort of living this life. We get so caught up in the day-to-day. I think this will be a good way to refocus our life goals as a family and as a couple.
11. Have a picnic without the kids
Do not take those kids with you! Go by yourselves. Pack a cooler, grab a blanket, find a tree and cop a squat under it with your significant other. Enjoy the silence. Enjoy the space around you with just one another in it.
12. Take a tour of your local city
We live near a large city but it's kind of funny how often we will be there and just walk past things without appreciating them. I'm hoping we can take a boat tour this summer, but there are also Segways, bus tours, walking tours, etc. Depending on the time of the year a lot of city's have haunted tours too.
13. Play gourmet
Go to the gourmet grocery store and pick out a meal together. Pick it out together from a gourmet magazine and make it together. We don't often cook together, but when we do I'm always amazed at the different skills we each bring to the table.
14. Take a workout class together
Find something you would both love to do or that you think would be fun to try and learn. Belly dancing? Boxing? Spin? Any of those would work and I bet you'll find that sweating it out together will not only relieve stress but also help those endorphins for both of you.
15. Brewery/winery tour and tasting
We've done both of these, although we haven't done either since before having kids. We haven't done the winery thing since before we were married. It's been a long time my friends and it's time for us to relax with one another with a nice beverage in our hands while in the presence of other adults.
16. Create your own tasting tour of a city
Pick a food! Cupcakes, sushi, popcorn, steak, ice cream, hot dogs, Italian beef, pizza, etc. Spend the day with one another ducking into little places where you can grab a really quick taste of whatever your city is known for or whatever new fad is popping up.
17. Rent a cool car and get lost
I have a dream of being one of those women in the movies with a bandana around my head, big sunglasses on and waving goodbye from a vintage car as we head down a dirt road. Can you see the Instagram image now? Really though, I've always wanted to ride in one of those vintage convertibles and sort of get lost for the day – exploring whatever town we stumble upon.
18. Drive-in movies
We have one of these left near us but they are a dying breed, my friends. Do this while you still can. We did it once when we were dating but now we have a family SUV and I'm imagining bean bags, popcorn and holding hands as we watch whatever double feature is playing.
19. Find a trail to explore
I know some couples might hike together a lot but we don't. We actually have never done it and this is another one we have always talked about doing. We are trying to be more active lately and the quiet of the woods would be nice.
20. Ice skating in the off season
Sure you can do this anytime during the winter but we love the idea of going in the off season. There is a skating rink right down the road from us and we haven't done this as a couple since we've been married. (We did do this with our daughter as a family.)
21. Take a hot air balloon ride
With summer just around the corner we are fast approaching festival season. We have one festival here called Eyes to The Skies and it is all about hot air balloon rides. I've always wanted to do this and I'm hoping this will be our year.
22. Take a tandem bike ride
We did this together before we were married and talk about an exercise in team work! We had a ton of fun and I think doing this again would be a great bonding experience as well as be a little nostalgic.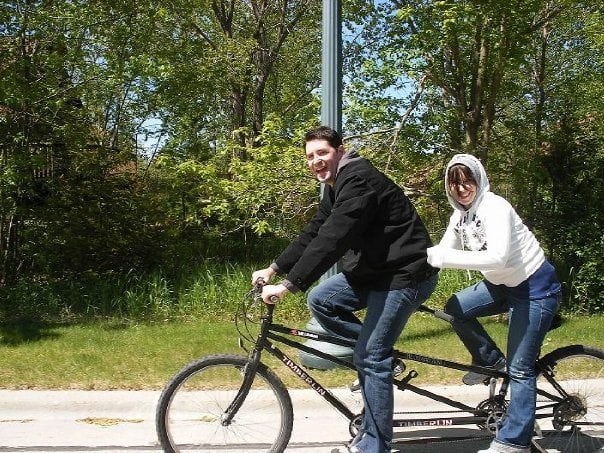 23. Bike the "whatever" together
We did this recently on a trip to California when we biked the Golden Gate Bridge. It was one of the most fun things we've done together in a really long time. We had the best day and we actually wished we could have canceled our dinner reservations (they had our credit card) because we wanted to go even further.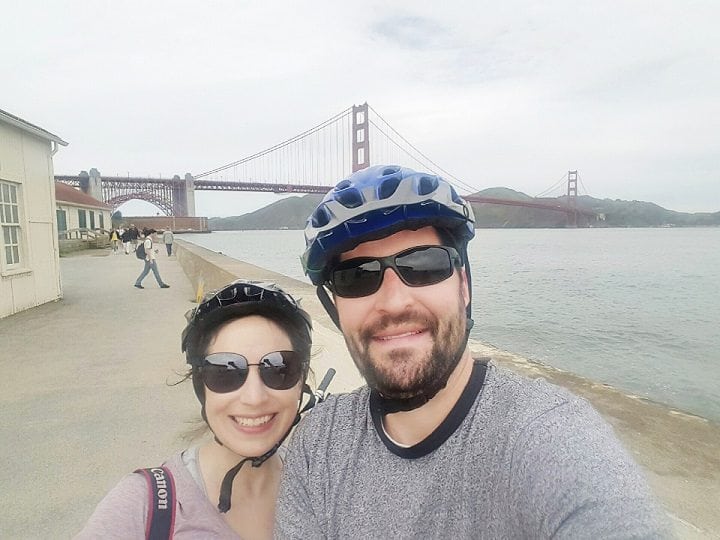 24. Go to an outdoor concert
I'm really hoping we can cross this one off the list this summer because there is a perfect venue near us for taking in a summer concert. In fact there are multiple places where we could go to do this near us. I bet there are places near you too. Even if you have to drive an hour or two I think this could be the perfect night out.
25. Volunteer together
I love the idea of doing this together and this is actually one I would add to a family list too. I think we could pick a cause we both feel passionately about and find a way to volunteer. Whether it's putting together care packages or helping at a soup kitchen, I think this would be good for our individual souls and our couple karma.
26. Spend an evening at the arcade
Again we've done this as a family but I would love to spend an evening with just us kicking each other's butts on some old school arcade games.
27. Chocolate factory/Cookie factory/Candy factory tour
You might have to drive a little bit for this, but I bet if you look you could find one of these near you. We actually have a few of varying distances depending on how far we want to go. They are all within an hour and a half though so it's perfect for a day date.
What other unique ideas do you have? Let me know in comments!