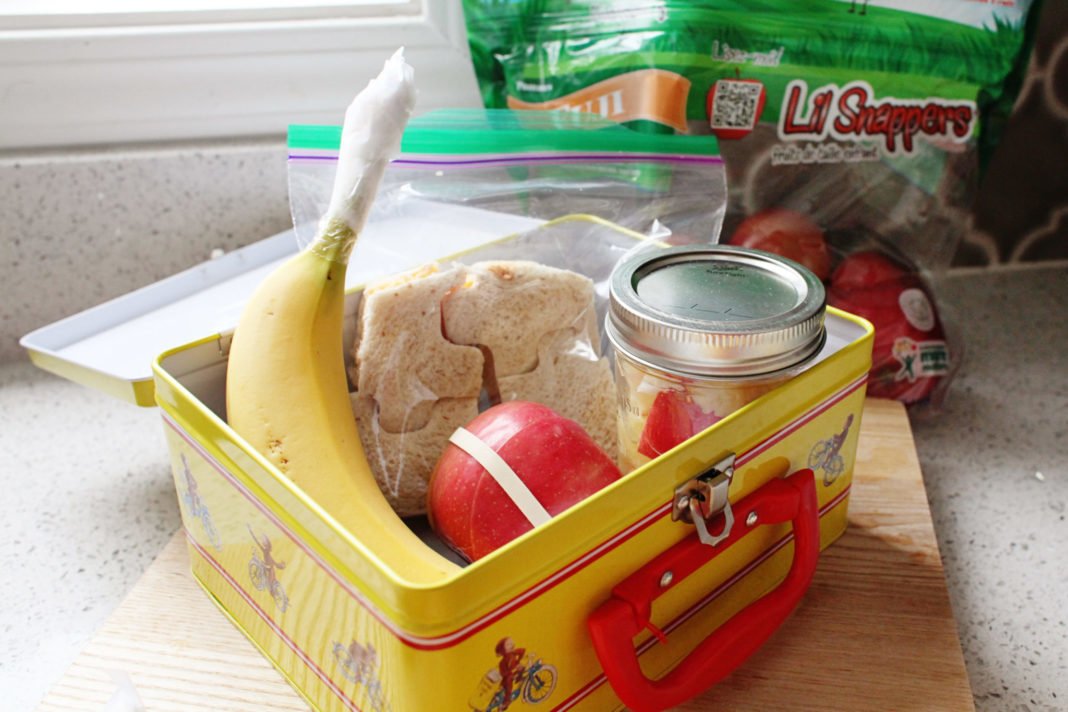 During the school week I like to make life as easy as possible. School morning can easily get out of hand with a kindergartener and 2-year-old. Amid arguing over outfits to wear, 5,000 requests for them to put their shoes on and trying to get school bags together, I still to get myself ready to be seen in public, make sure each of them has been fed and pack lunch. School morning can be the most stressful part of everyone's day here.
To make mornings run a little more smoothly, I try to be as prepared as possible when it comes to things like picking out clothes and packing lunch. For lunch there are some hacks and tips I employ to make sure I can pack quickly and ensure my daughter gets a good variety along with nutritious choices in her lunch box.
Put your sandwiches on ice
One of the easiest ways to make sure you have lunch ready to go is meal prep. You can make sandwiches the night before, or even the weekend before, and freeze them. In the morning grab one sandwich out of the fridge and toss it in the lunch box. By the time lunch rolls around the sandwich will thaw out and you won't need an ice pack.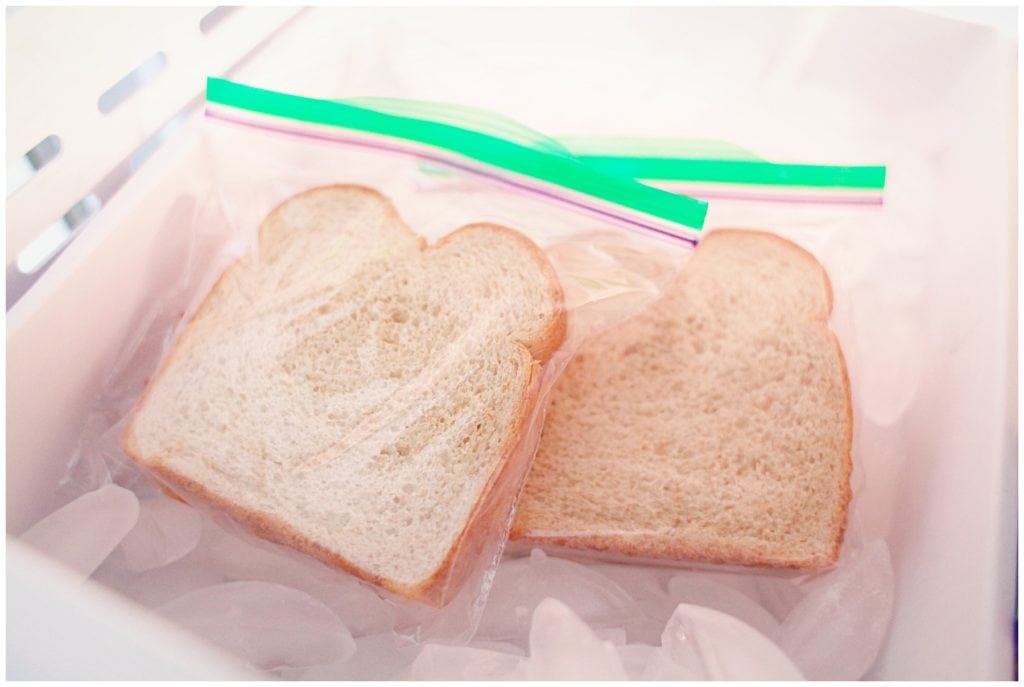 Portion it out on Sunday
Sandwiches aren't the only thing you should be making ahead of time. Spend time over the weekend to portioning fruits and veggies into baggies. Each day you can just pull out an already sliced, nutritious side for the lunch bag. Think sliced apples, pears, cucumbers, carrots, celery and sweet peppers.
Grab a bag of Lil' Snappers
Lil' Snappers are my secret weapon. Honestly. We buy a package of their apples and/or pears each week and one of them gets tossed into my daughter's lunch. There are enough pieces of fruit in the Lil' Snappers bag for two kids to have one each day for school, which is a lifesaver if you have multiple children.
The apples and pears are kid-sized and perfectly portioned as a lunch add or an afternoon snack. You can find multiple varieties including Granny Smith, Fuji, Pinata Gala and more. Pear types include Tosca, Bartlett, Red Pears and more. They can be found at Jewel, Meijer, Target and more stores throughout the country, year-round.
My daughter eats these all the time even when she is at home. Lil' Snappers are one of her favorite snacks and she will eat them straight out of the bag or in a recipe from the Lil' Snappers website.
Find out more detail about their Lil' Snappers Contest below.
Bag of apples that don't brown
My daughter is cool with eating an apple whole, but I realize that some kids (my son for instance) may not be. Instead of just tossing the apple into the lunch bag, slice it up and put the slices in a bowl of water with a bit of lemon juice. The citric acid in the lemon juice will keep the apple slices from browning and you can then put them into a plastic baggy or a container for easy transport.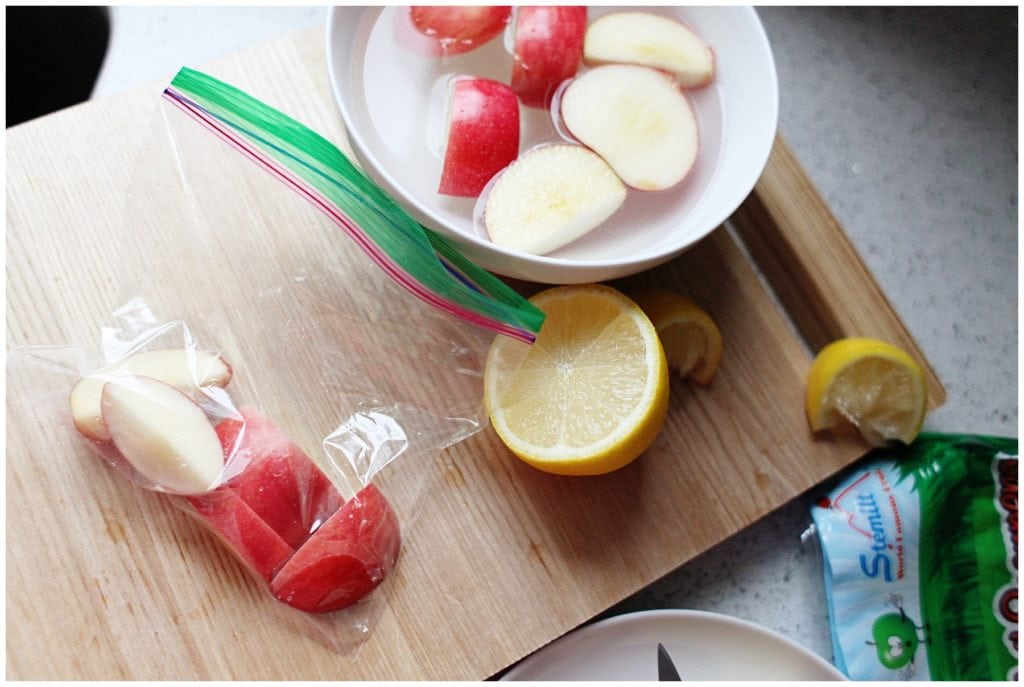 Or…
Use a rubber band to keep them from browning
If you don't have lemons, you can slice the apple instead and then band it back together like a puzzle. This will keep the slices from being exposed to air, which will oxidize the apple and cause it to brown. See how easy it is in this video.
Make your own fruit cups ahead of time
Using the lemon juice and water mixture, you can also chop your Lil' Snappers apples and pears to make fruit cups. After chopping let the fruit sit in the lemon bath for a minute and then layer a mason jar with the apples and/or pears and other fruit. You can make these ahead of time pull one out each day.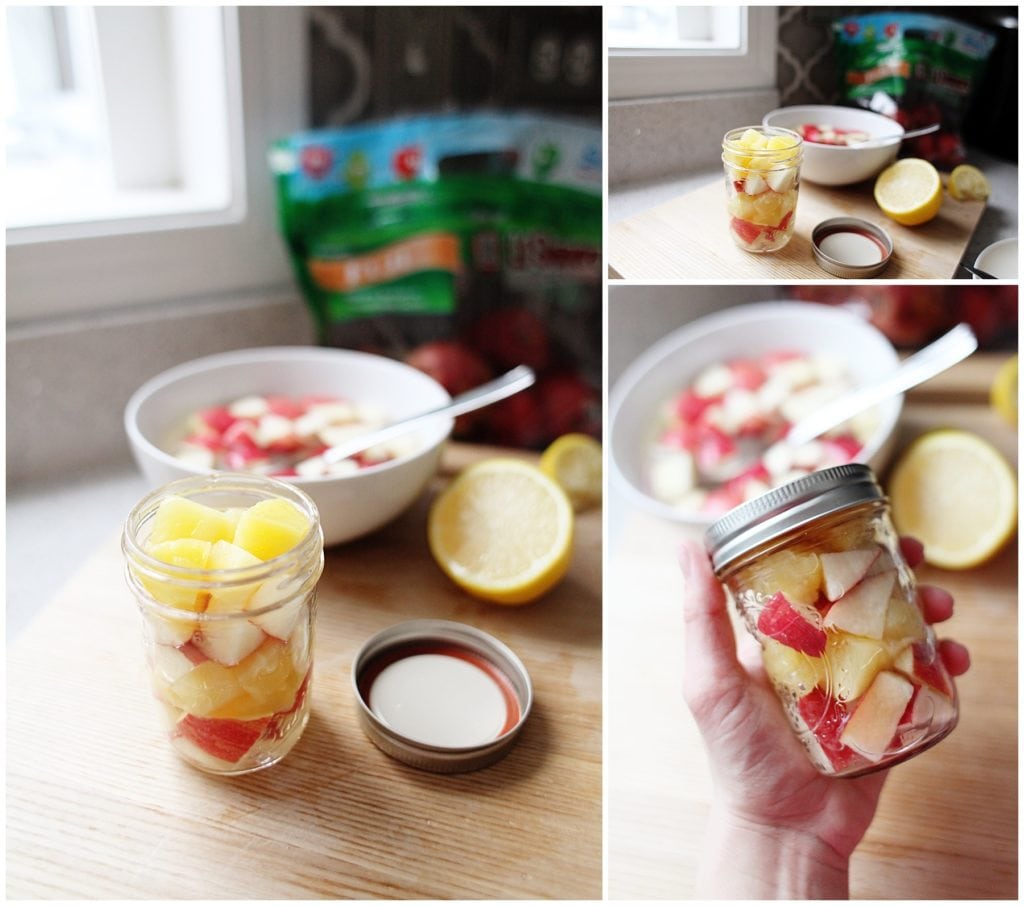 Think out of the box with thermos
When I was a kid my mom often put soup into my thermos, but these work for so many more lunchtime favorites. You can add hotdogs, pizza bites, taquitos and even chicken nuggets into the lunch box by using a thermos. I used these chicken and cheese roll ups.

Planning for condiments
If your child loves condiments plan on packing them in small, individual containers the night before and refrigerate them. Then you can easily pull them out the next day and add in mayo, mustard, ranch or even ketchup. Something like this is perfect.
Wrap the top of a banana
Individually wrapping the tops of your bananas at the beginning of the week will help them stay ripe longer. In fact, don't just wrap them with plastic wrap (like I'm sure you've seen before) but tape them up too. Bananas brown because ethylenel escapes from the fruit when it is pulled apart at the stems. The gas causes them (and any other fruit around them) to brown faster. When you put a banana in a brown paper bag, or a lunch box, the gas is trapped inside with the banana, which is why they brown faster. Wrapping the stems helps to keep the gas from leaking out and helps to keep your bananas ripe after they're put into the lunch box.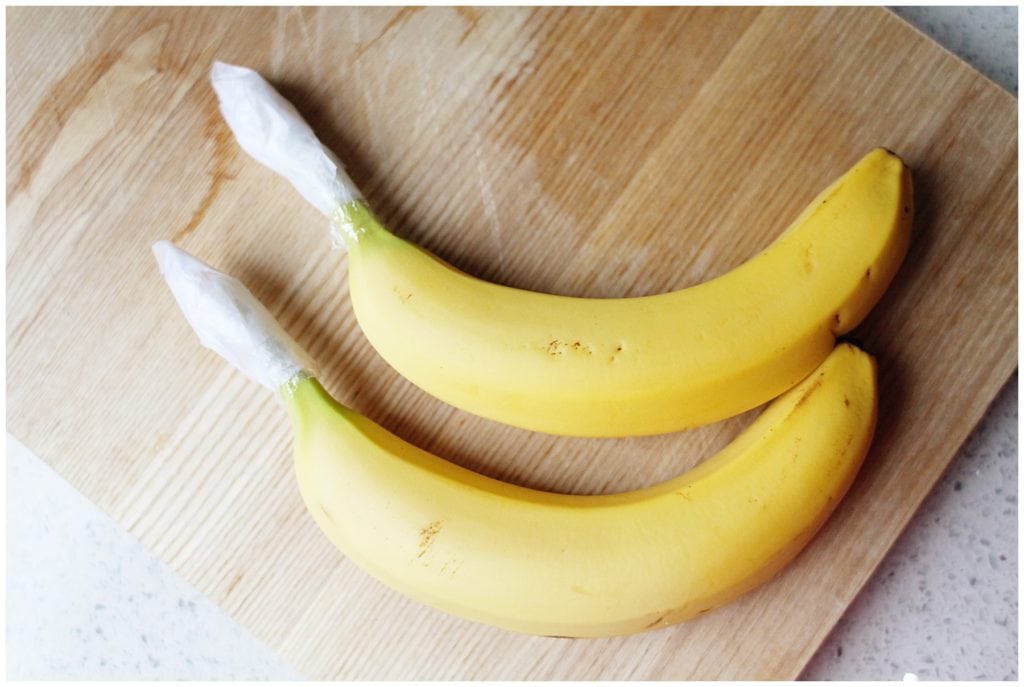 Easy to fit drink containers
Including reusable, squeezable drink containers in a lunch box will allow you to give your child drink variety, save money and help the environment. Drink containers like this can be used multiple times and can be filled with milk, juice or water. Including one of these saves my daughter time because then she doesn't have to buy milk at school, which wastes precious minutes since lunch is only 20 minutes.

Use fun shapes for sandwiches
Everyone has seen these but seriously they always put a smile on my kids' faces and can be a fun way to get your kids interested in food. My daughter will often come home from school without eating most of her sandwich, even though she likes it. When I make it a fun shape it just makes lunch more fun. You can do this before you freeze them for the week. 🙂

Use a sponge as an ice pack
If you don't have ice packs, or seem to frequently run out, use a new sponge as an ice pack. Get it wet, squeeze it out, put it in a baggy and toss it in the freezer overnight. Then you're ready to go the next morning.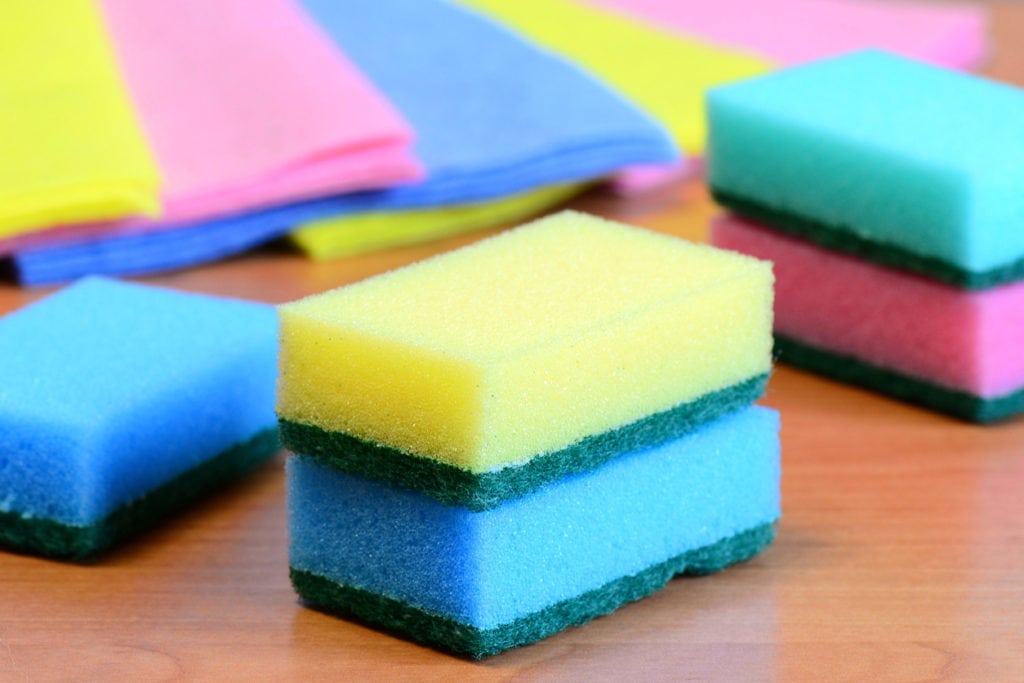 Freeze the juice box
If you use juice boxes you can also freeze them to use them as ice packs. This is a win win. You have a cold drink and you keep everything else cold too.
Remove the juice first
If your kids like fruit cups add a straw to their bag so they can drink all the juice before they open it. That way it doesn't explode on them when they open it, as they so often do.
Portion it out
Using a plastic lunch box with dividers or a bento box you can easily organize your kids' portions. It makes it easy to plan out your meals and give them proper portions of each food group. You can fill these up the night before, or depending on the item, the weekend before.

Organize options so kids can help
In my pantry, I have a shelf that has all the kids' dry food options. It's accessible and my daughter uses it to help pack her own lunch extras and her morning and afternoon snack, which we are required to provide. Making a pantry shelf like this for my kids has saved me time each morning and it allows the kids to have some responsibility in picking out their food. They always have to show me what they're picking, just to be sure, and I keep cookies on a higher shelf (AKA daddy's shelf).
Some of these things are simple, all of them make life easier with proper planning and/or make lunches less expensive. Do you have any hacks that you would add to the list?
For more parenting tips, click here.