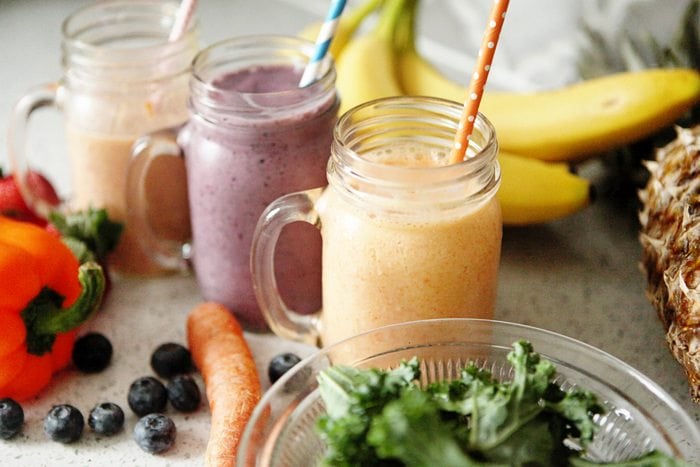 Do you have problems getting your kids to eat their veggies? I do, unfortunately. There are some my daughter will eat including broccoli and carrots and corn, but my son will not eat a single veggie unless it comes in the form of a pouch.
To get them both to eat a few more veggies in their diets, including some neither one of them will touch, I created three hidden veggie smoothies smoothies that are perfect for breakfast or for an afternoon pick me up. If your kids are on a diet of nuggets, granola bars and air too, try these recipes at home. They all make about two to three servings.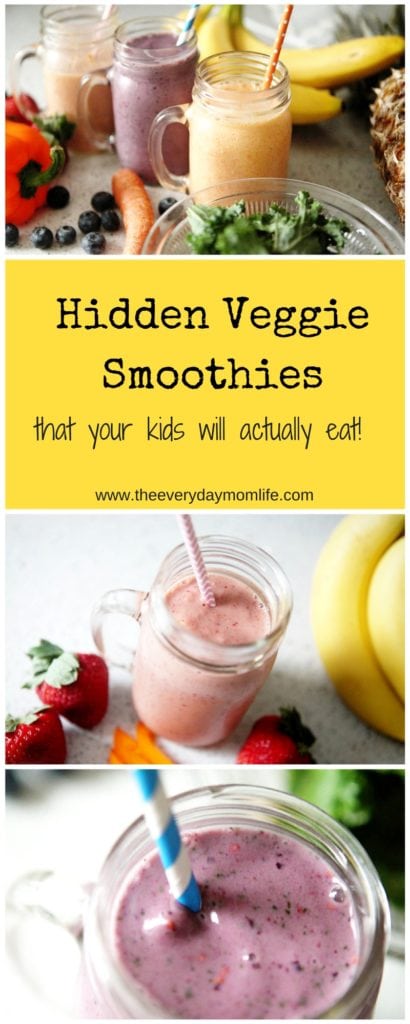 Hidden Veggie Smoothies – Strawberry Banana Surprise
This is one not only my kids will eat but I will eat it too. In fact, I started drinking this while I photographed these, which is why in the photo with all three of them I hid it in back. It's half gone.
Orange bell pepper generally has a mild taste when compared to other peppers and it is available year round in the grocery store. According to Livestrong.com, one orange pepper contains 190 percent of the daily recommended vitamin C intake for an adult and vitamin C makes it easier for you to absorb iron. Recently, we found out that my son is severely iron deficient (because he refuses to eat any chicken even in nugget form) so we have to give him supplements.
Orange peppers also include antioxidants, vitamin B-6 and two grams of fiber in each pepper.
Now, this won't taste exactly like a strawberry banana smoothie so don't tell your kids that's what it is. They'll see right through you. The texture of this is different than a straight fruit smoothie and if you don't get enough banana in you will be able to taste the pepper.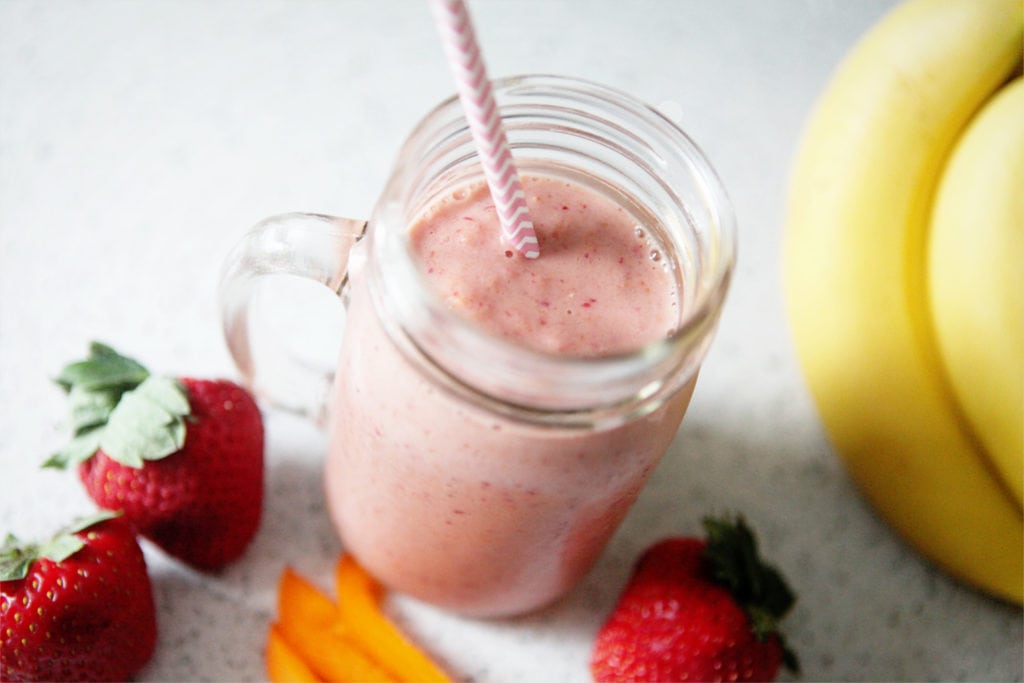 Ingredients
2 cups of frozen strawberries and bananas
3 cups of vanilla almond milk
½ cup of ice
½ cup of strawberry Greek yogurt
½ an orange bell pepper
There are no steps to follow here since you basically chop all the ingredients and dump them in. However, I would use the liquidly setting on your blender to make sure you get the pepper pieces as small as possible.
You can use fresh fruit that you have frozen, but I always use pre-chopped, frozen fruit when I make smoothies. For some reason, the fact that it's frozen taste better to me and the fact that I don't have to chop it is a time saver.
Hidden Veggie Smoothies – Tropical Hurricane Smoothie
This smoothie combines pineapple, mango, banana and carrots. Carrots are one of the veggies that my kids will eat, at least they will eat them raw. It never hurts to get more of them into their diets though.
Carrots are a good source of fiber and antioxidants. They include vitamins A, C K and B8 and are a good source of beta-carotene, iron (Fabulous!), copper and manganese, according to organicfacts.net. Eating carrots on a regular basis is said to reduce cholesterol, help your immune system and digestive health.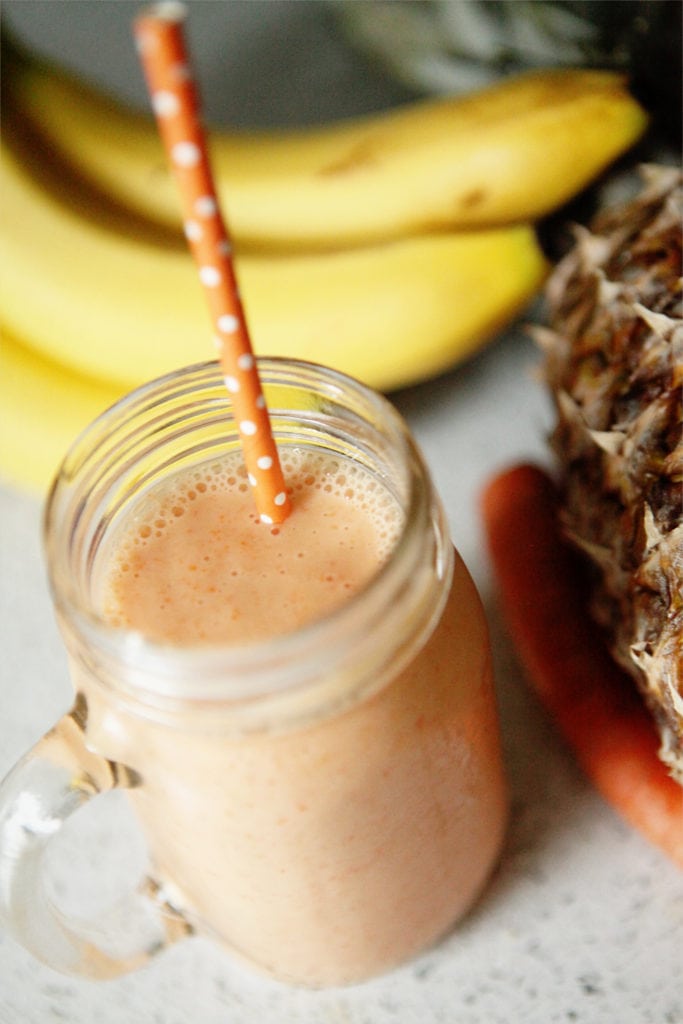 Ingredients
2 cups of frozen pineapple, mangos and bananas
3 cups of unsweetened, vanilla almond milk
½ cup of ice
½ cup of mango or pineapple Greek yogurt
1 whole carrot, shredded
Again, make sure you use the liquidly setting on your blender. You want to make sure that the carrot is a chopped up as possible or it can add a texture to the smoothie. While it's not specifically a bad texture, it is different and I know some kids have issues with textures.
Hidden Veggie Smoothies – Berry Berry Good Smoothie
I saved the best for last! This one is actually my favorite and uses kale. Kale is a leafy green that I love, but my kids won't touch it with a 10-foot pole. You can't taste it at all!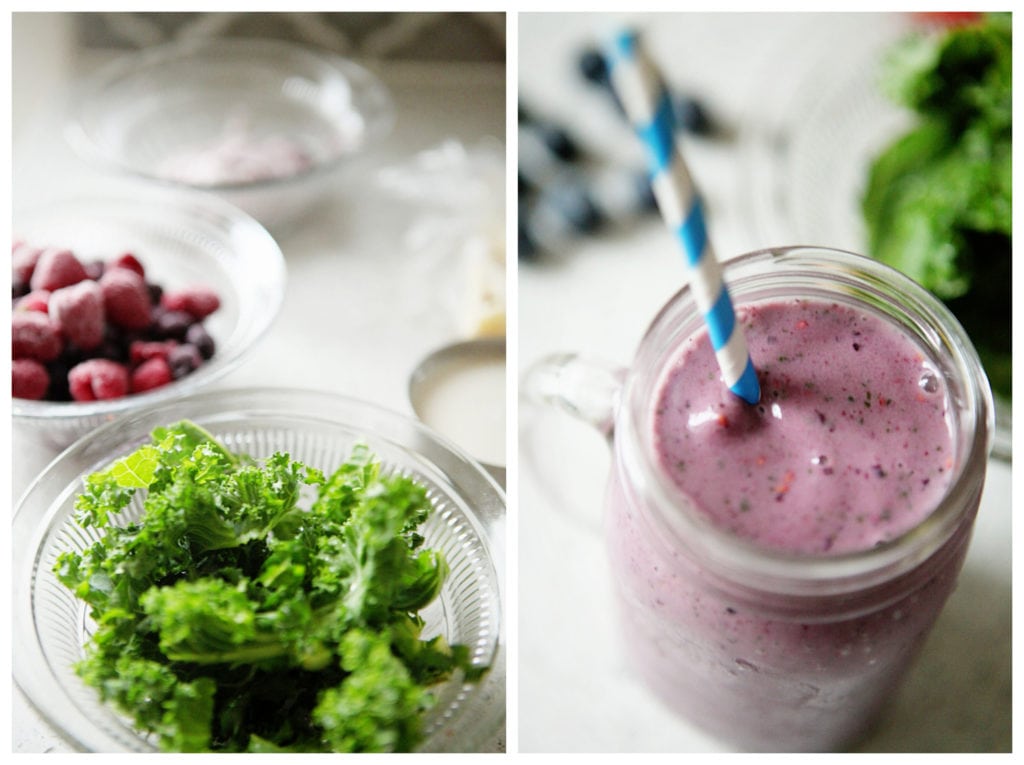 Kale is again high in iron and low in calories. It also has antioxidants, vitamins A, C and K, and plenty of other good nutrients according to WebMD that give it the dark, green color.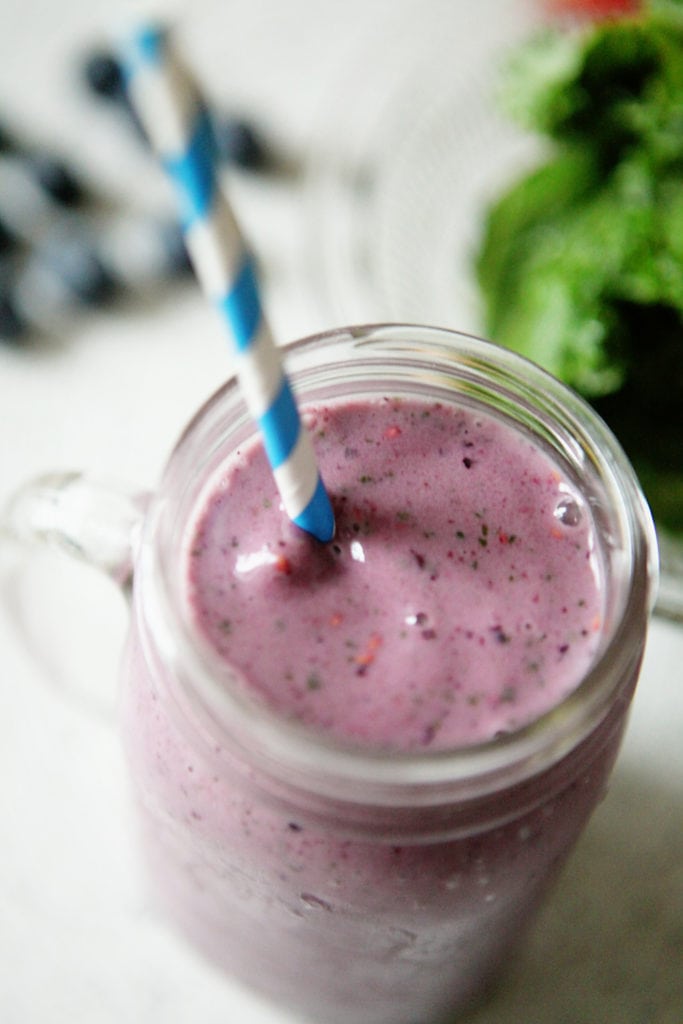 Ingredients
2 cups of frozen berries – raspberries, blueberries and black berries
3 cups of unsweetened, vanilla almond milk
½ cup of ice
1 cup of kale
½ cup of blueberry Greek yogurt
I hope these help you squeeze a few more nutrients into your littles, and maybe you too!
Happy eating, friends!