"Why didn't you want to kiss me?" I asked my daughter.
"You're not supposed to kiss on the lips," she said.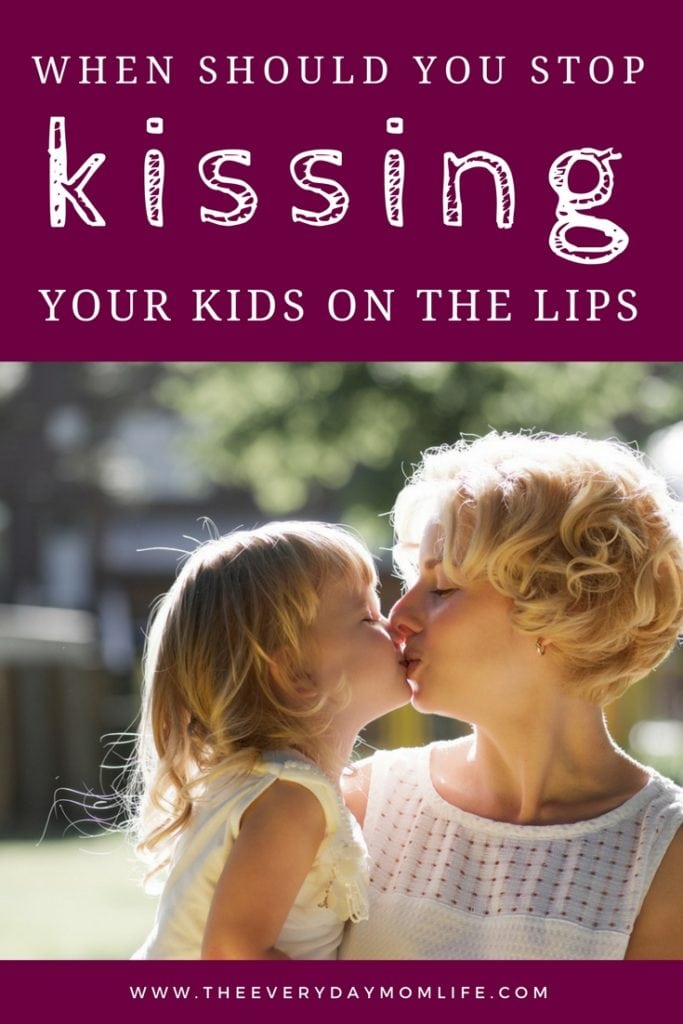 I had asked for a quick smooch as we snapped a photo on our recent trip to Austin. We aren't big lip kissers in our family, but before bed or every now and then we pucker up and kiss the kids on the lips.
Somewhere along the way, my daughter had stopped doing this and I hadn't really noticed until this moment when she seemed sort of uncomfortable with it. I figured her hesitation had more to do about the stranger I asked to take our photo versus anything else.
"Who told you that?" I asked feeling a bit hurt.
"I don't know," she said, still seeming a bit uncomfortable.
Maybe she did know and maybe she didn't, but the point was, I hated that something that was supposed to be about the love between us made her uncomfortable.
I decided right there I would never ask her to kiss me on the lips again and mourned the passing of another "last" with her.
All that really mattered to me was that she was uncomfortable, and I never wanted her feel that way about affection – from me or anyone else.
The kissing conundrum
Kissing your kids on the lips has been a hot topic for decades but has been highlighted in recent years by Victoria and David Beckham and Hillary Duff who have all posted photos of themselves kissing their children on their lips.
The whole world seems to have an opinion on the subject (whether they're parents or not) and those opinions vary greatly.
Even "experts" can't agree.
Dr. Charlotte Reznick of UCLA and author of The Power Of Your Child's Imagination: How To Transform Stress And Anxiety Into Joy and Success told The Stir in 2010 that kissing on the lips is "too sexual" for young children and that it can be "stimulating."
"It's just too confusing," she said, infuriating parents around the world.
Many other doctors and psychologists have vehemently disagreed with her over the years and say it's totally normal to kiss your children on the lips. They say to believe a kiss is confusing would be similar to saying breastfeeding is confusing.
It's cultural and family-based
In 2016, parenting expert and founder of Tools of Growth, Roma Khetarpal told the Global News that the controversy around kissing on the lips is very cultural and has to do with how you were raised.
"It's prevalent in some cultures and not in others," she told the publication. "It comes down to what your family dynamic is – just like any other cultural habit."
Khetarpal added that if you grew up kissing your parents on the lips this would be very normal for you, but if you didn't then it might seem unusual. For instance, it's very normal for adults and children to kiss on the lips and cheeks in European countries.
"A lot of families have cultural habits when it comes to kissing and for some, even the cheek can be offensive," she said.
When should you stop kissing your kids on the lips?
However, Khetarpal stressed that there are things parents should keep in mind when kissing their kids on the lips.
Is it age appropriate?
Do your children want it?
There is a time when you stop doing things for your children – wiping their butts, bathing them and dressing them. Khetarpal said that kissing on the lips should be similar to this.
My daughter has now set the boundaries for herself around kissing on the lips, just like she has recently asked for privacy in the bathroom and has (finally) started closing the door when she goes.
There's no denying that she's growing up, and as sad as I am to be waving goodbye to some of these moments, I'm happy she can set and vocalize her boundaries for herself and her body.
Even though there will be no more kissing her on the lips, she still loves a good kiss on the cheek, head and all the bear hugs she can get.
She still climbs into bed with us each night (Every. Single. Night.) and snuggles with me on the couch each morning. In fact, if I don't snuggle to her satisfaction I get an earful.
"You're doing it wrong," she said.
"Doing what wrong?"
"You're supposed to put your arm around me," she said, "so I can be in the nook and close to your heart."
"You'll always be close to my heart," I said and kissed her on her head as she leaned into me.