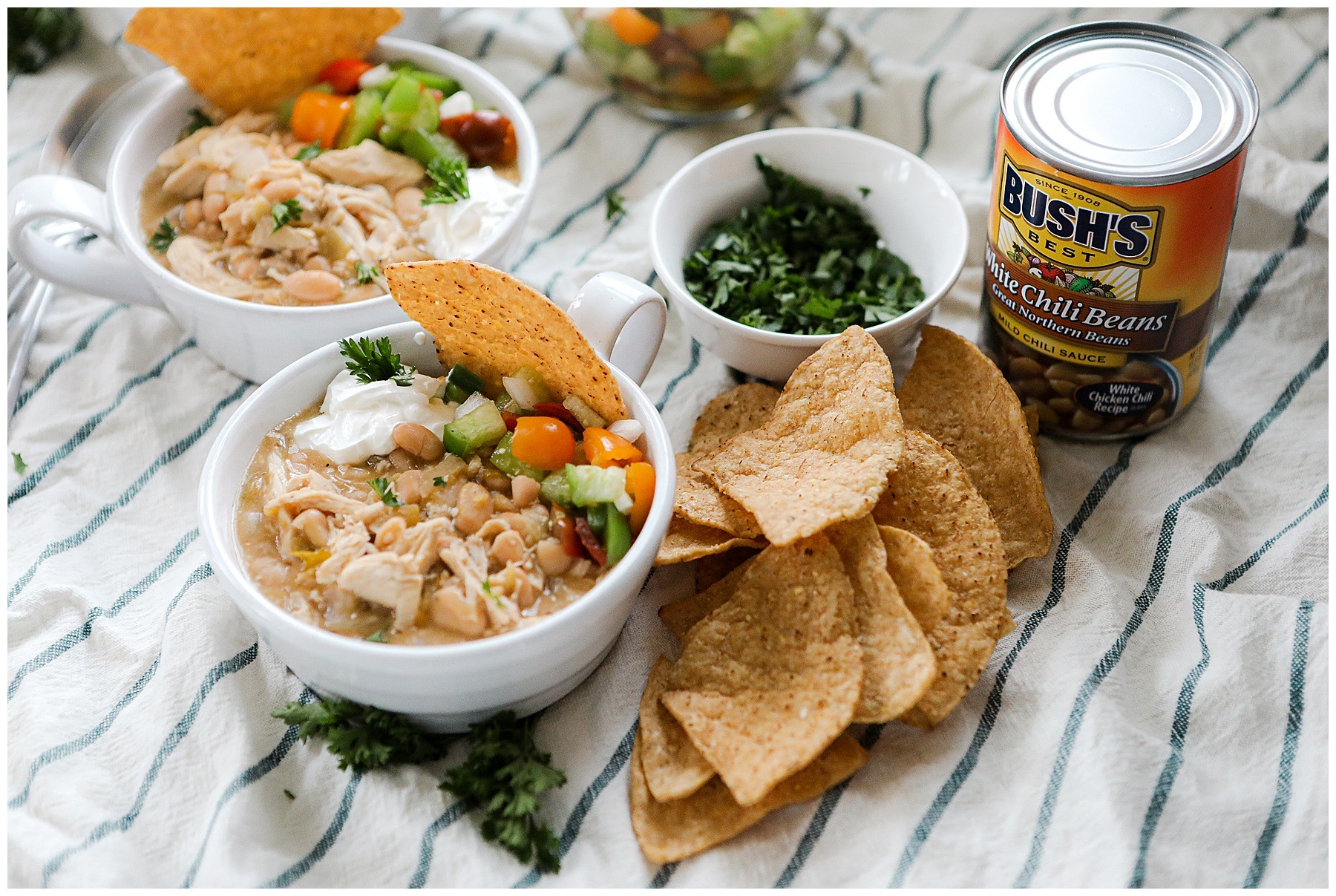 A couple years ago, I wanted to re-create a bowl of white chili that I had in college. There was a small, secondary bookstore near campus called Brian's Books that also had a café that severed this amazing, white chili with tortilla chips.
One fall afternoon I started craving it – randomly. It had been at least a decade since college at that point and the bookstore was long gone. Still, sometimes you get a taste for things and you just can't shake it.
The turkey chili I ended up creating that day has become a fall staple in our house. We make it at least twice a season, and it's a meal both Kevin and I look forward to.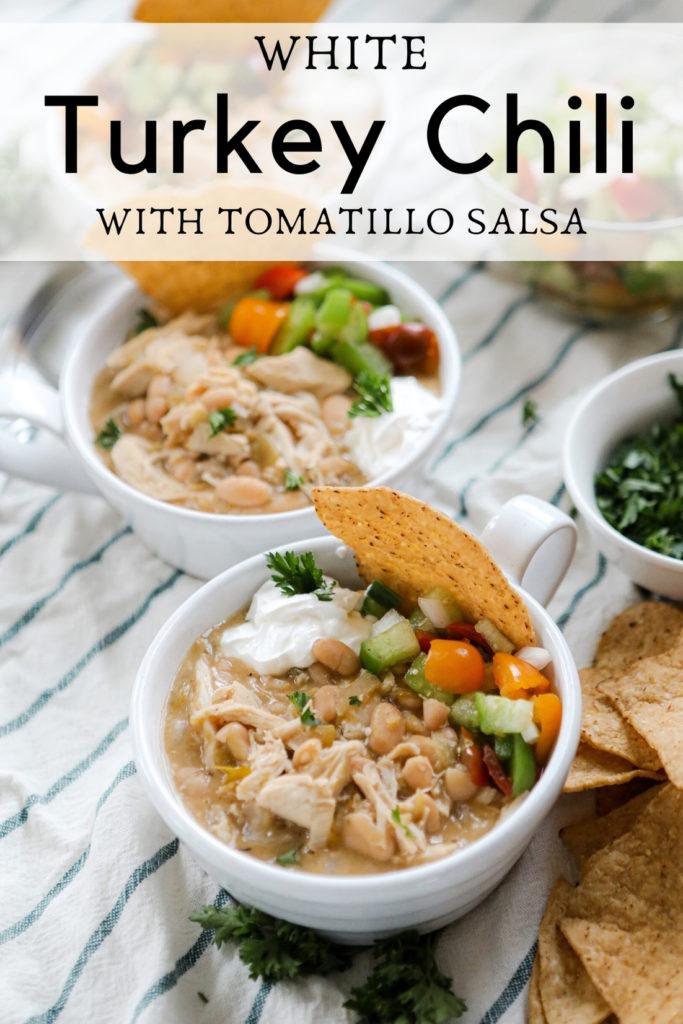 Recipe staples
This simmered, homemade White Turkey Chili is full of delicious, savory turkey; tangy green chiles and iconic BUSH'S® White Chili Beans.
So, when BUSH'S® asked me to join the #beansquad for the winter season and create recipes using their beans, I knew I wanted the turkey chili to be the very first dish I made.
BUSH'S® White Chili Beans have been a staple for us in this recipe right from the very start. They're high-quality beans that have been slow cooked to perfection so you get the very best flavor when using them in your recipes. They're also a great plant-based option for people looking to add more fiber, antioxidants, probiotics and protein into their diets.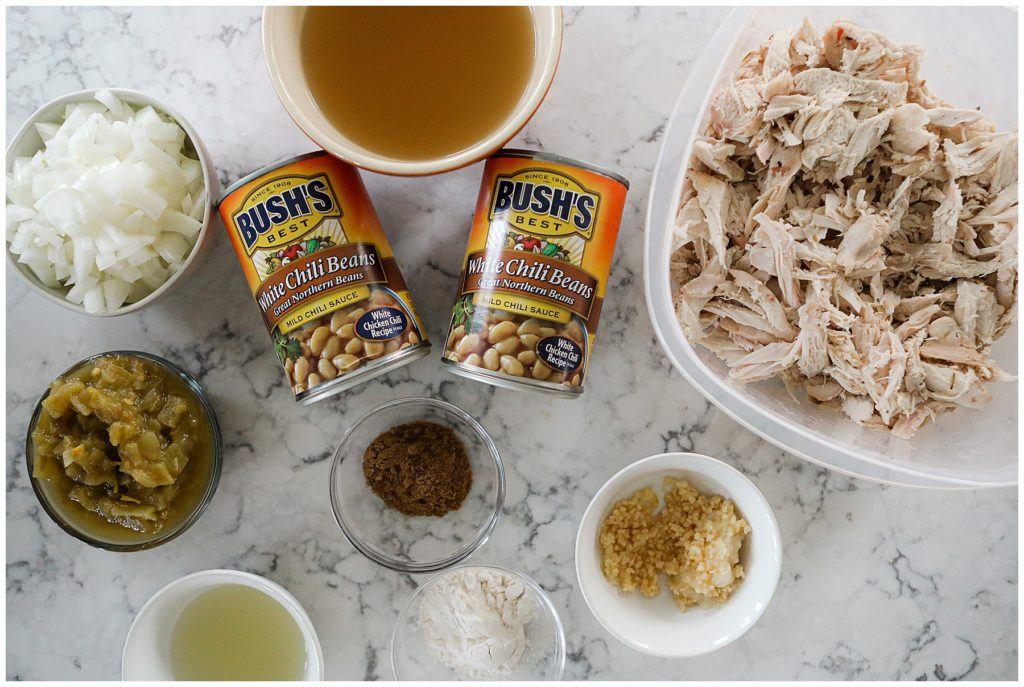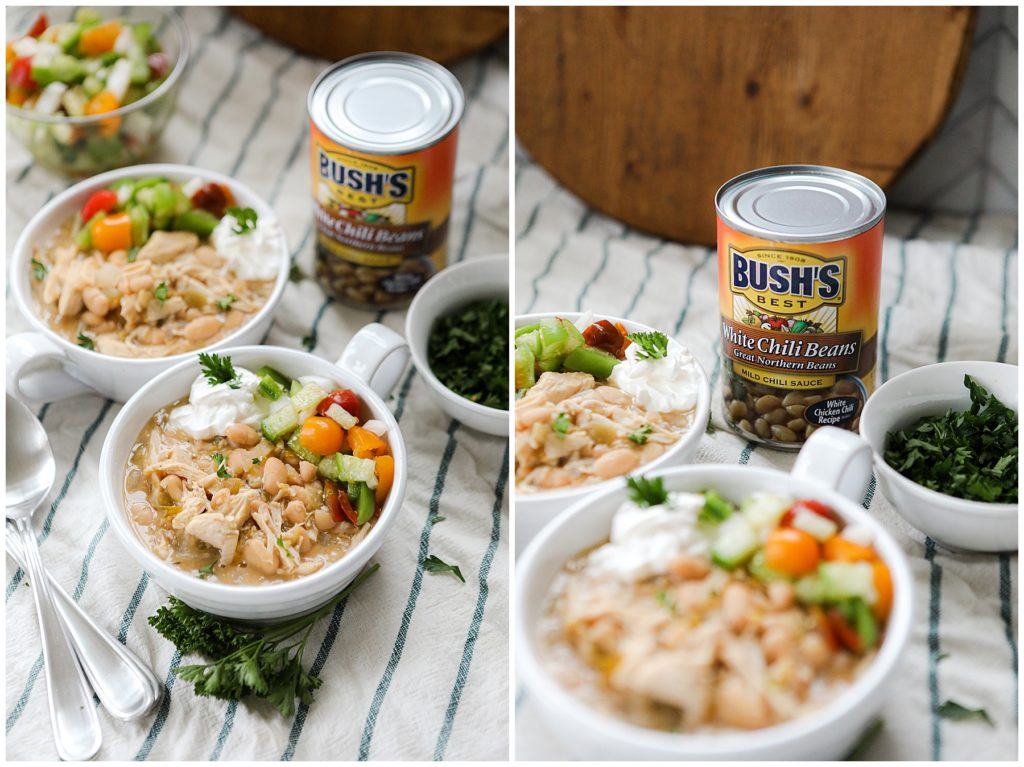 White Turkey Chili time
This recipe combines turkey with BUSH'S® White Chili Beans, and we have traditionally used ground turkey for it. However, I have always wanted to use pulled turkey breast in it instead. This time, I made a turkey breast for dinner one night and on the second night, used the leftovers for this recipe.
Before we had children, Kevin and I loved to make food this way. We would make a meal one night and see how we could reinvent the leftovers the next night. Since we were saving for either adoption or fertility treatments, we really needed to conserve. We called it, "Make once, eat twice." Personally, I think this is still one of the most fun ways to try to make dinner.
This recipe is also perfect for leftovers on Thanksgiving. If you always find yourself with extra turkey on-hand after the holiday is over, this is a great way to use it up and extend your meals through the week.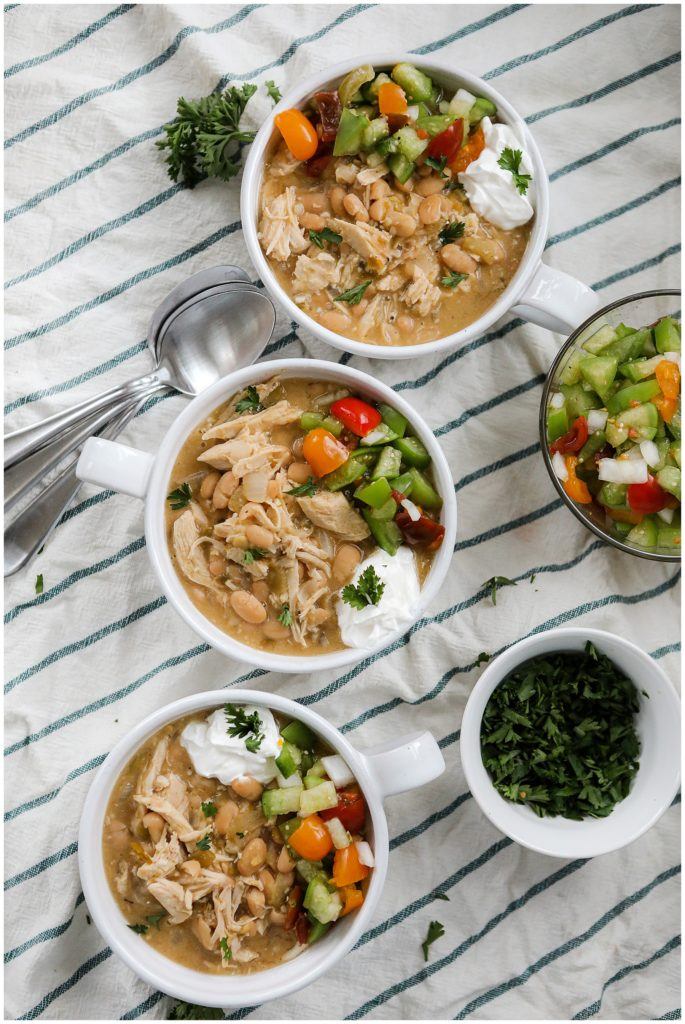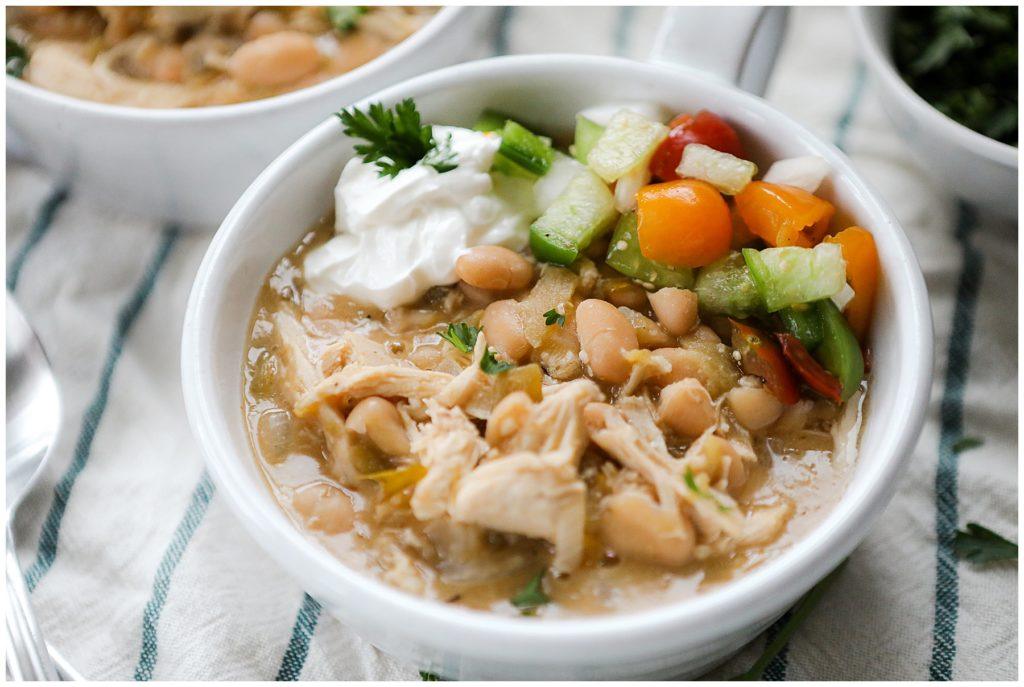 Endless ways to eat it
We also like to eat this with chips. Kevin specifically almost always uses chips and scoops the Turkey Chili up like it's a heavy salsa. I like to eat a few bites this way and then just eat it with a spoon. It is so delicious on its own, and sometimes I like to enjoy it as simply as possible.
There also seems to be endless ways to top the Turkey Chili. Topping your chili always feels very personal to me. You could have one chili dish and have 100 different combinations with toppings. We like to use a simple Tomatillo Salsa and a little sour cream for the White Turkey Chili but cheese, cilantro, parsley and so many other herbs too.
How do you like to top your chili? Are BUSH'S® Beans a recipe staple for you, too?
Thank you so much for visiting today, friends! Find the full, printable Turkey Chili recipe with BUSH'S® White Chili Beans below, and please let me know what you think it the comments if you decide to make it for your family!
For more family recipes, visit our recipe section of the website.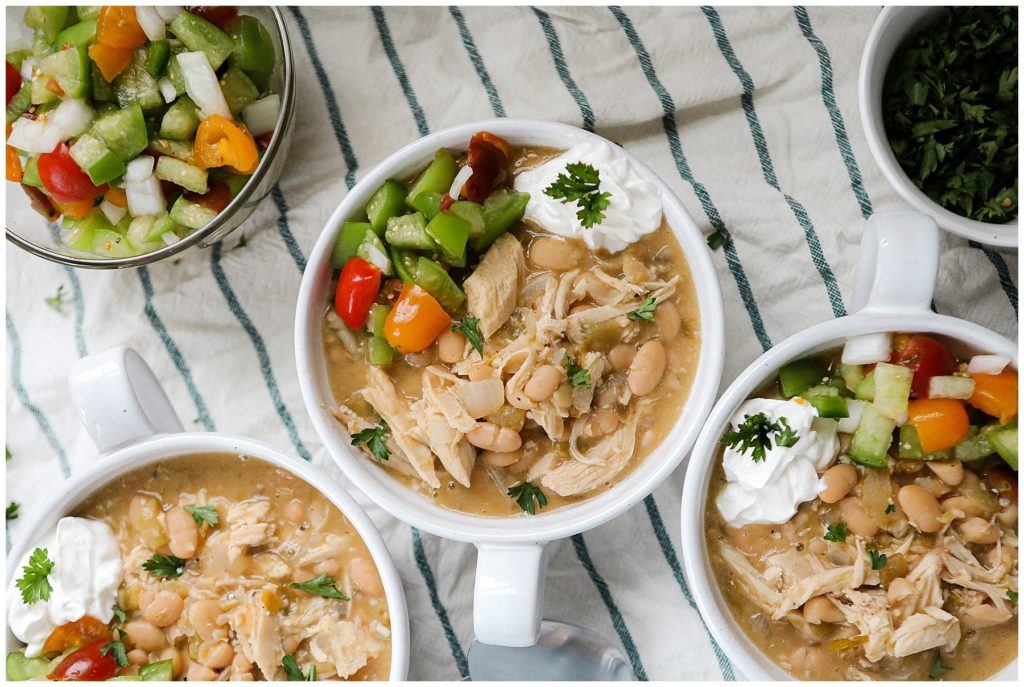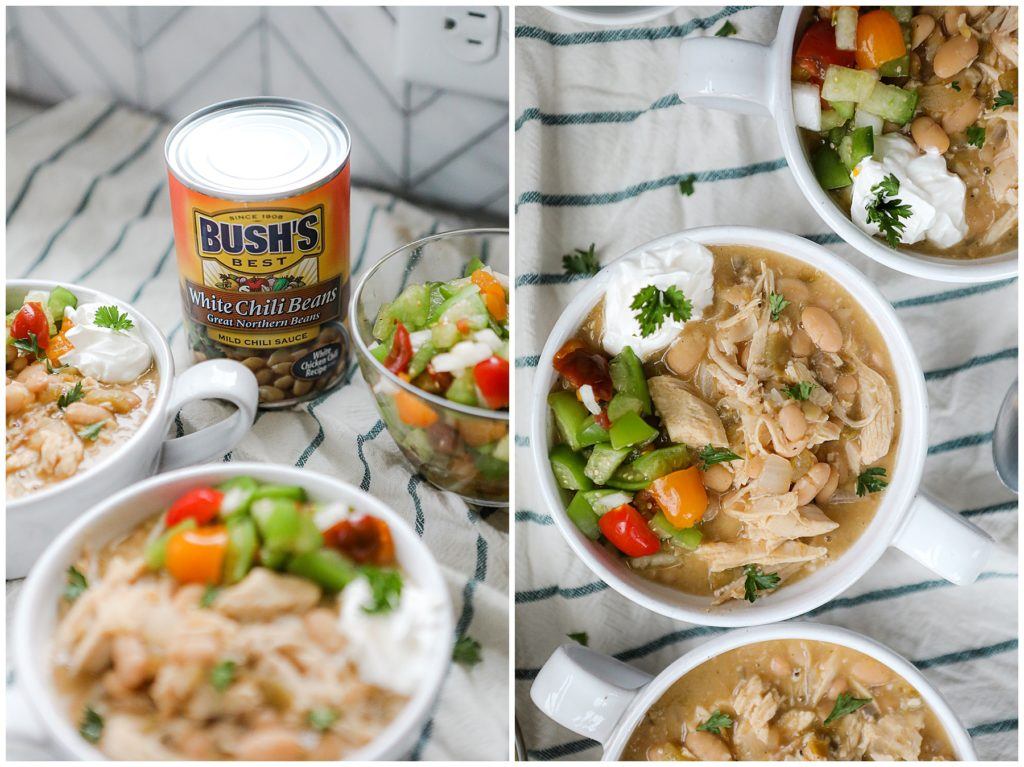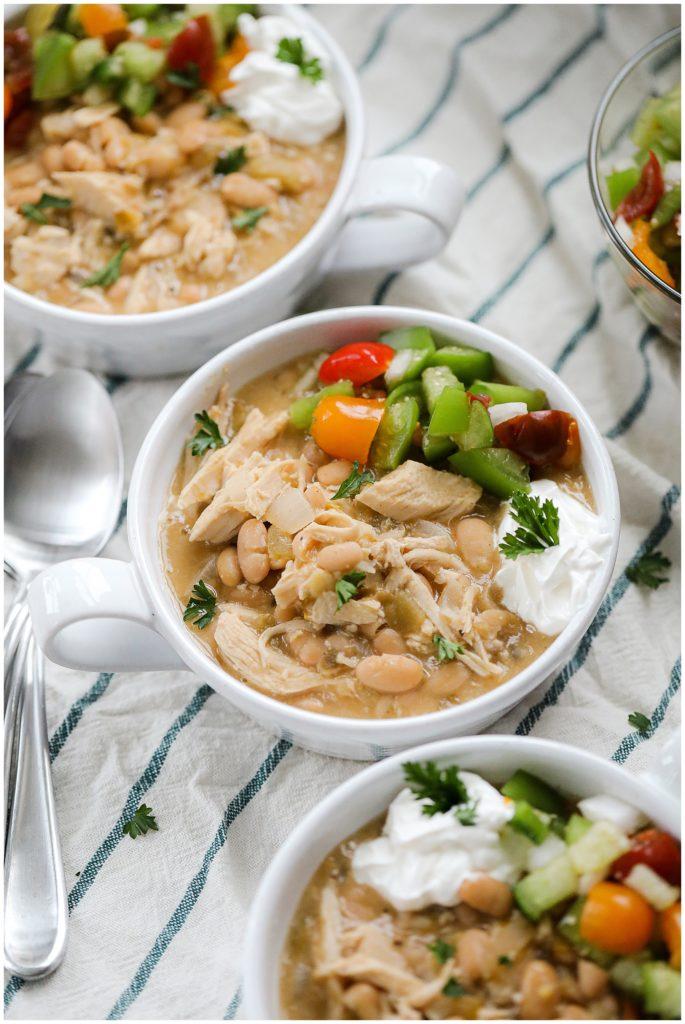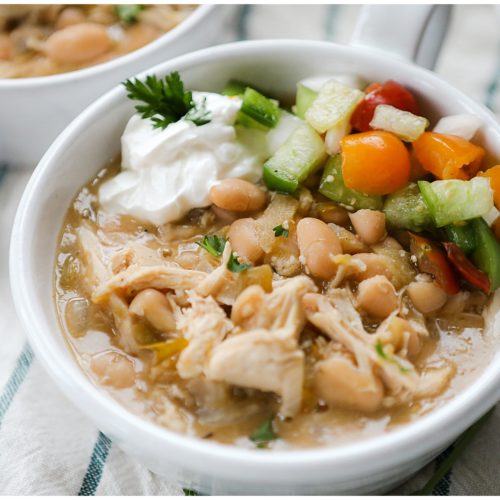 White Turkey Chili
This White Turkey Chili is perfect for fall and winter and the perfect way to use up turkey left overs.
Print
Pin
Rate
Ingredients
1.5

lbs

turkey – roasted and pulled or ground

1

large, white onion, chopped

3

cans

BUSH'S® White Chili Beans, lightly drained

9

oz.

mild green chilis (2small cans)

2

Tbsp.

garlic, minced

3

cups

chicken broth, reserve one cup

1

Tbsp.

ground cumin

2

Tbsp.

olive oil

2

Tbsp.

flour

Juice from 1 lime

Salt and pepper to taste

Optional:Cilantro, parsley, cheese, sour cream and tortilla chips
Ingredients for Tomatillo Salsa
12-15

tomatillos

12-15

cherry tomatoes

1/2

large onion, diced

1/2

a jalapeno, diced

Juice from 1/2 a lime

2

tsp.

garlic salt

Salt and pepper to taste
Instructions
Add olive oil to a pot and heat.

Then add chopped onion and minced garlic and heat through until translucent. About 3 minutes.

*If you're using ground turkey, add it now and brown.

Add in flour and mix well for about two minutes.

Add in 2 cups of chicken broth

Add in the BUSH'S® White Chili Beans and stir in

Add in ground cumin and lime juice. Bring to a boil and then reduce to a simmer

*If you're using pulled or roasted turkey, add in now.

Simmer for an hour or at least 30 minutes.

While the chili simmers, make the salsa by combining all the ingredients in a bowl. Mix together so the salt and lime juice can pull out additional juice sand flavor from the tomatoes and tomatillos. Refrigerate until needed.

Once the chili has simmered, serve immediately with salsa and desired optional toppings.