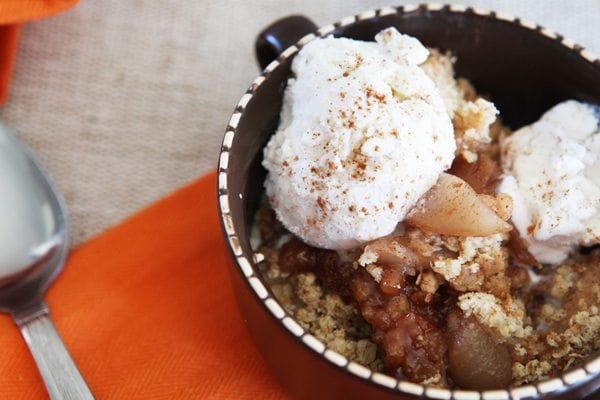 I love a good pie heated and topped with some vanilla ice cream. Peaches were on sale last week at the grocery store and I wanted to make a delicious peach pie.
However, between having sick kids and not feeling up to par myself, I didn't have the time. I often feel like pies are pretty time intensive due to the crust. But, I didn't want to let my peaches go to waste.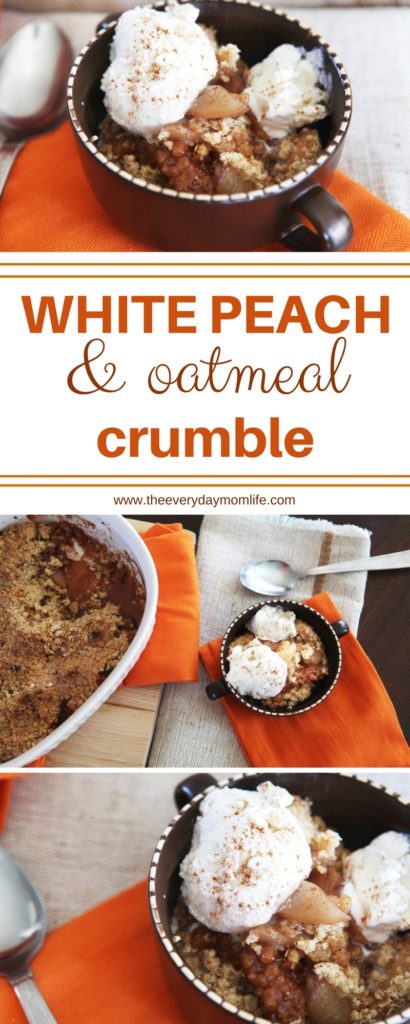 Instead of pie, I opted for making a White Peach Oatmeal Crumble it was the perfect replacement to fulfill my pie craving without the hassle of making a crust. This only took about 20 minutes of my time (minus the baking time in the over when I could walk away) and was absolutely delicious. Oh and my husband totally thought I was making pie!
If you need a tasty, fast dish that gives you a little comfort and sweetness, try this recipe out this weekend. The kids loved it too! Check out the steps below.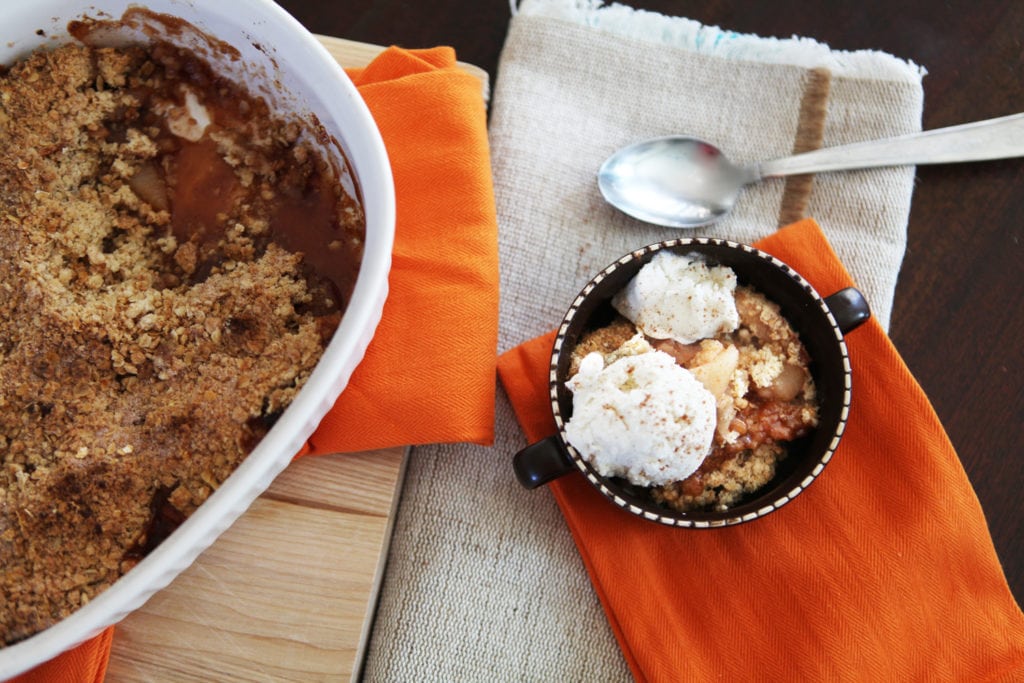 Ingredients:
For the Filling
6 – 8 fresh peaches
¼ cup white sugar
2 Tsp. of cornstarch
1 Tsp. ground cinnamon
1/8 Tsp. ground nutmeg
½ Tsp. of vanilla extract
For the Crumble
1 cup of all-purpose flour
¾ cup of raw oats
¼ cup brown sugar
¼ cup of white sugar
6 Tbsp. of softened, unsalted butter
3 Tbsp. of hot water
Steps:
1. Preheat your oven to 425 degrees and slice and pit your peaches. I removed the skin from mine with a potato peeler. It made it very easy! I also used white peaches because they were on sale, but you can certainly use orange peaches too.
2. Combine peaches in a bowl with all the other items for the peach mixture listed in the ingredients. Mix well so the sugar can begin pulling the juices out of the peaches.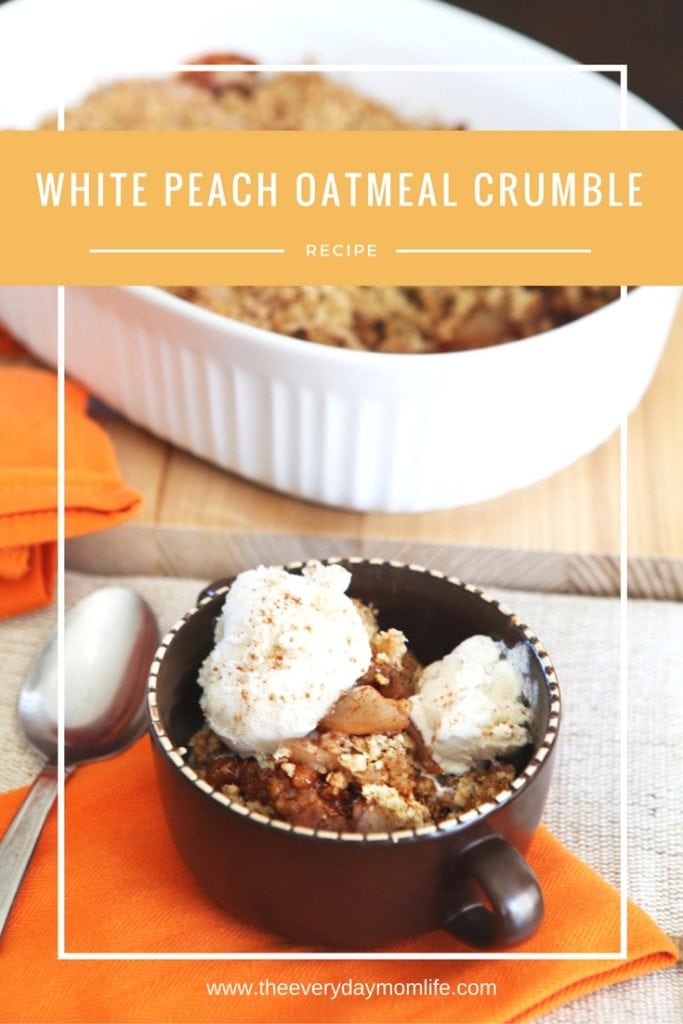 3. In a separate bowl, combine all your dry ingredients for the crumble. Mix thoroughly.
4. Add in the softened butter and water. I melted my butter just a bit in the microwave to make it more manageable. If you do this don't do it more than 30 seconds.
5. Mix the crumble topping until everything is combined. It will look a bit lumpy but that's normal.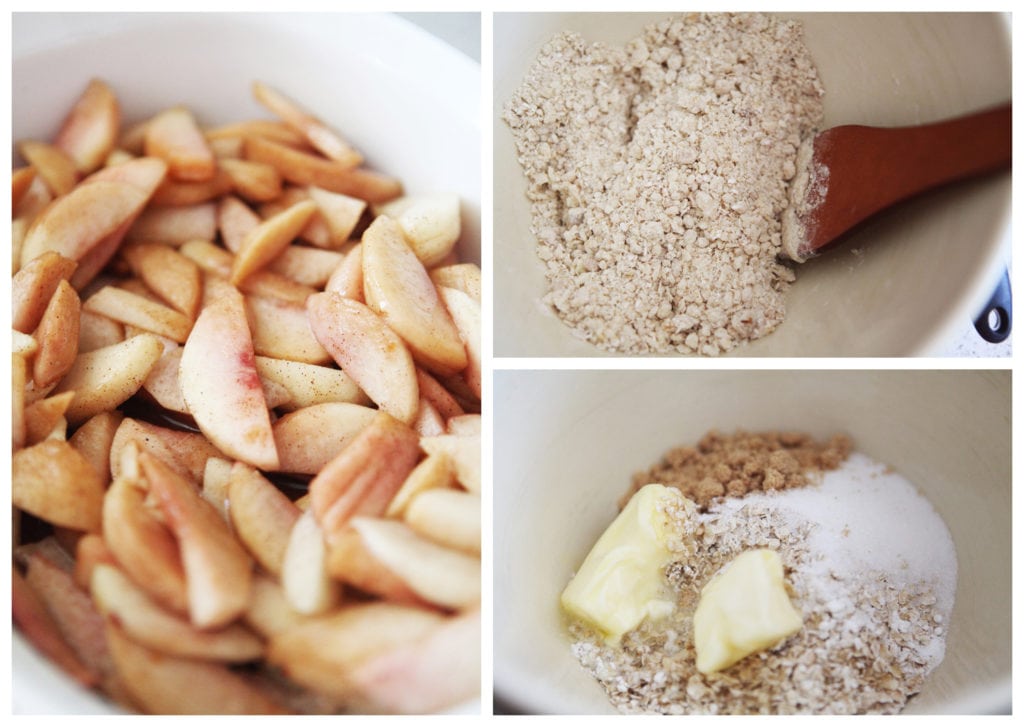 6. Add your peaches to a baking dish and baked for 10 minutes.
7. Pull the peaches out of the oven and spoon your topping onto it, covering it evenly. If you want, you can add another sprinkle of cinnamon and sugar to the top of the crumble.
8. Bake for an additional 30 – 35 minutes in the oven or until your crumble topping is golden brown.
9. Spoon into a bowl for serving, top with vanilla ice cream and add another dusting of cinnamon.
I hope you enjoy this! Happy eating, friends!