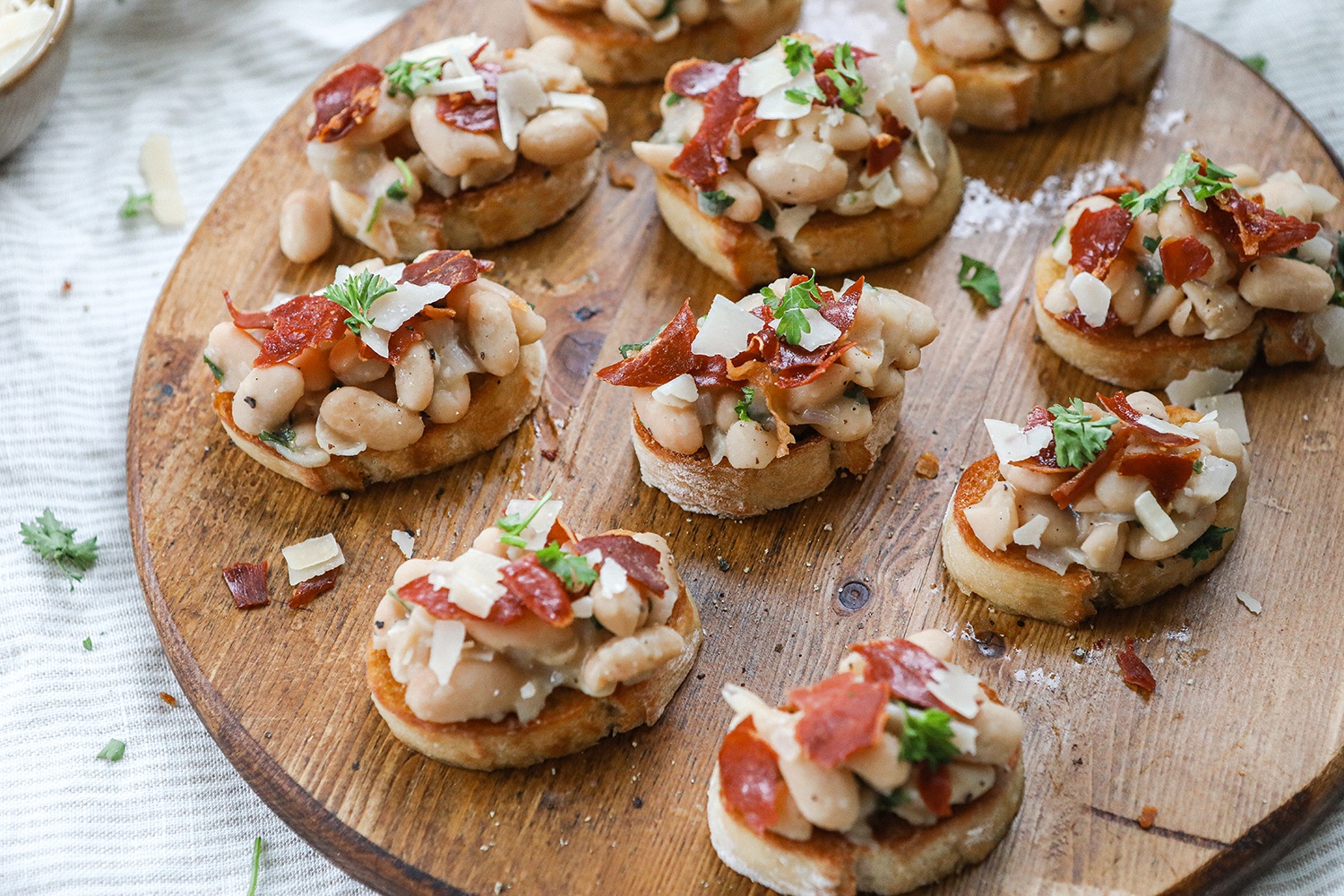 Appetizers are a favorite of mine. In fact, sometimes I prefer to make a meal of appetizers so I can taste a little bit of everything. But I have to say, as much as I love appetizers year-round, appetizers always seem to taste better during the holidays.
Each holiday season I like to recreate old favorites in new ways. In our family, crostini are always a favorite appetizer and one that's easy to make in so many different ways. This year in partnership with BUSH'S®  Beans, I decided to make a White Bean Crostini for our Thanksgiving celebration with BUSH'S® Cannellini Beans.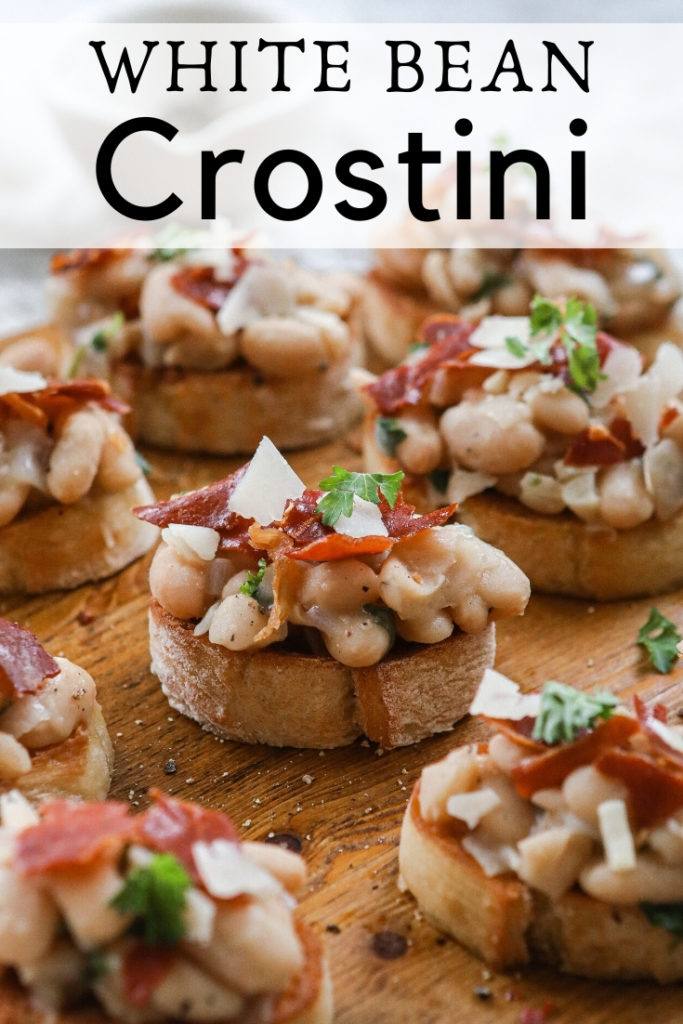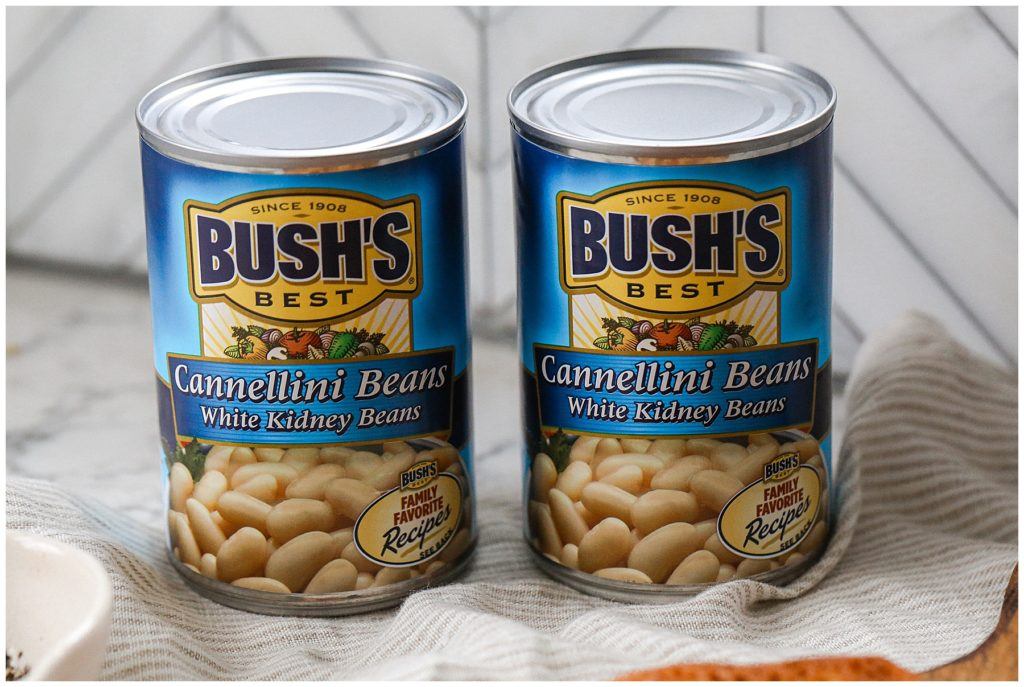 Italian beans for an Italian girl
BUSH'S® Cannellini Beans are one of my favorite products from BUSH'S®. Aside from their taste, I love that they're Italian. (like me) beans. 🙂
Cannellini beans are originally from Italy and have a delicious, silky texture and nutty flavor that makes them perfect for soup, pasta and so much more. The BUSH'S® Cannellini Beans are large and smooth with a hearty, delicious flavor that will help to fill you up and satisfy your comfort food cravings. That makes them perfect for our crostini.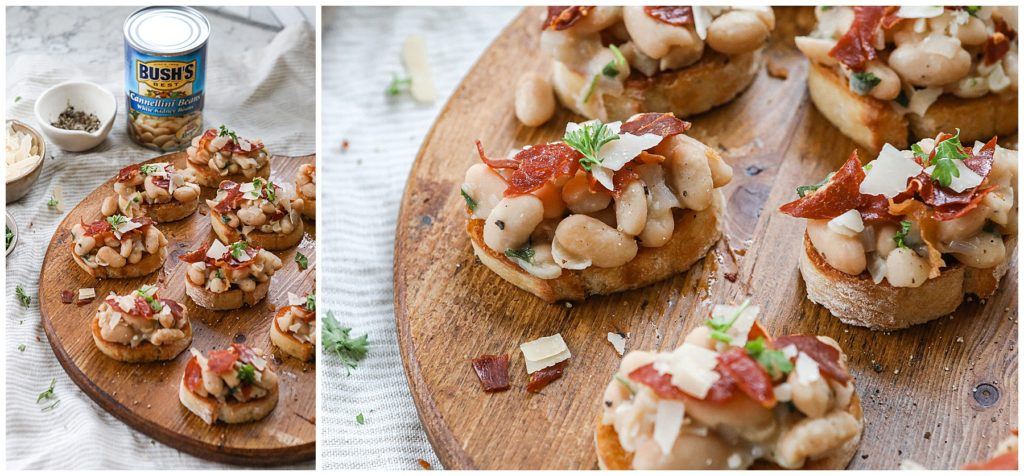 What is a crostini?
The word crostini actually means, "little crusts," in Italian and while they're often associated with appetizers at parties or as part of a charcuterie board, they really are a beautiful and simple way to create a meal anytime of the year and throughout the day.
This year, it really feels extra special to me to weave in Italian foods to our holiday. Since we won't be going home for a Thanksgiving party with my big, Italian family, I like to think that this appetizer brings a little bit of them to me.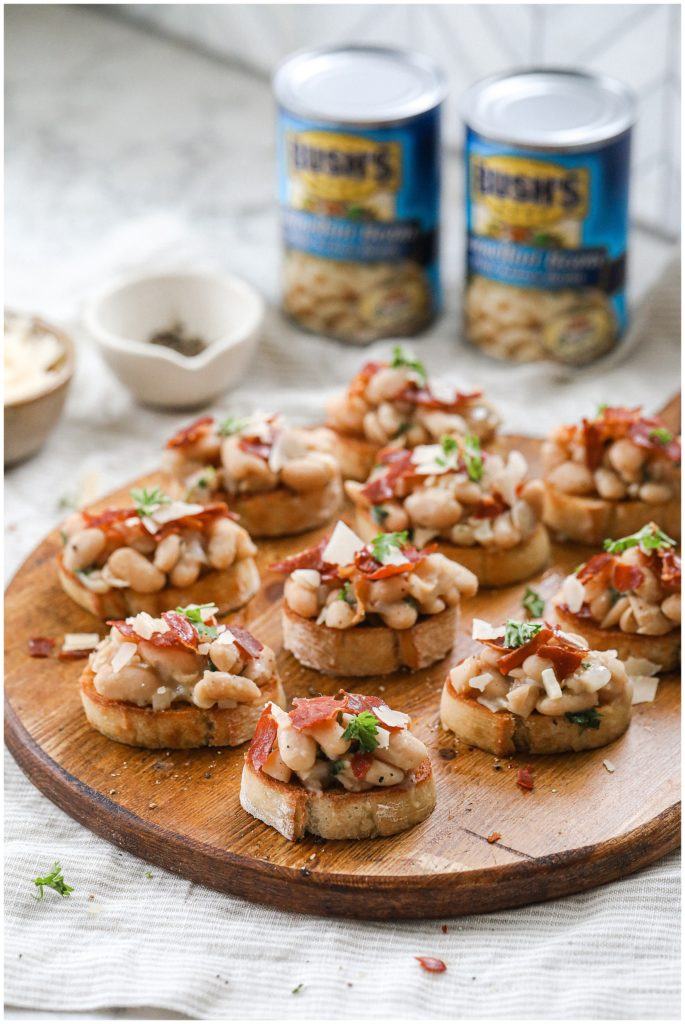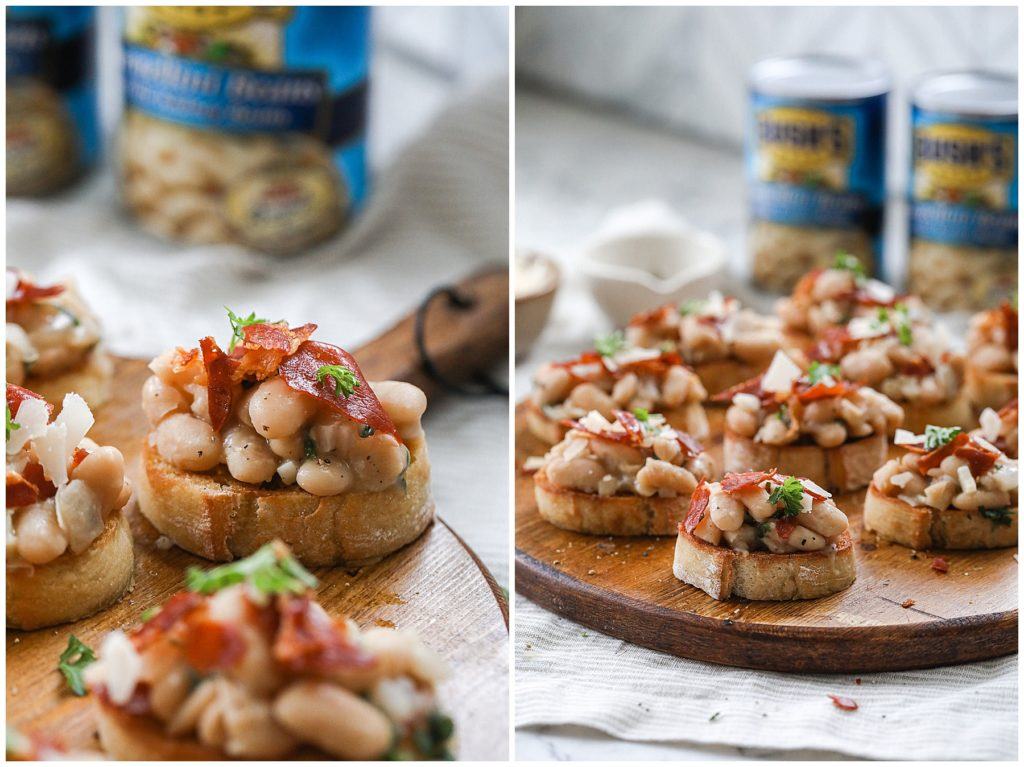 Tips for making white bean crostini
Good bread makes a difference! I usually use baguette to make smaller, bite-sized crostini. But, you can really make them with any kind of bread. You can even use stale bread if you want. The juices from the topping will re-hydrate it. Just make sure there's no mold and it's a good quality bread.
Slice the bread ½ inch thick. This is really the best thickness for making the pieces people are comfortable biting through. A serrated knife is the best cutting bread.
No flipping required. Crostini will cook up just fine without flipping them over. Just make sure to give the top a nice coating of olive oil per the directions.
Topping or dipping both work! When making crostini for this White Bean Crostini with BUSH'S® Cannellini Beans you can either top them as I did or put the bean mixture into a dish and dip your little crusts.
Thank you so much for visiting today friends! You can find the full recipe for White Bean Crostini with BUSH'S® Cannellini Beans below. And make sure to check out this White Turkey Chili made with BUSH'S® White Chili Beans, too!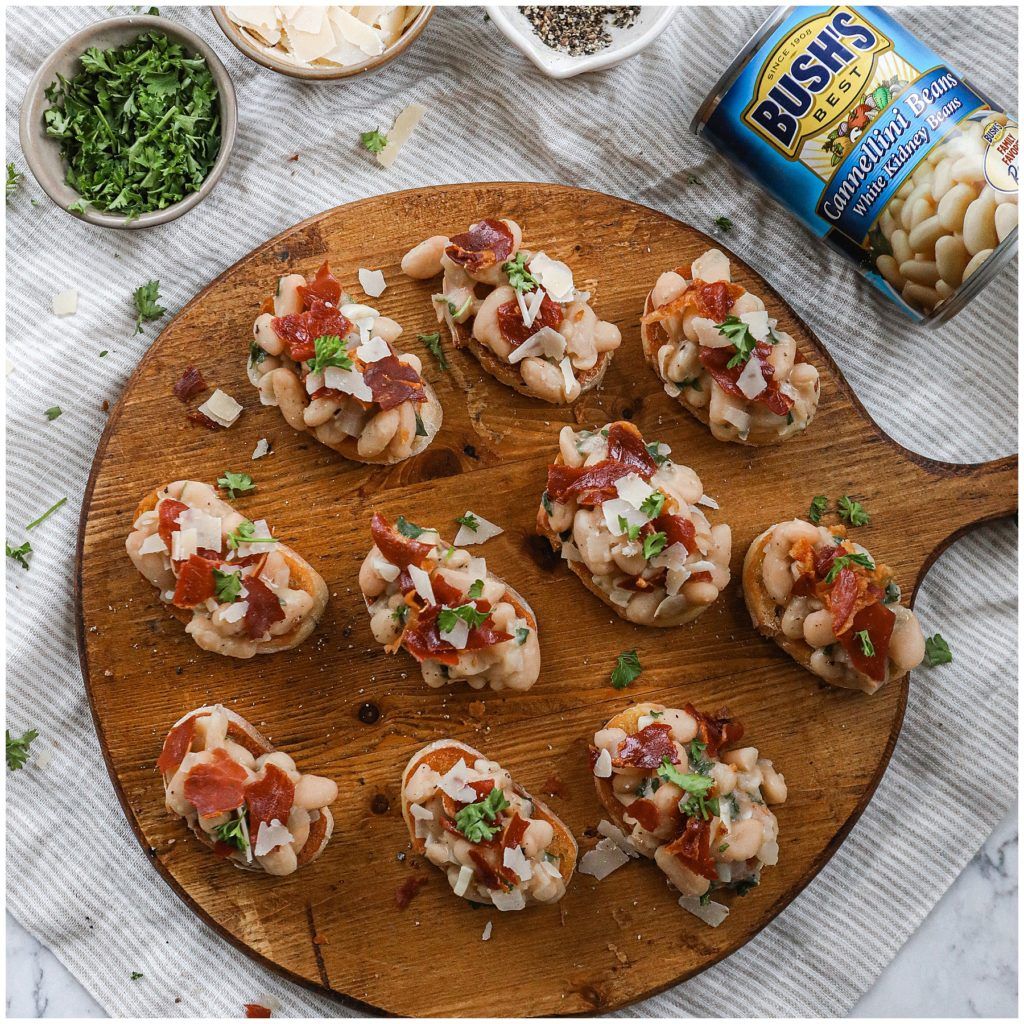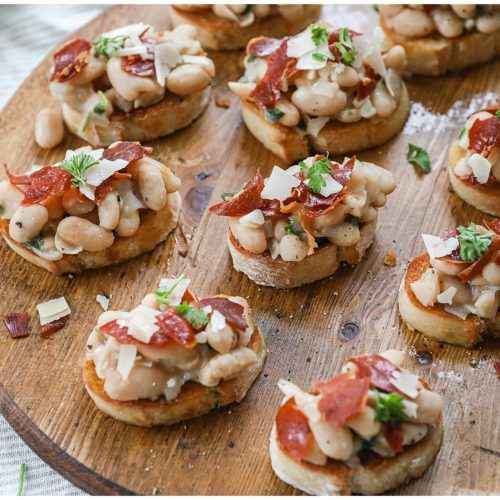 White Bean Crostini
This WhiteBean Crostini Appetizer is perfect for holidays and dinner parties but it is also simple enough it can be made for Sunday game too.
Print
Pin
Rate
Ingredients
1

baguette, sliced about 1/2 -inch

1

tsp.

garlic salt

1

Tbsp.

olive oil, divided

3

shallots, diced

6

cloves of garlic, diced

2

cans

BUSH'S Cannellini Beans, lightly drained

1/4

cup

white wine

1/4

cup

parsley, chopped

Salt and pepper to taste

5

pieces prosciutto

Parmesan cheese, shaved

Additional: Parsley to top and salt and pepper to taste
Instructions
Add 2 Tbsp. olive oil to a pan and heat through.

Add the shallots and garlic and sauté for about 5 minutes until they are soft and cooked through.

Add Cannellini Beans to the pan and heat on low for a few minutes.

Add white wine and simmer about 5 minutes

While the mix cooks, slice the baguette and add slices to a baking sheet.

Brush 2 Tbsp. of olive oil on top of the slices and sprinkle thegarlic salt on each.

Broil about 3-5 minutes. Watch them so they don't burn.

Returning to the bean mixture, add parsley and salt and pepper to taste. Let simmer another few minutes.

Add prosciutto to a parchment paper lined baking sheet and bake at400 for 7-10 min.

Top garlic bread with bean mixture, add prosciutto and Parmesan cheese to the top and serve.