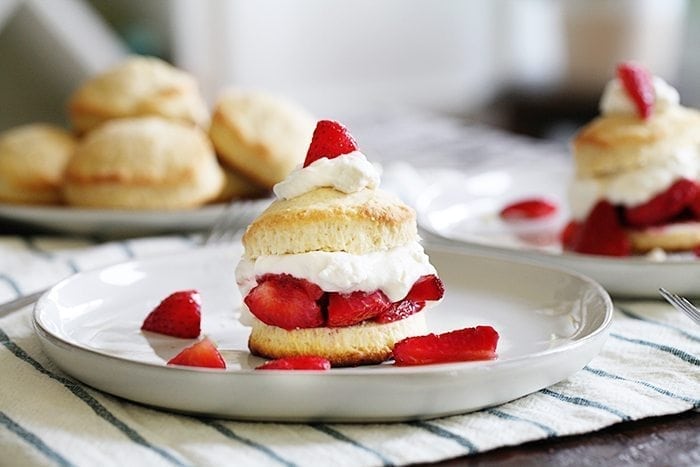 Nothing says springtime like strawberries and nothing screams springtime and summer dessert more than strawberry shortcake.
Strawberry shortcake has been a classic favorite for generations and I think it's because there is something a bit old fashioned and nostalgic about this dessert. Something about it calls back to the easier days of child hood, summer nights and catching fireflies for me.
It's also simple, fresh and the perfect companion for a spring and summer barbecue. The flavors are pure and sweet without being fussy.
The dessert actually became popular in the United States during the 1850s and, according to Wikipedia, strawberry shortcake parties were held to celebrate the summer fruit harvest. In fact, June 14 is National Strawberry Shortcake Day!
Mother's Day always feels like the start of the spring season for me and I decided I wanted to make a strawberry shortcake recipe with an old-fashioned biscuit for dessert.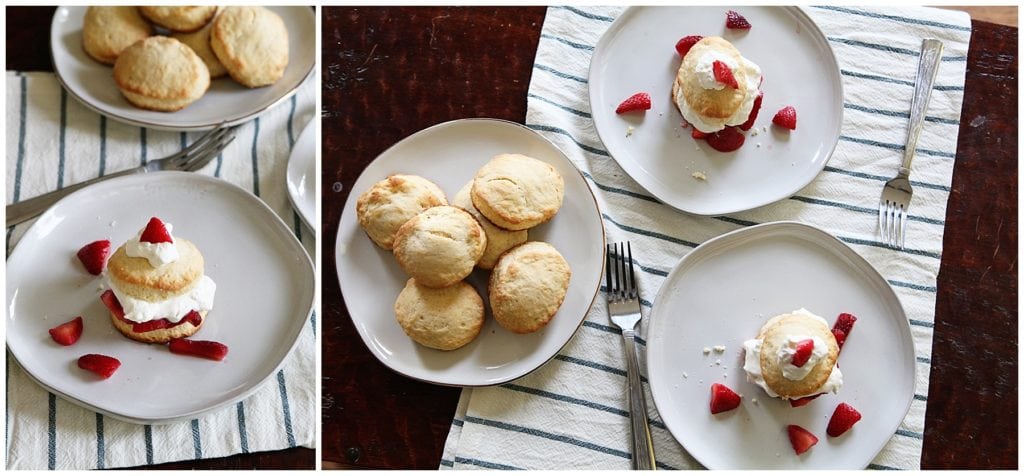 Maybe you're asking yourself why I was cooking on Mother's Day but for me, I don't really want to waste the calories by counting on someone else to provide the foods I'm craving. I'd rather do it myself and savor it all.
That said my in-laws were also coming over for the day and my father-in-law loves strawberry shortcake. Making it for dessert just seemed like it would make everyone happy.
Also, I didn't want angel food cake, which I'm not a huge fan of. I wanted a semi-sweet, biscuit that was a bit crumbly and could soak up all of the sugary juices from the strawberries. So, I made it, along with homemade whipped cream because the stuff from the can just won't cut it when you're eating the homemade shortcake biscuits.
Tip 1: You want your butter to be in little clumps to make the biscuits. You can do this one of two ways. You can either grate your butter with a cheese grater or you can melt it and combine it with very cold buttermilk. The recipe will walk you through using the cold buttermilk.


Tip 2: To get the biscuits fluffier, roll out the dough and then fold it into a square – fold in top and bottom and fold both sides in. Roll it out again to about 1-inch thickness. Do this 3 times.
Grab the full recipe below!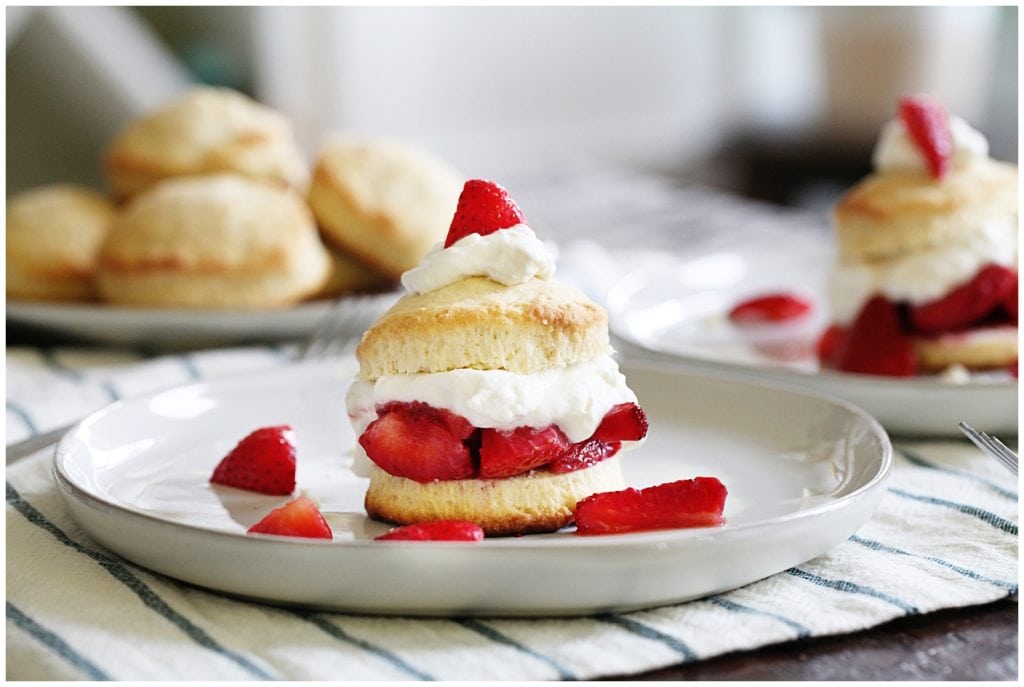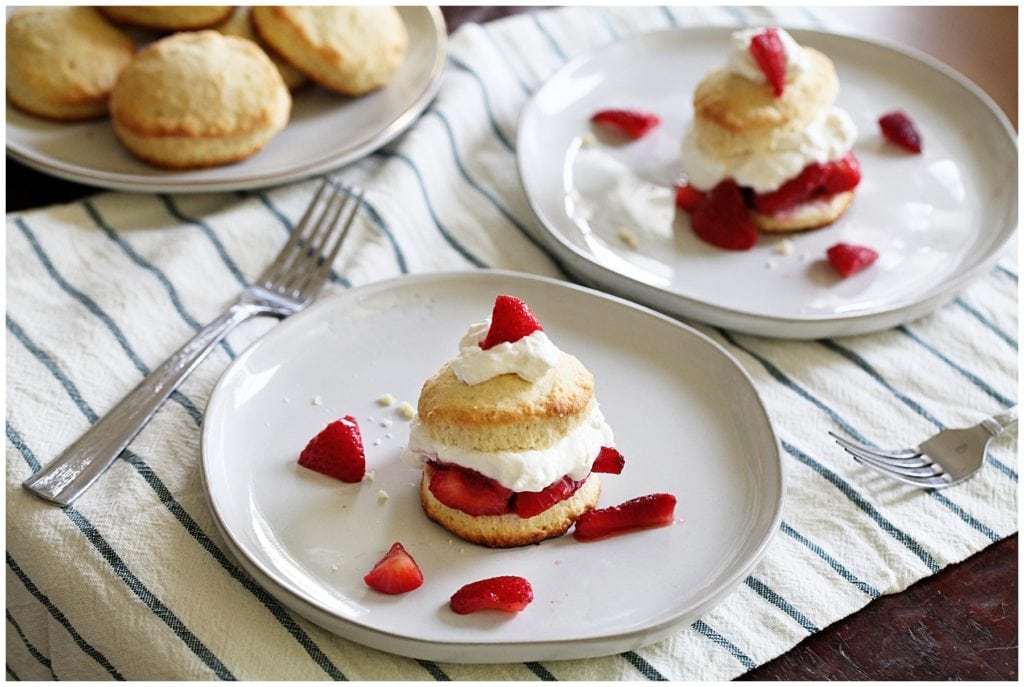 Strawberry Shortcake Recipe
The Best Strawberry Shortcake Recipe
Prep time:
Cook time:
Total time:
Ingredients
Biscuit Ingredients
2 ¾ cups of all-purpose flour
1 cup of buttermilk
½ cup of sugar
½ cup of butter, melted
1 Tbsp. of baking powder
¼ tsp. of salt
1 egg
1 Tbsp. of vanilla
Set aside additional flour for sprinkling on the dough as you roll
Sprinkling of sugar for the top of the biscuits

Strawberry Ingredients
4-5 cups of strawberries
3 Tbsp. of sugar

Whipped Cream Ingredients
2 cups of heavy cream
¾ cups of sugar
½ Tbsp. of vanilla
Instructions
Biscuit Steps
Place your buttermilk in the freezer for about 15 minutes.
Preheat your oven to 425 degrees.
Mix your dry ingredients together in a large bowl.
Melt your butter in 30 second intervals in the microwave being careful not to burn it.
Mix your butter into the cold butter milk. It will start to clump and that's exactly what you want it to do so that the little butter explosions are throughout your dough.
Fold the clumpy buttermilk and butter into your dough and add your egg and vanilla. Mix till blended but be careful not to over mix.
Roll out dough on a well-floured surface and make sure to rub additional dough on your rolling pin. Roll the dough to 1-inch thickness and use the fold technique described above to get the beautiful, fluffy layers in your biscuits. Use the additional flour as needed.
Use a round cookie cutter or a glass to cut out the round biscuit shapes and place them on a cookie sheet with parchment paper.
Bake for about 13 minutes. The biscuits will be a light golden color. Don't overcook them or you risk burning the bottom.

Strawberry Steps
While the biscuits cook, cut and wash your strawberries.
Combine them with sugar and put them in the refrigerator for at least 10 minutes. I made these ahead of time, so my strawberries sat for about an hour or two, which is also fine.

Whipped Cream Steps
Combine all your ingredients and using an electric mixer or a hand mixer whip it all together.
I used a hand mixer and whipped the cream, sugar and vanilla together for about 10 minutes until it was fluffy.
If you're using an electric mixer, whip it on low for 1-2 minutes and then increase the speed for about 5 minutes.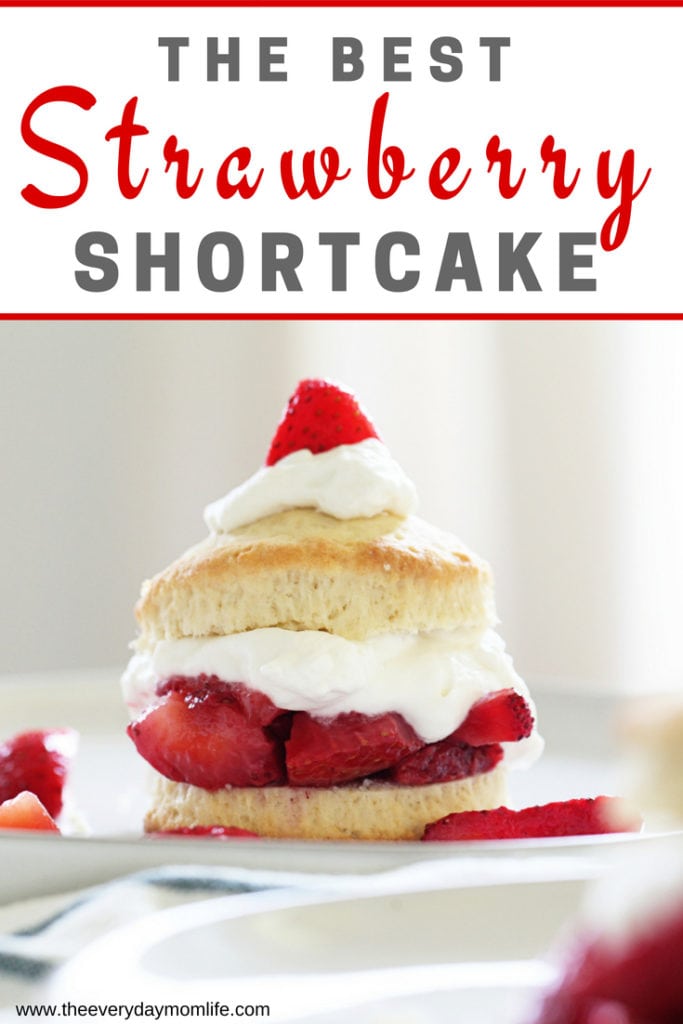 I would love to hear if you decide to make this! It's truly an unforgettable recipe that you will want to make time and time again.
For more recipes from The Everyday Mom Life, click here. Check out more of our desserts here.