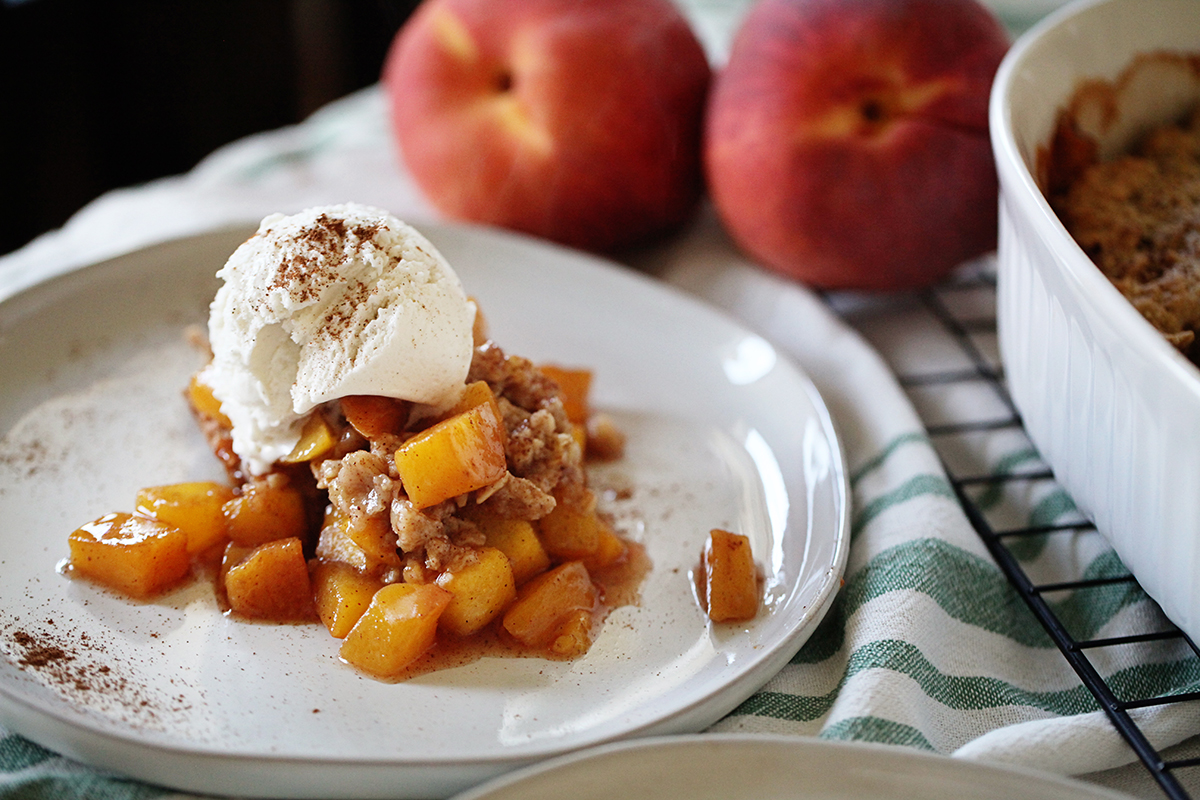 I think it is time to declare it to be baking season. We're about halfway through September and while I don't feel quite ready to break out the apples and start making whole pies, I do feel ready for some simple, home cooked, easy baked goods that leave me with a warm feeling in my belly.
I would consider myself a fall person. We were married in the fall and it's really my favorite time of the year. I love the clothes (Thank God the pressure of swimsuit season is over!) and I adore the flavors that help to usher in the cooler weather.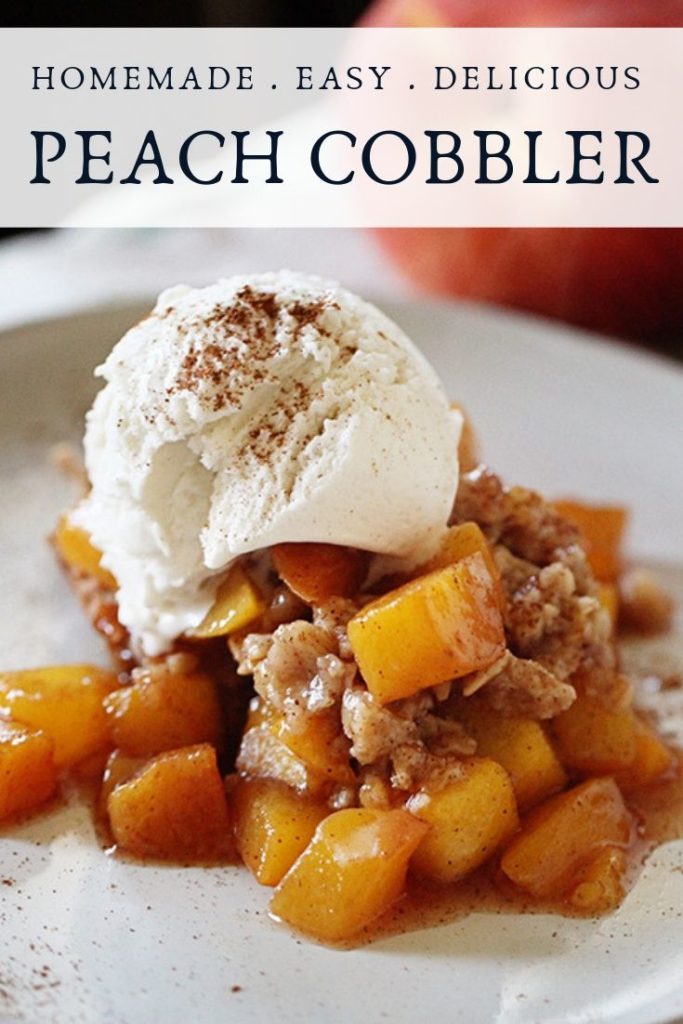 A perfect peach
Somewhere between the end of summer berries and the fall apples, I feel like the peach gets a bit lost here in the North. Maybe this is just a Northern girl problem, but I feel like the peach is the unsung hero of the end of summer and early fall. It's a fruit that bridges the gap. It allows me to begin enjoying warmer fall flavors with a hint of summer sweetness still mixed in.
Peaches are in the Rosaceae family, which is the rose family. They're technically in the same family with apples and roses. This seems appropriate to me since I feel like it bridges the gap between seasons and between peak blooming season for roses and apples.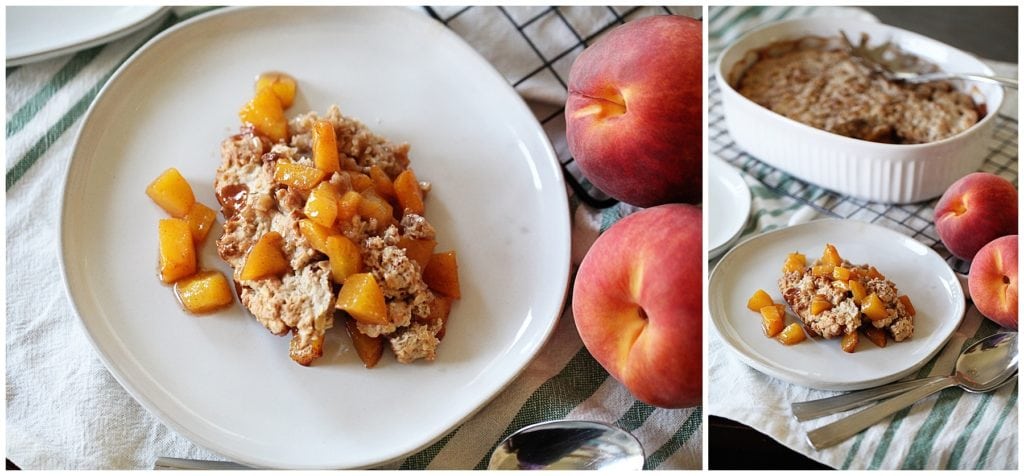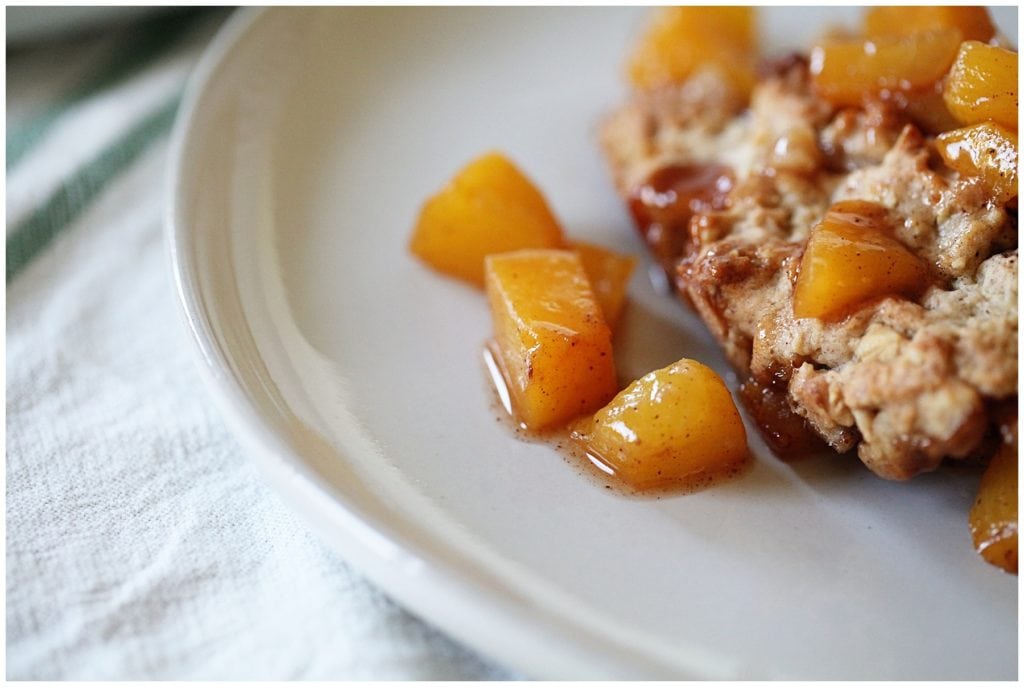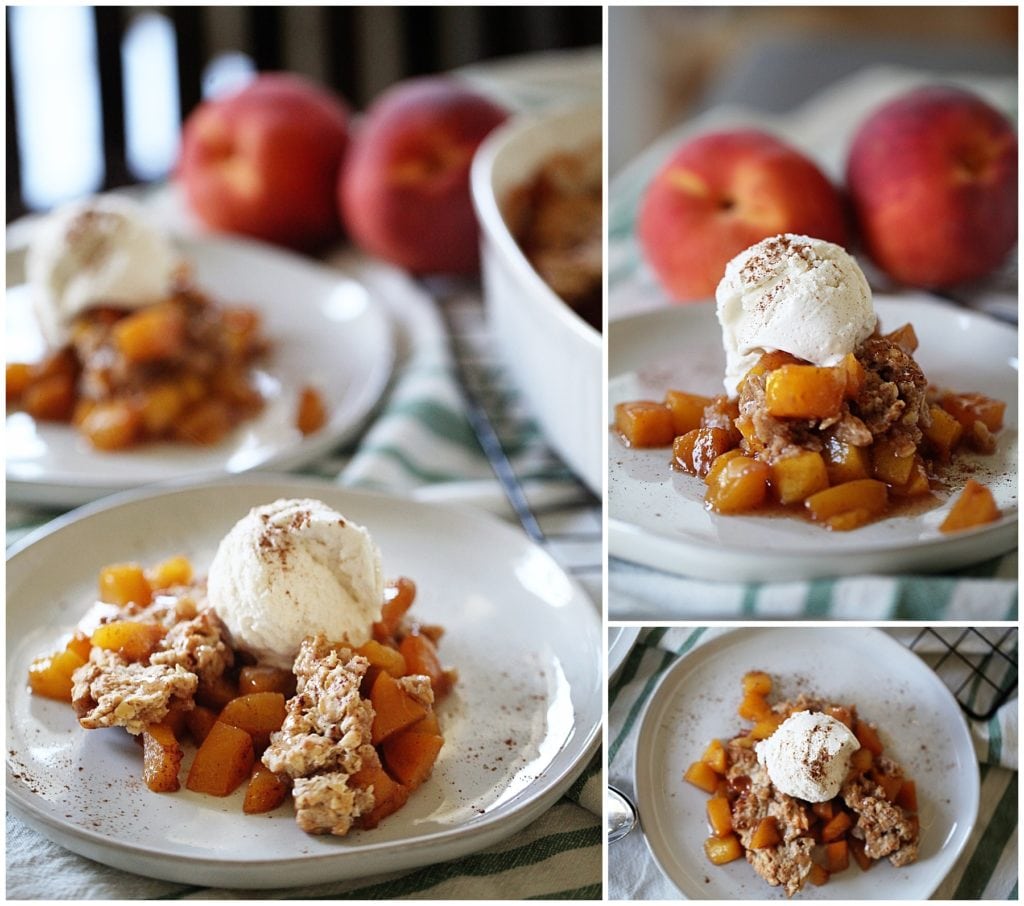 In season perfection
I decided to make this Peach Cobbler recipe because the grocery store has an abundance of peaches right now as the season begins to wind down. I was craving the fall tastes of cinnamon and oatmeal but wanted something a little sweeter than an apple. This hit the spot.
My husband gobbled it up after I was done photographing. Then he had more in the evening. It serves about 6 people and is so delicious you might have to make two if you want to serve it at the party.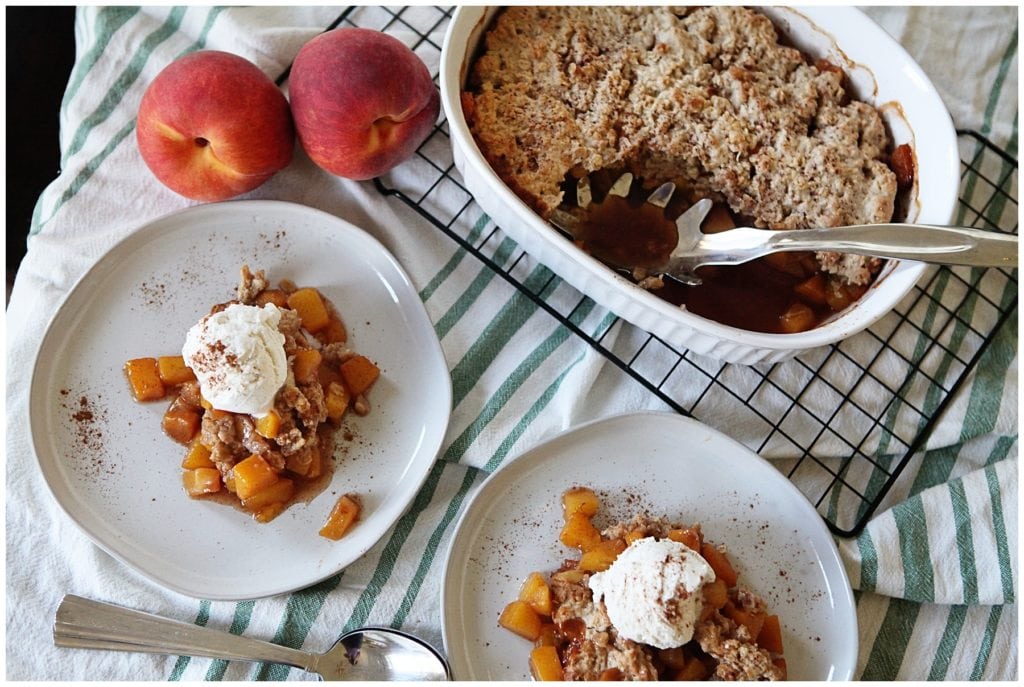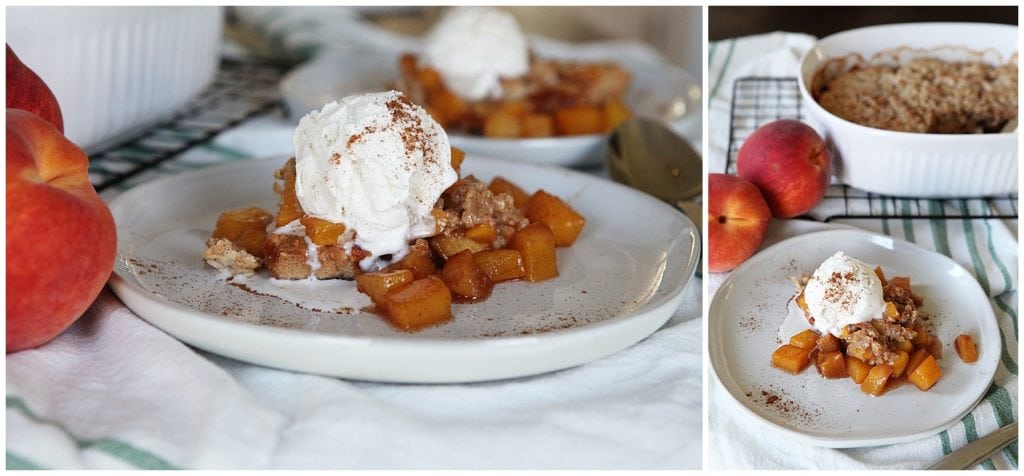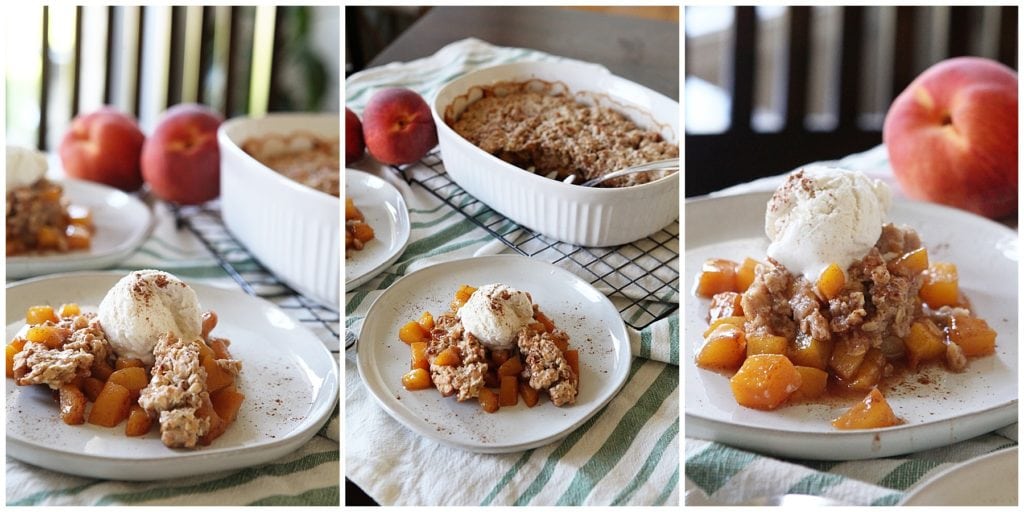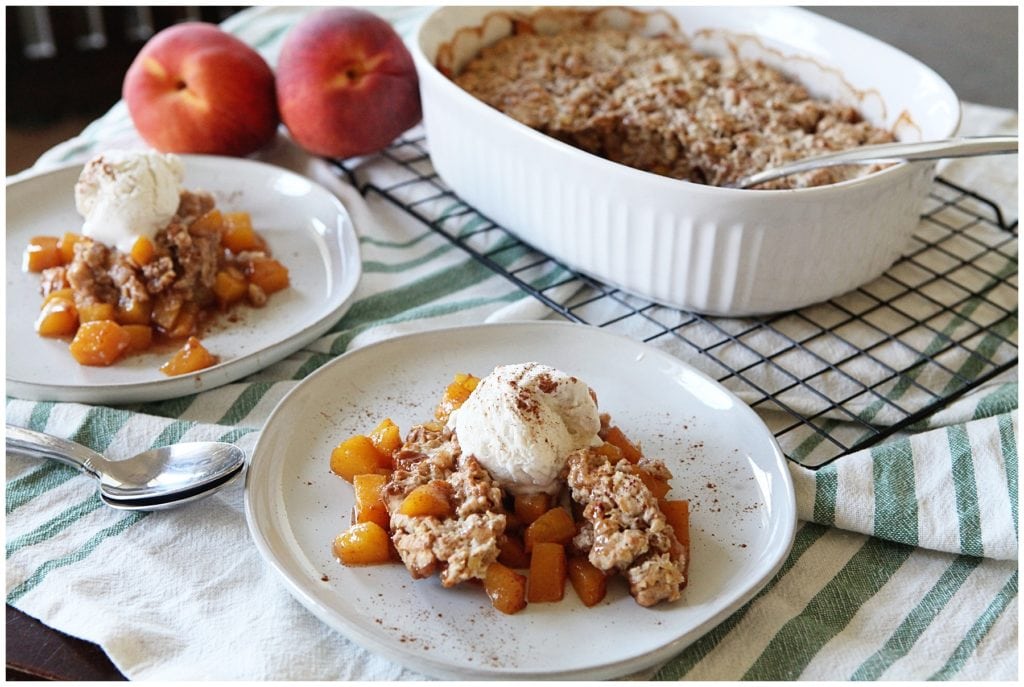 Topped with an oatmeal cookie
The Peach Cobbler topping is a bit thicker than normal. I basically made it an oatmeal cookie, although this recipe uses no eggs or dairy and is technically vegan if you leave the ice cream topping off.
The "cookie" part is perfect for soaking up the juices that come out of the peaches and mingle with the different sugars and cinnamon. It's dense enough that it won't fall apart on you and it's soft enough to be the perfect bite of deliciousness with the peaches or without!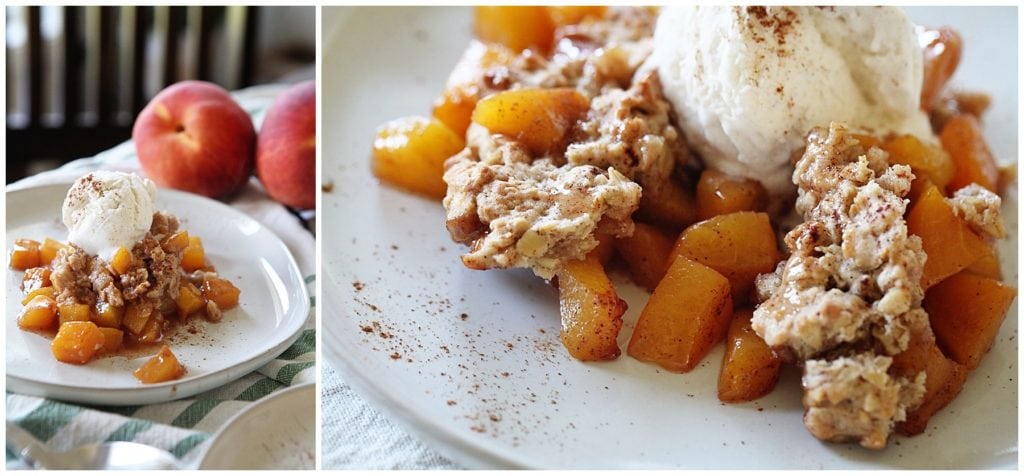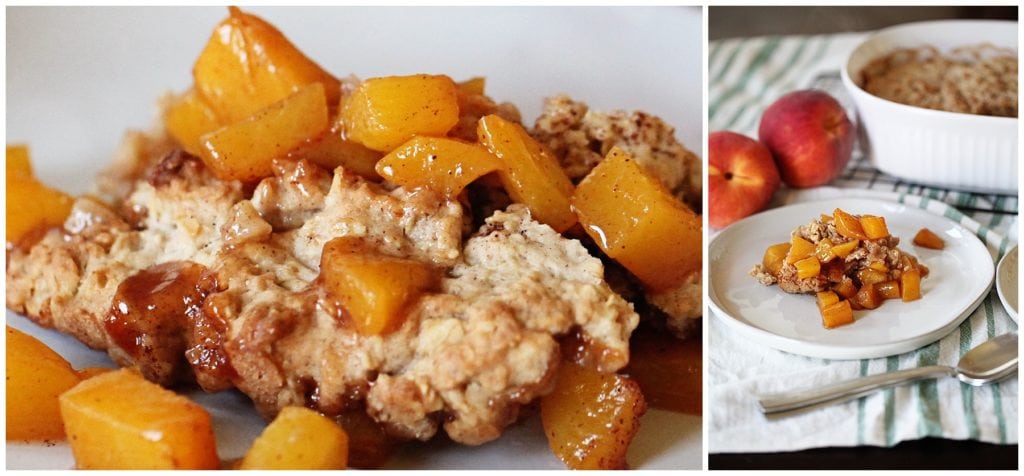 Ice cream on everything 
I topped mine off with some vanilla bean ice cream, which I tend to like better than classic vanilla. It is a match made in heaven.
You can reheat the Peach Cobbler as needed. Wrap it up and save it if you don't eat the whole baking dish. Then add your ice cream on top, spoon some of the juice over it and sprinkle it with a bit more cinnamon.
Grab the full recipe below and make it for a quick dessert this weekend or a fall holiday party. You will need to use a deep baking dish that's about 9-inches long.
For more recipes, click here. For more desserts, click here. 
Peach Cobbler Recipe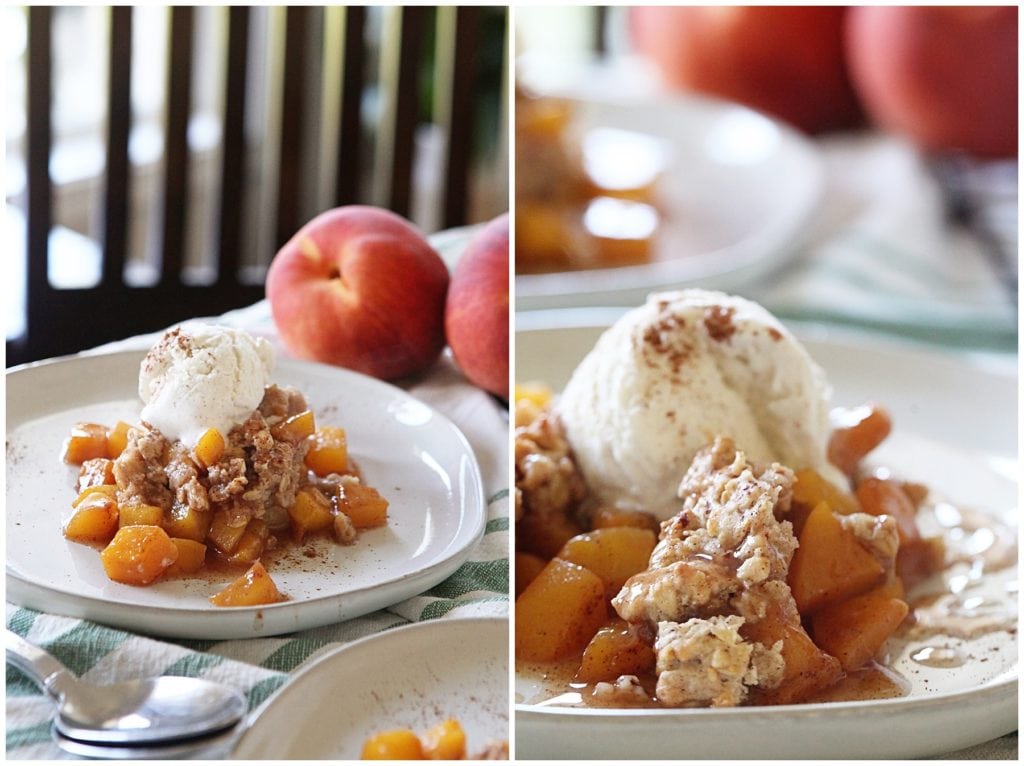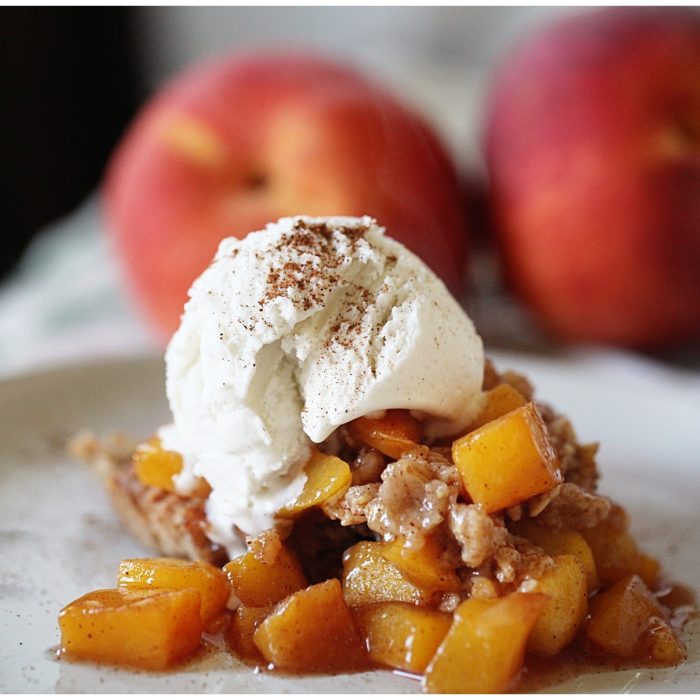 Peach Cobbler
This is the best peach cobbler recipe and it's made with no eggs or dairy. It tastes like it's topped with an oatmeal cookie and it's delicious.
Print
Pin
Rate
Ingredients
Peaches Ingredients
6

large peaches

1/4

cup

sugar

2

tsp.

cornstarch

1

tsp.

ground cinnamon

1/8

tsp.

ground nutmeg

1/2

Tbsp.

vanilla extract

2

Additional Tbsp.

of sugar

2

Additional Tbsp.

of cinnamon
Topping Ingredients
1

cup

all-purpose floour

1.5

cups

raw oats

1/4

cup

brown sugar

1/4

cup

white sugar

6

Tbsp.

butter, softened DO NOT MELT

5

Tbsp.

hot water
Instructions
Preheat your oven to 425 degrees and remove the skin from your peaches with a vegetable peeler.

Cube your peaches into bite-sized pieces.

Combine peaches in a bowl with all the other items for the peach mixture listed in the ingredients. Mix well so the sugar can begin pulling the juices out of the peaches. Put this in the refrigerator for 10 minutes.

In a separate bowl, combine all your dry ingredients for the crumble. Mix thoroughly.

Add in the softened butter and water. Do not melt your butter at all or the consistency will be wrong. The topping will be thick and you can use a mixer on it but I just did it by hand with a wooden spoon.

Add the peaches to a baking dish and baked for 10 minutes.

When done, sprinkle the additional 2 Tbsp. of sugar and cinnamon on top of your peaches.

Pull the peaches out of the oven and spoon your topping onto it, covering it evenly. You might have to use your hands since the cobbler topping will be thick and a bit sticky.

Bake for an additional 30 minutes in the oven or until your crumble topping is golden brown.