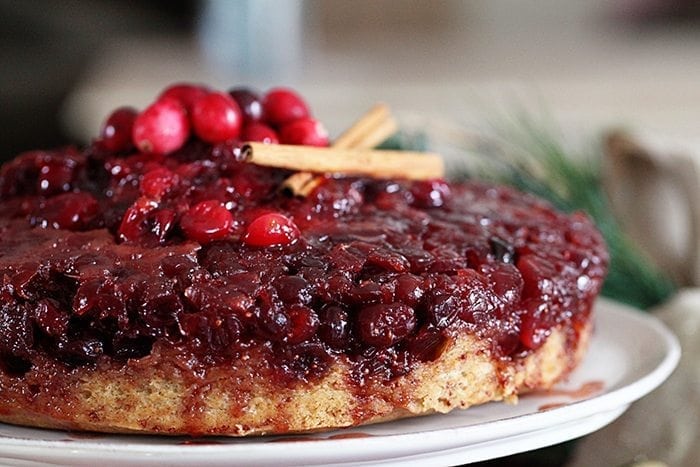 I know people have a love/hate relationship with cranberries. Personally, I dislike them. I find them bitter and tart and basically not at all sweet. That said, I'm in love with this Cranberry Upside Down Cake!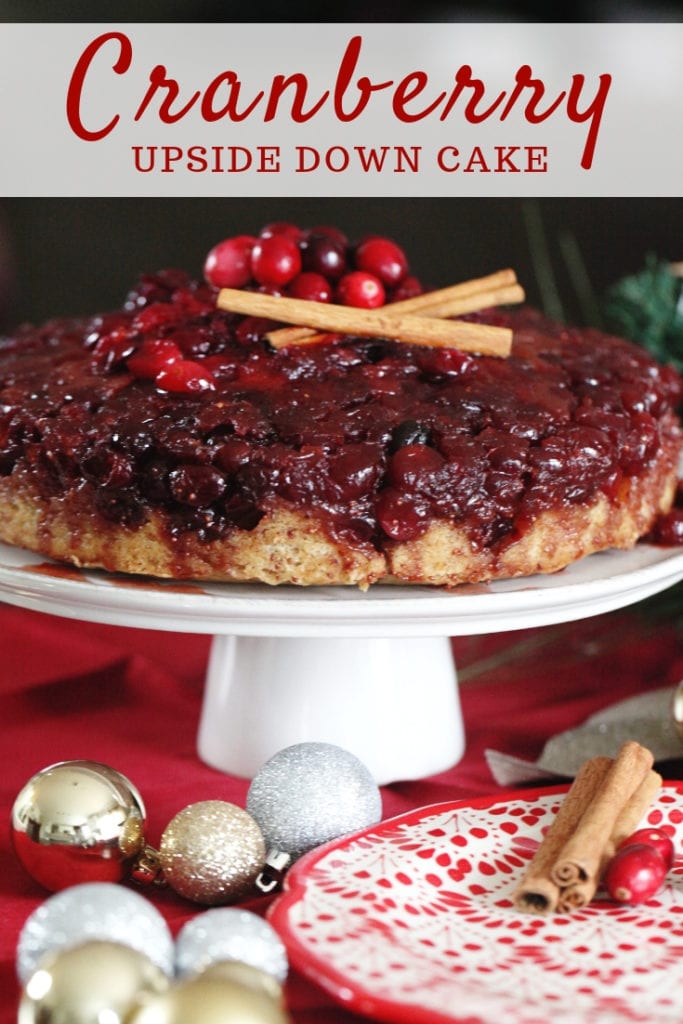 At Christmas time I feel like you only get a few flavor options for desserts: peppermint, chocolate, orange or cranberry.
I strongly dislike like orange flavor in anything except oranges and maybe creamsicles. Chocolate and peppermint are delicious but if I'm craving a fruit dessert then they obviously don't cut it.
This leaves me with the cranberry.
As I was debating how to make a cranberry cake I was reminded that I do like cranberries occasionally when they are simmered down and sort of melted with other sweet ingredients that cut the bitterness.
For that reason I decided to make an upside-down cake since the fruit gets caramelized in sugar and is usually deliciously sweet.
I am so happy I went this route! This cake is drool-worthy and my husband and I just started eating it with a fork when I was done with the photos. It's perfect for the winter holiday season and I'm going to make it again to take with to my grandma's on Christmas.
Check out the full recipe below!
Cranberry Upside Down Cake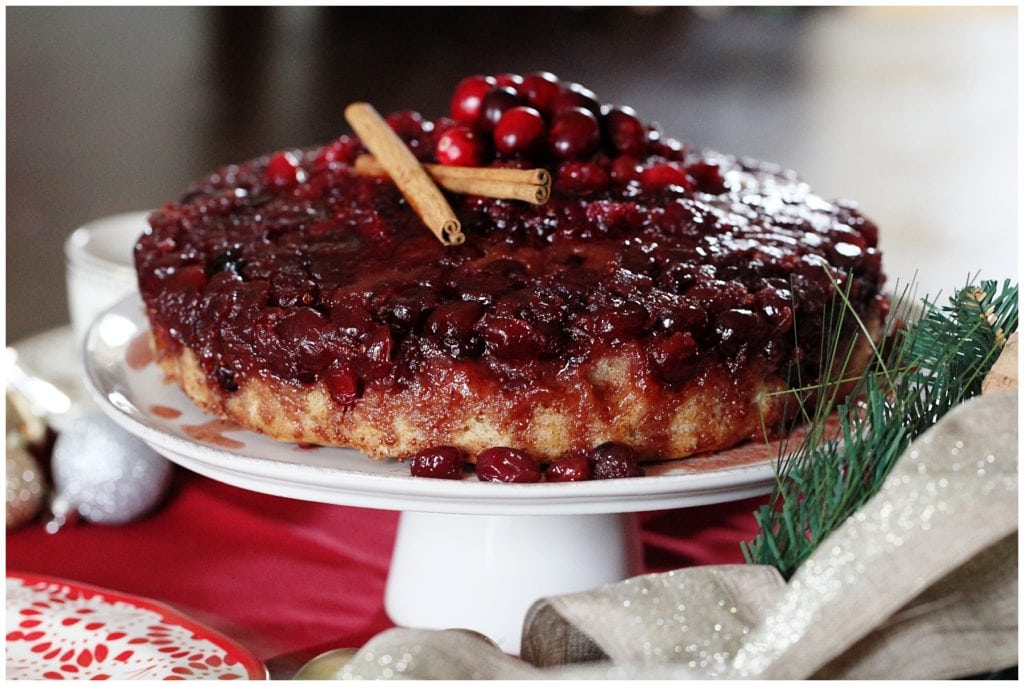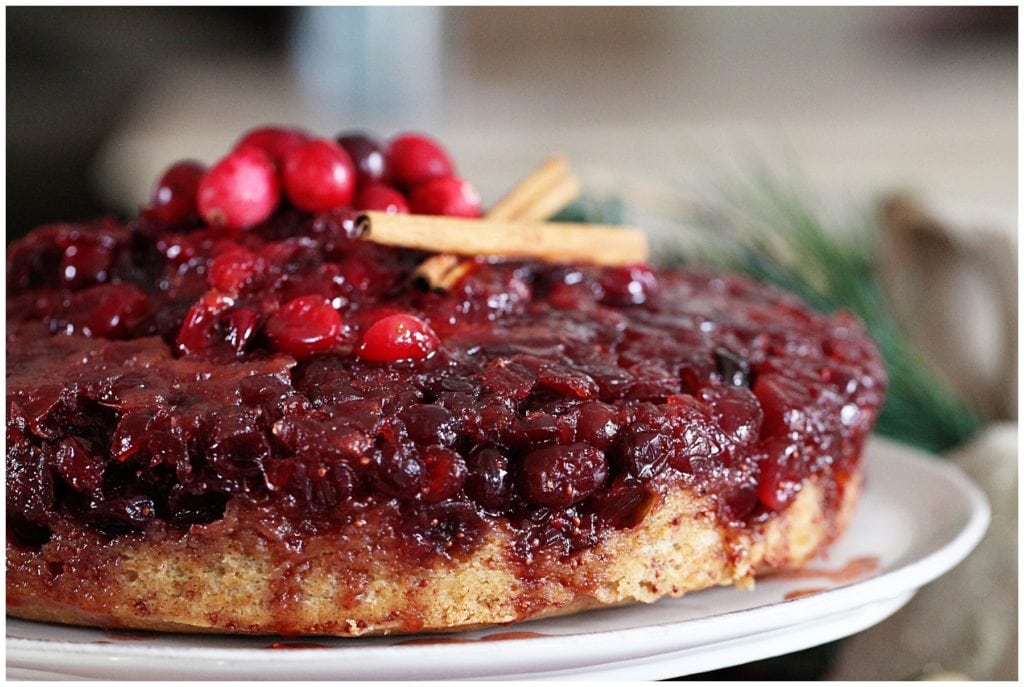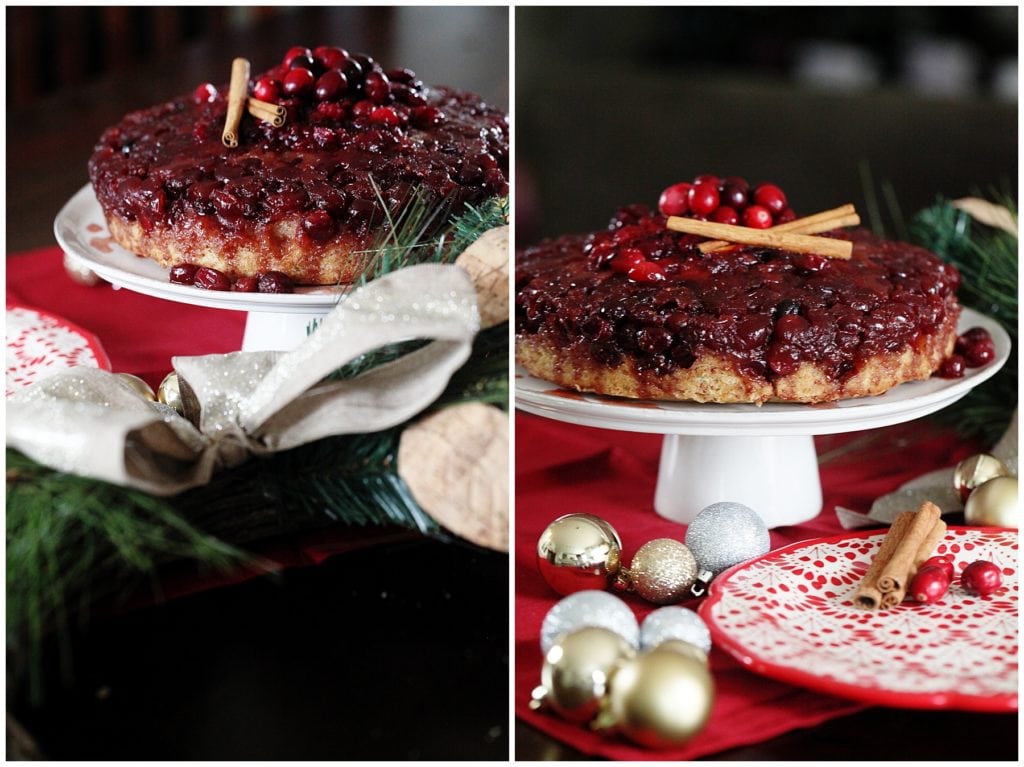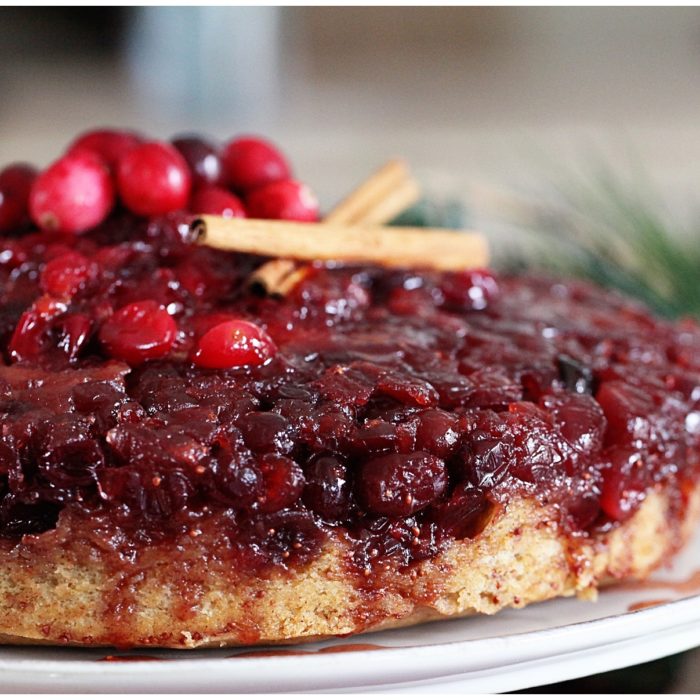 Cranberry Upside Down Cake
This Cranberry Upside Down Cake is my favorite way to eat cranberries! The normal tartness becomes gloriously sweet when made in this mouthwatering cake. 
Print
Pin
Rate
Ingredients
Cake Ingredients
1 & 3/4

cups

flour

1 & 1/2

cups

sugar

3

eggs

1/2

cup

sour cream

1/4

cup

milk

3/4

Tbsp.

vanilla extract

1/2

Tbsp.

cinnamon

1 & 1/2

tsp.

baking powder

1

stick

of butter, salted

I tend to use salted butter in desserts versus adding table salt. If you want to use unsalted then add ½ tsp. of salt
Cranberry Topping Ingredients
3/4

cup

brown sugar, packed

1/2

stick

butter, salted

12

oz.

of fresh or frozen cranberries

I like to use fresh

1

Tbsp.

maple syrup

1/4

tsp.

cinnamon
Instructions
Preheat the oven to 350 degrees.

Combine brown sugar, butter and maple syrup in a small pot and stir continuously until the butter has melted.

Add the cranberries and cinnamon and let the mixture simmer for at least 10 minutes. Continue stirring frequently.

While the cranberries cook down combine your dry ingredients for the cake in a separate bowl.

Add the butter, milk, sour cream and eggs and mix well. I use a hand mixer but you can also use a stand mixer.

Last add the cinnamon and vanilla and mix thoroughly.

Butter a 9-inch, round cake pan. Make sure you coat the sides well.

Add your cranberry mixture to the bottom of the pan. Tap it lightly a few times on the counter so that you can even it out.

Add your cake batter on top of it and again even out the batter.

Put the cake in the oven for 50 minutes and then check it. You might need another 10 minutes to cook it through the center.

Once the cake is done let it cool completely. Then run a knife around the sides of the pan to make sure the cake isn't sticking to it.

Add a plate or cake stand to the top of the cake and then flip it. Just get help if you plan to use a cake stand.

If it doesn't come out of the pan perfectly and you're missing some cranberries at the top, top it off with some extra cranberry sauce.
Happy eating, friends!
For more recipes, click here. For more holiday recipes, click here.