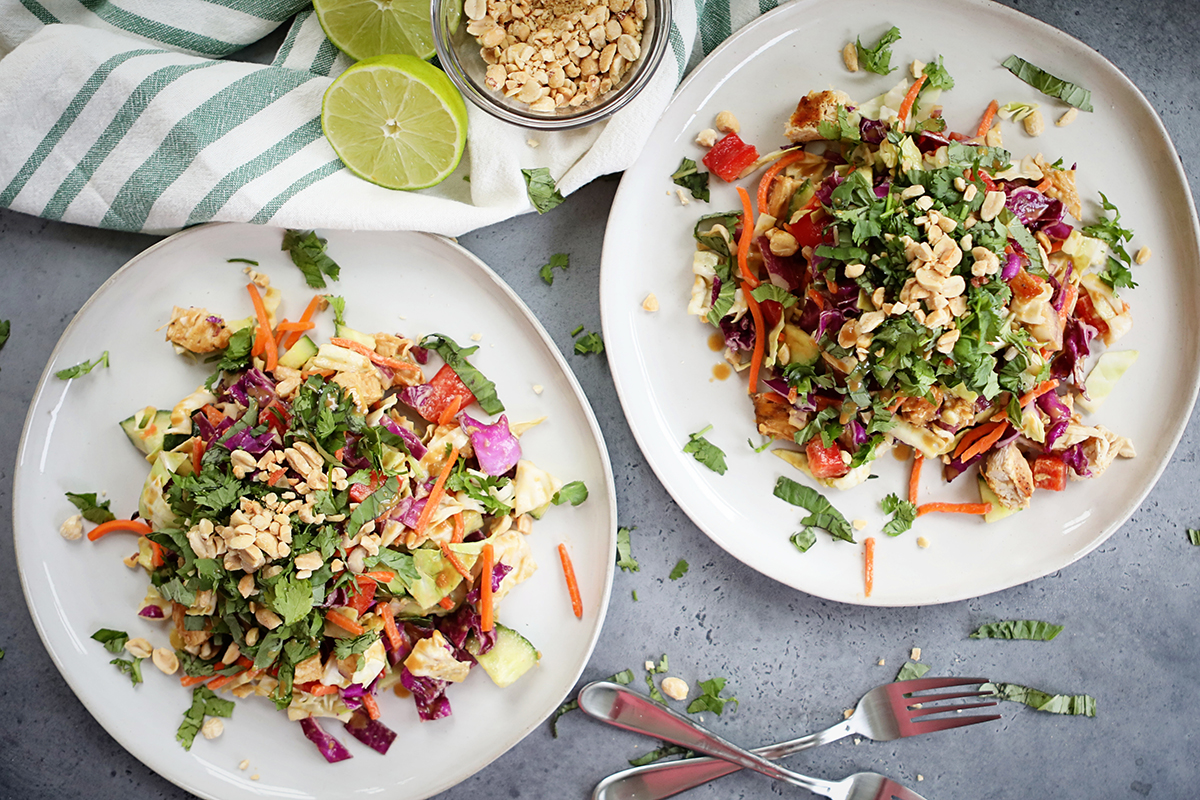 I Sometimes people will ask me, "What's your favorite food?"
That is a pretty challenging question for me. I love so many different kinds of food from different cultures all over the world. I love that a lot of times you can tell what country a dish is from or the culture that it falls into by the ingredients used in crafting it.
I'm really inspired by the flavors different countries use to create a taste that's uniquely their own.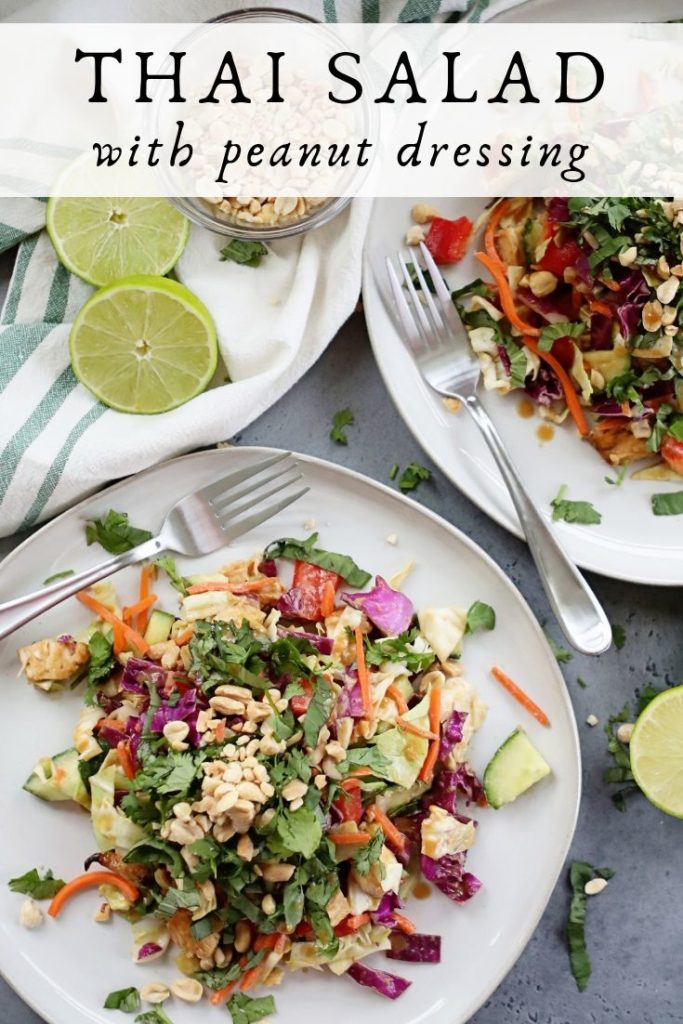 The beautiful thing about Thai food
Thai cuisine is one of the food cultures that inspires me most. I love that it takes fresh ingredients with color, texture and taste and mixes them together in a way that's harmonious. I also love that noodles, so there's that…
That said, this dish doesn't have any noodles in it and would be considered a lower-carb meal.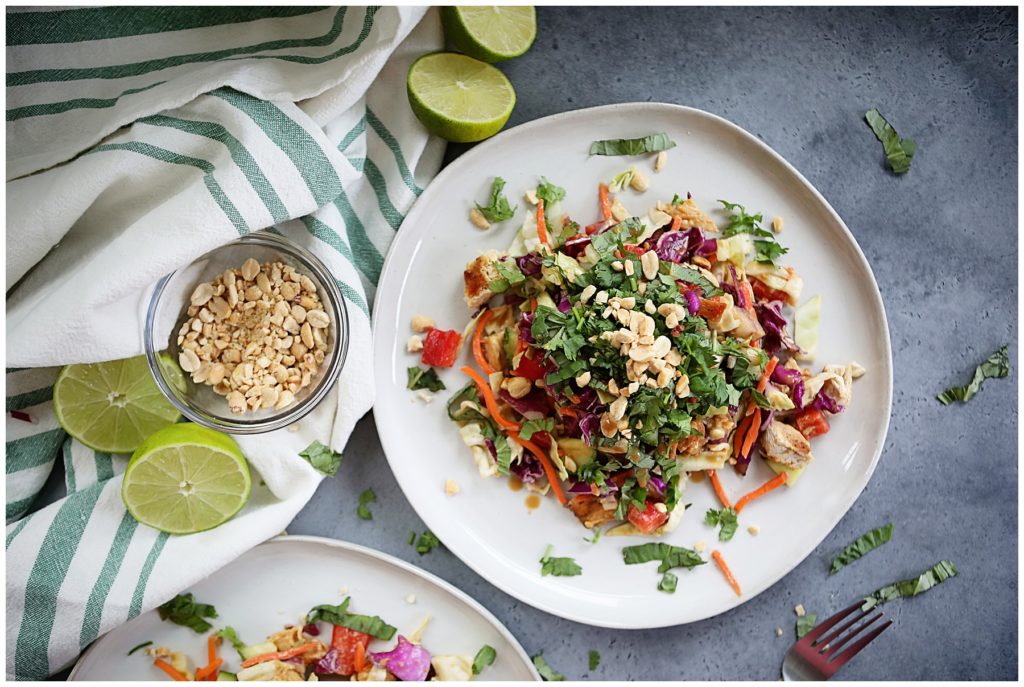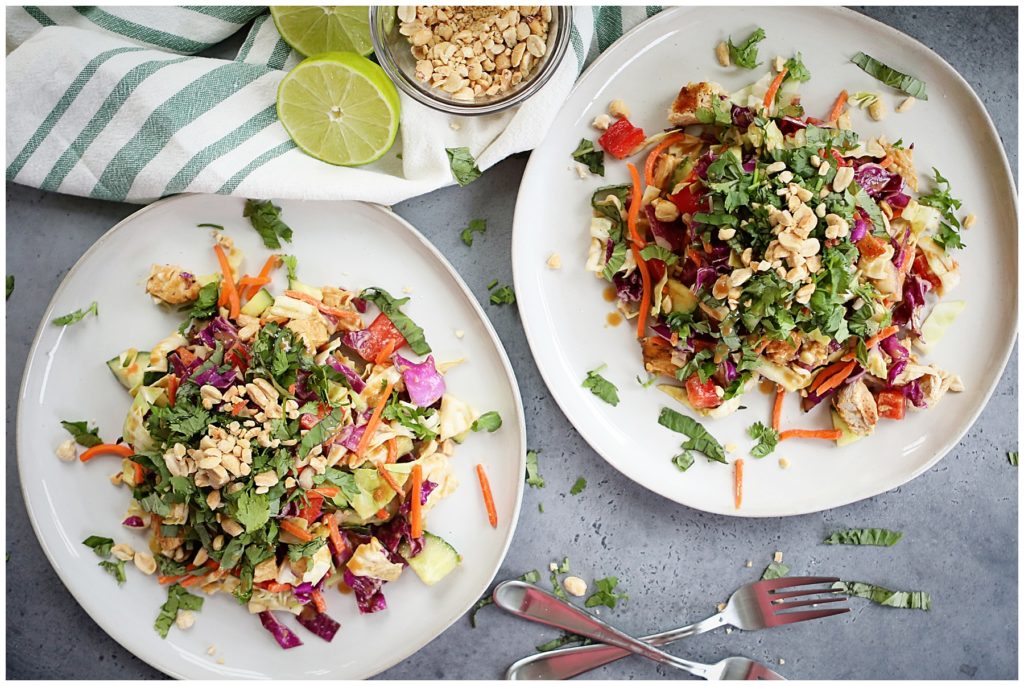 Ready or not, summer is coming
Summer is around the corner and I've packed on some stress/moving weight since we moved from Illinois to the farm. I'm making a real effort to create dishes for us that are healthier, loaded with vegetables and have a good source of protein.
Still, I don't like bland food. I believe in eating things that taste good. I want my meals fully flavored with fresh herbs, spices and a blend of tastes. Thai food is perfect for my belief system.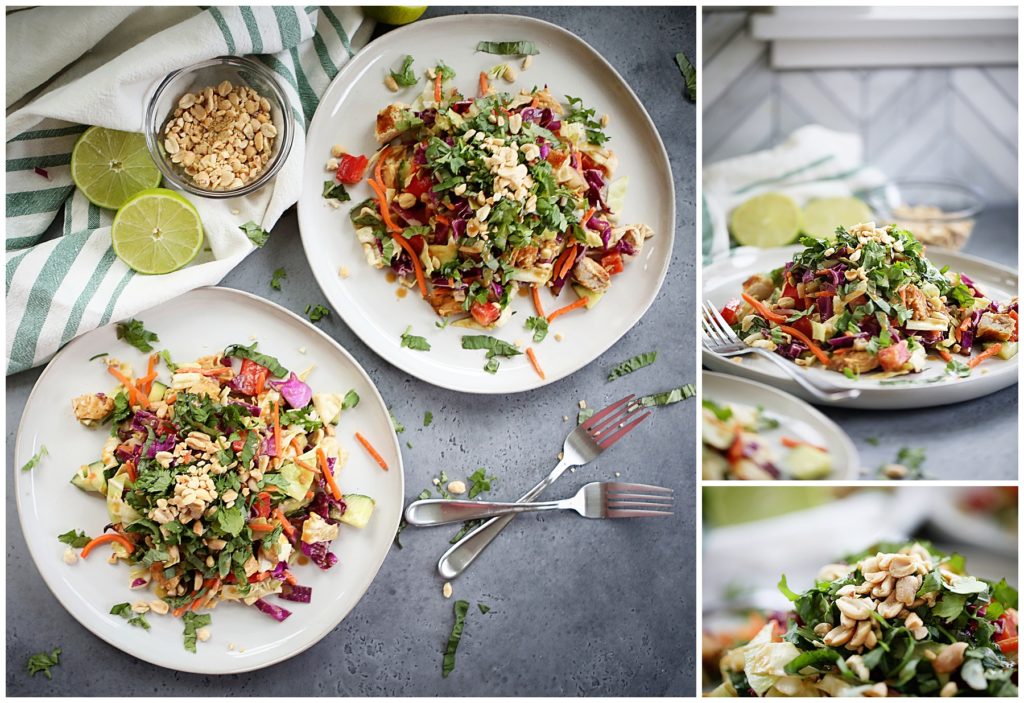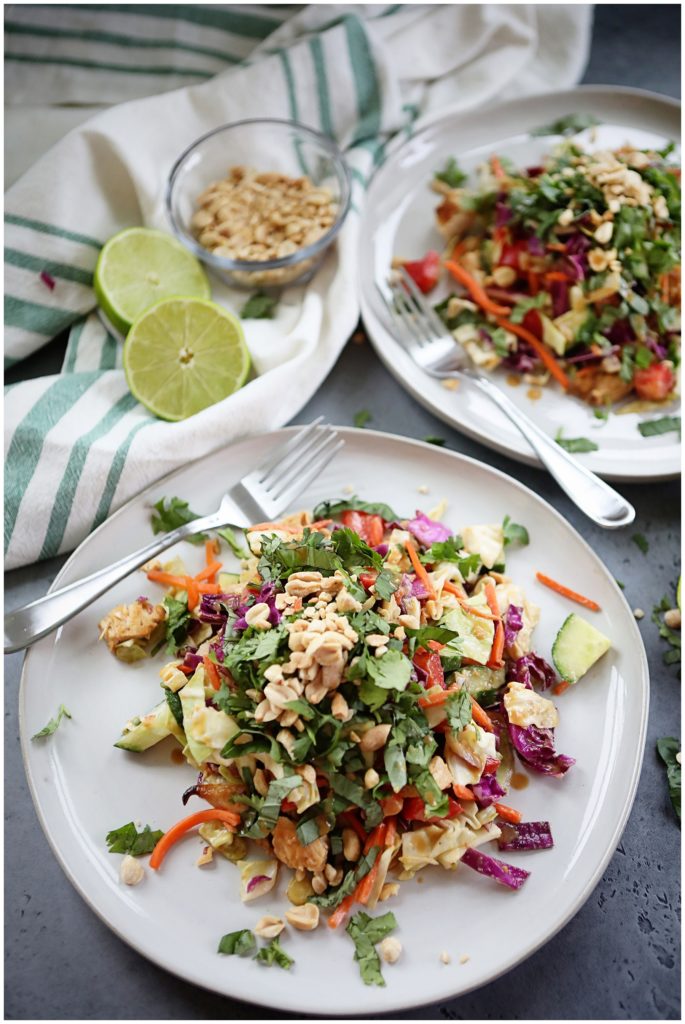 Thai Salad with Peanut Dressing
This inspired Thai Salad with Peanut Dressing combines all my wants and needs into one, beautiful and delicious dish that fills me up and satisfies all my cravings for freshness. It combines colors, textures and flavors just like a Thai dish is supposed to do in a way that makes me happy.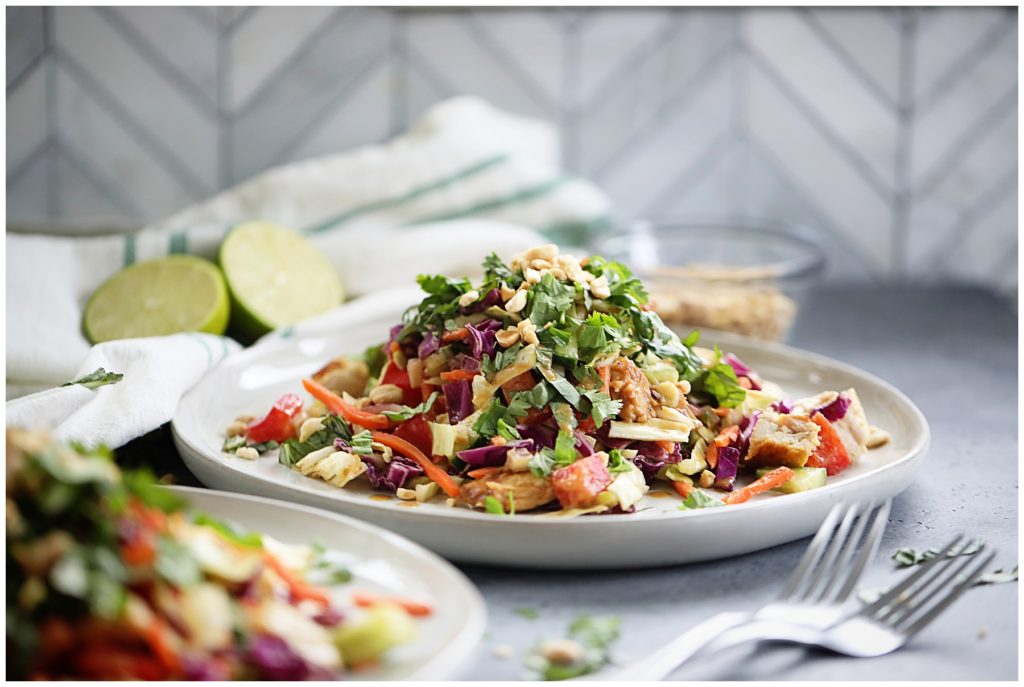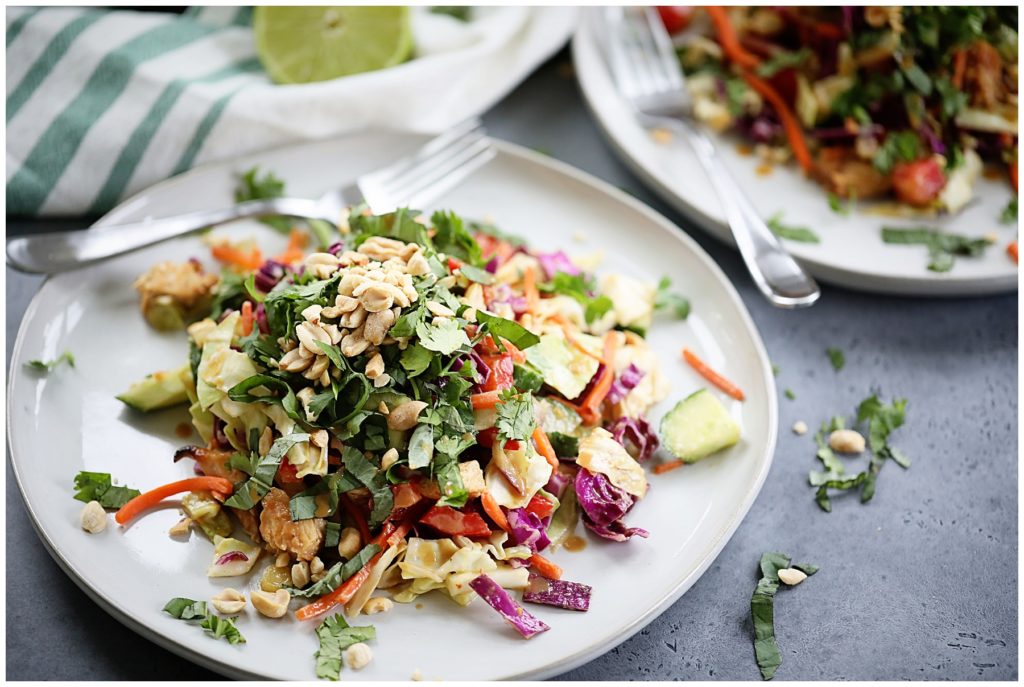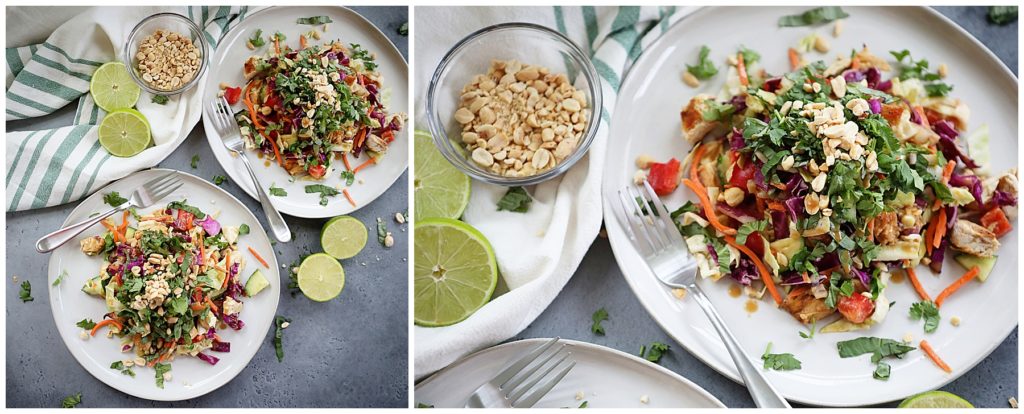 The Thai Salad includes green and red cabbage for crunch and color. I include carrots, cucumbers and red peppers to make sure I get my fill of veggies. Cilantro and basil are added in to make sure the flavors are all heighten with fresh herbs. The delicious Peanut Dressing includes natural peanut butter, garlic, ginger, soy, lime and more to complete the dish in a way that will make your taste buds happy. I love to keep it after making it in this bottle in the fridge. It keeps for a few days.
Grab the full recipe for the Thai Salad with Peanut Dressing below and let me know what you think. Pin it to save it too! For more recipes from The Everyday Mom Life, click here.
For more delicious recipes, click here. 
Tips: 
Make this with rotisserie chicken if you want to save time. You can also try it with shrimp or steak too.
Additionally, you can replace the peanut butter with another nut butter if you have an allergy.
The salad will keep for about a day before everything becomes overly soggy. Just keep it in an airtight container.
Feel free to add any additional vegetables you love!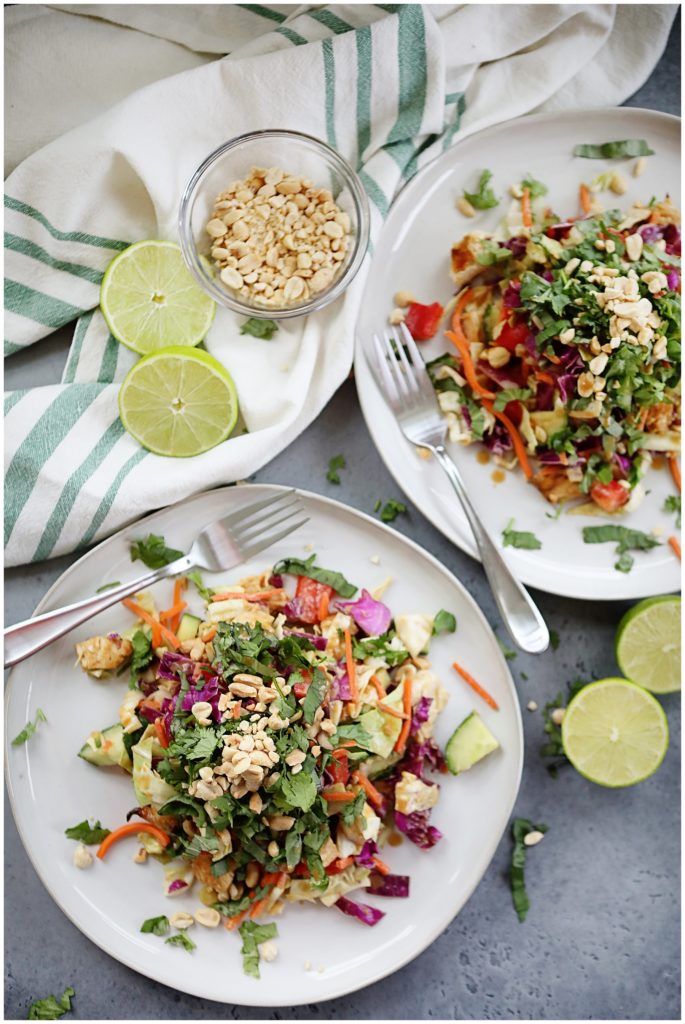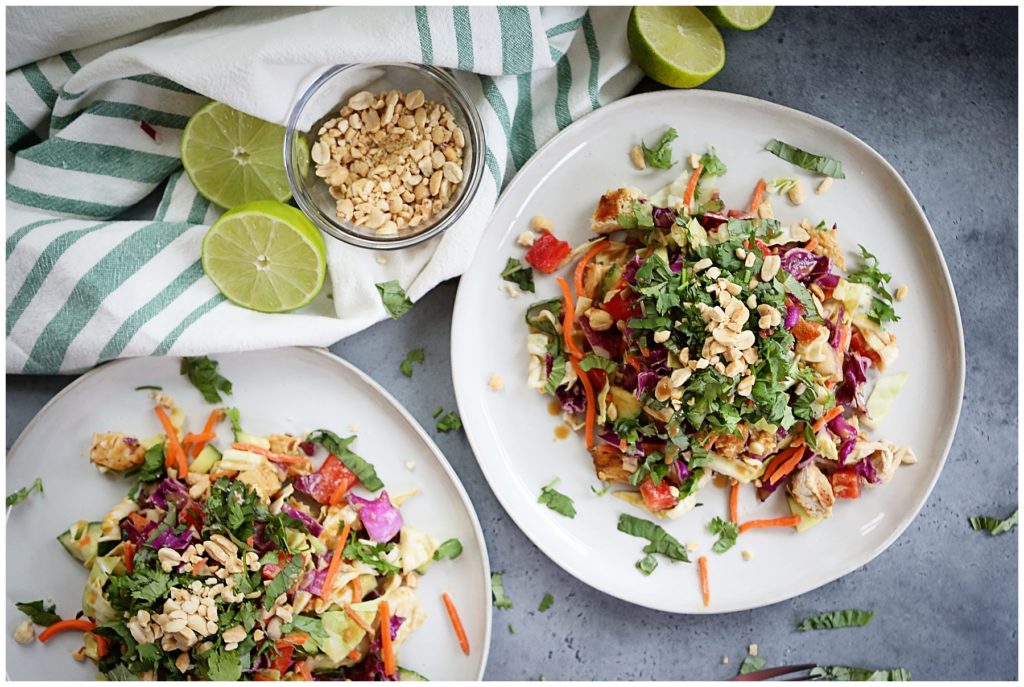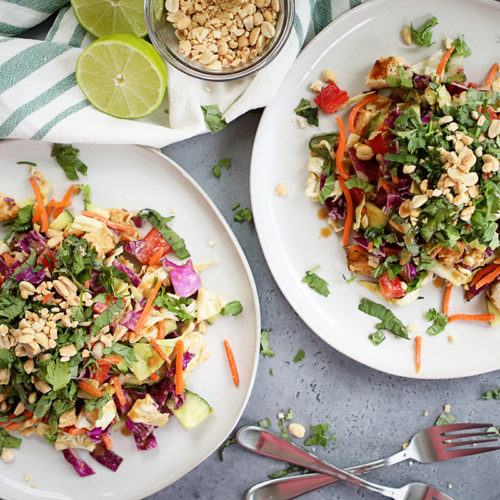 Thai Salad with Peanut Dressing
This Thai Salad with Peanut Dressing is a beautiful way to fill your belly. Make it for dinner or even a weekend lunch for a light and delicious dish you will crave.
Print
Pin
Rate
Ingredients
Salad Ingredients
1/2

large

green cabbage

1/2

large

red cabbage

1-1.5

pounds

boneless chicken breast

6

oz

shredded carrots

You can save time by buying these pre-shredded or you can also slice whole carrots into rounds.

3

red peppers

2

English cucumbers

1/2

cup

basil, chopped

1/2

cup

cilantro chopped

2

Tbsp.

of olive oil or sesame oil to cook the chicken in.

Salt and pepper as desired to add to the chicken before it it cooked.

1/2

cup

crushed peanuts for the garnish

Additional cilantro, basil and squeeze of lime as a garnish as desired.
Peanut Dressing Ingredients
1/3

cup

natural, creamy peanut butter

If you don't like peanut butter or you can't have it, you can try with any nut butter.

1/4

cup

water

3

Tbsp.

soy sauce

2-2.5

Tbsp.

natural honey

Use the extra half tablespoon if you like a sweeter dressing.

2

Tbsp. + 1 tsp.

rice vinegar

2

Tbsp.

fresh squeezed lime juice

1

Tbsp.

sesame oil

1

Tbsp.

fresh ginger, finely grated

I like to use a lemon zester to grate my ginger.

2

tsp.

fish sauce

1.5

tsp.

garlic, chopped or grated

3

green onions.

Separate the white bottoms from the green tops. Only the white bottoms will go in the dressing. The green tops will be used as garnish.
Instructions
For the salad dressing, combine your peanut butter, water, soy sauce, rice vinegar, fish sauce, sesame oil and honey and whisk so it's well combined. This should only take 3 minutes or so to get a good salad dressing consistency. You can also use a small food processor if you like but if you whisk vigorously enough, I don't find a need to dirty an appliance. 🙂

Add in your ginger, garlic and white bottoms from the green onions. Mix in well and then set aside.

Chop all your vegetables and herbs for the salad and add them to a large bowl. This will actually take you the longest so if you want to meal prep and make dinner making easier then you can do this the night before too.

Salt and pepper both sides of your chicken as needed and add your olive oil or sesame oil to the pan.

One oil had heated add your chicken to the pan and cook each side for about five minutes. Make sure your chicken is heated to the appropriate temperature before removing it from the heat and consuming it.

Once chicken has cooled for 5-10 minutes, chop it and add it to the salad.

Pour dressing over the salad and mix well.

Garnish with peanuts and additional basil, cilantro and lime as desired. Serve.