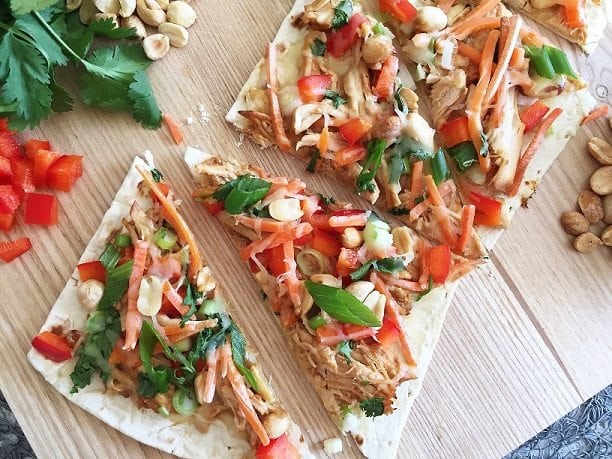 This post was sponsored by #Foodiechats and the Georgia Peanut Commission. All thoughts and opinions are my own. 
Since I've been home I've kicked my lunch making skills up a notch as I try to eat better on a daily basis. I love creating new, small meals for myself at lunchtime with my son or dishes that can be used as appetizers. I'm also on a Thai food kick lately.
When the Georgia Peanut Commission asked me to create a recipe for them using their Georgia Peanuts for National Peanut Month (March!), I knew I wanted to make something Thai inspired that I would eat for lunch or serve as an appetizer. The result was this delicious Thai Peanut Chicken Flatbread that is simply scrumptious. Not only do I squeeze in a bit of carbs with the flatbread but I also love the peanut taste with the mix of fresh veggies and cilantro.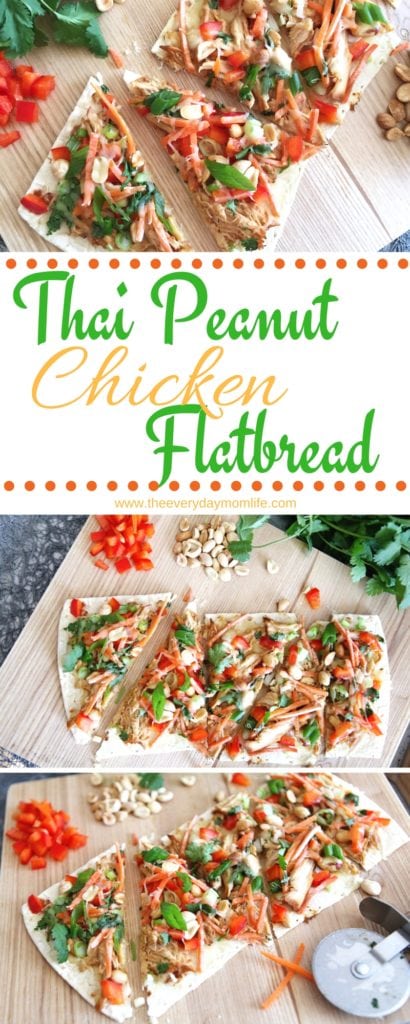 I eat peanuts often and peanut butter almost every single day on an apple. It's my favorite afternoon snack. I love how peanuts fill me up and provide nutrients. This recipe is like a guilty, little pleasure that I really don't have to feel guilty about.
And guess what? My daughter ate it. A recipe I love and one she will eat is a win win in my house, probably for moms everywhere. This is also perfect to make as lunch for a littler person or two. Since the National Institutes of Health now reccomend introducing peanuts to kids earlier in life I try to make sure I squeeze them in to recipes here and there.
Get the full details of the recipe below and hit the Pin button on the left to save it for later!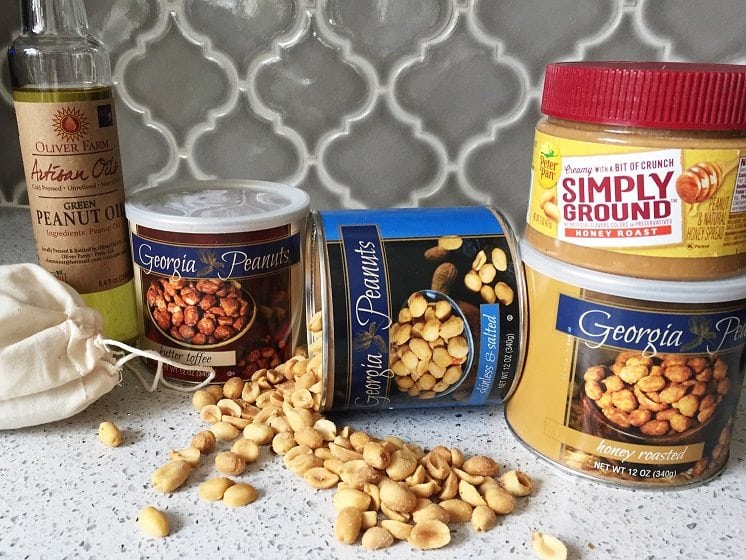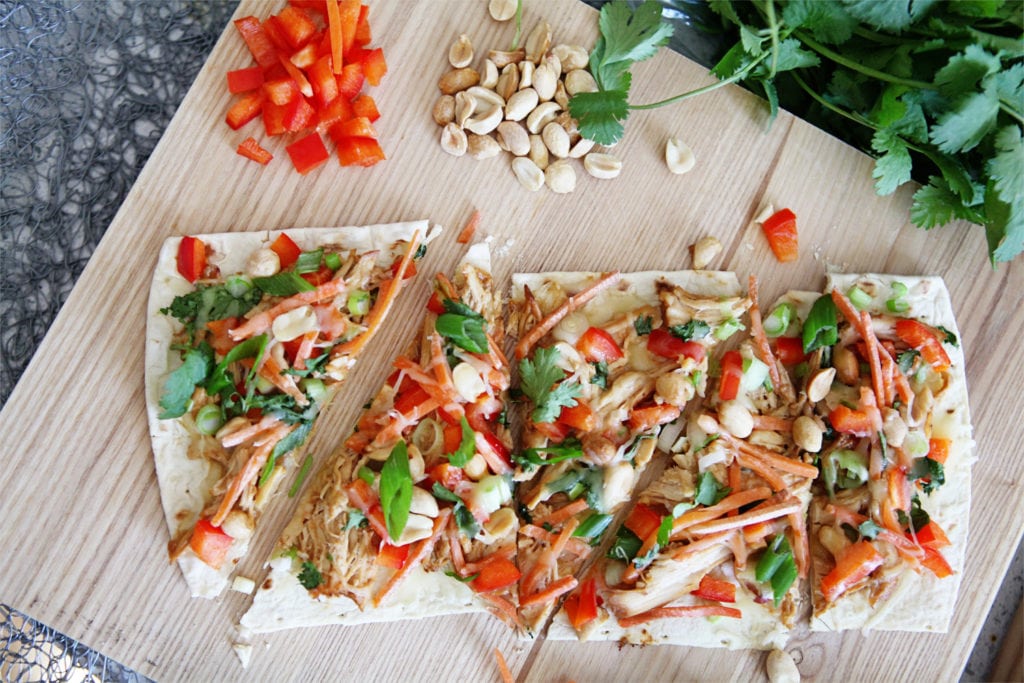 Ingredients:
1 12-inch piece of flatbread
1 cup of Thai Peanut Chicken, which you can find here.
¼ – ½ cup of Monterrey Jack cheese
¼ cup of red pepper
¼ cup of carrots, shredded
¼ cup of peanuts, whole or chopped
2 green onions, sliced and separate the white bulb parts from the chopped green stems.
A handful of cilantro, chopped
Steps:
1. Cook your flatbread for 2 minutes at 375. You can buy this at the store in the bread area or you can make it on your own. I prefer to purchase it for convenience so if you decide to make your own know to disregard the heating instructions for the bread. If the one you purchase comes with different instructions, please follow those so you don't end up with burnt or undercooked flatbread.
2. Sprinkle half of your Monterrey Jack cheese on your flatbread and then layer your Thai Peanut & Coconut Chicken. Be generous with the chicken. You won't be sorry. It's so flavorful.
3. Add the white parts of the green onion, red pepper, carrots and your whole or chopped peanuts.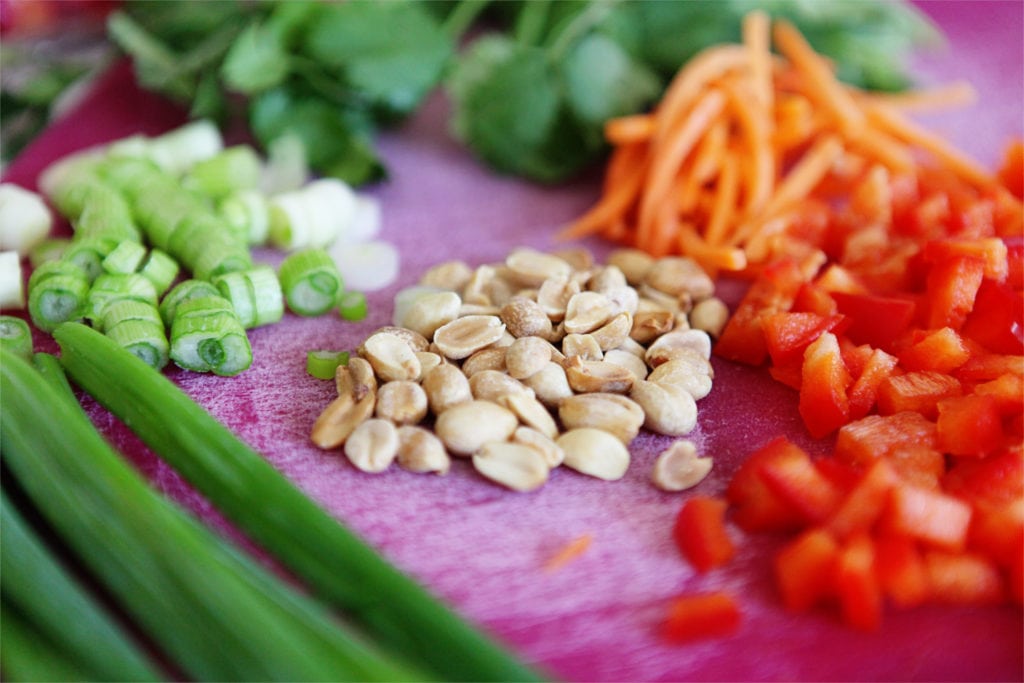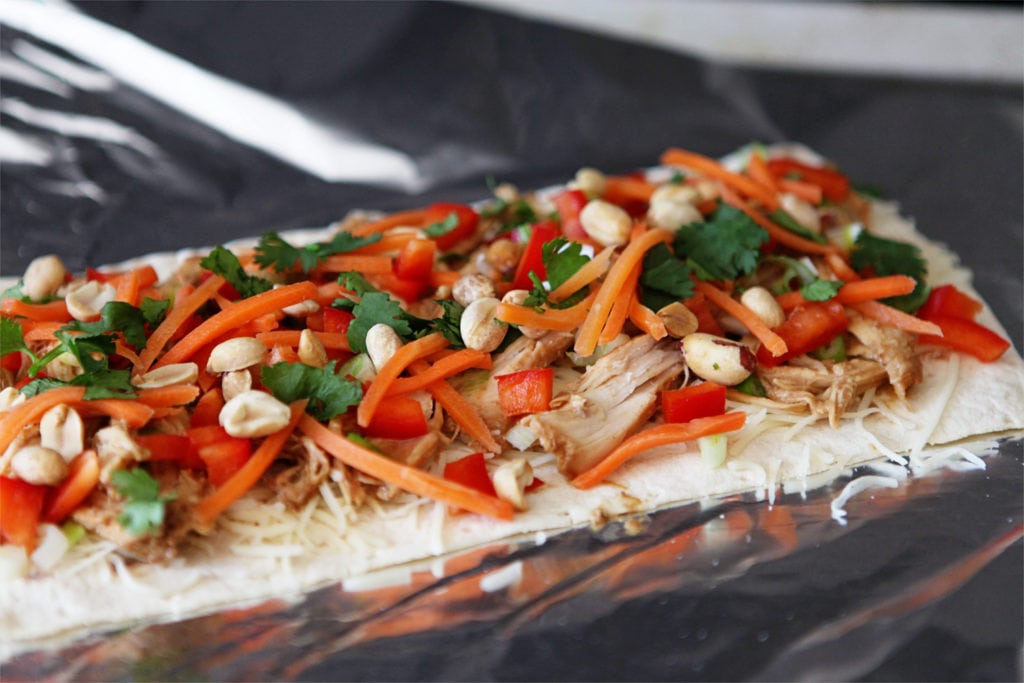 4. Sprinkle the remaining cheese on top and then using your hands press down on it a little bit so the ingredients become a little more secure.
5. Stick the whole thing in the over at 375 degrees for another 4 minutes.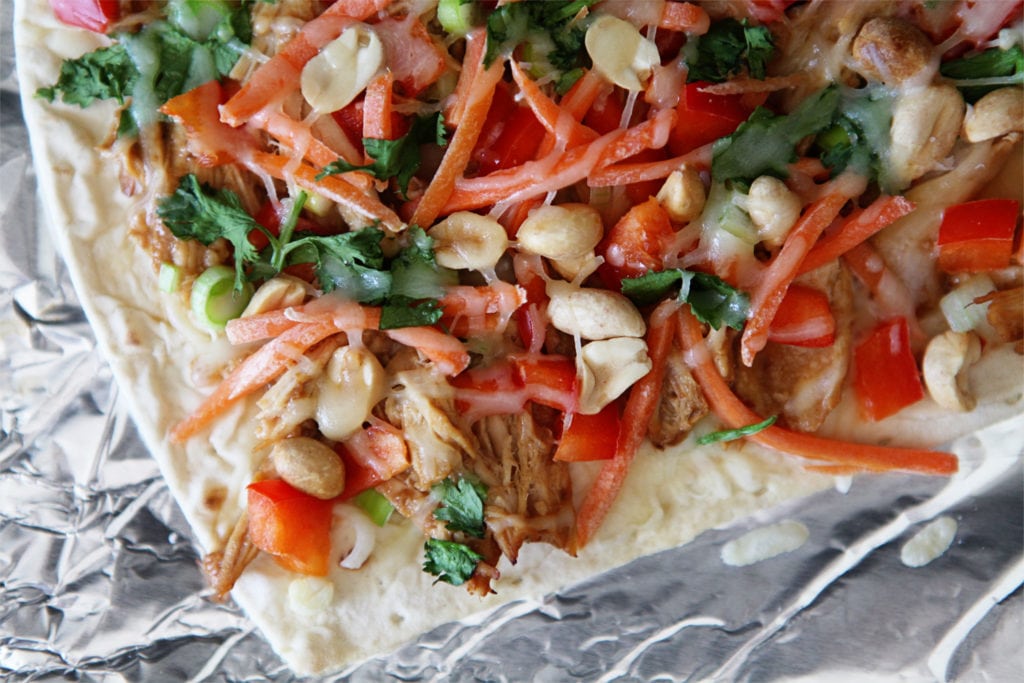 6. Remove, let cool, add your cilantro and slice. Then enjoy!
You will find that the crust of the flatbread is perfectly crisp and holds all the ingredients well. I love that there are still a few veggies in there complimenting the peanut flavor and the peanuts give it a yummy crunch in each bite.
If you are making this for yourself or your kids for lunch you will find that you are completely satisfied and if you are making it as an appetizer you might not want to share!
To find the Slow Cooker Peanut Chicken featured on the flatbread, click here.
Happy eating, friends!
Here are more ways you can incoproate peanuts into your diet! Don't forget to check out the new guidelines for introducing peanuts to infants and if you are diebetic you can find more information about how to incorporate peanuts into your diet here.