I imagine that someday I'll eat beautiful, fantastic brunches on a gorgeous, sunny Sunday morning in a quaint café. I won't have to make them. I won't have to do the dishes. Even God rested on Sunday, so I figure one day so will I.
Until that day you can find me making homemade waffles and pancakes at home on Sundays. I serve them up on tables that are already sticky, covered in coloring sheets and run by tiny dictators that won't eat what I serve unless it's cut correctly and doesn't have any, "yuckies," (AKA spices) included.
These Sweet Cream Lemon Ricotta Pancakes with blueberry syrup have no, "yuckies," and are moist, dense, little pieces of heaven that sort of melt in your mouth and taste like spring.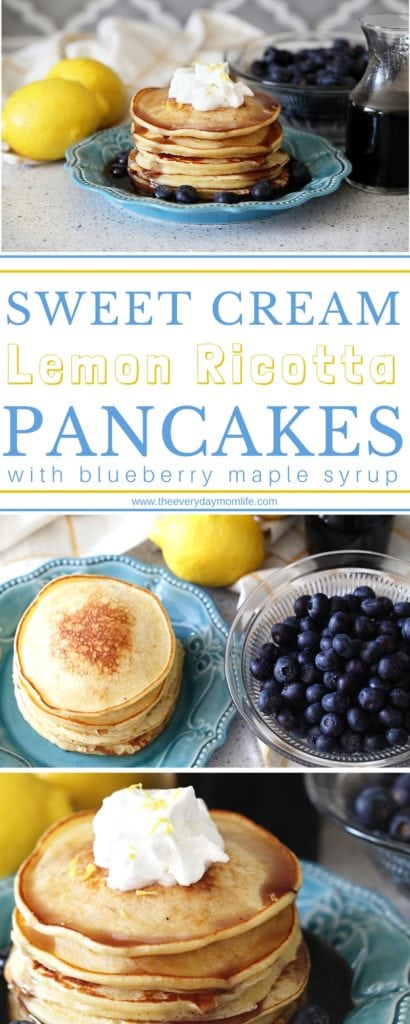 I've made them a couple of times and my husband keeps eating them even when they are cold. My kids like to eat them with their hands (No cutting please!) and dip them into the syrup. Everyone likes topping them with a dollop of whipped cream because if it tastes like dessert, it should always include whipped cream.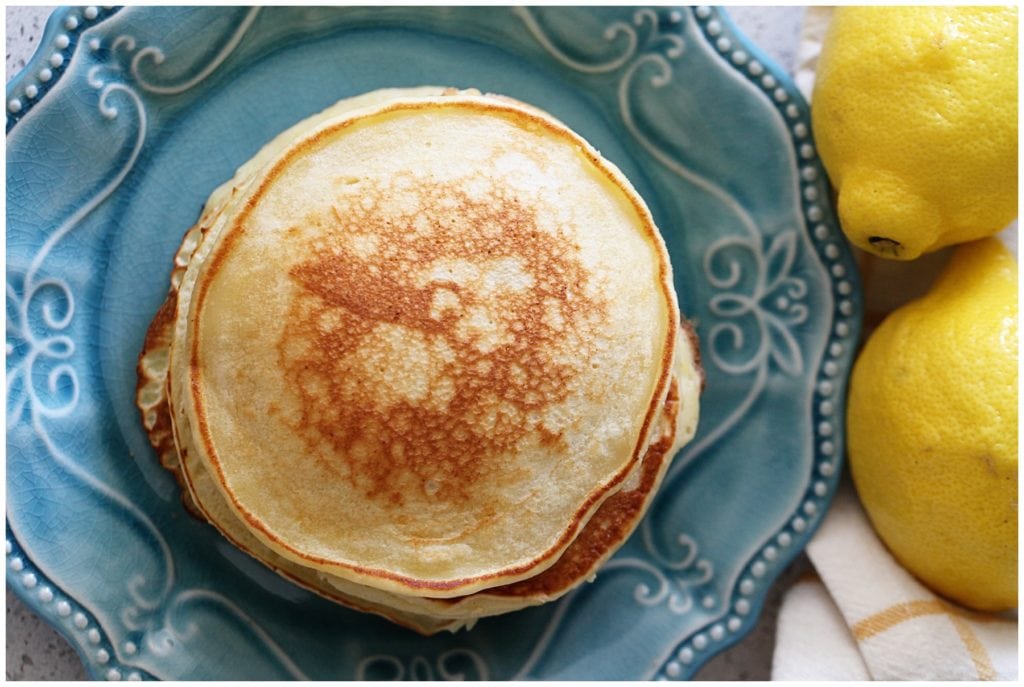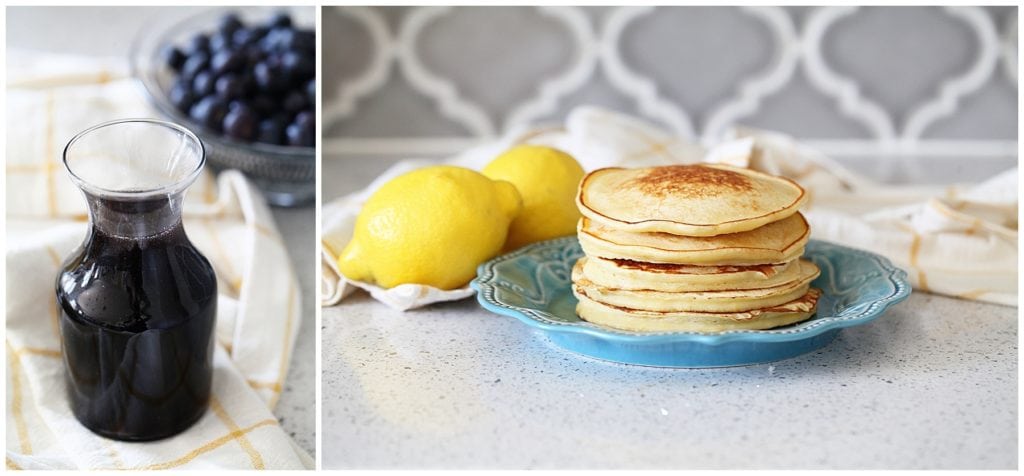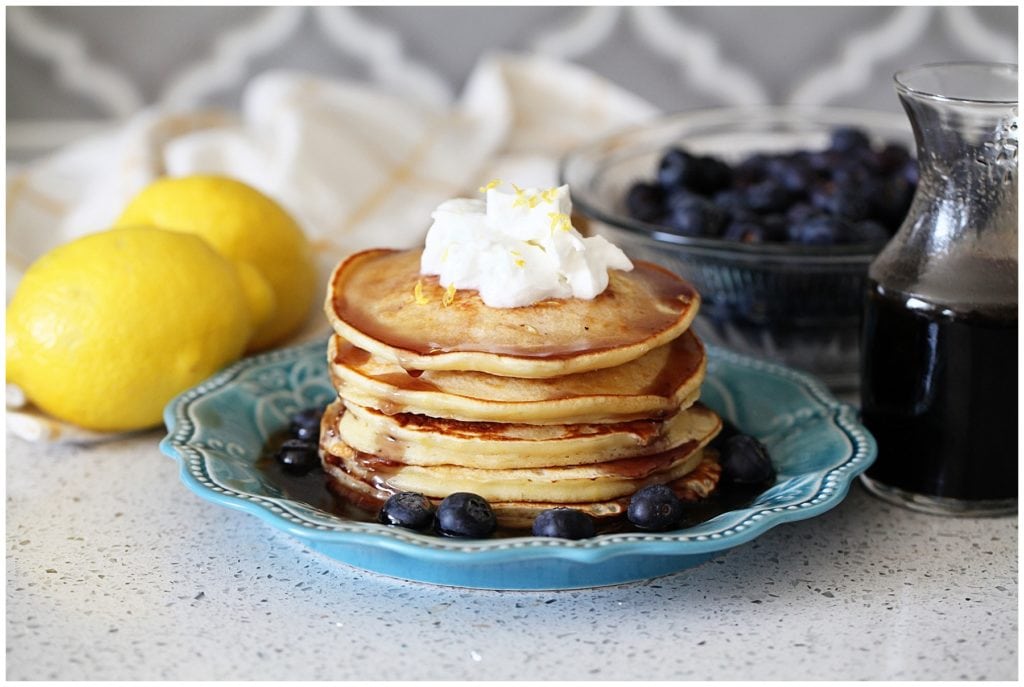 If you're not a fan of lemon you can follow the recipes and make them plain or try adding other flavors at different times of the year. (I'm going to try these with pumpkin in the fall!) I love them lemon for spring though. To me it just tastes sunny, bright and happy – or, what you imagine all those things to taste like.
They're really a great Sunday morning breakfast and brunch dish that's a crowd pleaser. You could also make them as a filling breakfast-for-dinner meal. They're perfect for holidays like Easter, Mother's Day (make someone else make them) and Memorial Day. Or, make them just because they're that good.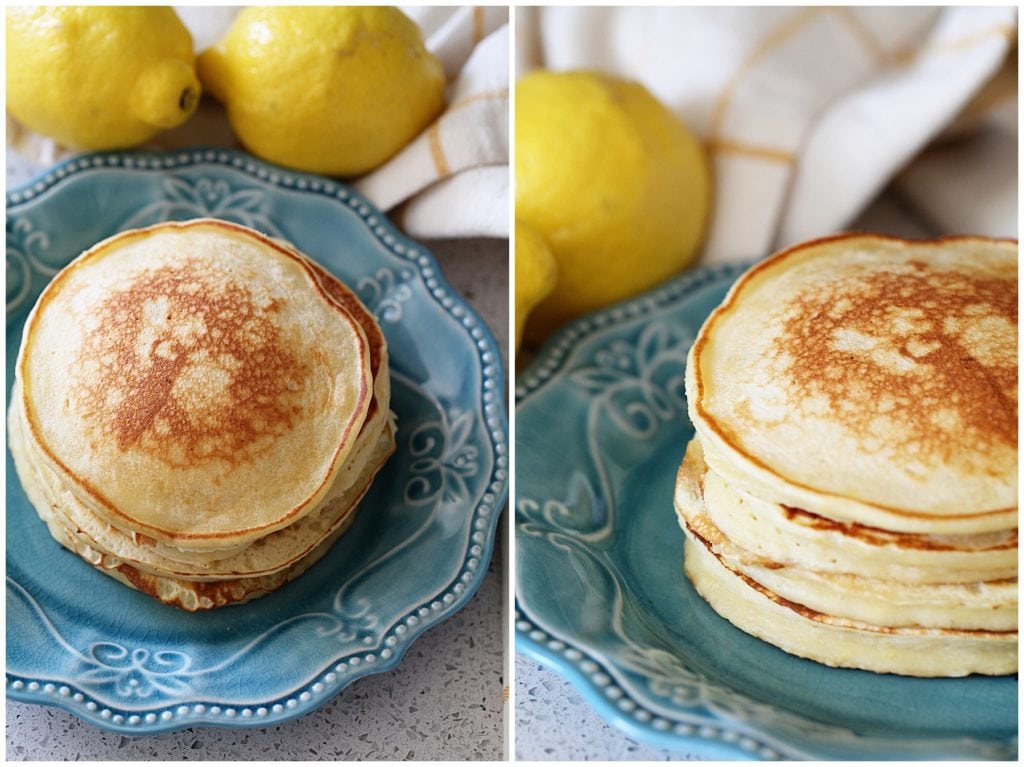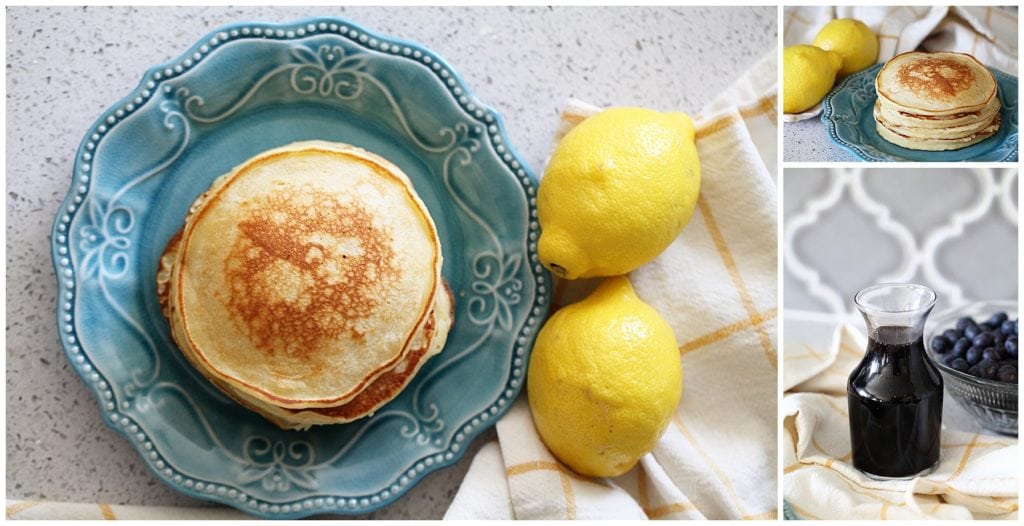 A few tips on cooking these:
I use a spray olive oil to coat the griddle in between each pancake. It just helps to keep them browning nicely and not stick.
Use a measuring cup or ice cream scooper if you want to make them similar in size.
Make sure the griddle or pan is evenly heated before you start cooking. Otherwise your first few pancakes will be duds. You want the pan the same temperature throughout so the pancake cooks evenly and all the way through.
Only use medium heat. That's not a tip. That's a rule. If you cook them at a hotter temperature the outsides will burn while leaving you with goopy middles.
Flip the pancake only once. You'll get in your groove after making a few and know when the bottom is done by watching for some of the bubbles that come up through the batter. You won't get as many as you do with regular pancakes because these are thicker. I find that three minutes per side is often the magic number for my pancakes. Due to stovetop differences you might have your own number.
Grab the full recipe below and make sure to check out our Recipes Section. You can also see other breakfast ideas here.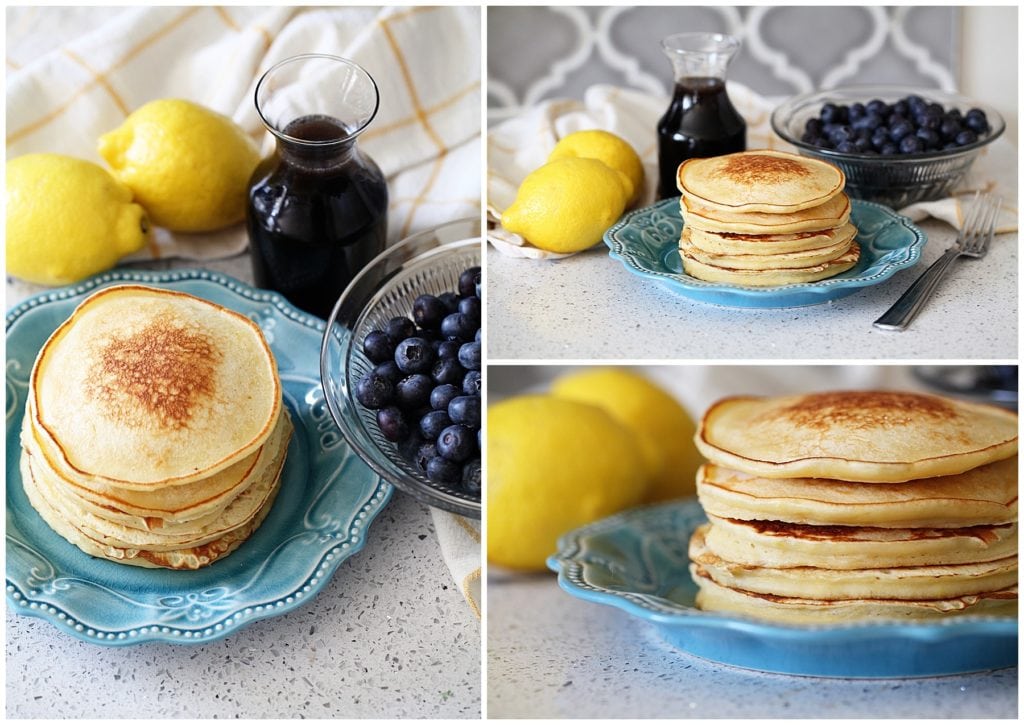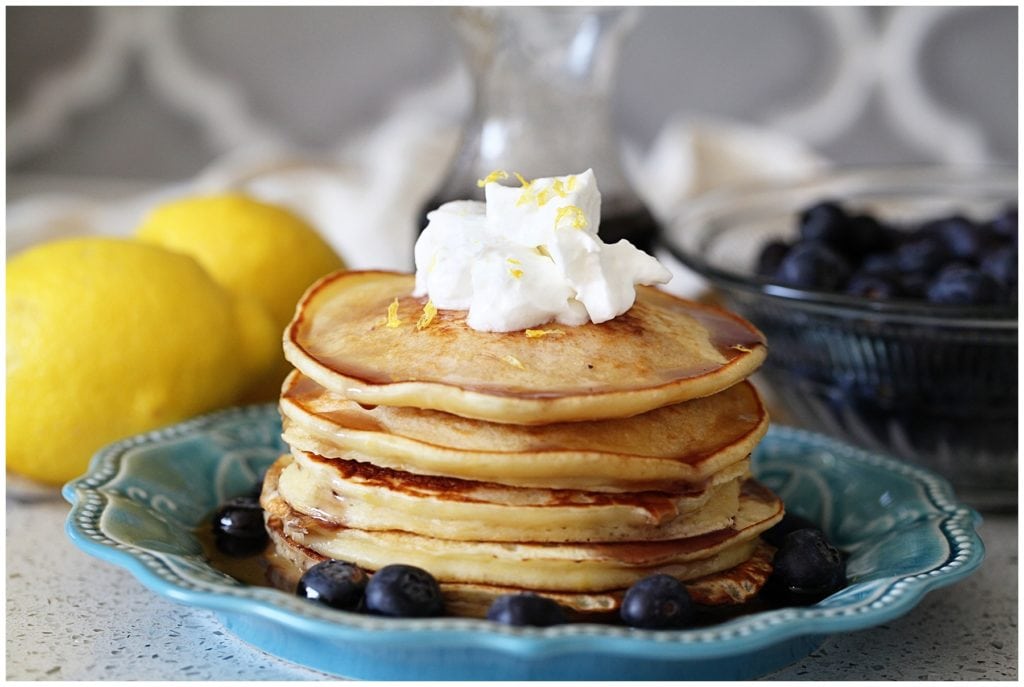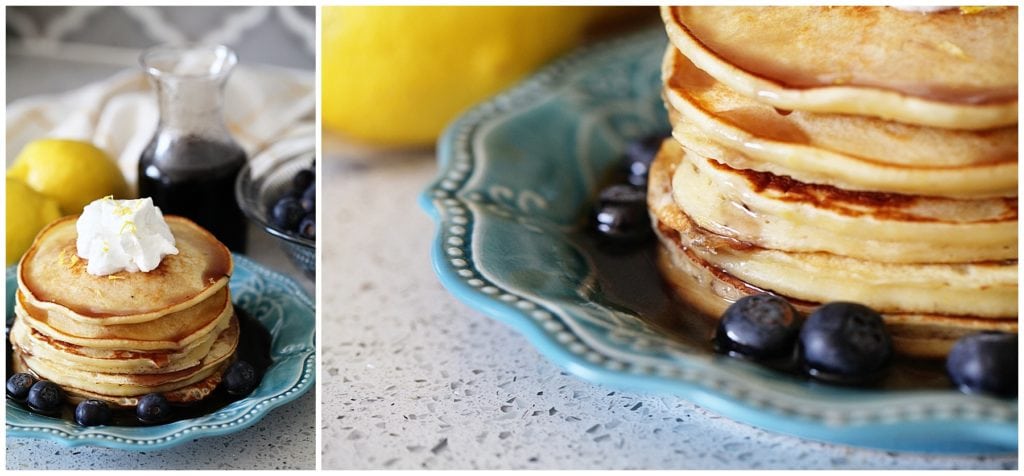 Sweet Cream Lemon Ricotta Pancakes
Sweet Cream Lemon Ricotta Pancakes
Prep time:
Cook time:
Total time:
Ingredients
1 ¼ cup of flour
¾ cup of Buttermilk
1 cup of Ricotta Cheese
2 eggs
5 Tbsp. of sugar (or ¼ cup and 1 Tbsp. – same thing)
2 tsp. of vanilla
½ - 1 tsp. of baking powder (Use 1 tsp. if you want them fluffier.)
¼ tsp. of salt
Lemon zest from 2 lemons or about 2 Tbsp.
Juice of one lemon
Spray olive oil or butter for the pan
Optional: Whipped cream
Instructions
In a small bowl, mix together your dry ingredients until they're well combined.
In a large bowl, mix together buttermilk, ricotta, eggs, vanilla, lemon juice and lemon zest.
Mix until they're well combined and then add in your dry ingredients.
Blend ingredients together with a hand whisk and don't over mix.
Heat your skillet evenly. Again, you want to make sure that it's heated through and even to get a consistent color and cooking time for your pancakes.
Spray the olive oil on the pan before adding any batter. Do this between each pancake for best results.
Using an ice cream scoop or ¼ measuring cup, scoop out batter onto your griddle or pan. Don't overcrowd the pan. I use a small griddle, so I cook one pancake at a time.
Let each one heat through. You might notice a buddle or two coming up. Flip when the bottom side is golden after about 3 or 4 minutes give or take.
Cook for the same amount of time on the other side.
Remove and serve with warm syrup, whipped cream, blueberries and any extra lemon zest.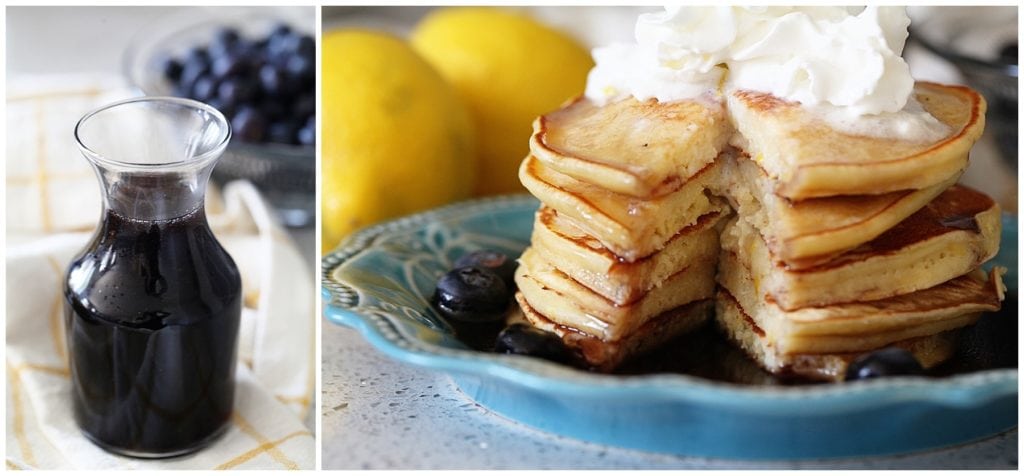 To make the blue berry syrup, combine 1 cup of blueberries and 1 cup of real maple syrup in a sauce pan.
Heat this on medium for about 5 minutes and then let it summer for 10 minutes, stirring frequently. Since real maple syrup isn't as sweet as the kind your kids might be used to, you can add 1 Tbsp. of sugar if you want. Store it in a mason jar.
Happy eating, friends!