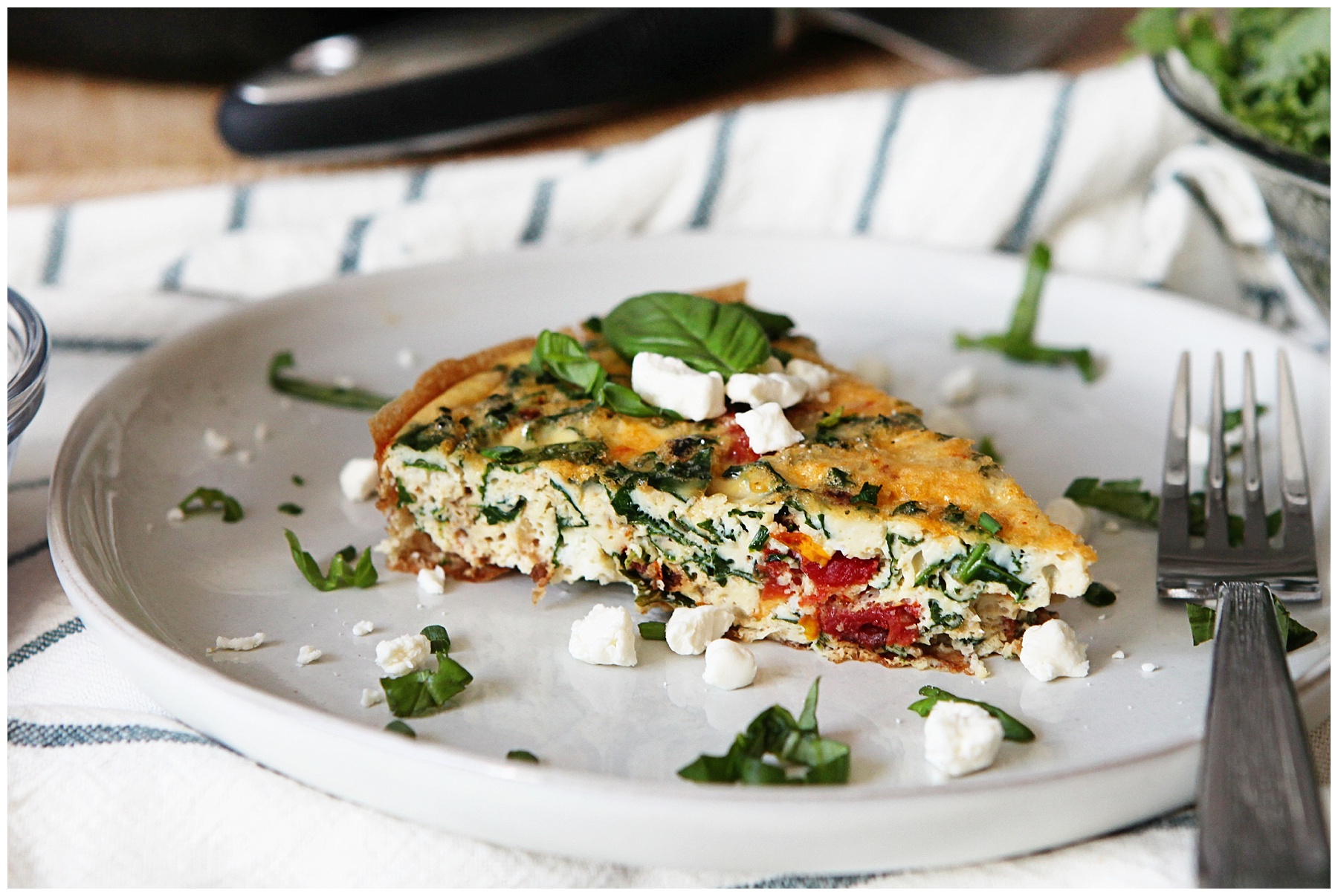 I just don't have the kind of stomach that likes to eat first thing in the morning – unless it's coffee. Around 10 a.m. my stomach decides to wake up and starts growling at me. By then I'm famished but I always feel like it's too late for breakfast and too early for lunch.
Enter the frittata – an Italian word that's fun to say and a meal that works for breakfast, lunch and even dinner. This Sun-dried Tomato & Kale Frittata is an egg-based dish like an omelet but much easier to make.
Frittata recipe substitutions and Whole 30
When I was doing the Whole 30 I ate a lot of eggs. I tried to make them more exciting and convenient by making frittata recipes. Instead of using regular milk in this frittata recipe, I used almond milk. I actually developed this frittata recipe for a client for Instagram using almond milk.
However, it's so good I wanted to share it here too. When I photographed it for the blog I added in some goat cheese as a topping. I'm not specifically dairy-free every day and really have a love affair with cheese. You can make it with almond milk to keep it dairy-free or you can use regular milk and top it with your favorite crumbly cheese. Frittatas are really versatile and the recipe will work either way.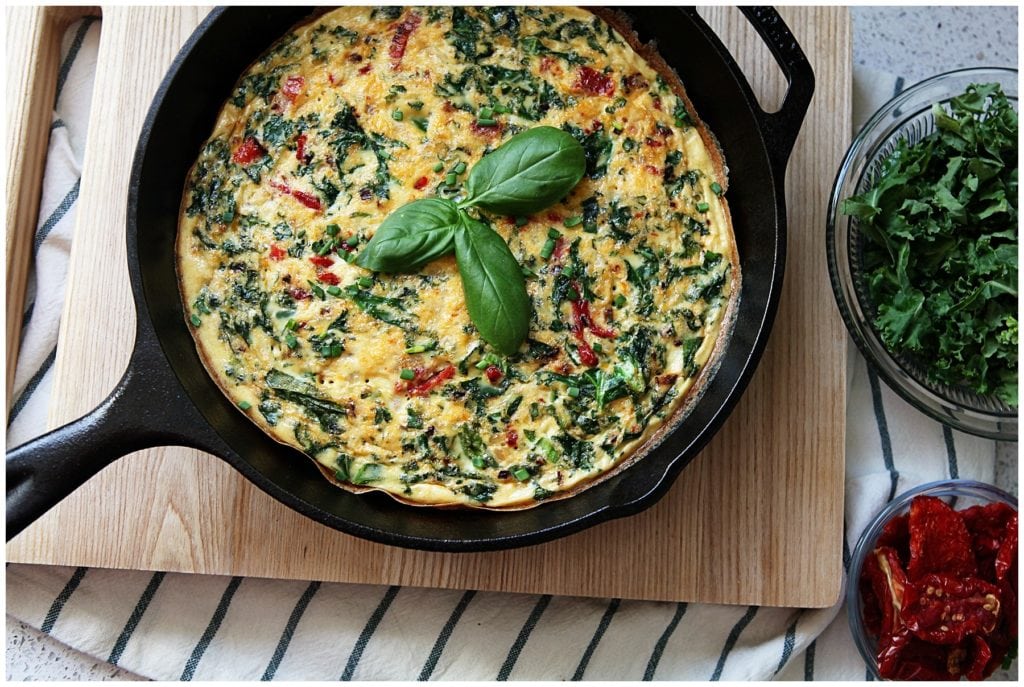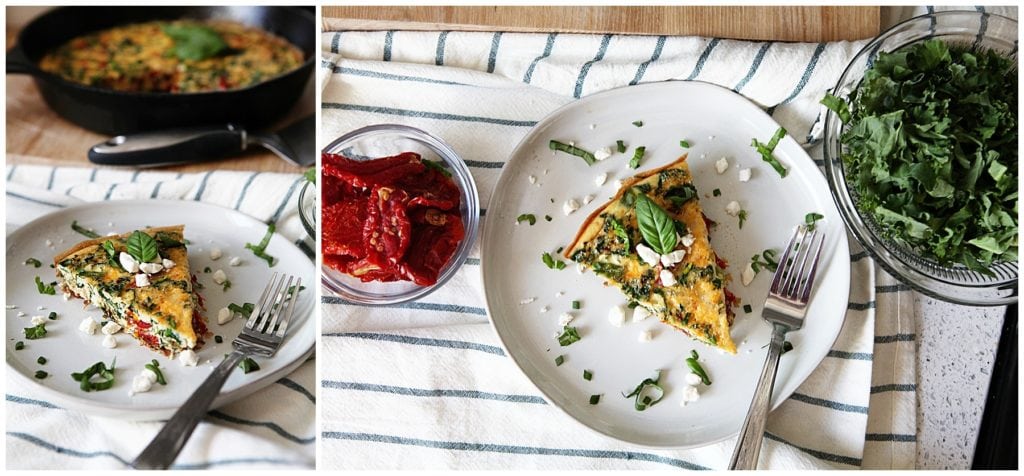 Frittata recipe is full of nutrition
Whether you make it with almond milk or regular milk, I love that this recipe includes so many nutritious ingredients. I know I make a lot of sweet dishes but I'm really more of a savory eater. Nutritious rich, delicious ingredients like sun-dried tomatoes and kale just speak to me. I could probably pair those two items with anything and make a dish that I would devour.
Cookware to use
I used a 10.25-inch cast iron skillet to make this Sun-dried Tomato and Kale Frittata because I love the way it heats everything evenly. If you don't have a cast iron skillet you can make this in a regular, deep pan or use a muffin tin for individual frittata.
This is my favorite cast iron pan by Lodge. I like like this one, which is a 10.25 inch skillet and it should work perfectly for frittata recipes and other recipes too. There's a whole set of cast iron cookware by Lodge here that I'm looking at getting because cast iron really cooks so well.
Multiple eating occasions
This Sun-dried Tomato & Kale Frittata recipe is really the perfect dish for any meal, especially if you need to wait a bit in the morning like me. It's easy to make, delicious and looks beautiful when served up next to some fruit, toast and jam or even a little guacamole.
When I made this frittata on Sunday we also ended up eating it for dinner. It is nice because I don't have to cook twice. It was an easy, tasty, light meal on a warm spring night that we could eat cold.
I love the idea of making something like this for Mother's Day Brunch (because if I'm cooking it had better be easy) or Easter and New Year's brunch. Try it for one of these celebrations or just because!
For more recipes from The Everyday Mom Life, click here. For more breakfast recipes, click here.
P.S. My husband liked this so much he went in for thirds. Then just started eating it out of the pan with a fork (insert eye roll emoji). He also put it away for me and did my dishes (insert kissy face emoji).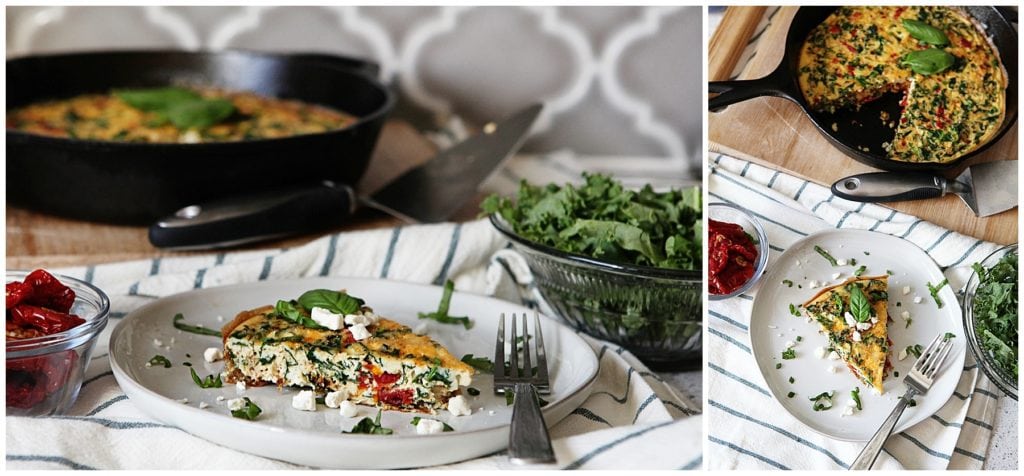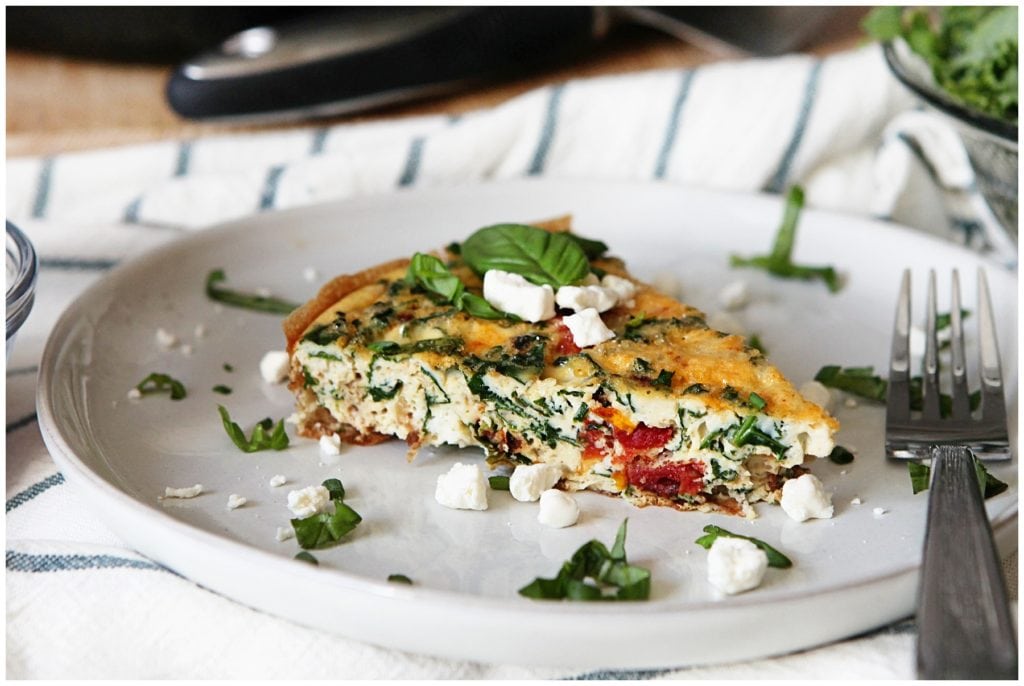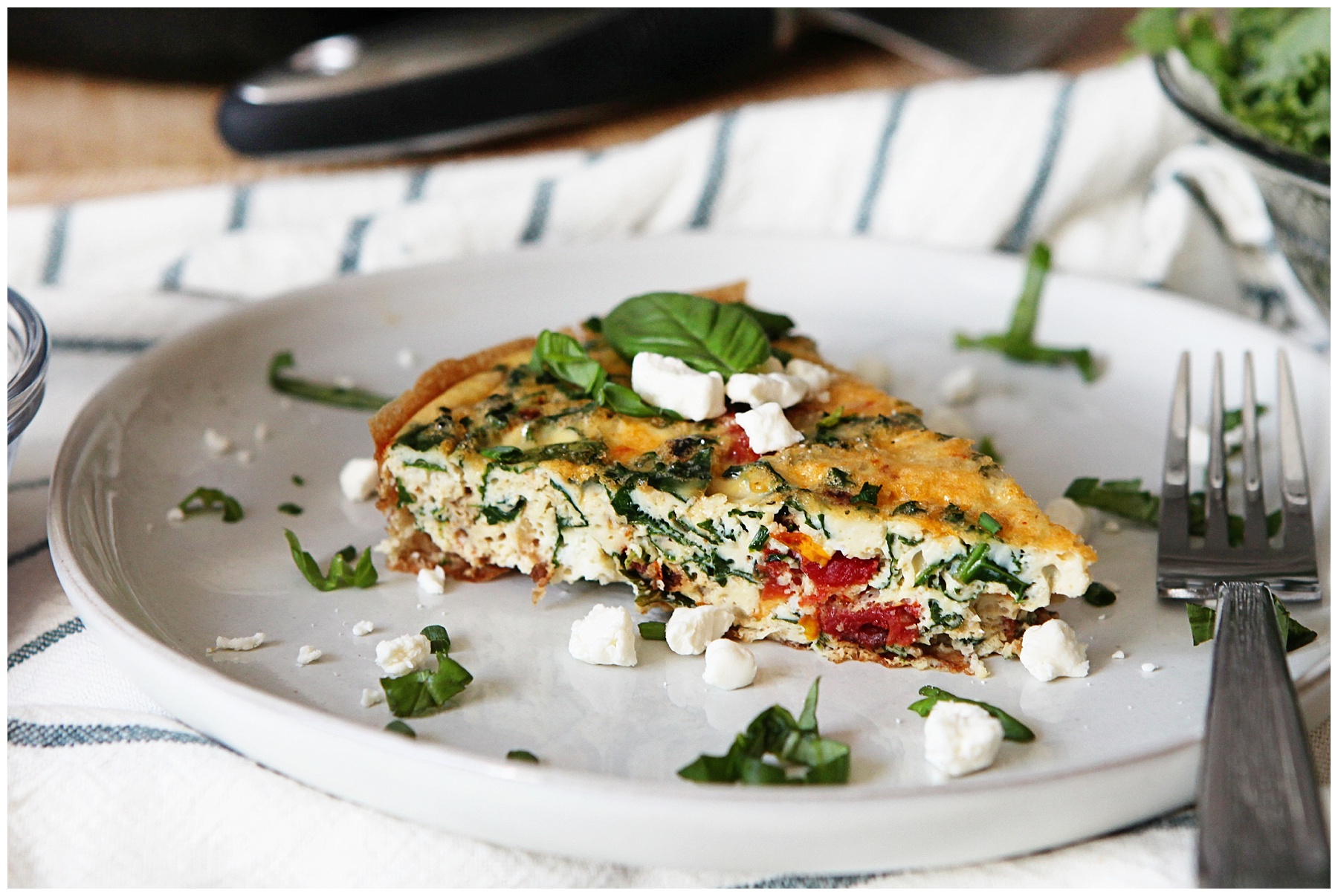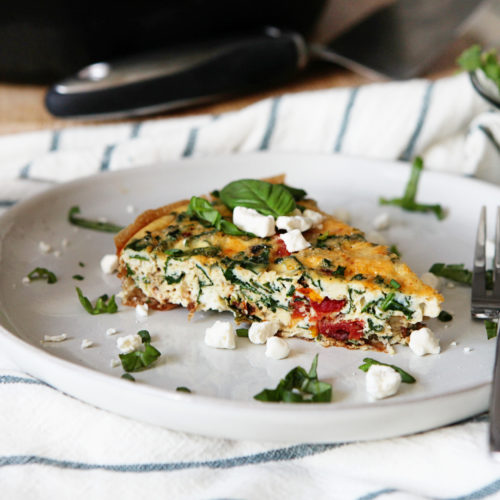 Ingredients
9

eggs

2

cups

of kale

chopped

1/2

cup

sun-dried tomatoes

chopped

1/3

cup

of scallions

chopped

1/4

cup

of almond milk or regular milk.

2

tsp.

garlic

minced

2

tsp.

salt

1

tsp.

pepper

2

Tbsp.

olive oil

Optional: Goat cheese, basil and chives
Instructions
Preheat your oven to 350 degrees.

In a separate pan, add your olive oil and heat. When it's hot add your scallions and garlic. Cook through until they are soft, about 3 minutes. Stir frequently.

Add your sun-dried tomatoes and cook for another 3 minutes.

Add your kale and cook until it starts to wilt and then turn off the heat and remove the pan from the heated burner.

While the vegetables are cooking, mix together eggs and milk.

Add the vegetables to your egg mixture and sprinkle in salt and pepper.

Wipe your cast-iron skillet with a bit of olive oil and then pour your mixture into the pan.

Cook for 18 minutes. If the middle isn't done stick it back in for another couple of minutes. Oven times will vary.

Remove, slice and sprinkle with any toppings like goat cheese, basil and chives. Add additional salt and pepper as needed.