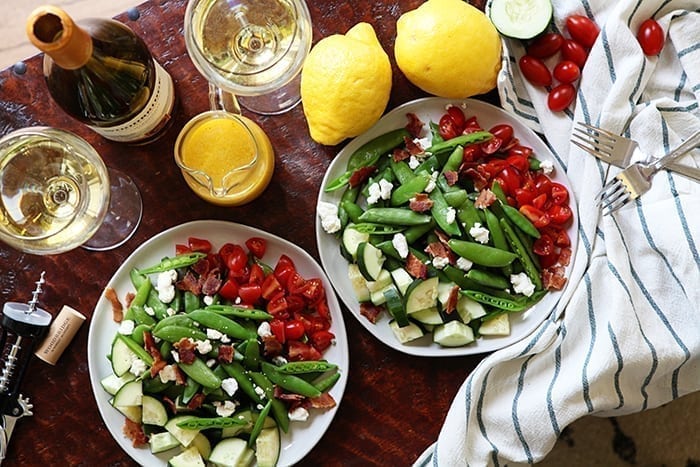 Last summer, my husband and I went on a date to a local Italian restaurant that we visit about twice a year. It's a cute, small place along the river and at the corner of a quaint downtown area. The buildings are old, the streets are narrower and the restaurant is the kind of place where the tables are close, the lighting is always flattering and the wait staff is always nice. We enjoy the ambiance.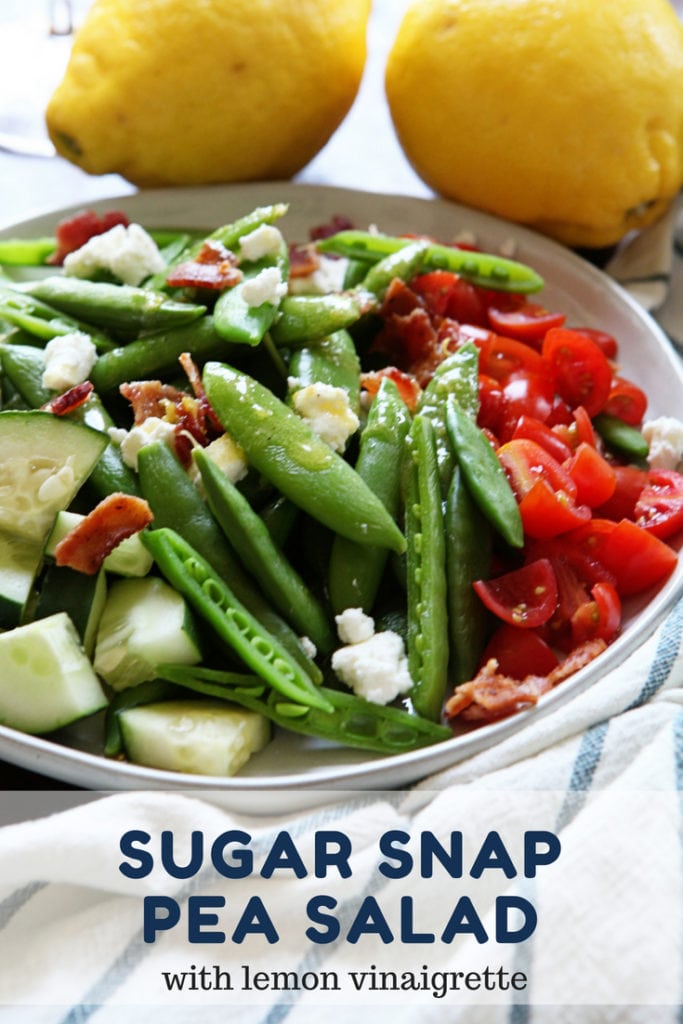 Admittedly, we don't always enjoy the food. It's really hit or miss for us there and were keep going back because each time it's a hit we think that it's changed. Plus, there's that ambiance too.
However, last summer I ate the most delicious salad there made with so many delicious fresh garden ingredients. The base of the salad wasn't lettuce but instead it was Sugar Snap Peas. It was loaded with them and full of fresh tomatoes then topped off with a delicious lemon dressing.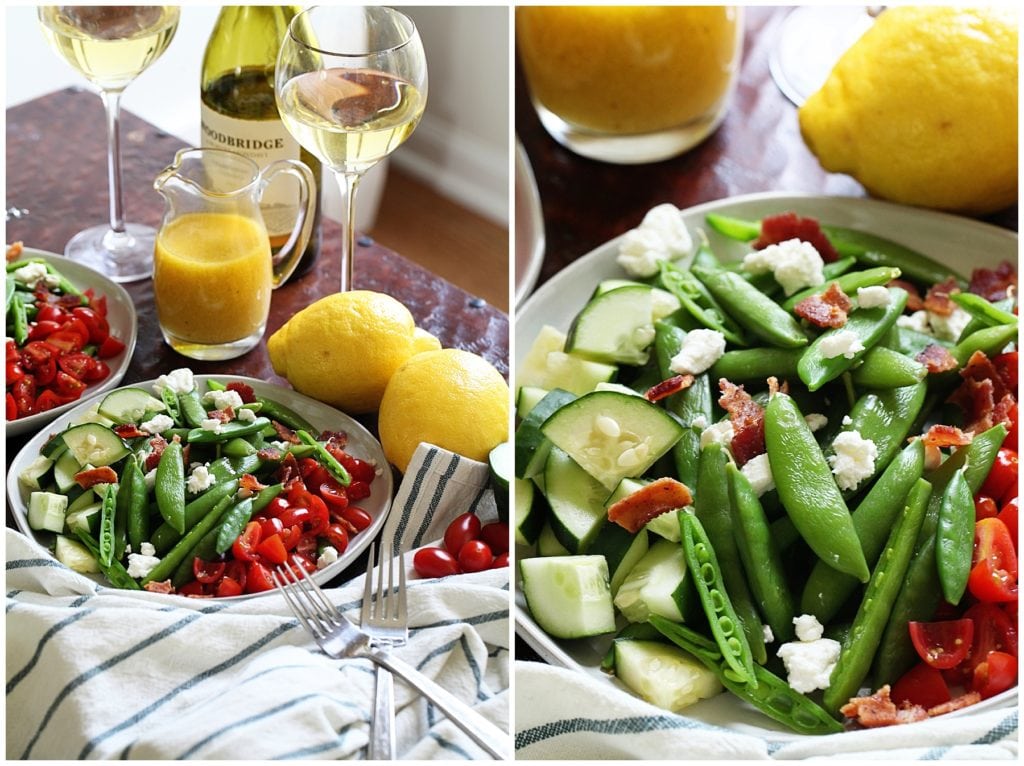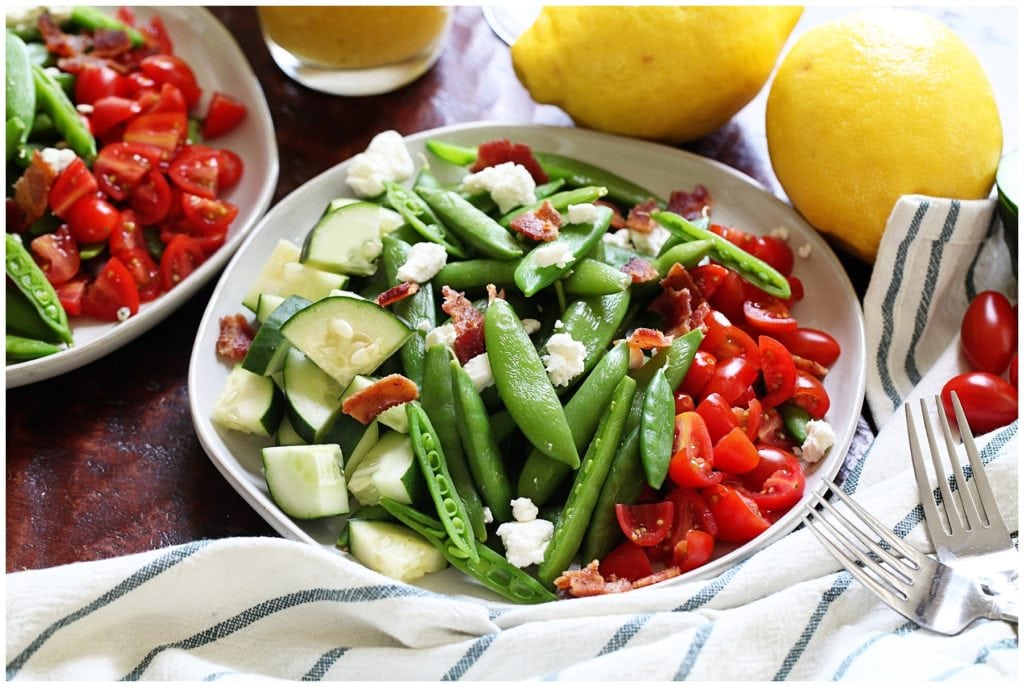 When I saw that the 4th round of the Woodbridge Wines by Robert Mondavi Summer Side Dish Showdown cooking competition was themed, "From The Garden," I knew I wanted to create my take on this delightful, fresh salad.
Using this one experience as inspiration, I began constructing my recipe for this round of the competition.
I started with the same base of Sugar Snap Pea base because I loved the sweetness, the crunch and the nutrients that come from the veggies. I also love the fact that it was a bit unexpected as a, "salad."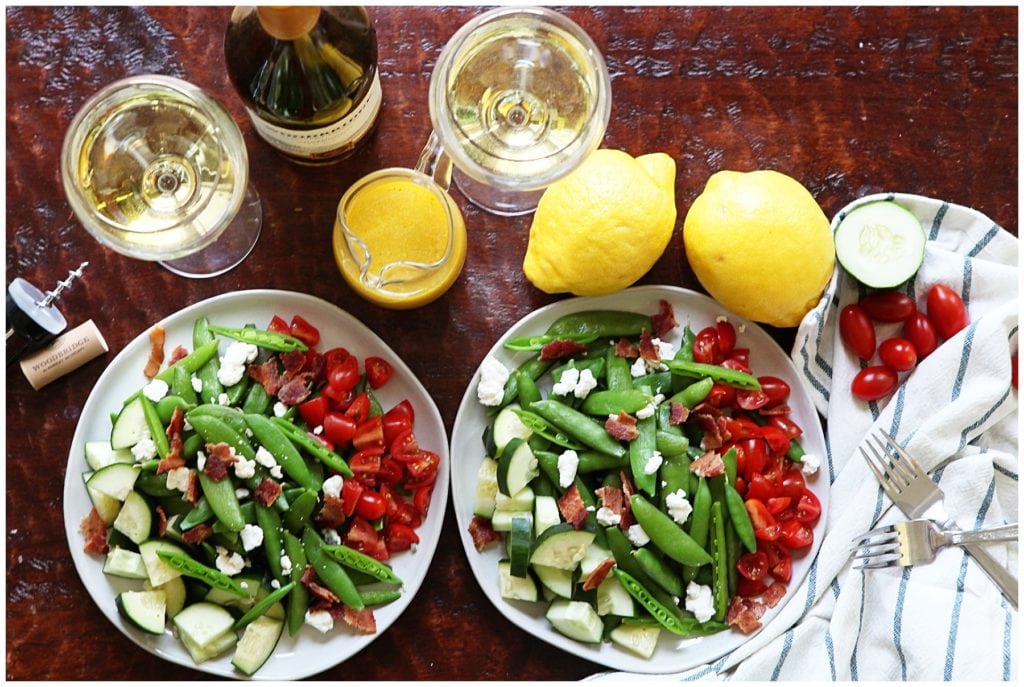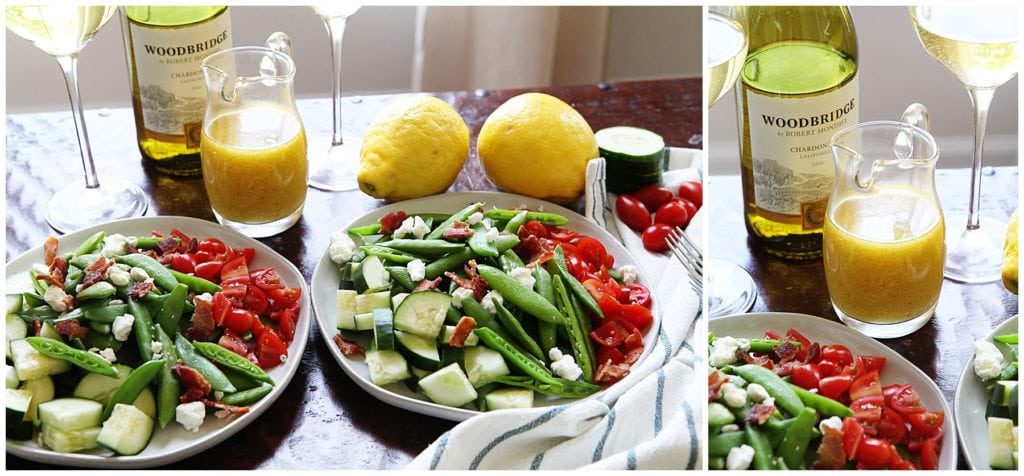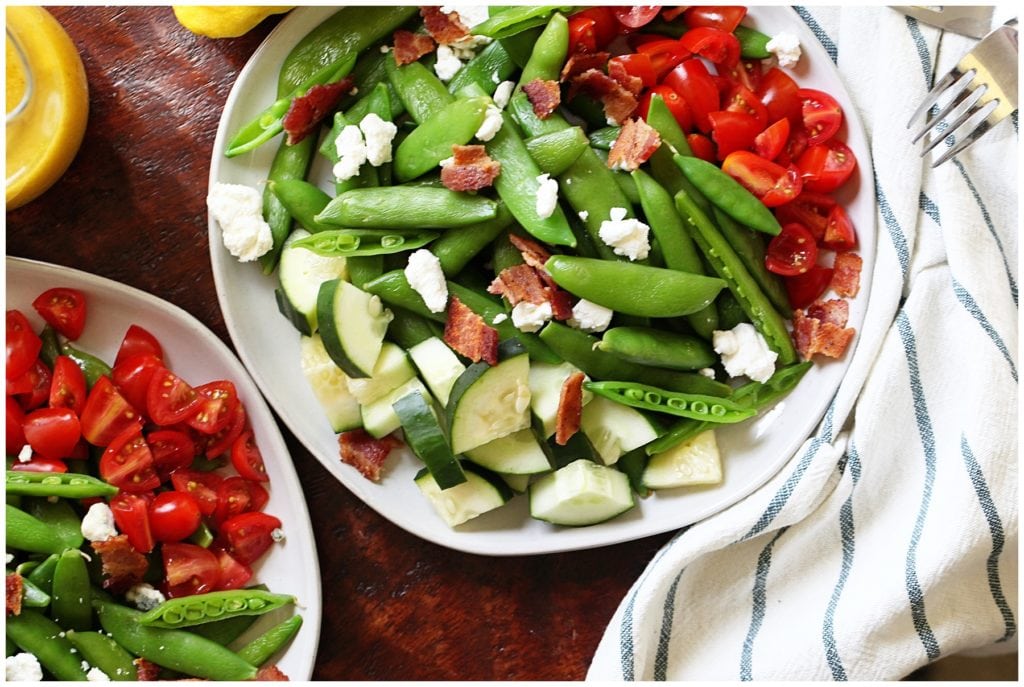 I then added cucumbers, because I love them, and tomatoes for some color. All of these vegetables are blooming in gardens right now so if you have a garden you can probably pick all of these things straight from your backyard. My garden is a bit sparse this year (because we were hit with a lot of bugs last year) and I don't have a lot there, but I have big plans for subsequent summers.
When it came to the dressing, I wanted something that was light, lemony and fresh. The "dressing" on the salad at the Italian restaurant was supposedly just lemon olive oil. However, I don't fully believe that because it had additional flavors in it.
For my dressing I started with a base of lemon infused olive oil. I used champagne vinegar to give it a full, rich taste with some tang; added some Dijon mustard to and some simple seasoning.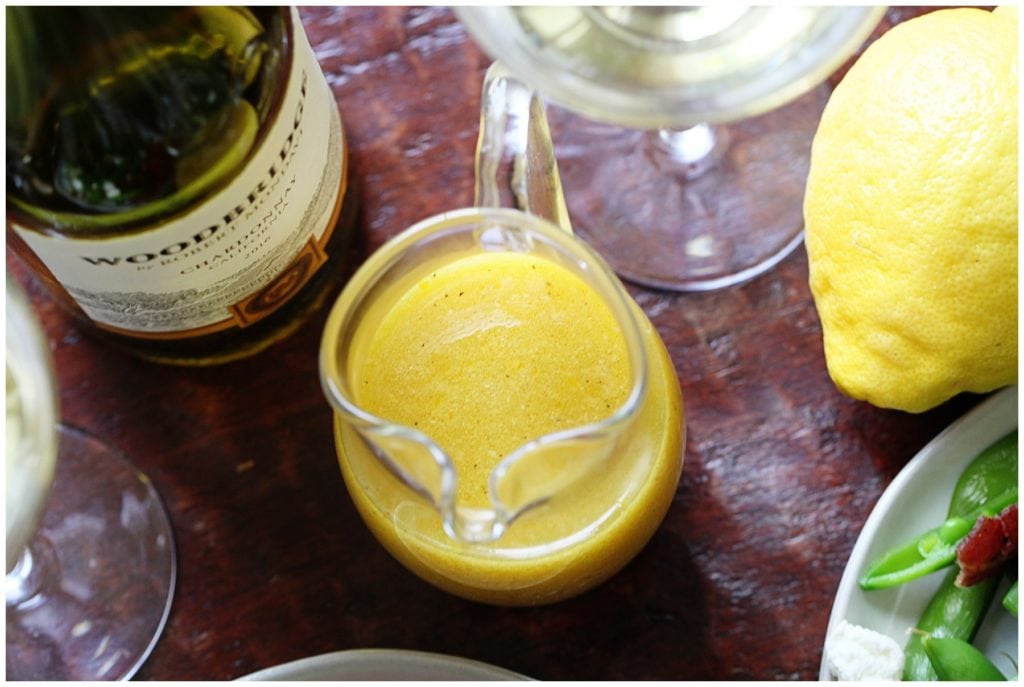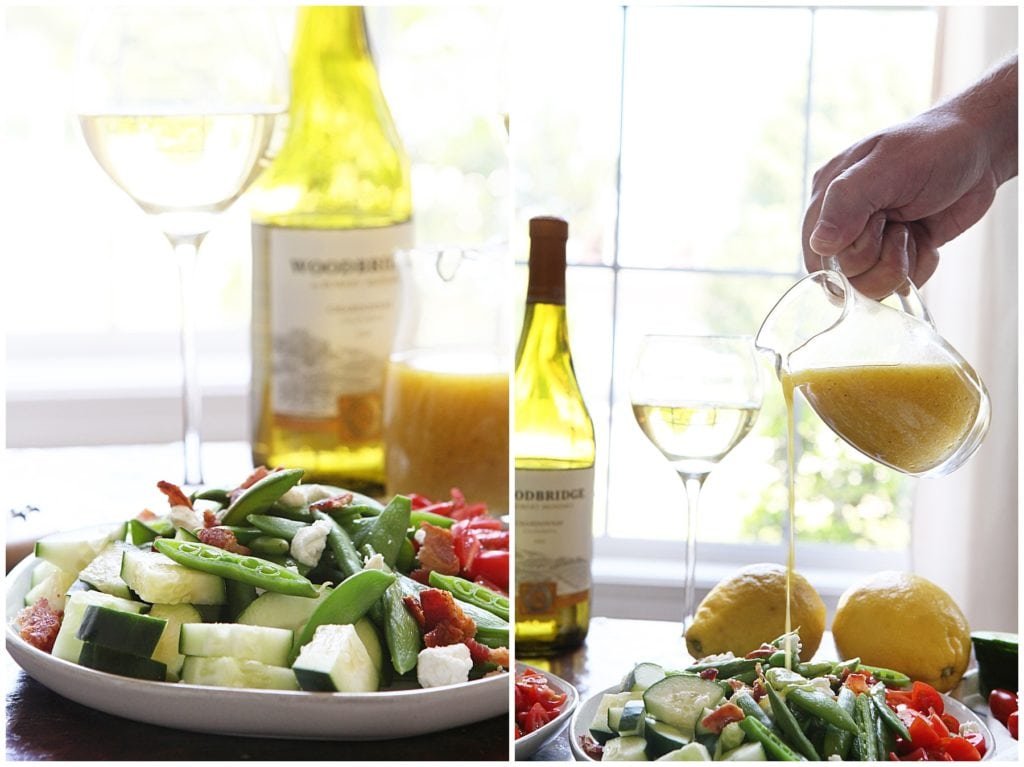 As far as recipes go, this is one of the easiest ones you will find. It's perfect for a summer day when you don't want to cook too much but really just want something fresh, light and nutritious.
Grab the full recipe below and PLEASE (pretty please) go to the Summer Side Dish Showdown website here to vote for me!
Grab more side dish recipes here and click here to see all our recipes.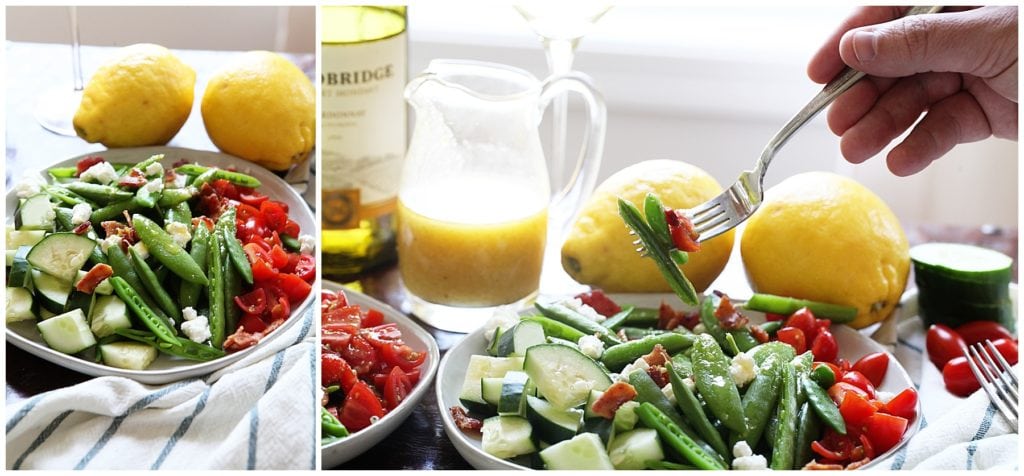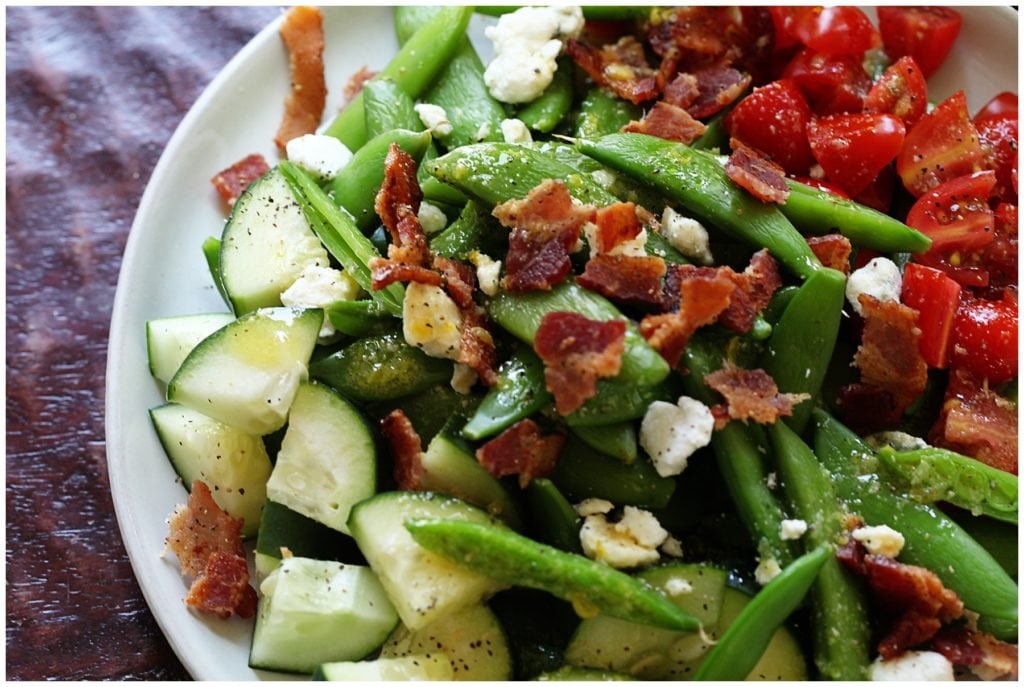 Chilled Sugar Snap Pea Salad with Lemon Vinaigrette
Prep time:
Cook time:
Total time:
Ingredients
SALAD INGREDIENTS
20 oz. sugar snap peas
2 cups of cucumber, chopped in quarters
2 cups of cherry tomatoes, quartered
1 cup of bacon, chopped
Optional: ½ cup goat cheese or parmesan

DRESSING INGREDIENTS
1 cup lemon olive oil (If you can't find this, plain can be used. Strong lemon taste will be diluted.)
⅓ cup champagne vinegar
1 Tbsp. of Dijon mustard
1 tsp. of garlic, pureed
½ tsp. of pepper
½ tsp. of onion powder
Instructions
Boil 5 cups of water. Once boiling, add your sugar snap peas and cook for no longer than 5 minutes. You want the peas cooked well but still crisp to give you a nice crunch.
Chill the peas in the refrigerator. This salad should be severed cold.
Mix together all the ingredients for your dressing and chill. This dressing will get a bit better with age so if you make it the night before you need it, it will give the flavors a chance to really work together. It does have a strong, tangy lemon taste.
Cook bacon and then chop into bite-sized pieces. Set aside. If you're making this early or the night before you can also chill it.
Cut cherry tomatoes and cucumbers.
To serve to a large group, combine the vegetables, add dressing and mix well. Top with bacon and cheese as desired.
To serve to individuals, section the vegetables out onto the plate. The sugar snap peas should be in the middle and be more abundant. Add tomatoes and cucumbers to the sides. Drizzle dressing onto the salad. Top with bacon and cheese.
Top with additional salt and pepper as desired.