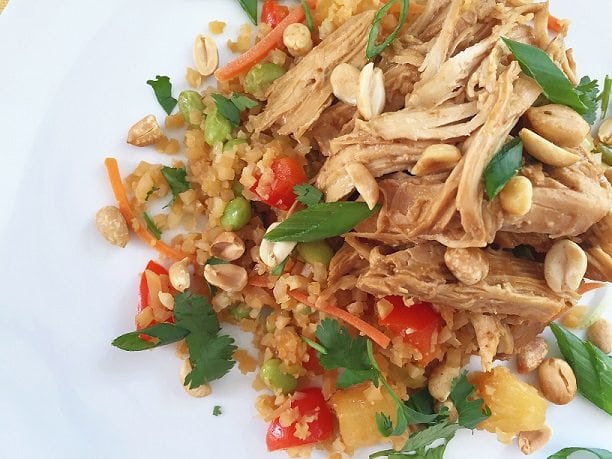 I'm always attempting to create great, weeknight recipes to make my life easier during the week. Even though I work part-time from home now, weekdays are still hectic and I often feel rushed to create good, nutritious food for my family.
Crockpot recipes are always my saving grace. I don't like them all because sometimes I think the crockpot dries out meat a bit, but some are winners and worthy of repeats.
This Thai Peanut Chicken recipe that I recently came up with is my new favorite. Not only is the meat moist, but it's full of great peanuty flavor and I can do a TON with the leftovers.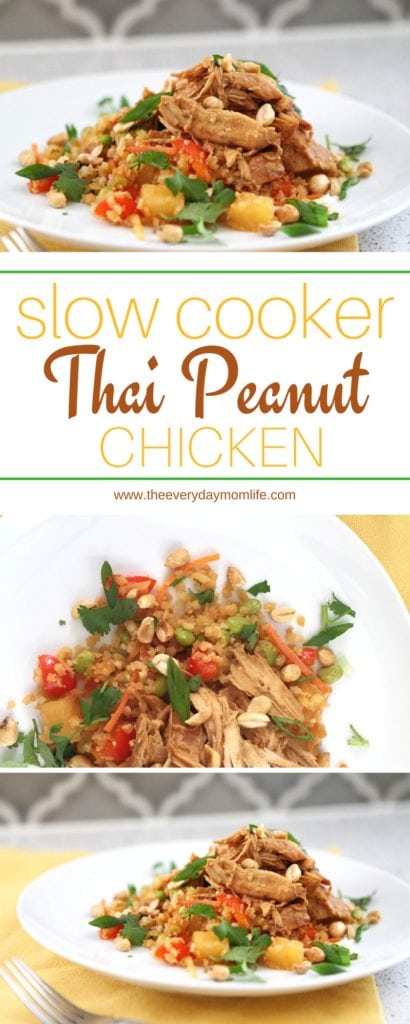 If you're not a huge fan of coconut, don't worry. I know coconut milk and coconut oil are becoming very popular ingredients among some crowds, but there are still a lot of people out there who aren't huge fans of it (my husband). In this recipe it serves more as a background flavor, or flavor enhancer, and an add to the secret sauce. The peanut flavor is the star here.
Check out the full recipe below!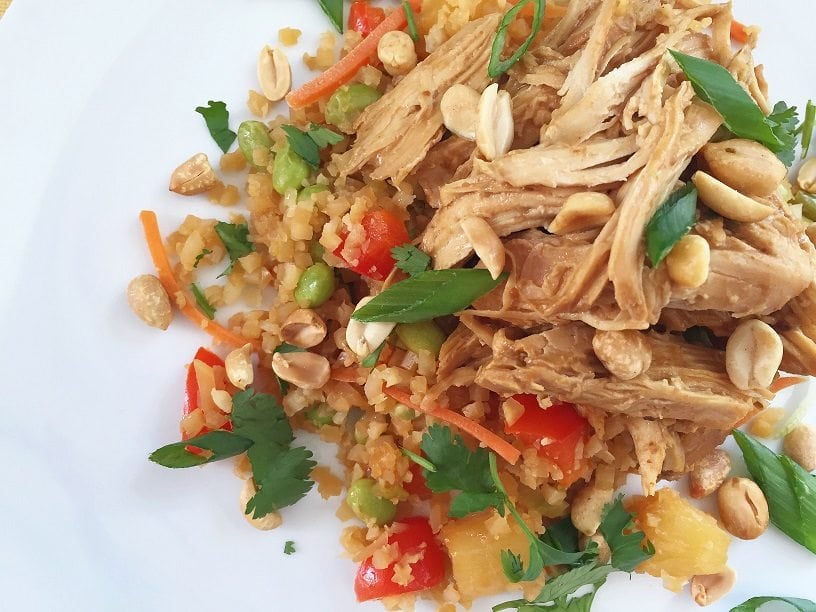 Chicken Ingredients:
2 lbs. of chicken breast
1 cup of coconut milk
1 cup of natural peanut butter
5 cloves of garlic, minced
4 tbs. of soy sauce
4 tbs. of honey
2 tbs. of rice wine vinegar
1 tbs of fresh ginger, chopped finely or minced. I use a zester on mine to get it to a consistency I like so it isn't overly powerful if someone gets a bite.
2 tbs. of lime juice
Topping Ingredients (optional)
1 cup of whole and/or chopped peanuts
3 green onions, sliced thin
¼ cup of chopped cilantro

Steps:
1. Mix coconut milk, peanut butter, garlic, soy sauce, honey, rice wine vinegar, ginger, and lime juice in a bowl and mix well.
2. Add chicken to the crockpot.
3. Pour the mixture over the crockpot and set it on low for 8 hours or high for 6 hours.
4. When it's done shred or dice the chicken an enjoy on your favorite friend rice recipe or white or brown rice. You can also find my recipe for my Pineapple Cauliflower Rice here.
That's all there is to it, friends! All you have to do is serve it and enjoy it.
To find the Pineapple Cauliflower Fried Rice featured with the chicken, click here.
I hope this one because a weeknight dinner saver for you. Happy eating!