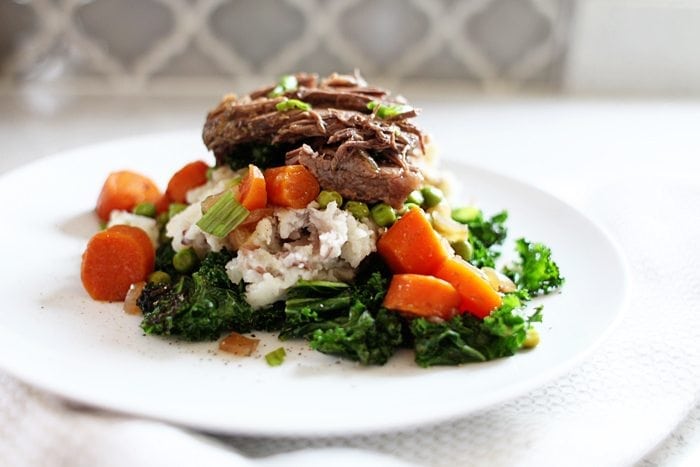 Each year when fall rolls around I get a craving for warm, delicious comfort food. It never fails.
The chillier weather and falling leaves leave me yearning for hearty stews and roasts almost as much as all my favorite, fall desserts.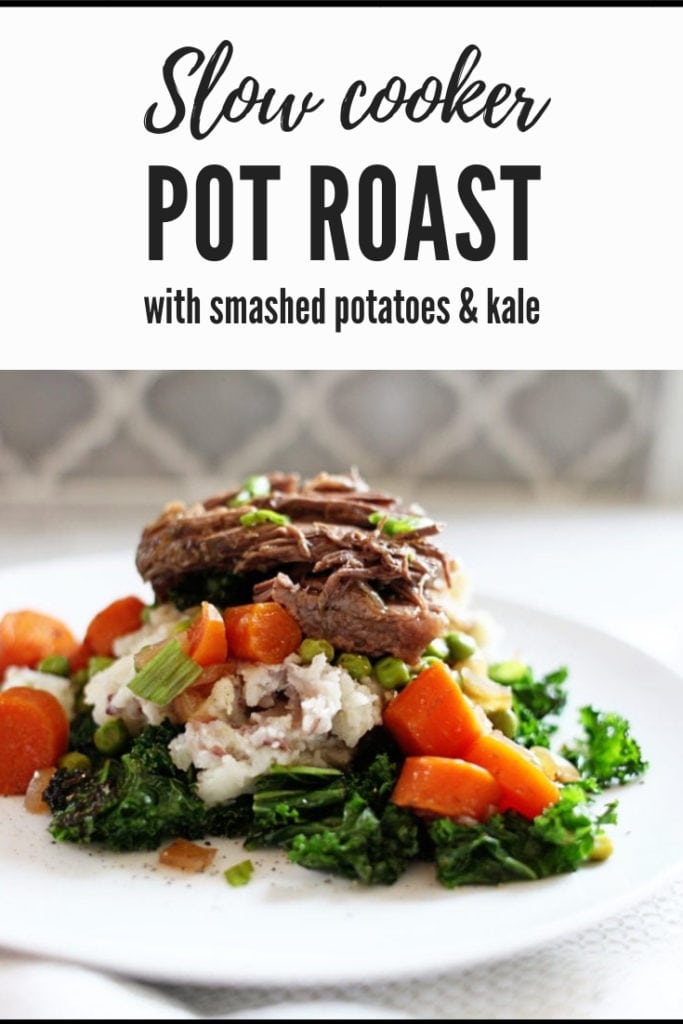 With school in full swing though I don't have time to be home making a roast in the oven. Throughout the fall and winter I rely heavily on my slower cooked to deliver flavorful meals that remind me of something my grandma might serve. However, i often try to make the dishes a bit healthier. This slower cooker, beef pot roast is a perfect example of that.
This pot roast contains vegetables that are synonymous with pot roast and a few that are not. It also combines a range of seasonings so that the dish is flavorful, moist and incredibly delicious.
Check out the full recipe below!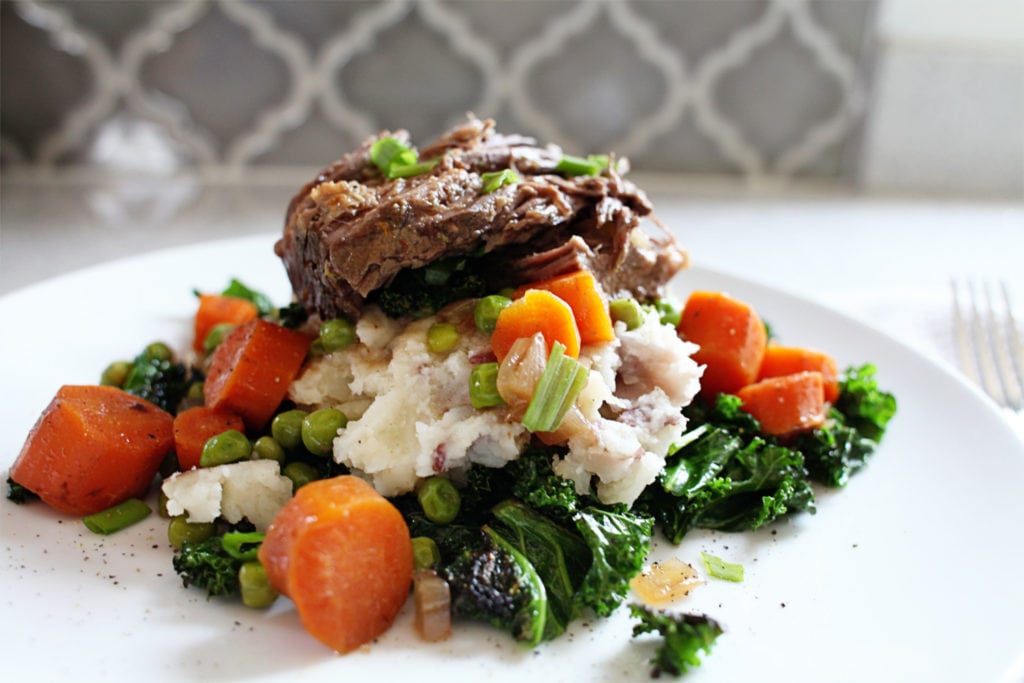 Slow Cooker Pot Roast With Smashed Potatoes & Kale
Recipe type:
Main Dish, Dinner
Prep time:
Cook time:
Total time:
Ingredients
2 – 3 pound beef chuck roast
6 carrots, sliced into rounds
1 large onion, sliced
3 celery stalks, chopped
1 bag of frozen peas
2 packages of dry Italian Dressing
2 packages of dry Ranch Dressing
1 package of brown gravy
1 cup of beef stock or beef broth
8 golden potatoes
6 cups of kale, chopped
2 Tbsp. of olive oil
Salt and pepper
Instructions
Add your beef roast to the slow cooker and then add your carrots, onions and celery.
Add 1 cup of beef stock or broth, pouring it over the beef roast.
Combine your dry seasonings in a separate bowl and ensure they are mixed together. Spread the mix out evening across the slow cooker. Make sure there is a generous portion on the beef but also sprinkle it on the vegetables and in the broth.
Add your potatoes on top of the other vegetables. Ensure they don't fall into the broth.
Cook on slow for 8 to 10 hours to guarantee the beef shreds nicely.
About 30 minutes before the roast is done add your peas.
In a separate pan sauté your kale with the olive oil and cook until the kale is just slightly wilted. You can do it a little at a time if the pan isn't large enough. I like to use a lot of kale because I could eat it all day long. I usually buy a pre-chopped bag to make life easier.
Remove your potatoes from the slow cooker and smash them. Since they've been cooking all day a fork should work just fine.
Dish out a bed of kale and add the smashed potatoes on top of that. Top off with the vegetable and roast. Add salt and pepper to taste. Serve warm and watch the smiles happen.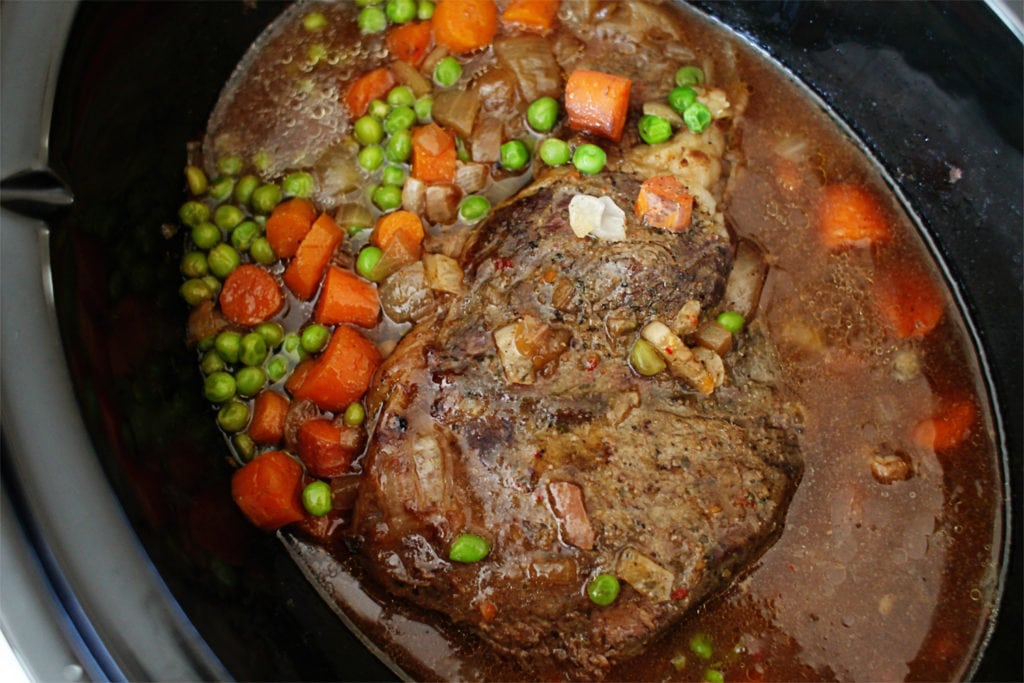 This recipe is seriously so good I could eat it once a week all winter long. If you have leftovers you can eat it again or use the meat in tacos!
Happy eating, friends!