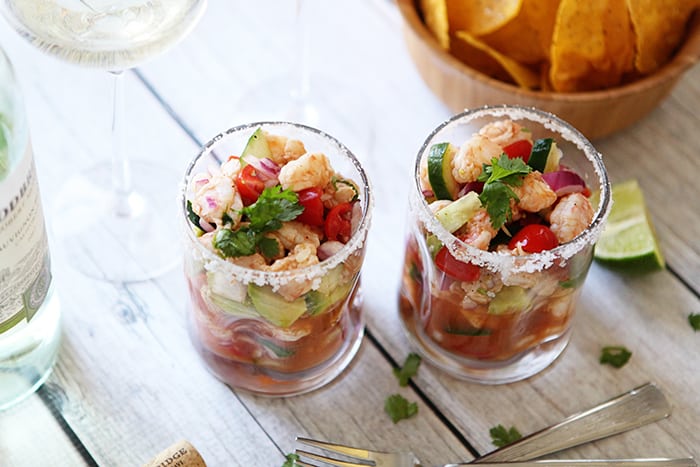 The first time I had ceviche was only about 7 years ago. In fact, for at least a third of my life (basically childhood), I didn't even like seafood. But the first time I had ceviche, it was sort of a magical experience.
Nowadays there's really nothing I like better than a fabulous piece of fresh fish or some delicious, buttery shellfish. Mix that with fresh, garden vegetables, lime and a tiny bit of hot sauce for some flavor and you have a combo that will be marvelous.
When the final round of the Woodbridge Wines by Robert Mondavi Summer Side Dish Showdown was announced as the seafood round, I knew I had to make this dish. It's pretty much one meal I could eat every day.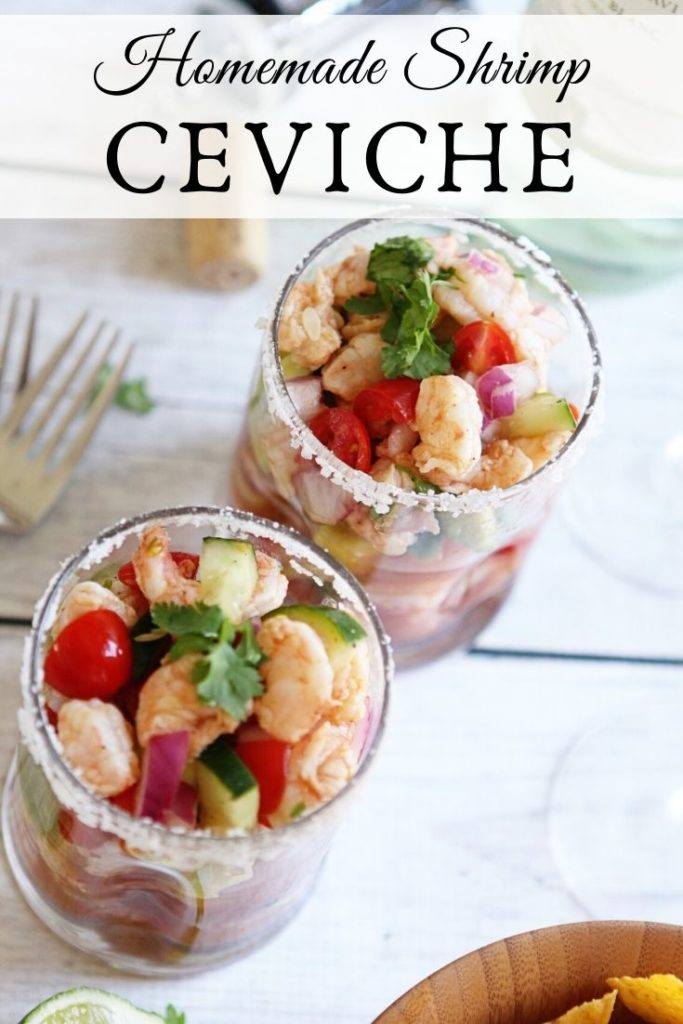 This Shrimp Ceviche recipe can be served as the perfect side with basically anything that can be grilled during the summer or you can serve it as an appetizer or even a main dish all on its own. It pairs nicely over the top of grilled steak or lobster tail, you can eat it with a fork, you can eat it with tortilla chips or you can even serve it on top of some crusty, baked garlic bread. It would even go well with the grilled sweet potatoes I put up on the blog last week. The options are pretty much endless.
The exact origin of ceviche is debatable but it is actually considered the national dish of Peru. Archeologist records actually suggest that something resembling ceviche was consumed in Peru almost 2,000 years ago.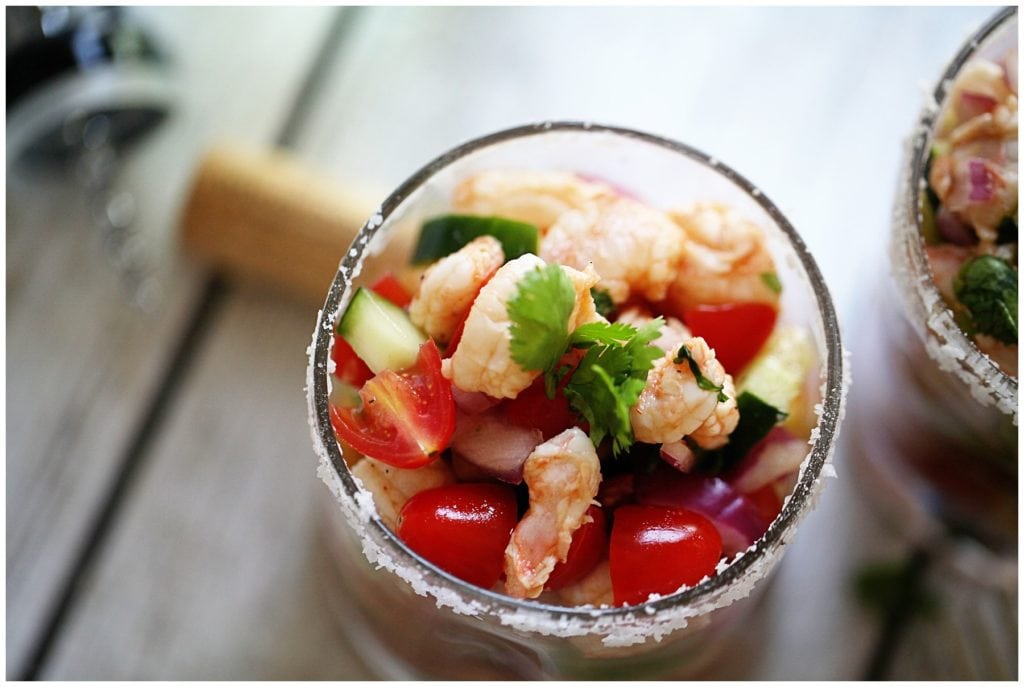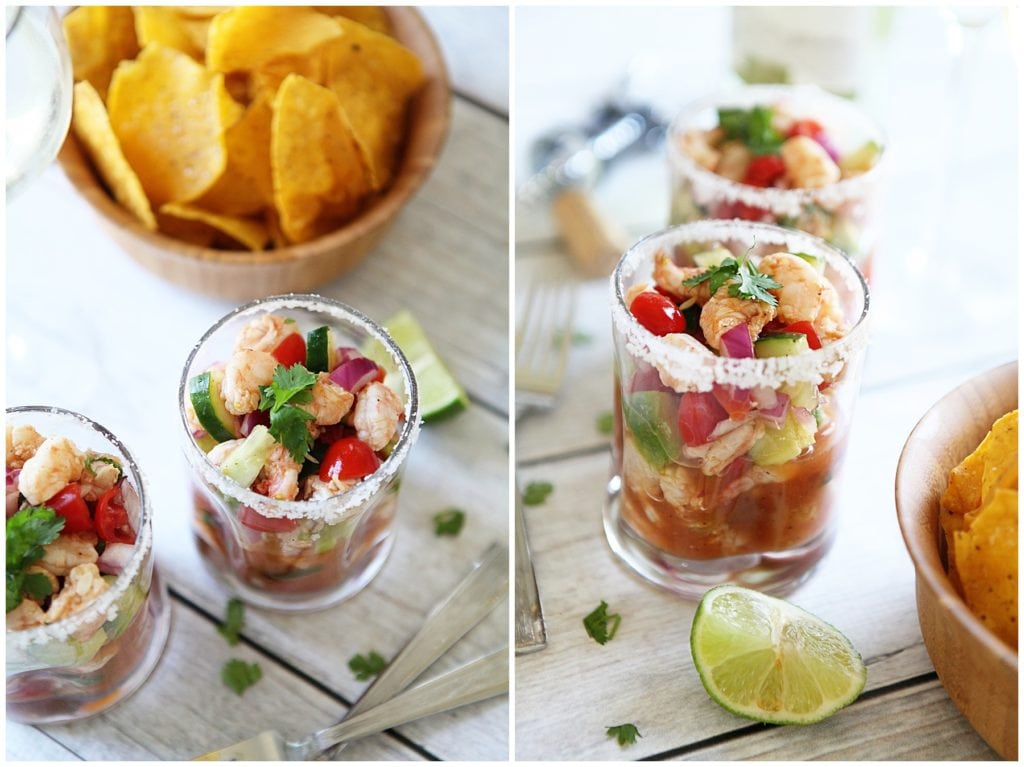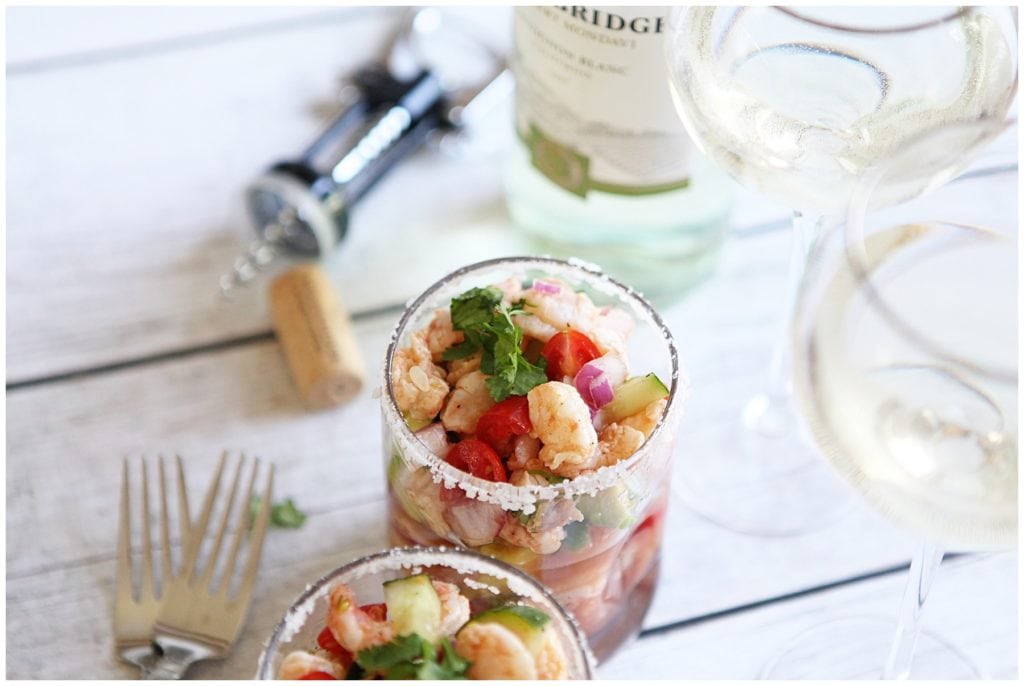 Throughout the ages, the way ceviche is "cooked" has remained the same. It is marinated in a citrus mixture, usually lemons and limes, and the citric acid causes the proteins in the seafood to appear cooked or be dentured. (Feel free to use that link and look that one up. It makes it sound more complicated than it is.)
Tip: This dish has to be prepared and consumed fresh. Because the fish is cured in lemon and lime juice you want to make sure you don't wait before consuming this.
Acid marinades will NOT kill bacteria unlike using heat to cook and ceviche marinating times will vary from recipe to recipe.
Make it and eat it as soon as it has "cooked" in the citrus juices. Because it is not cooked with heat, it will not keep.
All that said, this is one of the easiest dishes you will ever make at home. Basically, all you have to do is cut, squeeze and mix.
For more side dish recipes, click here. For all our recipes, click here.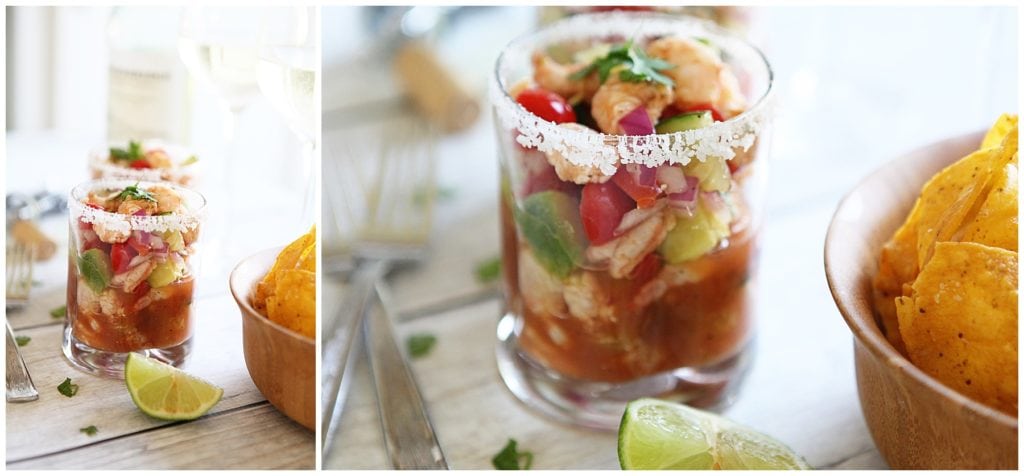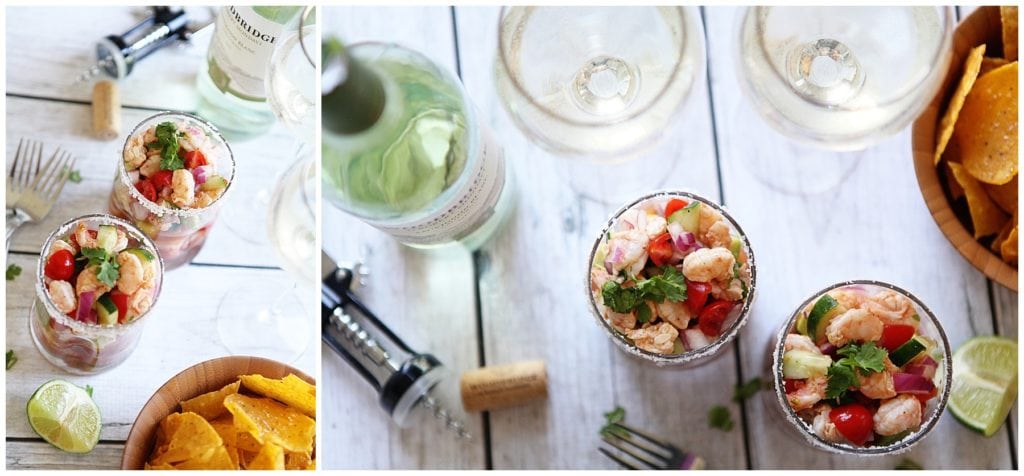 Shrimp Cocktail Ceviche Recipe
Recipe type:
Side, Appetizer
Prep time:
Cook time:
Total time:
Ingredients
Ingredients:
1 lb. FRESH, raw shrimp - peeled, deveined, tail removed
2 avocados, firm
½ cup fresh cilantro
1 cup cucumbers, sliced and quartered
1 cup cherry tomatoes, quartered
¾ red onion, diced
½ of a Serrano pepper, diced
Margarita salt

Marinade Ingredients:
¾ cup vegetable juice
2 limes, juiced
3 Tbsp. lemon juice
10 dashes of hot sauce
2 tsp. Worchester sauce
1½ tsp. garlic salt
½ tsp. black pepper
Instructions
Mix all ingredients for dressing in a bowl and chill.
Cut cucumbers, cherry tomatoes, red onion, cilantro and serrano pepper and set aside.
Cut avocado and squeeze a little extra lemon or lime over it to keep it from browning.
Remove dressing from the refrigerator and begin cutting shrimp. As you cut, toss the pieces into the bowl and coat.
Add all the ingredients except for the avocado to the bowl and toss.
Lightly fold in the avocado and mix well, but softly. You want firm avocados for this so they don't fall apart on you.
OR
Instead of mixing them in right away, I like to layer them in the glass I'm serving in. You can do this too if you like. You just have to make sure they have enough lemon/lime on them and are stored in an airtight container until serving or wait to cut them until just before serving.
Let everything marinate for 30 minutes to an hour.
To serve, rim a glass with margarita salt. Dip the top of the glass in some lime juice to hold the salt.
Add your ceviche to the glass and be sure to add some of the juice for additional flavor.
Keep for no more than 12 hours.