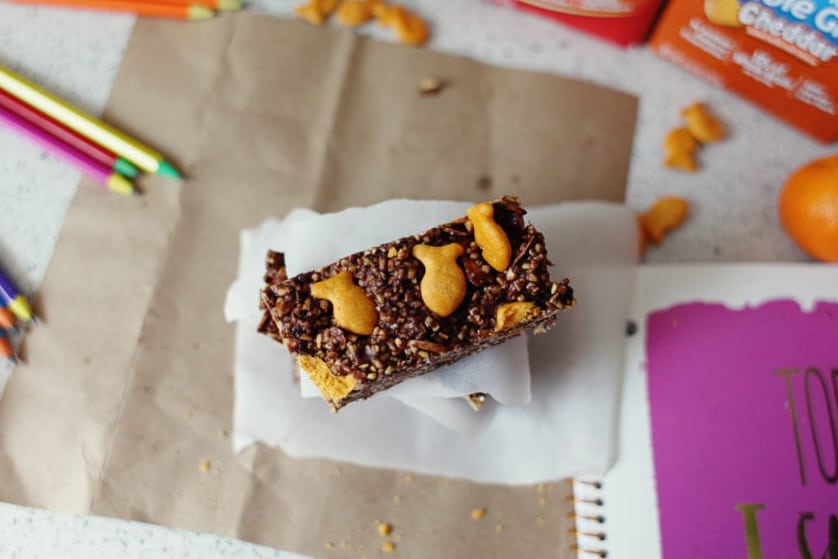 Since my daughter has started "big girl school" (AKA Kindergarten) I've been trying to step up my lunchbox game by giving her delicious choices while providing a little reason to smile.
Admittedly, this summer I was sort of a slacker when it came to lunch. Many days we were on-the-go and I didn't do a good enough job planning ahead to make sure she had something delicious and filling for her tummy. I wanted to make sure the school year was different.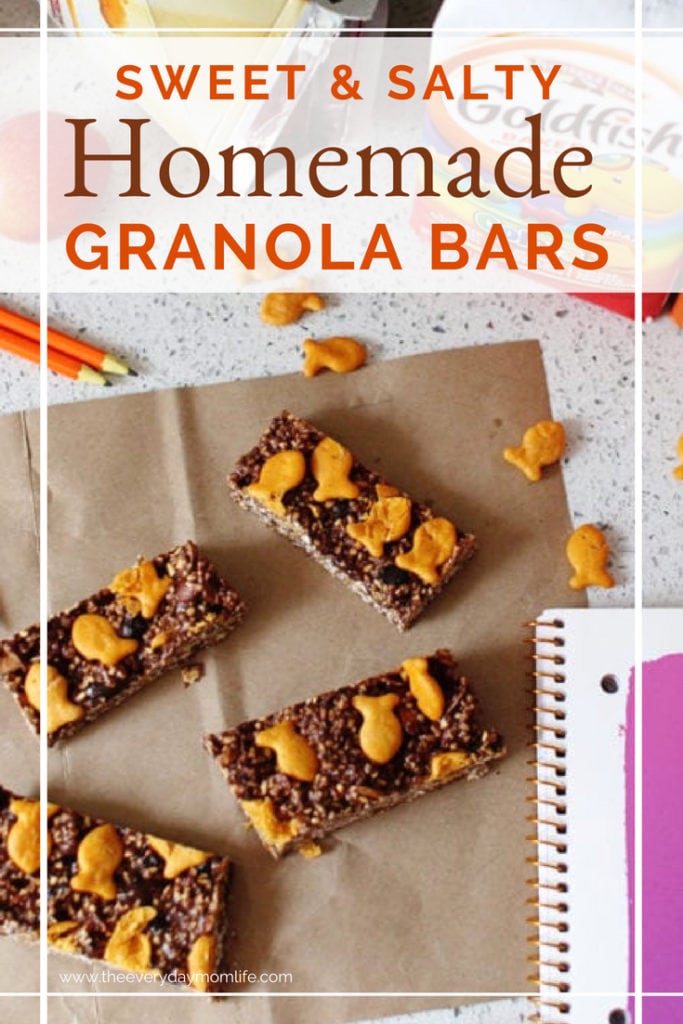 By the time lunch rolls around at school it's already been a long morning for her. I want to make sure I can give her a reason to smile and hopefully help to fuel her through the rest of her day. I really believe that sometimes just one smile can turn someone's day around and smiles are often infectious.

There are two ways I've been working to do this.
I've created personalized lunch box notes for the first 20 days of school to help her start the year off right. You can get these as a free printable when clicking here.

I've created some fun foods for her that will be unique and make her happy, such as these Sweet & Salty

Goldfish®

crackers

granola bars.
You can get the full recipe for these below.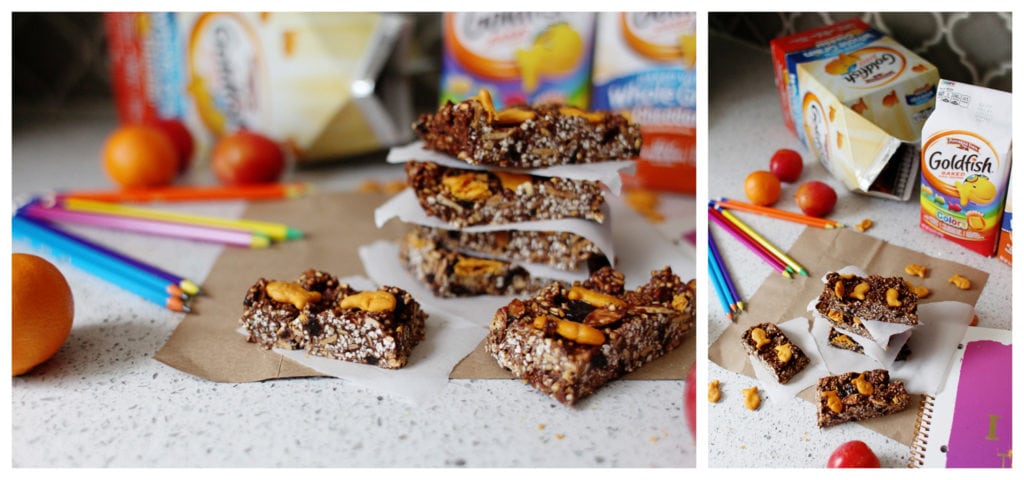 Sweet & Salty Goldfish crackers Granola Bars
Note: Before we dive in, you may find a lot of recipes that use brown rice syrup as a sticky ingredient for granola bars. After doing some research I discovered that brown rice syrup is hard to find and it actually can have more calories than both maple syrup and honey, depending on the brand.

Serve Up Smiles At School With Lunch Box Notes & Homemade Granola Bars
Prep time:
Cook time:
Total time:
Ingredients
2 cups of steel cut oats
1 cup of sliced almonds
1 cup of chocolate chips, you can use dark chocolate or milk chocolate
1 cup of raisins
½ cup of honey
1 Tbsp. of maple syrup
1 Tbsp. of all-natural peanut butter
Handful of Goldfish crackers
Instructions
Toast oats and almonds in the oven for 15 -20 at 350 degrees. You can use these raw but I like the flavor I get from toasting them.
While those are baking, warm honey, maple syrup and peanut butter on the stove. Make sure it is well blended. You'll have to break up the peanut butter by whisking.
Combine oats and almonds mixture, chocolate chips, raisins and sticky honey mixture. Mix thoroughly with a wooden spoon.
Pour the mixture into a baking dish. Make sure you have parchment paper or wax paper lining the dish. Otherwise your bar mixture will stick.
Top with Goldfish crackers, pushing lightly so each cracker is embedded in the granola mixture.
Put in the refrigerator for one hour. Depending on the temperature of your oat mixture and your honey mixture when you pour it in, you might be able to leave them in there less time.
Remove your paper from the baking dish and cut carefully, ensuring that you don't damage the Goldfish crackers.
Wrap the bars in parchment paper, wax paper or foil if you want to add them to a lunch box. Or you can put them in a container too.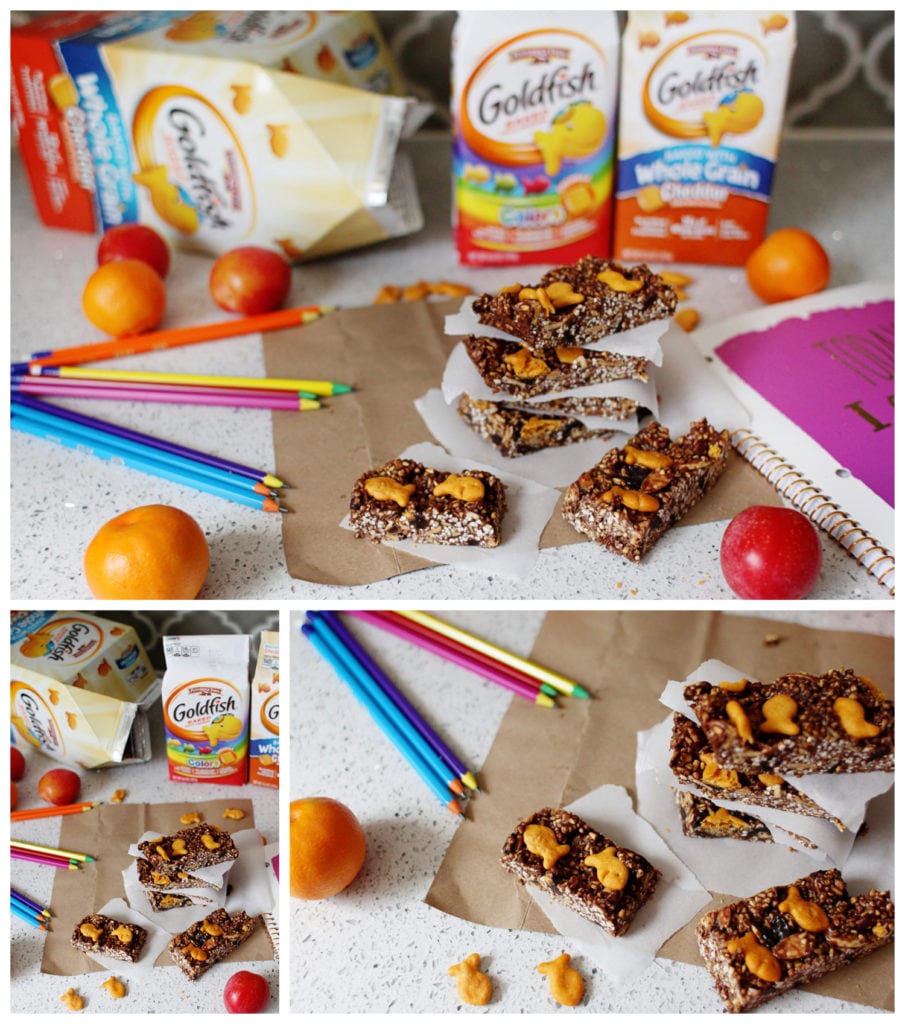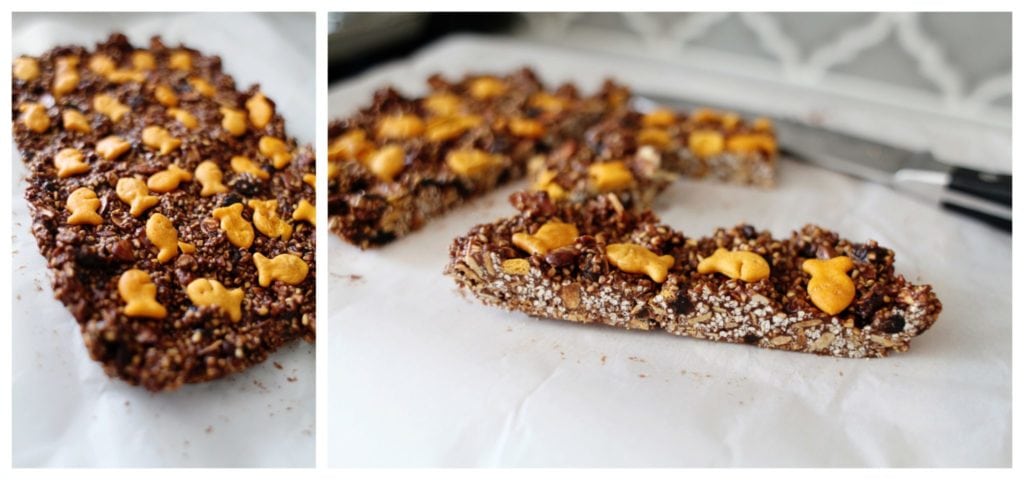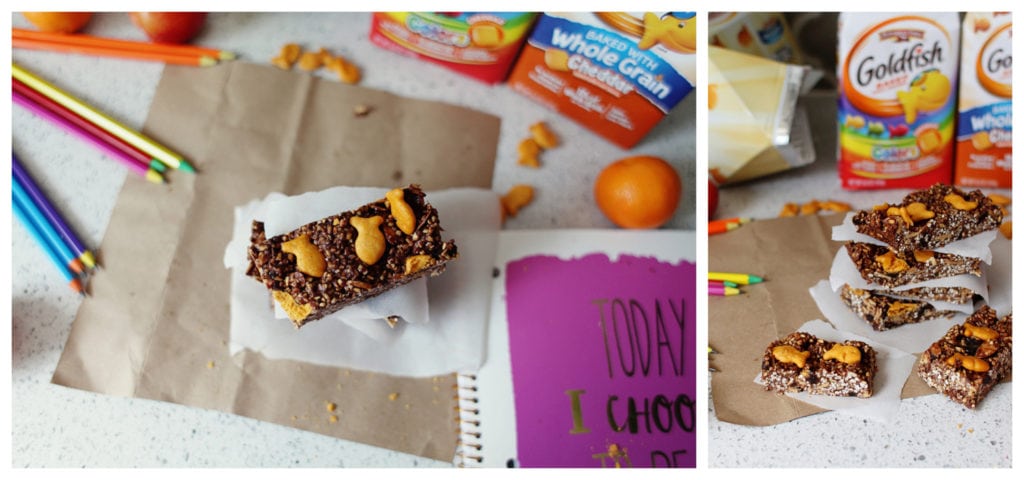 We hope you have a happy school year! Again, click here to grab the lunchbox notes! There's two versions now – one for elementary school kids and one for tweens and teens.
Click here to grab more recipes and here for more snack ideas.