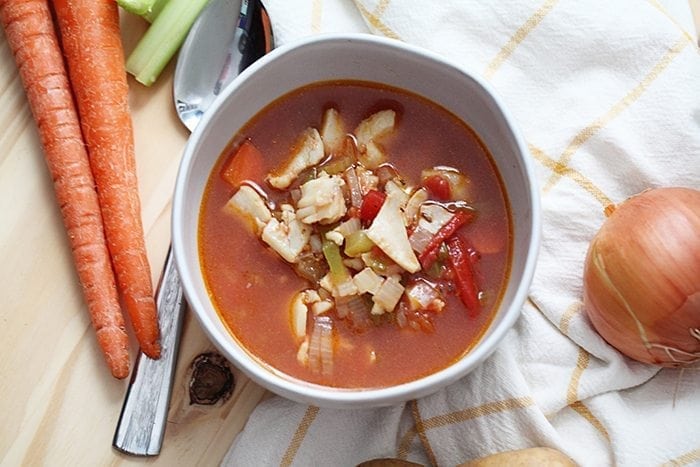 When my husband decided to go on Whole 30, I had to roll my eyes. He isn't a large man, but he has wanted to lose some of the weight that has attached itself to his dad bod. But, he's always trying diets and gives into his sweet tooth about four days later.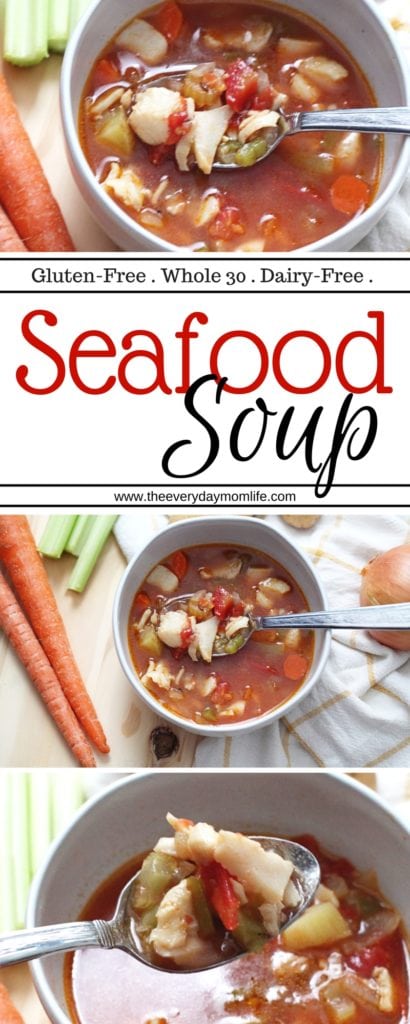 Originally, it was my idea to try it but I was having a hard time giving up the loves of my life – cheese, yogurt and ice cream. However, after watching him lose 7 lbs. in 8 days, I succumbed to the desire to look good in a bathing suit on spring break and jumped on the bandwagon too.
I already don't eat a lot of grains so that part wasn't difficult for me, but dairy, all added sugar, soy and beans were a different story. I'm a big believer in food being art, and I love being able to create something that makes someone happy as they get a full belly. Cutting my favorite foods just felt like a punch in the gut that was going to literally take away my creativity and starve me. No one is happy when they're starving.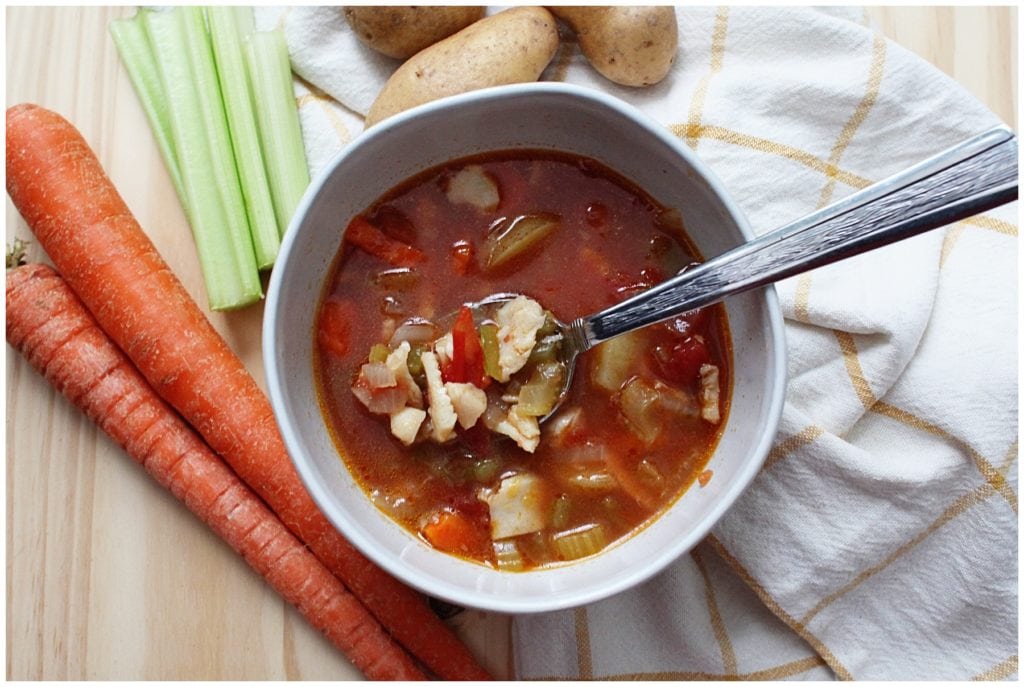 But, I decided to do it anyways. I decided it would be a challenge to my creativity when it comes to food, but was confident that I could make some things that I would really love too.
Soon after we started we went out to a fish restaurant on a date night and they had this amazing seafood soup. I wanted to lick the bowl. Since the soup was gluten free, grain free, dairy free and bean-free, I decided I would try to copy it at home.
My home version was a little less thick, but it was just as full of flavor and it was filled with vegetables that helped to keep us fill. Our fresh fish was flakey, light and didn't have a fishy taste at all. I ate it for the next three nights.
Also, since it is Lent this dovetailed nicely with the season. Check out the full recipe below!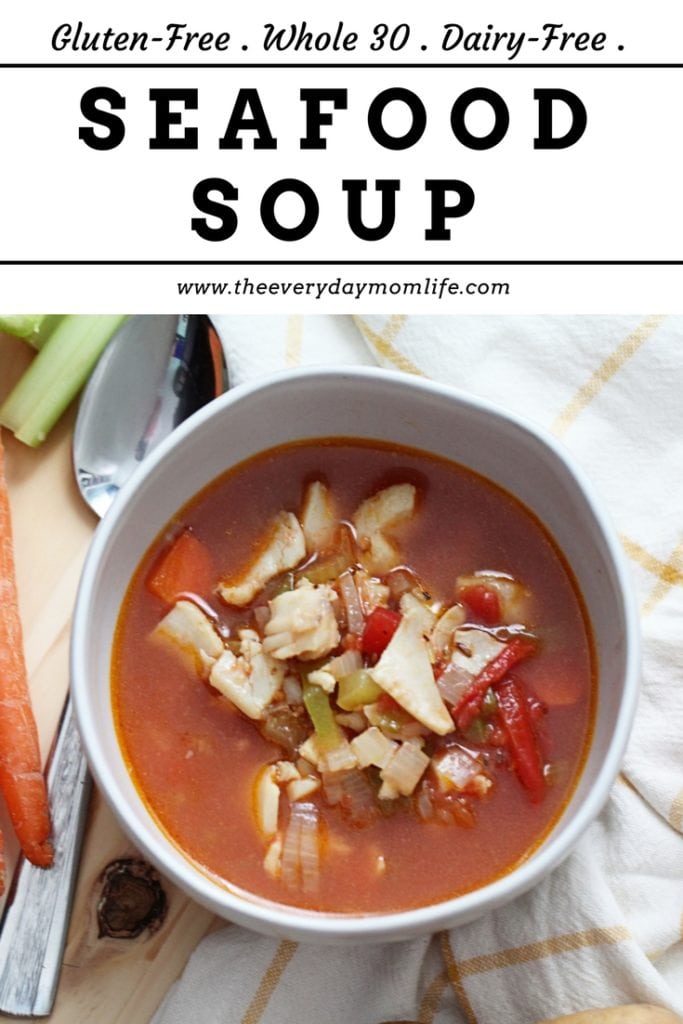 Seafood Soup
Prep time:
Cook time:
Total time:
Ingredients
2 lbs. of white fish, cubed
2 Tbsp. of olive oil or avocado oil
2 cloves of fresh garlic, chopped
1.5 tsp. of caraway seeds, crushed
½ Tbsp. of paprika
1 Tbsp. ground salt
¾ Tbsp. garlic salt
½ Tbsp. of pepper
½ Tbsp. of dried basil
3 bay leaves
60 oz. of chicken broth (Make sure it's gluten free if that's your thing.)
3 carrots, sliced
2, 41.5 oz. cans of diced tomatoes
1, 6 oz. can of natural tomato paste
2 green bell peppers, chopped small
1.5 large onions, diced
4 celery stalks, sliced
1.5 lbs. of red or golden potatoes, chopped into cubes
Optional: 1 lb. of shrimp and additional salt and pepper to taste
Instructions
Heat your olive oil or avocado oil in a Dutch oven or large pot. Add the crushed caraway seeds, onion and garlic. Sauté together until the onions are translucent.
Add the chicken stock, paprika, ground salt, garlic salt, pepper, dried basil, diced tomatoes, bay leaves and tomato paste.
Bring everything to a boil and then let it simmer for 30 minutes on low.
Add in your fish. You can use any kind of white fish you want. We used Halibut, which I actually wouldn't usually recommend because it's an expensive fish. However, I had purchased it for dinner one night, plans changed and then it was a day or two away from needing to be thrown away. The soup was my solution to use it all quickly while it was still fresh.
Taste the soup and see if you want to add the optional salt and pepper.
Simmer for about 10 more minutes.
If you're adding in the shrimp, add it in 5 minutes before the soup is finished. If it overcooks it will be hard and shriveled.
Depending on your fish, it will continue to flake apart as it cooks, which I was fine with. It fit perfectly, onto bite-sized spoonfuls and allowed you too get a little bit of everything.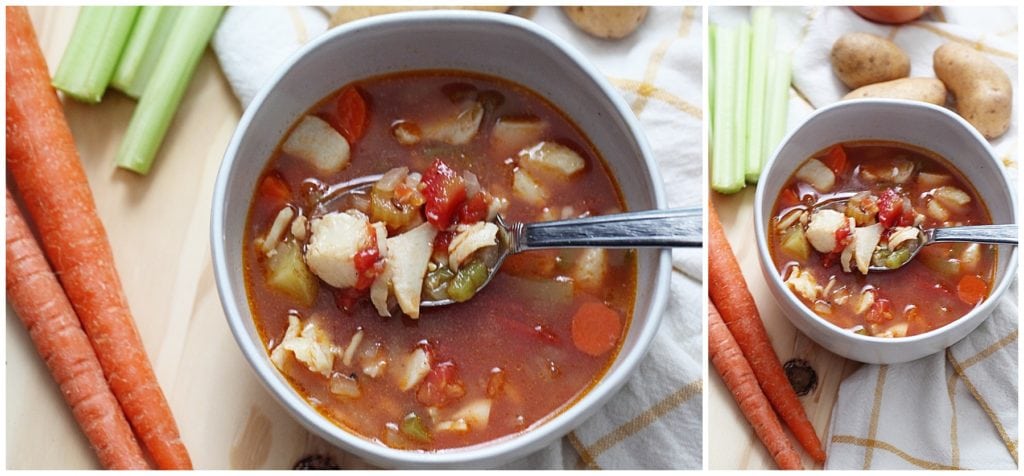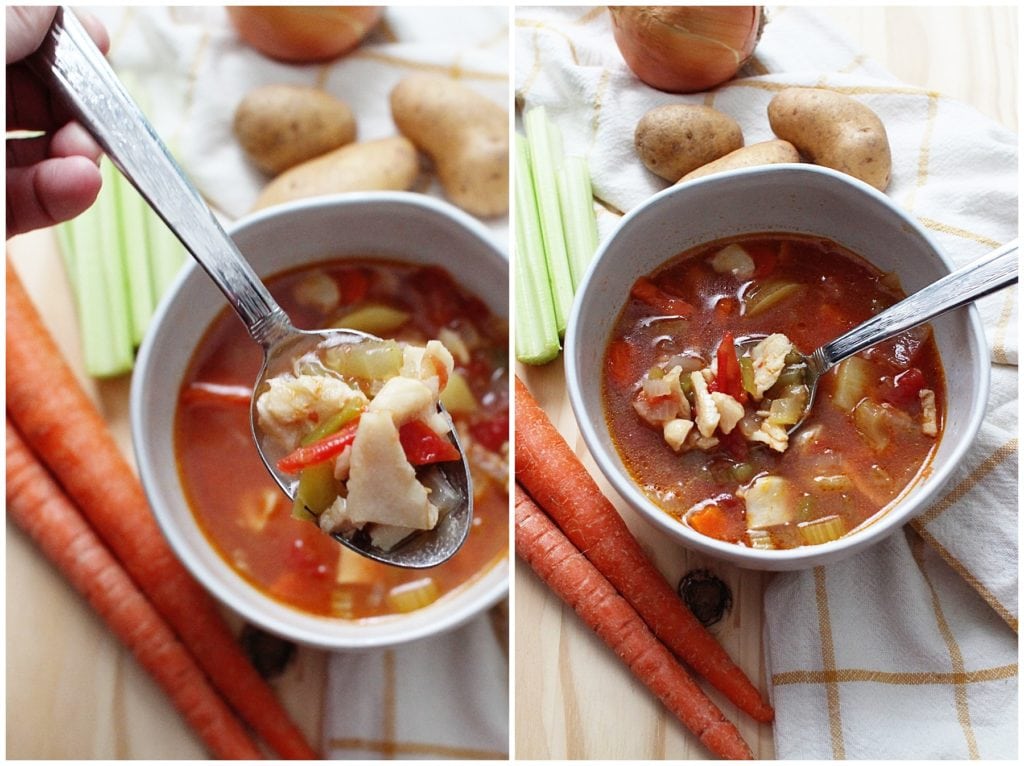 If your fish is fresh there will be NO FISHY TASTE in this soup. It made for a delicious meal that I could eat over and over. And, it made me feel better about having options while being on this restrictive eating plan.
We kept the soup for three days before it was completely gone. Our kids didn't eat it but my kids don't eat anything (just stab me in the heart) unless it tastes like a yogurt smoothie or is shaped like a nugget of some sort.
If kids aren't nearly as picky then they will probably eat this. If they don't like fish, tell them it's chicken. I swear they will never know the difference. 🙂
Happy eating, friends.
For more seafood recipes, click here.