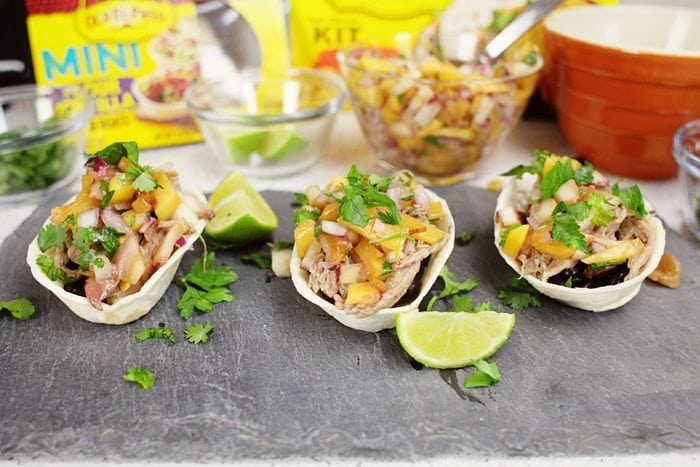 This post was sponsored by Old El Paso. All thoughts and opinions are my own.
It may be early fall still but it's chilly here already, especially at night. I spent most of the day today running around in a hoodie and have spent the evening huddled under a blanket on the couch with two, cute, curly-headed kids. Despite the chill, it's my favorite time of the year.
I love fall for the weather, the comfort food, the fall fruits, the togetherness that comes from back-to-school and sporting events and for the nostalgia those things have created for me. To me there is something just as magical about this time of the year as there is about the Christmas season.
Each year I like to pull all those warm and fuzzy things together to create something delicious for my family to eat or for a lot of people to eat at a football party.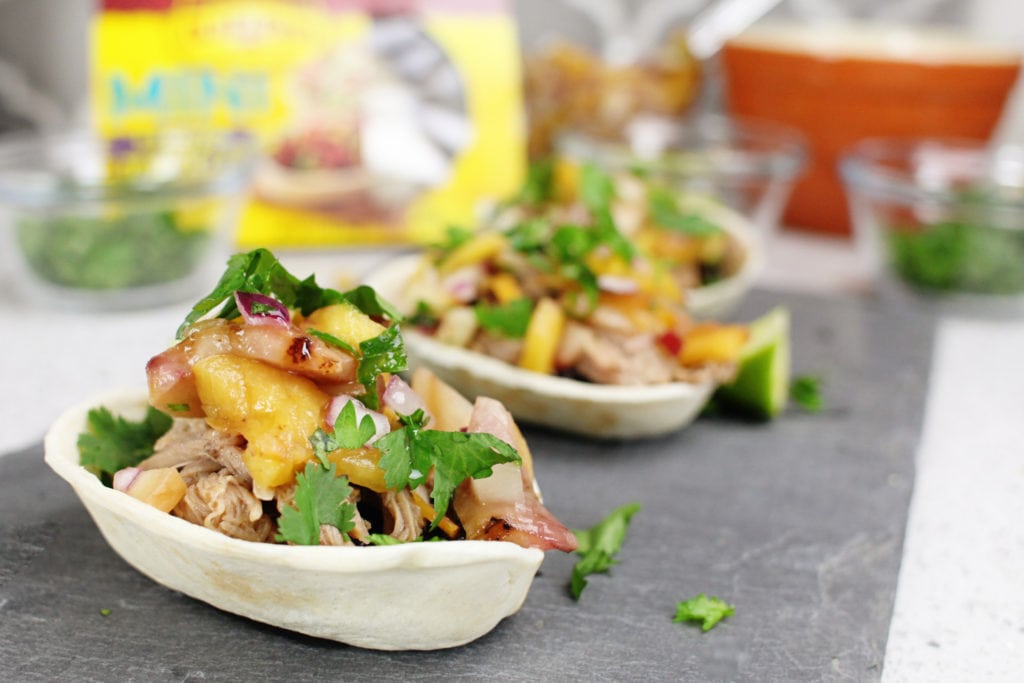 In early fall I love that peaches are in season and taste so perfect. They're a bit of a departure from fall fruits most people would think of (apples) but they are delicious this time of year and I love to use them to create great comforting desserts, appetizers or meals!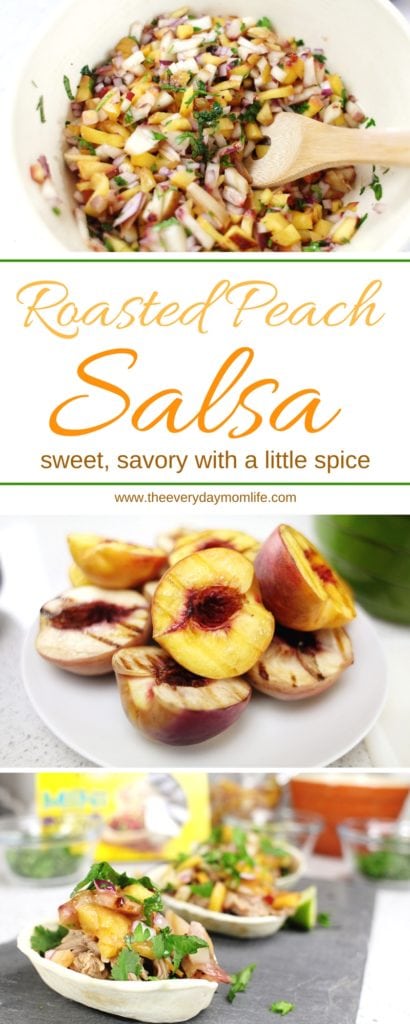 In partnership with Old El Paso I decided to celebrate the peach this year and create a special way to top of their new Old El Paso Mini Soft Stand 'n Stuff Flour Tortilla Taco Boats! These are perfect for football parties and tailgating. These Roasted Peach Salsa and Carnitas Taco Boats are the sweetest little bite of sweet with a little spice to balance it all out.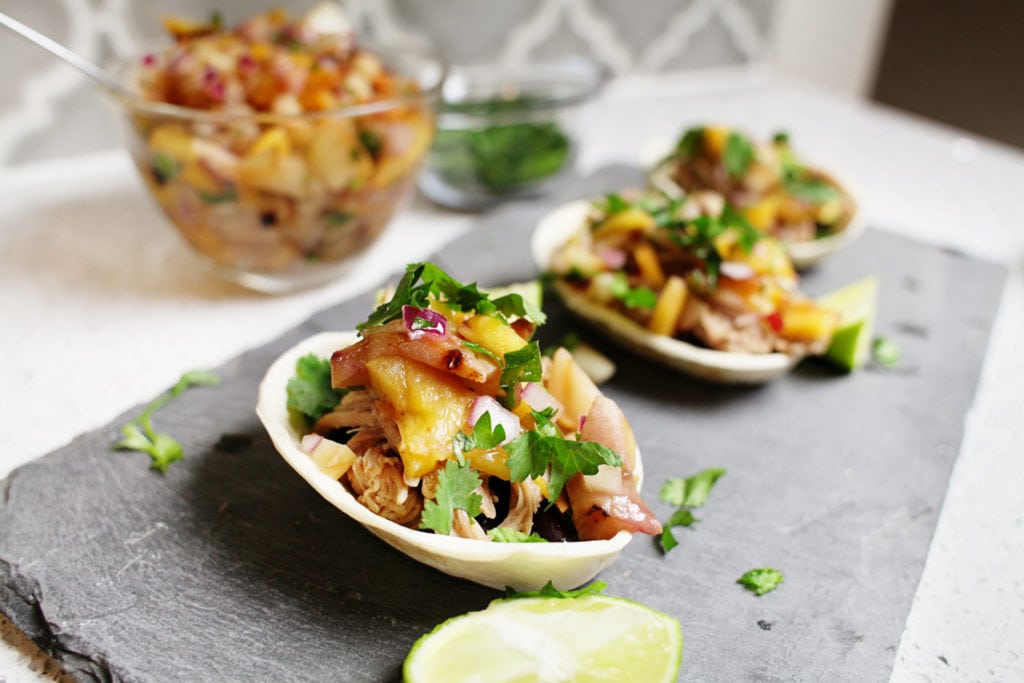 I love how the taco boats are snack-size so you can have one of them or you can have a few and make a meal out of it. I also love that the boat shape keeps all the insides from falling out. It's perfect for when you're standing watching a game or chatting with friends in the parking lot beforehand. Genius little creation!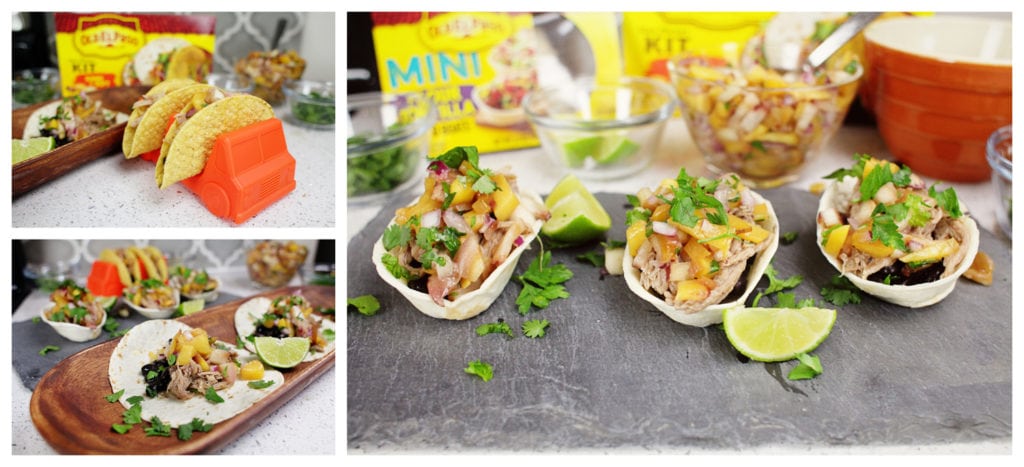 Grab the full recipe below and make sure to take a peek at the video to see how I pulled everything together!
Roasted Peach Salsa and Carnitas Taco Boats
Peach Salsa Ingredients:
6 peaches

You can use either orange or white. My store had them mixed together so I ended up with both. I would have preferred all orange though.

Juice of 1 lime
1 cup red onion, diced
1/2 cup of cilantro, chopped
1/4 cup of parsley, chopped
1 Tbsp. of salt
Optional: 2 Tsp. of jalapeno

I had these growing in the garden and while they are spicy they aren't as spicy as the ones I buy. I added more later for more spice. However, if your kids or anyone who doesn't like spice is eating this, just put them on the side.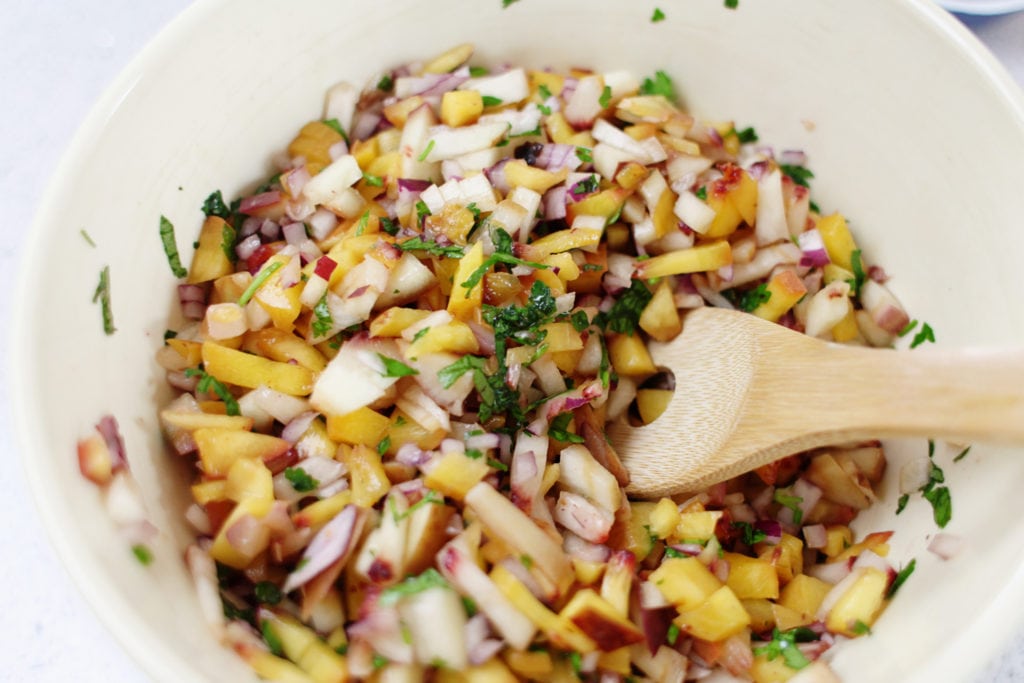 Carnitas Ingredients:
1, 3-5 pound pork shoulder or pork butt
½ cup of orange juice
2 Tbsp, paprika
2 Tbsp. cumin
1 Tbsp. of chili powder
1 Tbsp. pepper
1 Tbsp. salt
2 Tsp. crushed red pepper
1/2 Tsp. cinnamon
1-2 fresh tomatoes, sliced
1 medium onion, sliced
Juice of one lime
2 Tbsp. of olive oil
6 cloves of garlic, peeled
3 bay leaves

Carnitas Steps:
Mix all your dry spices together and rub half on the bottom side of the pork roast.
Add your pork roast to the crockpot and rub the top with the other half of the spice mix.
Add your onions, tomatoes, garlic cloves and bay leaves around the roast.
Add your lime juice and orange juice around the side of the roast. Make sure that you don't pour it over the top so that you don't wash away all your spices.
Set on low for 8-10 hours.

Roasted Peach Salsa:
Slice your peaches in half and pull out the seed. Rub the olive oil on the open sides of the peaches and then lay them fruit side down on the grill for four minutes.
Flip them to the skin side for another four minutes.
Remove your peaches and let them cool.
In the meantime, chop/mince all other ingredients.
Chop your peaches and add them to a large bowl.
Add your red onion, jalapeno, cilantro and parsley, lime juice and salt. The salt will help to pull all the juices out of the peaches so that your salsa is more robust versus just being chopped fruit.
Chill for at least two hours.
Both of these items can be made the day before the big game. In my opinion they both always taste better the next day. If you're tailgating they both transport well and you can heat up the carnitas on a grill.
During a football party or while tailgating just pull it all together.

Additional Optional Ingredients:
Old El Paso Mini Soft Stand 'n Stuff Flour Tortilla Taco Boats
Old El Paso Taco Dinner Kit Hard & Soft
Black beans
Extra cilantro, chopped
Extra parsley, chopped
Limes
Using your Old El Paso Mini Soft Stand 'n Stuff Flour Tortilla Taco Boats, or the hard and soft tacos, add black beans first. Top with your carnitas, salsa and then any additional ingredients you like!