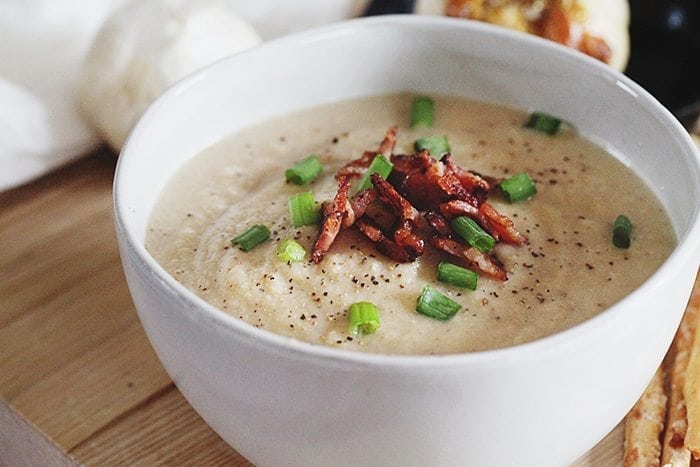 If you've been following my recipes for a while then you know I'm not dairy-free, gluten-free or anything-free-type-girl. I love using whole foods – cream, whole milk, butter, olive oil, real chocolate, real sugar, etc.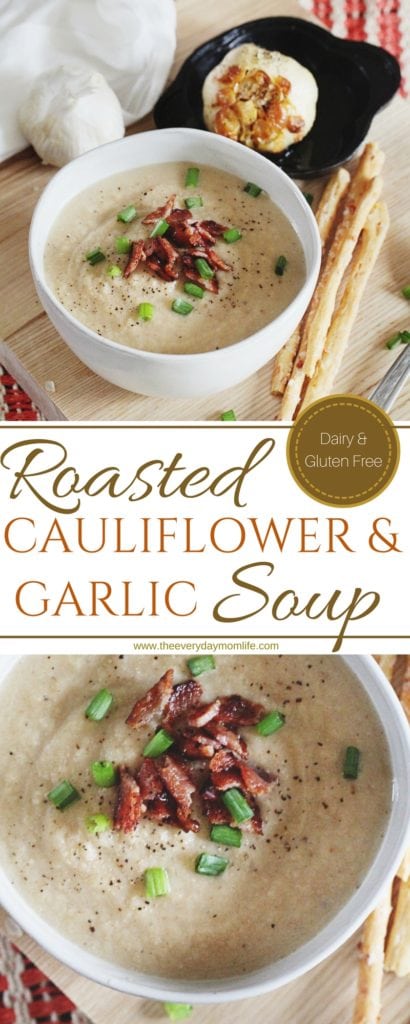 However, when I set out to make this Roasted Cauliflower & Garlic Soup I wanted to make it as simple as possible and I wanted to try and make it without any cream, milk or cheese. I saw it as a personal challenge of sorts because I usually prefer soup with some cream. As I made this though, I sampled long the way 🙂 and found it delicious all on it's own.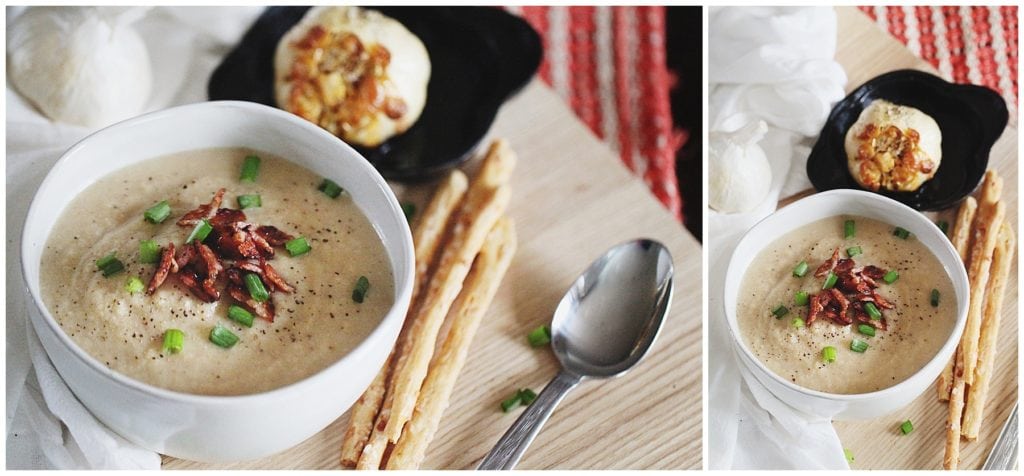 I wanted a soup that would be nutritious, lighter and mainly vegetables. But I still wanted it to be filling and delicious. I believe this recipe fits the bill and is perfect for meals in the days following the holidays. We ate this after Thanksgiving when I didn't really want much of anything. I think I'll be making it after Christmas too. Check out the full recipe below.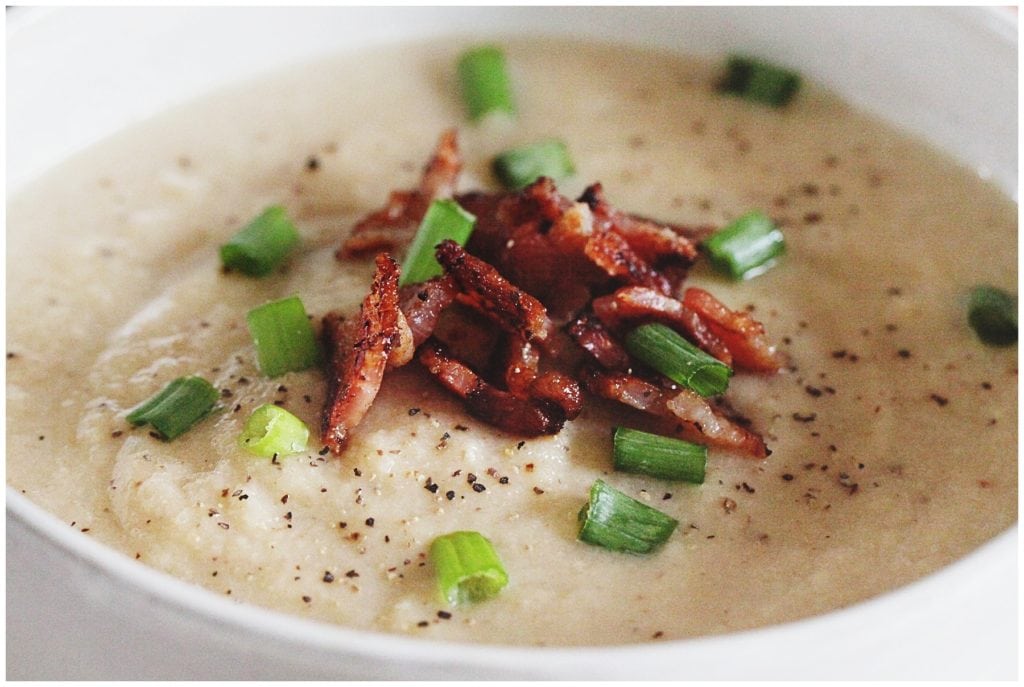 Roasted Cauliflower & Garlic Soup
Ingredients:
32 oz. of chicken broth or vegetable broth (I use a gluten free version for both. You have to be careful if you are gluten free to double check the chicken broth. The kind I like just happens to be gluten free.)
2 heads of garlic
5 cups of cauliflower
1 white onion, diced
6 Tbsp. of olive oil
2 Tbsp. of parsley
2 Tbsp. of thyme
2 Tbsp. of garlic salt
3 sage leaves
Salt and pepper
Optional toppings: Bacon, green onion

Servings: 3 large bowls, 4 small bowls
Steps:
1. Preheat oven to 400.
2. Roast your garlic by using either a garlic roaster or head of garlic wrapped in tin foil (placed on top of a cookie sheet). Add 2 Tbsp. of olive oil to the roaster by pouring it over the garlic. Add salt and pepper as desired. I like to use freshly ground pepper and sea salt.
3. Cook for 45 minutes to 1 hour.

4. Spread cauliflower out on a cookie sheet and use 2 Tbsp. of olive oil to coat it. I use a basting brush to help ensure it covers the surface.
5. Sprinkle with salt and pepper and add it to the oven with the garlic. The cauliflower will cook in about 20-25 minutes.
6. Once the garlic is done, use a spoon to help coax the garlic out of each slot. I tried just using my fingers but it would always smoosh the garlic, which would be fine if it didn't make a huge mess. If you wedge the spoon in between the pieces and use it to push the garlic up from the bottom it will work well.
7. Add your last two 2 Tbsp. of olive oil to a Dutch oven or pot on the stove and heat through. Then add your diced onion and cook till translucent. Stir frequently.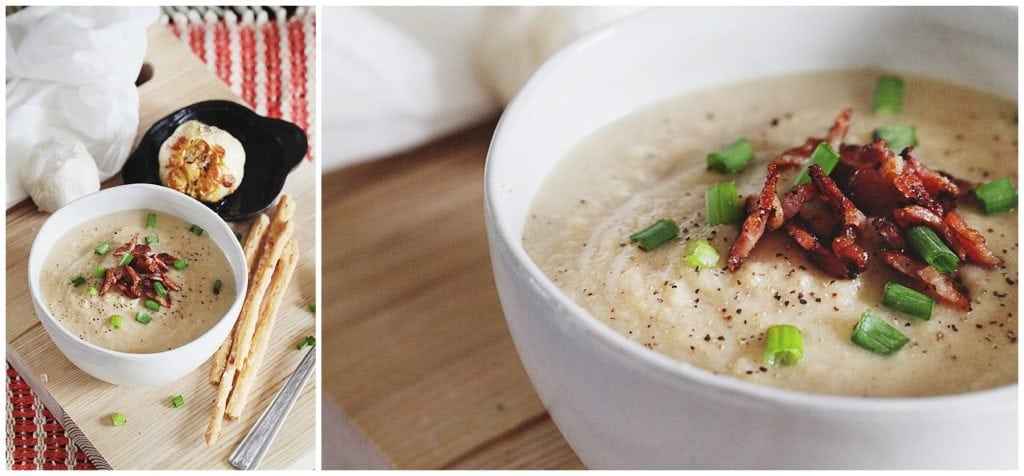 8. Combine the garlic, cauliflower and chicken broth in the blender and blend on your liquefy setting. Do this in stages if your blender isn't large.
9. Add the blended soup to the Dutch over/pot and add your herbs.
10. Simmer for at least one hour. I simmered mine for about two but one is enough to combine all the flavors.
If you're going to add bacon as a topping like I did cook it while the soup simmers.
Serve immediately and add any garnish like the bacon, green onion and fresh cracked pepper on mine.
There might seem like there are a lot of steps but it's really a simple recipe. Once you get things to blend you literally dump it all into a pot.
I hope you try it and love it! The roasting of the cauliflower and garlic really gives the whole soup a nice, robust flavor that's perfect for winter.
Happy Eating, friends!