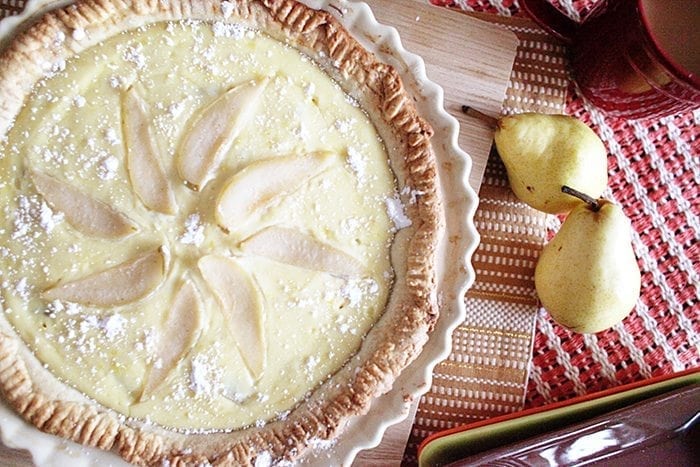 During this time of the year, I know pumpkins and apples are king. However, I always start getting tired of those flavors by the time the end of November rolls around and start dreaming of new dessert combinations. Enter the pear and this creamy, lights Ricotta & Pear Pie.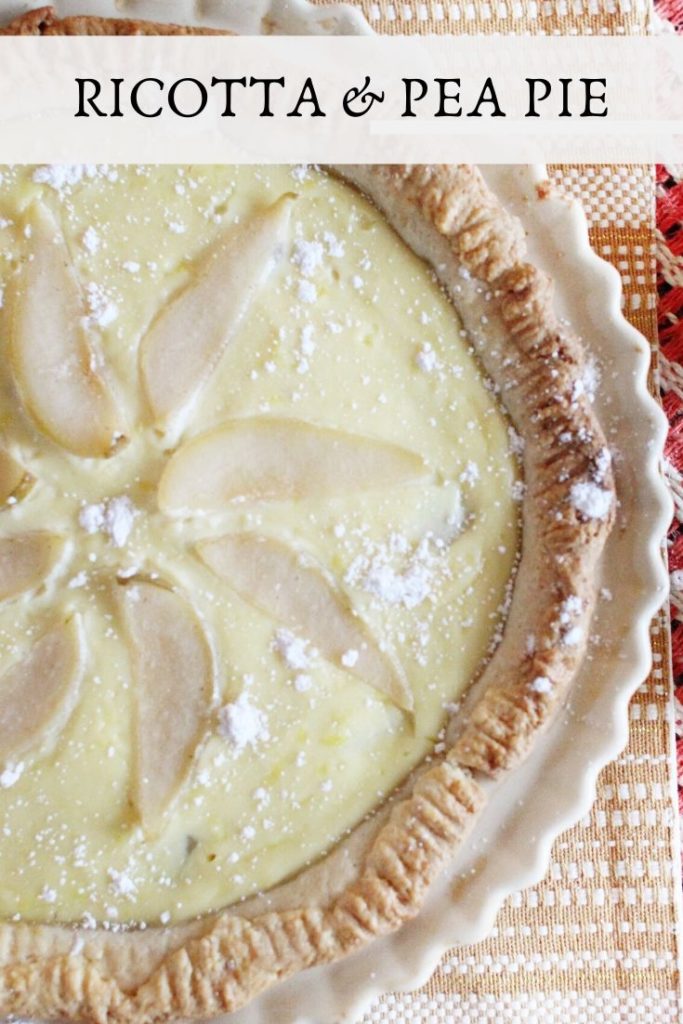 We love pears in our house and I often think that the pear is a forgotten fruit. Sometimes you can find it mixed into a topping for a pork chop, or as part of a dessert, but really it doesn't get to be the star fruit often. Apple and pumpkin certainly take center stage in the fall but baking with pears is a nice departure from the norm and your creations can be just as sweet and delicious.
That said, I didn't plan to make this pie. I had planned to make a cake. However, at the last minute I changed my mind. I'm totally a pie person and since I had just made a pumpkin cake, my desire for a creamy, delicious pie won out.
This Ricotta & Pear Pie is really the perfect afternoon treat or great for a relaxing evening after dinner. It isn't overly sweet. Instead the cheese makes it just sweet enough to enjoy with a nice cup of coffee and you sit back after a long day and savor all the good moments.
The fruit and the cheese complement each other too. While this recipe has sugar in it, it's just enough to product subtle notes of sweet and really lets the texture and other flavors shine. Get the full recipe below!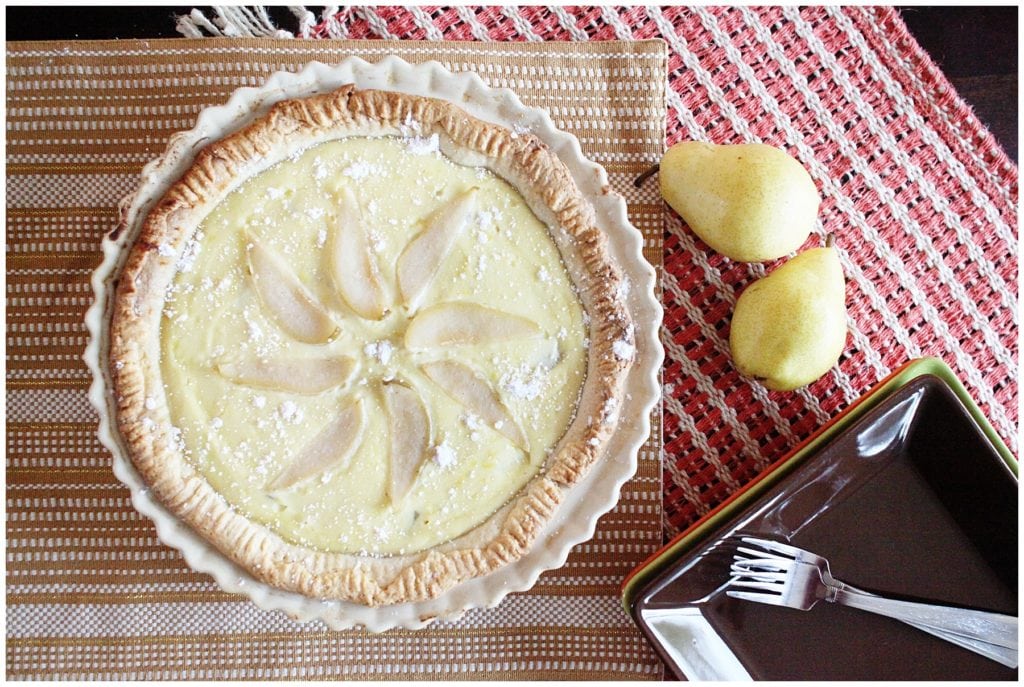 Ricotta & Pear Pie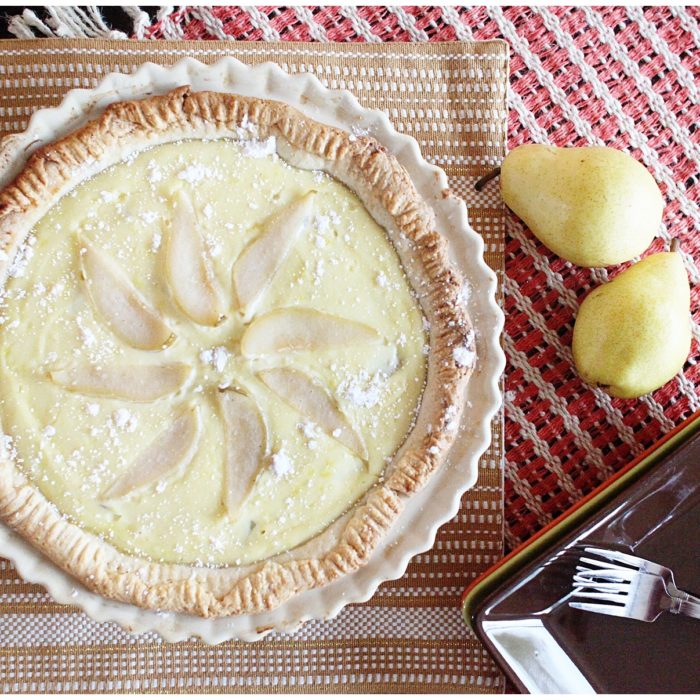 Ricotta and Pear Pie
This Ricotta and Pear Pie is a light and creamy way to end a meal. Delicious without being heavy and just a touch of sweetness.
Print
Pin
Rate
Ingredients
Crust Ingredients
2.5

cups

of flour

1/2

cup

of sugar

1

cup

of butter

1/4

cup

sour cream

2

eggs

1/4

tsp.

baking powder
Ingredients for poaching pears
4

pears, cubed

Slice a few for the top of the pie too.

2

Tbsp.

cinnamon

2

Tbsp.

of maple syrup

1

tsp.

nutmeg

1

Tbsp.

lemon
Pie Filling Ingredients
Pears, cubed and poached

2.5

cups

of ricotta cheese

3/4

cups

sugar

1

Tbsp

lemon zest

2

tsp.

vanilla

2

eggs

Optional: Powdered sugar for the topping
Instructions
Preheat your oven to 350 degrees.

Add the seasoning ingredients to a large pot with 5 cups of water for the pears. Once it is heated through to the proper temperature, add your cut pears. Water should be kept at a consistent temperature and the pears should be fully submerged. You don't want it to boil like a pot of water so leaving them to simmer is a good way to make sure the water doesn't get too hot. Leave them to cook for about 20 minutes while you make the dough.

• You can use any ingredients in the water you think will make the fruit more flavorful. I used the ones noted above.

For the pie crust, combine all of your dry ingredients and mix thoroughly.

Add your butter, eggs and sour cream and mix well until there are no lumps and the ingredients are well combined.

Chill your dough for about 30 minutes to 1 hour.

While the dough is chilling remove your pears from the water and make sure they are well drained. Cool the pears down by running cold water over them in a colander and/or adding them to the fridge.

For your filling, mix ricotta, sugar and eggs until everything is well combined. Add your lemon zest and vanilla until the filling is smooth.

Roll your dough out and place it in the pie dish. Form the sides of the dish as desired and crimp with a fork.

Add your cubed pears and then pour the ricotta mixture over the tops of the pears.

Top with the sliced pears and then put in the over on the middle rack. Bake for 50 minutes or until you see the crust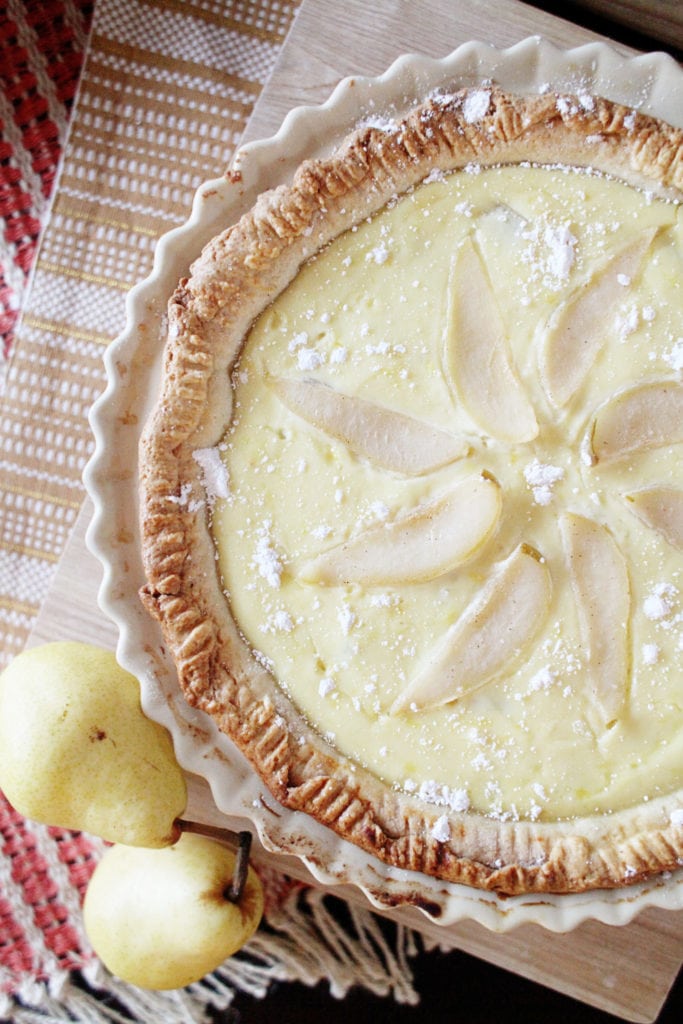 I hope you enjoy this, friends! Happy eating!
For more dessert ideas, click here.