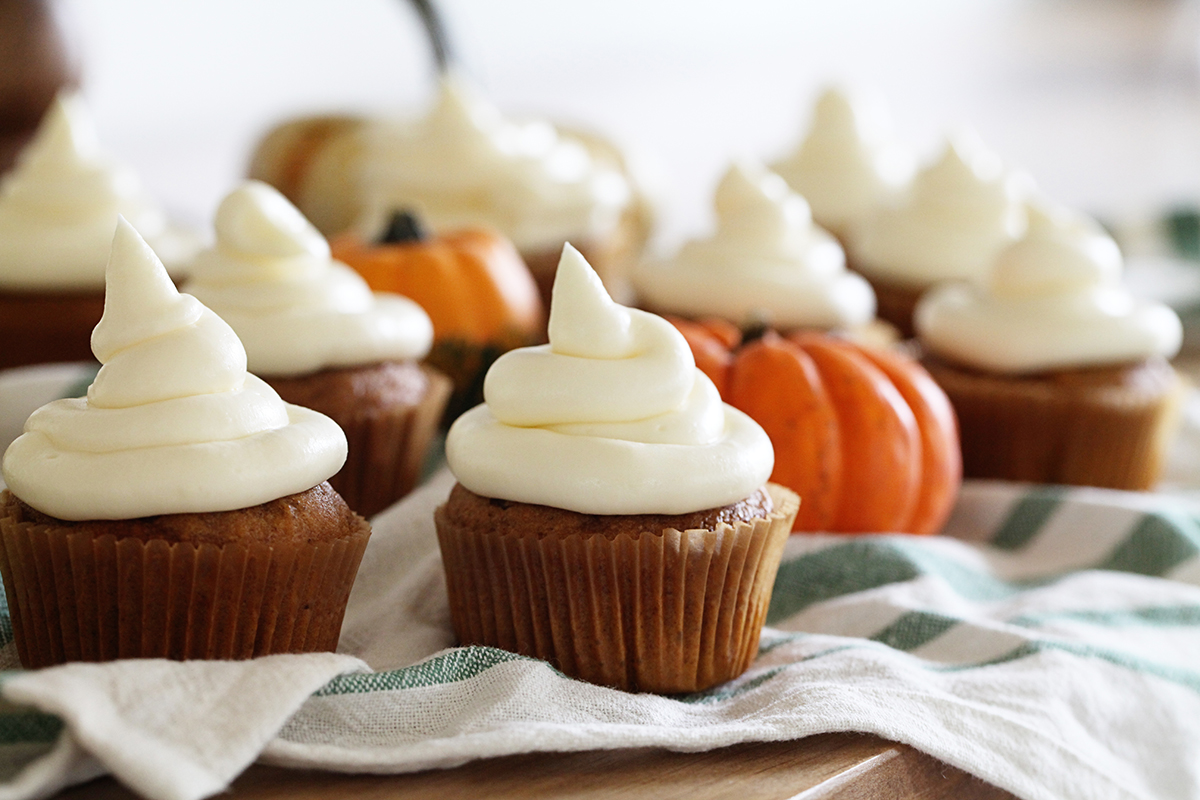 I wanted to squeeze in one more pumpkin recipe before we left the month of October. Because no one eats pumpkin anymore in November, right? 🙂
I made this Pumpkin Cupcake with Cream Cheese Frosting recipe as one of my very first blog posts two years ago – when this blog had a different name and a different purpose. I've made a few tweaks since the first time I made it and I think this is one of my favorite simplest, baked recipes.
I'm fairly picky when it comes to any kind of cake-like item. I get irritated when people make cupcakes that aren't sweet enough, which I find a lot of those boutique cupcake places do, and then place a gritty, sugar frosting on top. I hate when I bite into dry cupcakes too.
All that said, I feel pretty proud of this little recipe. I love the light pumpkin flavor – not too much "spice" – and how moist the cake is. If you like Starbucks Pumpkin Loaf, then you'll find the flavor of this cake in this cupcake similar.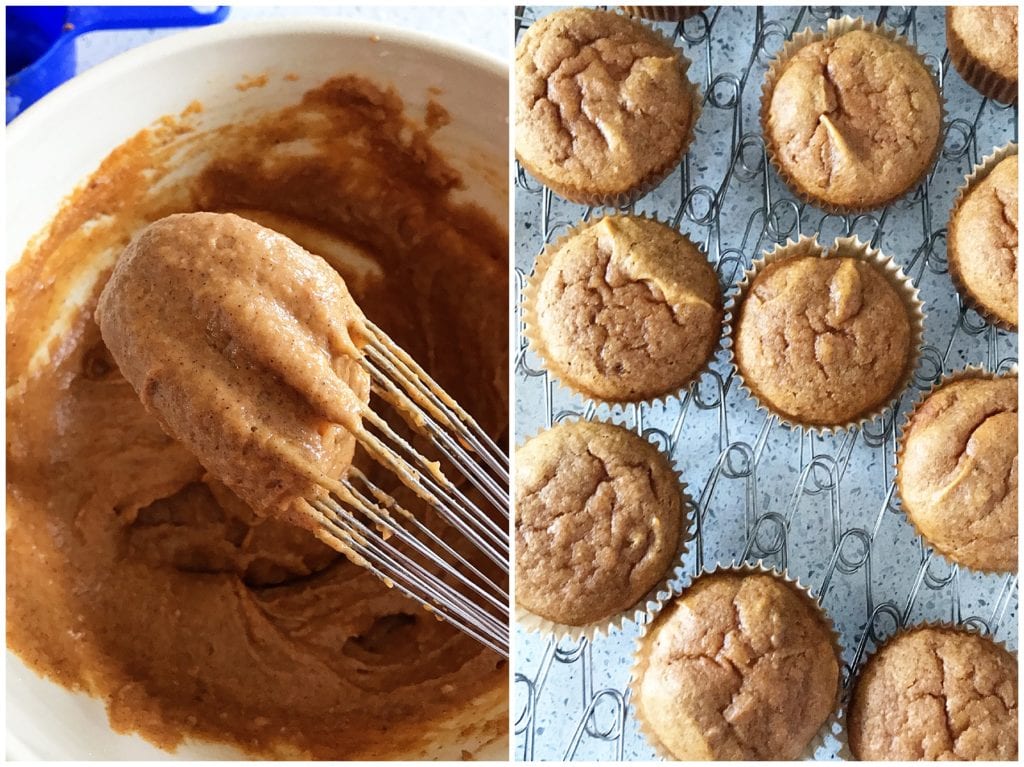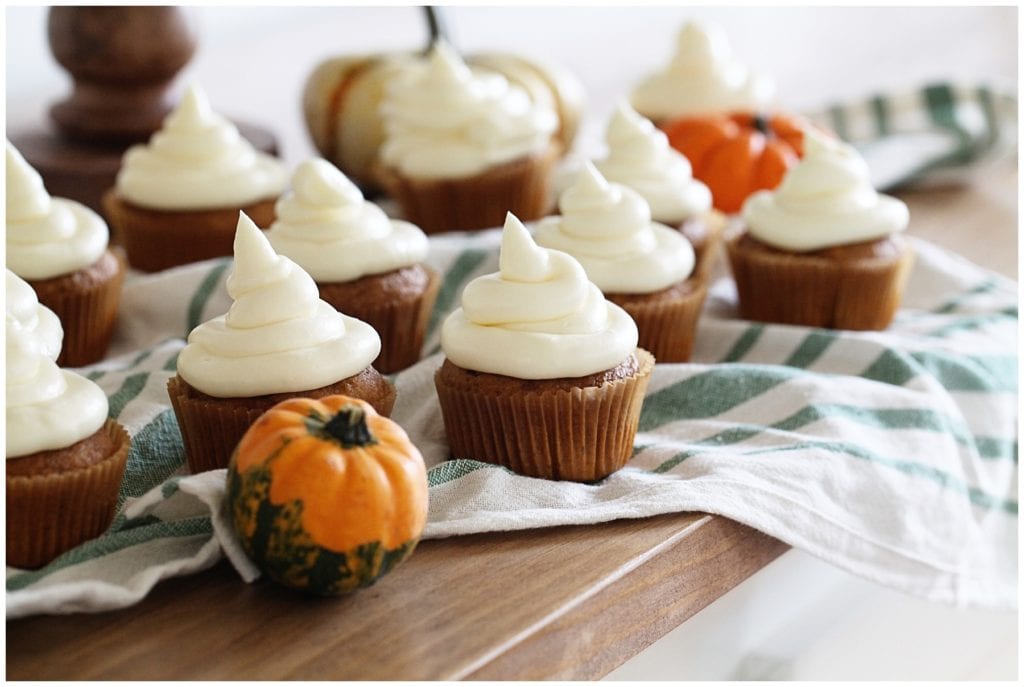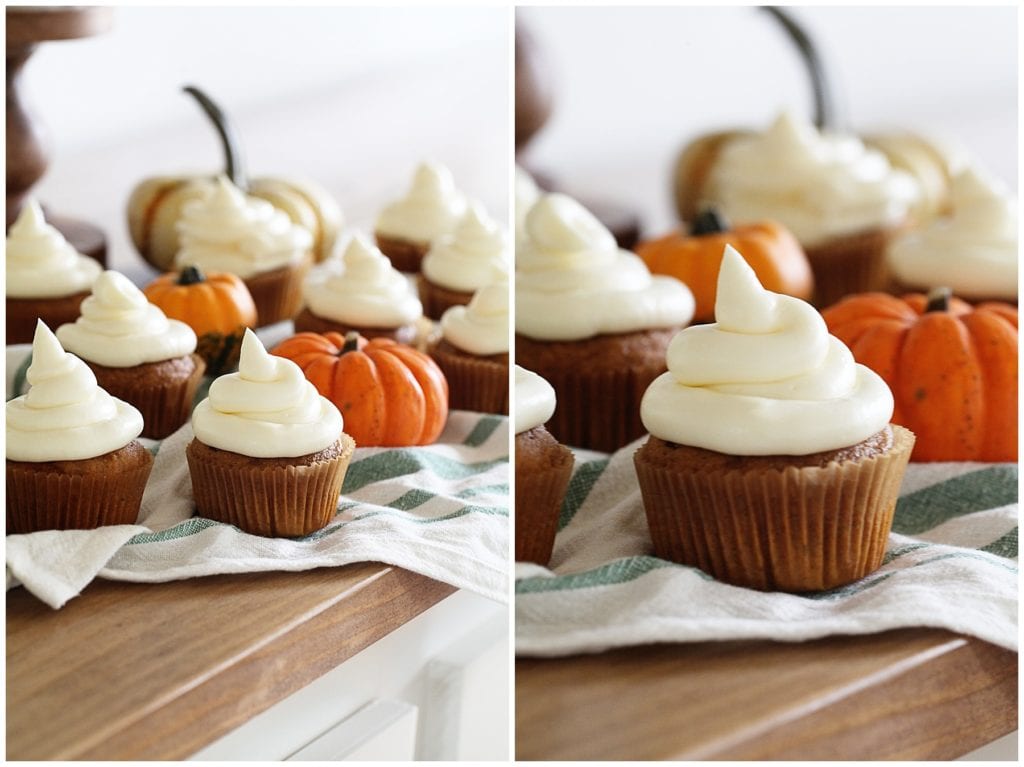 I also love this frosting – and I mean LOVE in a way that makes me lick it directly from the mixer attachments.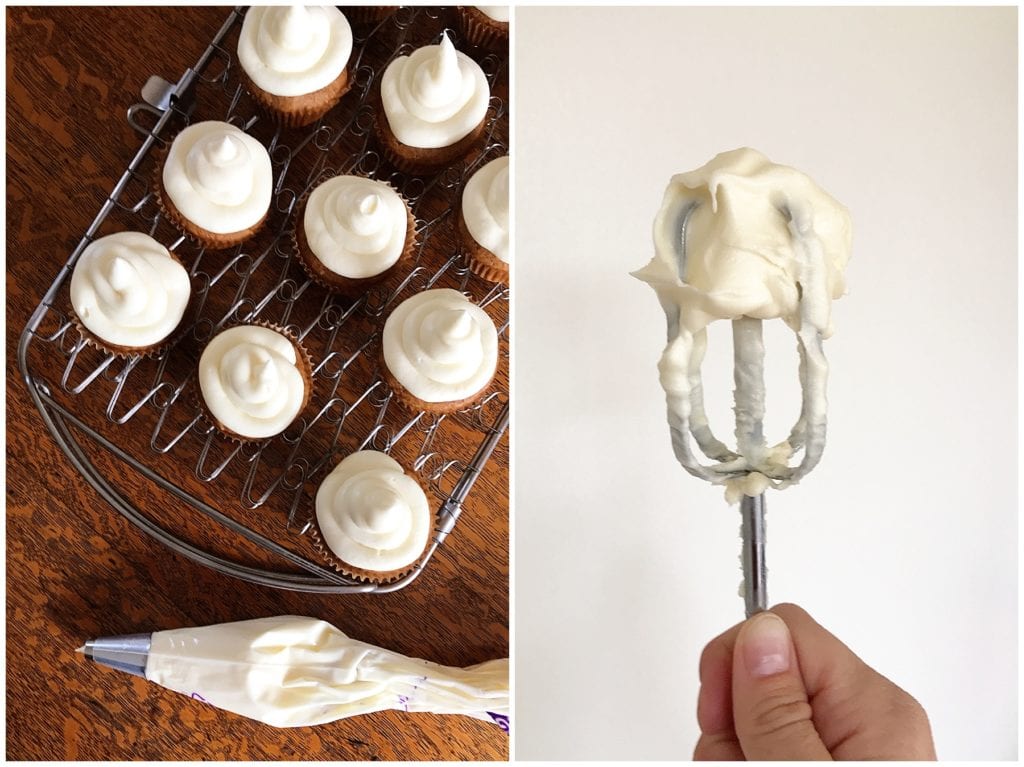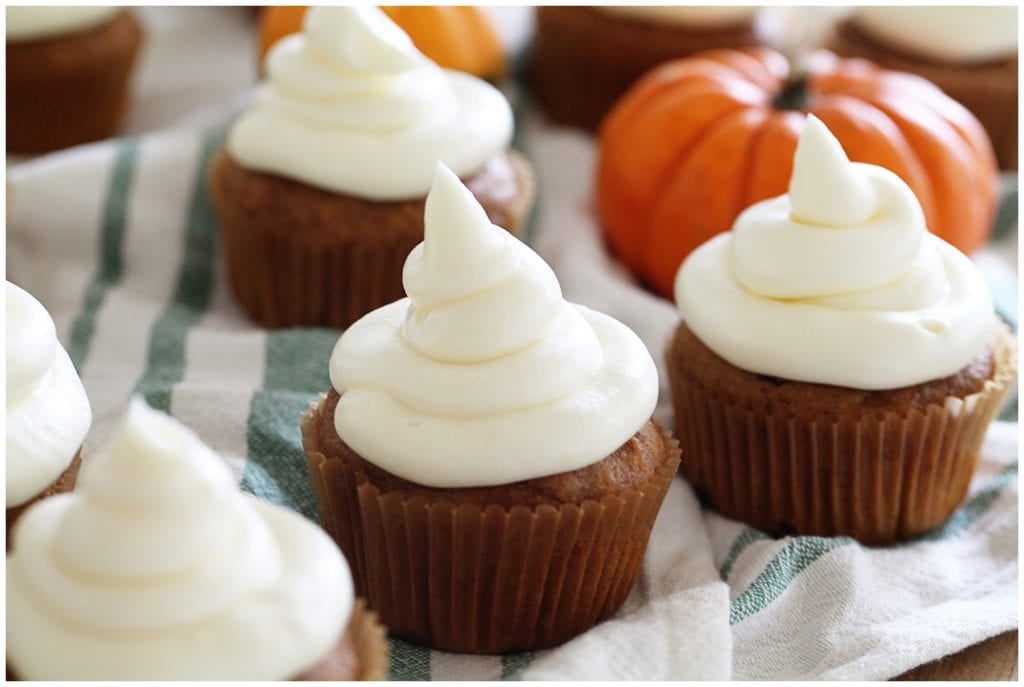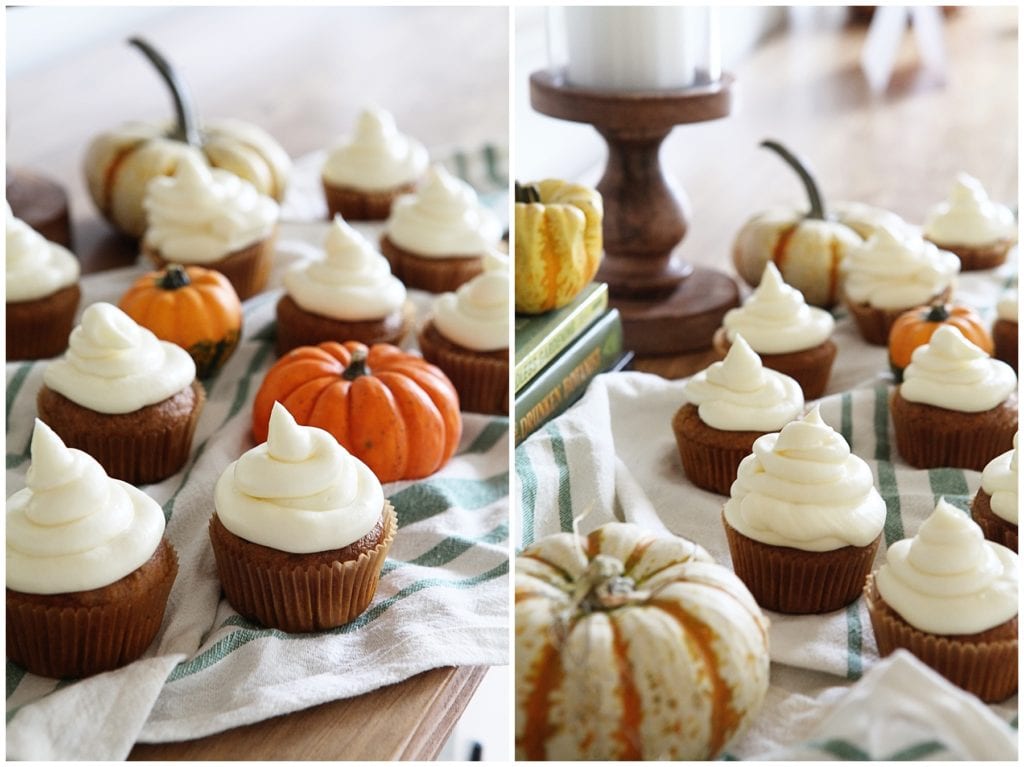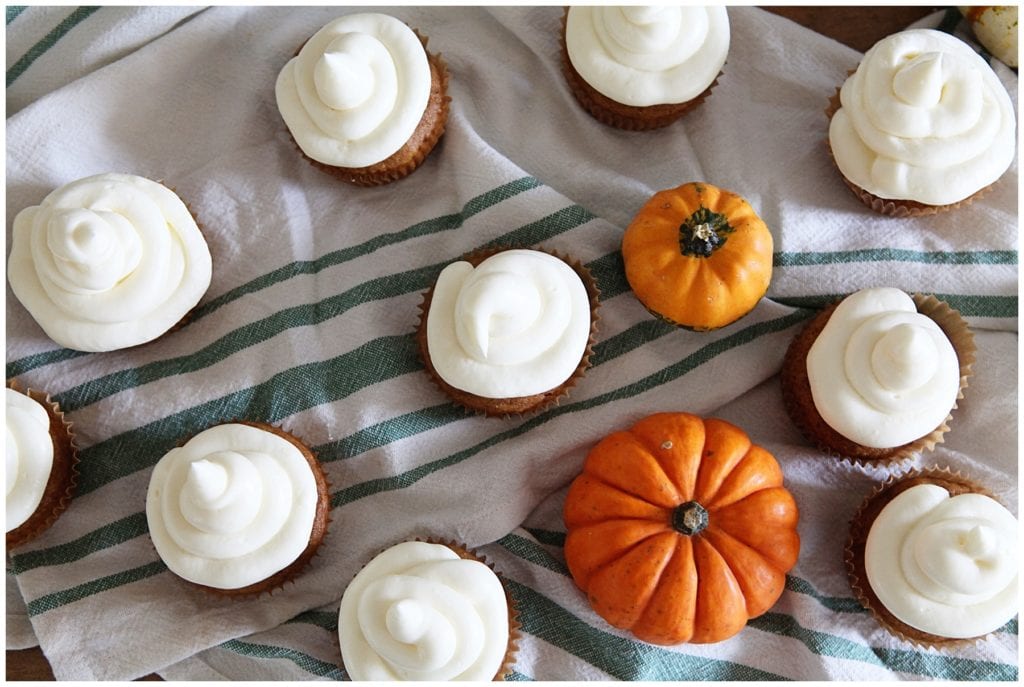 I don't generally love frosting either. I actually don't like buttercream frosting at all. I find it too sweet with not enough flavor. I almost always make something like this Cream Cheese Frosting, or another one of my favorites is this frosting on this cake which is a Whipped Buttercream, basically a mix of whipped cream and buttercream. Combining the two give it a better texture, flavor and allows you to leave it out, which is the big downfall of whipped cream.
Oh and for the first time I decided to try adding a little caramel embellishment to the top of the cupcakes at the end. All I did was drizzle melted caramel on parchment paper and let it harden. Then pulled pieces off and added it to the finished cupcakes.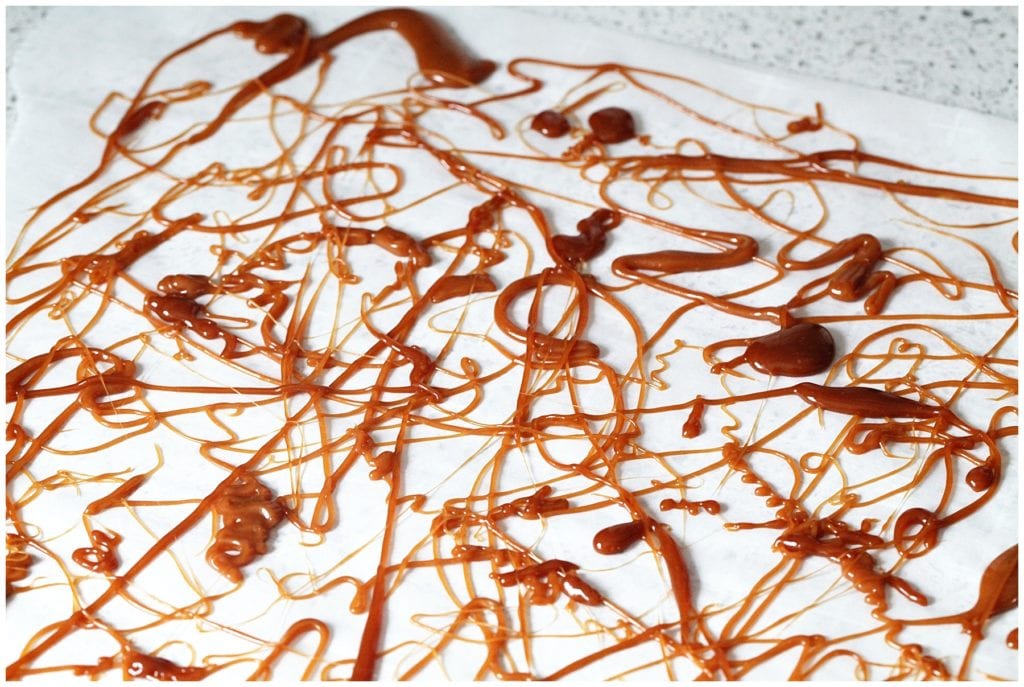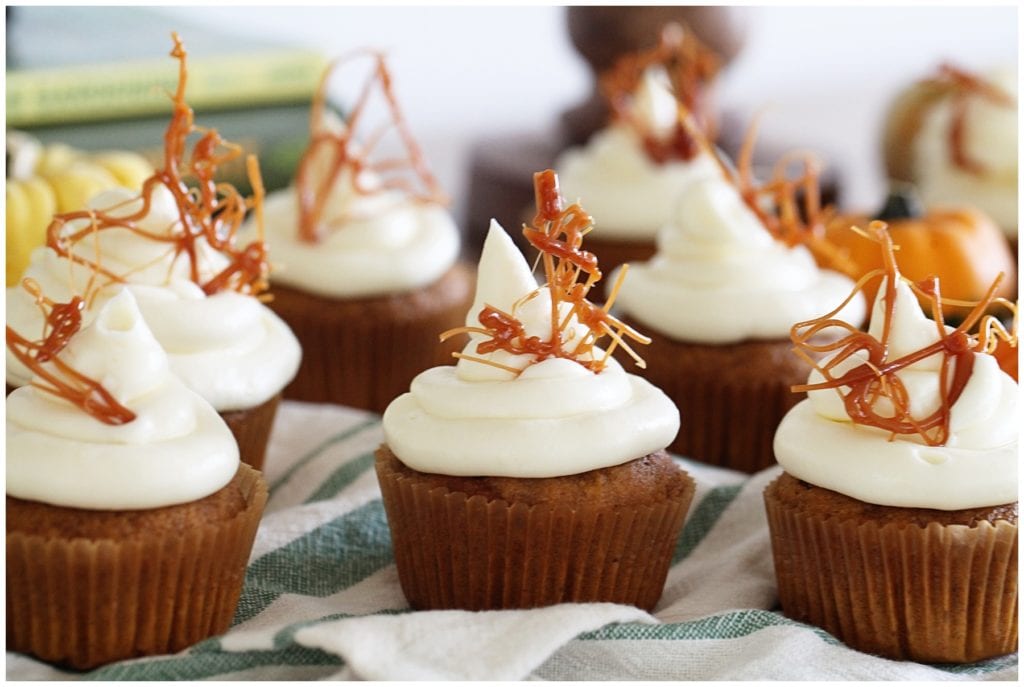 If you still have treats to make for work, a Halloween party or even a dessert to think of for Thanksgiving (because I swear you'll want to eat these through November!) then this recipe is a crowd pleaser.
Try it this weekend and let me know what you think!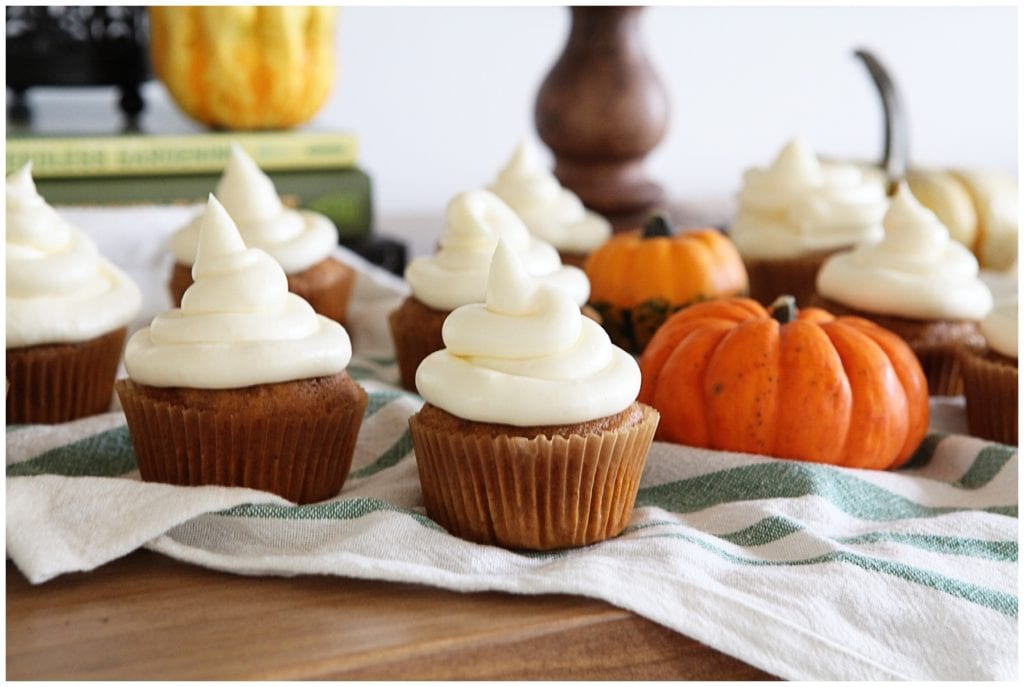 Pumpkin Cupcakes With Cream Cheese Frosting
Prep time:
Cook time:
Total time:
Ingredients
Cupcake Ingredients:
1½ cups plus 2 Tbsp of all-purpose flour
1 tsp of baking powder
¼ tsp of baking soda
2 tsp of ground cinnamon
1 tsp of nutmeg
⅔ cup of granulated sugar
½ cup of brown sugar - lightly packed
½ cup of canola oil
2 large eggs
1 cup of pumpkin puree
1½ tsp of vanilla extract

Frosting Ingredients:
8 oz of cream cheese at room temperature
½ cup of unsalted butter
2¾ cup of powdered sugar
1½ tsp of vanilla extract
Instructions
Cupcake Instructions:
Preheat the oven to 350 degrees and mix together flour, baking powder, baking soda, cinnamon, and nutmeg. Make sure they are all well mixed and then set aside.
In a separate bowl, whisk together granulated sugar and brown sugar until there are no lumps.
Add canola oil and blend or whisk. If using your electric mixer, put it on medium and make sure you are catching the sides and bottom of the bowl.
Mix in eggs one at a time until well blended and then mix in pumpkin and vanilla. Make sure everything is well blended before moving on.
Slowly begin adding the flour mixture from the first bowl, a little at a time. Make sure to scrape the sides of the bowl again and the bottom.
Fill up your lined cupcake tins about ¾ of the way up.
Bake for about 19 - 23 minutes. My oven tends to cook fast so I went with 19.
Frosting Recipe:
Mix together butter and cream cheese until light and fluffy.
Mix in vanilla and powdered sugar until everything is well blended and smooth. You can put this in the refrigerator if you need to, but you can also pipe this onto the cupcakes right away. I like to use it right away.
Top the cupcakes and enjoy!
Happy eating, friends!
For more recipes, click here. For more fall recipes, click here.