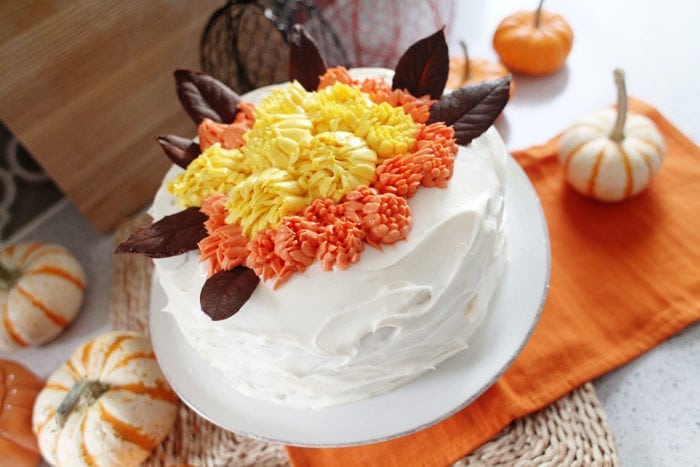 Fall to me is a time for comfort, joy and warm flavors in delicious foods that make me feel good in my belly. I love the scents, the flavors and the colors that dress up mantles, doorsteps and tables.
And speaking of bellies and tables…this Double Layer Pumpkin Cake with Cream Cheese Frosting & Chocolate Leaves will not only look pretty on your table, but it will fill your belly with each delicious bite.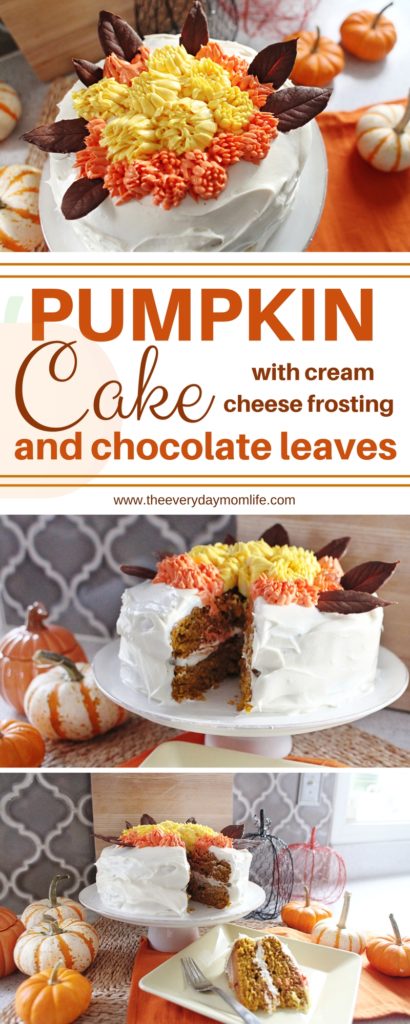 I adapted the recipe from a pumpkin muffin recipe I made ages ago so this cake is dense, moist and a great way to top off Thanksgiving dinner, Halloween night or any fall, family gathering filled with pumpkin lovers.
But, each part of this cake will delight guests. Below I'll tell you how to make the cake, the frosting for the cake itself, the stiffer frosting you will need to pipe any flowers and the glorious chocolate leaves. Yum!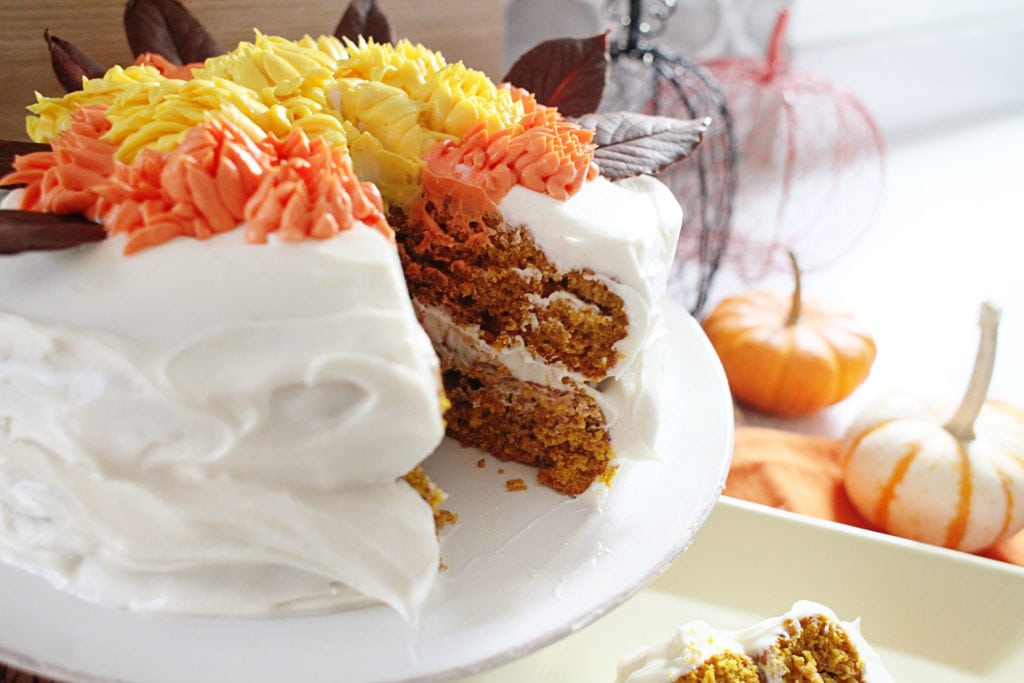 Ingredients for cake:
(Remember, you are making two since this is a double layer. Cut in half if you just want one cake.)
3 cups plus 4 Tbsp. of all-purpose flour
2 tsp. of baking powder
1/2 tsp. of baking soda
4 tsp. of ground cinnamon
2 tsp. of nutmeg
1 1/2 cups of granulated sugar
1 cup of brown sugar – lightly packed
1 cup of canola oil
3 large eggs (If you make one cake only use 2 eggs)
2 cup of pumpkin puree
1 Tbsp. of vanilla extract
Ingredients for cream cheese frosting:
16 oz. of cream cheese at room temperature
1 cup of unsalted butter
5 cups of powdered sugar
1 Tbsp. of vanilla extract

Ingredients for decorative flower frosting:
4 oz. of cream cheese at room temperature
1/2 cup of unsalted butter
6 cups of powdered sugar
1 1/2 tsp. of vanilla extract
Ingredients for chocolate leaves:
Milk or Dark chocolate chips. Melted – This is literally it.
You will also need a small, cheap paint brush for this and bay leaves or basil leaves. However these aren't technically ingredients. Obviously. 🙂
Whatever you use PLEASE MAKE SURE TO USE FOOD SAFE LEAVES. DO NOT go use a leaf from the backyard. Use something you would use in cooking.

Steps For Cake:
1. Preheat the oven to 350 degrees and mix together flour, baking powder, baking soda, cinnamon, and nutmeg. Make sure they are all well mixed and then set aside.
2. In a separate bowl whisk together granulated sugar and brown sugar until there are no lumps. You can use an electric mixer. I usually use my hand mixer.
3. Add canola oil and blend or whisk. If using your electric mixer, put it on medium and make sure you are catching the sides and bottom of the bowl.
4. Mix in eggs one at a time until well blended and then mix in pumpkin and vanilla. Make sure everything is well blended before moving on.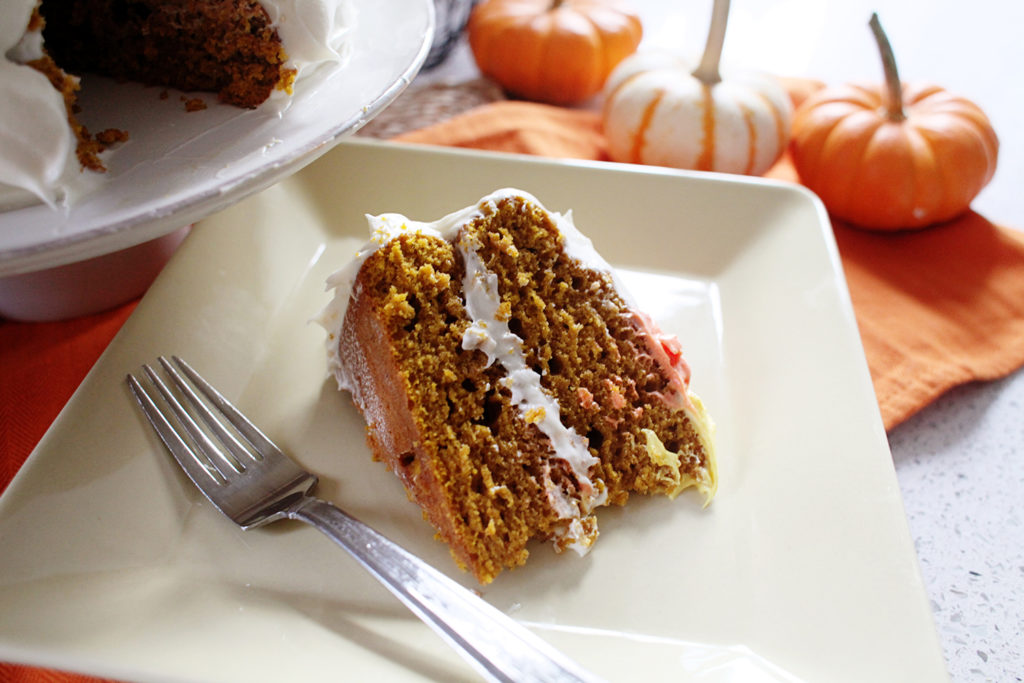 5. Slowly begin adding the flour mixture from the first bowl, a little at a time. Make sure to scrape the sides of the bowl again and the bottom.
6. Using two round cake pans, divide the mixture between the two and wiggle the pan so that the batter becomes smooth and even. (I'm sure wiggle is a very technical term.)
7. Bake for about 19 – 23 minutes. Check with tooth picks to make sure you don't overcook. All oven times will vary.
8. Once done, let cool before adding a layer of frosting to the top of the bottom cake. Then stack the cakes.
9. Frost the entire cake using a spatula or icing spatula.
10. Optional: If you're piping on flowers, start in the middle. I used flower piping tips in two sizes. The smaller ones are easier to use. You can find similar ones here.
11. Optional: Add chocolate leaves.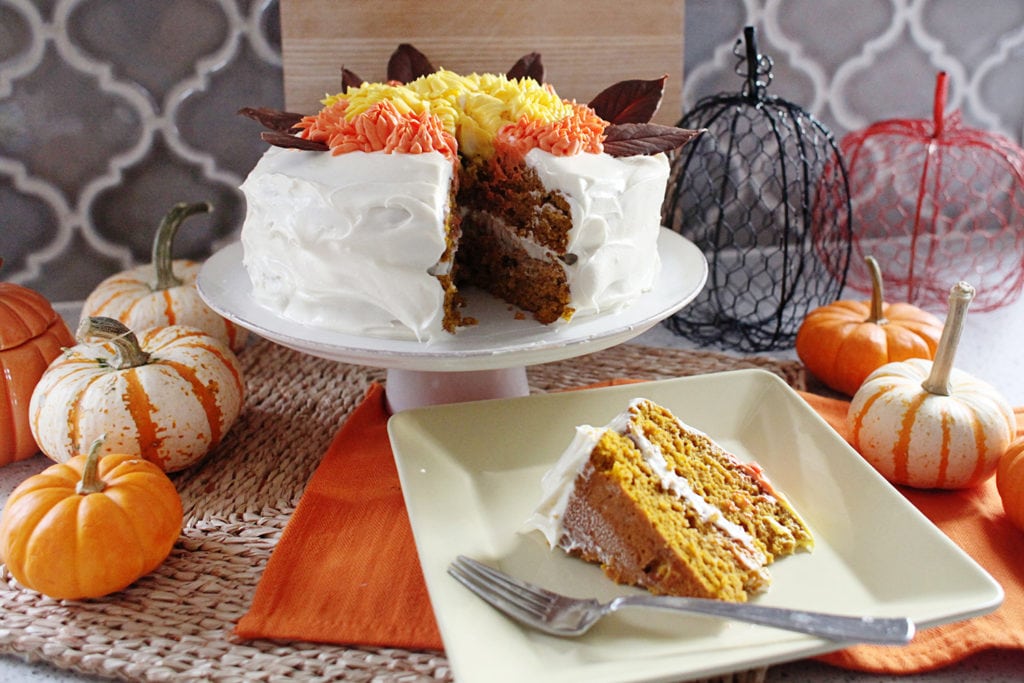 Steps For Cream Frosting:
1. Mix together butter and cream cheese until light and fluffy. Electric mixer is the way to go. My arm got tired during this.
2. Mix in vanilla and powdered sugar until everything is well blended and smooth.
3. Refrigerate frosting for about a half hour and then frost the cake.
Steps For the Chocolate Leaves:
1. Using the pain brush, brush your chocolate onto the back of the leaves. Make sure to keep it neat around the edges. It's not difficult once you do a couple.
2. Lay the leaves on a cookie sheet or cutting board covered with parchment paper. You can use a wooden spoon to help give the leaves some shape if you are using a leaf that's not as stiff.
3. Refrigerate for one hour.
4. Carefully, peel the leaves away from the chocolate. Arrange on your dessert or serve separately.
Check out the video below for a visual guide!
HAPPY EATING, FRIENDS!