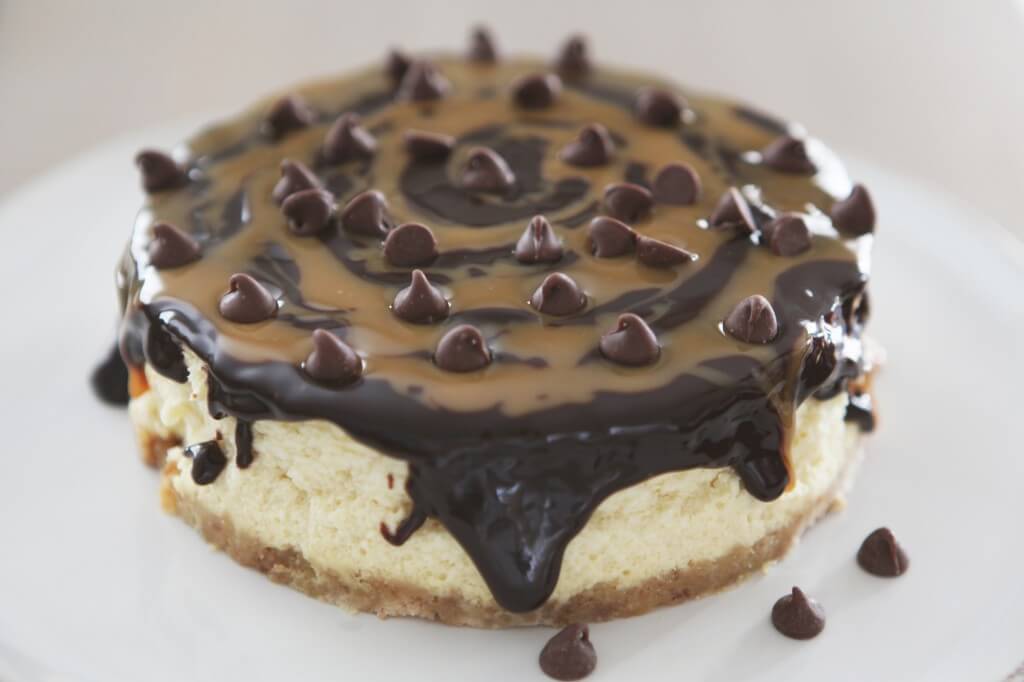 As much as I try to make sure my family eats a balanced diet and eats well during the week, but I also believe in treats. Valentine's Day, birthdays or anniversaries are all the perfect time for treats. But, sometimes you just need to sneak a little sweetness into life for no reason too, like this Pressure Cooker Cheesecake.
I love to try out new desserts. Somehow I manage to only eat a little bit before my husband gobbles it up or I give it to someone else. Shockingly, my waistline believes any bit is a lot so I try to be careful. But, there are certain desserts that just get me. Cheesecake is one of them. (Let's be honest, anything that is comprised of cheese is a friend of mine.)
Last year I received an Instapot Pressure Cooker for Christmas and it has been our favorite way to make things like chicken tacos, stew and more. Color me happy when I realized I could make a pressure cooker cheesecake in it!
And it's not just a cheesecake. It's an AMAZING cheesecake with a cookie crust. If you have an Instapot Pressure Cooker, check out the recipe below. If not, check out the recipe below, dream about how yummy this is and then click this link to get the one I have.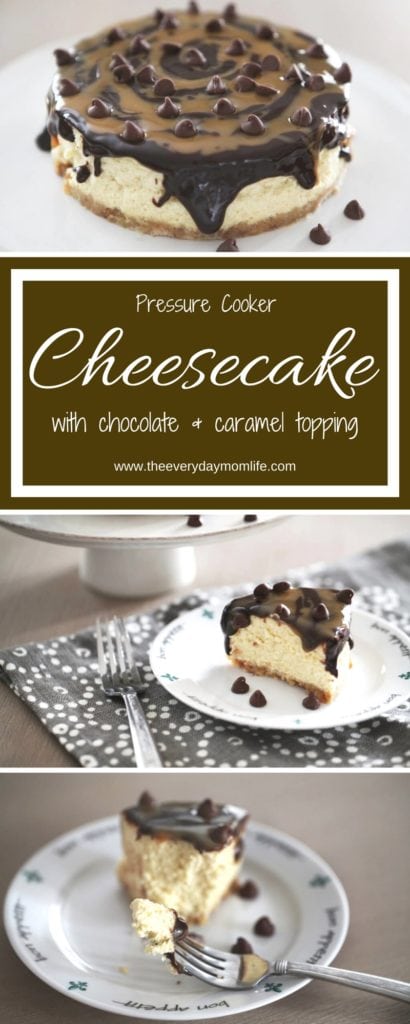 Because this is a pressure cooker recipe, you will need a pressure cooker to make this. But you will also need a 7-inch springform pan to fit inside the pressure cooker and hold your cheesecake. I bought this one.




Pressure Cooker Cheesecake
Ingredients:
Cookie Crust
Shortbread cookies or graham crackers. I used about eight cookies.
Three tablespoons of butter.
Cheesecake Filling
Two 8 oz packages of cream cheese, softened
3/4 cups of sugar
1/3 cup sour cream
1/3 cup of heavy cream
2 tablespoons of vanilla (This is more than the original recipe. I've always found the flavors the pressure cooker produces to be subdued so I always increase the amount of flavor additives and spices. For spices, I usually double them.)
2 tablespoons of all-purpose flour
3 eggs at room temperature
Chocolate Caramel Sauce
Milk chocolate pieces/chips or hot fudge (I used fudge)
Caramel topping
Milk chocolate chips
Steps
1. First crush your cookie pieces and add the butter. Make sure the cookie or graham crackers crush up very fine and then press the mixture into the spring form pan.
2. Put the crust in the freezer while you prepare the filling mixture.
3. Combine all cheesecake filling ingredients in a bowl and mix. Be careful not to mix too much to add air into the cheesecake and then you will get bubbles on top. I'm guilty of doing this.
4. Pour filling mixture into the greased (spray, butter or olive oil), spring form pan.
5. Add one cup of water to your Instant Pot. This is really important because this is how your pot cooks the food.




6. Use tin foil to tent your cheesecake so it doesn't get condensation all over it from the cooking.
7. Position your cheesecake on the stainless steal, steamer rack with handles and lower into the pot. This comes with the Instant Pot.
8. Secure the lid and cook on high pressure for 33 minutes. Remember, you will need to allow time for the pot to come to pressure so it will take a little longer than 33 minutes.
9. When the timer is done, let the pot vent naturally for about 10-15 minutes. Then, release any final pressure.
10. Take the tin foil off and let the cheesecake cool on the counter for about an hour and then put the cheesecake in the refrigerator for at least three hours.
11. For the topping, heat up your chocolate on the stove or in the microwave and spread over the top of your cheesecake. It's ok if it drips. (I keep telling the perfectionist in me this.) Drizzle the caramel on top of the chocolate on top and finally top with chocolate chips!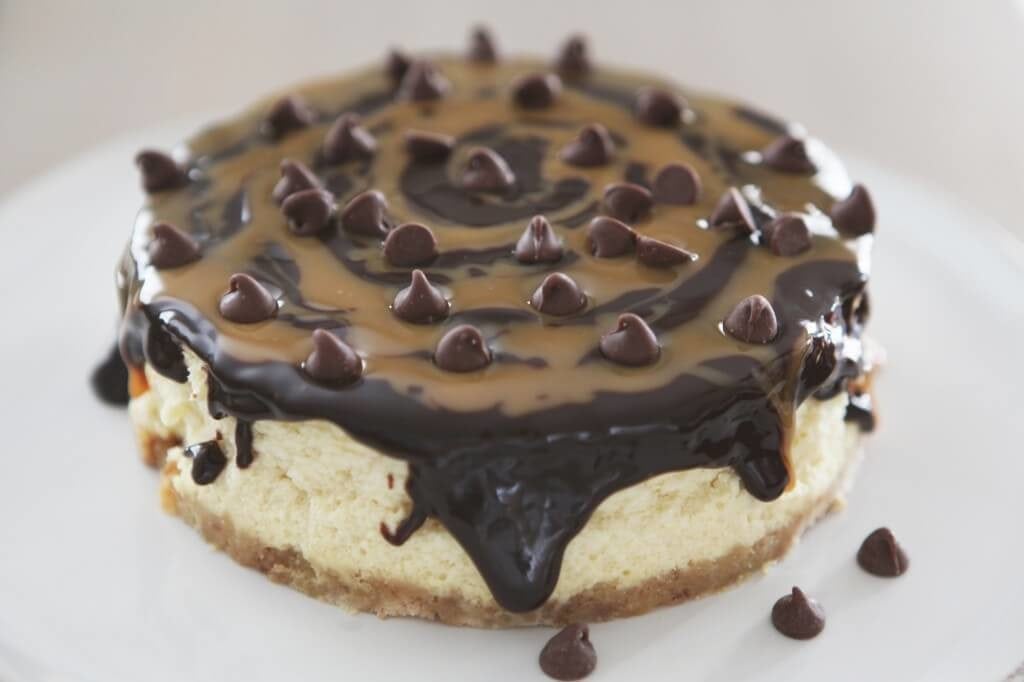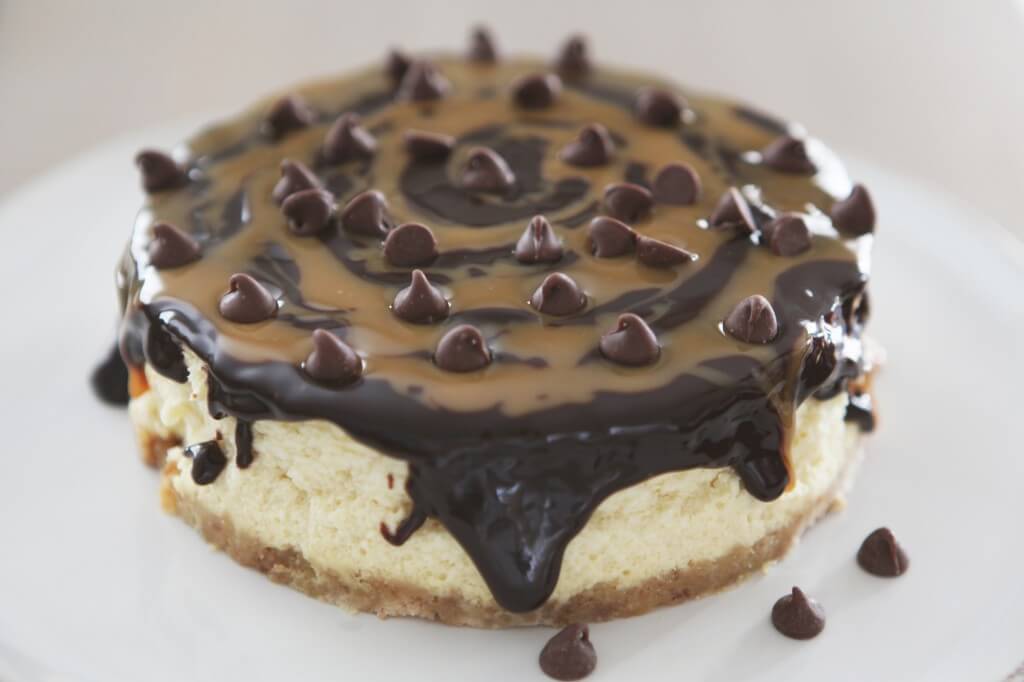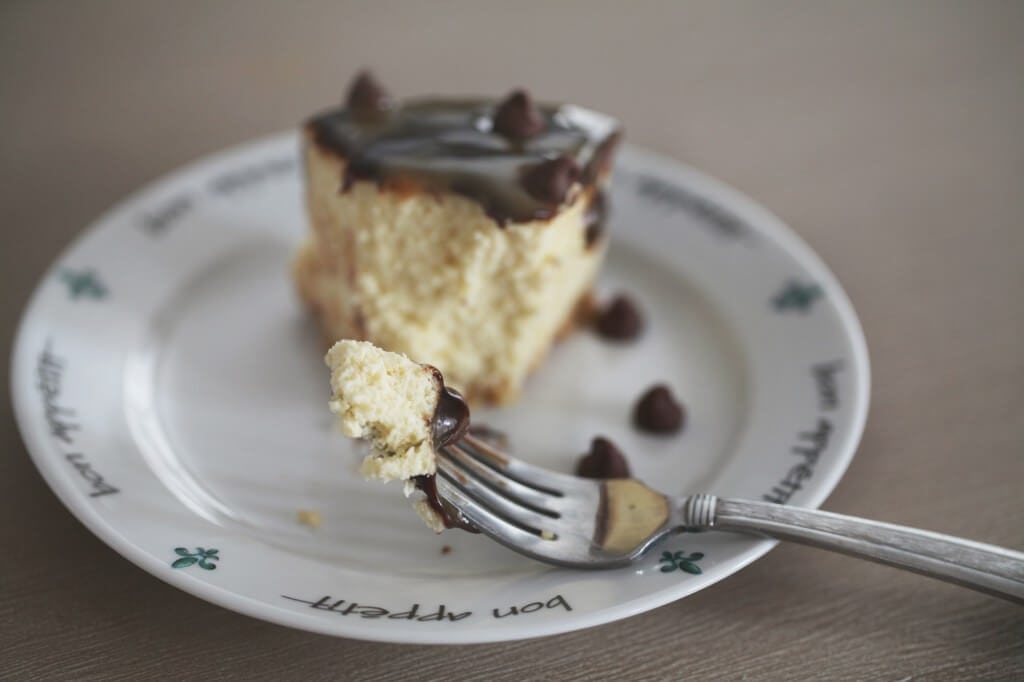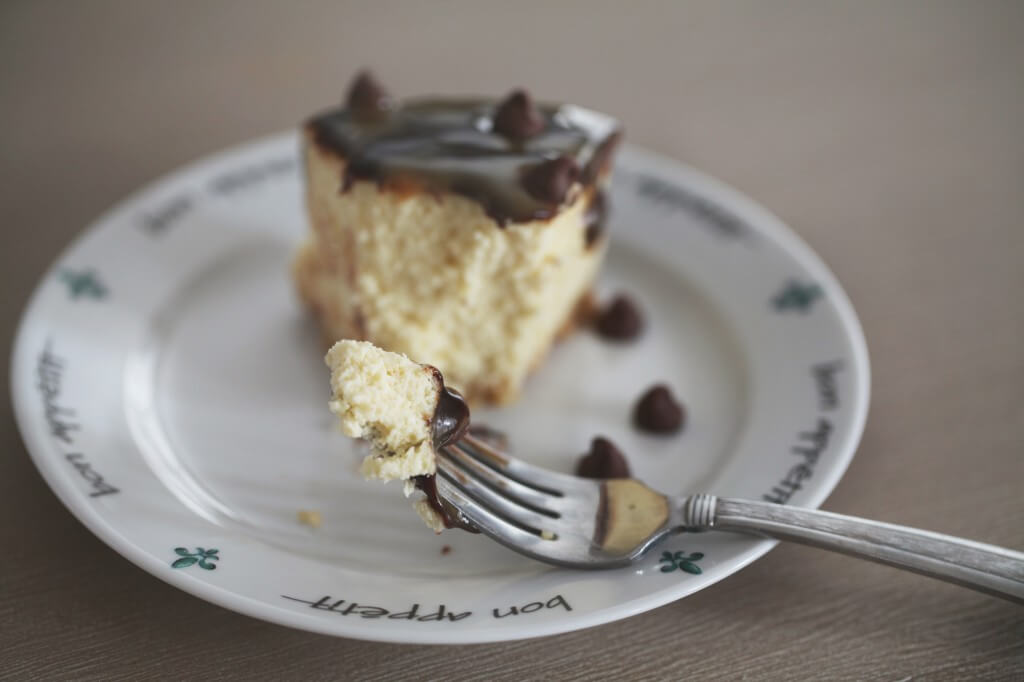 I know there seems like there's a lot of steps here, but I swear it is just mix and dump. It's the easiest way I've found to make cheesecake.
Also, side tip, if you have made any meat in your pressure cooker before you made this make sure you clean it out really well. The pressure cooker holds smells if it's not cleaned really well. Try one of the vinegar and lemon recipes here to get it naturally clean.
If you have a pressure cooker I hope you make this and love it! If you don't, I bet you want one now. 🙂
Happy eating, friends!
For more dessert recipes from The Everyday Mom Life, check out the Dessert Section.