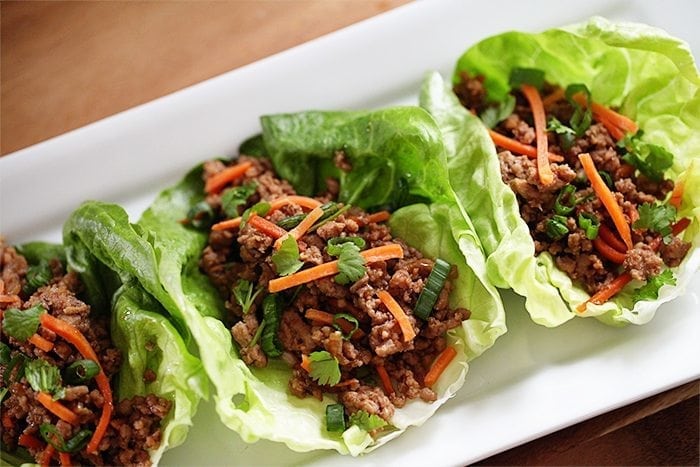 Most of the time, I try to eat a lower-carb diet. Don't get me wrong, I love carbs, but carbs love my thighs too.
One of the easiest ways for me (and everyone) to cut out carbs is to replace a bun on a burger or the shell of a taco with something else. I often eat burgers bun-less, but some foods you just need a transportation system for the protein.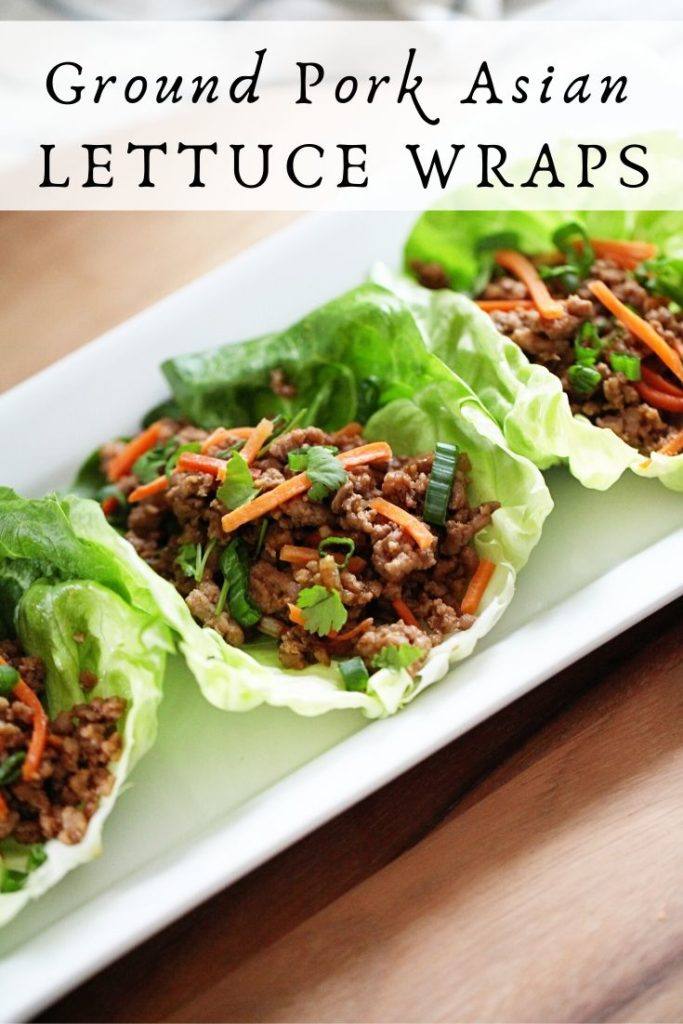 Lettuce wraps have been popular subs for a taco or a bun for years, and I love them because you can still get all the full flavor of a dish without all the bread. This Asian lettuce wrap is one of my favorites.
These Ground Pork Asian Lettuce Wraps are bursting with delicious umami flavor and make my low-carby heart happy. There's a little sweetness, a little spice and some salt all working together to make this dish one that's a repeat dinner in our house. In fact, the first time I made them a few weeks ago my husband had thirds!
A bonus to this recipe is that it is dairy free for my friends who don't eat dairy. I didn't leave off the cheese on purpose because cheese and I have a lifelong love affair. But seriously, these are so good that they just don't need anything extra.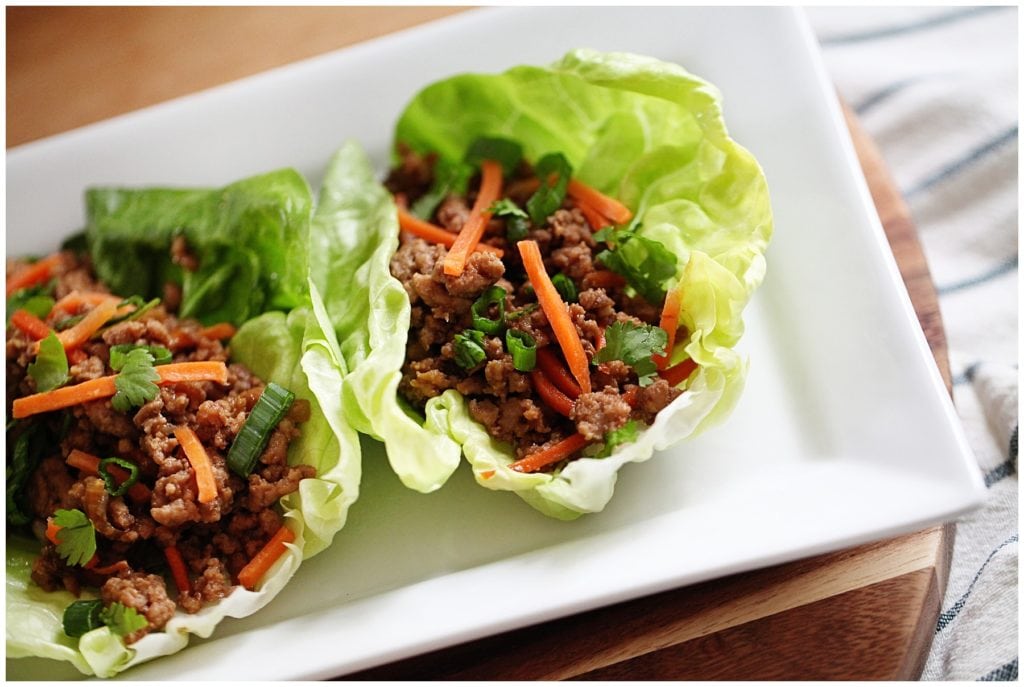 There's also no added sugar other than what you will find in one of the sauces used. Other recipes I've seen have some added sugars on top of the sauce ingredients. In my head that defeats the purpose of eating low-carb. Again, there will be some sugar in one of the sauce ingredients, but that's it.
Speaking of the ingredients, you can find them all at your local grocery store. You won't have to worry about going to a specialty shop, which you sometimes have to do when cooking using flavors from other cultures.
These Ground Pork Asian Lettuce Wraps are also quick enough that you can make them after work in about 30 minutes and they're light enough that they're a great dinner for spring and summer when you want to lighten up. However, we will be eating them once a month all year-round.
Check out the full recipe below! Happy eating, friends. Find more of my favorite recipes, here.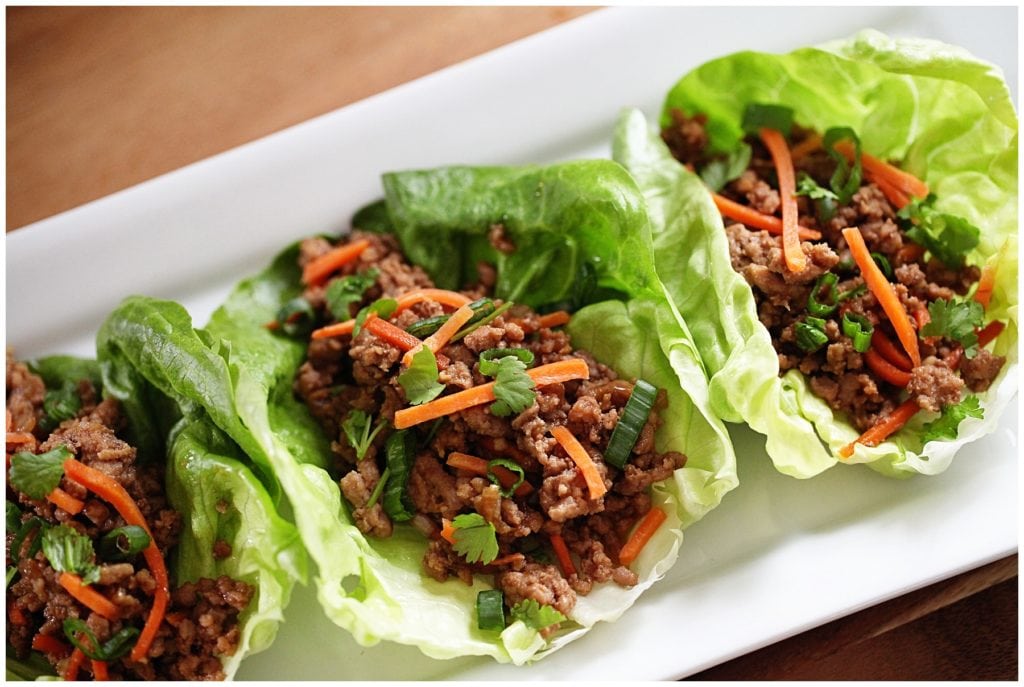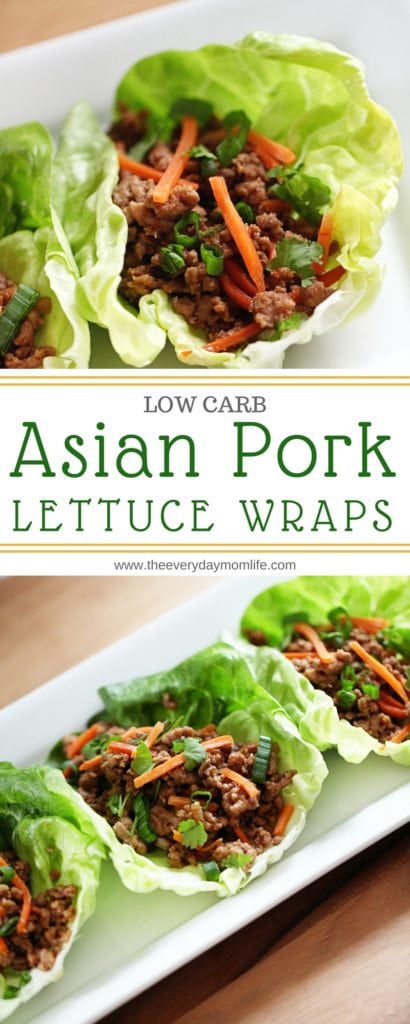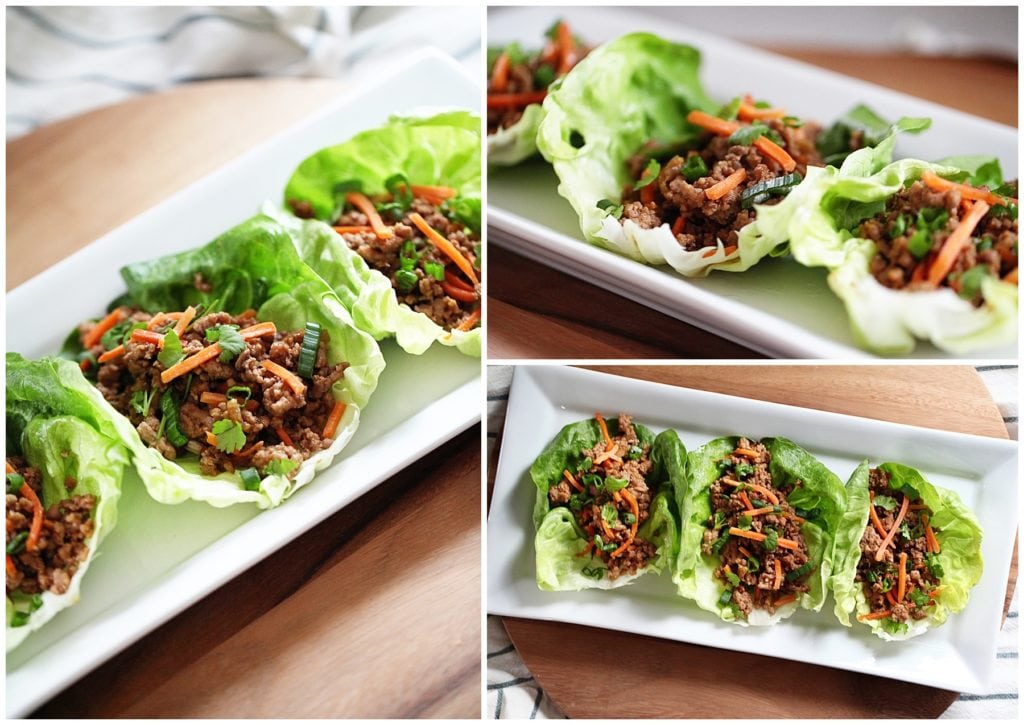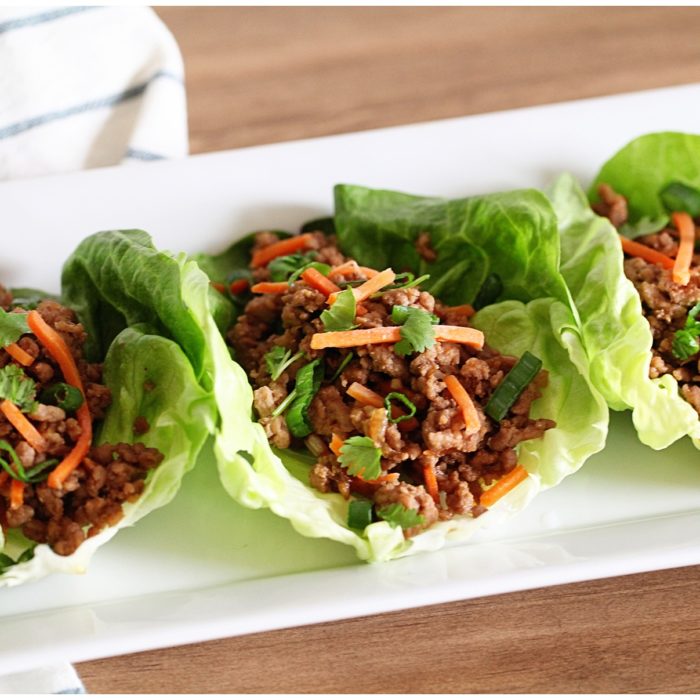 Ground Pork Asian Lettuce Wraps
These Ground Pork Asian Lettuce Wraps are a great way to eat a low carb meal that's full of flavor and will become a family favorite.
Print
Pin
Rate
Ingredients
1

head of bib lettuce

1.5-2

lbs

of ground pork

1/2

yellow onion

1/2

cup shredded carrots

2

Tbsp.

fresh ginger, grated

2

Tbsp.

fresh garlic, minced

2

Tbsp.

olive oil

3

green onions, chopped with the white bottoms separated from the green tops

1/2

cup

of hoisin sauce

2

Tbsp.

soy sauce

1

Tbsp.

rice wine vinegar

1

Tbsp.

Sriracha

1

Tbsp.

sesame oil
Additional: Cilantro, chopped, and extra raw, shredded carrots for topping
Instructions
In a pan, heat olive oil and then add garlic and yellow onion until they're translucent. Continue stirring so they don't burn.

Add the ginger and cook an additional 2 minutes.

While the pork cooks and in a separate bowl combine the hoisin sauce, sesame oil, rice wine vinegar, Sriracha, soy sauce and the white bottoms from the green onions. Whisk it all to combine.

Wash and dry your lettuce leaves.

Once the pork has cooked through drain the excess grease and add the carrots.

Add the sauce and cook for another five minutes.

Serve immediately. Add additional raw carrots, tops from the green onions and cilantro.