I'm not really the type of person that can just throw things together when baking and magically have it taste good. Cooking, I can make this happen. Baking, well, let's just say one time in college I made out-of-the-box brownies and they came out so hard we couldn't cut through them. So, know that if I'm giving you a baking recipe I worked my butt off to make sure this would taste good. And, this ones tastes, like a dream. The frosting is to die for!
I set out to create something delicious, fresh and a little different. I picked orange because spring is just around the corner (well, now its pretty much here) and the color just made me happy. It took me two weekends to get this recipe right. My first one was just a bit too "done." I tried lower baking temp the second time around and gave it a little more oven time to make sure it was cooked all the way through. This one turned out dense, moist and delicious!
You will need:
Cookware
A bundt cake pan. One like this one is good. You want to make sure the pan isn't too dark or it will impact the color of the top of the cake.  (You don't have to make a bundt cake, but that's what I used. In fact, I had to make more batter to actually fill out the pan.)
Tooth picks/shish kabob sticks
Dinner plate
Handheld mixer
Large bowl
Frosting decorating bottles or decorating bags with stainless steel tips

Cake Ingredients:
2 1/2 cups of all-purpose flour
2 cups granulated sugar
10 Tbsp. of butter, melted
1 package of vanilla pudding. You can find some with no artificial ingredients at Target.
1/2 cup of milk
1/2 cup of orange juice
4 eggs at room temperature
2 Tbsp of orange zest
2 1/4 tsp. of baking powder
1 tsp. of vanilla extract
Non-stick, baker's cooking spray, butter or olive oil to grease the pan
Frosting Ingredients:
8 oz. of cream cheese at room temperature
1 1/2 cups of powdered sugar
1/4 cup of melted butter
1.5 tsp. of vanilla
1 Tbsp. orange zest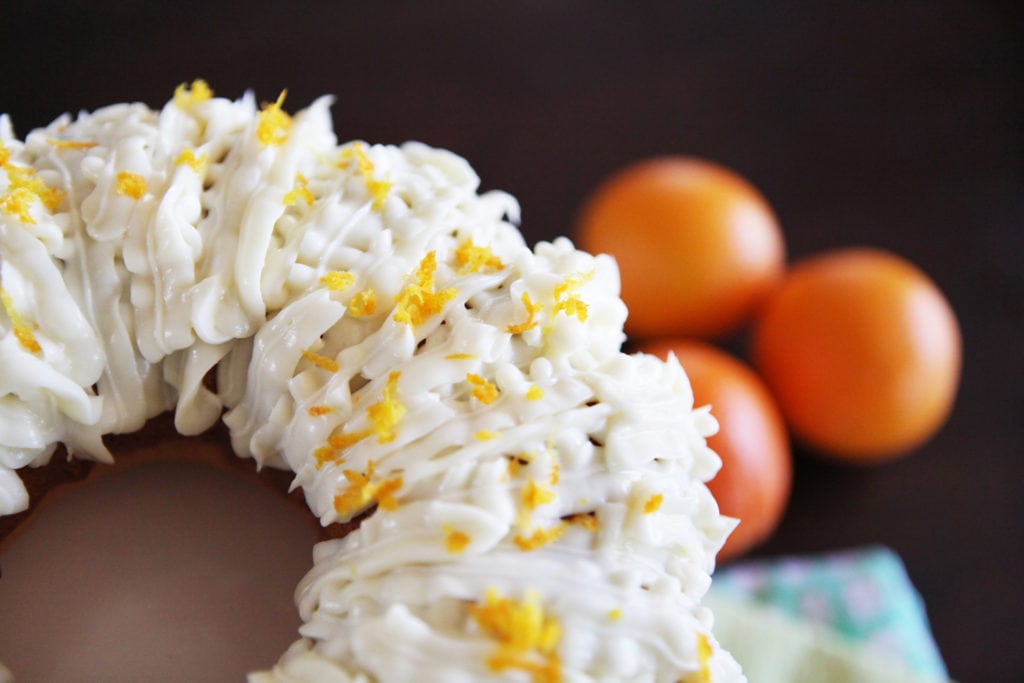 Cake Steps:
Pre-heat your oven to 325 degrees.
Zest your orange.
Combine all your dry ingredients together and make sure they are well mixed.
Add your eggs and mix.
Add your vanilla, orange juice and milk. Blend everything together.
Sprinkle in your orange zest as you continue to mix.
 Grease your bundt pan with the butter or cooking spray.
Pour the mixture into the pan evenly.
Put it in the oven for 40 minutes once it finishes pre-heating. Make sure you put it on the center rack so you don't over cook the bottom, which will be your top. Our oven also has the broiler on top so I wanted to make sure everything was cooking evenly.
Since oven times vary, check the cake at 40 minutes with tooth picks or kabob sticks since the pan is deeper than average.
If it isn't cooked through, continue baking in five minute increments. It is very easy to overcook the bottom(the actual top) of this cake.
Once your kabob stick comes out clean, remove the cake from the oven and place on a cool surface.
Allow it to cool for 15 minutes.
Then put a plate on the top of the cake and flip the pan over.
Let cool for another hour.
Frosting Steps:
Add your room temperature cream cheese into your large bowl. Mash it just a bit with a fork or spoon.
Add your vanilla and sugar.
Melt your butter in the microwave in 30 second increments. Once melted add to the bowl.
Mix everything together with your handheld mixer until it is smooth and creamy.
Add your frosting to your decorating bottles or bags.
Frost your cake in your favorite way.
Top with your orange zest.
Slice and enjoy!
Happy eating, friends!
For more delicious desserts, check out our desserts page.