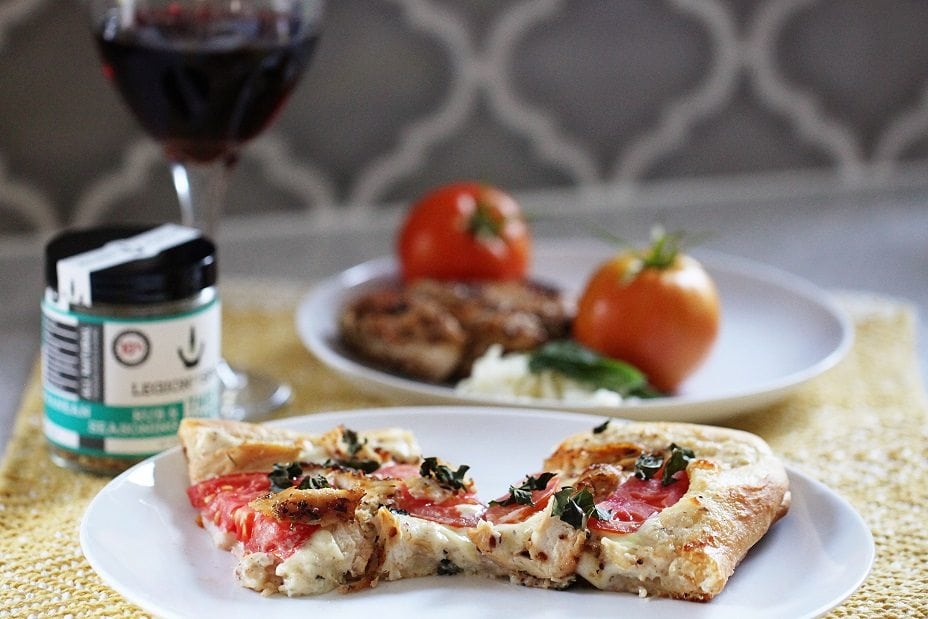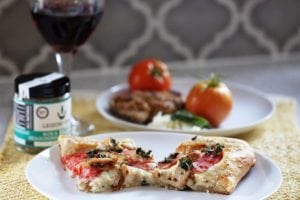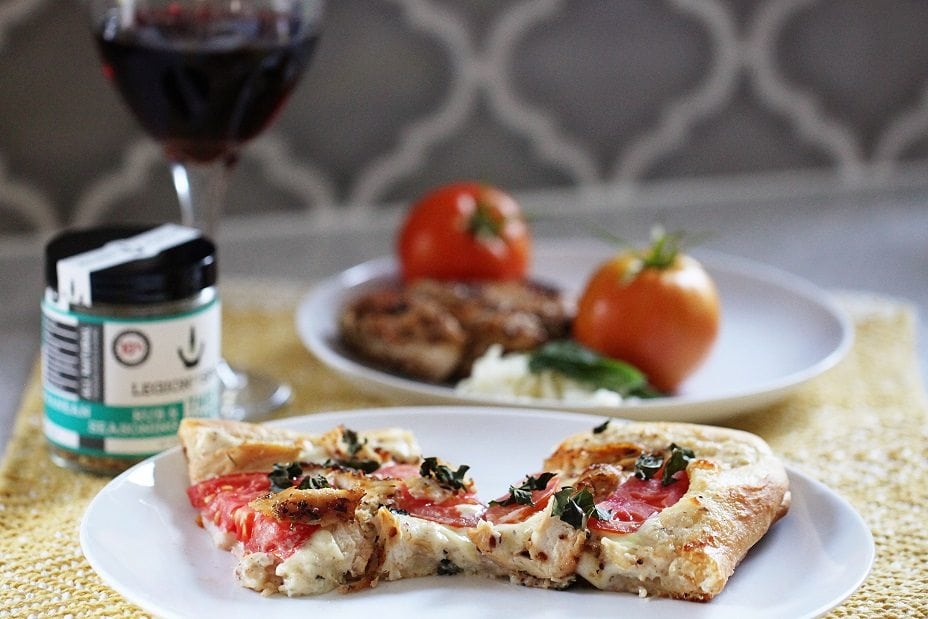 My husband and I sent the kids off to grandma and grandpa's this weekend, binged on Netflix (watch Stranger Things!) and soaked up some quality time together.
Usually we try to pack these kid-less opportunities with things outside our house – dinner somewhere nice, a movie, a great walk in one of the river towns near us, etc. However, after the last few months of craziness – birthday parties, work meetings, conferences – we just needed a real break.
So we threw out the normal rules for our weekends alone and stayed in to enjoy a home cooked meal and a low-key Saturday night.
I was recently given a Mediterranean spice blend called This Is Sparta from Legion of Spice and I wanted to whip up something delicious for us. The Mediterranean idea inspired me and I had a taste for pizza. However, I didn't want just any pizza, I wanted a fresh, beautiful pizza with Alfredo sauce, chicken, this beautiful spice blend and fresh vegetables.




My husband took one bite and said he "loved" it and that this recipe is something that he would "order at a restaurant."  It was really a joy to create this and the perfect dinner for our night alone. Check out the full recipe below.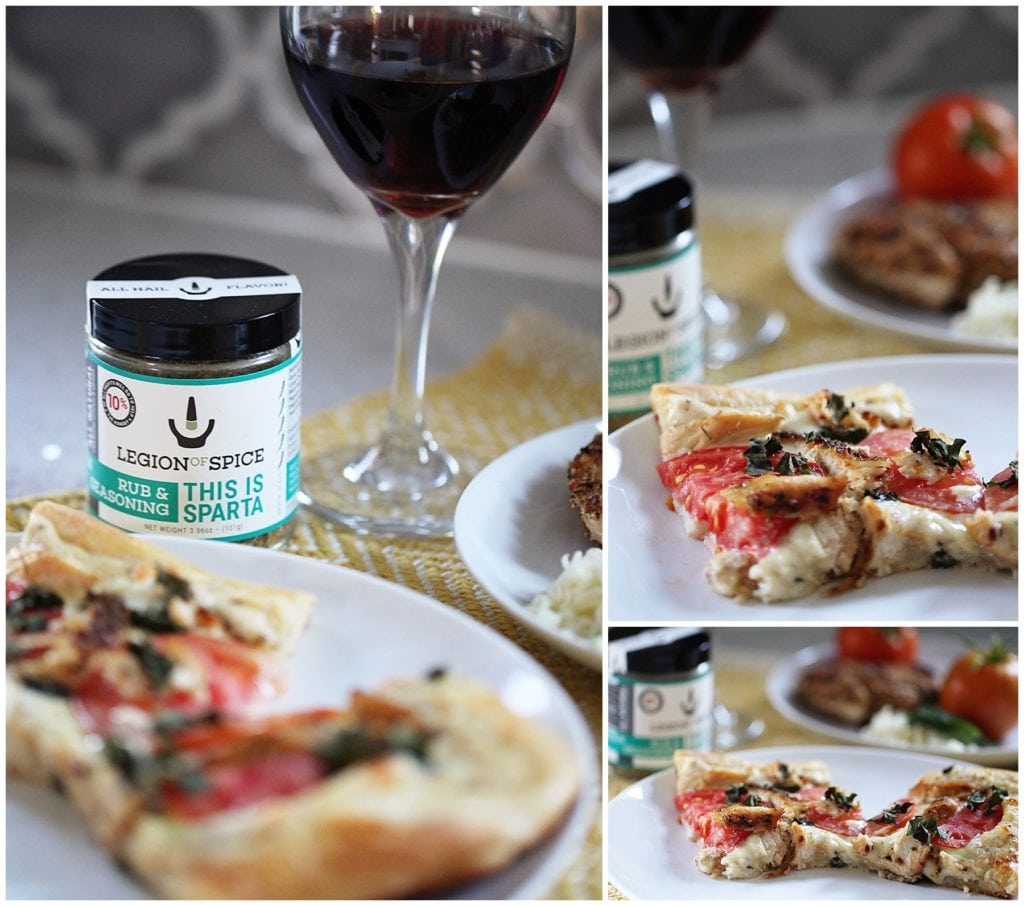 Mediterranean White Pizza
Ingredients Spice-rubbed Chicken
2 Chicken breast
5 Tbsp. of Legion of Spice This is Sparta blend
2 Tbsp. of olive oil
Ingredients Alfredo Sauce
16 oz. of heavy whipping cream
1 cup of Parmesan cheese (I bought mine pre-packed for the sauce, but you can by a wedge and grate if you like.)
4 Tbsp. of butter
2 Tbsp. of olive oil
5 Tbsp. of garlic
1 Tbsp. of flour
Salt & pepper to taste
Additional Pizza Ingredients
1 pizza freezer section pizza crust
2 tomatoes
3 Tbsp. of fresh basil
1 cup of grated mozzarella cheese
Steps:
1. Grate your Parmesan cheese, slice your tomatoes, chop the garlic and chop the basil.
2. Begin your sauce by adding the olive oil and garlic to a pan to heat through. Once it becomes fragrant, add your heavy whipping cream. Reduce to medium heat.
3. Remove chicken from package and pat dry. Pour the This is Sparta Spice blend from Legion of Spice on a plate and coat both side of your chicken in it. You may need more or less depending on how large your chicken pieces are. This blend is really pretty incredible. Smelling it straight out of the jar I knew I had made the right choice for the pizza recipe. It's bold without being overpowering and very well-rounded.
4. In a separate pan, add your other 2 Tbsp. of olive oil and heat through. Add chicken and cook for 6 min each side (depending on thickness of chicken). Make sure it is cooked through to the appropriate temperature.

5. Add your butter to your Alfredo sauce let it melt. Stir sauce to ensure that it mixes well with the cream.
6. Once the butter has melted let the sauce heat through for another 5 minutes on medium heat then add the flour. Make sure the flour is thoroughly mixed into the sauce and there are no clumps.
7. Taste sauce and season with salt and pepper if needed. I decided to use only salt and pepper here because I really wanted the spices on the chicken to stand out.
8. Once the flour is dissolved, slowly add in your Parmesan cheese and continue mixing. Season with additional salt and pepper if needed. Let simmer for another 5 minutes on low. Stir occasionally.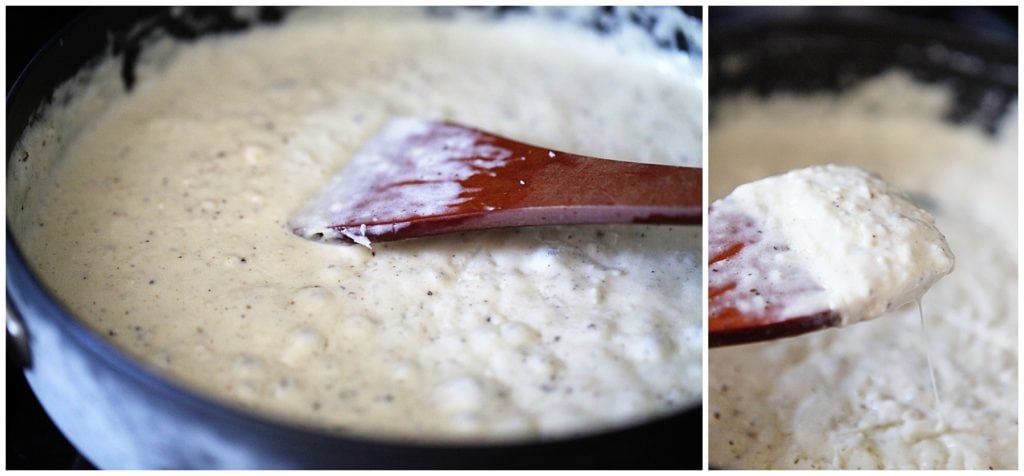 9. Once the chicken is done, remove it from heat and chop it into bite-sized pieces.
10. Remove pizza dough from container. I decided to use a pre-made dough here because I wanted to enjoy my evening with my husband versus spending the entire night in the kitchen. I also thought we would be making a circular pizza, but my husband was the one kind enough to pick up the dough and much to my surprise it was square. So much for using our new, circular pizza stone! I improvised instead and just used a baking sheet.
11. Once you have rolled out the dough, spread your sauce on top of the pizza. Add as little or as much as you like. We had some leftover so we were able to dip the crust of the pizza in it during dinner.
12. Add your mozzarella cheese. The add your tomato slices and chopped chicken with the This is Sparta spice blend. Lastly, layer in your fresh basil.

13. Cook the pizza according to the directions on the pizza crust container. Since your chicken and sauce are already cooked, this will just be long enough to blend all the wonderful flavors together and cook your crust.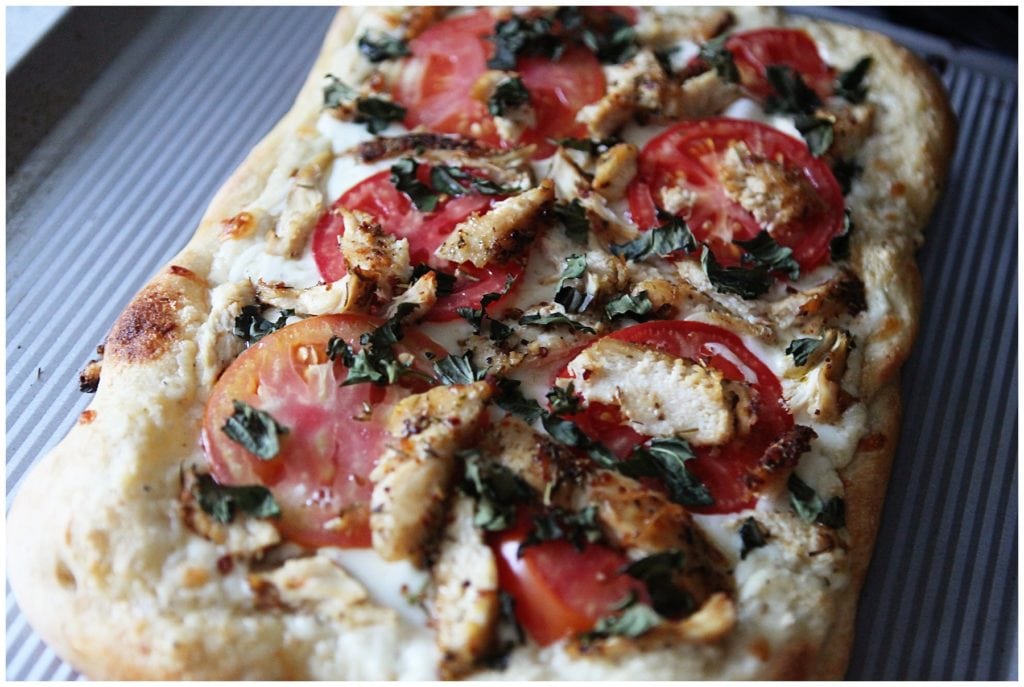 Once it is done, remove from the over and enjoy!
I can't stress enough how much we loved this dish. Obviously, it is not a low fat recipe, but it was perfect for our night of cozying up together on the couch with Netflix and a glass of wine. My husband has actually requested we make it again sometime soon.
Even though the kids weren't with us, I think they would really enjoy this dish too. If you have school-aged children this will be a hit with the whole family. Plan a night in with them soon and try this one out!
To get the spice rub I used from Legion of Spice, visit their website here. The exact one I used is here.
Happy eating, friends!