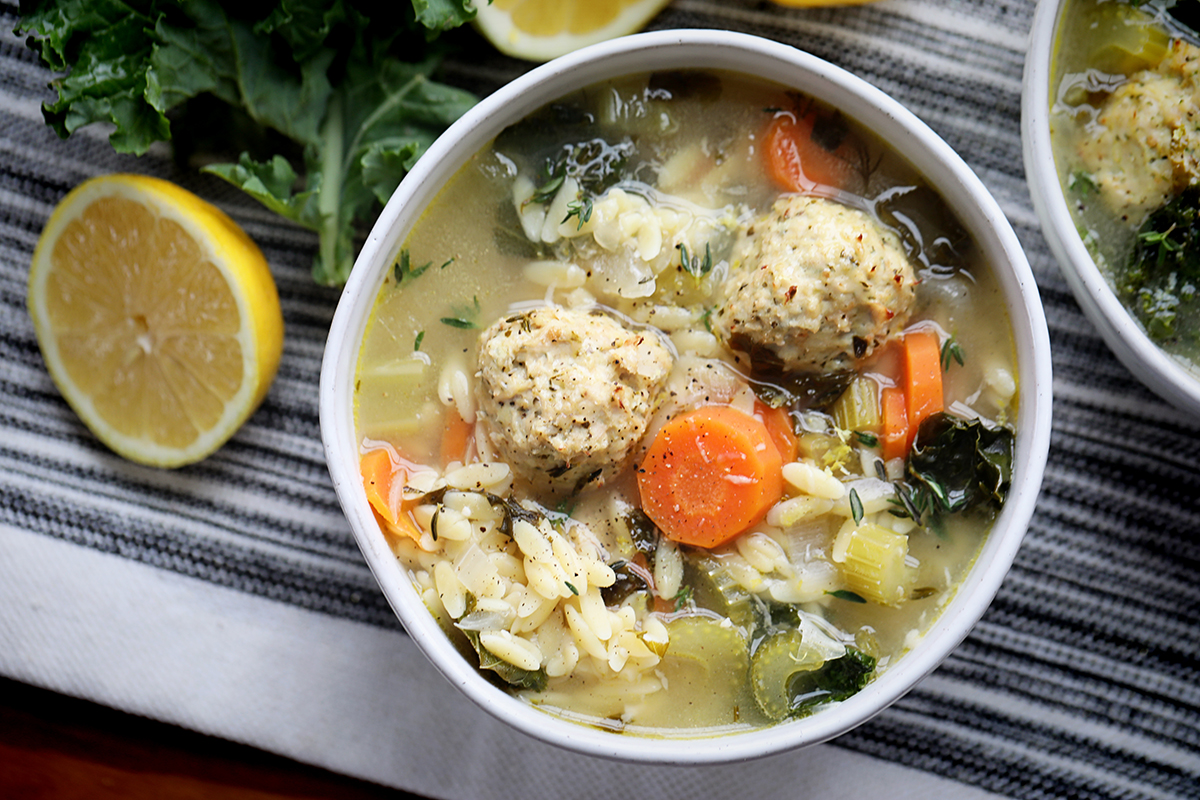 This week we have been covered under a layer of ice on our little farm and temperatures haven't been above freezing. We're in the part of winter that's hard. It's grey all day, it's cold and with Christmas way back in the rearview mirror, everyone is really ready for spring.
However, I haven't seen hide nor hair of the ground hog we have living in the backyard so my guess is that winter will still be with us for a while.
Winters like these call for warm, bright and filling soup.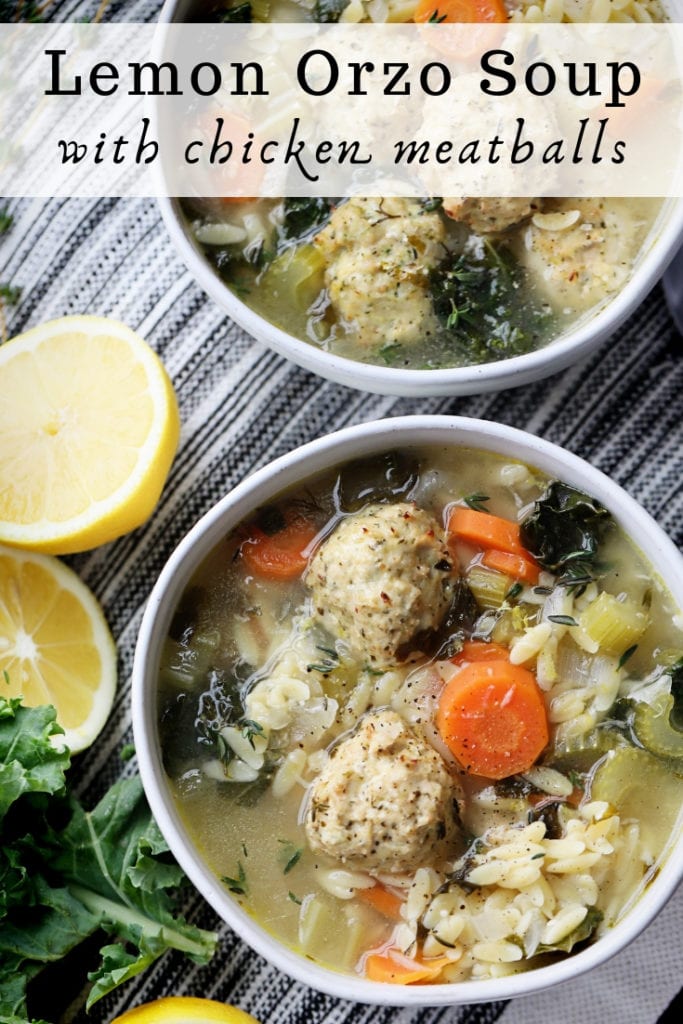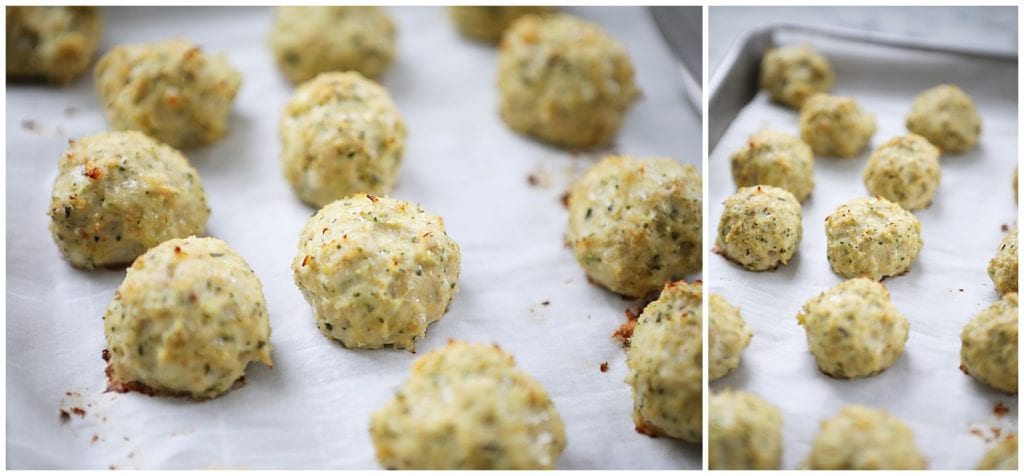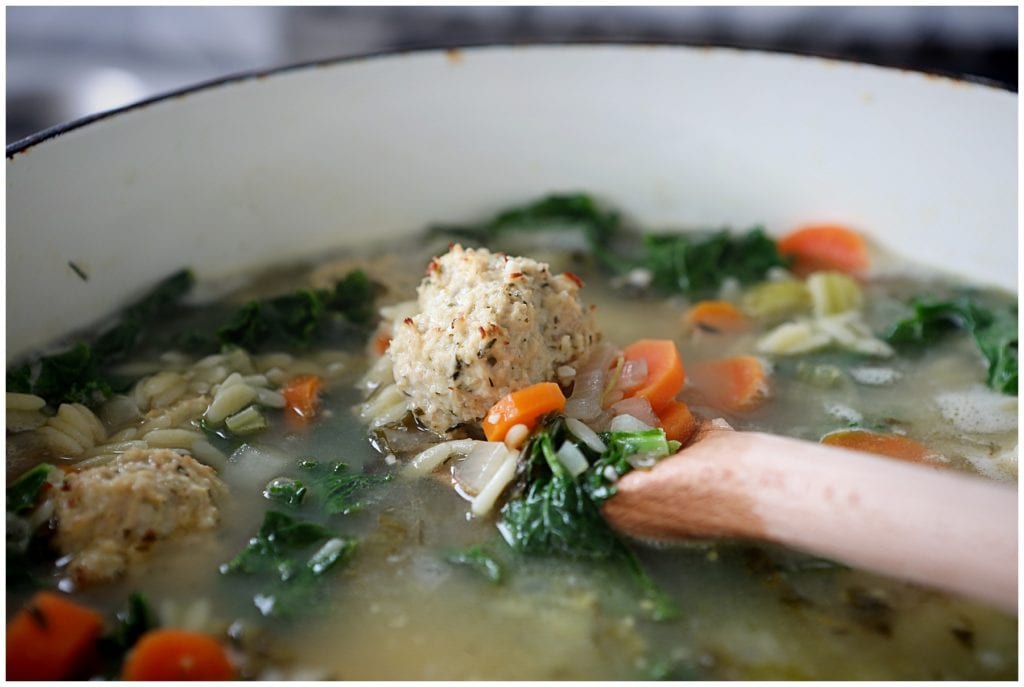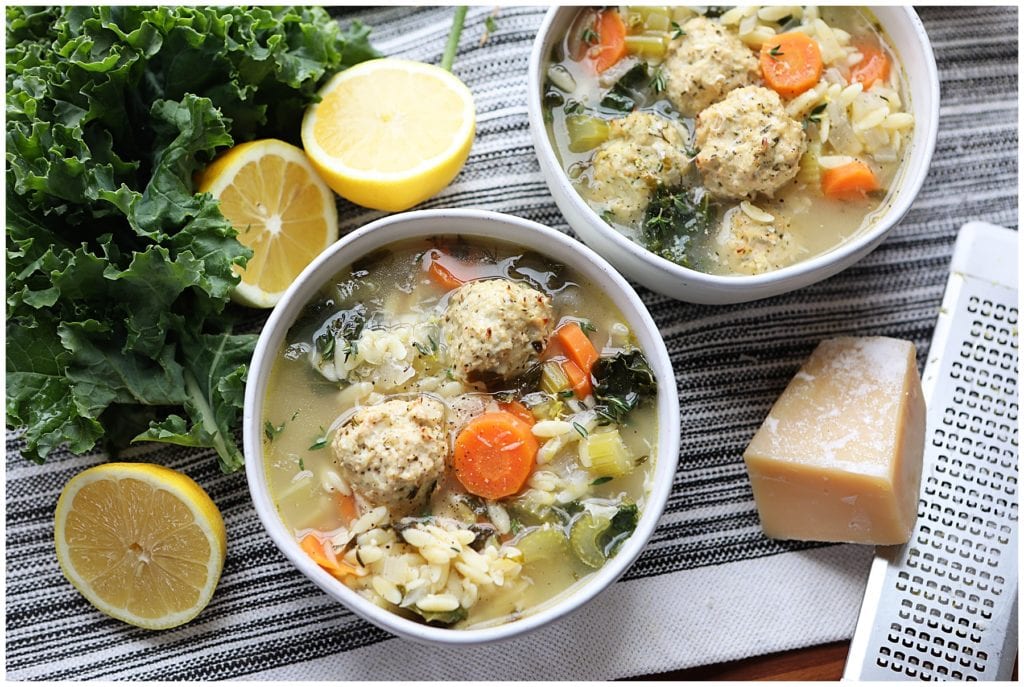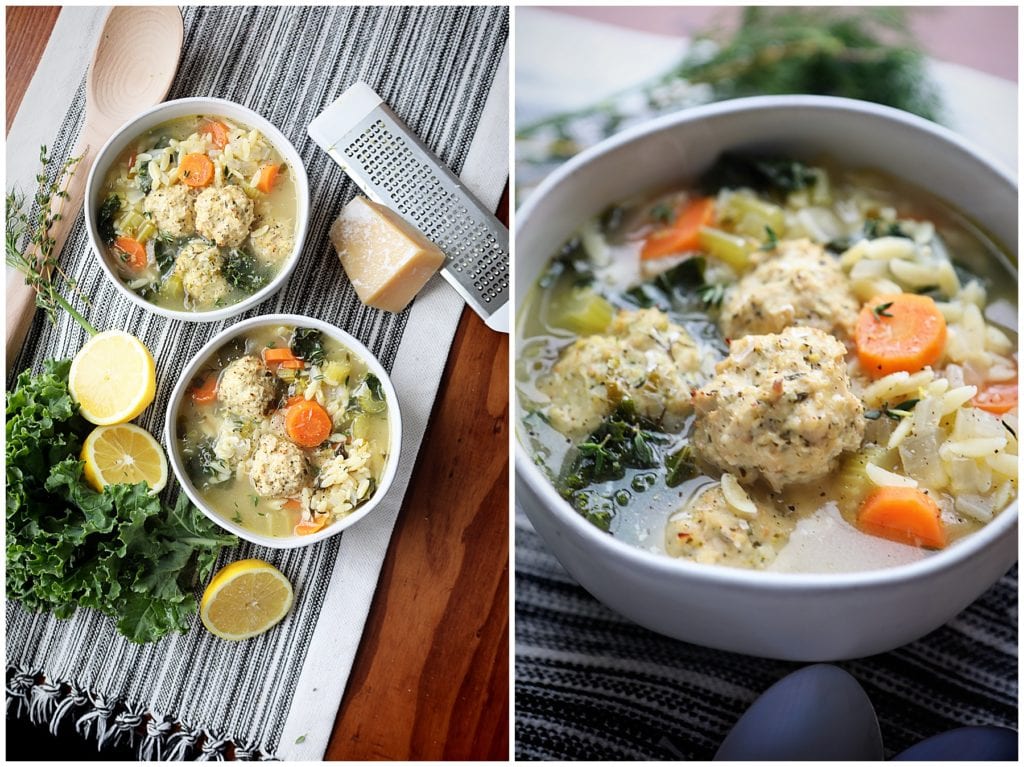 Perfect any time of year
I'll be honest, I eat soup all year round, but this Lemon Orzo Soup with Chicken Meatballs is perfect for this time of year because it's still citrus season. The lemons are incredible right now.
I believe it would be a disservice to Mother Nature not to go along with her plan to provide citrus to everyone in the winter in exchange for depressing weather.
Lemon Orzo Soup Options
You can make Lemon Orzo Soup in so many ways. Everyone has their own version of this bright and happy recipe, but I like to make mine with chicken meatballs.
Could you make it with other chicken? Sure! If you don't have the time to make meatballs you could use regular chicken breasts, a leftover chicken roast or even pick up a rotisserie chicken from the grocery store.
I like the meatballs though. Call it the Italian in me but they make this Lemon Orzo soup feel like a full-blown meal.
Fresh flavors
The lemon flavoring is still the start though. Combined with the meatballs and plenty of fresh herbs, this delicious meal will warm you from this inside out. I may not be able to fix the weather, but I can always fix an empty tummy. 🙂
Grab the full recipe below and I'd love to hear if you make this for your family!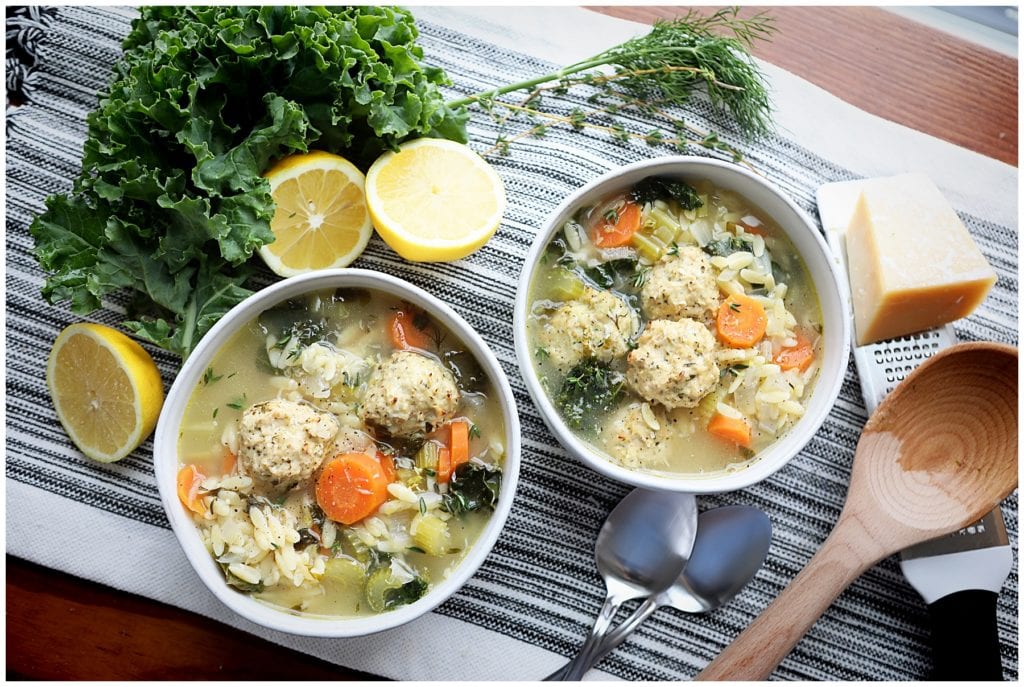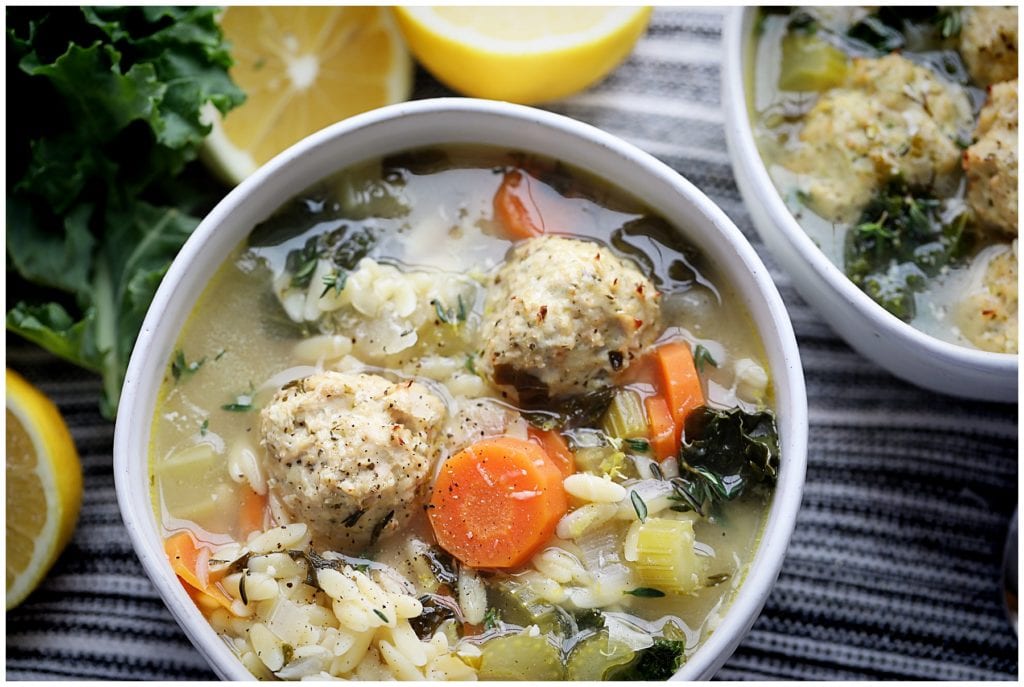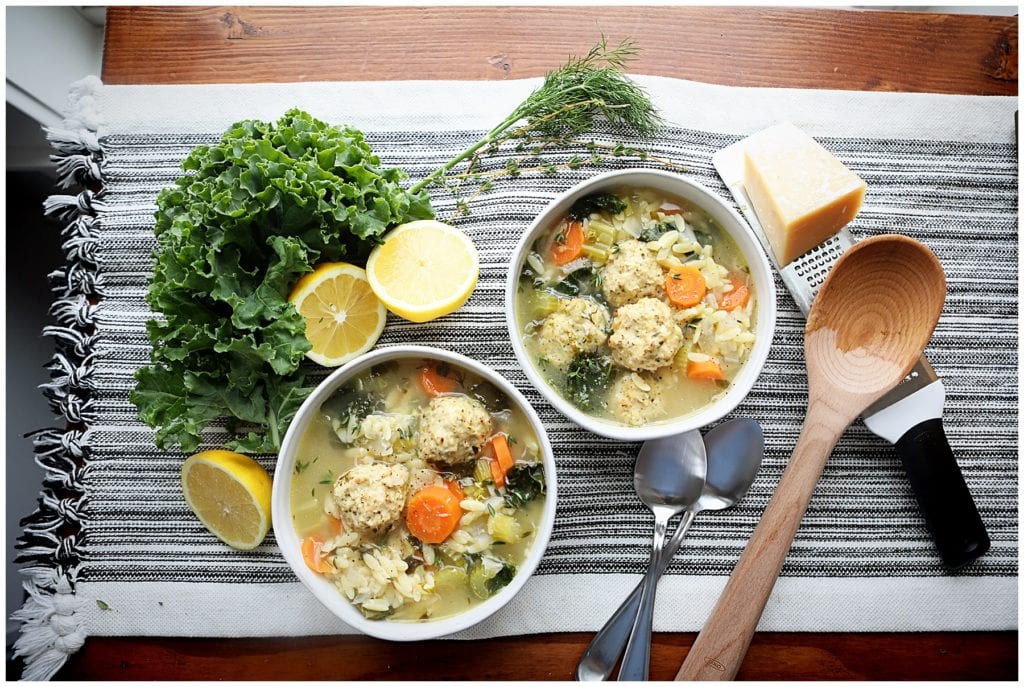 Lemon Orzo Soup Notes:
Using only ground chicken for meatballs tends to make them a little dry because they lack the fat of pork or beef meat. But, this makes them perfect for soup and as long as you don't overcook them you can also use them for a great red or white pasta sauce. I also have another recipe coming where I used them in a simple butter and parmesan lemon sauce!
I cook the orzo separately from the soup because the grain will soak up all of the broth if you put them together. Doing it this way allows people to add as much or as little as they like, and, if they decide not to add any, this recipe will quality for the Keto diet. It's a good way to serve multiple diets and taste preferences at once.
Reheating
This recipe is perfect for reheating and you can eat it for a few days after you make it as long as it is stored properly. However, know that you may have to add additional chicken broth as you go – especially if you add the orzo to the pot. If you add more chicken broth, you will also need to additional lemon juice.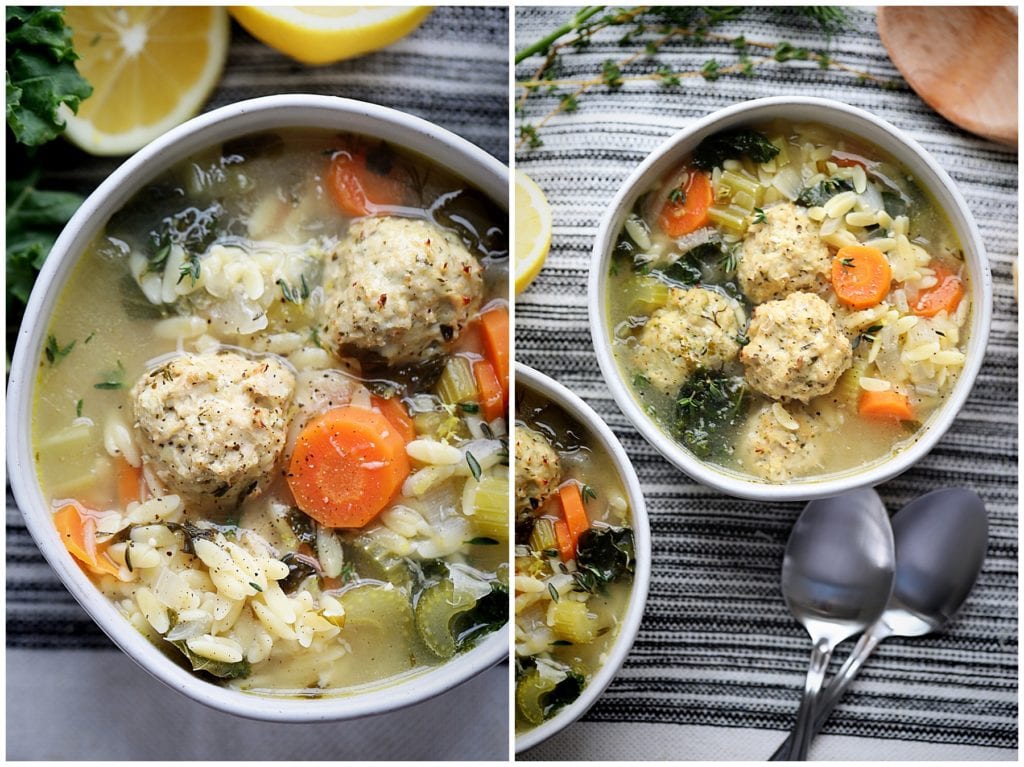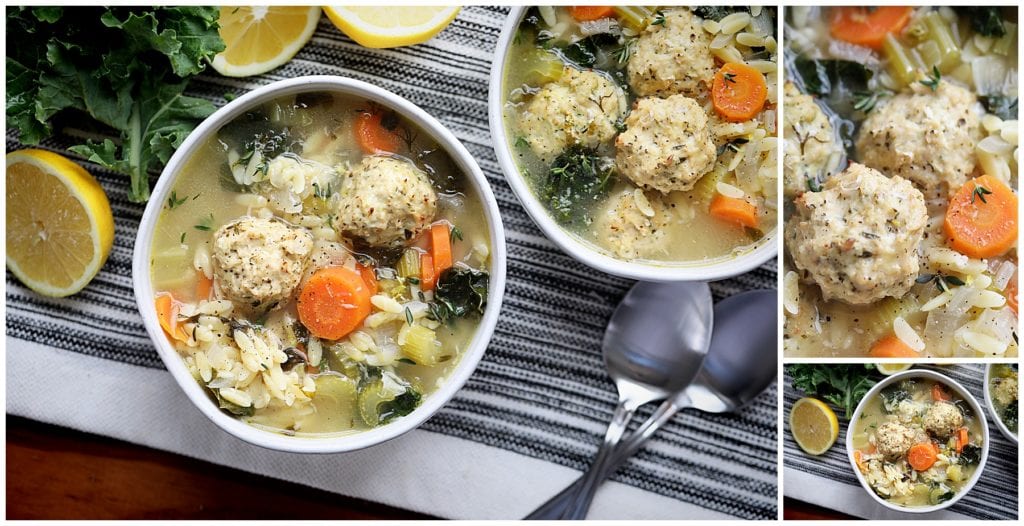 Lemon Orzo Soup with Chicken Meatballs
Lemon Orzo Soup with Chicken Meatballs
Prep time:
Cook time:
Total time:
Ingredients
Chicken Meatball Ingredients:
2 lbs. ground chicken
⅔ cup white onion, diced
1 egg
⅔ cup of breadcrumbs
¼ cup of fresh parmesan cheese, grated
4 Tbsp. of fresh basil, finely chopped
2 Tbsp. of minced garlic or garlic paste
2 Tbsp. of parsley, finely chopped
1.5 Tbsp. of oregano, finely chopped
2 Tbsp. fresh thyme leaves, finely chopped
1.5 Tbsp. of lemon juice
1 Tbsp. of olive oil
1 Tbsp. of sage, finely chopped
Salt and pepper to taste
Soup Ingredients:
2 Tbsp. of olive oil
2 Tbsp. of fresh garlic, sliced
1 large onion, diced
1 shallot, diced
2 ½ cups of orzo
2 cups of celery, chopped
2 cups of carrots, chopped
Parmesan rind – about 2-3 inches
48 oz of chicken broth plus 2 cups
Juice from 2 ½ lemons
2 bay leaves
2 Tbsp. of fresh basil, chopped
2 Tbsp. of crushed, dried rosemary
1.5 Tbsp. of thyme leaves
1 Tbsp. of dill, chopped
Optional:
Kale or spinach
Additional parmesan for topping soup
Extra thyme and/or basil for topping soup
Instructions
Steps for Meatballs:
Preheat your oven to 350
Chop all your onion, garlic, olive oil, lemon juice, Parmesan cheese and fresh herbs and then combine with egg. I like to use a small Ninja food processor for this so I can get the herbs really small and everything mixed well.
Combine your ground chicken, herb mixture and bread crumbs and mix well. I use my hands for this. Just make sure you wash them thoroughly before you start.
Use a melon baller to make each meatball about an inch big.
Place meatballs on an oiled cookie sheet or use parchment paper and cook for 25 minutes. If you aren't using these for the soup and instead using them for something else, I recommend cooking them for a few minutes longer.
Steps for Soup:
While your meatballs cook, add the 2 Tbsp. of olive oil to a Dutch oven. Once the oil is hot add the onion, shallots and garlic. Cook for about 5 minutes stirring frequently until the onions are translucent. Cook with medium heat.
Ass your celery and carrots to the pot and cook for about 8 minutes until they have started to soften. Continue to stir so you don't burn the ingredients.
Add your chicken broth to the pot and then add all your herbs. Cook on medium until it begins to boil.
Once it has boiled, turn the heat to low or on simmer and add your lemon juice. Simmer for 10 minutes.
While your soup is cooking, add your orzo to a separate pot and cook 8-10 minutes. Do not add this directly to your soup when it is done. Hold off and allow people to add as much as they like or none at all. If you do decide to add it them remember it will soak up the broth and you will likely need more.
Add your meatballs to the soup and continue to simmer for about 20 minutes stirring occasionally.
If you want to add any additional kale or meatballs, add it now and let it cook down.
Serve warm with at least one scoop of orzo and additional thyme or basil. Add some parmesan cheese and some cracked pepper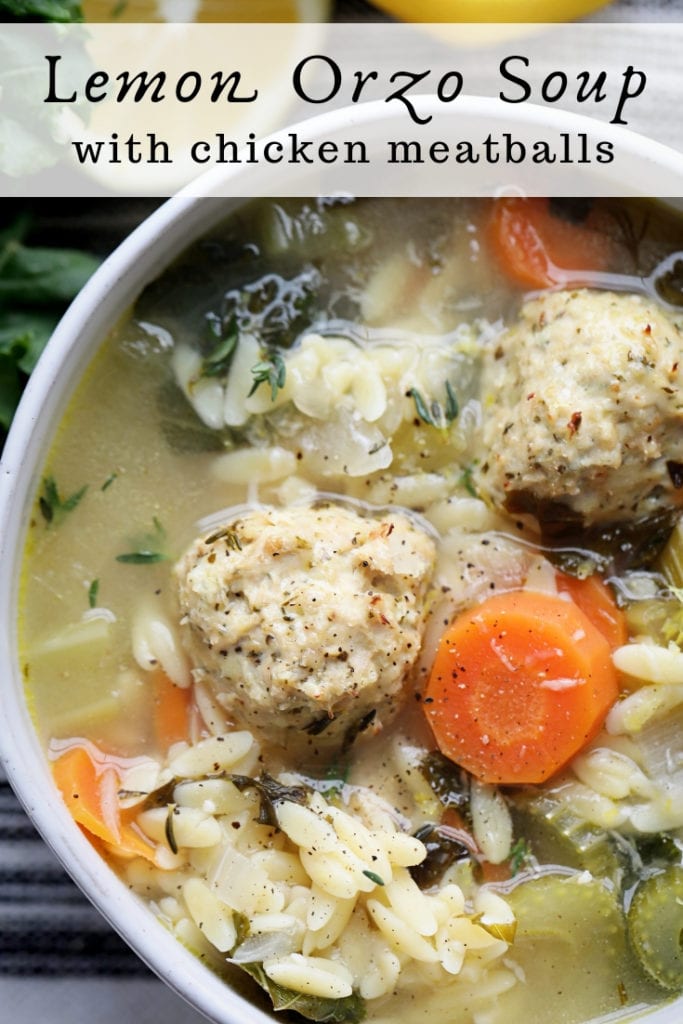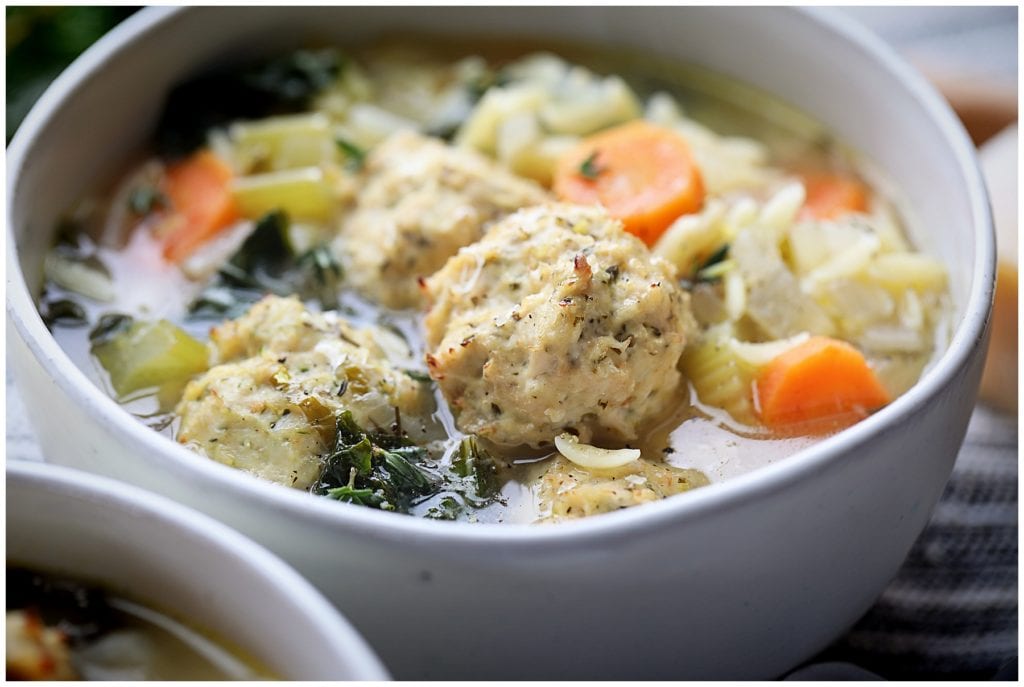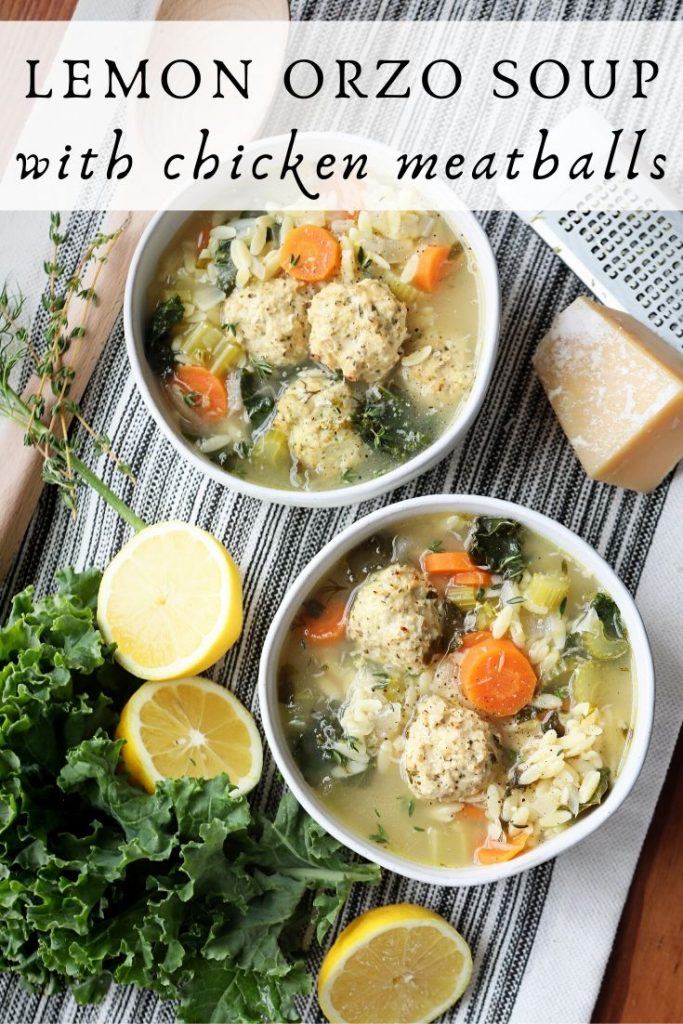 If you like this then you will LOVE our Carrot Soup with caramelized onions. Find it here!
For more recipes from The Everyday Mom Life, cclick here.