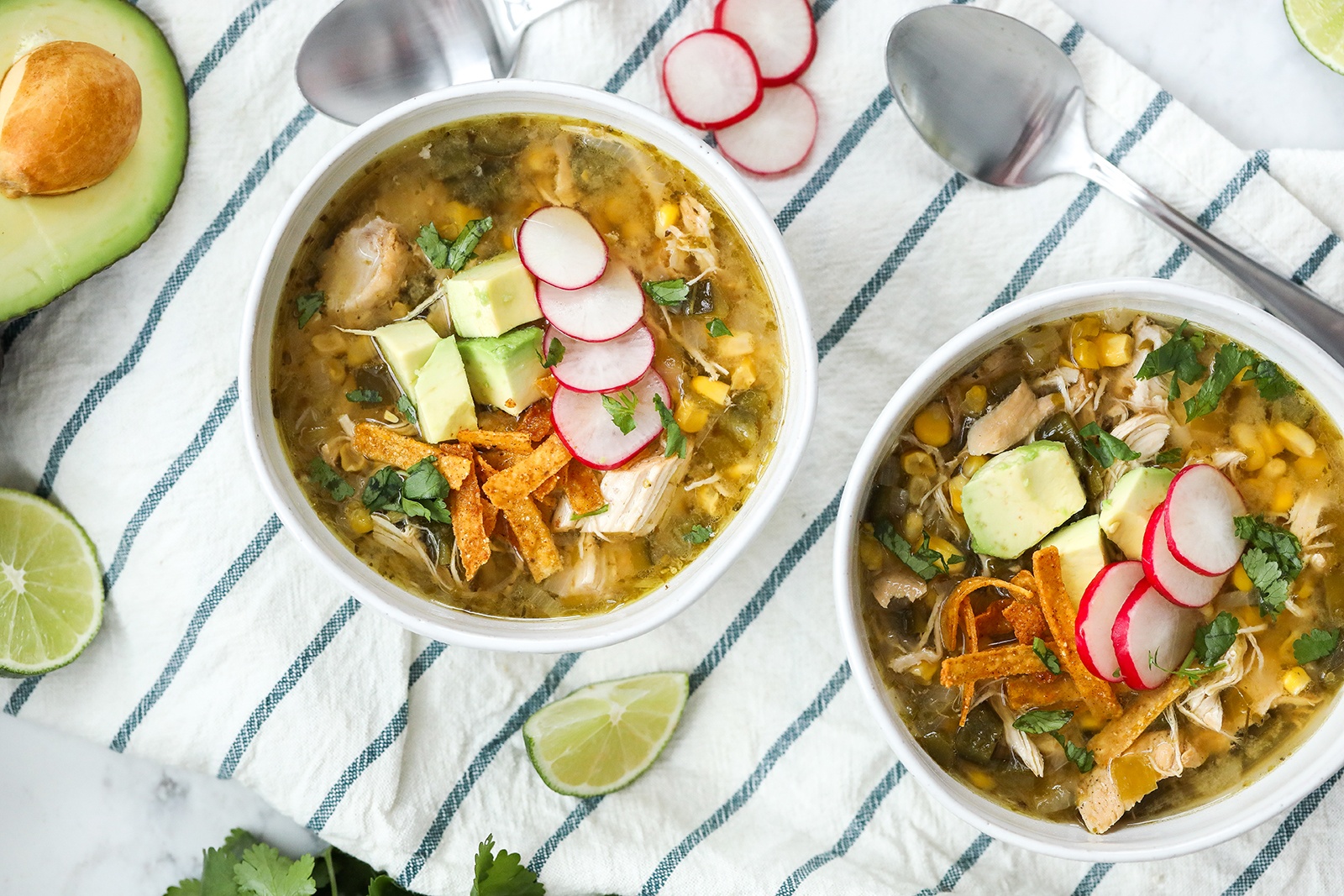 Soup is a winter staple at our house. I love a good warm bowl for lunch and for dinner. And, let's be honest, after the gluttony that comes with the Christmas holiday, soups are (usually) s good way to consume fewer calories while slurping up tons of nutrition. This Chicken Pozole Soup is an amazing, delicious dinner for your family when you need something delicious, fast, and easy.
Soup is also a great way to provide a quick meal for your family, and always brings with it the possibility of leftovers. I love a meal you can make once and eat twice. That's exactly what this soup can be if you make enough.
It's also a very hands-off meal once you get it going. You can make it in your pressure cooker or slow-cooker so it cooks while you work. Even better, my Chicken Pozole Soup recipe uses fresh ingredients and a few key spices.


What is Chicken Pozole Soup?
Pozole is a Mexican dish that's generally served on New Year's Eve. It's a dish of celebration and may also be served during other holiday gatherings.
The word Pozole actually means hominy, which is essentially corn soaked in a lime solution that softens the outer shells.
However, you'll find many, many variations of pozole soup – many which don't even include hominy. It's served in Mexican restaurants around the world now and can be made in many ways. You will find people create blanco (white), verdre (green) and rojo (red) versions of the recipe. Typically, it includes hominy and pork or chicken.
My Chicken Pozole Soup is a verde, or green, version on the recipe. It includes the classic hominy, Shredded chicken and tomatillos as the main ingredients.
What's a tomatillo?
If you've never heard of tomatillos or have never worked with them before, I'm hear to tell you about how delicious they are. They are in the nightshade family and are known as the Mexican Husk Tomato because they come in almost a little, cocoon husk that you have to peel off to reveal the fruit inside. Once peeled, they look very similar to small, green tomatoes. They give the broth it's green-like hue in Chicken Pozole Soup.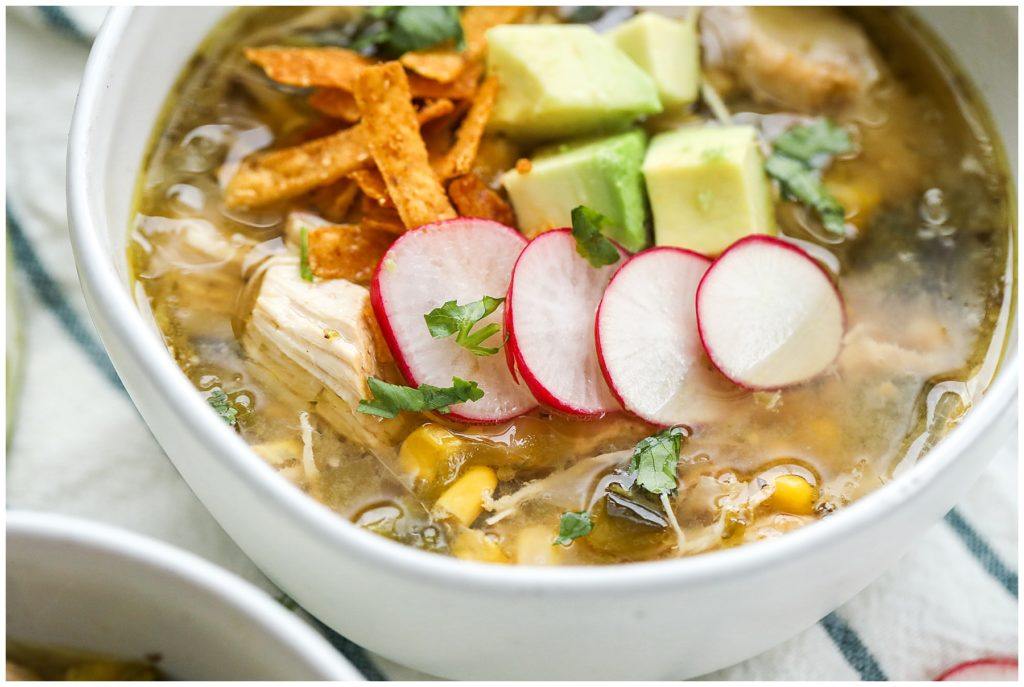 We've used them for years as part of a salsa for our favorite Turkey Chili recipe. They are often used as a base in any green salsa recipe that you might find in restaurants. They are mild in flavor and once combined with some other favorites, provide a bit of a tang to any dish.
You can usually find them at Walmart or grocery stores with a large variety of produce.
Cooking Chicken Pozole Soup
To make this Chicken Pozole Soup, I suggest you sauté a few of your ingredients first and I'll explain that more in the recipe. Generally, I love recipes that I can dump into a pot and cook when I need a fast meal. However, sometimes it's really worth the extra effort to sauté some things first to help bring out the flavor.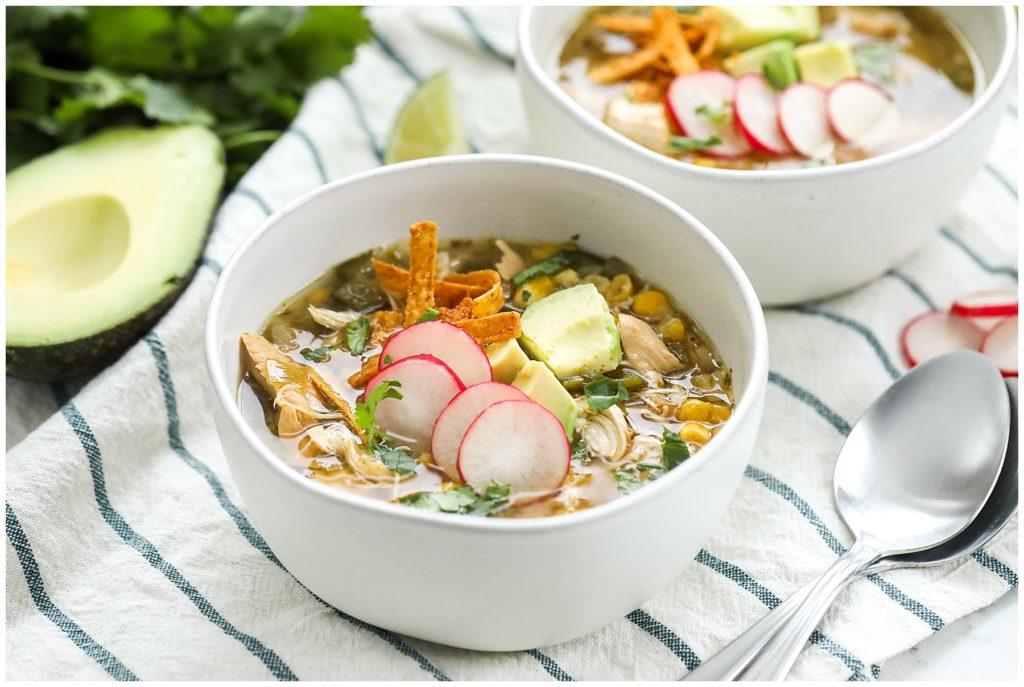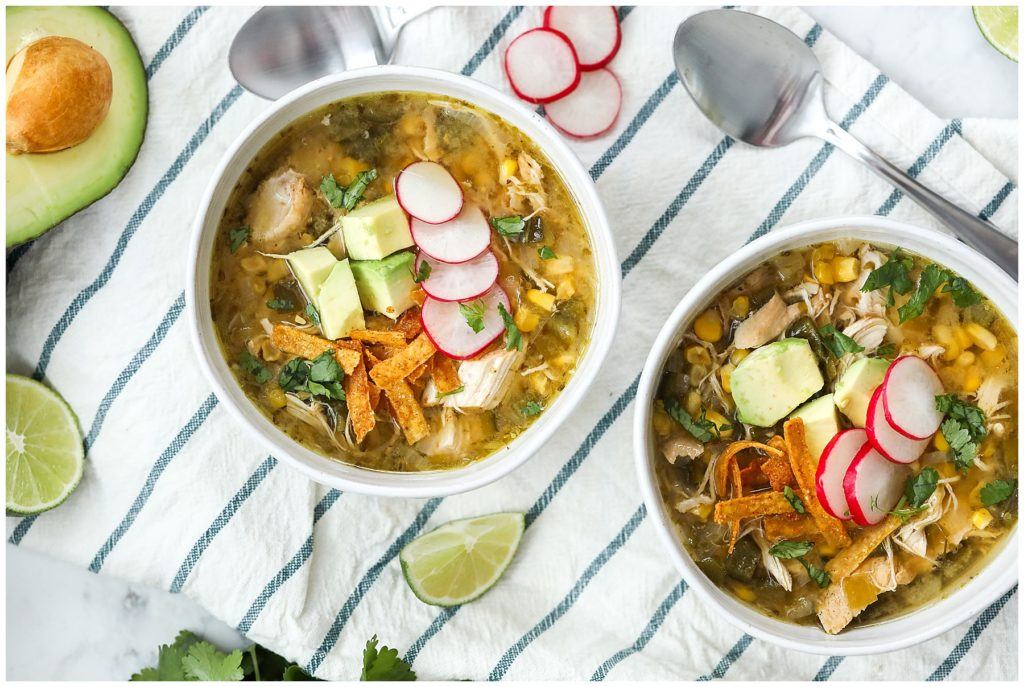 If you're using the Insta Pot:
Remember, pressure cookers take time to come to pressure. A lot of recipes will bill Chicken Pozole Soup as a 30-minute meal. And indeed, it does only take 30 minutes to cook. BUT, it will also take about 10 or 15 minutes to come to pressure before it starts cooking and I want to be transparent about that so you can plan accordingly. I hate when recipes are billed as 30-minute meals but don't account for things like cutting or including the time for a pressure cooker to come to pressure.
A bonus to using an Insta Pot is that you can sauté everything right in the pot so you don't have to worry about using an extra pan. Plus, it is ready faster than it would be ready using a pressure cooker and the chicken shreds better.
If you decide to use a slow cooker:
If you want go the slow cooker route when making Chicken Pozole Soup, you should still sauté the ingredients in the recipe that I suggest be pre-cooked. It will help bring out the flavor. Then you can dump them into the slow-cooker with everything else and cook it for eight hours while you're at work.
My recipe below will go through how to cook it in the pressure cooker but if you want to use the slow cooker, know it is equally as easy.
Thank you for visiting today, friends! I hope you'll stop by again. See below for the full Chicken Pozole Soup recipe and click here to find more easy recipes!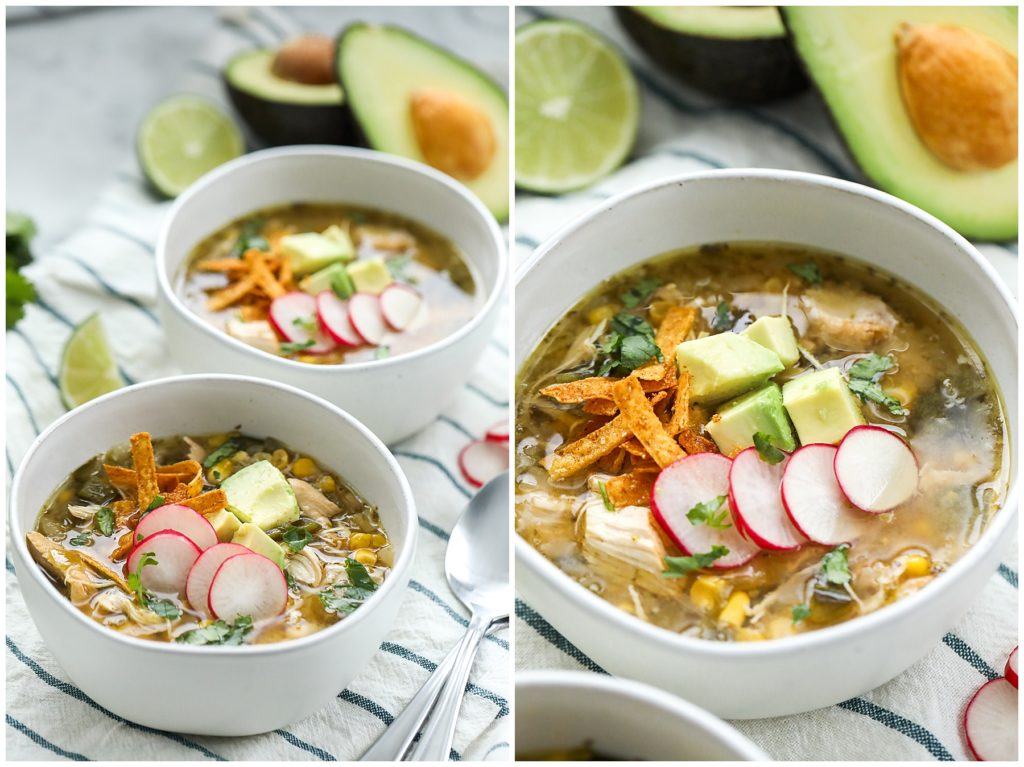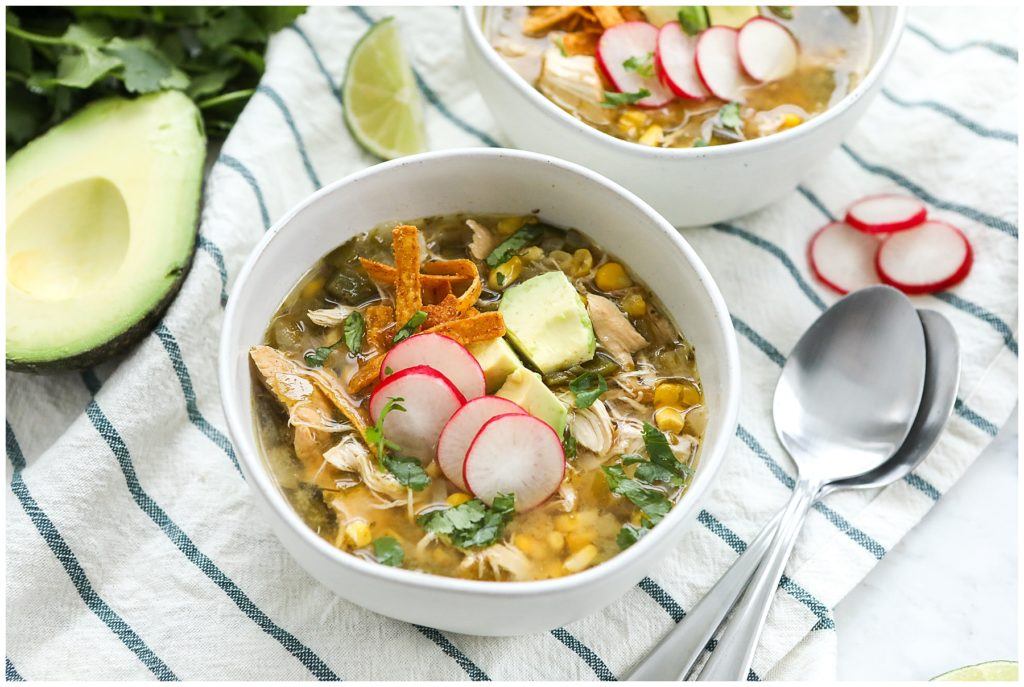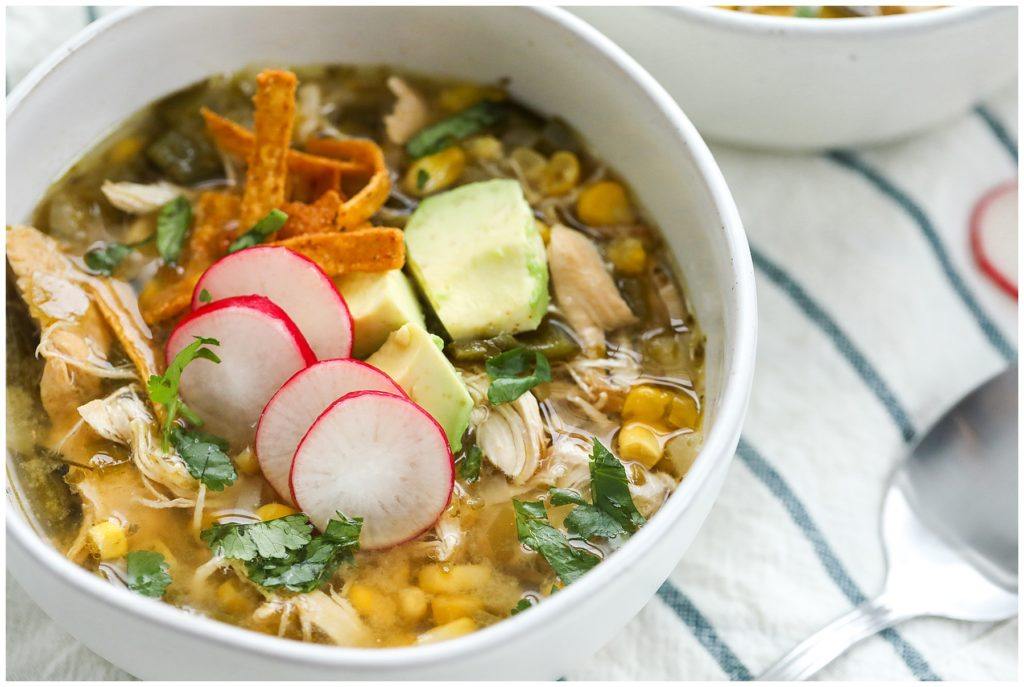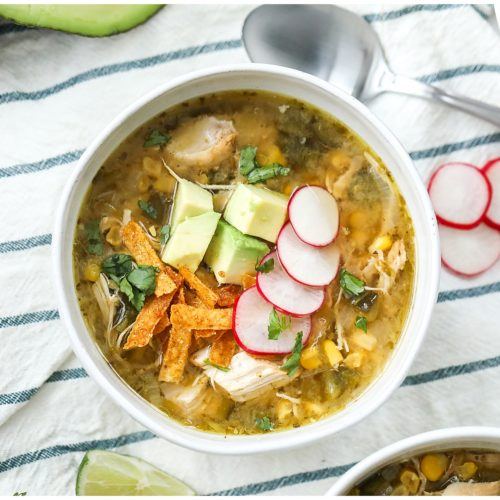 Chicken Pozole Soup
This Chicken Pozole Soup is fast, easy and fresh! It's perfect for weeknight dinners and it's crazy good!
Print
Pin
Rate
Ingredients
6-8

tomatillos, diced

5

cups

of chicken broth (you can use regular or low sodium)

3

large chicken breasts (1 package or just over 1 lb.)

1

half

a white onion, diced

1

poblano pepper, diced

1-2

cans

of hominy

1/2

Tbsp.

garlic, minced

2

Tbsp.

lime juice

2

Tbsp.

olive oil

2

Tbsp.

cilantro, chopped finely

1.5

cups

of corn (You can use fresh or frozen)

1.5

tsp.

of oregano

1.5

tsp.

of cumin

1

jalapeno, seeds removed and diced

1

tsp.

of Kosher salt

1

tsp.

of black pepper

Optional toppings: Avocado, radishes, tortilla strips, cilantro
Instructions
Add your olive oil to your Insta Pot and using the sauté setting, let it heat up. (If you're using a slow cooker, do this in a separate pan)

Salt and pepper both sides of your chicken breasts and add them to the pot/pan. Cook on each side for about three minutes.

Remove chicken and then add garlic and onions. Stir continuously to ensure that the garlic doesn't start to burn. You can add extra olive oil if you need it. Make sure to scrap any of the browned chicken bits from the bottom of the pot/pan.

After about one minute, add the poblano pepper and the jalapeno pepper and continue stirring. Give them another minute to soften.

Add your chicken broth, lime juice, chicken, hominy, corn, tomatillos, cilantro, cumin, oregano, salt and pepper. Then close and secure your Insta Pot and set the timer manually for 30 minutes. Make sure to move the nozzle to sealing to ensure the pot will come to pressure.

Once the Insta Pot signals it is done, you can either let it vent by itself or vent it manually before removing the lid.

Shred your chicken breast and then serve.

You can add in avocado, radishes, additional cilantro, tortilla strips, cheese and more!