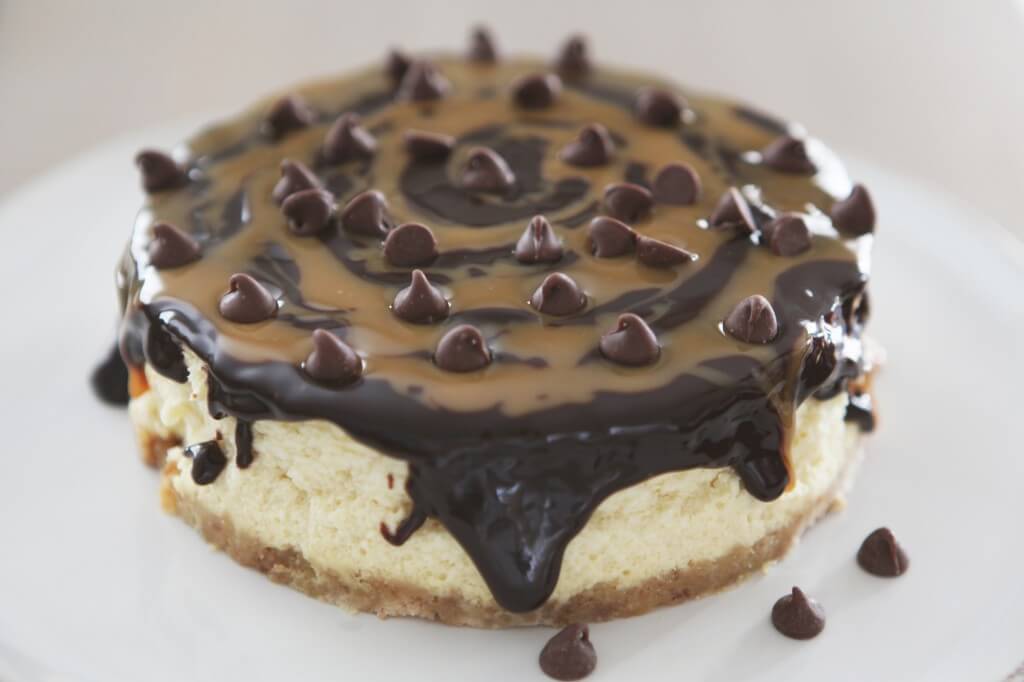 As much as I try to make sure my family eats a balanced diet and eats well during the week, I also believe in treats. This weekend I made them a cheesecake with a chocolate caramel topping in my pressure cooker and it turned out amazing!
The pressure cooker is a relatively new way for me to cook. I received it as a present for Christmas. There was a surge of goodwill towards pressure cooking in one of my moms' groups because it can cook amazing meals, fast. Since opening it, I've made a handful of meals in it and the meat has always been tender and perfectly cooked. In fact, I've been able to cook frozen chicken in it and have it come out shredable enough for tacos in about 20 minutes. If my crock pot is my sidekick, then the pressure cooker is quickly becoming my No. 2 in the kitchen.
This was my first time making dessert in the pressure cooker. So, while I think I could have done some things better, it still had a wonderful, creamy texture and provided a bit of indulgence for me and my family on a Sunday afternoon.
For the cheesecake recipe, I modified one from here. My husband is not a fan of pecans or turtle-type desserts and I wanted to make sure I had someone who would help me eat this. You will need the following:
Cookware
7-inch spring form pan (This can be found on Amazon. It is difficult to find in this size in the store.)
Electric pressure cooker (I use an Instant Pot. Specifically, this one.)
Cookie Crust
Shortbread cookies or graham crackers. I used about eight cookies.
Three tablespoons of butter.
Cheesecake Filling
Two 8 oz packages of cream cheese, softened
3/4 cups of sugar
1/3 cup sour cream
1/3 cup of heavy cream
2 tablespoons of vanilla (This is more than the original recipe. I've always found the flavors the pressure cooker produces to be subdued so I always increase the amount of flavor additives and spices. For spices, I usually double them.)
2 tablespoons of all-purpose flour
3 eggs at room temperature
Chocolate Caramel Sauce
Milk chocolate pieces/chips or hot fudge (I used fudge)
Caramel topping
Milk chocolate chips
First crust your cookie pieces and add the butter. Make sure the cookie or graham crackers crush up very fine.
Press the mixture into the spring form pan.
Put the crust in the freezer while you prepare the filling mixture.
Combine all cheesecake filling ingredients in a bowl and mix. Be careful not to mix too much to add air into the cheesecake. I'm guilty of doing this often.
Pour filling mixture into the greased (spray or butter), spring form pan.
Add one cup of water to your Instant Pot.
Use tin foil to tent your cheesecake.
Position your cheesecake on the the stainless steel, steamer rack with handles and lower into the pot. This comes with the Instant Pot.
Secure the lid and cook on high pressure for 30 minutes. Remember, you will need to allow time for the pot to come to pressure.
When the timer is done, let the pot vent naturally for about 10-15 minutes. Then, release any final pressure.
Take the tin foil off and let the cheesecake cool on the counter for about an hour. The, put the cheesecake in the refrigerator for at least three hours.
For the topping, heat up your chocolate on the stove or in the microwave and spread over the top of your cheesecake.
Drizzle the caramel on top of the chocolate.
Finally, top with chocolate chips and enjoy!
Happy eating, friends!