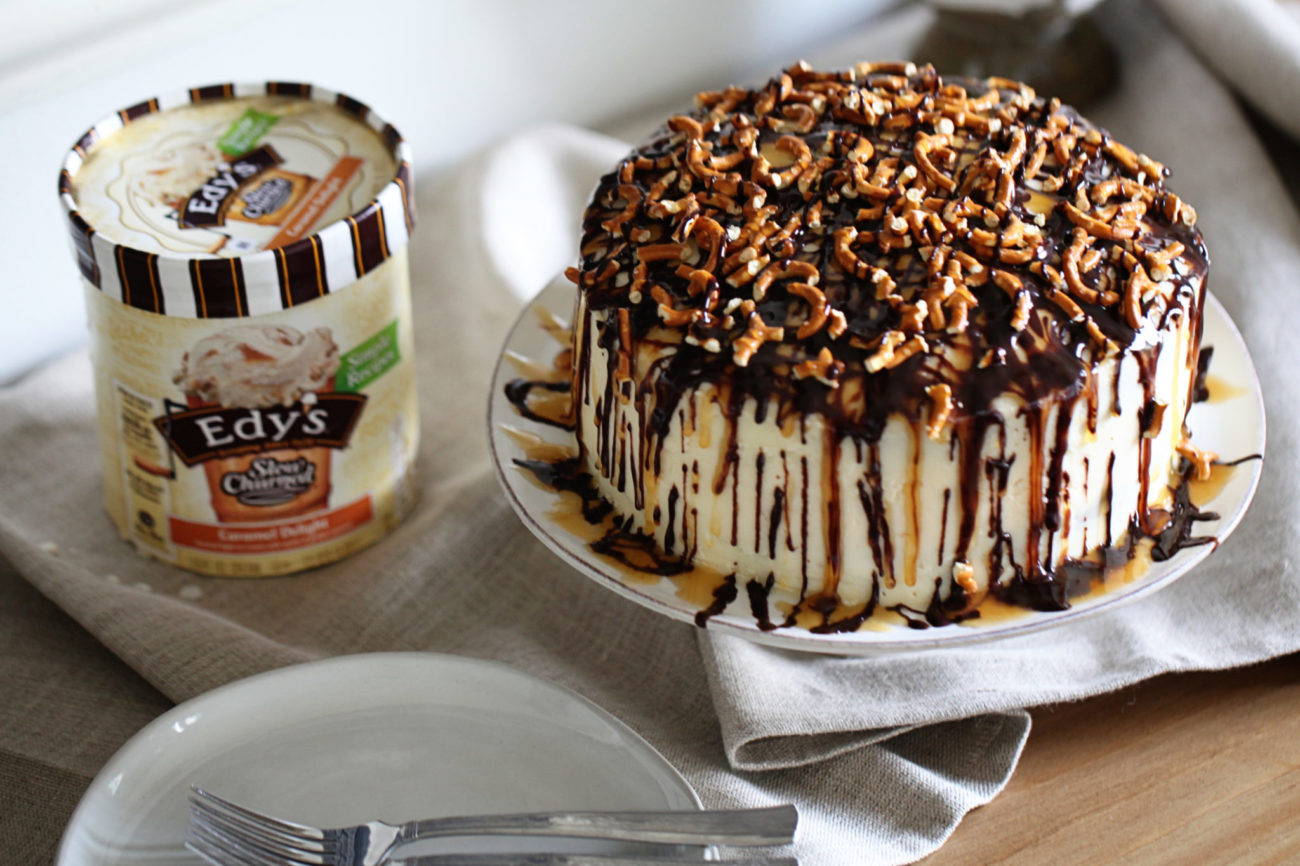 Everyone knows the piece de resistance of a good party is the cake. And what birthday party would be complete without one?
After seeing The Greatest Showman earlier this year my daughter decided she wanted a circus party. We are a bit obsessed with the songs, the costumes and the beautiful story – fake as it was. We play it in the car, dance to it at home and somehow my children even fall asleep to it (also in the car).
My little decorator heart loved the idea of this theme because my house already feels like a circus whenever a bunch of the kids' friends are over and now I would get to make the décor match the vibe.
In partnership with Edy's, we created a birthday to remember with a decadent ice cream cake at the center of it all.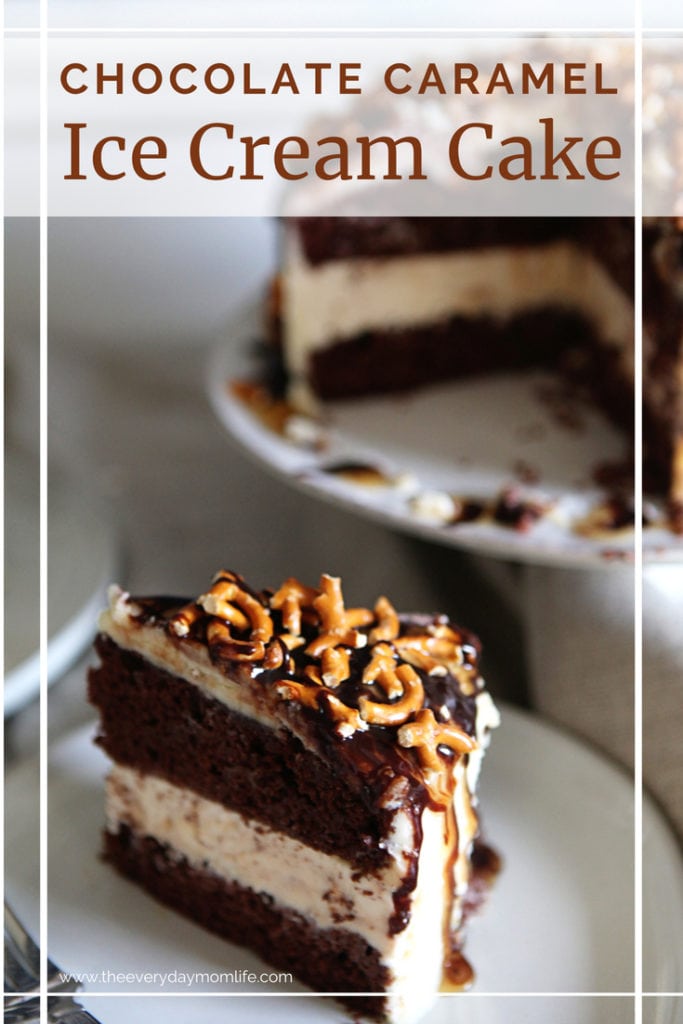 When it comes to cake, I'm not always a fan. I have specific cakes I like and that's it. I'm really picky about them (This includes cupcakes) because I like them to be moist, not too dense and topped with just the right frosting. I'm much easier to please when it comes to pie and ice cream.
That said, there are some cakes I enjoy and that includes ice cream cake. Perfectly moist layers of cake sandwiching a creamy layer of ice cream is the way to my heart.
Since the theme of the party centered around the Big Top, I wanted to make my cake for the party over the top.
The kids had a blast that day and not only gobbled up the cake, but the other snacks served including the Outshine Slushies and the Vanilla & Mint Chocolate Chip Ice Cream Pops by Edy's.
Check out all the details and grab the recipe for the cake below!
Décor
For the decorations, I knew I wanted everything to sparkle and feel bright and happy. I wanted to emulate the sensations you might have visiting the three-ring circuses of yesterday. I wanted your eyes to dart off in all directions. Imagine all the activity that would have been happening in the three rings during the finale: the acrobats swinging from the ceiling; the clowns, dancers and animals on the floor; the people selling wonderful treats next to you and a little bit of magic.
Obviously, I couldn't have animals (except our 15-year-old dog who hid in my room the whole time) but I could make everything sparkle. I could draw your eye up with simple fans, streamers and other hanging decorations and I could make the kids, "Oooo," and, "Ahhhh," with an amazing face painter, magician and balloon artist.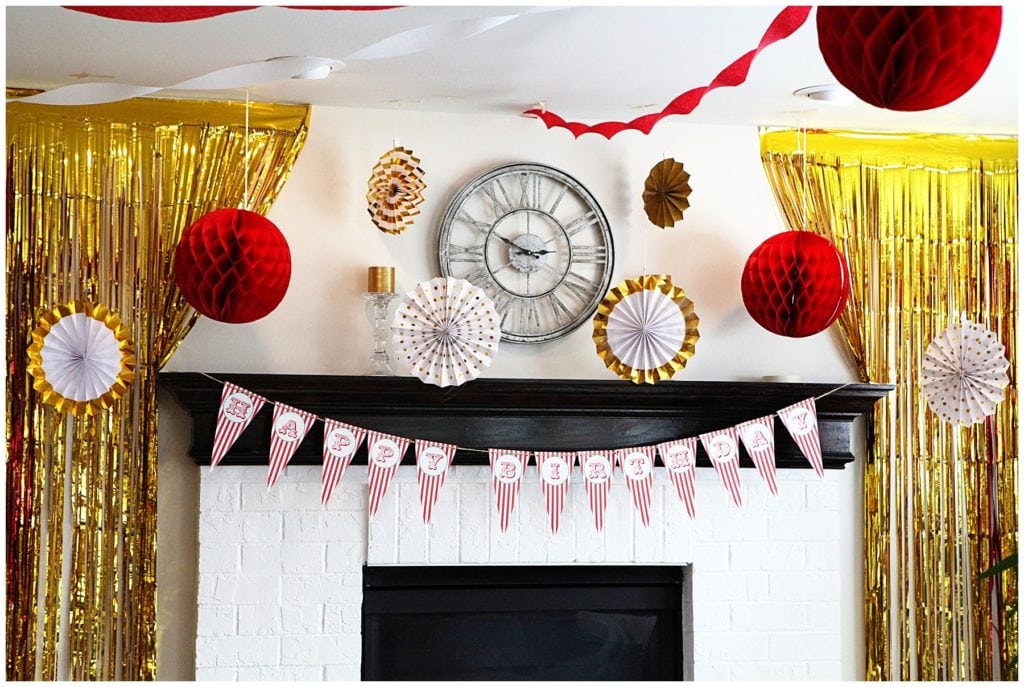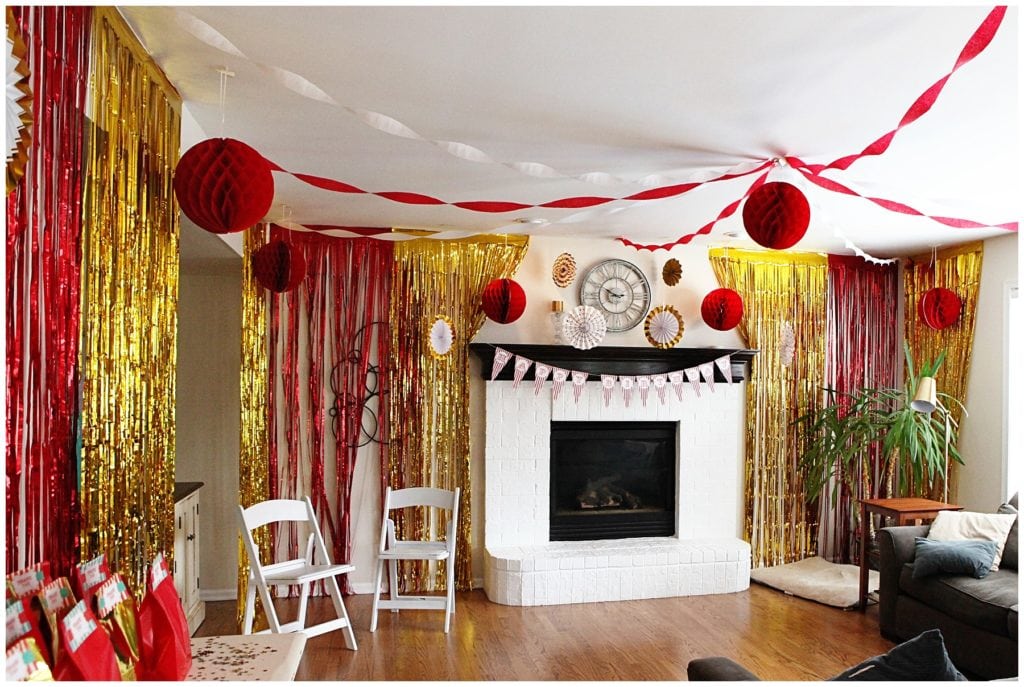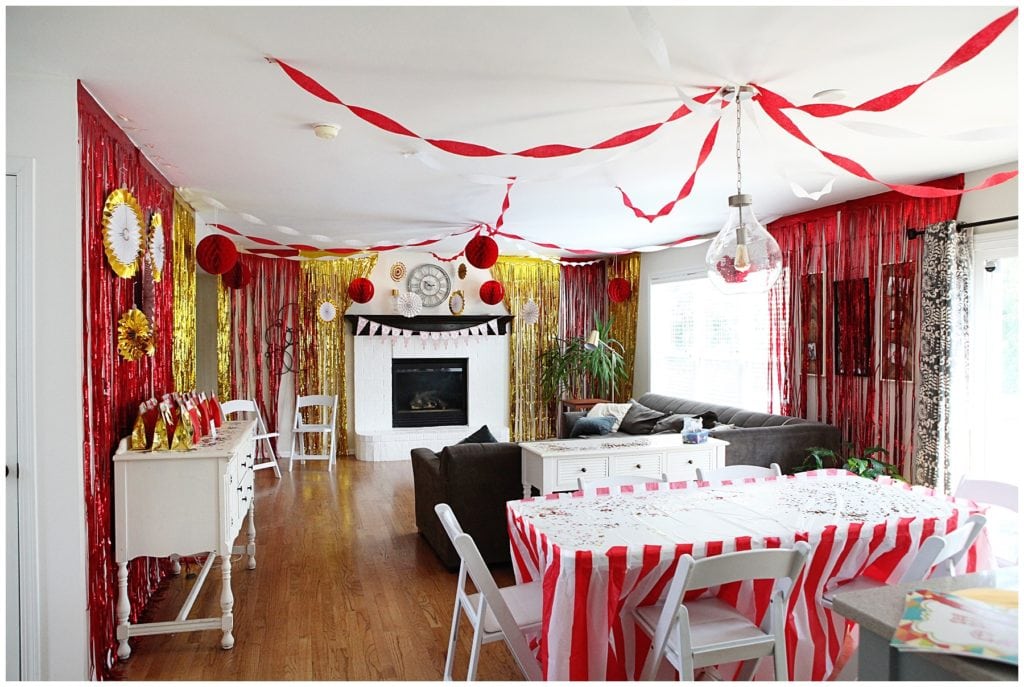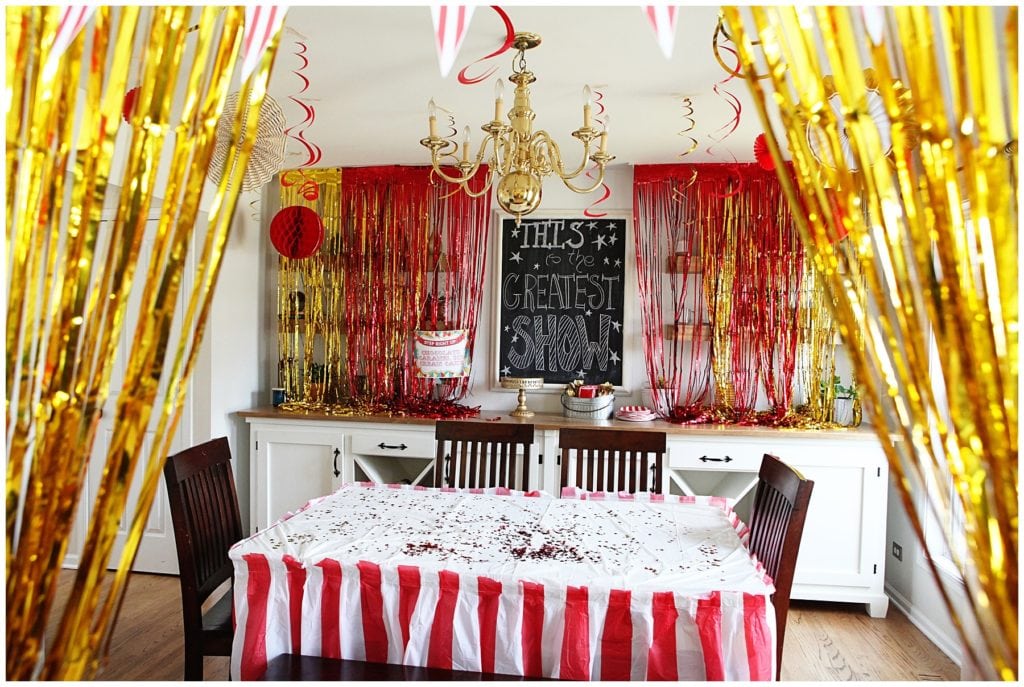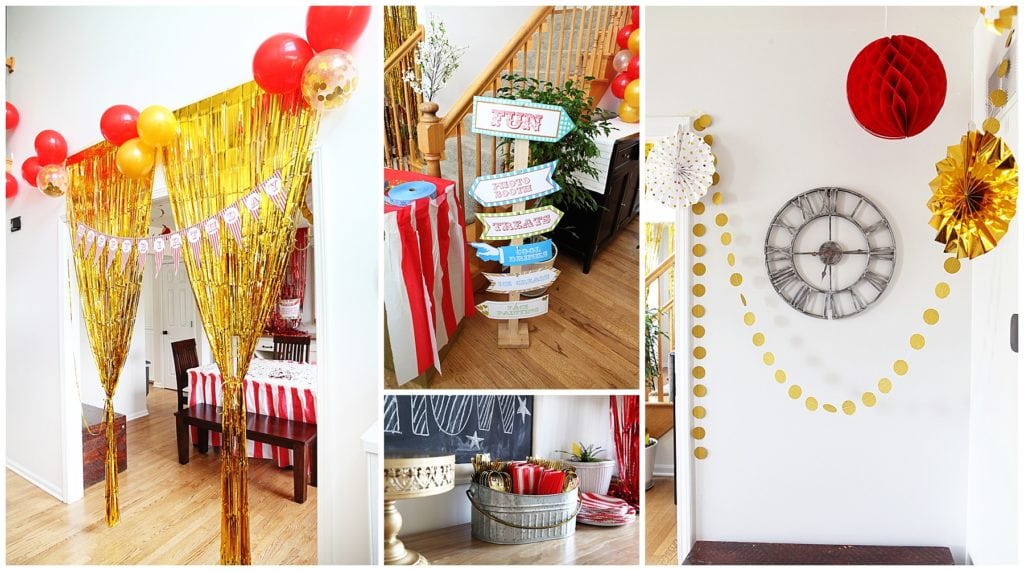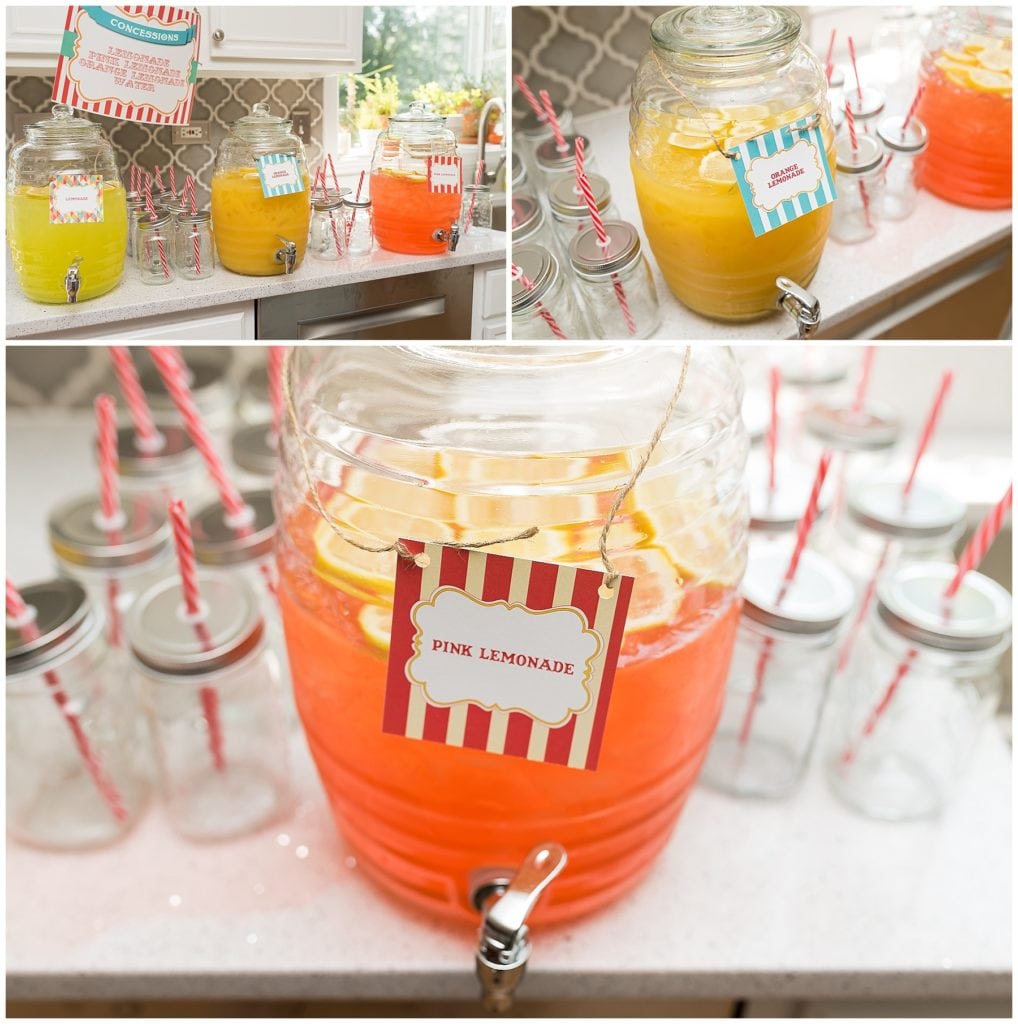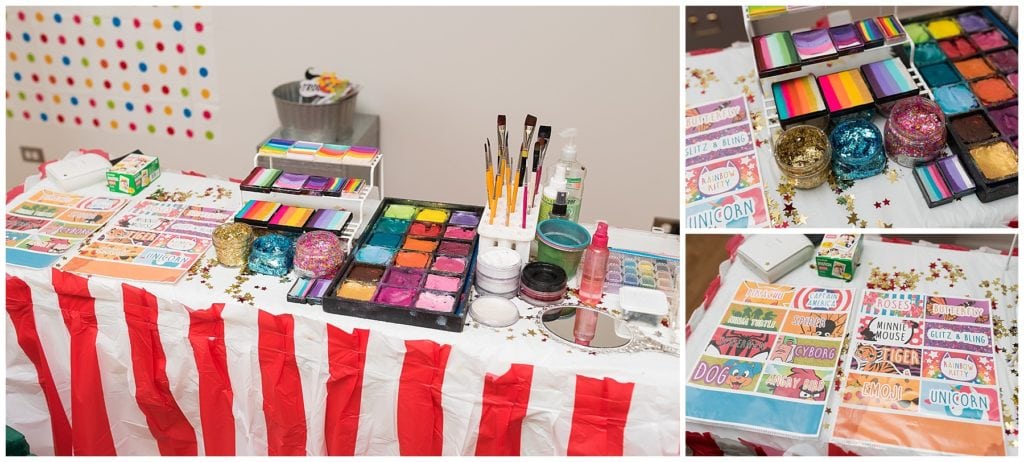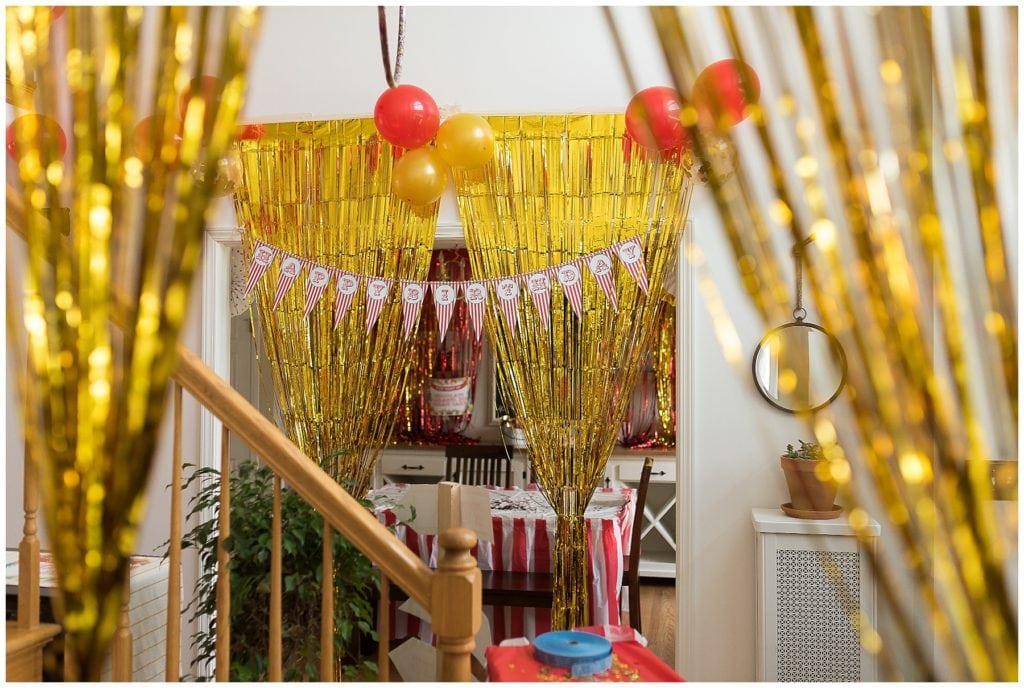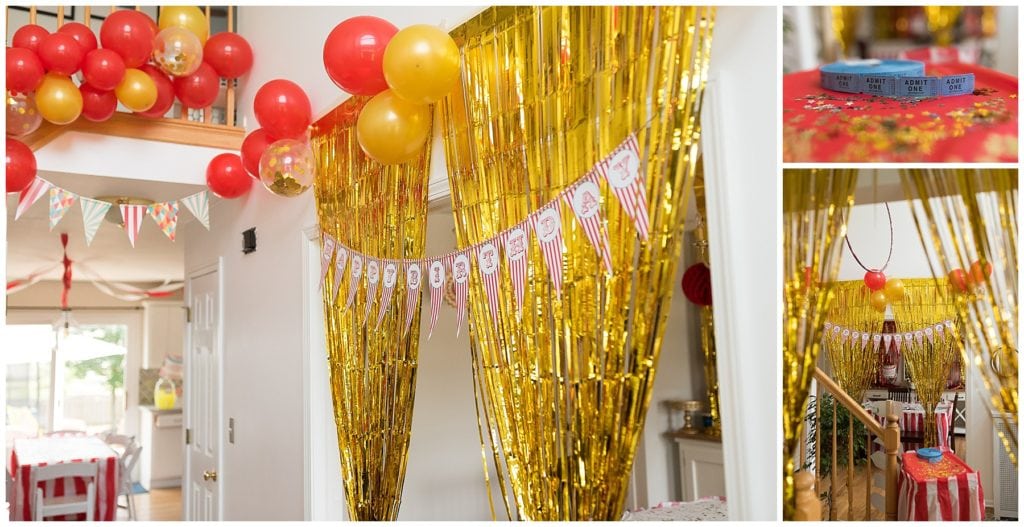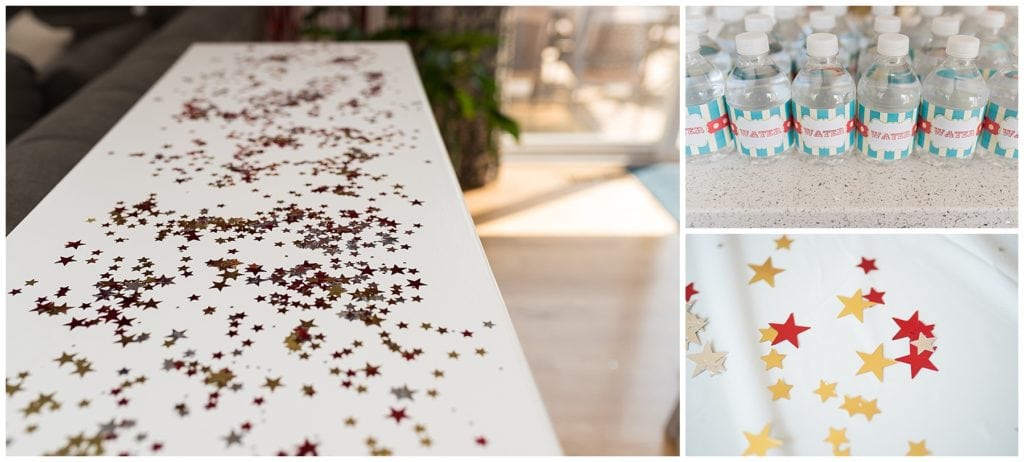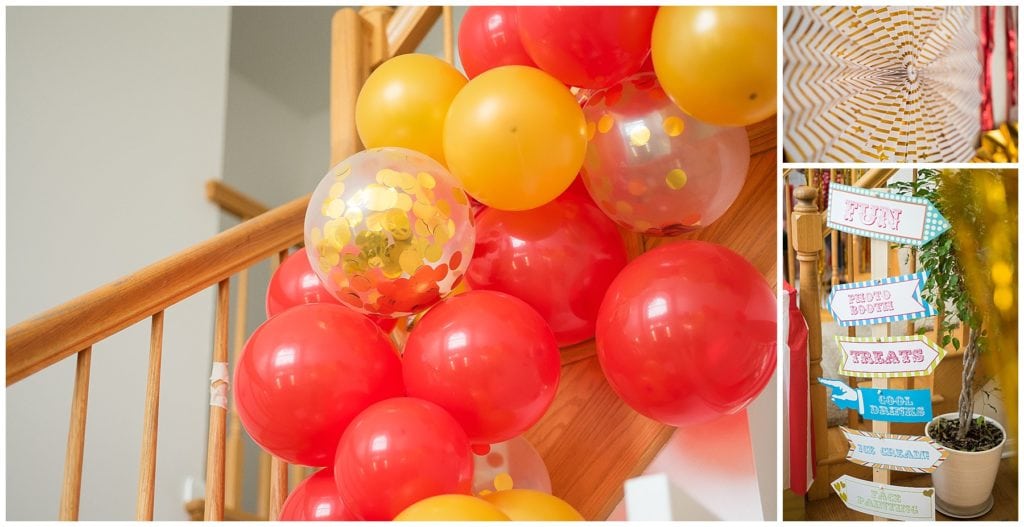 The Food
The food for the party revolved around ice cream. There was of course the cake, but we also had slushies made from Outshine Fruit Bars, and ice cream pops made from Edy's Slow Churned Classic Vanilla and Edi's Slow Churned Mint Chocolate Chip. Those will both be up on the blog soon!
As previously mentioned I wanted a cake that would sparkle just like the decor. When I think about the circus food, I think about all the fun food you can eat there – popcorn, soft pretzels, ice cream, chocolate, caramels, peanuts, etc.
I drew inspiration from the chocolate, ice cream and pretzels and I made a Chocolate Caramel Ice Cream Cake complete with pretzel topping and Edy's Slow Churned Caramel Delight. I topped it with a fluffy, whipped buttercream, which is a beautiful cross between whipped cream and buttercream. (I'm not a huge fan of buttercream so I'm constantly trying new iterations of it.)
If you're intimidated by the idea of making an ice cream cake, don't be. It's actually very easy. I've now made it twice in the last three weeks and both times it's come out pretty perfect.
Right now, you can save $2 on Edy's and other participating Nestle ice cream products when you buy 3!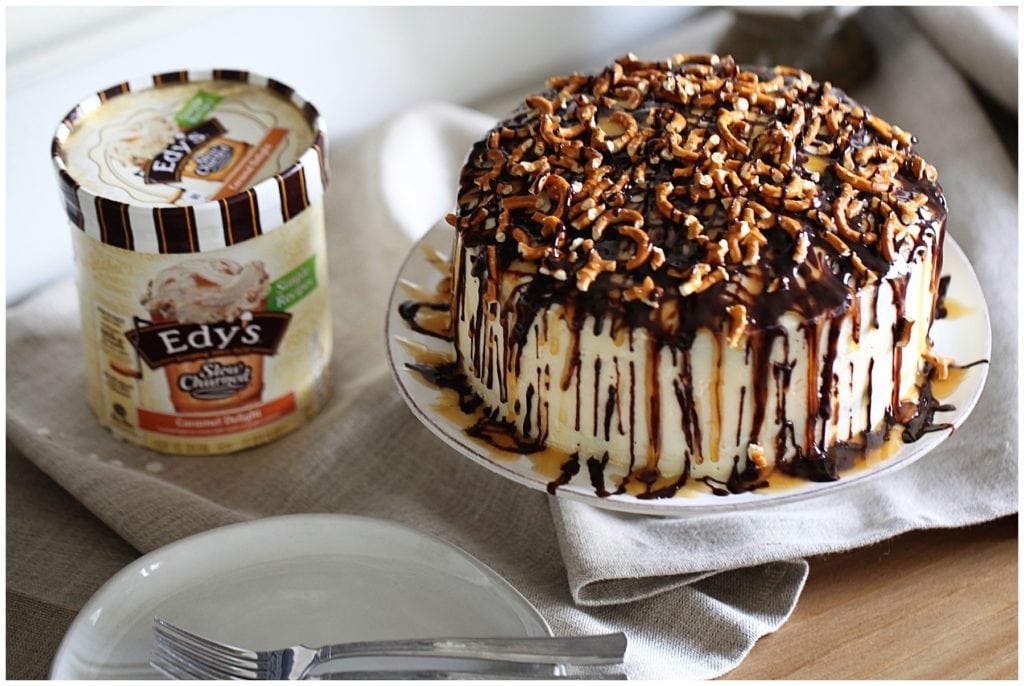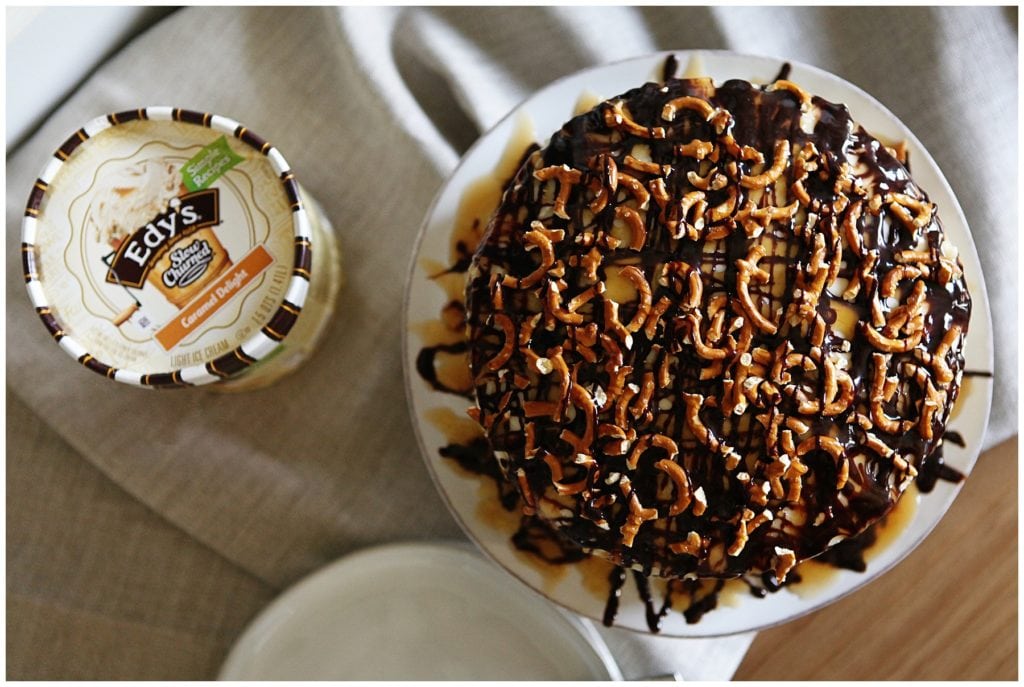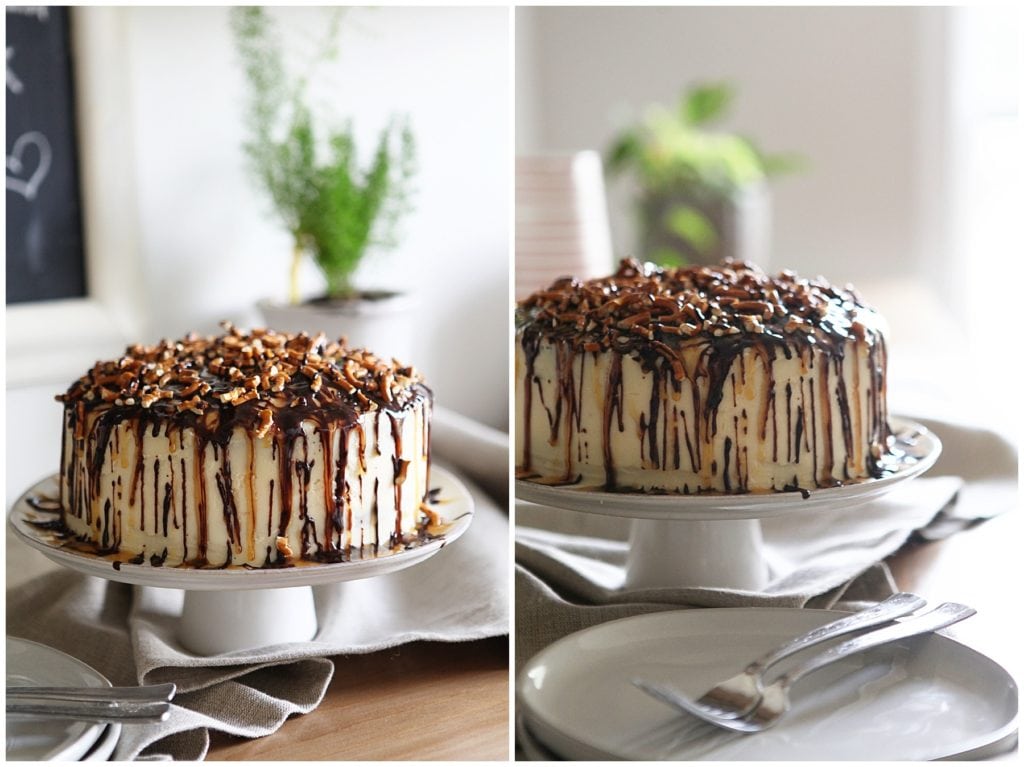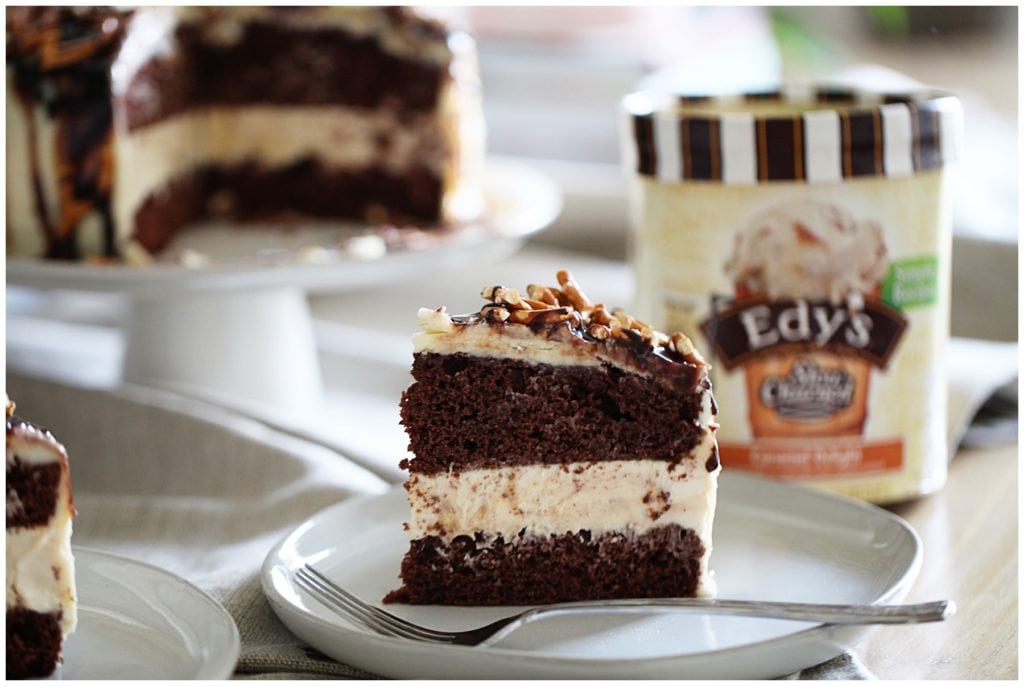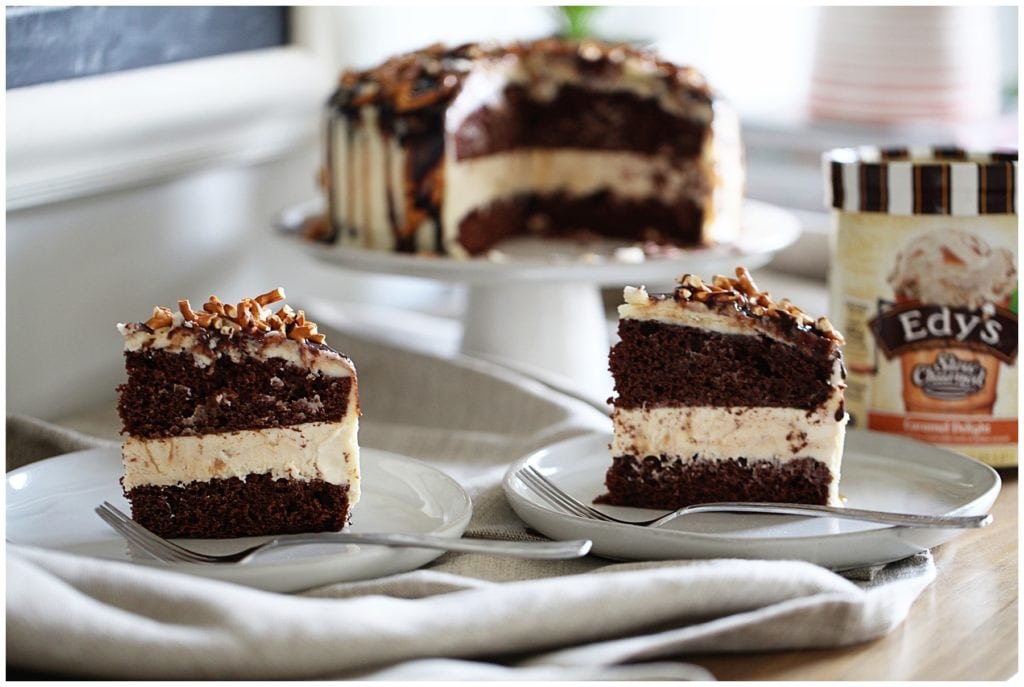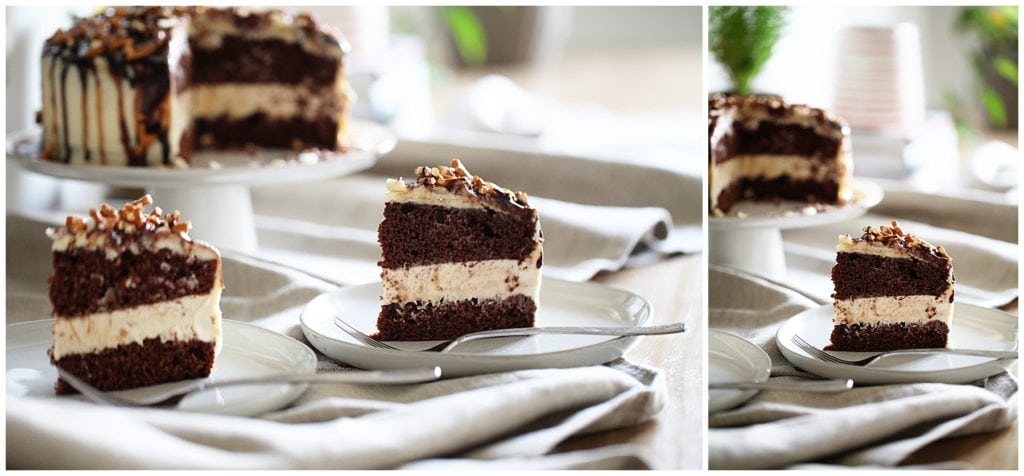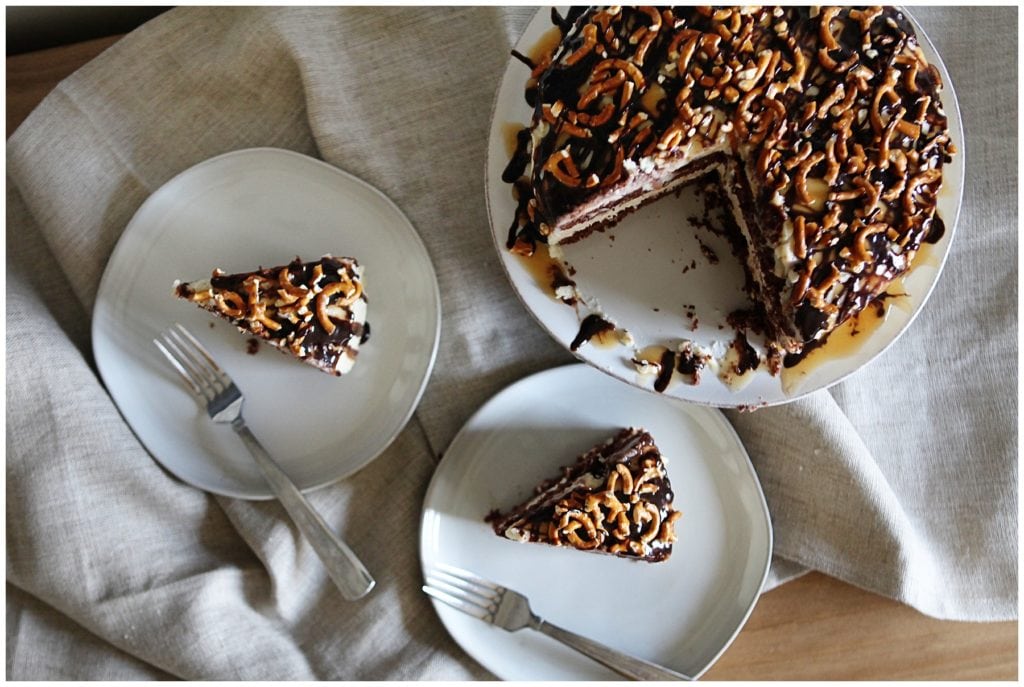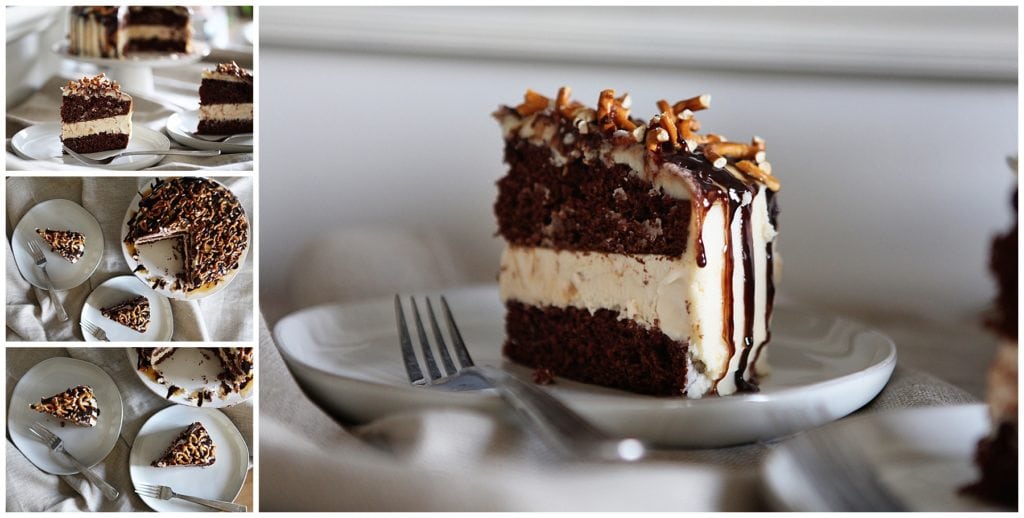 The cake was the final product we served at the party and the kids and adults alike really enjoyed it.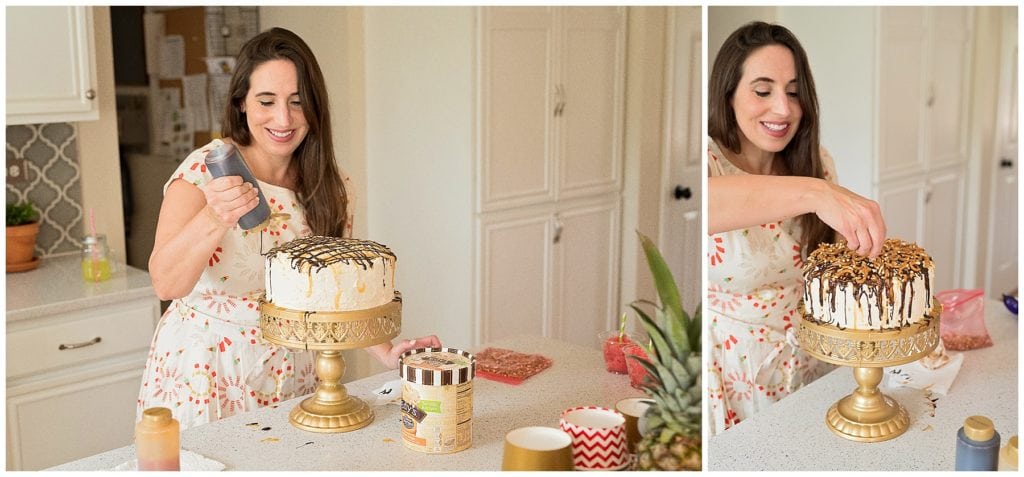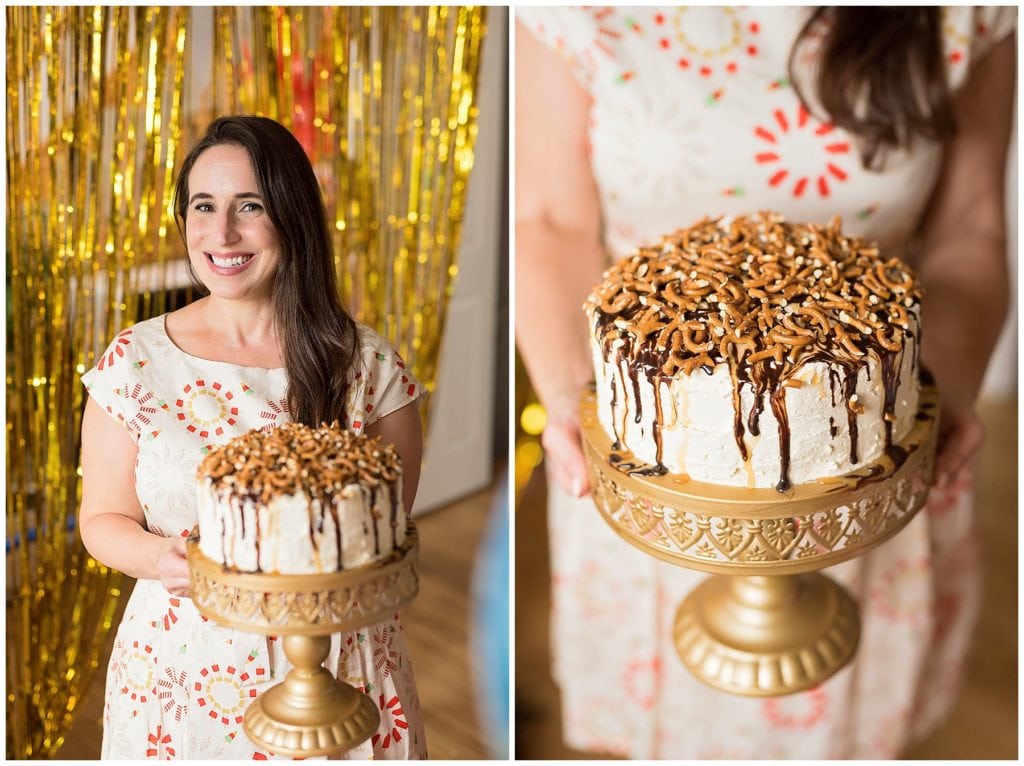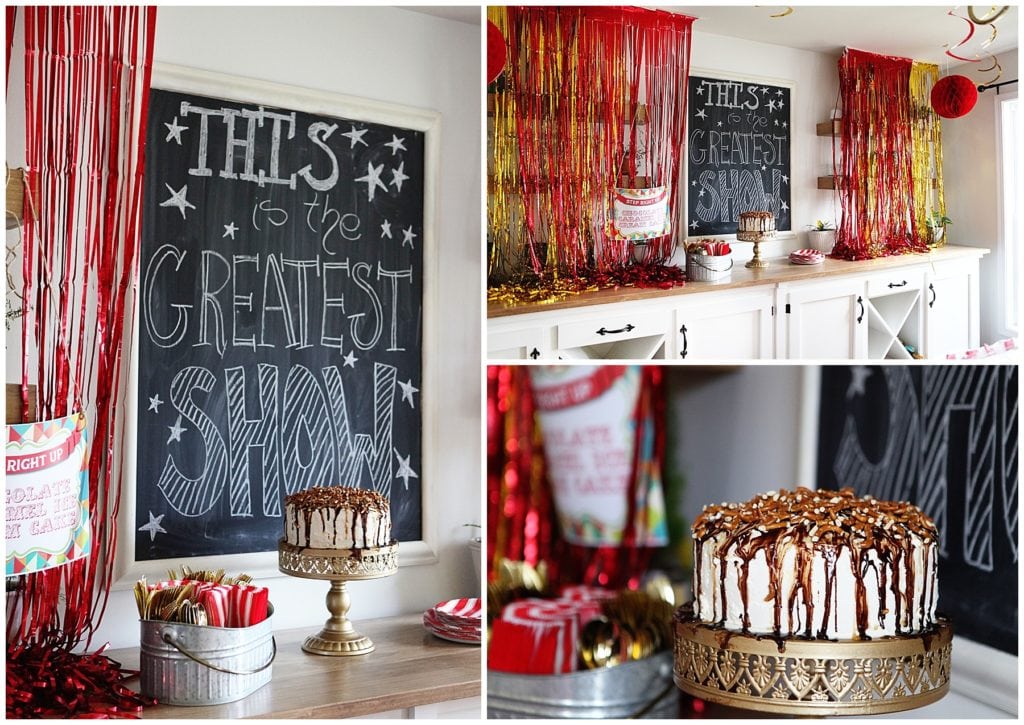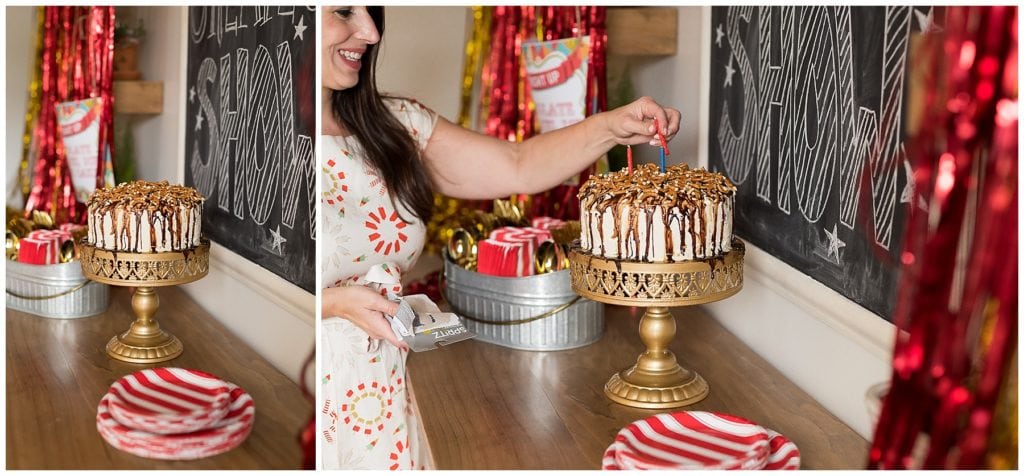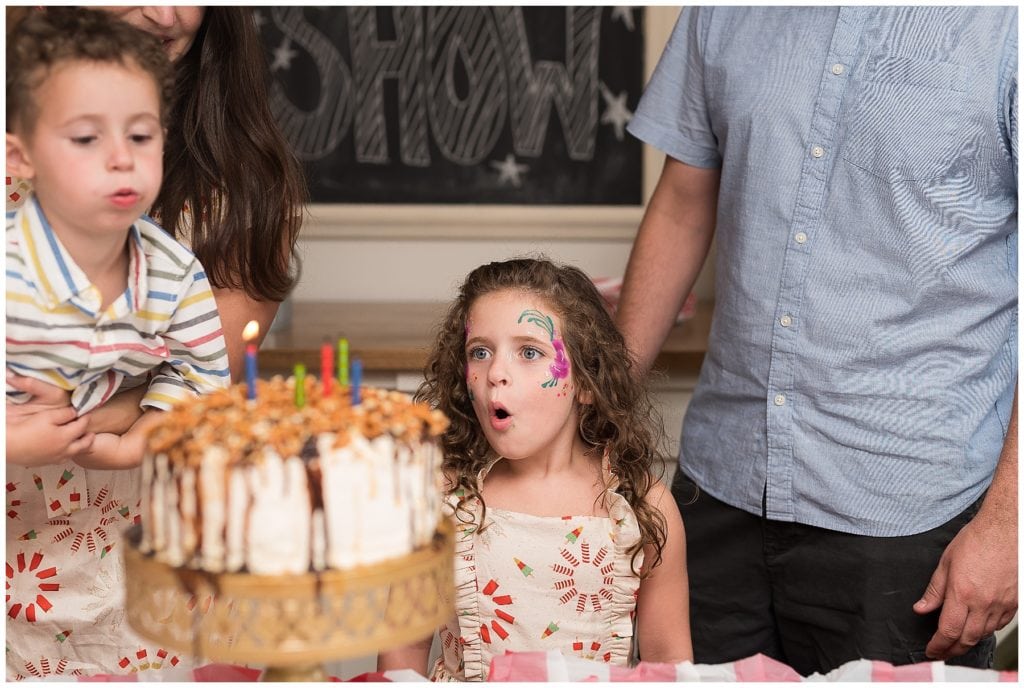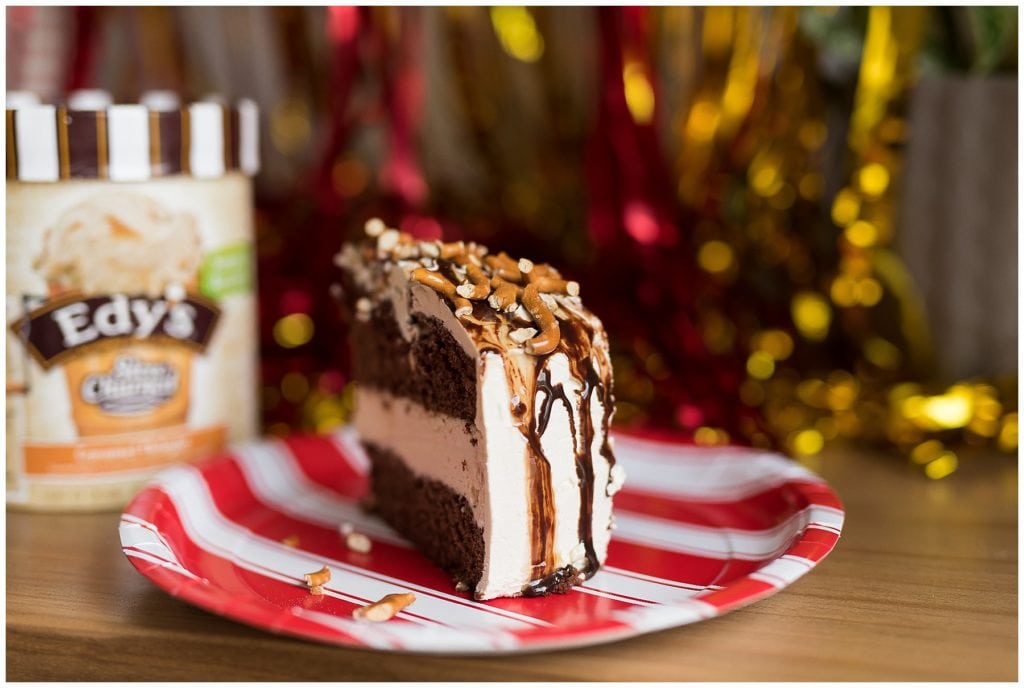 The Entertainment
For the party we hired a local face painter from Lollipop Painting & Co and a magician and balloon artist from Terri Lynn Mate Magic, Face Paint & Balloons. Both were a hit for the party and the kids loved them!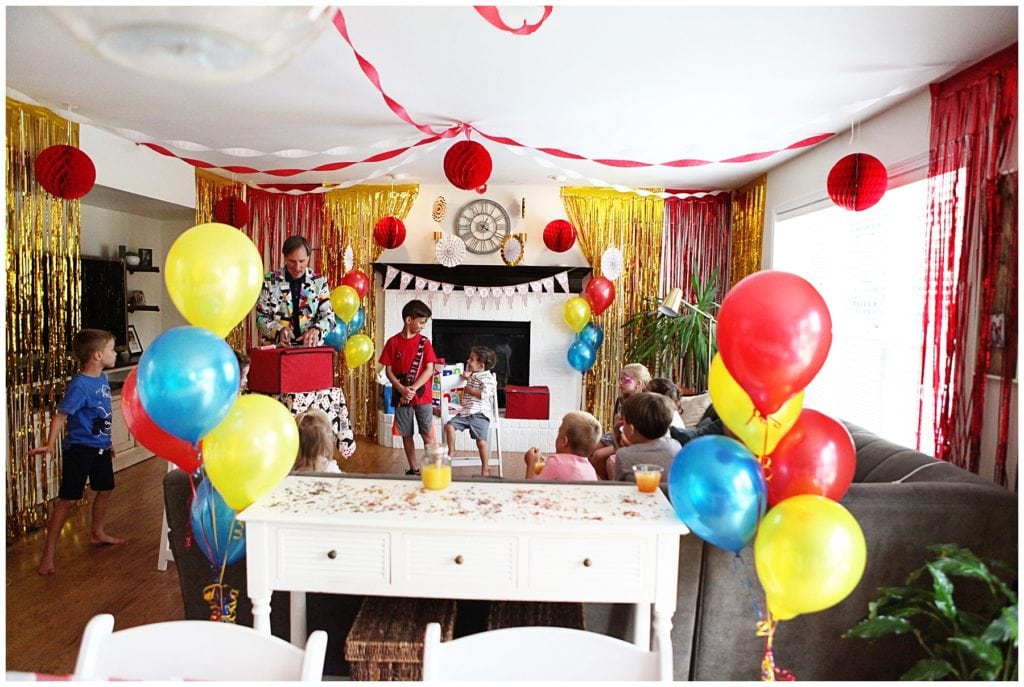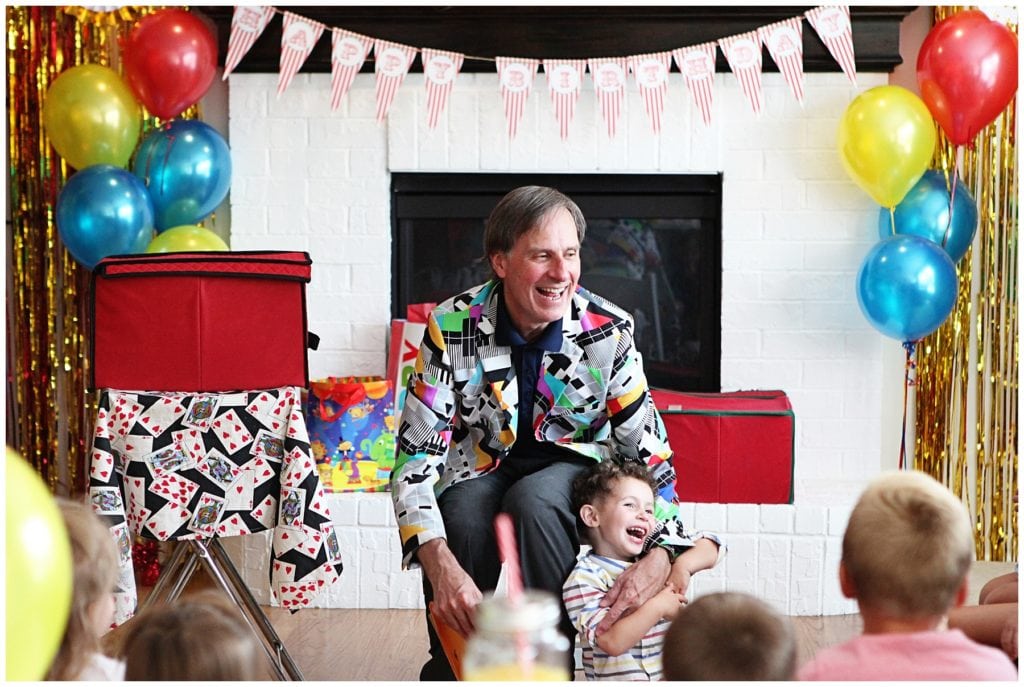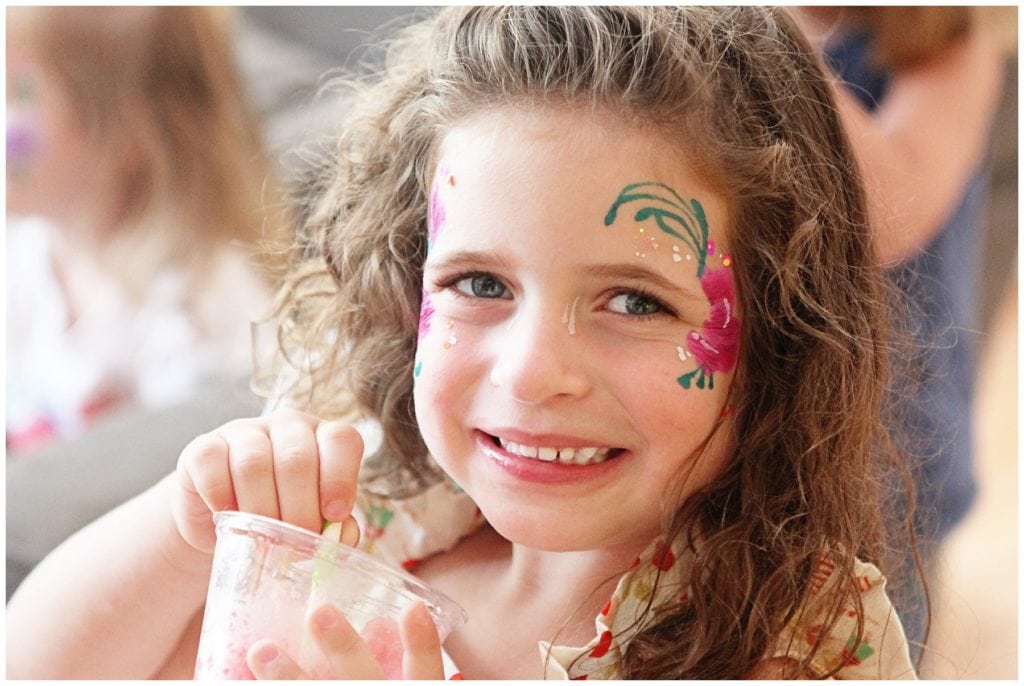 Overall, the food was amazing, the décor was bright and cheery and, best of all, my birthday girl had the time of her little, 6-year-old life.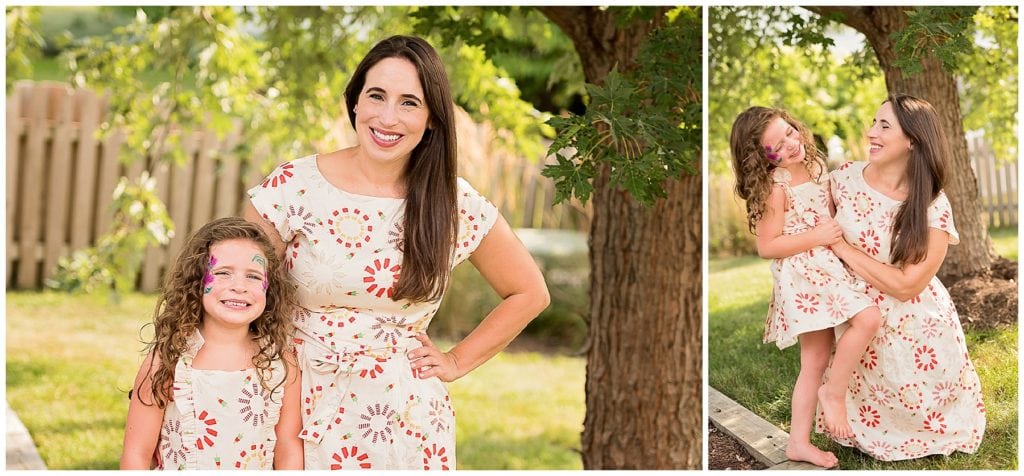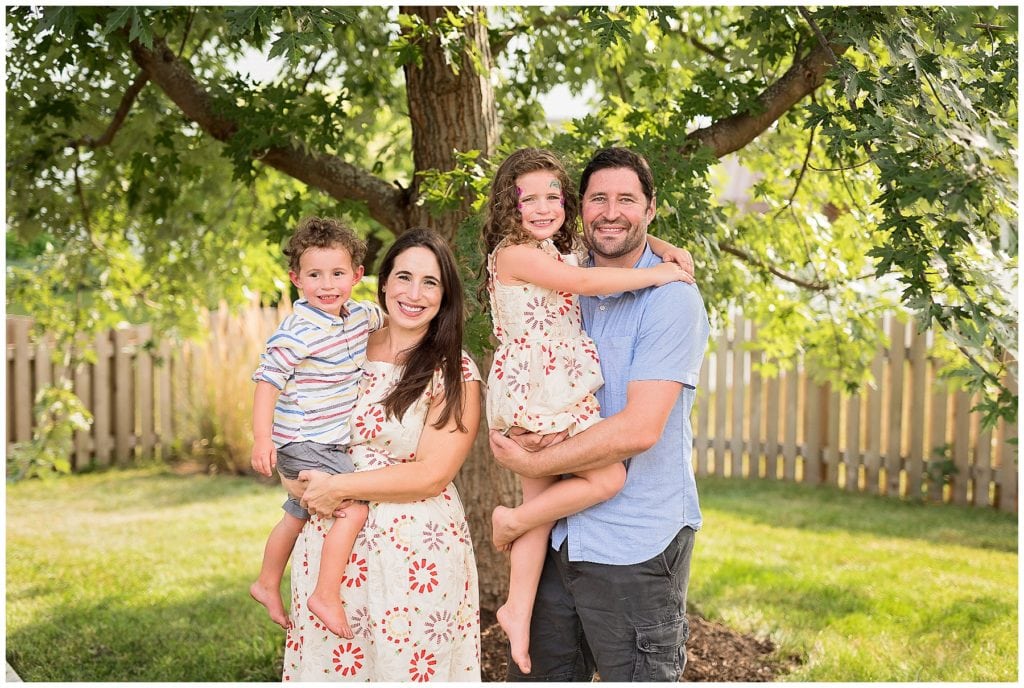 Chocolate Caramel Ice Cream Cake Recipe
Items you need:
2, 9-inch round cake pans
Cake stand
Place to refrigerate the cake once it's built
A hand mixer or an electric mixer
Saran wrap
Tip: You need to make the cake the morning BEFORE the day you want to serve it. It needs time to freeze overnight.
For more recipes, click here. For more dessert recipes, click here.
Chocolate Caramel Ice Cream Cake
Prep time:
Cook time:
Total time:
Ingredients
Cake Ingredients
Spray olive oil to cut the pan
1 chocolate box cake (pick your favorite) and all the ingredients you need for it
Eggs - Use the number you need per your box cake instructions
Water - Use per the box cake instructions
Vegetable or canola oil - Use per the box cake instructions
Heavy cream (more on exact amount in the instructions)
2 cups of smashed pretzels
Chocolate topping in a bottle
Vanilla topping in a bottle

Ice Cream Ingredients
Edy's Slow Churned Caramel Delight

Frosting Ingredients
7 Tbsp. of flour
1 ½ cups of granulated sugar
2 Tbsp. of vanilla
1 ½ cups of salted butter
1 ½ cups of heavy cream
Instructions
Preheat your oven according to the cake mix specifications. For my cake it was 350 degrees.
Mix cake ingredients according to package directions. EXCET, substitute half of the water it calls for with heavy cream. This will help the cake to be denser and support the ice cream and sandwich it properly.
Coat your cake pans with the spray olive oil. This is crucial. If you don't do this your cakes won't turn out clean. I've tried just using regular butter and regular olive oil and it doesn't work.
Divide the batter between the two, 9-inch round cake pans and put it in the oven once it's done preheating. Here's where you might need to deviate from packaging directions again. They always tell me to cook the cakes for about 35 minutes. That will burn it. DO NOT DO THAT. For my oven, it only takes about 22 minutes for the round cakes to cook. Put your's in the oven for 22 minutes and then check it with a tooth pick or a knife. If it doesn't come out clean stick it in again for another five minutes and check again. Mine is always done after 22 minutes.
Cool the cakes completely and then put a plate on top of them and flip it over. Flip them over again so they're right-side up and let them cool again.
In the meantime, wash one of the pans and cover the bottom and sides with Saran wrap.
Take your ice cream out and let it soften.
Once it is softened, coat the pan with the ice cream. Make sure to push it into all the corners and make sure it is as even as possible on top.
Put it in the freezer for at least three hours.
After three hours, add one of your cake layers to the cake stand. I use the largest layer on the bottom.
Use a serrated knife to level off the cake by cutting it even with the sides.
Take the ice cream out of the freezer and remove it from the pan. Flip it upside down and place it on the first layer of cake. Remove the saran wrap from the bottom, which will now be your top.
Add your second layer of cake to the top of your ice cream layer and then using a large serrated knife trim the sides of your cake all the way around so that all your layers line up.
Stick the whole thing in the freezer and let it freeze overnight.
The next morning prepare to make your frosting by taking the butter out and letting it soften. Do not melt it in the microwave or it will not work.
Whisk flour and heavy cream over medium heat and whisk constantly until it thickens. It will take about 10 minutes for it to get to the correct consistency. Make sure you're whisking it well so that it doesn't clump but forms a thick paste.
Remove it from heat and let it cool completely. If you don't it will melt your butter. You can stick it in the refrigerator to help speed the process along.
While it is cooling, mix the butter and sugar together until it is light and fluffy. You will need to do this for about 5-10 minutes. I used a hand mixer but if you're using an electric mixer put it on medium to high. Make sure to scrape the excess off the sides.
o Note: Yes, normal buttercream generally called for a powdered sugar but you must use a granulated sugar to get the light and fluffy consistency from this frosting.
Add the cooled heavy cream mixture and blend until it starts to look like whipped cream then add your vanilla.
Mix for about another 10 minutes and taste it. You want your granulated sugar to be well blended. You might taste a few granules but overall it should have folded into your frosting well.
Bring your cake out of the freezer and begin to frost it. Cover all sides and use a spatula or an icing spatula. It doesn't have to look perfect because it will be mostly covered, but you want to make sure all of the cake is covered.
Put the cake back in the freezer for at least an hour.
If you decided you want to do a second layer of frosting, cover it and leave it out at room temperature. If you refrigerate it, it becomes taught and it won't spread as well.
When you're ready to serve your cake, bring it out of the freezer and drizzle your chocolate and caramel over the top of the cake in a back and forth motion.
When done put it back in the freezer for 10 minutes to reduce the dripping.
Lastly, add the pretzels to the top and then serve.