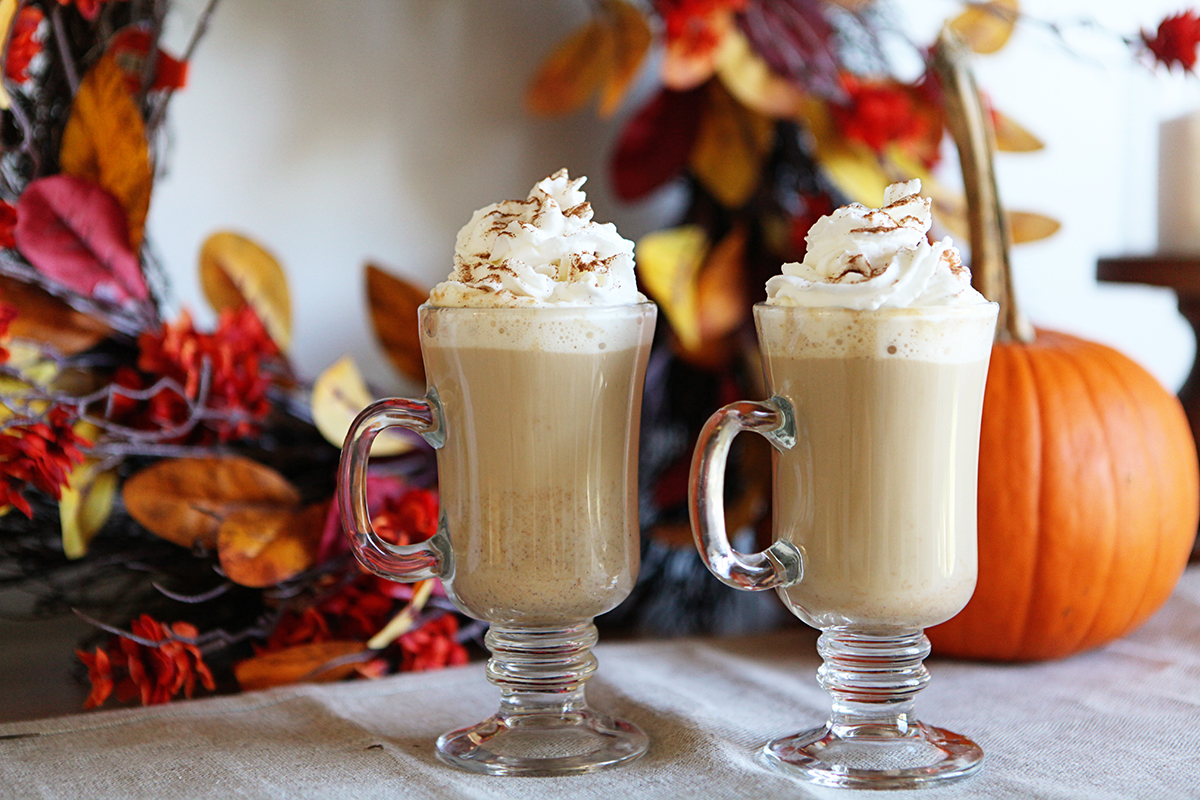 Pumpkin Spice Lattes are my favorite. I wait every fall for them to come out at Starbuck and I love them most when the weather starts to turn – really turn – into fall. Those mornings when there's frost on the grass and the first day you have to turn the heat on after spending a few days with the windows open.
I don't care if it's "Basic" to like them. I like what I like and I'm not overly concerned about buzz words defining who I am.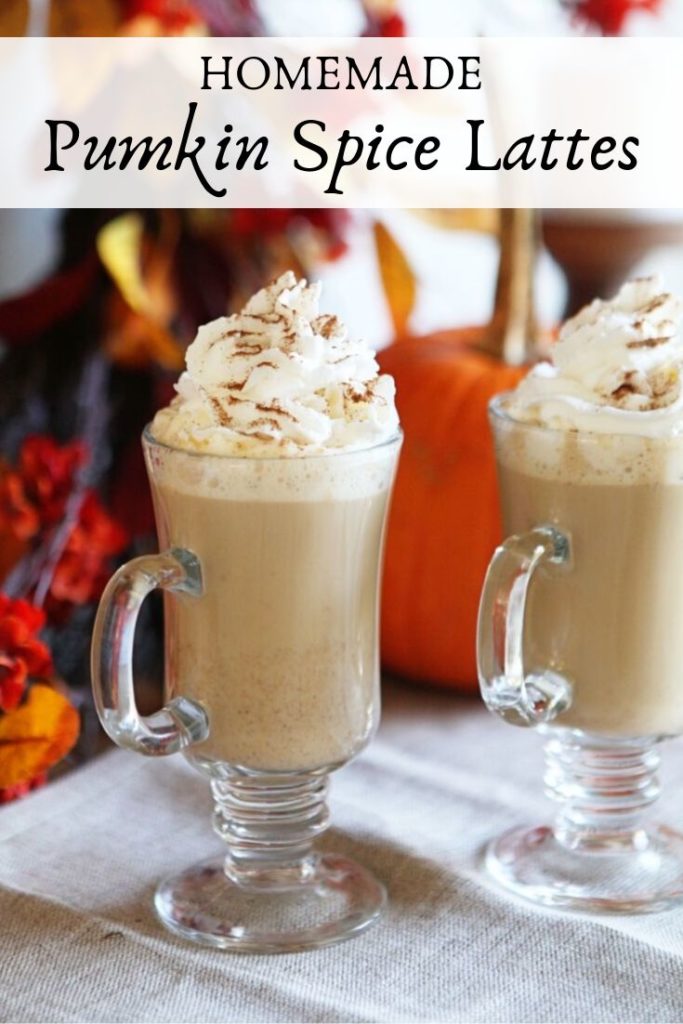 Costly habits
However, I think we can all agree that a Starbucks habit can get expensive, fast. If I put the same amount of money I spend on coffee into a jar, we could probably go on a pretty fancy vacation each year.
But it's really difficult for me to turn down the warm, perfectly-flavored, fall tasting coffee…until now.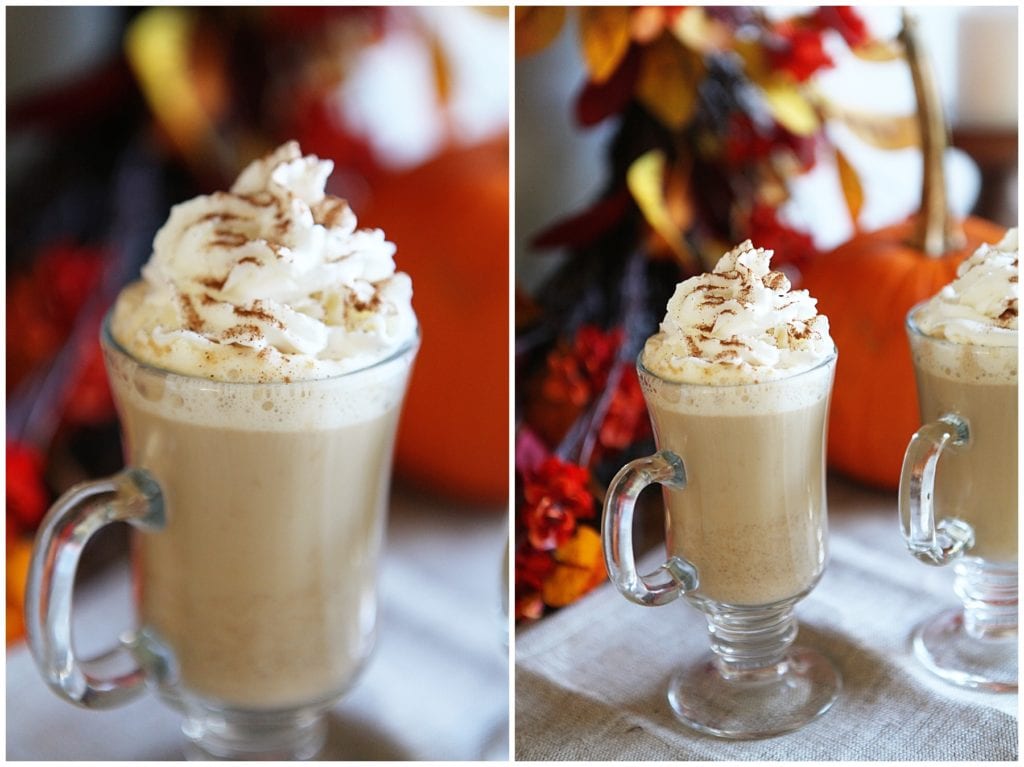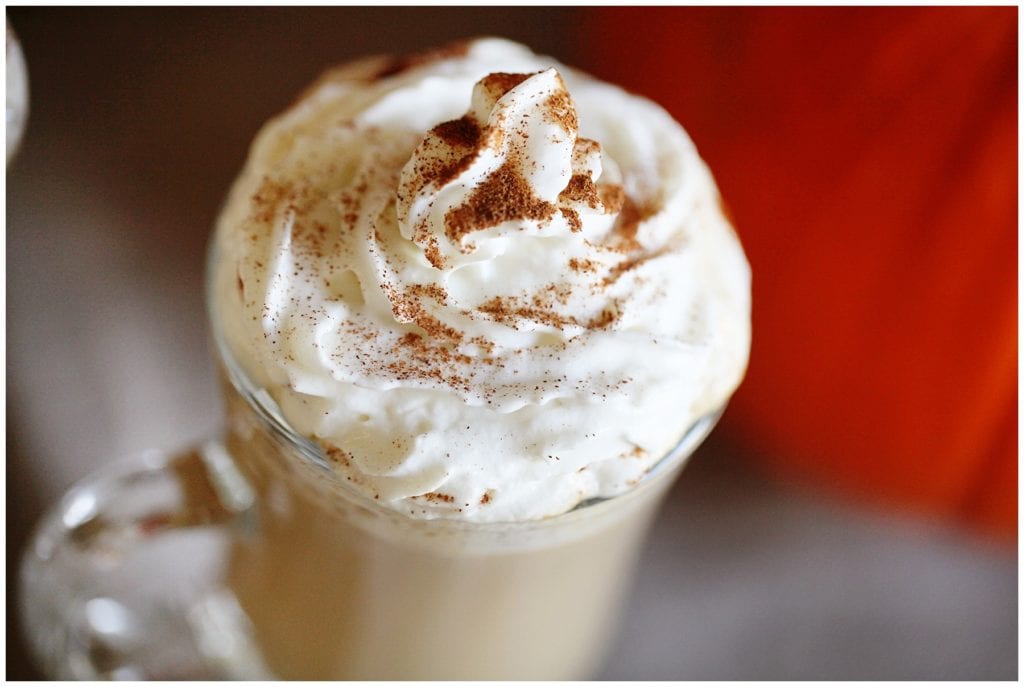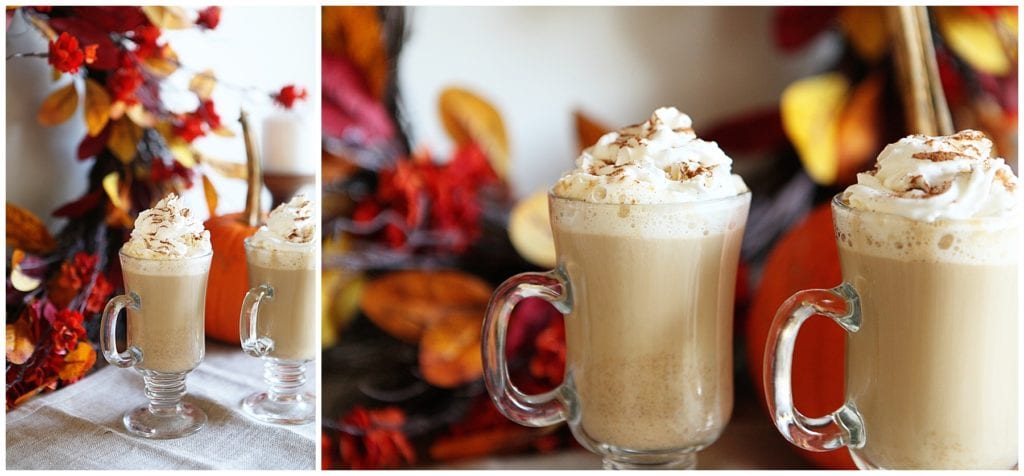 Better than Starbucks and perfect for a crowd? 
Last week I decided to make Pumpkin Spice Lattes at home and after just three recipe combinations, I found the perfect recipe that might be even better than Starbucks.
And, possibly the best parts? You can use it with regular coffee since I know most of us don't have an espresso machine, and this recipe makes enough to serve a group. It's perfect for Halloween parties with parents and entertaining with desserts and coffee.
Easy to make too!
This homemade Pumpkin Spice Latte is creamy, smooth and with a flavor that allows you to enjoy both the fall spices and the coffee.
It's really easy to make too. It's actually so easy to make that I wonder why I haven't tired to make it before. You don't need very many ingredients and you probably have a few of them at home right now considering its fall.
The spice will start to settle as you let it sit (as it did while I photographed it) but it doesn't seem to impact the flavor. 🙂  Also, I wouldn't save the pumpkin spice mixture since it's made with dairy and I don't know how long it will keep. Drink it fresh right away!
Happy eating, friends! Try this with our Pumpkin Cupcakes or Caramel Apple Handpies.
Click here to grab more yummy recipes!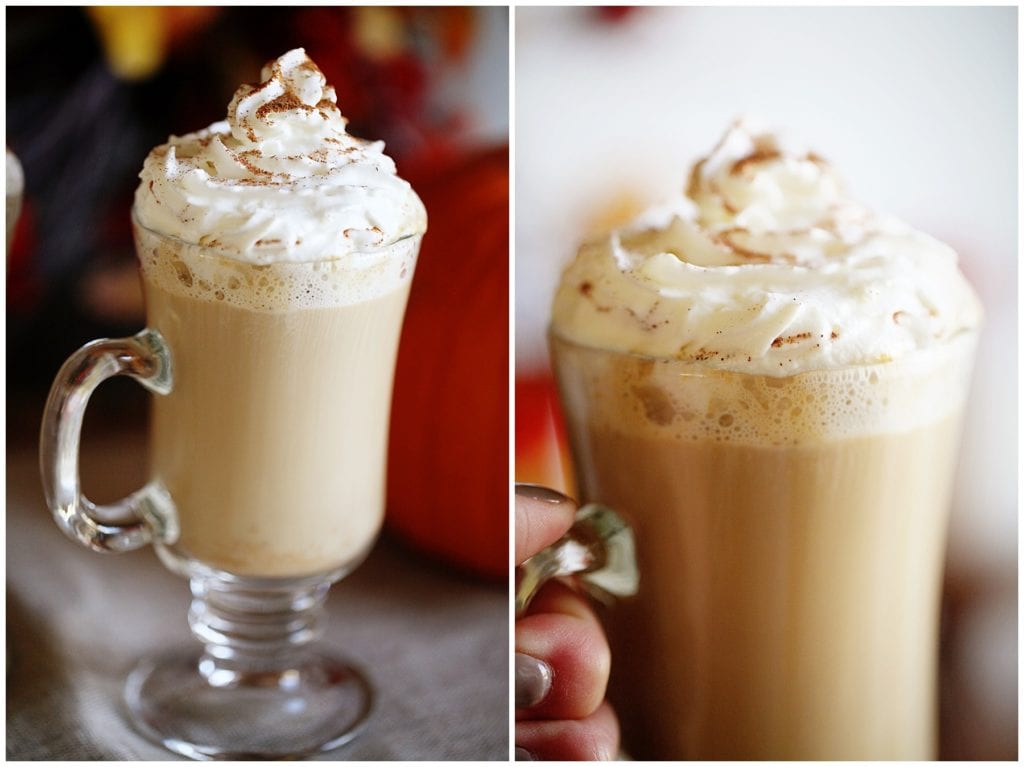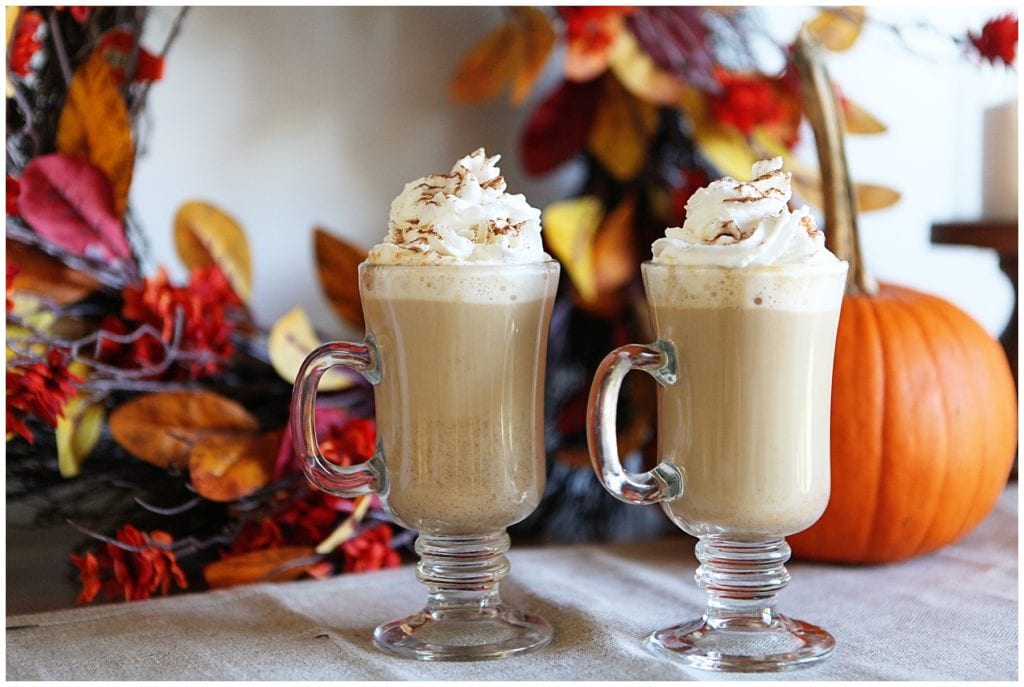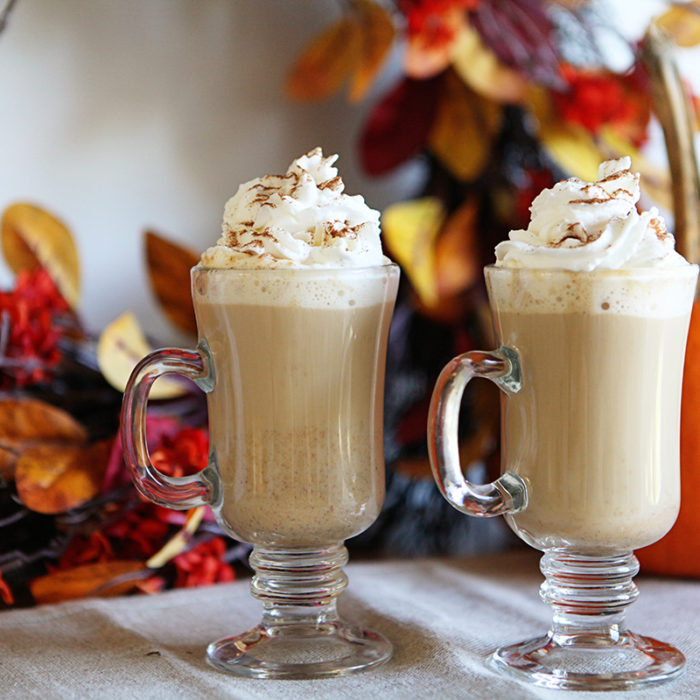 Pumpkin Spice Latte
These homemade Pumpkin Spice Lattes are the perfect way to celebrate fall and you don't need a fancy coffee machine to make them. You can also make enough for a crowd.
Print
Pin
Rate
Ingredients
1

cup

whole milk

You can use skim or whatever milk substitute you're used to.)

3/4

cup

sweetened condensed milk

5

Tbsp.

pumpkin puree

1/2

Tbsp.

pumpkin spice

1

tsp.

vanilla extract
Instructions
Mix together milk and sweetened condensed milk over medium heat.

Add in pumpkin, pumpkin spices and vanilla.

Whisk continuously until it starts to froth.

Make a cup of coffee. Make it in a cup that will allow plenty of room for the pumpkin spice mixture. (If you're making a pot then make it ahead of time.)

Pour about 3-4 Tbsp. of the milk and pumpkin mix into your coffee. Taste to make sure that's the right mix for you. Enjoy!