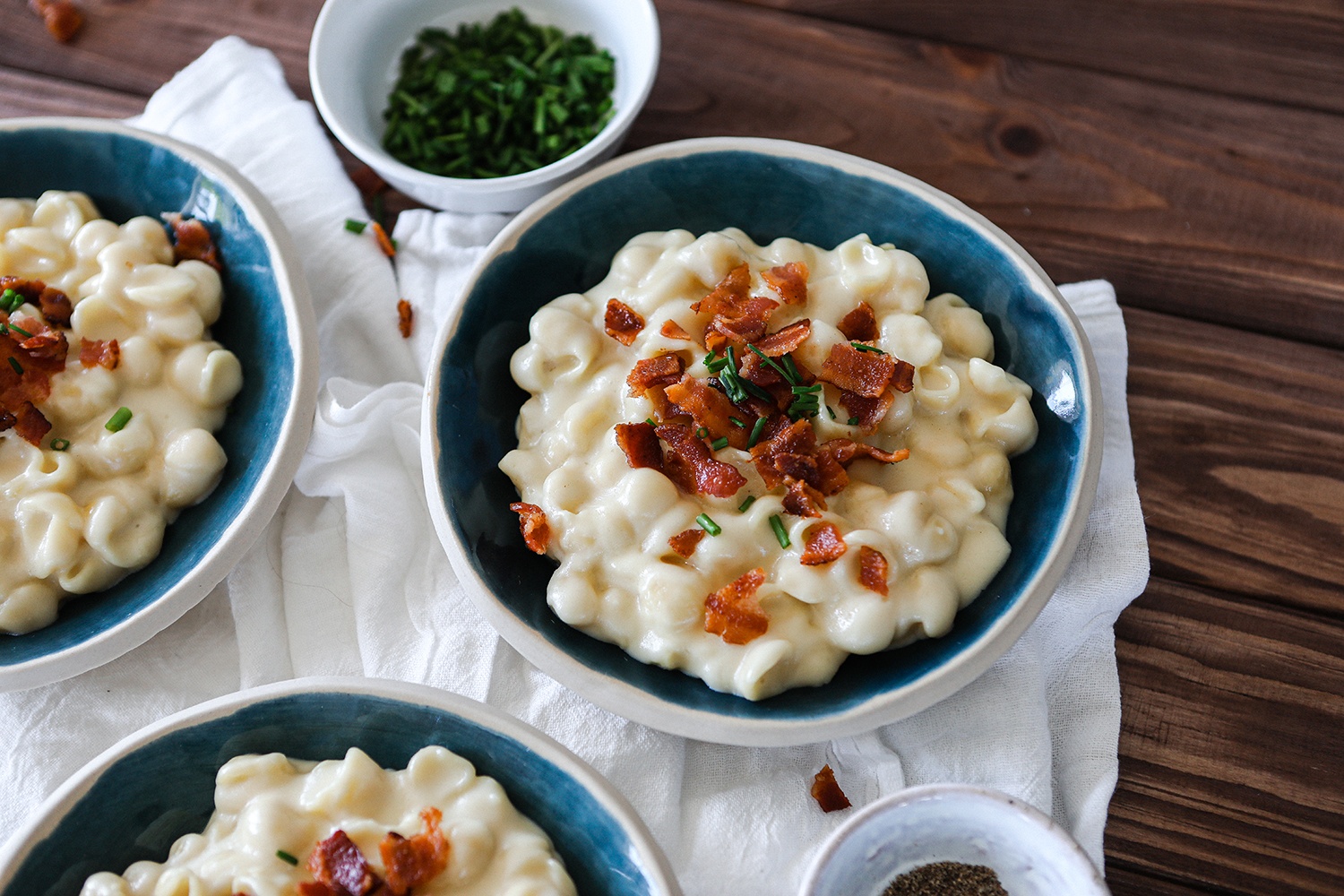 I know it's summer but I think we can all agree that this year has been difficult and we could all use some good ol' comfort food. Comfort food for me usually comes in the form of pasta and it's the same for my kids. The one comfort food we can all agree on is some delicious, homemade mac and cheese and I'm so excited to share our recipe with you today!
I'll admit, I personally try not to eat pasta that often because carbs love my body a little too much. But, I'll always make an exception for this homemade mac and cheese recipe. My kids, my husband and I all love it.
It's a take on Panera's mac and cheese but it's so easy to make at home. It's literally a less than 30-minute meal. That means I can make it for a fast lunch or dinner any day of the week. It's just important to have the right cheese. And once you have this and see how easy it is, you'll never go back to powder mac and cheese again.
What kind of cheese for homemade mac and cheese?
I started making this recipe as a straight, Panera copycat, homemade mac and cheese recipe  for my kids. To do that, and to get that creamy texture, there are a few things you should know about the ingredients.
The kind of cheese and the brand of cheese you use is important. For this recipe I use two kinds of cheese. The first is. Cracker Barrel Vermont Sharp White. This cheese doesn't taste like yellow cheddar. It's smooth, it's creamy and It tastes pretty darn close to the Panera cheese. The second cheese is white American Cheese from the deli.
If you use normal cheddar cheeses, your cheese sauce will have a very thick and gritty texture to it. When cheddar is cooked I personally don't like it at all.
Gather all your ingredients
Since it's a pretty fast process to make homemade mac and cheese, I would recommend having all your ingredients next to you as you go. You especially want to make sure you have you butter, flour, milk and heavy cream pre-measured. These are possibly the most important ingredients for making a smooth, creamy sauce – maybe even more so than the cheese itself.
Also, make sure your pots are ready. Start to boil your water for the noodles before your shred the cheese and gather the ingredients. I've found this pot so easy to use for making noodles! It strains them too! I use this Dutch Oven to make the sauce because this recipe makes a lot of sauce and then I can just pour my noodles into it.
Making a Roux
A Roux is a mixture of flour and fat cooked together to thicken sauces. The flour is added once the fat has melted or warmed. The fatty ingredients generally used include butter, oil, bacon fat or lard. The French often use butter. In Cajun cuisine they often use bacon fat or oil to get a darker color and Central European countries tend to use lard or vegetable oil. For homemade mac and cheese, you will want to use unsalted butter.
Basically, you let the butter melt on a low flame in a pot. Continuously move it around so it doesn't brown. Once melted, add the flour and whisk the mixture until it's smooth. You want to add the milk almost right away once it's combined so keep it close by.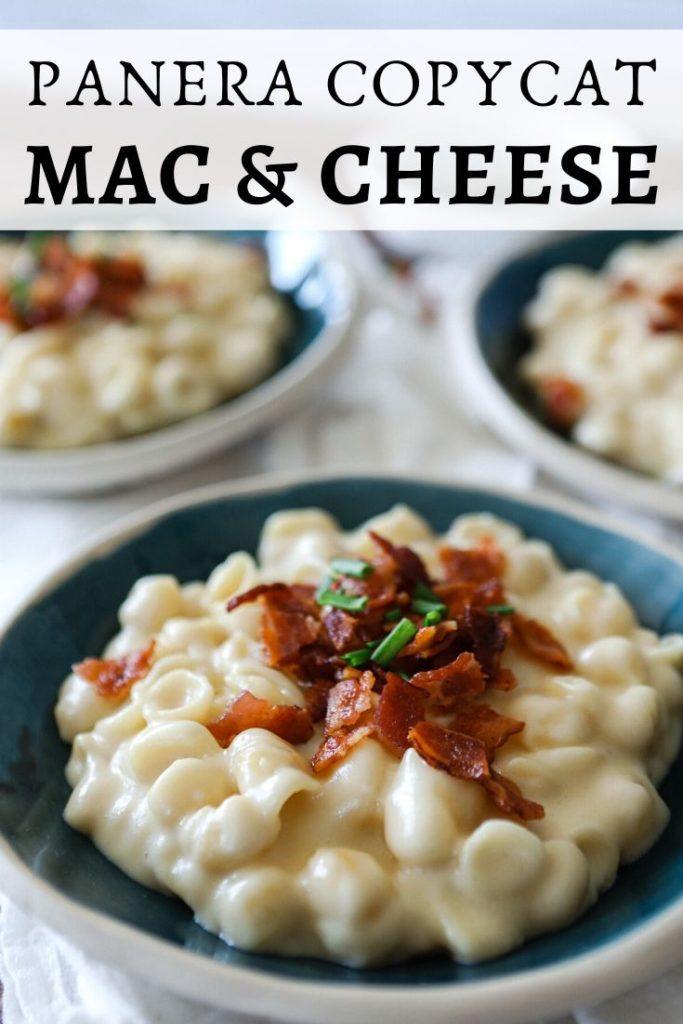 Add ins and toppings
This is a basic recipe for homemade mac and cheese, but there are plenty of ways to plus this up!
First, you can add a bit of garlic powder to the sauce. This will give it a cheesy garlic flavor, but note, it will no longer taste like a Panera copycat. Some recipes suggest adding in onion powder but in my experience, the garlic powder is better.
And don't forget your toppings. While homemade mac and cheese is delicious on it's own, there's so many other wonderful was to make it better. Bacon is a big hit in our house, hence my photos. But avocado, pepper, caramelized onions, tomatoes, chicken and even some hot sauce are delicious additions.
You can find the full recipe for my homemade mac and cheese below! And if you're looking for more family friendly recipes, click here.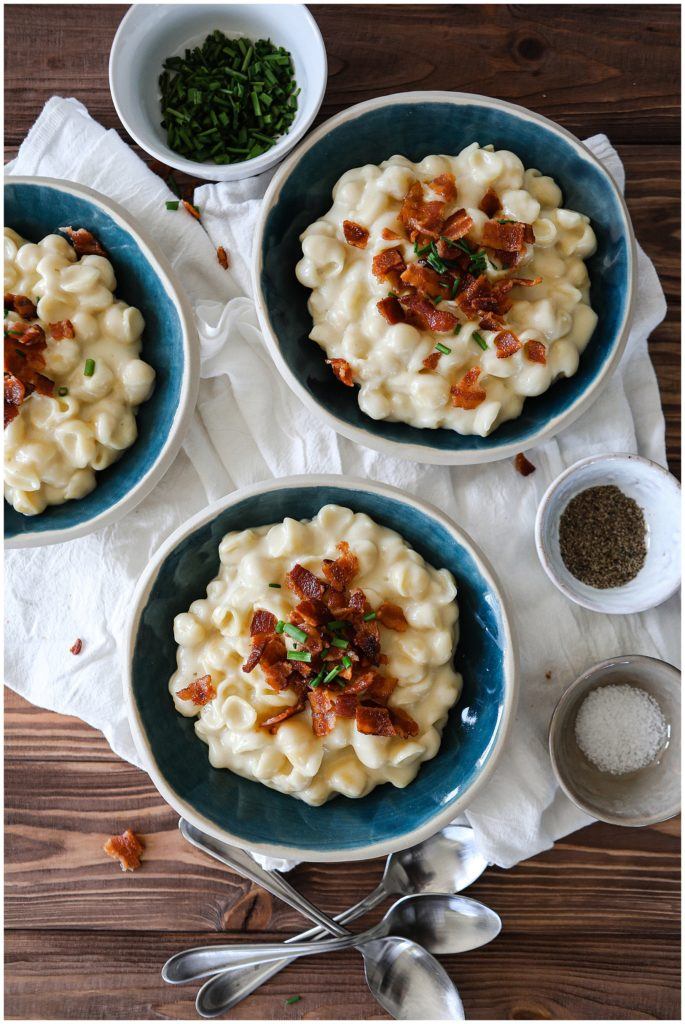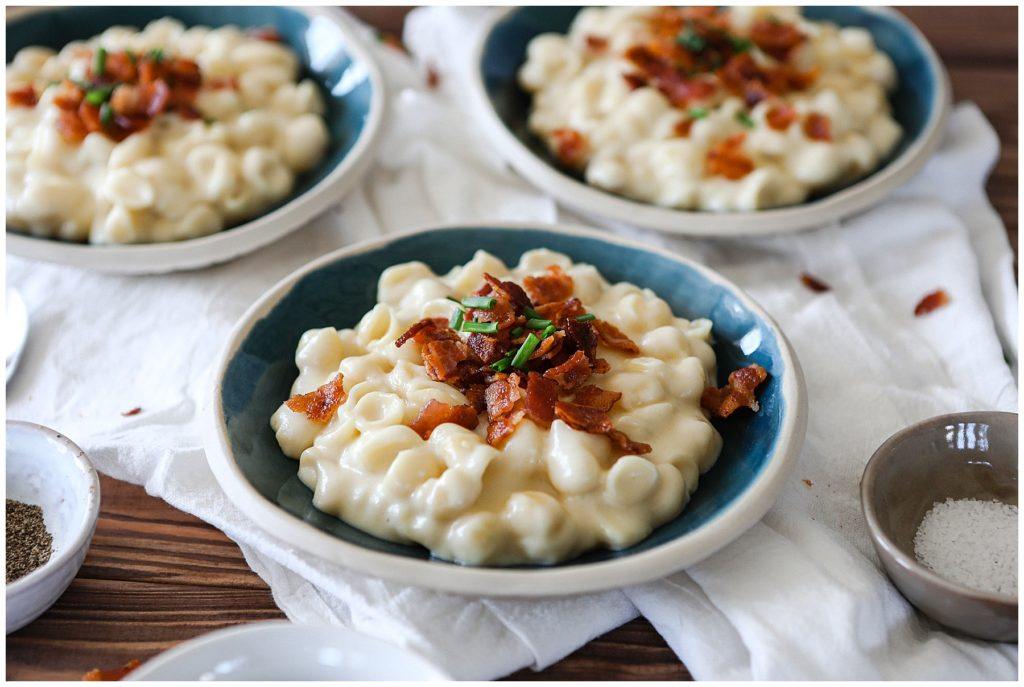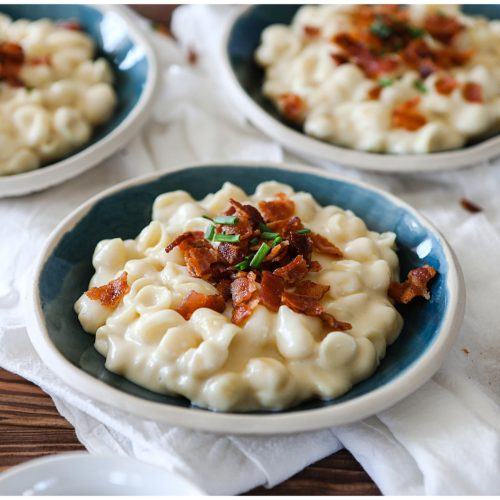 Homemade Mac and Cheese
This Homemade Mac and Cheese will become a family favorite and it's so easy to make.
Print
Pin
Rate
Equipment
Two large pots

Cheese shredder
Ingredients
12 cup + 3

Tbsp.

of butter

1/4

cup

of flour

2

cups

whole milk

1 - 2

cups

heavy cream

8

oz

Cracker Barrel Vermont Sharp White, shredded

10

slices

White America Cheese, sliced from the deli and the torn into pieces.

1.5

tsp.

salt

1/2

Tbsp.

Dijon mustard

1.5

tsp.

ground mustard

Optional: Garlic Powder

Optional: Bacon for topping
Instructions
Cook your noodles in a large pot according to package directions.

While the noodles cook, add your butter to a warm pot and stir it continuously. You do not want it to burn or brown.

Once the butter is melted immediately add your flour and make your roux. Whisk continuously until well blended. This will make the base for the mac and cheese so it's really important. You don't want it to be grainy still.

Once the Roux is done add your milk and heavy cream. Simmer. DO NOT BRING TO A BOIL.

Add the cheese and stir continuously over a low flame until it is all melted and combined.

Add the salt, Dijon mustard and ground mustard. Stir in well.

Add additional salt and pepper to taste.

Once your noodles are done, drain them well and then add them to the cheese mix.