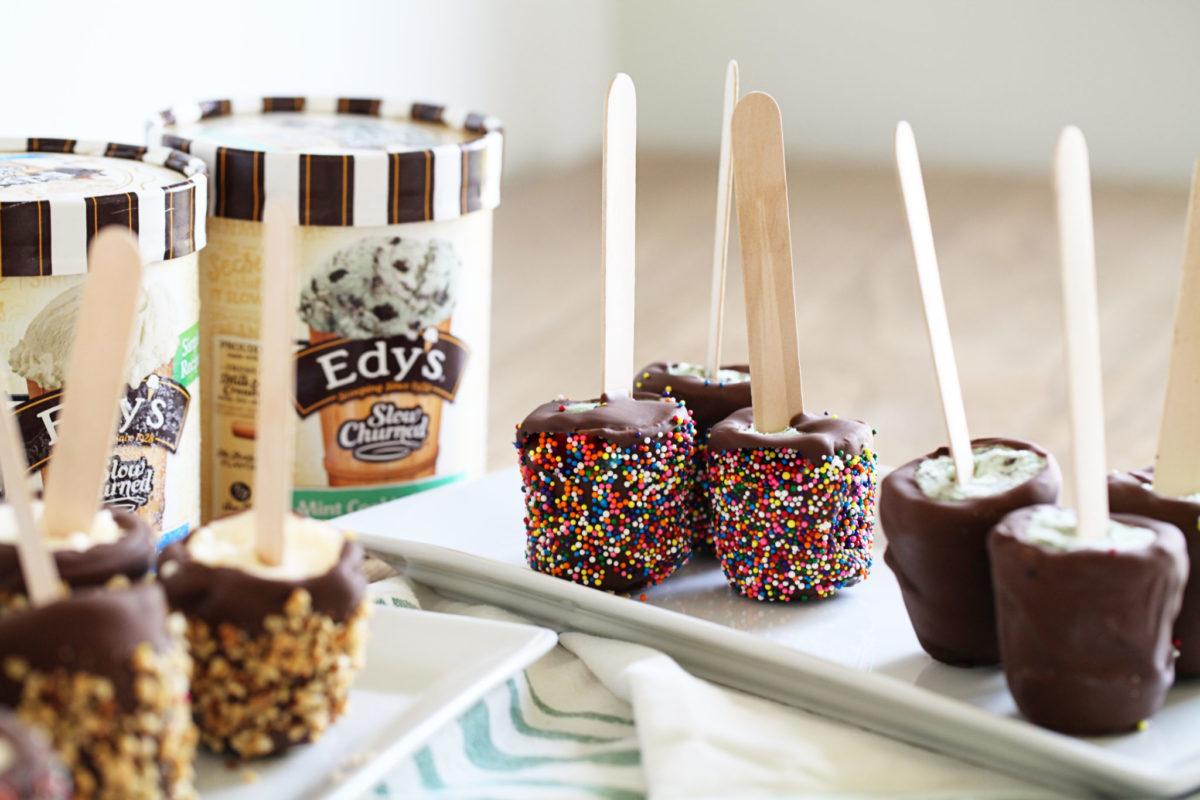 Ice cream on a stick is convenient, fun and iconic.
Just thinking about these ice cream pops conjures up images of hot, hazy days sitting by a creek trying to eat the ice cream faster than it will melt.
These homemade ice cream pops were inspired by the ice cream pops of our childhood but easy enough to make at home. I love that you can make them in any flavor of ice cream, which essentially gives you infinite options.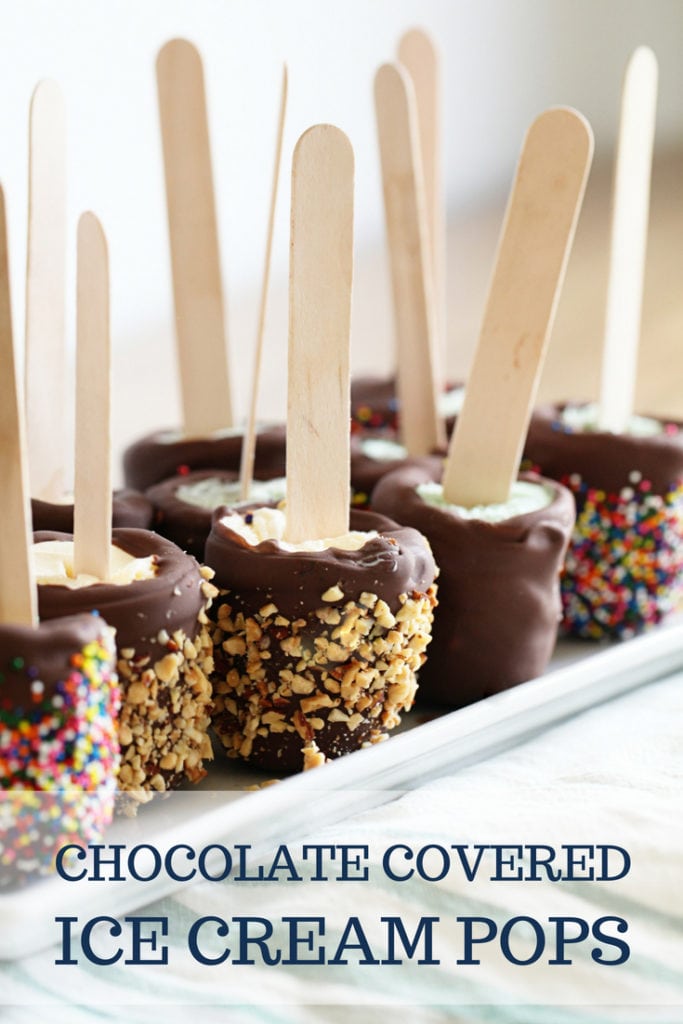 Want to customize yours? Well, there's an ice cream for that – Edy's! With all the different ice cream flavors, and all the different toppings, everyone gets something that they like.
For instance, we already had used the two different Edy's Slow Churned Ice Creams but my son doesn't like sprinkles. I left some of the ice cream pops plain. My daughter loves the sprinkles. Half the ice cream pops I made have sprinkles.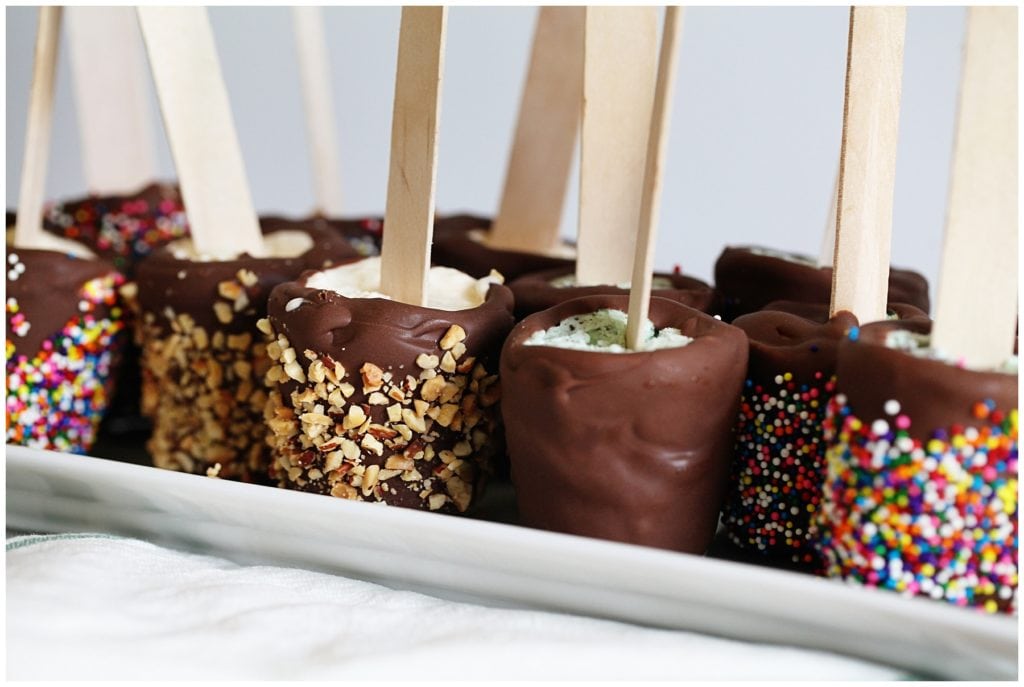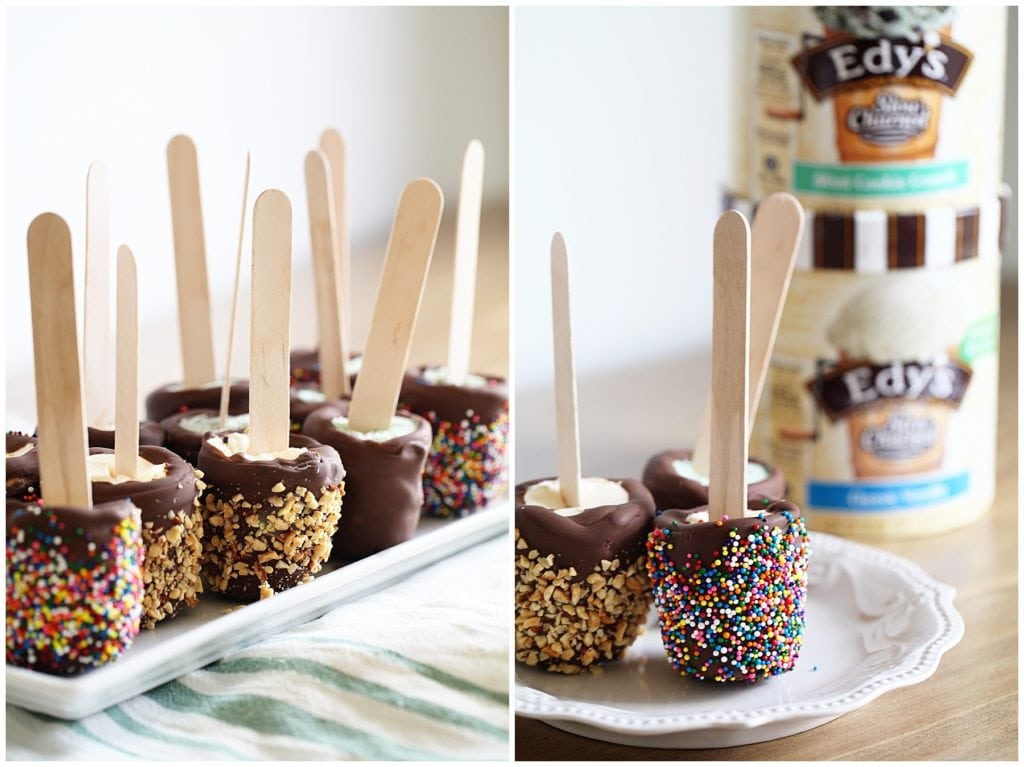 I love having peanuts and chocolate together. My husband likes no peanuts whatsoever. Just a layer of chocolate please.
I also enjoy just having the ice cream on the stick sans the chocolate topping.
My husband's favorite flavor for ice cream pops is Edy's Slow Churned Classic Vanilla. My husband and son like it when ice cream is a little more straightforward. No frills or fuss about it, just classic flavors in simple ways so they can enjoy it.
My daughter and I are a little fussier. 🙂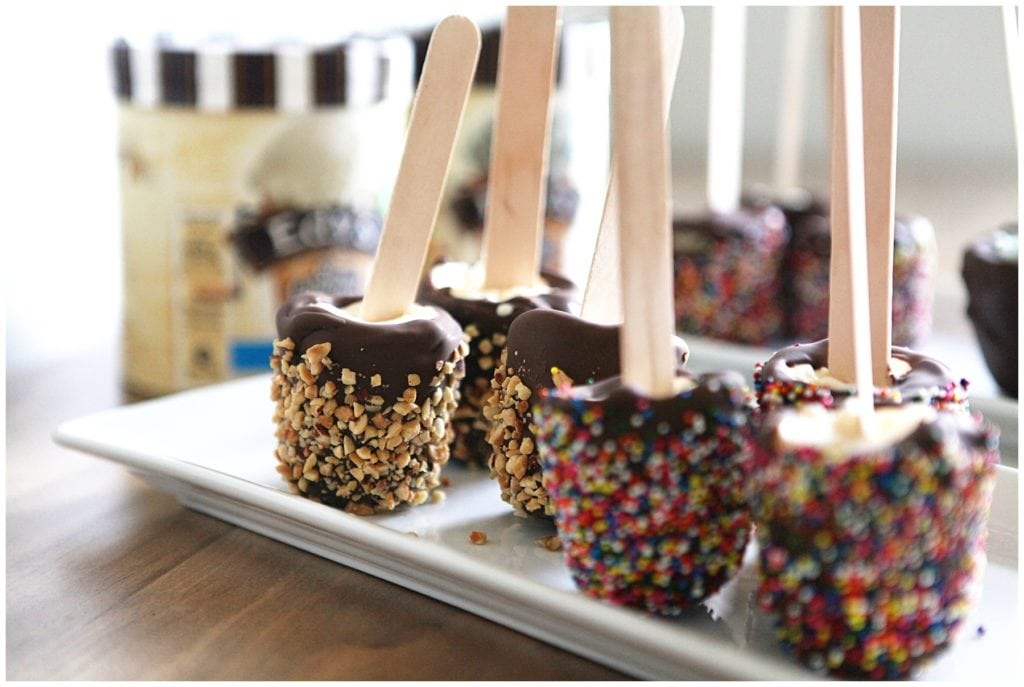 So, I also used my favorite flavor, Edy's  Slow Churned Mint Chocolate Chip, which tastes just like going to the ice cream store. I love that the "chips" aren't really solid, thick chips but sort of pulverized throughout to ice cream to give you a nice chocolate to mint ratio in each bite.
The slow churned ice cream is ice cream is actually made with non-fat milk and has a creamy and thick texture with half the fat. I actually never knew this until I started working with it and looked it up. I love that this is a choice for people and that with Edy's you don't have to sacrifice taste and texture for less fat.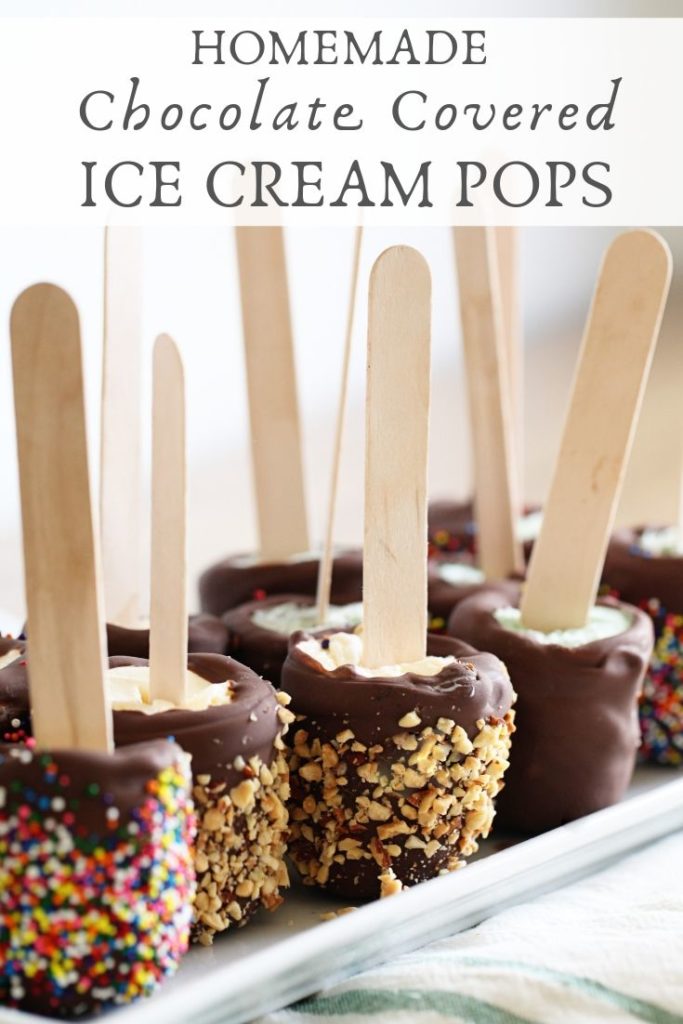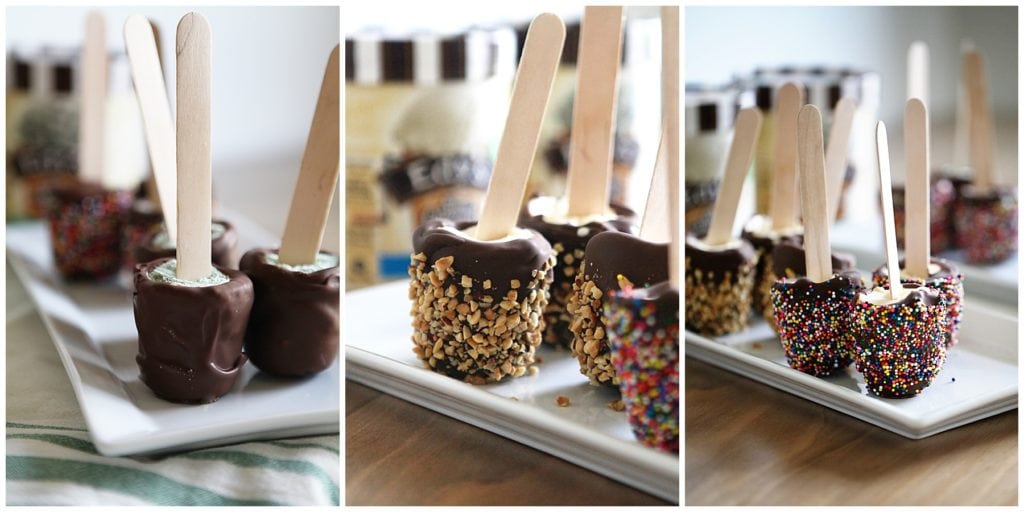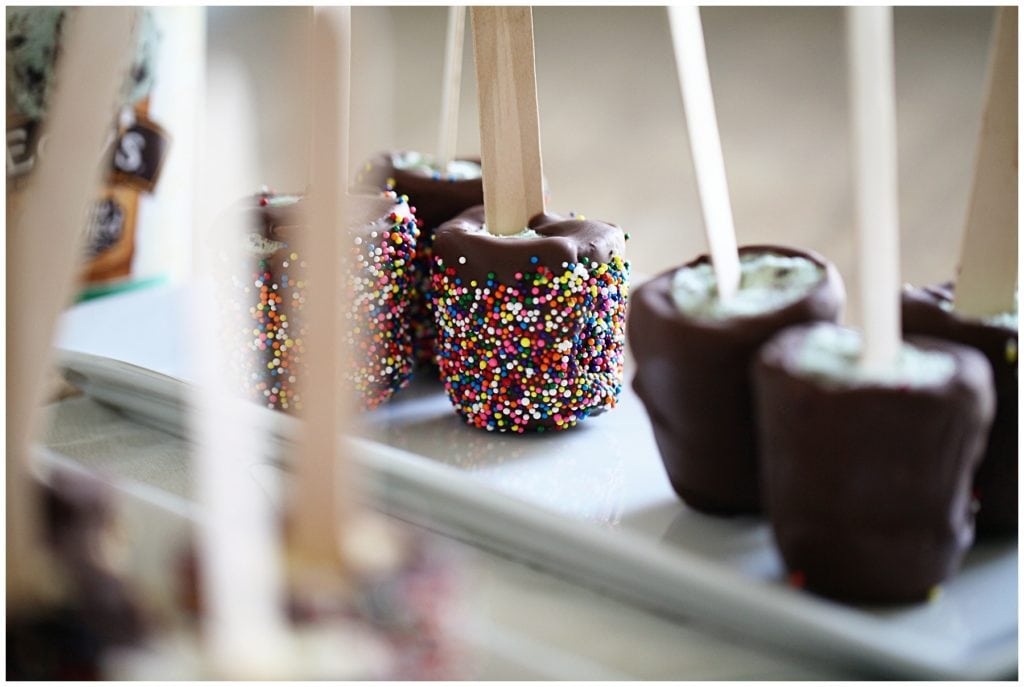 One of my favorite parts about making these is that they will keep in the freezer for days. You can make them one weekend and enjoy them throughout the week at the appropriate times.
Note: Hide them from the kids so you don't have to explain what an "appropriate time" is every single hour until you reach said time. My daughter begged me to have one for breakfast when she realized they were still in the freezer the next day.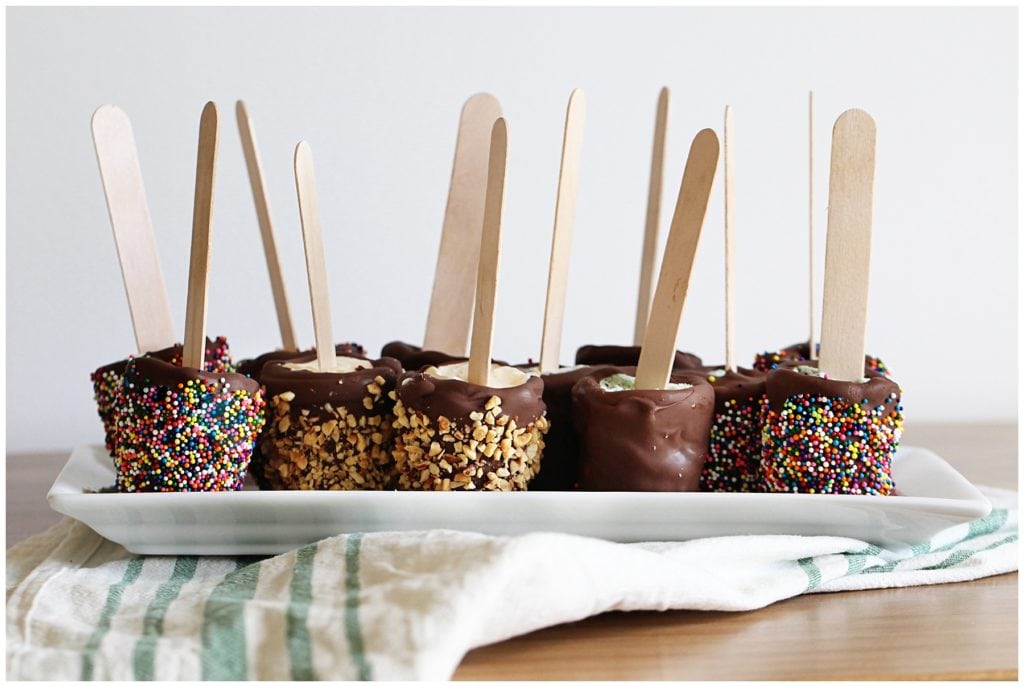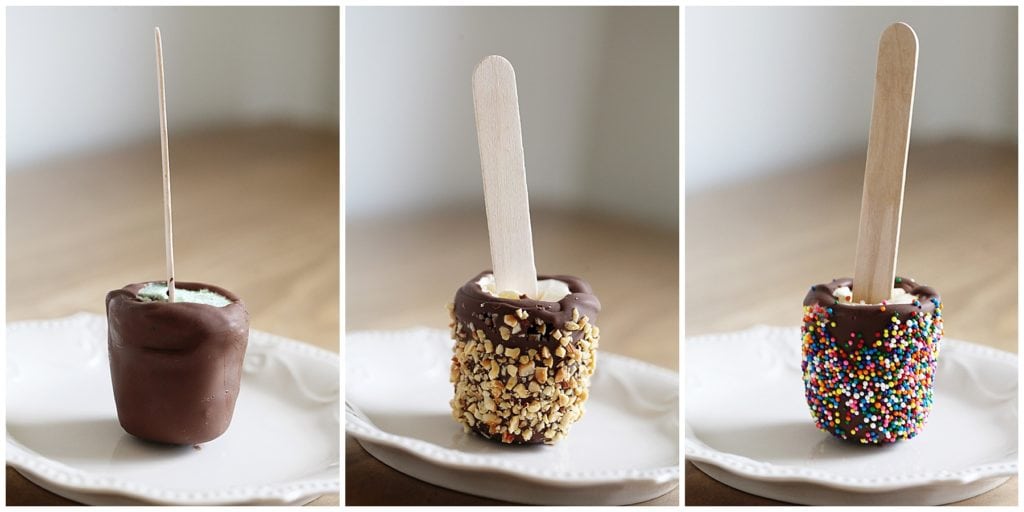 I'm also a fan of using Edy's Slow Churned Ice Cream in these kinds of recipes because it is so workable. It is easy to scoop and push into the corners of the Dixie cups I used to make these ice cream pops. I let it sit out about five minutes and was able to mold it the way I needed it.
We used 3 oz. Dixie cups to make these and it is really the perfect serving size for a perfect after dinner treat for you AND the kids. You can find the Dixie Cups here. You can also find the oversized popsicle sticks here.
Grab the simple recipe below and try these for your family this weekend. And for more dessert recipes, click here. You might also LOVE this homemade, minty Ice Cream Shake.
Note: For this you will need 3 oz. Dixie cups and wooden sticks.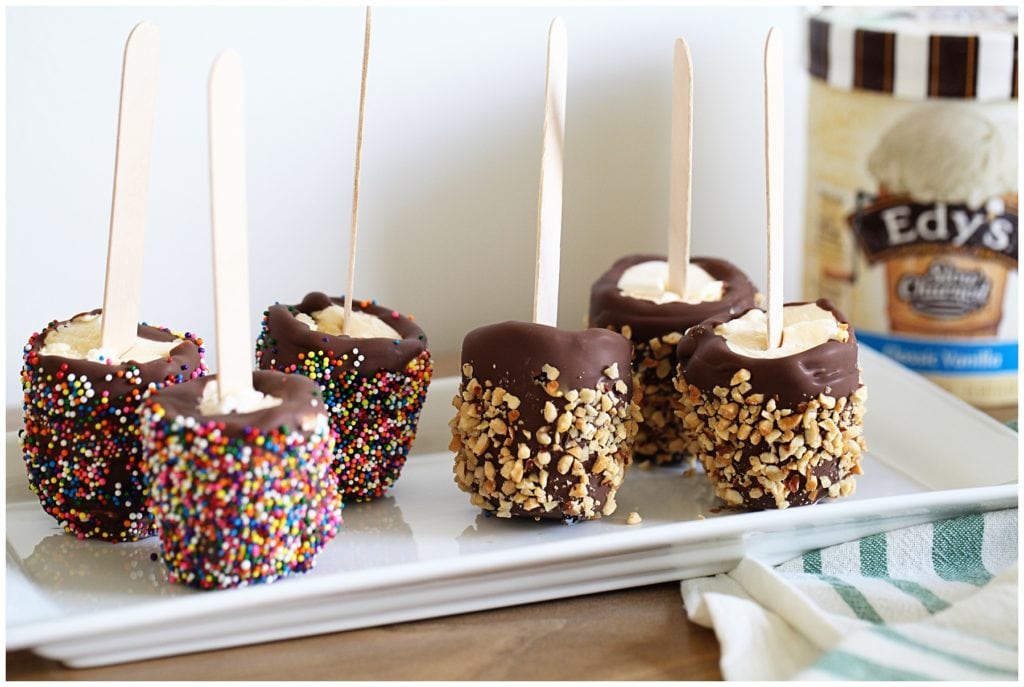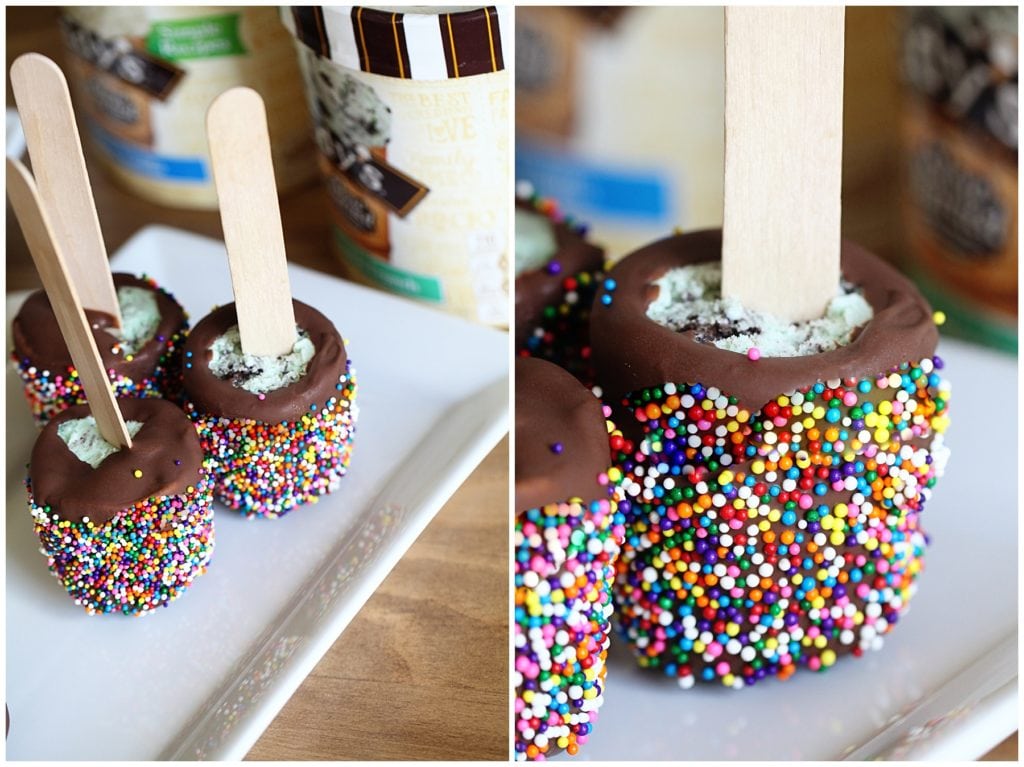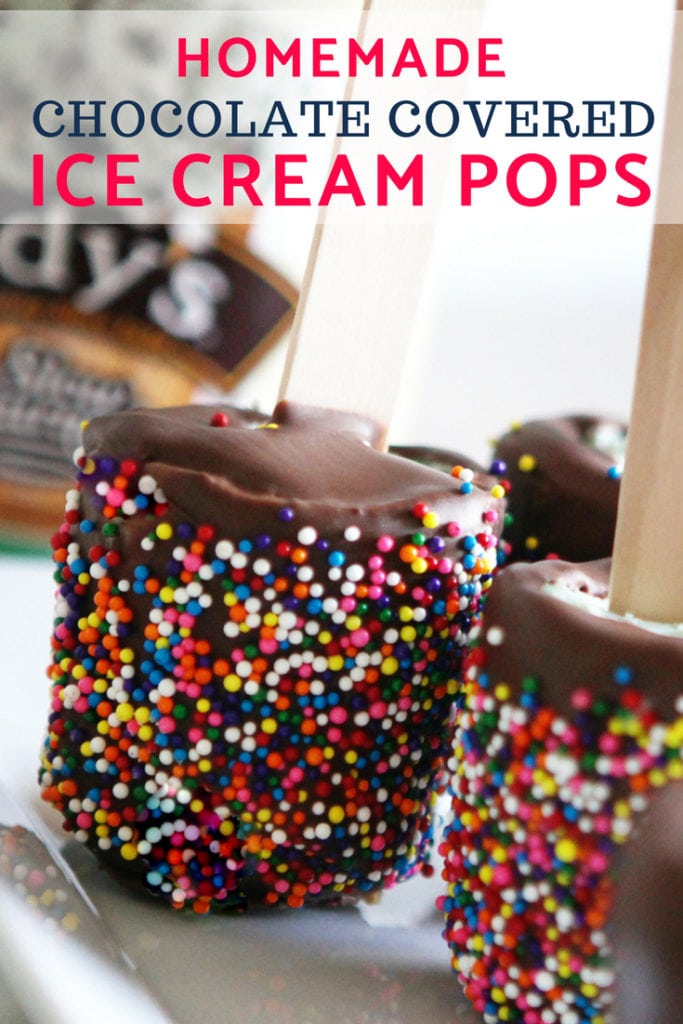 Homemade Chocolate Covered Ice Cream Pops
Prep time:
Cook time:
Total time:
Ingredients
1 container of Edy's Slow Churned Mint Chocolate Chip
1 container of Edy's Slow Churned Classic Vanilla
3-5 store bought containers of chocolate shell (depending on how many you want to make). About three containers will get you 4-5 dipped pops before the chocolate is too shallow. Add about 2 Tbsp. of coconut oil to thin out the chocolate.
OR
Make your own chocolate shell with a 12 oz. bag of chocolate chips, 3 Tbsp. of refined coconut oil and 1 Tbsp. of vanilla.
Optional Toppings: Sprinkles, nuts, cookies, candy, etc.
Instructions
Let your ice cream sit out for about 5 minutes so that it starts to soften. Then, using a spoon push your ice cream into individual Dixie cups. Make sure you get it into the corners of the cups.
When full, push a wooden stick about halfway down into each cup. I used thicker sticks since this was for the kids and they tend to drop things. The bigger the stick, the less of a chance this ends up on my floor.
Let these freeze for at least 4 hours but ideally overnight.
Get your chocolate ready. If you're using store bought shell, add it to a coffee cup. If you're making it, melt your chocolate over boiling water and then add the coconut oil and corn syrup.
When ready, remove the pops from the freezer and snip the edge of the cup with kitchen shears or use a knife to carefully slice down the side of the cup.
Then pull the cup away from the ice cream using your fingers.
Dip each pop into your chocolate shell and twirl it to remove excess chocolate.
Before the shell is completely hardened, dip it or roll it into the topping of your choice.
Freeze for another 2 hours and then serve.