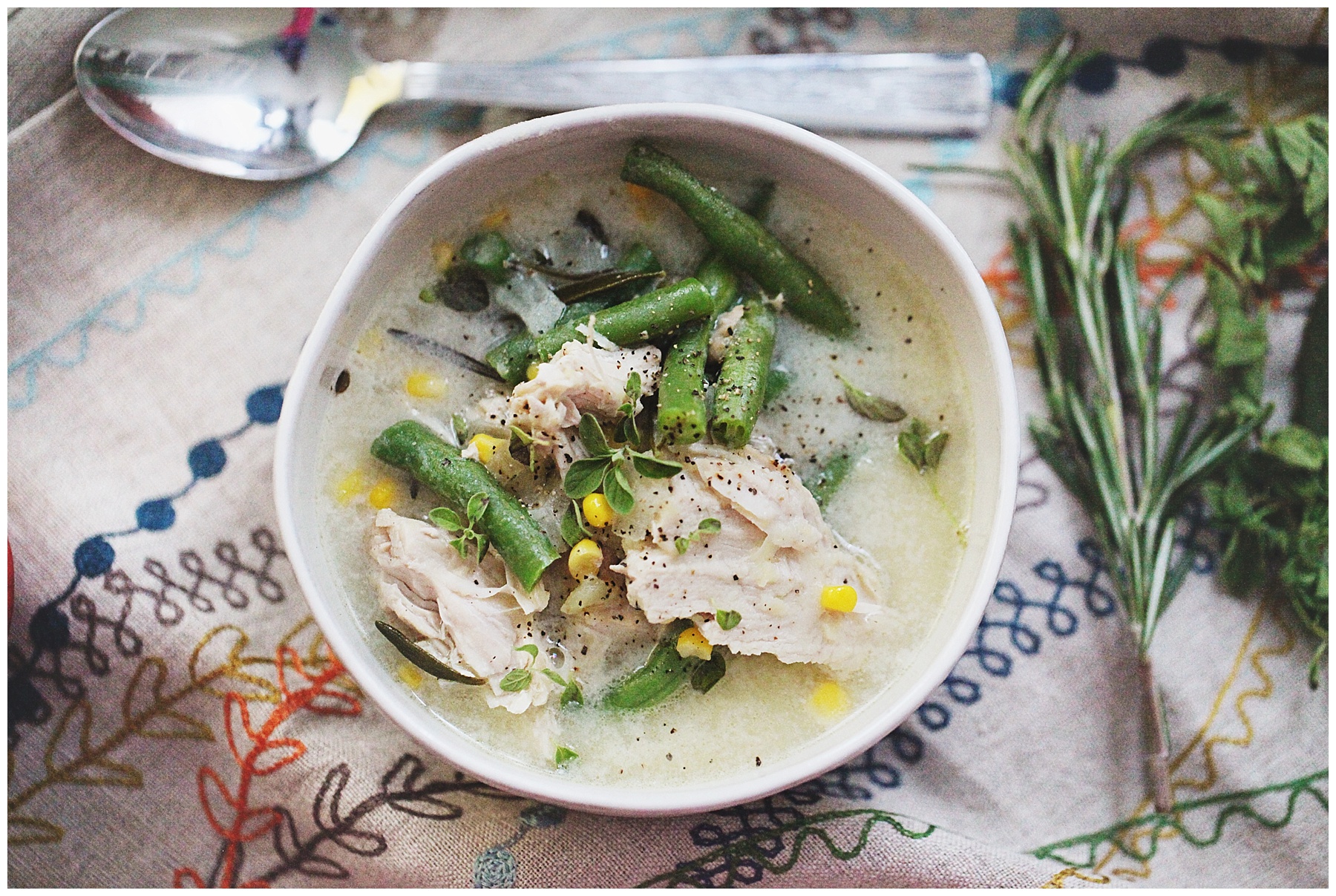 When Thanksgiving is over, I quickly tire of leftovers. The turkey sandwich works for about one day but I always feel as if I'm throwing away so many of the sides and not utilizing everything as best I could. This year I've decided to remedy that by making Turkey Soup from Thanksgiving leftovers.
As you know I'm a big soup person. I love making soups because not only do they taste delicious, but they're also easy, usually lower in calories and a great way to incorporate your daily dose of vegetables. The recipe I have below for this soup is more of a guide for you to follow. Your final taste will really depend on your turkey and mashed potatoes.
Also, I cannot take all the credit for this idea. I saw a cooking show once (I don't remember who's) and she was making dinner on a Friday night from the week's meatloaf leftovers. That was the inspiration for this recipe and my decision to turn Thanksgiving leftovers into this soup.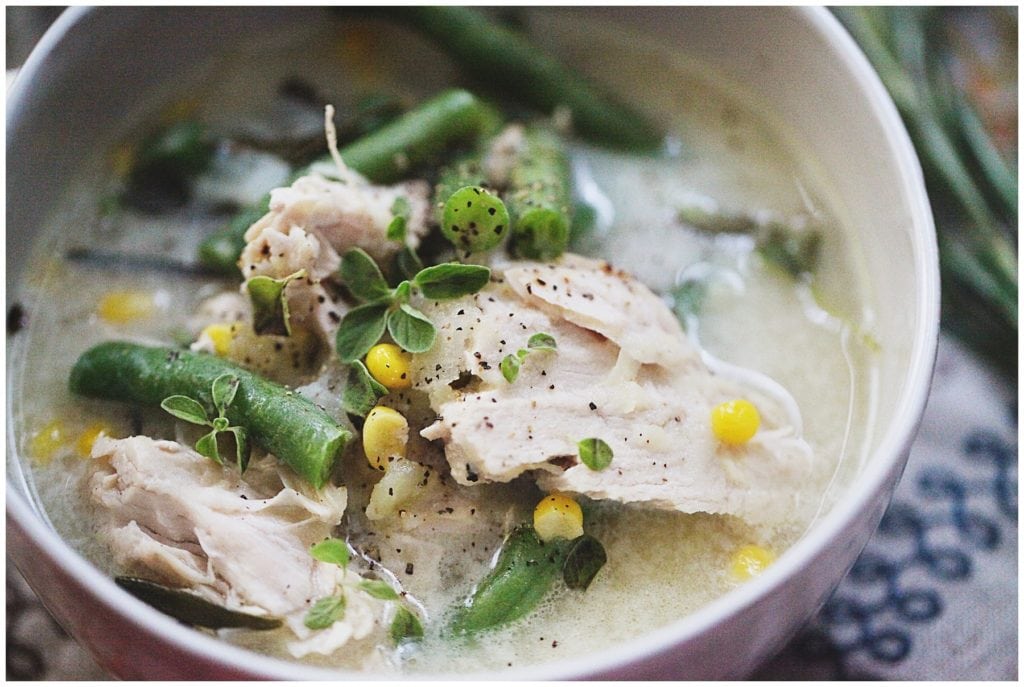 Turkey Soup with Thanksgiving Leftovers
Turkey Soup Made With Thanksgiving Leftovers
Prep time:
Cook time:
Total time:
Ingredients
32 oz. of chicken broth
4 or more cups of leftover Thanksgiving turkey
2 cups of leftover mashed potatoes (I used my recipe here.)
1-2 cups of green beans
1 cup of corn
½ an onion, diced
2 Tbsp. fresh oregano, leaves only
3 fresh bay leaves
4 large leaves of fresh sage, do not chop
2 sprigs of fresh rosemary
1 Tbsp. of dried oregano
1 Tbsp. of dried basil
1 Tbsp. of garlic salt
1 Tbsp. of pepper
Additional salt and pepper to taste
Optional: Leftover stuffing
Topping: Breadcrumbs, fresh pepper and additional fresh herbs
Instructions
Add chicken broth and diced onions to a large pot of Dutch oven and heat on low.
Add leftover turkey, mashed potatoes, green beans, corn and all fresh herbs and heat on low for one hour. If you're adding stuffing feel free to add it at this point. However, if you add stuffing make sure to add extra chicken broth too as the bread in it will soak up a lot of the broth. If you decide to forgo the stuffing do not worry. The mashed potatoes will make this broth perfect and creamy
Add dried herbs and continue to let it simmer for an hour. Add additional salt and pepper to taste now too.
Remove from heat and serve. Top with bread crumbs, fresh herbs and freshly ground pepper if desired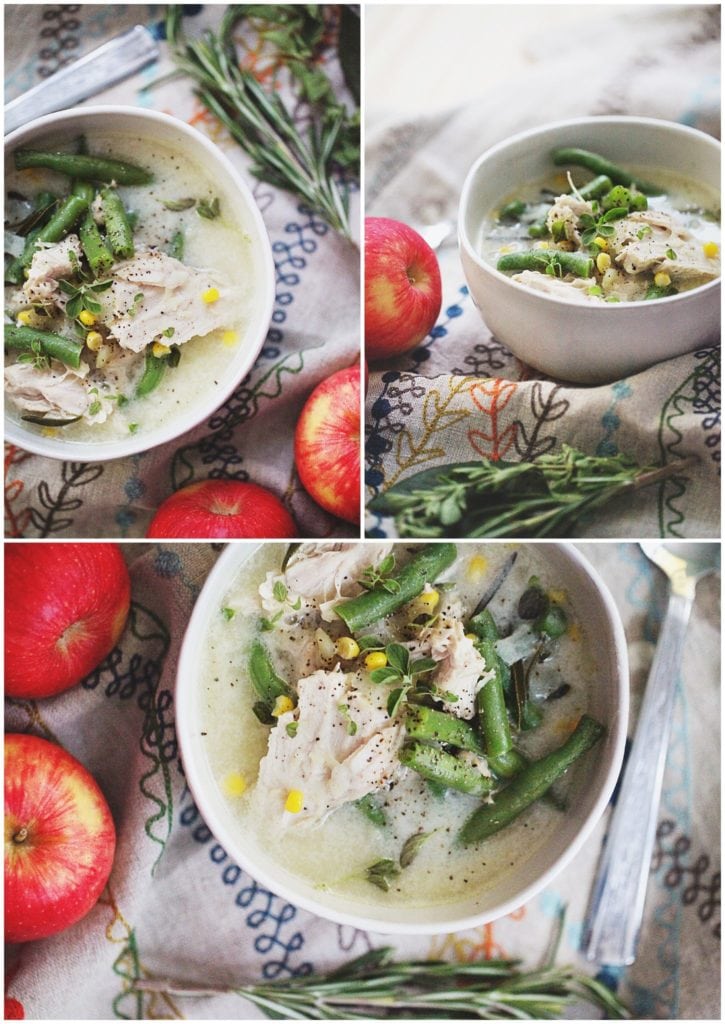 As a side note, since I did not wait until Thanksgiving to make this (so it could be done early for the blog) I made a large turkey breast in the slow cooker. I used the following dried herbs: basil, oregano, Italian seasoning, rosemary, garlic salt and pepper. I essentially made sure the top of my turkey breast was covered and cooked it with a cup of chicken broth. I also added a few sprigs of all the fresh herbs I mentioned above. We ate this for dinner one night with the mashed potatoes and then made the soup the next night.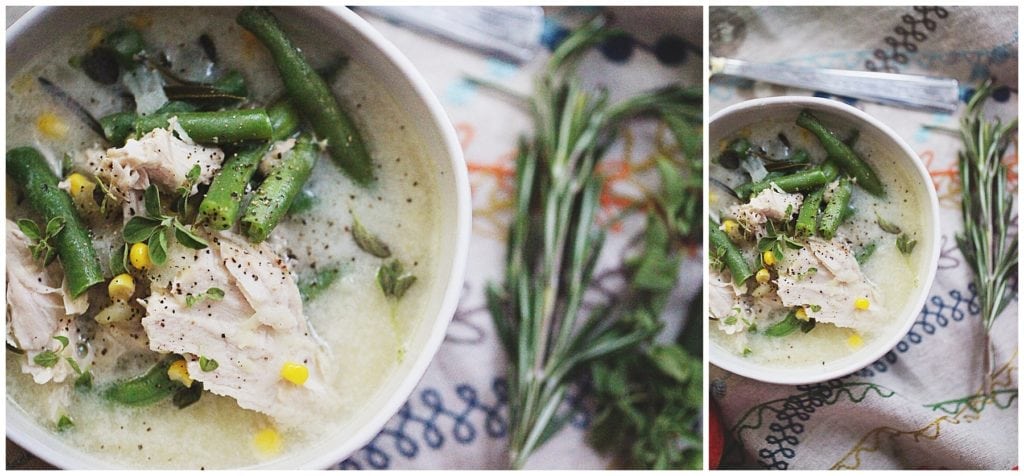 Happy eating, friends! I hope you have a wonderful Thanksgiving!
If you still need some dessert ideas check out this Pumpkin Cake with Cream Cheese Frosting and this Ricotta & Pear Pie!