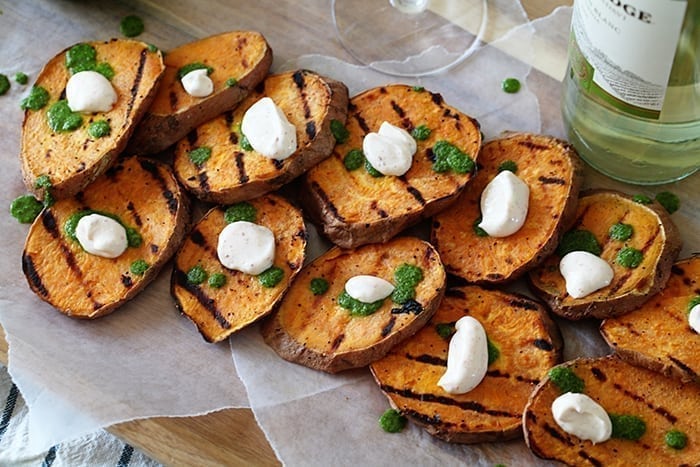 Sweet potatoes have become such a buzzy food. With The Whole 30 Diet sweeping the nation periodically, sweet potatoes have become the filling starch of choice while all others have been banished to the naughty corner.
I don't believe in naughty foods. I do believe in eating foods that taste good, make you happy AND that those foods can also be good for you. I try to live by this. Sometimes I push it a bit too far in one direction or another, but mostly, I live in this space.
When I saw the 5th round of the Summer Side Dish Competition with Woodbridge Wines by Robert Mondavi (Please click here to vote!) was themed Grill Master I knew that I needed to grill something that a lot of people would love. I also knew that, because it is a Side Dish Competition, it needed to be some kind of beautiful, fresh vegetable.
I tried two other recipes before I landed on the Sweet Potato Steaks with Chimichurri & Tajin Lime Cream. I had plenty of ideas and none of them were coming to fruition quite like I imagined. Sometimes I have to make something a couple times before I'm happy enough with it to post it for you. Sometimes I make it once and it's delicious.
Truthfully, the sweet potatoes were my last try in complete frustration.
But then something pretty magical happened. The sweet potatoes worked, and they worked out beautifully.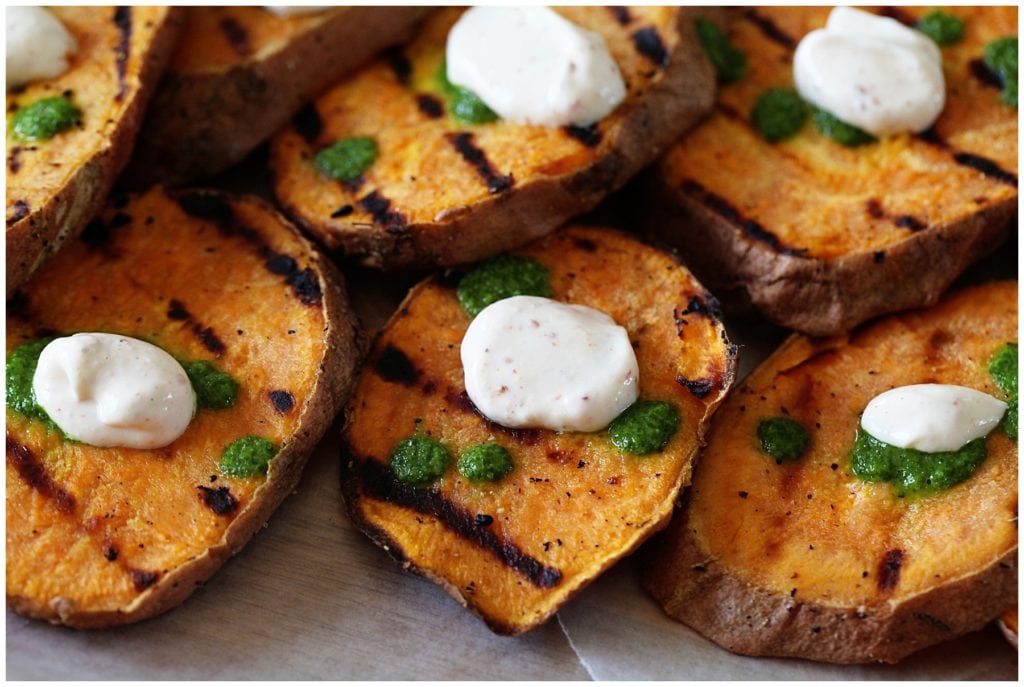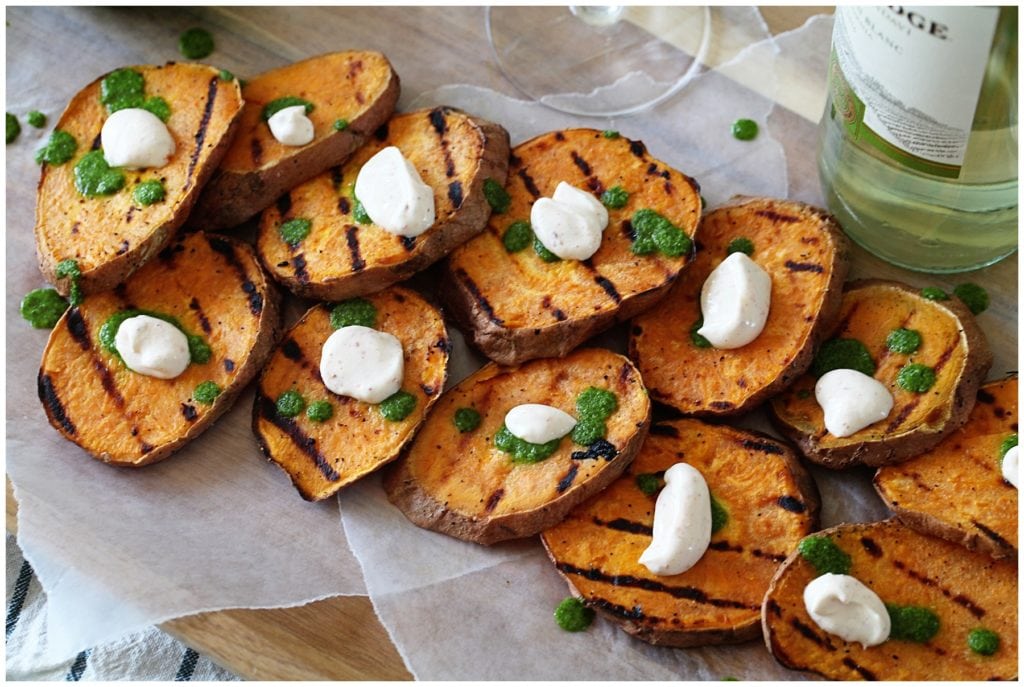 Not only were these sweet potatoes amazing, but they were also simple and nutritious. All the tastes work together so beautifully that this is a recipe we've now made four more times since I originally made this in May.
The Chimichurri is tangy, vibrant and fresh. The Tajin Lime Cream is smooth, with a hint of tangy spice and cool lime, and the sweet potatoes themselves are sweet (obviously), hearty and healthy.
Oh and if you've never tried Tajin before you're missing out. It's the main spice in the cream and a popular spice in Mexican cooking. It's usually on Elote and sometimes you can find it on the rim of a margarita. It's addictive.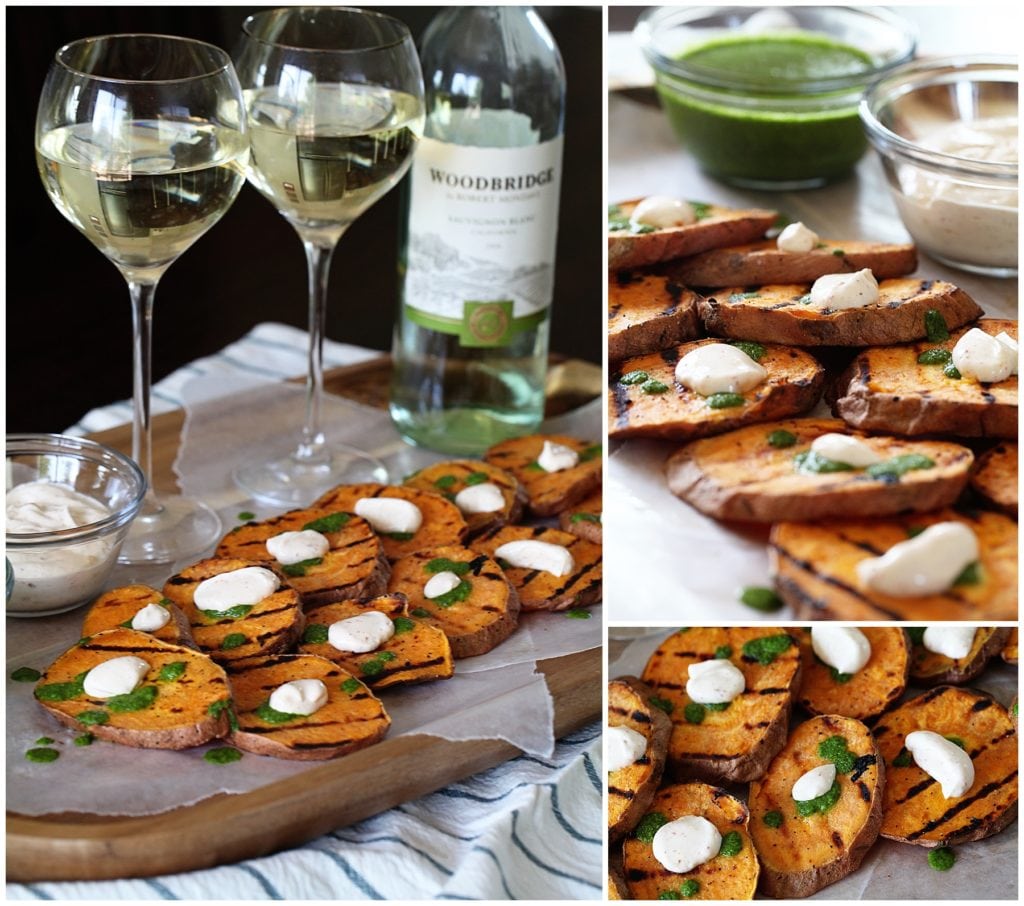 I can't stress enough how much we love this recipe. My husband dreams of it and wishes he could eat it probably once a day. I've it because it's so incredibly delicious and it's also something that I feel good about indulging in.
Grab the full recipe below and see just why we love it.
P.S. Make the Chimichurri the day before and give the ingredients time to really fuse together so it can sing in the dish. It's always a good idea to give Chimichurri 24 hours.
For more recipes, click here. For more side dish recipes, click here.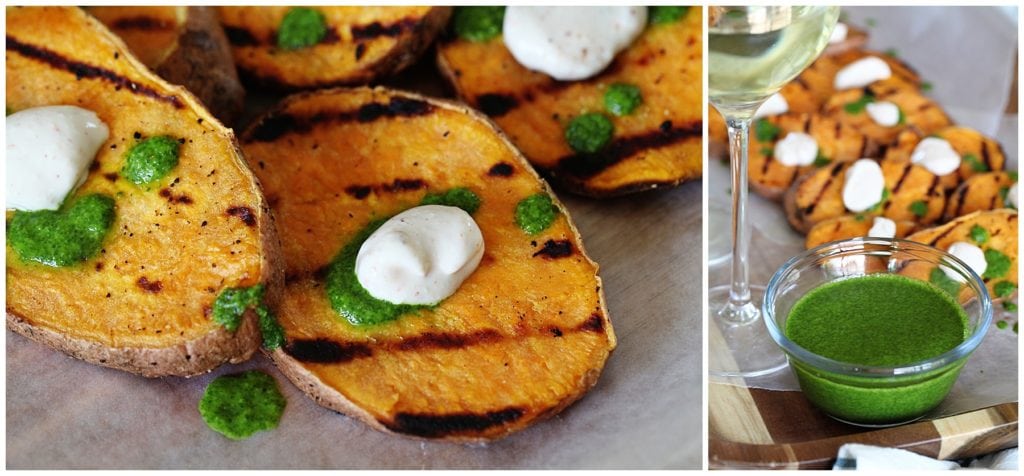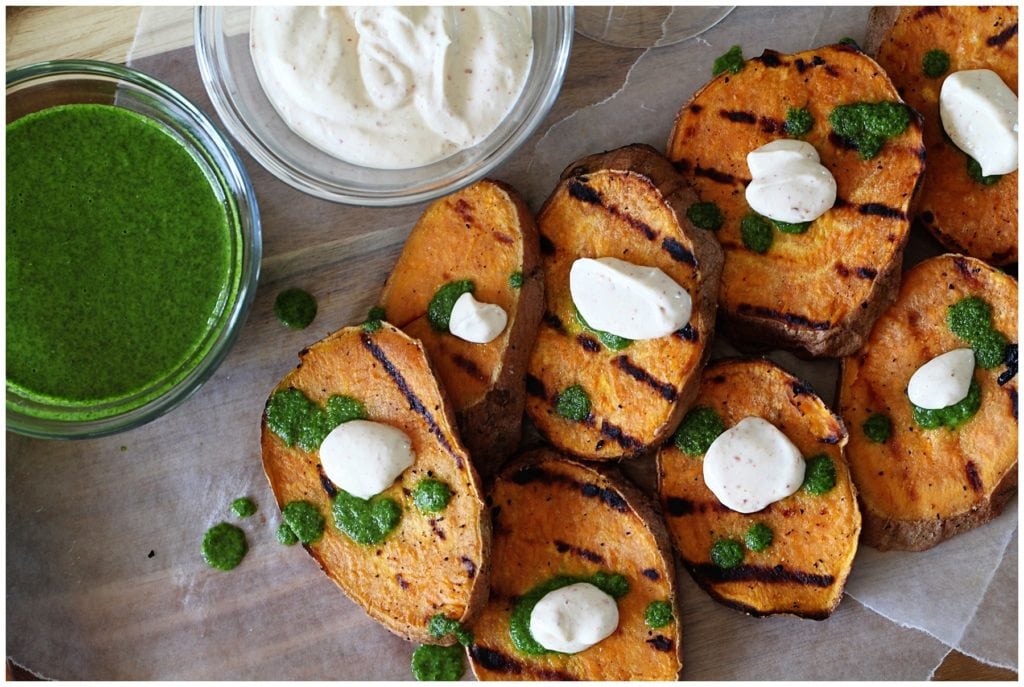 Grilled Sweet Potato Steaks With Chimichurri & Tajin Lime Cream
Cuisine:
American Mexican Fusion
Prep time:
Cook time:
Total time:
Ingredients
Sweet Potato Steak Ingredients:
• 4 large sweet potatoes, sliced diagonally
• 3 Tbsp. olive oil
• Salt and pepper to taste

Chimichurri Ingredients:
• 1 cup of cilantro
• ¾ cup of parsley
• 2 Tbsp. + 1 tsp. of vinegar
• 2 Tbsp. of red onion, chopped
• 1 ½ tsp. of garlic
• 1 ½ tsp of lime juice
• 1 tsp. of garlic powder
• ¼ tsp of crushed red paper
• 1 ½ tsp. salt
• 1 tsp. of pepper

Tajin Lime Cream
• ½ cup of sour cream
• ¼ cup of mayonnaise
• 1 tsp. of lime juice
• 1 ½ tsp. of tajin
• ½ tsp. garlic powder
Instructions
Preheat grill to medium heat or about 350 degrees.
Wash sweet potatoes well.
Slice them in ¼-inch slices diagonally.
Coat sweet potatoes in olive oil and toss with salt and pepper to taste.
In a food processor, combine your ingredients for the chimichurri sauce and blend until pureed.
Add your sweet potatoes to the grill. Put them directly on the grill slats. Cook each side for about 5 – 6 minutes or until they are soft.
While they cook, mix together the ingredients for the Tajin Lime Cream in a bowl. Whisk together until well combined.
When the sweet potato steaks are done, serve immediately. Drizzled the chimichurri over them and top each with a dollop of Tajin Lime Cream.
Reserve additional chimichurri and cream for dipping.