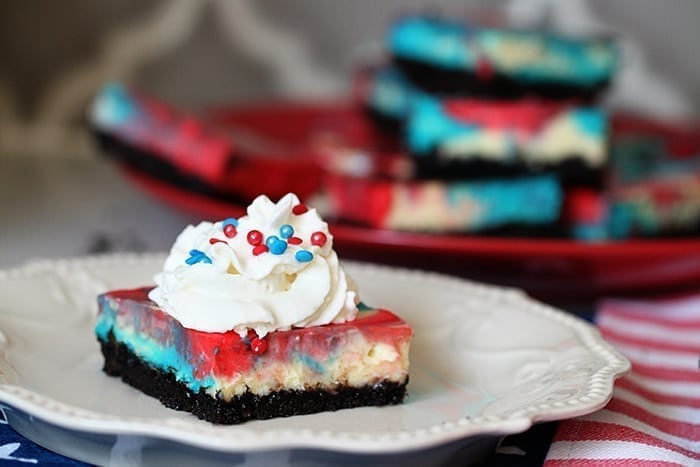 Can you believe the 4th of July is almost here? June has been a blur and yet here we are, about midway through summer. We are ready to celebrate the 4th with some fun red, white and blue food like these cheesecake bars.
The Fourth of July has always been one of my favorite holidays. I have so many positive memories of childhood holidays spent with my grandparents, watching my grandfather shoot off fireworks from the street. (This was obviously (way) before it was illegal to do so in Illinois.)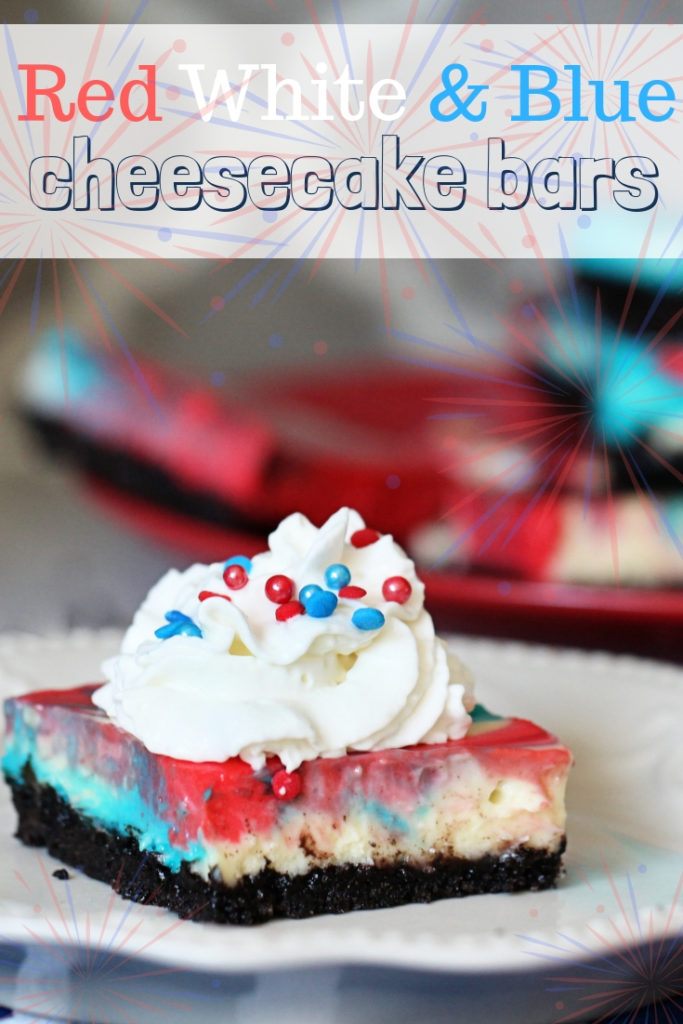 My grandpa
My grandpa was a veteran, he smoked Camel cigarettes and watched Inspector Gadget with me. He was an amazing artist and could capture someone's likeness with chalk so perfectly that they looked like they would jump off the paper.
He drew Native American people and always claimed he had Native American blood. Since he died, over 20 years ago now, my grandmother has become very interested in genealogy and has found no trace of Native American's in our history.
Unlike my grandmother, who was 100% Italian with parents who immigrated from Italy, his lineage was more scattered and mixed up. However, all the pieces of him were still from immigrant countries that were responsible for building the United States in the early days of the country.
Every bit of him, of me, has come from somewhere else.
He was never rich. He was a contractor with seven children and married to my Italian grandmother, a democrat.
Those seven children had 19 grandchildren. Those 19 grandchildren, myself being the oldest, have been busy and so far have 11 great grandchildren with another two on the way.
Knowing my family history, coupled with what's been currently happening, I've felt a little hesitant about my favorite holiday this year. I've not made my political beliefs a secret and while I try not to go into it too often here, my heart has been hurting for our country of immigrants.
Declaration of Independence 
However, I'm reminded that this holiday is celebrated because it's the date that we signed the Declaration of Independence. The holiday signals our break from what was viewed as an oppressive empire. It was a time where patriotism was celebrated, activism made a difference and political awareness was heightened.
There was a lot of passion as our young country took its first steps toward a democracy, just like there is today.
Passion means people care and people caring makes a difference. I decided that passion, caring and making a difference should be celebrated no matter what's going on in the world.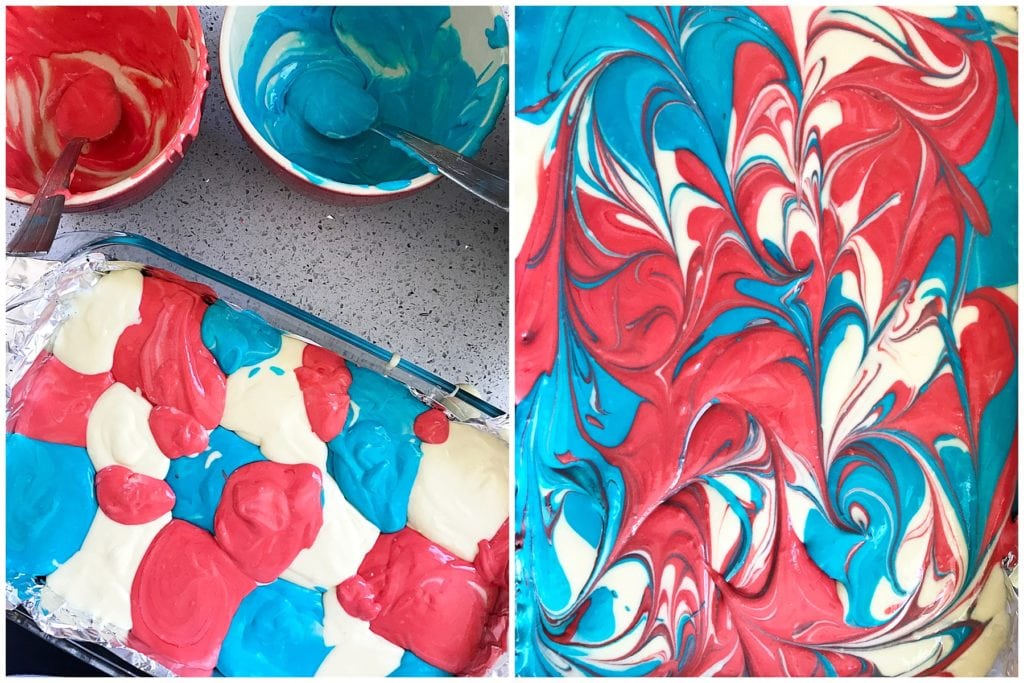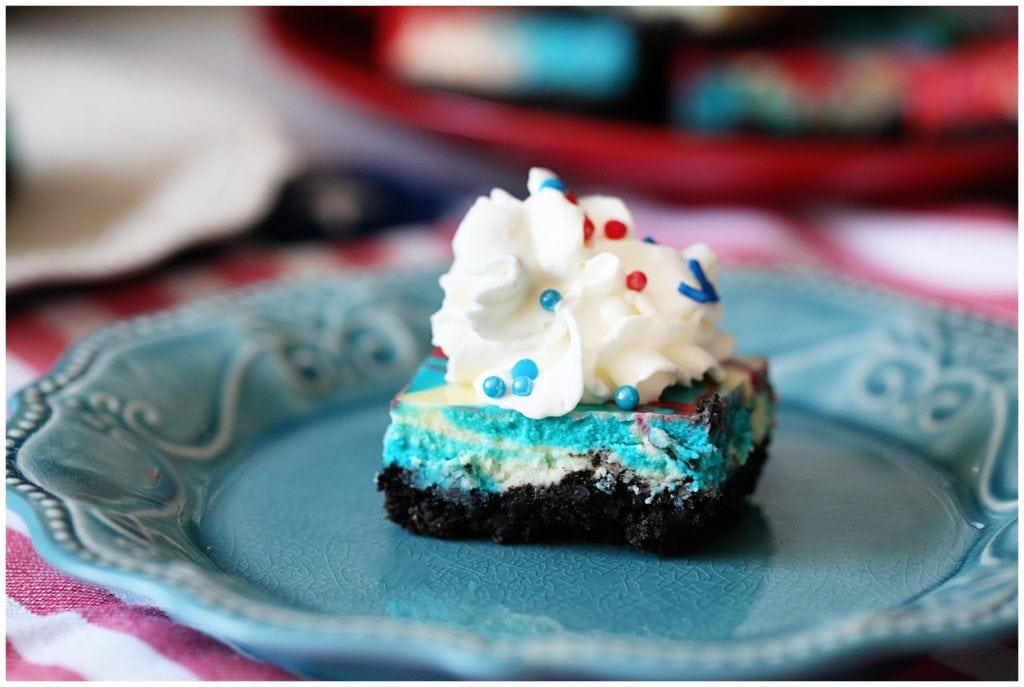 Red, white and blue cheesecake bars
So, whether you like to celebrate with a bang or are planning to take a more low-key approach this year, these red, white and blue cheesecake bars will help you get your fill of Americana.
They taste like heaven and look like fireworks. The cheesecake bars are fairly easy to make despite the list of steps in the recipe below.
They will make your kids happy and they will make your belly happy. This year we could all use some happy.
Grab the full recipe below for the cheesecake bars and eat your happy this holiday.
P.S. Cheesecake was developed in Greece and then stolen by the Romans when they concurred the Greek Empire. Think of it as a melting pot-kind-of-dessert for a melting pot-kind-of-a-country.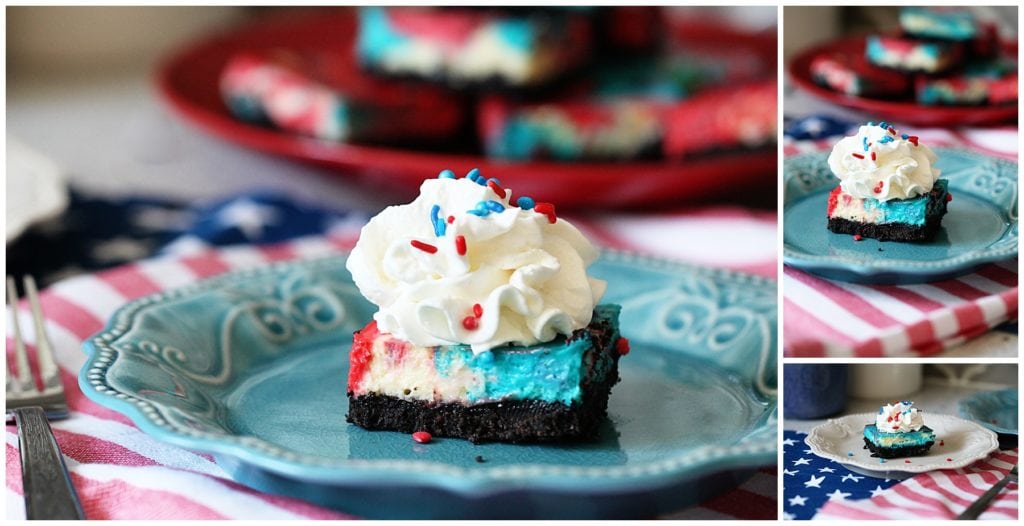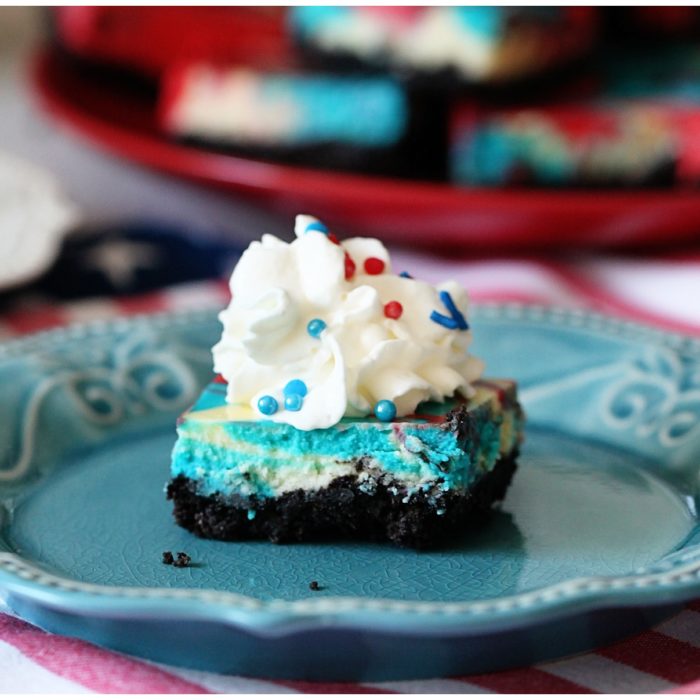 Red White & Blue Cheesecake Bars
These red, white and blue cheesecake bars are perfect for the 4th of July or Memorial Day.
Print
Pin
Rate
Ingredients
Oreo Crust Ingredients
40

Oreo cookies, finally crushed. You can also use Golden Oreos or Nilla Wafers

5

Tbsp.

melted butter
Cheesecake Ingredients
3

8 oz

packages of cream cheese, softened

1 3/4

cups

of sugar

1/3

cup

sour cream

1/4

cup

of flour

1

Tbsp.

vanilla

3

eggs

Red and blue gel food coloring
Instructions
Preheat the oven to 325 and crush Oreos in a food processor.

Add the crushed cookies to a bowl and then add the melted butter. Use a spoon or your hands to mix. (I prefer my hands.). It's fine if it's a little crumbly.

Line a 9x13-inche pan with tin foil and then add your crust. Pat it with your fingers and make sure it's even and covers the bottom of the pan.

Bake it for 10 minutes and then let it cool for 10 minutes. Once cooled, put it in the fridge for about 5 minutes.

While the crust cooks and cools, make your batter. Combine your dry ingredients together in a large bowl.

Add your vanilla and eggs one by one and fold them into the batter.

Add in your sour cream and fold in.

Add your cream cheese and mix on medium. I used a hand-mixer but you can use a stand mixer too.

Mix until smooth but do not over mix. It's ok if you still have some small lumps in the cheesecake.

Divide the batter among three bowls and add your food coloring to the bowls.

In your cooled crust, add spoonfuls of the batter in alternating colors.

Take a knife and drag it through your batter so that the colors get mixed together. Do not cut into the crust. The top of the cake will look tie-dye.

Cover the top of the cheesecake with tin foil but be sure to not let the foil touch the top of the cake.

In the oven, arrange the racks so one is in the middle and one is towards the bottom. On the bottom rack, add a second baking dish that is filled halfway with water. This pan should be the same size or larger than your cheesecake pan. Preheat oven to 325 again.

Once the oven is ready, add your cheesecake to the middle rack directly above the pan with the water. Cook for 60 minutes.

Remove from oven. Your sides should be firm, and the middle should be a bit jiggly. That means it's done. The cheesecake will continue to cook. You cannot check it with a tooth pick like a cake.

Add it to the refrigerator for 4-6 hours to chill.

Serve chilled. Preheat the oven to 325 and crush Oreos in a food processor.
Happy eating, friends.
For more recipes, click here. For more dessert recipes, click here.