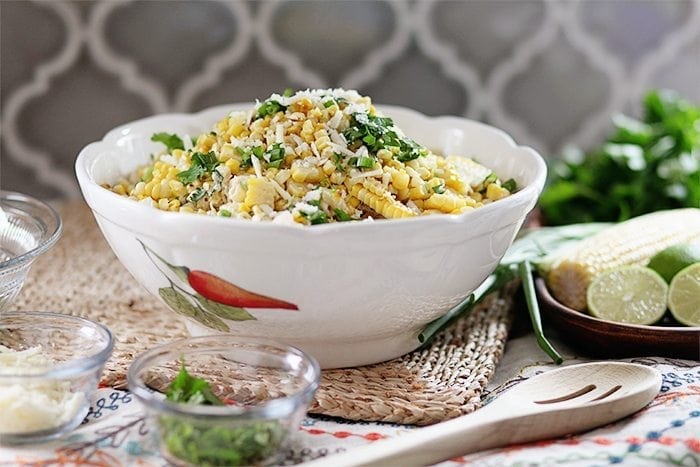 Whenever we have a big family party, pasta is always involved. We're Italian so I've grown up with delicious, homemade pasta dishes that would make people salivate. Homemade noodle, sauce, meatballs…you name it and my grandmother has probably made it. However, grandma is missing out on Eloté Macaroni.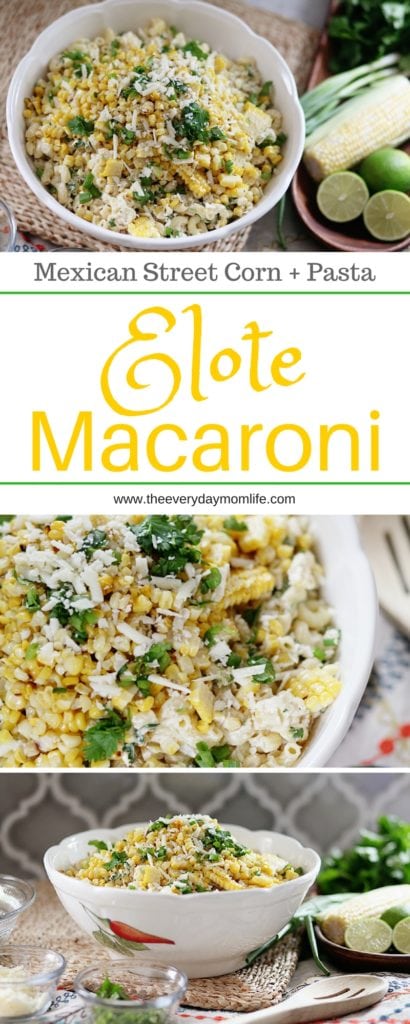 As I've grown I've become more adventurous with my food and that often means combining dishes from different cultures to create something completely unique that will surprise and delight guests.
This recipe was made through combining two loves of mine – pasta and eloté. Traditional eloté is Mexican Street Corn, which is eaten on a stick, rubbed down with deliciousness and topped with Cotija cheese and cilantro. This pasta dish is similar in that it includes all of that, just on top of some noodles. 🙂
This dish is perfect for big crowds like the Super Bowl, Easter dinners, meatless meals and even summer barbecues. It can be served warm right away or it can be served chilled. Grad the full recipe below!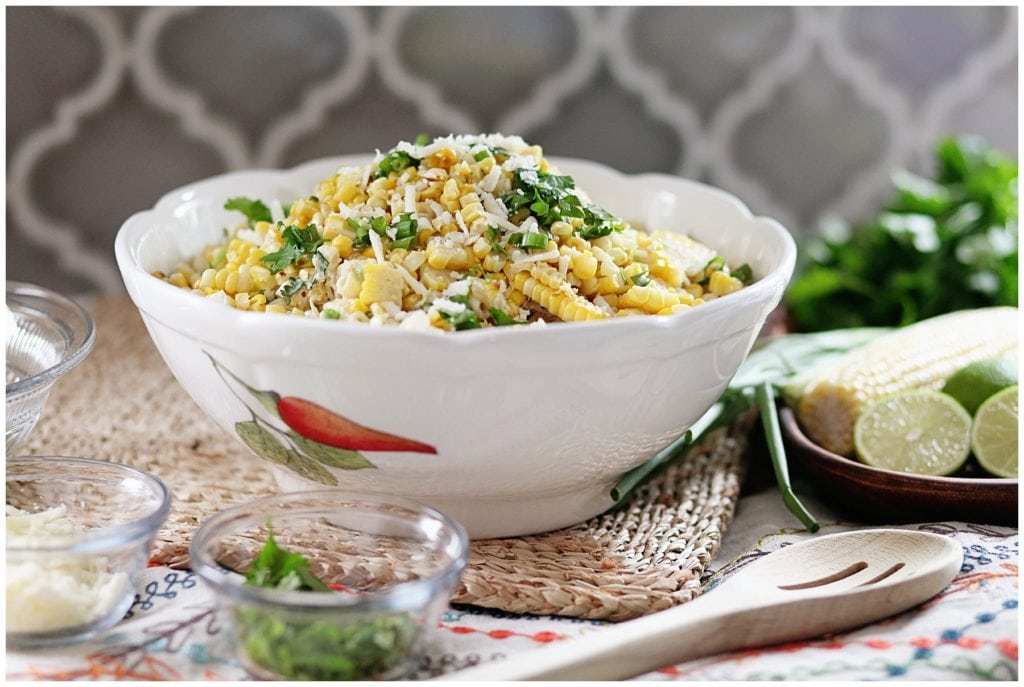 Eloté Macaroni
Ingredients:
3-4 cups of uncooked macaroni pasta (add the 4th if you have a really large crowd)
6 ears of corn, grilled and corn kernals sliced off
Half a white onion, chopped
1 ½ cup of Cotija cheese
1 cup of cilantro, reserve half
½ cup of sour cream
½ cup of mayo
½ cup of Alfredo sauce
¼ cup of green onion
1 tsp. of garlic, minced
1 tsp. ground red pepper
¼ tsp of chili powder
Zest of two limes
Juice of two limes
Salt and pepper as desired
Note: You will need just a bit more cilantro, lime and green onion to top the final dish so make sure you reserve some. I didn't do precise measurements here. I just sprinkled until it looked pretty.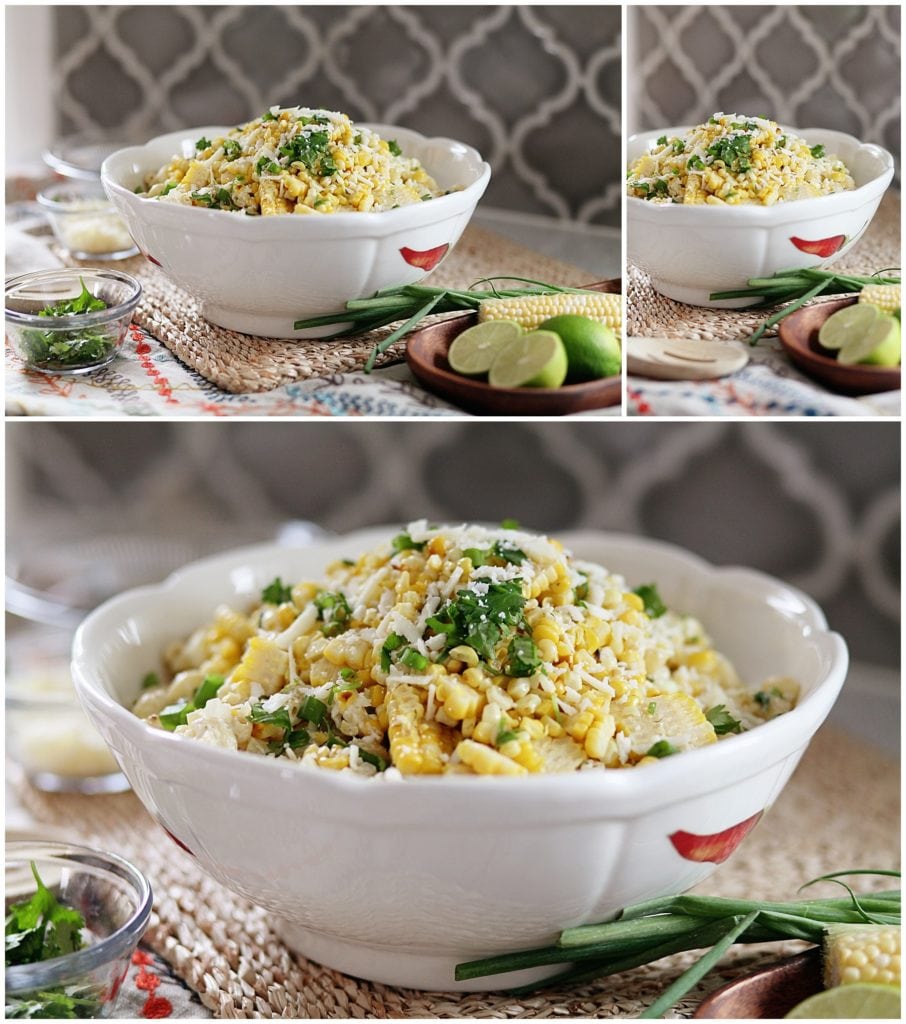 Steps:
1. Boil water for macaroni pasta. Add salt if you desire. Once boiling, add your pasta.
2. Grill your corn. You can do this outside or in.
3. Mix together your chili powder and red pepper. Reserve for later.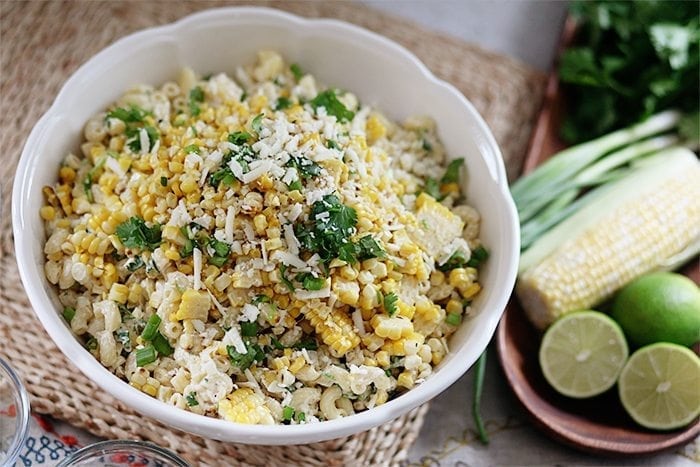 4. Mix together cheese, garlic, lime zest, lime juice, ½ cup of cilantro, mayo, alfredo sauce, sour cream and mix well. Then add your spice mix and mix again.
5. Once your macaroni pasta is done let is cool in the fridge for at least a half an hour. This dish can be severed semi warm or chilled. I ate it both ways and they're both good but I did prefer eating it right away.
6. Add your macaroni pasta to a large bowl to a large bowl and top with half your corn. Add the additional cilantro. Mix well.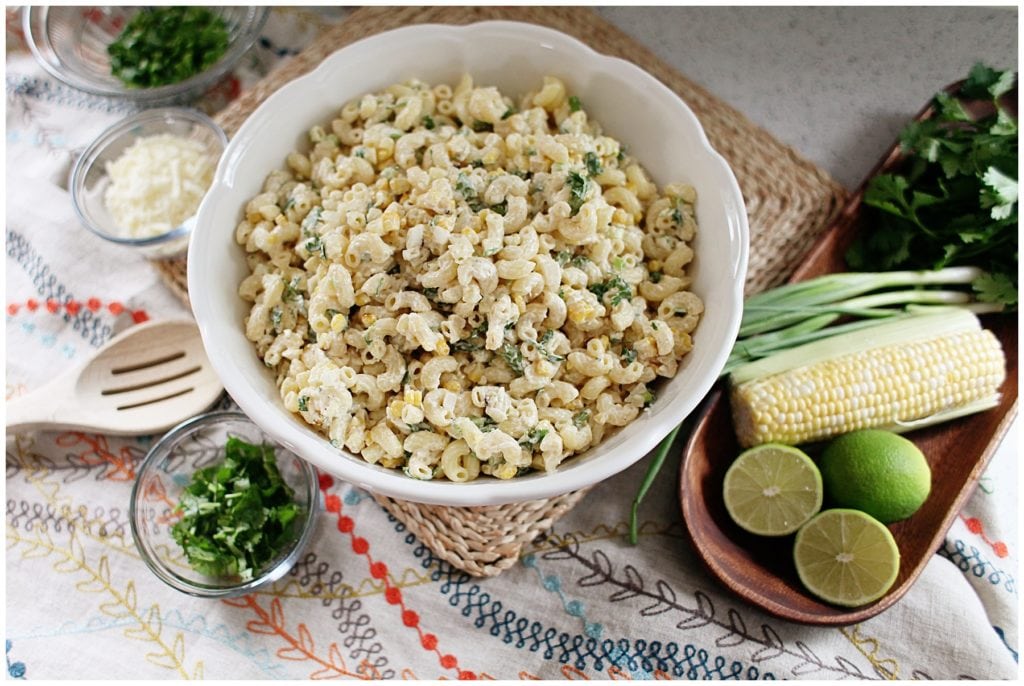 7. Once everything is mixed add your sour cream/mayo topping. Mix well and taste test to make sure you like the flavor. 🙂
8. Add your pasta dish to the bowl you'll be serving it in and top with the rest of your corn. Add the last ½ cup of cheese. Then top with additional cilantro, green onion and an extra squeeze of lime.
The Eloté Macaroni is a dish that can be eaten as a side or a main meal if you want something simple. Aside from cooking and chilling the noodles, it only takes about 10 minutes to grill the corn and make the sauce.
This recipe also goes well with this appetizer and it's also perfect for a crowd.
Have you created any dishes that were a blend of things you loved from two or more cultures? If so I'd love to hear about them!