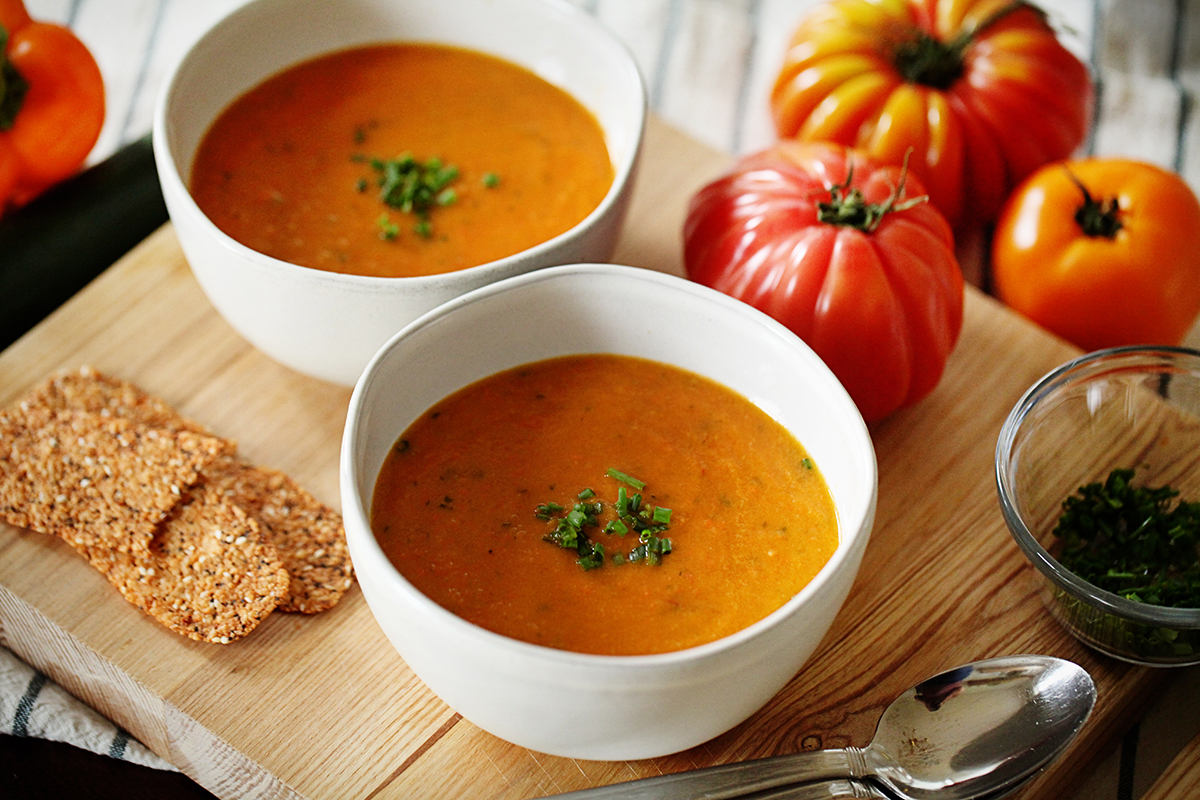 I've been wanting to make tomato gazpacho for at least a month now. It's one of those things I've been dying to try but just didn't feel like I had the time to commit to make it, which was silly really because it's one of the easiest and least time-consuming recipes I've ever made.
It's also one of the tastiest things I've ever made and its vegan and Whole 30 approved.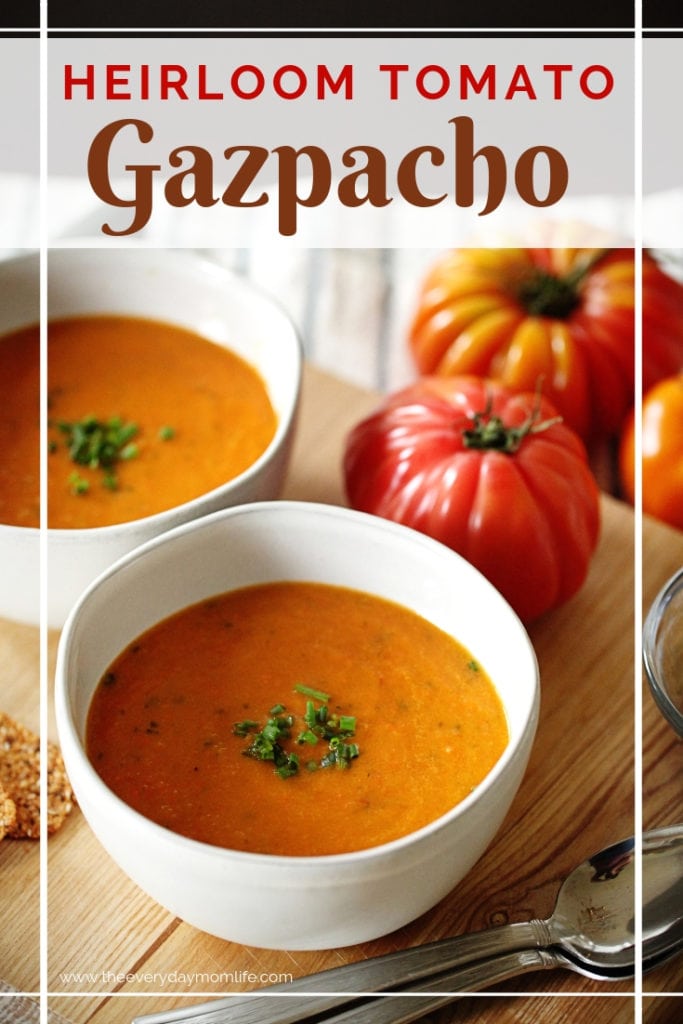 Why Heirloom Tomatoes for Tomato Gazpacho
With the bounty of summer vegetables right now you basically can pick a bunch of them and blend. After doing some research, I decided to make a tomato-based gazpacho and not just any tomatoes, but heirloom tomatoes.
Heirloom tomatoes are tomatoes that have been produced through seeds that have been handed down for generations. The seeds are technically the "heirloom" in heirloom tomatoes and some have been in circulation for more than 50 years, according to tomatofest.com.

Heirloom tomatoes have been bread to eliminate the most undesirable characteristics and bolster the positive traits – juiciness, flavor, color, size – that specific farmers enjoyed.
All heirloom tomatoes are open-pollinated, meaning they are a product of natural cross-pollination via insects or farmers' hands. They aren't genetically modified or created in the same manner as today's common tomatoes.
Because of this, heirloom tomatoes are not mass produced. With fewer available they often have higher prices than their counterpart tomatoes.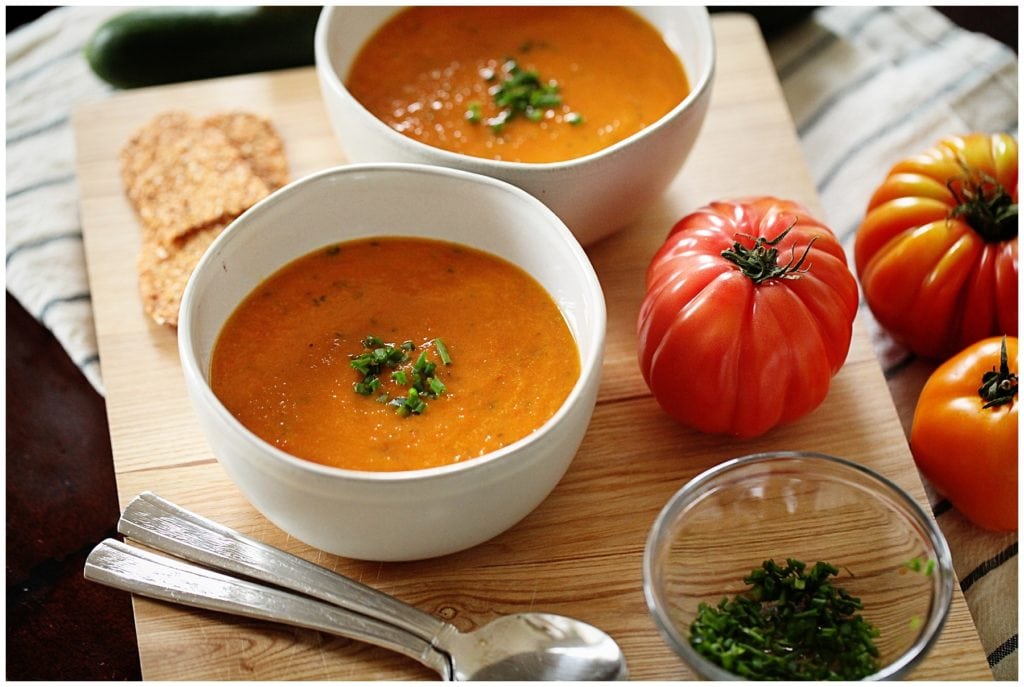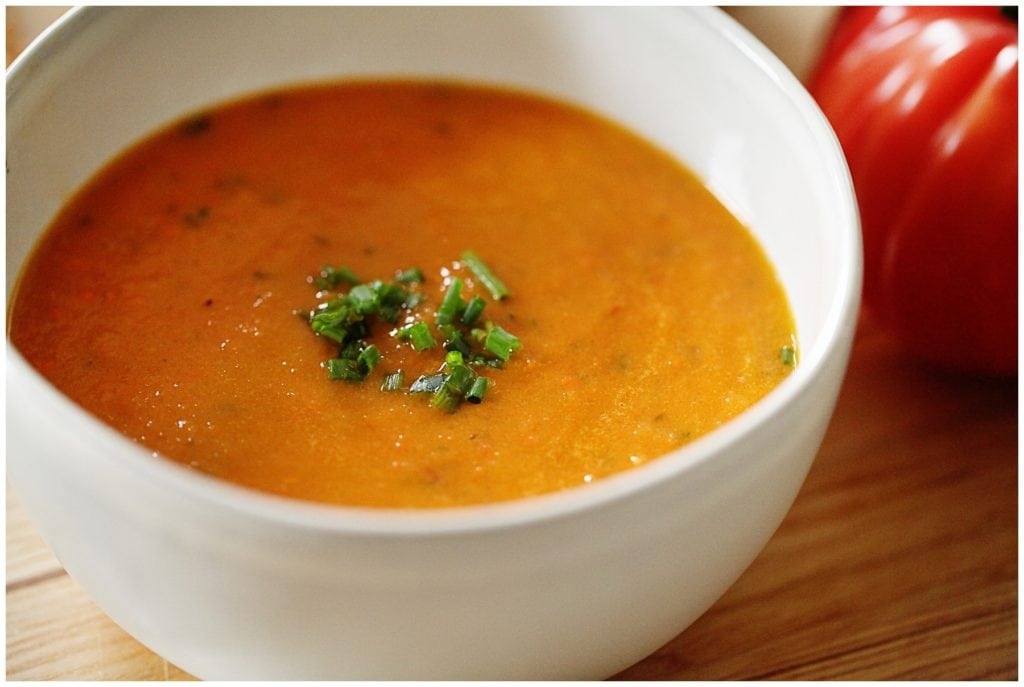 Impeccable Taste
So why would you pay extra for a tomato that looks kind of funny? Simply put, they taste better. There's something about the way heirloom tomatoes taste that almost seems to have all that history tied up into them. And, I guess they do since the seeds produced from generation to generation are there.
With all those benefits going for them, they seemed like the perfect base for the gazpacho. That said, because you're using heirloom tomatoes, you might not get the exact same flavor every single time, but I'll try to get you as close as possible with the recipe below.
Note 1:
I've made this a few times now and before adding additional ingredients to try to get the taste closer to your desired taste, let it sit. Give the flavors time to mingle once it's done before you do things like add additional acids like more lemon juice or sherry. The second time I made this I started adding more sherry right away to change the taste profile since I used smaller heirloom tomatoes and it was way too much. Follow the recipe and then just before serving decide if it needs anything else. I think you'll find out it's fine. 🙂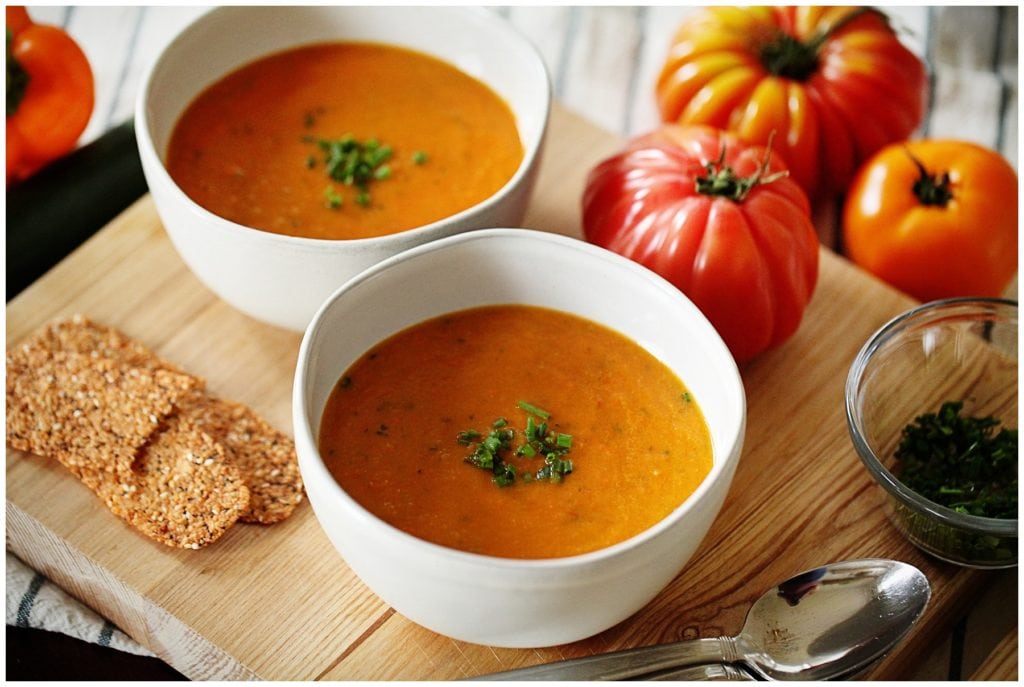 Note 2:
English cucumbers are also used in this Heirloom Tomato Gazpacho. They are sweeter and seem to balance out the acid of the tomatoes better. Make sure to use this kind.
Final note: If you decide to use regular tomatoes for this I don't stand by the flavor this recipe might produce. Find the Heirlooms.
For more recipes from The Everyday Mom Life, click here.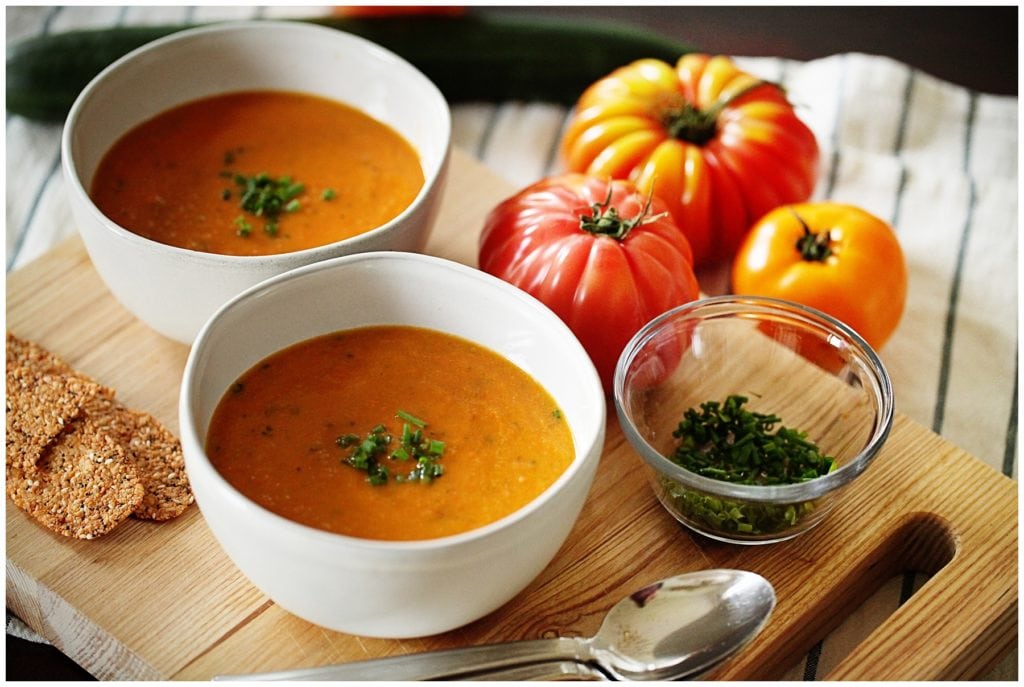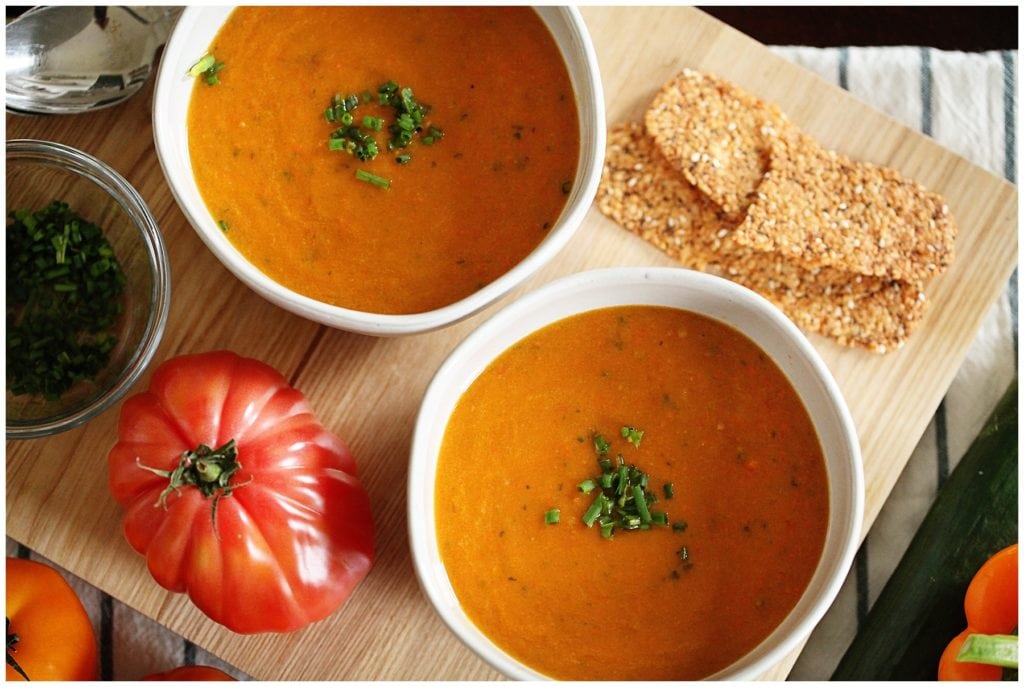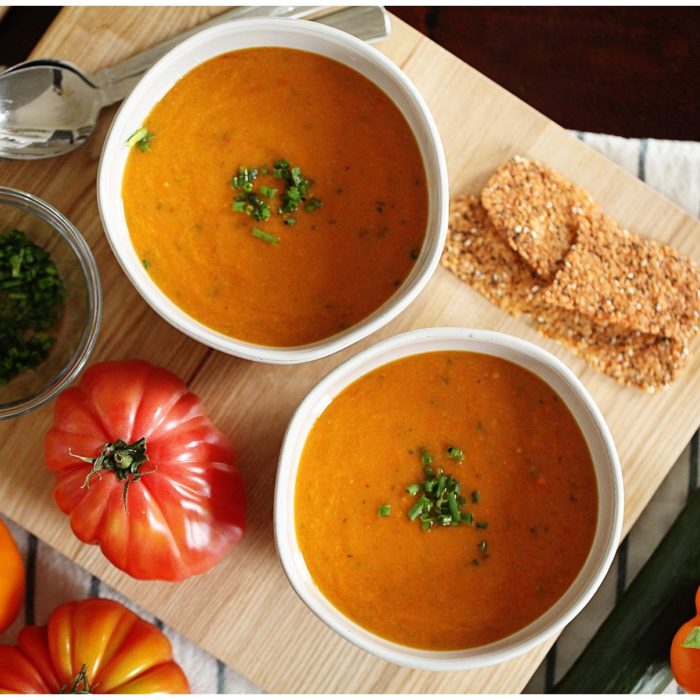 Easy Heirloom Tomato Gazpacho Recipe
Summer is still the perfect time for soup, especially if it's this easy Easy Heirloom Tomato Gazpacho Recipe.
Print
Pin
Rate
Ingredients
6

large Heirloom tomatoes of various colors, cored and sliced

1

English cucumber, sliced with skin on

2

orange or yellow bell peppers, sliced

1/2

large red onion, sliced

3-4

medium carrots, peeled and sliced

2

Tbsp

of salt, divided

2

tsp.

of garlic, minced

1

cup

of extra virgin olive oil

Make sure this is a good, quality olive oil

2-3

Tbsp.

of sherry vinegar

I recommend starting with two and then adding a third at the end if you feel like it needs more acid.

1.5

Tbsp

lemon juice

1/2

cup

water

Additional salt and pepper to taste

Toppings: Cream fresh, basil, pinenuts, mustard seeds, sunflower seeds
Instructions
Wash and chop/dice all your produce. Since nothing going to actually be cooked you need to make sure everything is washed well.

Add your tomatoes, cucumber, pepper, red onion and carrots to a bowl. Add in 1 Tbsp. of salt and toss everything to coat it.

Put your bowl in the refrigerator for at least 30 minutes.

After 30 minutes, add your veggies to the blender with the olive oil, sherry vinegar, garlic and lemon juice. I have to make mine in three batches, so I usually add the garlic and lemon juice all to the first batch and then add olive oil and the sherry vinegar to each batch.

Blend on liquify setting.

Once each batch is done add it to a large bowl. You can leave it as is, which will be a little chunky, or if you have an emulsion blender you can use that for a smoother finish. Add in your remaining salt and then mix again.

***Add in the water and mix well. See note in final step about adding water.

Put back in the refrigerator for at least one hour.

Remove from the refrigerator and add additional salt and pepper as needed. Make sure you mix it well and take a few bites before adding anything though. You really shouldn't need much due to the flavors of all the vegetables.

Optional: Strain through a strainer to remove any of the larger pieces of vegetables. I need to like mine with all the veggies in it and find this can sometimes make it a bit too thin, but everyone has a preference. ***If you decide to do this, don't add the water in the previous step.

Add additional salt and pepper as desired and any toppings you like.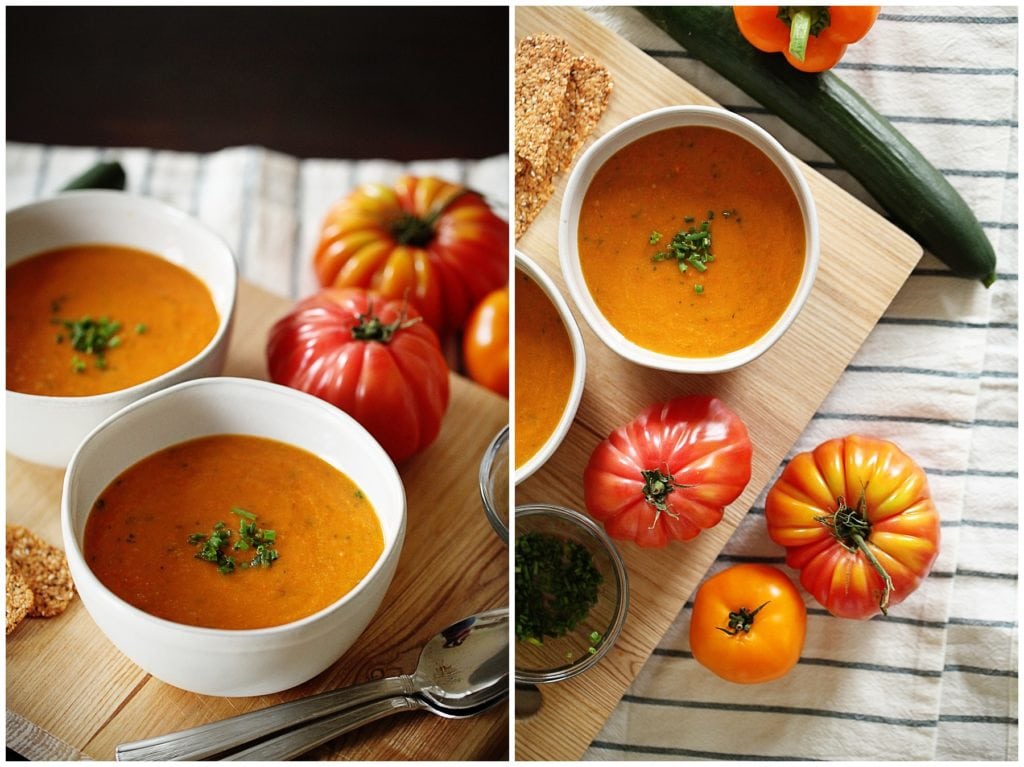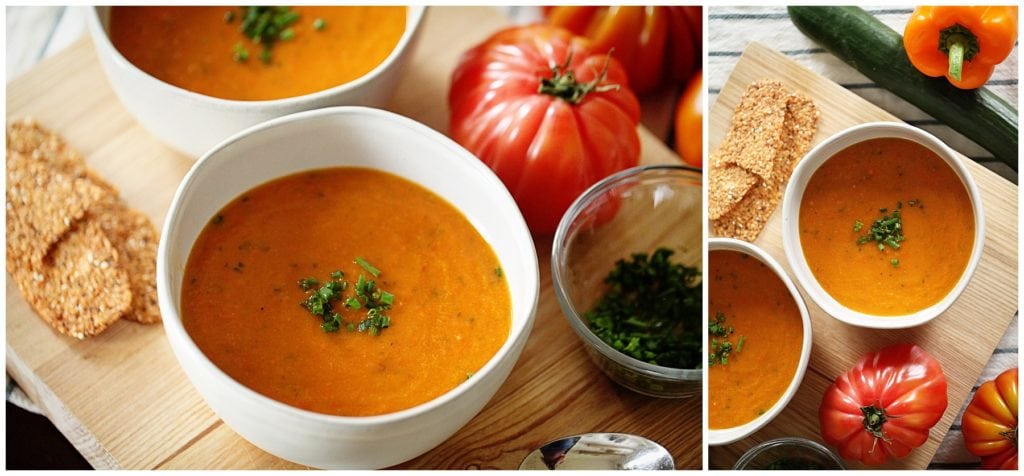 I hope you enjoy this Heirloom Tomato Gazpacho as much as we did! I've made it again, so I can eat it for lunch every day this week. 🙂 Happy eating, friends.